Spotlight on Naloxone Co-Prescribing
Spotlight on Naloxone Co-Prescribing
This is a guest post by Adm. Brett Giroir, Jessica White, Teresa Manocchio, Sean Klein, Zeid El-Kilani. Adm. Brett Giroir is the 16th Assistant Secretary for Health (@HHS_ASH) at the U.S. Department of Health and Human Services; Jessica White, Teresa Manocchio, Sean Klein, and Zeid El-Kilani work for the Assistant Secretary for Planning and Evaluation (@HHS_ASPE) at the U.S. Department of Health and Human Services. 
As we recognize International Overdose Awareness Day, HHS is calling attention to the co-prescription of naloxone, the Food and Drug Administration (FDA)-approved medication that can save a person's life when administered during an opioid overdose. Naloxone is available in three formulations – nasal spray, injectable, and auto-injector – and at least one form of naloxone is covered by most health insurance plans, including Medicaid and Medicare.
Since July 2016, prescriptions for naloxone in the U.S. have increased 773%. Expanding the availability and distribution of overdose-reversing drugs is one of the five pillars of HHS's comprehensive, science-based strategy for combatting the opioid overdose epidemic. These efforts include co-prescribing naloxone in conjunction with an opioid prescription, or prescribing naloxone to at-risk individuals.
As of July 2020, the FDA announced it is requiring changes to the prescribing information for opioids and medications to treat opioid use disorder (OUD). These changes include recommending that as a routine part of prescribing these medications, health care professionals should discuss the availability of naloxone with patients and caregivers, both when beginning and renewing treatment. Additionally, they should consider prescribing naloxone based on a patient's risk factors for overdose. Previously, in December 2018, HHS released guidance for health care providers and patients detailing how naloxone should be prescribed to all patients at risk for opioid complications, including overdose. Naloxone co-prescribing is also recommended in the 2016 CDC Guideline for Prescribing Opioids for Chronic Pain.
Over the past several years, a growing number of states have implemented laws and regulations requiring health care providers to co-prescribe naloxone with opioid prescriptions to patients considered at risk of an overdose. As HHS regularly tracks the number of naloxone prescriptions dispensed in the US within mail order and retail pharmacies, we are greatly encouraged by continued increases in naloxone prescriptions, particularly within states that have recently implemented naloxone co-prescribing legislation.
For example, a California law effective January 1, 2019, requires that prescribers offer a prescription for naloxone when certain conditions are met, including high daily doses of opioids, concurrent opioid and benzodiazepine prescriptions, and increased risk of an opioid overdose (e.g. a patient with a history of OUD or previous overdose). Prior to the effective date of the law, naloxone prescriptions averaged approximately 1,800 monthly. In the first month following the effective date of the law, naloxone prescriptions jumped 282% (Figure 1) and have averaged approximately 13,800 monthly since.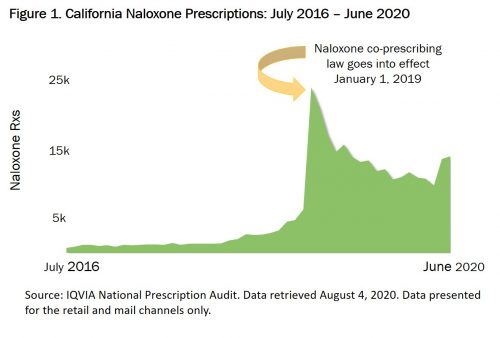 Recent mail order and retail pharmacy data from New Jersey reflect similar trends. An administrative order issued on May 21, 2020 directs practitioners to prescribe naloxone for any individual receiving high daily doses of opioids or concurrent opioid and benzodiazepine prescriptions. Even during a pandemic, naloxone co-prescribing laws lead to increased naloxone prescriptions. Data from June 2020 show an increase in naloxone prescriptions in New Jersey of 1,058% over May (Figure 2).
Although the number of naloxone prescriptions is not necessarily representative of naloxone use or decreasing opioid overdose deaths, naloxone continues to play an important role as one pillar of our comprehensive strategy to address the opioid crisis.
The post Spotlight on Naloxone Co-Prescribing first appeared on The Incidental Economist.
Avante Mining Identifies New Zone of High-Grade Nickel up to 1.9% Ni from Maiden Drill Program at Voisey's West
Vancouver, British Columbia, September 27, 2023 – Avante Mining Corp. (TSXV: AVA) (OTC Pink: ACPRF) (FSE: P210) ("Avante" or the "Company"),…
The Buckingham Graphite Project – Noble Mineral Exploration (TSXV: NOB – OTCQB: NLPFX)
Introduction Noble Mineral Exploration Inc. is a Canadian-based junior exploration company holding several highly prospective properties in some of Canada's…
MoneyTalks: Three little bigs – the undervalued ASX miners hiding in plain sight, with Jon Mills
While there is a wide dispersion in valuations between various ASX miners, commodity prices are supportive. These are Jon's most … Read More
The post…