Anatomy Of A Staking Rush – And Is Another Almost Upon Us?
Investing in mining exploration stocks can be one of the most exciting and equally nerve-wracking activities an investor can partake
The post Anatomy Of…
Investing in mining exploration stocks can be one of the most exciting and equally nerve-wracking activities an investor can partake in. By nature, it's a highly volatile, high-risk (and potentially) high-reward endeavor. If one is successful, it can provide incredibly high returns. Conversely, it can also lead to massive losses, and therefore is not meant for the faint of heart.
The Canadian stock markets grew in large part to the natural resources sector, which is a major component of the Canadian economy. Over time, Canada has earned the distinction of being the world's foremost mining finance center, and as such, it is also home to many of the world's leading geologists, geophysicists, and other mining professionals. As a result of this, the investment sentiment on Canadian stock markets tends to reflect the state of the global mining sector at any given moment in time.
The 'Rush' and its Area Plays
On most days, markets just plod along as traders buy or sell, with activity often centered on a handful of names that have caught investor attention for whatever reason. However, there are those rare times in history where an extraordinary event triggers a massive public reaction.
The California gold rush of the 1840's brought people from all over the world to seek their fortunes panning for gold. In 1896, gold was discovered in the Yukon Territory, and it set off one of the greatest staking rushes ever, as once again, people from all over the world made their way into a rough territory to try their luck. Other examples of this type of staking mania occurred after the 1993 nickel discovery at Voisey's Bay in Labrador, the 1981-1982 Hemlo gold discovery, the 1988 Eskay Creek gold/silver discovery in British Columbia – and what followed the infamous 1995 Busang gold discovery at the heart of the Bre-X Minerals scandal. 
A characteristic of these major discoveries was the frenzied activity by junior exploration companies staking as many claims as they could in the area surrounding the discoveries, often hundreds of kilometers from the discovery location claims. This frenetic activity can spiral out of control and take on a life of its own, despite common sense or objective reality. 
These discoveries resulted in many junior exploration companies staking as many claims as possible in land surrounding these discoveries. This activity is also commonly referred to as 'area plays.' Exploration companies conduct work on these properties to determine if their results show any indications of mineralization resembling the discovery deposits. 
While the primary attention by investors is usually focussed on the original discovery company, the shares of companies in close proximity also receive investor interest – and often see wild swings in their share prices in anticipation of similar discoveries, or at least the potential for one. It's one of the reasons that exploration stocks become popular – i.e. the 'blue sky' opportunity!
The Lac De Gras Diamond Staking Rush
Perhaps the greatest rush since the Yukon gold discovery was the Lac de Gras diamond staking rush in the Northwest Territories. This began in early 1991, when geologists Dr. Charles Fipke and Dr. Stewart Blusson, who had been prospecting for diamonds throughout the 1980's by trying to find the source of previously identified diamond indicator minerals, found 81 small diamonds. After initial market skepticism, bedlam ensued – with shares of Dia Met Minerals Ltd. rising quite significantly.
It is important to note that at the time of the new find, there were no diamonds in Canada, and that seeking them up near the Arctic Circle seemed almost preposterous. However, Fipke and Blusson, who had spent almost a decade prospecting, had attracted the attention of Australian mining behemoth BHP Billiton. BHP helped fund Dia Met's exploration activities, thus adding much needed credibility to their efforts. The two geologists staked 80,000 square miles of mineral claims in the region during their search.
With the initial discovery of the Lac de Gras kimberlite field and subsequent recovery of 81 small but gem quality diamonds, the rush was on. Investors were enthralled with the possibility of a new and exciting mining camp. At the peak of the mania, more than 200 companies had joined the staking rush.
Dia Met Minerals
There were two main winners at Lac de Gras. One of these was Dia Met Minerals, shares of which had languished around the $0.10-$0.15 range for a long time, and traded from a 1991 low of 21 cents to a 1992 high of $18.50 – and after moving from the Vancouver Stock Exchange to the TSE, the Class B shares eventually went from $0.60 to as high as $55. 
Dia Met was acquired by BHP for $21 per share in 2001 and their property became the highly profitable Ekati diamond mine. Many of the 200 or so juniors that staked claims in NWT abandoned their projects, became defunct, or moved elsewhere to try their luck at other exploration efforts.
Aber Resources
The other Lac de Gras winner was Aber Resources Ltd., which teamed up with mining conglomerate Rio Tinto to advance its Diavik project. Diavik has since become Canada's largest diamond mine. Its shares, which traded below $0.10 in 1991, went as high as $140 in late 2003, before settling around the $100 mark. The Company and the Diavik Mine were subsequently restructured in 2008.  
Today Canada ranks as the world's 3rd largest diamond producer. For the past 30 years the industry has grown and downstream activities such as polishing and cutting are becoming increasingly home-grown.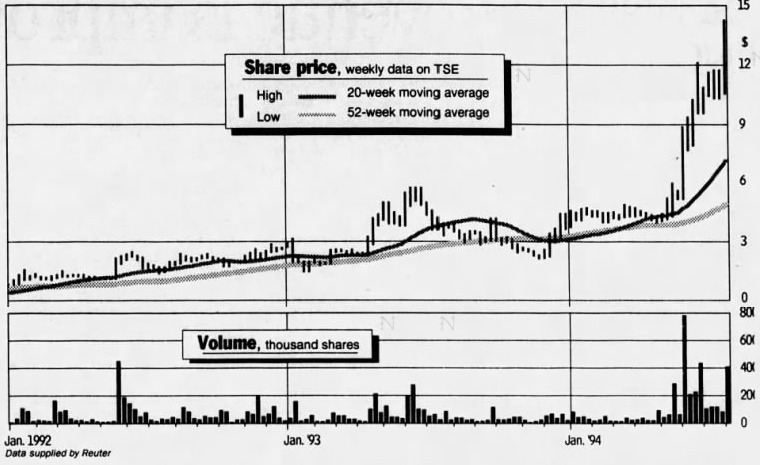 Arctic Star, A Potential New Winner?
It was thought by many that Ekati and Diavik having staked much of the Lac de Gras area for themselves, therefore controlled most of the area's kimberlites. However, in 2021, junior diamond explorer, Arctic Star Exploration Corp. (TSXV: ADD), made a significant kimberlite discovery in the Lac de Gras area, and this has some investors rethinking their position on the area. 
Arctic Star, which is developing its Diagras Diamond Project in the Lac de Gras region, discovered what it now calls the Sequoia Kimberlite Complex. Surface geophysics mapping to date suggests this could potentially be the largest diamond-bearing formation in the Lac de Gras district, and one that potentially eclipses the original find in the 1990s. A subsequent small ground sampling program found two commercial-grade diamonds, with ensuing diamond chemistry analysis indicating the potential for large diamonds greater than 52 carats. 
The Canadian diamond industry has matured over the past 30 years. The investment financing community now understands the industry and its inherent risks and rewards, has a level of confidence in the industry participants, and knows how to fund it. Investors also have a much better understanding of diamond exploration and mining and are much better equipped to react to opportunities when they arise.
Exploration methods and technologies have evolved from the heady days of the 1990's, de-risking the prospecting process and making the economics of exploration more feasible. If Arctic Star were to now recover significant numbers of gem quality diamonds during its ongoing exploration activity, it just may have the potential to reignite a new staking rush into the region.
---
FULL DISCLOSURE: Arctic Star Exploration is a client of Canacom Group, the parent company of The Deep Dive. The author has been compensated to cover Arctic Star Exploration on The Deep Dive, with The Deep Dive having full editorial control. Not a recommendation to buy or sell. Always do additional research and consult a professional before purchasing a security.
The post Anatomy Of A Staking Rush – And Is Another Almost Upon Us? appeared first on the deep dive.
tsxv
gold
diamond
tsxv-add
arctic-star-exploration-corp
arctic star exploration corp
Sabina Gold & Silver Announces Financial Results for the Year Ended December 31, 2022
VANCOUVER, British Columbia, March 31, 2023 (GLOBE NEWSWIRE) — Sabina Gold & Silver Corp. ("Sabina") or (the "Company") (SBB – TSX) reports…
NGEx Minerals Reports 2022 Results
NGEx Minerals Reports 2022 Results
Canada NewsWire
VANCOUVER, BC, March 31, 2023
VANCOUVER, BC, March 31, 2023 /CNW/ – NGEx Minerals Ltd. (TSXV: NGEX) ("NGEx Minerals" "NGEx" or the "Company") is pleased to report its results for the year ended Dec…
LUNDIN GOLD FILES AMENDED FRUTA DEL NORTE TECHNICAL REPORT
LUNDIN GOLD FILES AMENDED FRUTA DEL NORTE TECHNICAL REPORT
Canada NewsWire
VANCOUVER, BC, March 31, 2023
VANCOUVER, BC, March 31, 2023 /CNW/ – Lundin Gold Inc. (TSX: LUG) (Nasdaq Stockholm: LUG) (OTCQX: LUGDF) ("Lundin Gold" or the "Company") anno…