Michael Burry Predicts Bleak Days Ahead, Fears The Fed Might Slash Interest Rates Too Soon
Michael Burry, the investor of "The Big Short" fame, has been in a dark mood lately, cautioning people about silliness
The post Michael Burry Predicts…
Michael Burry, the investor of "The Big Short" fame, has been in a dark mood lately, cautioning people about silliness and calling for a bloodbath. He's also uncharacteristically decided to keep some of his tweets for longer — but this isn't about those tweets.
In recent months, the investor has been predicting a bleak near-term future for markets and the economy. His main concerns revolve around celebrating too early as inflation slows down, fearing that the Fed will reverse course on interest rates and slash them too soon.
Last week, he compared today's COVID-era markets to 2001 before the September 11 attacks and referred to the dot-com bubble period before the Enron and WorldCom scandals. Stressing that "silliness" is back in the markets.
The Bullwhip Effect
Before this, he warned of "the bullwhip effect," which is the increase in demand from consumers impacting the supply chain, causing an overproduction of stocks and an overflow of supply and inventory, which would eventually cause the retailers to cut their prices.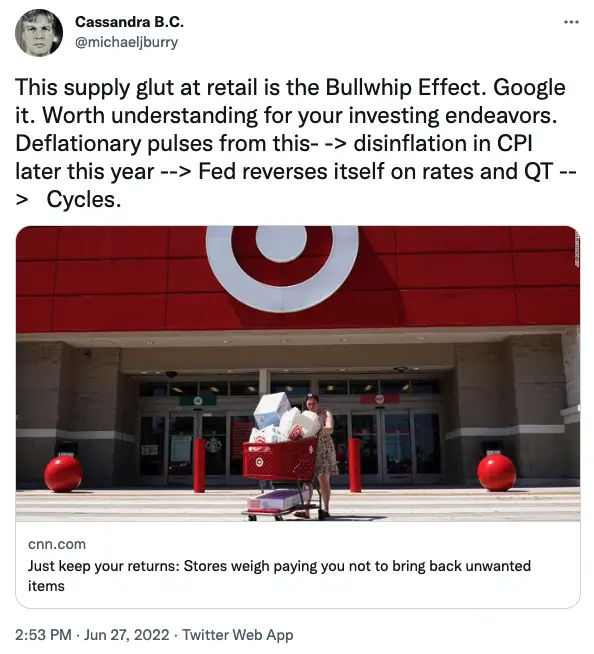 Burry sees retailers cutting their prices, causing the Consumer Price Index (CPI) to slow down in a few months, but then consumers will buy more, and use up more of their money, spending more of their savings, and accumulating more credit card debt. All amid the rising costs of food, energy, and housing. He believes this will likely cause a consumer recession by Christmas, and pull down corporate earnings.
The Fed Should Keep Its Course
The investor has pointed out the Federal Reserve's apparent blindness to financial history, and its affinity for stimulus. 
In a since-deleted — what's new — July 31 tweet, Burry called on the Fed to be careful about hastily cutting interest rates if inflation slows.
He referred to December 1974 when the US central bank cut rates to 7.75%. The decision turned out to be a "terrible mistake." It drove stocks higher, but only temporarily, and created a "lasting top" that they weren't able to exceed for years.
---
Information for this briefing was found via Twitter and the companies and sources mentioned. The author has no securities or affiliations related to this organization. Not a recommendation to buy or sell. Always do additional research and consult a professional before purchasing a security. The author holds no licenses.
The post Michael Burry Predicts Bleak Days Ahead, Fears The Fed Might Slash Interest Rates Too Soon appeared first on the deep dive.
inflation
markets
reserve
interest rates
fed
central bank
bubble
Oil, Gold, and Equities: The Battle of Supply and Demand
As predicted and we wrote about yesterday, oil prices continued to climb in anticipation of an OPEC+ production cut. Reports confirmed today that OPEC+…
7 Cheap Cryptos to Buy Now for Big Gains
The list of cheap cryptos to buy is one that's really long. I mean, really long.
Finding tokens worth less than $1 apiece or with valuations that appear…
Tune Out the Financial Networks and Watch Real Bond Yields
Investors watch CNBC and CNBC's competitors for guidance on where the markets are going. CNBC may provide insightful commentary from very qualified investors….