NIO Stock Price Continues to Rise on 133% Reported YoY Growth Rate for September
Investors AlleyNIO Stock Price Continues to Rise on 133% Reported YoY Growth Rate for September
Nio (NIO) has become one of the hottest electric vehicle (EV) stocks on market. Since bottoming out in May 2020 around $3.18, the stock has exploded to $21.18.  From here, stock could see higher highs after reporting another record month of deliveries.  In September 2020, the company said it delivered 4,708 vehicles – a growth […]
NIO Stock Price Continues to Rise on 133% Reported YoY Growth Rate for SeptemberIan Cooper
Investors Alley
NIO Stock Price Continues to Rise on 133% Reported YoY Growth Rate for September
Nio (NIO) has become one of the hottest electric vehicle
(EV) stocks on market.
Since bottoming out in May 2020 around $3.18, the stock has
exploded to $21.18.  From here,
stock could see higher highs after reporting another record
month of deliveries. 
In September
2020, the company said it delivered 4,708 vehicles – a growth rate of just over
133% year over year.  It sold 3,210 ES6, 1,482 ES8, and 16 EC6 model
vehicles.  NIO
delivered 12,206 vehicles in the third quarter of 2020, representing an
increase of 154.3% year-over-year and exceeding the higher end of the Company's
quarterly guidance.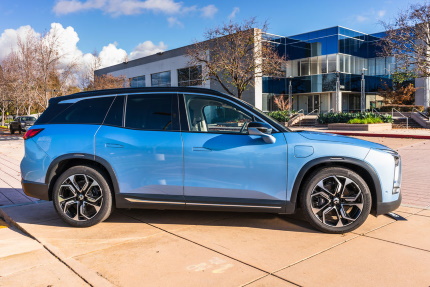 As of September 30,
2020, cumulative deliveries of the ES8, ES6 and EC6 reached 58,288 vehicles, of
which 26,375 were delivered in 2020, according to the company.
For August 2020, NIO completed 3,965 – a year over year
increase of just over 104%.  That's also
a 12.2% jump month over month. 
Cumulative deliveries, says the company, are up to 21,667 for the year,
an increase of nearly 110% year over year, as well.
For July 2020, the company quadrupled its EV sales.  In
fact, sales were up 322% to 3,533 vehicles – its second best month ever.
For June 2020, the company sold 3,740 EVs for the month, up
179% year over year.  "In June, we achieved a historical high of monthly
deliveries, contributing to our best quarterly performance. We appreciate the
continuous support from our growing and loyal user community," William Bin Li,
Nio's chairman and CEO, said.
Electric Vehicle
Demand Likely to Accelerate
Nio is benefiting from incredible global EV demand.
Helping, according
to the Boston Consulting Group, by 2025, EVs could account for a third of
all auto sales.  By 2030, EVs could
surpass internal combustion engine vehicles with a market share of 51%.   Part of the reason for that are governments all over the
world.
Related:
NIO Stock Price Up Five Fold Year to Date
In
the U.S., California Gov. Gavin Newsom just signed an executive order that will
ban the sale of gas-powered passenger cars in the state starting in 2035. 
In
Europe, "Automakers need
to sell more electric vehicles after EU lawmakers in December 2018 ordered them
to cut CO2 emissions by 40 percent between 2007 and 2021, and then by a further
of 38 percent by 2030, or face fines."
As of this writing,
Ian Cooper did not own shares of Nio Inc.
If not, here's your chance to save it to your computer while it's still free. That way you will never have to pay for it again in the future.
This guide will get you placing winning trades without you needing to spend hundreds of hours studying.
In fact, you can place your first trade today after reading my "Beginner's Guide" to trading options.
NIO Stock Price Continues to Rise on 133% Reported YoY Growth Rate for September
Ian Cooper
CopperCorp Resources (TSXV:CPER) Secures Landmark Exploration License for the Razorback Project in Western Tasmania
CopperCorp Resources (TSXV:CPER) (OTCQB:CPCPF) has announced that its wholly-owned division, Georgina Resource Pty Ltd, has acquired exploration license…
Hertz Lithium Inc. Provides Update on Exploration of the Lucky Mica Project and Sympathizes with James Bay Lithium Exploration Halt
Hertz Lithium Inc. (the "Company") (CSE: HZ) (OTC: HZLIF) (FSE: QE2), a Company focused on…
Argentina, Brazil lithium stocks vital to hitting electric vehicle targets, experts say
Latin America's lithium is the key to hitting EV targets. This means investment into mining friendly countries like Brazil and … Read More
The post…