NIO Stock Price Up Five-Fold Year to Date
Investors AlleyNIO Stock Price Up Five-Fold Year to Date
The Nio Inc. (NIO) boom continues. Over the last two months, the NIO stock price soared from $11 to a recent high of $18. From here, NIO stock could see higher highs after reporting another record month of deliveries. For August 2020, NIO completed 3,965 – a year over year increase of just over 104%. […]
NIO Stock Price Up Five-Fold Year to DateIan Cooper
Investors Alley
NIO Stock Price Up Five-Fold Year to Date
The Nio Inc. (NIO) boom continues.
Over the last two months, the NIO stock price soared from
$11 to a recent high of $18. From here, NIO stock could see higher highs after
reporting another record month of deliveries.
For August 2020, NIO completed 3,965 – a year over year
increase of just over 104%. That's also a 12.2% jump month over month. Cumulative
deliveries, says the company, are up to 21,667 for the year, an increase of
nearly 110% year over year, as well.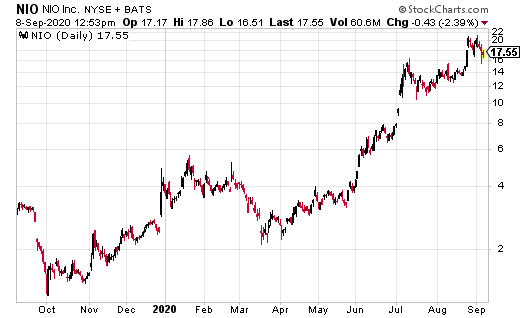 "In August, we
achieved our best-ever monthly performance on both deliveries and order
growth," said William Bin Li, founder, chairman, and chief executive officer of
NIO. "As we continue to improve the production capacity for all NIO products,
our monthly capacity will reach 5,000 units in September to support our future
deliveries. With the closing of our recently announced ADS offering, we have
further enhanced our balance sheet and optimized our capital structure to be
better prepared for the acceleration of our core technology development,
autonomous driving in particular, and the global market expansion in the
future."
For July 2020, the company quadrupled its EV sales. In fact,
sales were up 322% to 3,533 vehicles – its second best month ever.
Related: NIO Stock Price Surges on Analyst
Upgrade
For June 2020, the company sold 3,740 EVs for the month, up
179% year over year. "In June, we achieved a historical high of monthly
deliveries, contributing to our best quarterly performance. We appreciate the
continuous support from our growing and loyal user community," William Bin Li,
Nio's chairman and CEO, said.
In addition, UBS analyst Paul Gong upgraded the stock to the
equivalent of a Hold from a Sell. The analyst also raised his price target from
$1 to $16, according to Barron's.
As of this writing,
Ian Cooper did not own shares of Nio Inc.
If not, here's your chance to save it to your computer while it's still free. That way you will never have to pay for it again in the future.
This guide will get you placing winning trades without you needing to spend hundreds of hours studying.
In fact, you can place your first trade today after reading my "Beginner's Guide" to trading options.
Gold Breaks Out From Wedge and Promptly Backtests
Source: Barry Dawes 06/05/2023
Barry Dawes of Martin Place Securities looks at how various sectors have been doing this week, from gold and…
Things are Brewing in Canada, eh?
Quebec's lithium industry is marching on; neighbouring Ontario looks to catch up ASX juniors and developers keep throwing their chips … Read More
The…
Report: Ontario On The Brink Of Energy Crisis
A startling report from the North American Electric Reliability Corporation (NERC), an electricity regulator, warns that Ontario is teetering on
The post…