Tesla Semi: What We Know So Far Of The Expansion In Nevada
Tesla (Nasdaq: TSLA) announced on Tuesday that it is expanding its foothold in the state of Nevada with an additional
The post Tesla Semi: What We Know…
Tesla (Nasdaq: TSLA) announced on Tuesday that it is expanding its foothold in the state of Nevada with an additional $3.6 billion investment. Part of this move is the firm's first high-volume Semi factory.
"We will be investing over $3.6 billion more to continue growing Gigafactory Nevada, adding 3,000 new team members and two new factories: a 100 GWh 4680 cell factory (with capacity to produce enough batteries for 1.5 million light duty vehicles annually), as well as our first high-volume Semi factory," the company said in its statement.
In addition to the Semi factory, Tesla intends to use the Nevada investment to construct a 100 GWh 4680 battery cell factory with the "capacity to produce enough batteries for 2 million light duty vehicles annually," as well as hire 3,000 new employees.
The company claims that the Gigafactory currently produces up to 37 GWh of batteries per year, which is enough to power approximately 500,000 vehicles.
The announcement was echoed by Nevada Governor Joe Lombardo in his state address, saying he is looking forward to joining Elon Musk and the team at Tesla "when they unveil plans to build a brand new $3.5 billion advanced manufacturing facility in northern Nevada for the company's all-electric semi-trucks."
According to the Las Vegas Review Journal, the White House also confirmed those plans, announcing that Tesla would build a new facility at the Tahoe-Reno Industrial Center east of Sparks, Nevada.
"This announcement is the latest in more than $300 billion in private sector investment in clean energy and semiconductor manufacturing announced since the President took office," said Mitch Landrieu, White House's Infrastructure Coordinator. "It will create more than 3,000 good-paying jobs in Nevada helping America lead in clean energy manufacturing, strengthening our energy security, and ultimately lowering costs for families."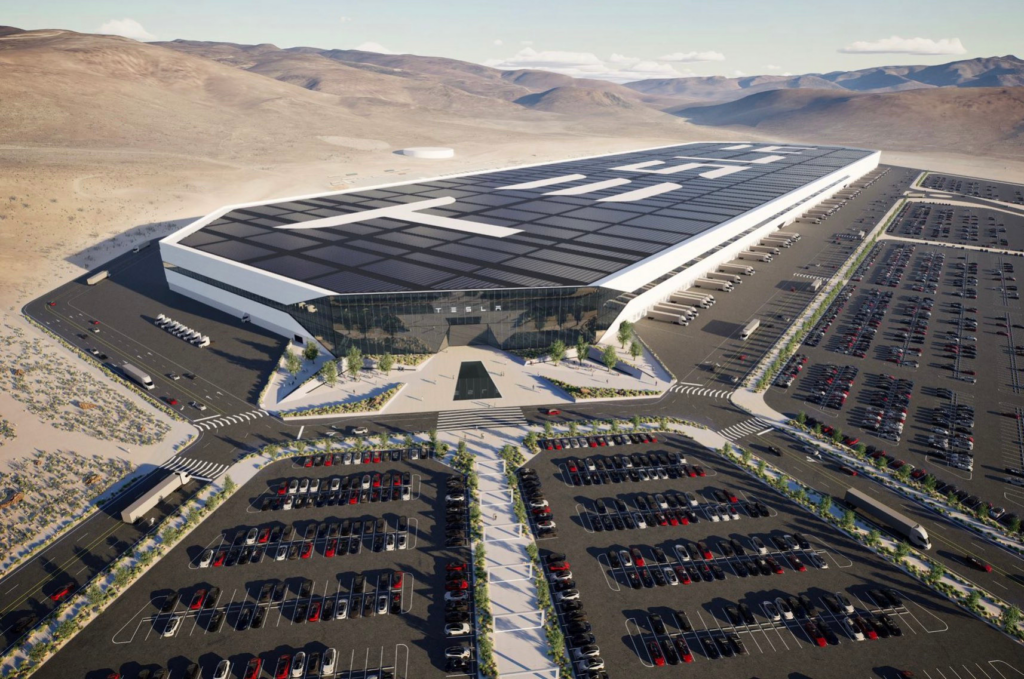 So far, Tesla claims to have invested $6.2 billion in the Gigafactory in Nevada and boasted about the battery cells produced by the facility. The electric vehicle maker said that in 2014, it made a commitment to invest $3.5 billion in Nevada, planning to hire 6,500 full-time team members over the next 10 years.
Since then, to complete the work at the giga facility, Tesla directly hired more than 11,000 team members.
Tesla Semi
Tesla describes its Semi as a fully electric combination truck, with 500 miles of range based on a full load of 82,000 lbs. and energy consumption of less than 2 KWh per mile. Currently, there is no comprehensive charging network for trucks, so the Semi will most likely appeal to customers who operate trucks from depots where they can charge overnight.
Musk announced back in October 2022 that the electric vehicle maker's semi truck was already starting the long-delayed production, with the first deliveries to start in December, three years after the original target production timeline.
READ: Musk Announces Plans For Long-Delayed Semi Truck Deliveries
Pepsi was one of the first customers of Tesla Semi, which reserved 100 trucks back in December 2017. PepsiCo Vice President Mike O'Connell confirmed that five years later, the beverage giant has finally deployed 36 Tesla Semis–15 in Modesto and 21 in Sacramento.
O'Connell commented on the truck's range in a Reuters interview, saying the Semi can haul Frito-Lay food products for around 425 miles (684 km), but for heavier loads of sodas, the trucks will do shorter trips of around 100 miles (160 km). It is unclear the need for shorter trips when loads are heavier but given that there is a weight limit for any vehicle, the 500-mile range claim should stand.
Nearly a month since Pepsi started deploying its Tesla Semis, one unit with Pepsi livery was spotted being towed in Sacramento, California.
Days after, another Tesla Semi with Frito Lay livery was also photographed in Modesto, California, seemingly broken down on the side of the road. There is also what appears to be a Tesla service van parked in front of the truck, implying that the truck had a problem and technicians were summoned to assist.
Tesla is set to announce its Q4 2022 earnings on Wednesday after markets close, in arguably one of the most important quarterly financials Musk has to deal with. The electric vehicle maker's shares have plummeted by more than 50% year-on-year, with a majority of the steep declines occurring after Musk took over Twitter.
Musk, in a company-wide email, told employees afterwards–some of whom have stock compensation plans–to not concern themselves too much about the "stock market craziness."
READ: "Don't Be Bothered By Stock Market Craziness," Elon Musk Tells Tesla Employees Despite Stock Compensation
The Tesla chief is also in the midst of multiple legal bouts concerning his stint at the helm of the electric vehicle firm, including a shareholder lawsuit over his tweet in which the billionaire stated that he was considering taking Tesla private for $420 per share and had "funding secured."
Ahead of the Q4 results, the firm announced earlier that it delivered a record 405,278 cars, falling short of the consensus estimate of 420,760 vehicles.
READ: Tesla: 405,278 Deliveries In Q4 2022, Tax Credit Ineligibility, $2.2 Million Fine In South Korea
Tesla last traded at $142.61 on the Nasdaq.
---
Information for this briefing was found via Yahoo Finance, New York Times, The Verge, Inside EV, Electrek, Futurism, and the sources mentioned. The author has no securities or affiliations related to this organization. Not a recommendation to buy or sell. Always do additional research and consult a professional before purchasing a security. The author holds no licenses.
The post Tesla Semi: What We Know So Far Of The Expansion In Nevada appeared first on the deep dive.
Elon Musk Vs. Michael Burry: Who's Right About TSLA Stock?
Source: Rokas Tenys / Shutterstock.com
Michael Burry is no stranger to ominous market warnings. The expert who predicted the 2008 housing market crash…
Sprott Asset Management Launches Four New Critical Mineral ETFs
Sprott Asset Management LP has announced that four new critical mineral ETFs will be launched, giving investors exposure to critical minerals essential…
How Analysts Feel About Uranium Energy Corp. (UEC)?
As of Thursday close, Uranium Energy Corp.'s (AMEX:UEC) stock was up $0.06, moving up 1.45 percent to $4.19. The average number of shares traded per…