Total Construction Starts Increase In December
Manufacturing and infrastructure projects lead large gains during the month HAMILTON, NJ — January 24, 2023 — Total construction starts jumped 27%…
Manufacturing and infrastructure projects lead large gains during the month
HAMILTON, NJ — January 24, 2023 — Total construction starts jumped 27% in December to a seasonally adjusted annual rate of $1.185 trillion, according to Dodge Construction Network. During the month, nonresidential building starts increased 51%, nonbuilding starts increased 30%, and residential starts rose less than one percent.
Get The Full Walter Schloss Series in PDF
Get the entire 10-part series on Walter Schloss in PDF. Save it to your desktop, read it on your tablet, or email to your colleagues.
Q4 2022 hedge fund letters, conferences and more
Total Construction Starts Rise In December
Across 2022, total construction starts were 15% higher than in 2021. Nonresidential building starts rose 38% over the year, nonbuilding starts were up 19%, and residential starts were down 3%.
"December starts revealed where the current strength in the construction lies: manufacturing and infrastructure," said Richard Branch, chief economist for Dodge Construction Network. "It is those segments that will provide insulation for the sector as the economy softens in 2023.
Recession or not, higher interest rates will weigh on the economy and restrain construction starts in 2023. However, it's encouraging to know that the new year is starting with a great deal of positive momentum."
Nonbuilding Construction Starts
Nonbuilding construction starts rose 30% in December to a seasonally adjusted annual rate of $281.4 billion. The utility/gas category was the main driver of the growth due to the start of a transmission line project.
Miscellaneous nonbuilding starts rose 19% and highway and bridge starts were up 10%. However, environmental public works fell 4%. For the full year, total nonbuilding starts were up 19% from 2021. Starts activity in all sectors gained in 2022, led by utility/gas plants, which rose 26%.
Highway and bridge starts were up 25% in the year, environmental public works increased by 15%, and miscellaneous nonbuilding starts rose by less than one percent.
The largest nonbuilding projects to break ground in December were the $2.2 billion Champlain Hudson Power Express transmission line across several counties in New York state, the $1.2 billion New Fortress Energy Louisiana LNG terminal in Grande Isle, LA, and the $535 million Black Diamond solar project in Morgan and Sangamon counties, IL.
Nonresidential Building Starts
Nonresidential building starts gained 51% in December to a seasonally adjusted annual rate of $549.6 billion due to numerous large manufacturing projects getting underway. In December, manufacturing starts rose 596% from November to December. Institutional starts gained 11% with all subcategories improving.
Commercial starts, however, fell 10% in December due to a pullback in office and hotel starts. For the full year, nonresidential construction rose 38% from 2021. Manufacturing construction activity led all gains, rising 185% over the year.
Commercial starts were 25% higher in 2022, led by office and hotel activity, while warehouse and retail starts increased at a modest pace. Institutional starts were 19% higher in 2022, led by improvements in healthcare and education starts.
The largest nonresidential building projects to break ground in December were the $8.5 billion Golden Triangle Ethylene Cracker in Orange, TX, the $2 billion AltAir/World Energy renewable fuels facility in Paramount, CA, and the $1.4 billion Stellantis electric vehicle plant in Kokomo, IN.
Residential Building Starts
Residential building starts remained flat in December at a seasonally adjusted annual rate of $353.8 billion. Single family starts lost 5%, while multifamily starts gained 8%. Residential starts were 3% lower in 2022 when compared to 2021. Multifamily starts were up 25%, while single family housing slipped 13%.
The largest multifamily structures to break ground in December were the $350 million first phase of the Hamilton Green complex in White Plains, NY, a $240 million mixed-use project on Dekalb Ave in Brooklyn, NY, and the $230 million 54 Crown Street building in Crown Heights, NY.
Regionally, total construction starts in December rose in all five regions.
Watch Chief Economist Richard Branch discuss December Construction Starts.
December 2022 Construction Starts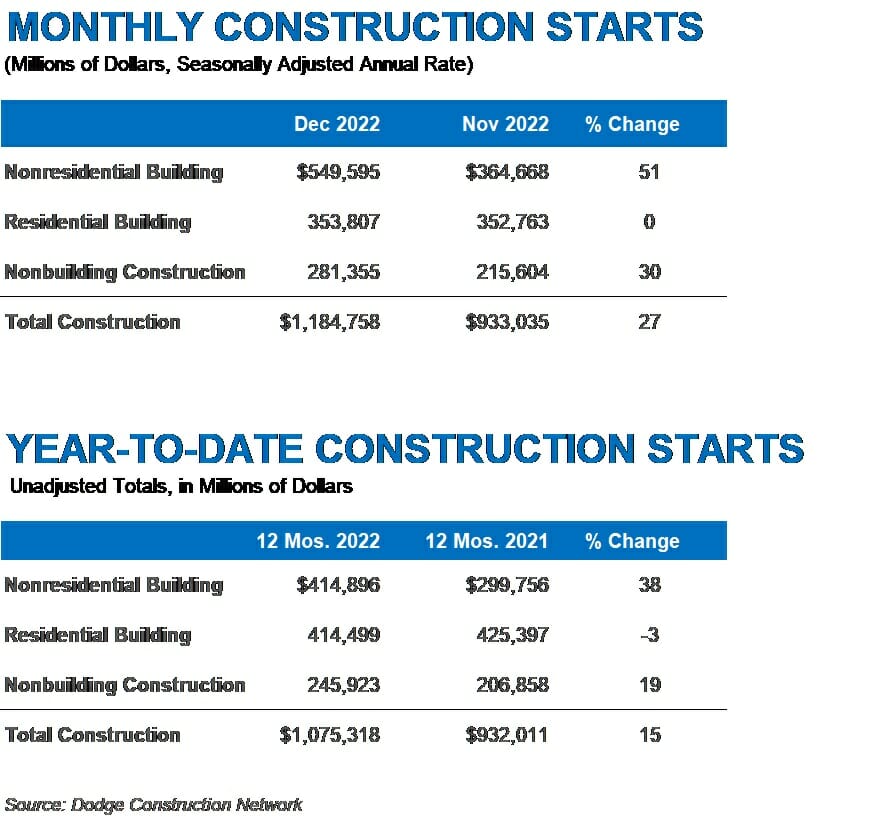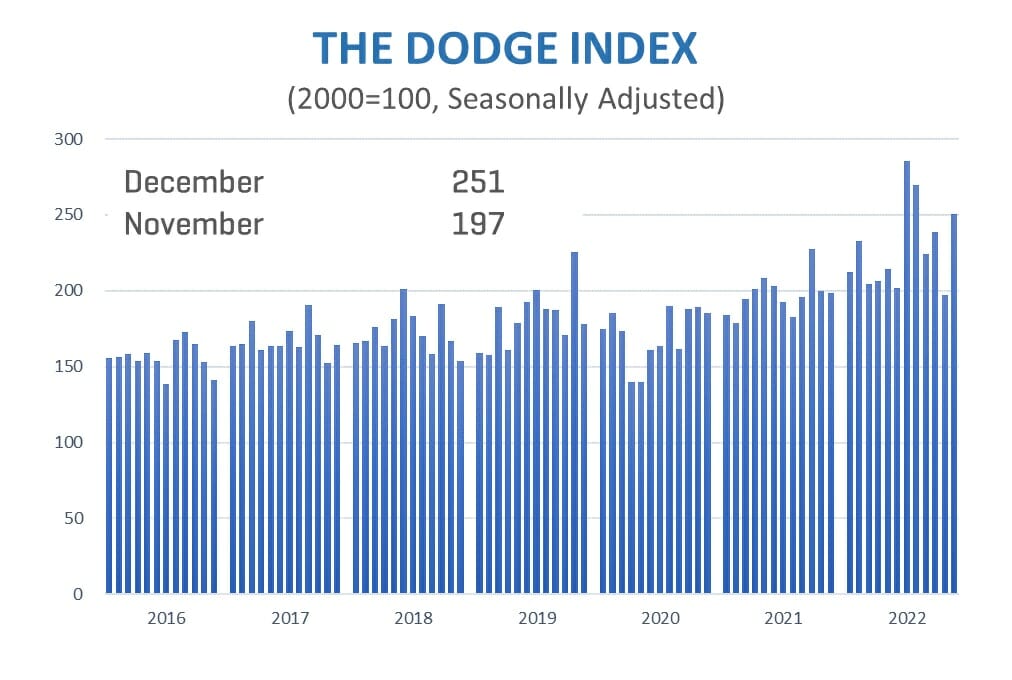 ---
About Dodge Construction Network
Dodge Construction Network leverages an unmatched offering of data, analytics, and industry-spanning relationships to generate the most powerful source of information, knowledge, insights, and connections in the commercial construction industry.
Graphite One gets huge financial boost from US government grant and Bering Straits Native Corporation – Richard Mills
2023.09.21
The US Department of Defense, the government of Alaska and Bering Straits Native Corporation ("BSNC") have committed to moving Graphite…
Toronto proposal to require vehicles-for-hire be zero emission by 2031 is a needed step
"I'm excited" by a city plan to transition taxi and rideshare vehicles to EVs to reduce greenhouse gases, but there is still a lot of work to do, says…
'Entire walls of just spodumene': Here's why lithium explorers fought tooth and nail for ground in the Black Hills of South Dakota
Midwest Lithium has prime ground in the Black Hills mining region, one of the largest producing lithium districts in the … Read More
The post 'Entire…