Surge Battery Metals Reports Promising Drill Results At Its Nevada North Lithium Project
Over the last two weeks, Surge Battery Metals Inc. (TSXV: NILI) has begun reporting what might be described so far as encouraging
The post Surge Battery…
Over the last two weeks, Surge Battery Metals Inc. (TSXV: NILI) has begun reporting what might be described so far as encouraging results from its much-anticipated second round of drilling at its 100%-owned Nevada North Lithium Project (NNLP). 
The early results of the 2023 drilling program, together with the eight-hole 2022 program, continue to compare favorably with drilling assays at Lithium Americas Corp.'s (TSX: LAC) mammoth Thacker Pass lithium project, which is also in northern Nevada, but perhaps 100 miles away.
Surge's 2023 eight-hole drilling program commenced in late July. The first five holes were completed using sonic drilling techniques, and the final three are being drilled using wireline diamond drilling methods. Diamond drilling will allow holes to be drilled to greater depth. Note that the eight holes drilled in 2022 utilized reverse circulation (RC) drilling technology. Historically, diamond drilling has produced markedly richer concentrations of mineral resources than RC drilling.
Early results from the 2023 program appear promising.
Drill hole V on the map below is said to have intersected the known lithium clay horizon identified in the 2022 drilling program. This suggests the strike length of the NNLP is at least 3,000 meters, about double the 1,620-metre estimate that was derived from last year's drilling program. Holes numbered NN2201 through NN2208 in the below figure were the 2022 drilling locations.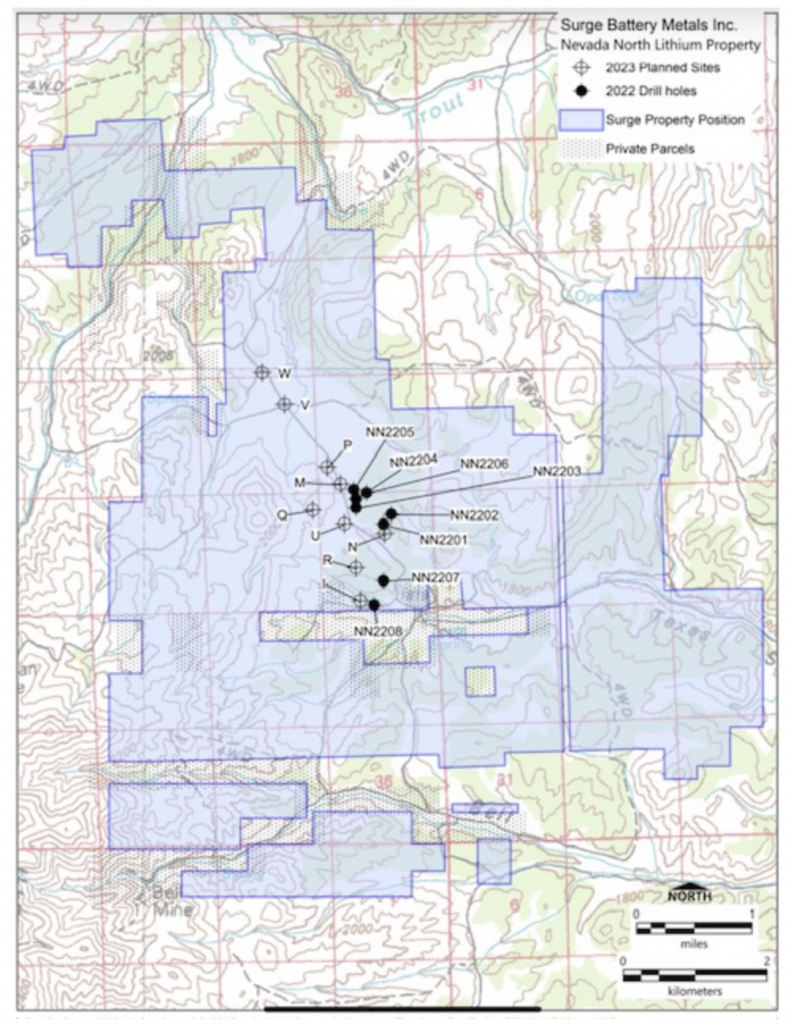 Earlier this week, Surge announced that the first hole of the 2023 drilling program, NN2301 (location R on the map above), intersected intervals totaling 140 feet of lithium-rich claystone with an average lithium concentration of 4,067 parts per million (ppm), markedly higher than the concentration of any hole drilled in 2022. 
The table below shows summary assay data on NN2301 and the eight holes drilled in 2022. In addition, a shallow 80-ft zone (from a depth of 27.5 ft to 107.5 ft) of NN2301 had an average lithium grade of 4,939 ppm, including 2.5 ft with an 8,070 ppm lithium concentration.
North Nevada Lithium Project Drill Hole Intercept Data
| | | |
| --- | --- | --- |
| Hole ID | Aggregate Thickness of Lithium Mineralization (metres) | Average Lithium (ppm) |
| NN2201 | 48.77 | 3,042 |
| NN2202 | 7.62 | 1,603 |
| NN2203 | 48.78 | 3,621 |
| NN2204 | 42.67 | 3,501 |
| NN2205 | 51.82 | 3,383 |
| NN2206 | 16.77 | 2,155 |
| NN2207 | 120.4 | 3,943 |
| NN2208 | 54.86 | 3,088 |
| NN2301 | 42.7 | 4,067 |
Intercepts displayed for all holes used a 1,000 ppm lithium cut off without internal distribution.
The average assay value for lithium in the eight NNLP holes drilled in 2022 was 3,254 ppm.  If one were to factor in the first hole drilled in 2023, that figure probably rises to about 3,350 ppm. In comparison, the average Thacker Pass assay result was 3,283 ppm. Of all the holes drilled by Lithium Americas at Thacker Pass, the segment with the highest lithium density was 22.8 m long with an average lithium concentration of 4,797 ppm. 
It is important to note, however, that NNLP is not part of the same lithium district as Thacker Pass. Thacker Pass is estimated to contain 179 million tonnes of proven and probable reserves with an average Li grade of 3,283 ppm using a cutoff grade of 2,500 ppm. A resource estimate for the Nevada North Lithium Project is currently scheduled to be released later this year, while a preliminary economic assessment is forecasted to be complete in 2025.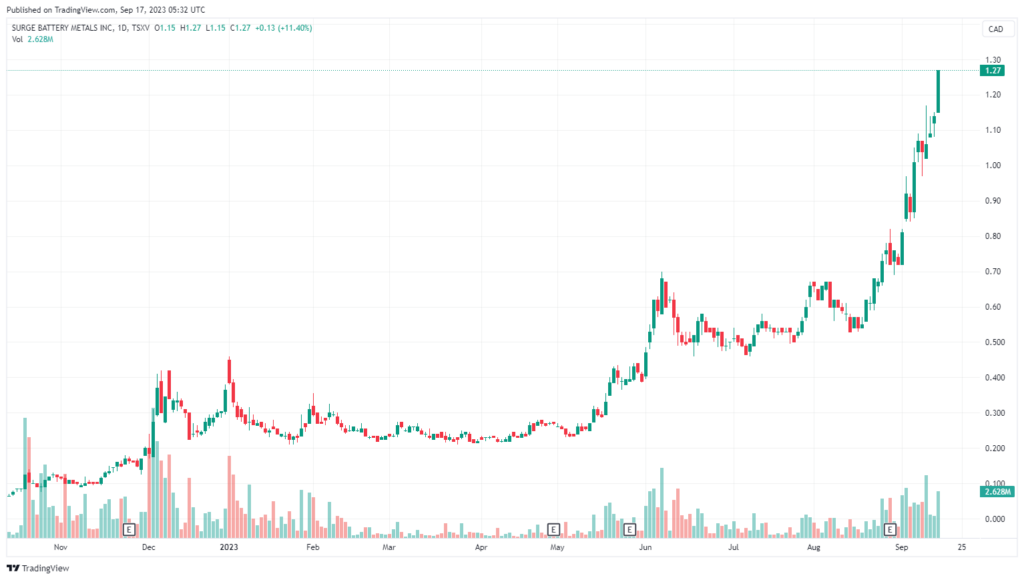 Shares of Surge have rallied sharply in 2023, more than tripling from its 2022 closing price of $0.37. Nevertheless, its one-year chart has shown little indication of a near-term reversal in this trend.
Surge Battery Metals Inc. last traded at $1.27 on the TSX Venture Exchange.
---
Information for this briefing was found via Sedar+ and the companies mentioned. The author has no securities or affiliations related to this organization. Not a recommendation to buy or sell. Always do additional research and consult a professional before purchasing a security. The author holds no licenses.
The post Surge Battery Metals Reports Promising Drill Results At Its Nevada North Lithium Project appeared first on the deep dive.
tsx
tsxv
tsx venture
lithium
diamond
tsx-lac
lithium-americas-corp
lithium americas corp
tsxv-nili
surge-battery-metals-inc
surge battery metals inc
One World Lithium Signs Definitive Agreement to Acquire Two Patent Applications for a Lithium Extraction Technology
VANCOUVER, BC – TheNewswire – September 28, 2023 – One World Lithium Inc. (CSE:OWLI) (OTC:OWRDF) (the "Company" or "OWL") is pleased to announce…
AIS Reports on the Inferred Lithium Resource on Candela II
VANCOUVER, British Columbia, Sept. 28, 2023 (GLOBE NEWSWIRE) — A.I.S. Resources Limited (TSX-V: AIS, FRA: 5YHA) (the "Company" or "AIS") wishes…
Kootenay Silver Completes First Four Drill Holes at Columba High Grade Silver Project and Awaits Assays
Kootenay Silver Completes First Four Drill Holes at Columba High Grade Silver Project and Awaits Assays
PR Newswire
VANCOUVER, BC, Sept. 28, 2023
VANCOUVER, BC, Sept. 28, 2023 /PRNewswire/ – Kootenay Silver Inc. (TSXV: KTN) (the "Company" or "Koote…