Uranium Energy Insiders Snap up Shares Discounted by Kerrisdale Short Report Selling Pressure
Three company officers took advantage of the slipping share price following accusations in a recent short report Shares of Uranium Energy Corporation (NYSEAMERICAN:UEC)…
Three company officers took advantage of the slipping share price following accusations in a recent short report
Shares of Uranium Energy Corporation (NYSEAMERICAN:UEC) fell more than 17% last week, with selling pressure fueled by short seller Kerrisdale Capital's Thursday disclosure of its short position in the company.
Get Our Activist Investing Case Study!
Get the entire 10-part series on our in-depth study on activist investing in PDF. Save it to your desktop, read it on your tablet, or print it out to read anywhere! Sign up below!
Q4 2022 hedge fund letters, conferences and more
---
Find A Qualified Financial Advisor
Finding a qualified financial advisor doesn't have to be hard. SmartAsset's free tool matches you with up to 3 fiduciary financial advisors in your area in 5 minutes.
Each advisor has been vetted by SmartAsset and is held to a fiduciary standard to act in your best interests.
If you're ready to be matched with local advisors that can help you achieve your financial goals, get started now.
---
Three company officers took advantage of the share price weakness, buying stock and helping recover some investor confidence. Shares were 1.5% higher in extended trading on Friday evening. These transactions were initially spotted on Fintel's insider trading tracker. 
According to Kerrisdale, UEC has failed to capitalize on spikes in uranium prices during the last two bull markets. Furthermore, the short seller claims that UEC's deposits are unprofitable at current prices, with none of the company's stated 140 million pounds of estimated uranium resources in the United States being viable for mining.
Kerrisdale estimates that UEC's underlying assets are worth just over $350 million, which is around 30% of its current market cap.
Promotional Payments
Kerrisdale also called out UEC's paid stock promotion, citing media companies founded by CEO Amir Adnani and owned partly by his family members. The report highlighted that Uranium Energy has paid hundreds of thousands of dollars for this kind of publicity just last month.
These shenanigans, according to Kerrisdale, make sense if UEC's management team believes that the fundamentals don't exist for real investors to be interested in the company.
While the short seller is optimistic about uranium prices and believes that they need to rise to meet continued demand growth, Kerrisdale does not expect UEC — or its shareholders — to be any more successful this time around. 
Data compiled by Fintel shows that 14.42% of UEC's float is currently shorted, amounting to 53.23 million shares.
On the back of the falling share price, three company officers purchased stock at discounted prices.
President and CEO Amir Adnani bought a combined 80,000 shares in two transactions at prices ranging from $2.66 to $2.73. The average price paid across both transactions was $2.677 per share with a total trade value of $215,000. Adnani owns a total of 3,635,101 shares following the trade.
Chairman Spencer Abraham topped up his share ownership by 38,500 paying $2.614 on average each for a total trade value of $101,000. He owns 605,437 shares in total after the trade.
Executive Vice President Scott Melbye purchased 21,000 shares at $2.504 each for a total value of $53,000. Melbye now owns a total of 773,781 shares.
The platform also identified that the stock has seen above-average levels of institutional buying activity in recent months. Fintel's fund sentiment score of 75.87 is bullish on the company, ranking UEC in the top 18% out of 37,367 globally screened securities for the highest levels of institutional interest.
Bullish Analysts
For an alternative perspective, analysts in the market are bullish on the outlook for company. Fintel's consensus target price of $7.01 suggests the stock could rise 156% over the next year.
The chart below from Fintel's forecast page for UEC shows forward sales forecasts for the company over the next five years. Analysts are modeling for the company to continually grow revenue through to 2027.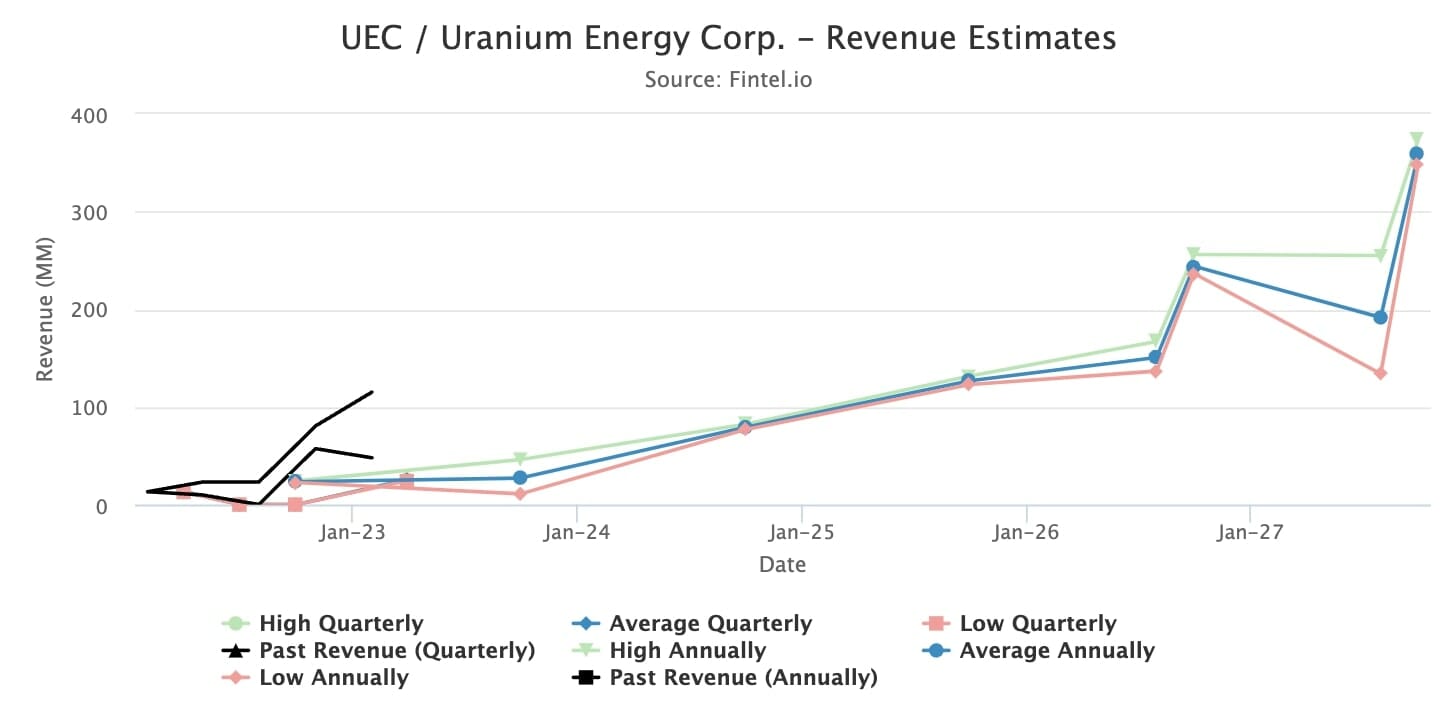 Article by Ben Ward, Fintel
TDG Gold drills 2,324 ppm Cu over 13 metres at Oxide, British Columbia
TDG Gold Corp. [TDG-TSXV] reported results of the 2022 exploration program at its earn-in Oxide…
Lithium and Rare Earths Outperform the Commodities Complex to Bounce Off 2023 Lows in May
Lithium and rare earths rebounded as bulk and industrial commodities fell on their face in a difficult month of May … Read More
The post Up, Up, Down,…
Uranium Energy Corp. (UEC) Stock: Navigating a Year of Volatility
The 52-week high and low prices can offer valuable insights into a stock's current standing and prospects for future performance. Uranium Energy Corp.'s…