Why Did Liontown Reject A $3.7-Billion Buyout Offer From Albemarle?
Liontown Resources (ASX: LTR) said on Tuesday that it had rejected a non-binding indicative approach from top lithium producer Albemarle
The post Why Did…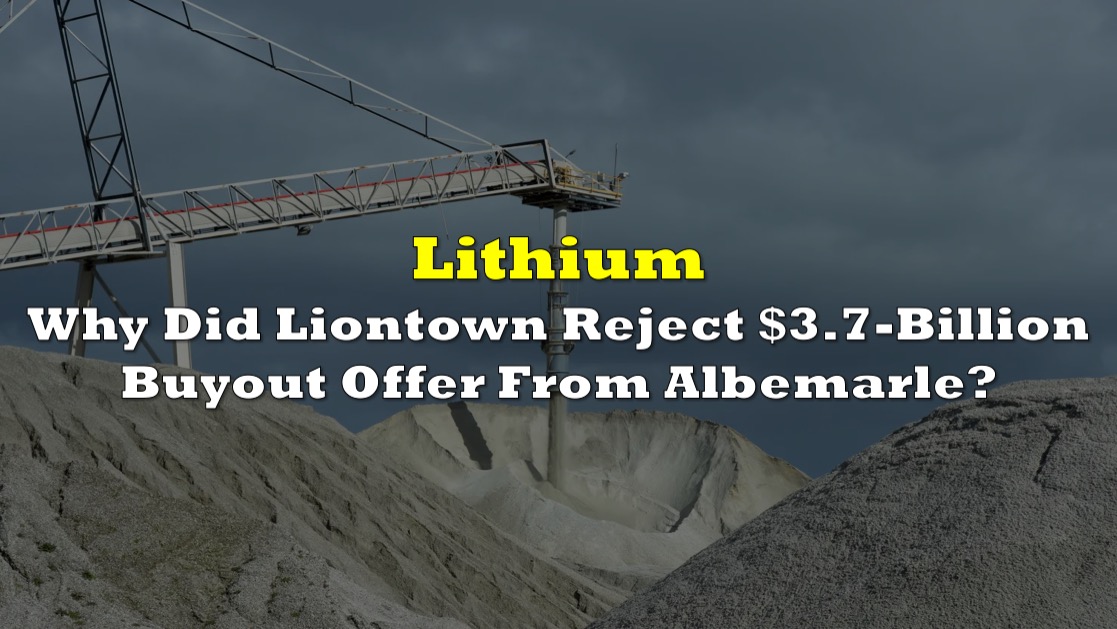 Liontown Resources (ASX: LTR) said on Tuesday that it had rejected a non-binding indicative approach from top lithium producer Albemarle Corp (NYSE: ALB), which valued the battery metals explorer in Australia at A$5.50 billion ($3.66 billion).
"(The Liontown board) unanimously determined that (the proposal) substantially undervalues Liontown, and therefore is not in the best interests of shareholders," the company said.
Albemarle's A$2.50 per share offer represents a 63.9% premium to Liontown's last close on the ASX. However, following the news, the Australian firm's stock soared beyond 67% to A$2.57, putting its valuation above the offer price.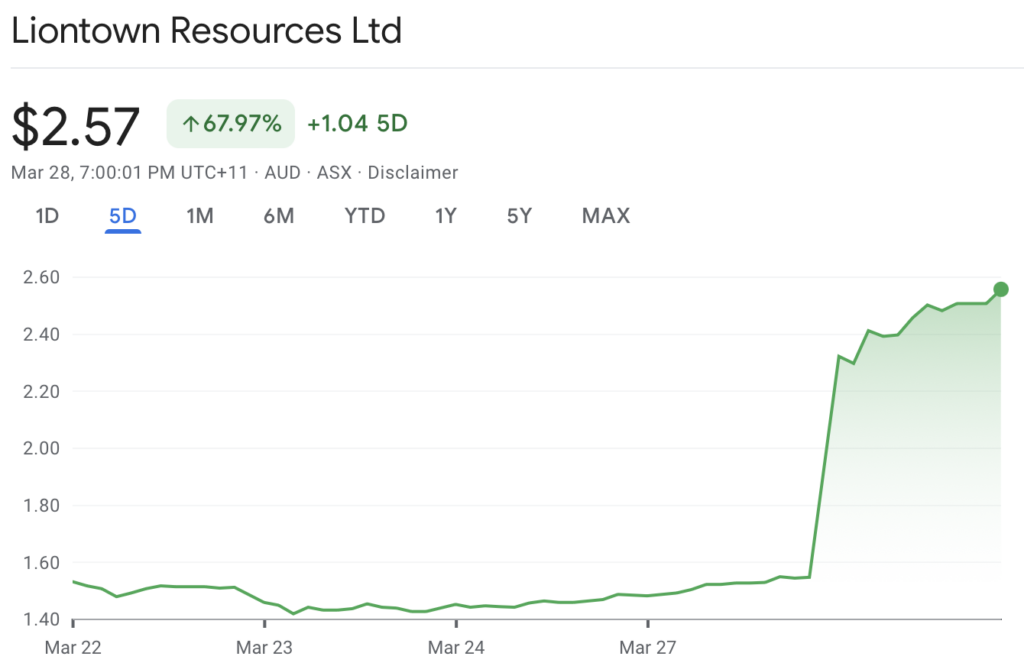 Liontown now owns two large lithium deposits in Western Australia, including the Kathleen Valley project, which is its flagship. According to Liontown's website, the project is one of the world's largest and highest-grade hard rock lithium resources.
The company also stated that it just learned that RT Lithium Ltd, an Albemarle affiliate, had been accumulating a stake in Liontown through on-market transactions. RT Lithium now owns about 2.2% of Liontown.
The latest rejected bid is the third after two previously undisclosed tilts at Liontown taken by Albemarle. Albemarle made the first bid on October 20 at $2.20 per share, and the second on March 3 at $2.35 per share. Neither offer was made public to the market.
Liontown called the timing of the bid "opportunistic" given the "recent softness in companies exposed to the lithium sector".
Albemarle, on the other hand, said that Liontown's board had not "meaningfully engaged" with it on its plan.
"Albemarle believes this is a compelling opportunity for Liontown shareholders and that Liontown's board should immediately engage with Albemarle to facilitate a binding offer to be put to its shareholders for their consideration," the lithium producer said.
Kathleen Valley
Liontown's main argument is the bid "substantially undervalues" the lithium miner and is being opportunistic given that lithium prices are at a 15-month low. The firm also noted the timing of the bid coinciding with, but discounting, the pre-production status of its major Kathleen Valley Lithium Project.
Kathleen Valley is in an established mining district around 60 kilometers north of Leinster and 680 kilometers north of Perth, Western Australia. The latest Mineral Resource Estimate for the Project is 156Mt at 1.4% Li2O and 130ppm Ta2O5 (as of April 2021), with more than 80% of the mineral resource defined as measured or indicated. A 68.5Mt ore reserve at 1.34% Li2O and 120ppm Ta2O5 (as of November 2021) enables a mining life of 23 years.
Last year, Liontown secured Elon Musk's Tesla as a cornerstone customer for its mine in a five-year agreement that propelled its stock price up more than 15%. Prior to then, it had signed its first customer, Korean battery producer LG Energy Solution.
Liontown's annual offtake obligations of up to 450,000 DMT constitute almost 90% of Kathleen Valley's start-up SC6.0 production capability of approximately 500 ktpa.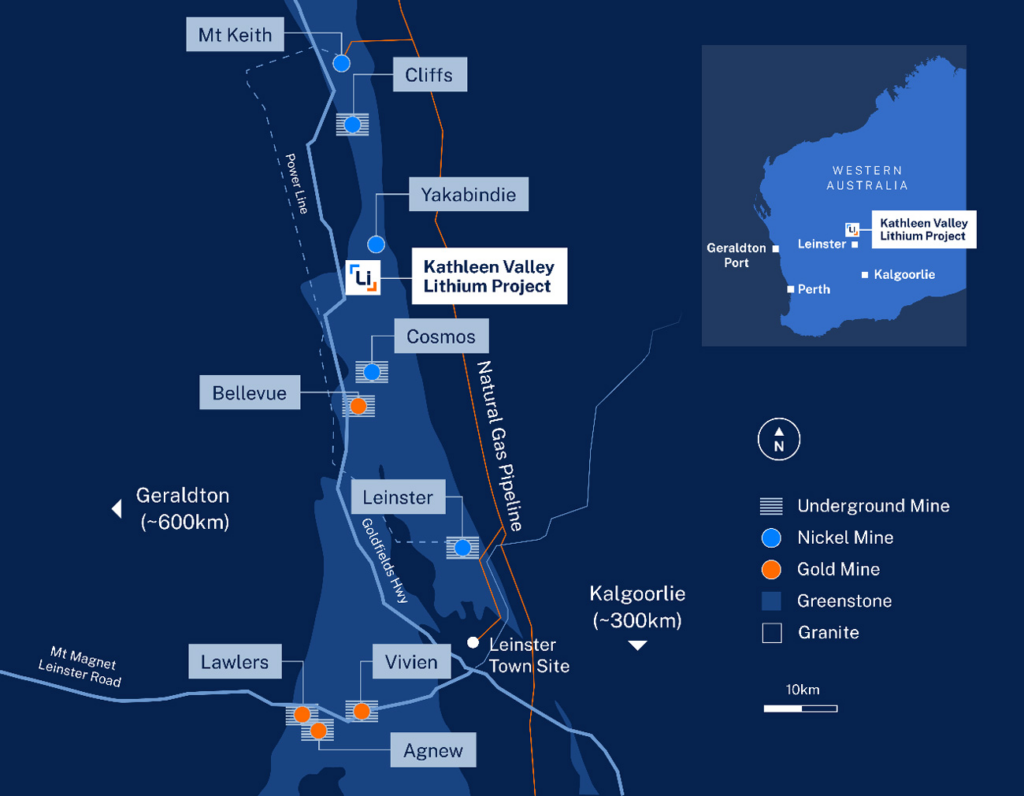 However, the project is not without its criticisms, mainly with its target timeline for first production in Q2 2024. Nevertheless, the company saw Albemarle's bid not reflecting the significant de-risking that has occurred at the Kathleen Valley Lithium Project in recent months, with mining operations beginning, construction proceeding on schedule, and Liontown continuing to be on target with its production timeline.
"Liontown continues to progress a number of attractive funding options for the remaining capital at the Kathleen Valley Lithium Project and expects to update the market on this front in the near term," the company said in its statement.
According to Citi analyst Kate McCutcheon, a business with a large financial sheet, such as Albemarle, might move the Kathleen mine forward more swiftly.
"We think a higher offer price will be needed to get LTR's [Liontown] board back to the negotiating table," McCutcheon said.
Analysts at Macquarie Bank believe the miner is worth more, noting that the indicative offering was lower than their value.
"Given the scale and expandability of Kathleen Valley, we believe a premium to valuation could be justified in a change of control transaction," they said.
The paucity of comparable lithium projects – there are few other assets of its scale, quality, and mine life – plus the likelihood of early cash from direct export of ore, according to Liontown's board, make it one of the most appealing lithium projects around.
Rejecting a multi-billion dollar bid for Kathleen Valley, among others, is believed to prop up the valuation of similarly sized projects.
A turnaround for lithium?
With Liontown's shares skyrocketing as investors digested details of the proposed buyout via a scheme of arrangement, observers see the event as a vote of confidence for the potential of the firm and the lithium space at large.
Lithium carbonate prices in China fell to CNY 260,000 a tonne in late March, the lowest in 15 months and 53% lower than their all-time high in November, as solid output and a drop in demand supported forecasts of a supply surplus this year.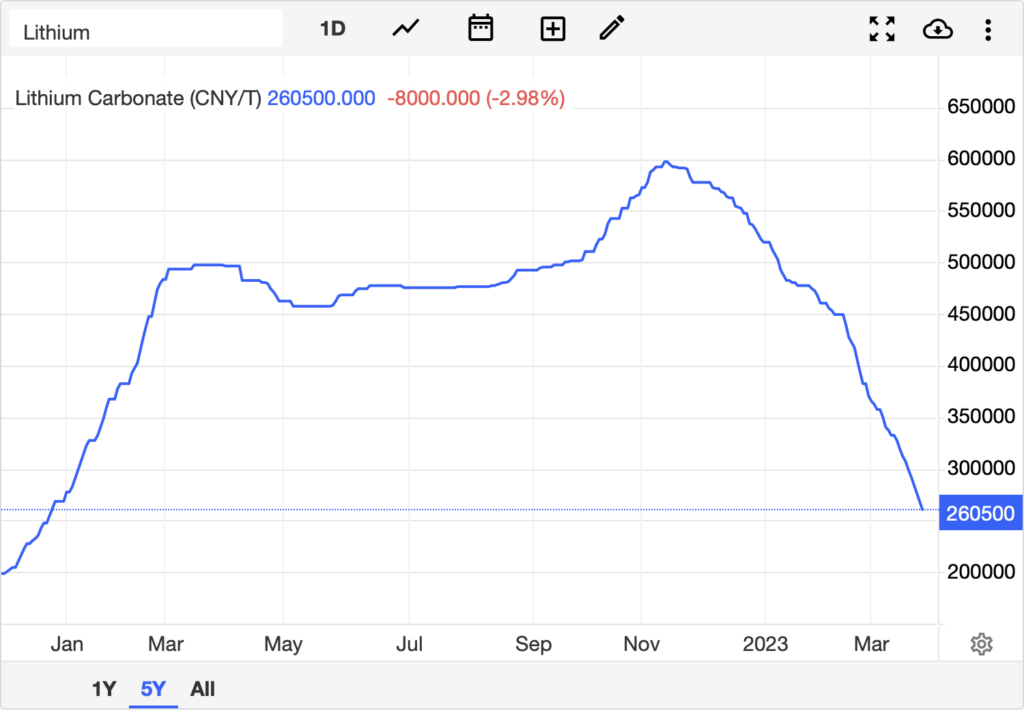 While it can be viewed that Liontown rejected a multi-billion bid at the time when lithium prices are erasing gains garnered last year, many characterizes Albemarle's three failed buyout offers as indication that the lithium space is about to bounce back.
Goyder got richer
Just three months after the first bid (and before the second), Liontown chairman Tim Goyder was buying up shares at a substantially lower price than Albemarle was offering. He bought 1 million shares for A$1.49 a piece on January 20, which have now ballooned 72% given the share price surged to $2.57 on Tuesday.
When asked why it had permitted a director to buy shares when the offer had not been publicized to shareholders, the company told Financial Review that it did not consider the trade "inappropriate in any way."
Liontown noted that it happened during a period of open trade, after Albemarle's conditional offering expired, and after three months of no further communication from the would-be bidder.
"The non-binding, indicative proposal which had been received from Albemarle on October 20, 2022, was expressly conditional on, amongst other things, agreement from the Liontown board," the firm's statement said. "The proposal wasn't agreed to by the Liontown board, and therefore came to an end in October 2022."
After keeping two rejected offers quiet at the time they were made, it appears that Tuesday's disclosure of all three followed some unusual price movements in the stock, putting pressure on the board to ensure the market was informed.
The surge in Liontown share price helped push Goyder to the elite circle of billionaires. The chairman owns 15% of Liontown, which is worth $824 million at Tuesday's closing price. When combined with his $222-million stake in Chalice Mining, he is easily worth $1 billion.
---
Information for this briefing was found via The Sydney Morning Herald, Yahoo Finance, Financial Review, and the companies mentioned. The author has no securities or affiliations related to this organization. Not a recommendation to buy or sell. Always do additional research and consult a professional before purchasing a security. The author holds no licenses.
The post Why Did Liontown Reject A $3.7-Billion Buyout Offer From Albemarle? appeared first on the deep dive.
China's Gotion High-Tech to Invest $6.5 Billion in Africa's First Gigafactory
Chinese electric vehicle battery giant, Gotion High-Tech, has announced plans to invest over $6.5 billion in building the first gigafactory
The post China's…
TEPCO and Toyota develop stationary storage battery system using EV batteries
Tokyo Electric Power Company Holdings, Inc. (TEPCO HD) and Toyota Motor Corporation (Toyota) have developed a stationary storage battery system (1 MW output,…
Western Australia – A Haven for the Commodity Investor
By Luke Holland Western Australia (WA) is synonymous with mining, few places in the world…