Why Nio Stock Faces an Uphill Battle
Chinese automaker Nio (NYSE:NIO) has several strengths, including its innovative battery-exchange program, significant sales growth and its pending expansion…
Chinese automaker Nio (NYSE:NIO) has several strengths, including its innovative battery-exchange program, significant sales growth and its pending expansion into multiple overseas markets. Yet, NIO stock is down 50% in the past year.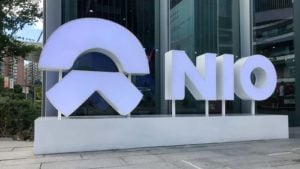 Source: Andy Feng / Shutterstock.com
Maybe that's because in the past several months, the company's sales growth and financial results haven't been all that impressive. Or perhaps it's because the electric vehicle maker faces extremely tough competition from the likes of Xpeng (NYSE:XPEV), Li Auto (NASDAQ:LI) and Tesla (NASDAQ:TSLA). Nio also seems to be significantly behind a number of its rivals when it comes to autonomous driving.
High Prices and Tough Competition
One thing that could hinder Nio going forward is the relatively high prices of its vehicles. The base prices for Nio's EV lineup ranges from about $50,000 to roughly $70,000. Add in extras and customization and they can run upward of $80,000.
NIO's latest model, the ET7, will cost customers about $68,710 and $77,640 depending on what battery pack they pick. And that's after factoring in EV subsidies from the Chinese government.
For comparison, Xpeng's after-subsidy base prices range from $23,000 to $36,000, while Tesla's cheapest Model 3 starts at around $40,000.
Nio also faces a great deal of competition at the higher end of the EV market from some famous and well-regarded brands including BMW (OTC:BMWYY), Audi, Lincoln and Mercedes.
In China, where incomes are generally lower than in the U.S. and Western Europe, less expensive EVs have a much better chance of becoming bestsellers than their more costly peers. In the end, selling millions of EVs with, say, a 20% gross margin will prove more profitable than selling a few hundred thousand vehicles with, say, a 40% gross margin.
Nio Appears To Be Falling Behind in Autonomous Driving
It seems that Nio is well behind Xpeng and Tesla when it comes to autonomous driving. Last month, Barron's reported: "NIO Autonomous Driving or NAD, as the company calls it, will maintain driving speeds and do some steering, but drivers still need to pay attention to the road at all times." Doesn't sound all that "autonomous" to me.
Meanwhile, in October, Xpeng released its Xpilot 3.5 version of its advanced driver-assistance system. "The system allows Xpeng's cars to change lanes, speed up or slow down, or overtake cars and enter and exit highways," according to CNBC.
And in November, Tesla started offering its Enhanced Autopilot system in China to some customers. According to Inside EVs, among the features offered by Tesla's system are "Summon, Autopark, Auto Lane Change, and, most importantly, Navigate on Autopilot."
You don't have to be an expert on autonomous vehicles to see that Nio is trailing Xpeng and Tesla in this area by a significant margin.
Disappointing Sales Growth and Financial Results
For December, Nio reported that its deliveries had increased nearly 50% year over year to 10,489 EVs. That's not terrible, but it was lower than the prior month's 10,878 deliveries and a marked slowdown from November's year-over-year growth of 106%.
It also paled in comparison to its competitors' December growth. XPeng delivered 16,000 vehicles in December, up 181% from a year ago and 2.5% from November. And Li Auto saw its deliveries hit 14,087 in December, up 4.5% over November and 130% year over year.
Nio is expected to report fourth-quarter earnings next month. Management's most recent guidance, released in November, of $1.46 billion to $1.56 billion fell short of analysts' estimates of $1.75 billion. The consensus has since lowered its forecast, predicting Nio will earn $1.53 billion. That represents year-over-year growth of 49.5%, while full-year revenue is expected to increase 120% to $5.62 billion.
If the company fails to meet or beat these numbers, NIO stock could sell off sharply.
The Bottom Line on Nio Stock
Nio faces tough competition in the Chinese EV market and appears to be falling behind its competitors in terms of growth. The high price of Nio's vehicles compared with some of its rivals' and its relatively slow progress when it comes to self-driving technologies could cost the company its edge.
Shares are currently trading for five times analysts' average 2022 revenue estimate, which could prove to be overly optimistic. NIO stock isn't expensive for an EV name, but it isn't cheap either. And that valuation appears to bake in a meaningful amount of sales growth for the automaker, both at home and overseas.
I recommend investors avoid NIO stock at this point.
On the date of publication, Larry Ramer held a long position in XPEV stock. The opinions expressed in this article are those of the writer, subject to the InvestorPlace.com Publishing Guidelines.
Larry Ramer has conducted research and written articles on U.S. stocks for 13 years. He has been employed by The Fly and Israel's largest business newspaper, Globes. Larry began writing columns for InvestorPlace in 2015.  Among his highly successful, contrarian picks have been GE, solar stocks, and Snap. You can reach him on StockTwits at @larryramer. 
More From InvestorPlace
The post Why Nio Stock Faces an Uphill Battle appeared first on InvestorPlace.
Elon Musk Vs. Michael Burry: Who's Right About TSLA Stock?
Source: Rokas Tenys / Shutterstock.com
Michael Burry is no stranger to ominous market warnings. The expert who predicted the 2008 housing market crash…
Sprott Asset Management Launches Four New Critical Mineral ETFs
Sprott Asset Management LP has announced that four new critical mineral ETFs will be launched, giving investors exposure to critical minerals essential…
How Analysts Feel About Uranium Energy Corp. (UEC)?
As of Thursday close, Uranium Energy Corp.'s (AMEX:UEC) stock was up $0.06, moving up 1.45 percent to $4.19. The average number of shares traded per…