BMO Resumes Coverage On MAG Silver Following US$46.0 Million Financing
On November 29, MAG Silver (TSX: MAG) closed their US$46 million offering wherein the company issued 2.69 million shares, which
The post BMO Resumes Coverage…
On November 29, MAG Silver (TSX: MAG) closed their US$46 million offering wherein the company issued 2.69 million shares, which included 15,700 shares to MAG insiders at US$17.15 per share. The company stated that they intend to use the proceeds of the offering, "to fund exploration on Juanicipio and its other projects including Deer Trail, and to fund certain sustaining capital requirements at the Juanicipio Project not included in the initial project capital estimates, and for working capital and general corporate purposes."
MAG Silver currently has 10 analysts covering the stock with an average 12-month price target of C$28.83, or a 39% upside to the current stock price. Out of the 10 analysts, 7 have buy ratings and the other 3 have hold ratings. The street high sits at C$33.82 from Roth Capital while the lowest comes in at C$24.75.
On the 29th, BMO Capital Markets resumed their coverage on MAG Silver, reiterating their C$25 12-month price target and market perform rating. BMO says that this raise will help fund exploration and get Juanicipio across the finish line.
Additionally, it will help keep the companies cash balance strong. The company ended the third quarter with US$31.7 million. With this additional US$40 million on hand, they expect the company to make a $30 million capital contribution to their joint venture sometime in December. That will top the joint venture up to US$68 million in cash and MAG with roughly $34 million in cash, plus the cash flow from the business. They believe that MAG Silver will end out 2021 with US$44 million in cash.
BMO has updated their net asset value but believes the raise has only a modest impact since the increase in shares is roughly 3% with the overallotment, bringing the total shares outstanding to 97.8 million. This brings their NAV assumption to US$10.29 from US$10.19 prior.
Lastly, BMO says that the company is getting close to Juanicipio ramping up. The company noted that the plant is expected to come in on budget and expected to be completed by year-end.
Below you can see BMO's full year 2022 assumptions.

---
Information for this briefing was found via Sedar and Refinitiv. The author has no securities or affiliations related to this organization. Not a recommendation to buy or sell. Always do additional research and consult a professional before purchasing a security. The author holds no licenses.
The post BMO Resumes Coverage On MAG Silver Following US$46.0 Million Financing appeared first on the deep dive.
Portfolio Tweaks for 2022
Are you ready for risk-off? … two trades from Eric Fry looking poised to generate strong returns … two hedge trades to balance your portfolio
In 2022,…
Are you ready for risk-off? … two trades from Eric Fry looking poised to generate strong returns … two hedge trades to balance your portfolio
In 2022, which of the following will have better returns?
Volkswagen or Tesla?
Gold or Bitcoin?
Intel or NVIDIA?
Got your picks?
Our macro specialist, Eric Fry, is going with…drumroll…Volkswagen, gold, and Intel.
A few of you might suddenly be choking on your dinner. So, let's jump straight to Eric for more color:
I expect the "character" of the financial markets to shift noticeably from a "risk-on" bias to "risk off."
In other words, I expect investors to behave more cautiously and timidly than they did in 2021.
Generally speaking, therefore, I'm expecting relatively cautious investments to outperform their relatively risky counterparts.
"Caution" certainly feels appropriate after the market's selloff in recent weeks, including today's massive turnaround that saw the Nasdaq go from 2% gains to a loss (as I write, near the end of the day).
Yesterday, the Nasdaq slipped into an official correction. Meanwhile, the S&P and Dow are down roughly 6% and 5% from recent highs.
So, what 2022 trends will present investors that wonderful combination of returns and caution?
In Eric's latest issue of Investment Report, he detailed several. Today, let's peek into the issue to find out what opportunities Eric sees outperforming in 2022.
***A fantastic setup in commodities
For newer Digest readers, Eric is our global macro specialist and the editor behind Investment Report. As a macro investor, he evaluates markets and asset classes from a big-picture perspective to identify attractive opportunities.
Once a macro trend is in his crosshairs, he digs down to find the right, specific investment to play the opportunity.
It's been a powerful strategy. In his decades in the business, Eric has dug up more 1,000%+ gaining investments than anyone we know of in the newsletter industry.
Returning to cautious approaches to 2022, Eric points toward commodities.
Now, regular Digest readers are familiar with Eric's bullishness on the copper trade. In fact, yesterday's Digest touched on this.
We won't rehash those details again, but here's Eric's quick take:
Bottom line: Robust future demand growth for copper is fairly certain, but the mining industry's capacity to satisfy that growth is not.
That's the sort of equation that should put upward pressure on the copper price for many years to come.
But copper isn't the only commodity Eric likes in 2022.
The second is something our world wants to do without, but addictions are hard to break. And this one is likely to generate great returns before it kicks the bucket.
From Eric:
No matter how "doomed" crude oil may be over the long term, it could deliver some spectacular short-term gains.
The bullish backdrop for crude has become too compelling to ignore.
***In the past, Eric has highlighted the fallacy of "more electric vehicles mean oil is dead"
In short, though EVs will capture a growing share of the global auto market in coming years, the total auto market will continue to grow larger. That means the number of gas-powered automobiles on the road will continue to increase as well.
When you combine that reality with demand from other industries, the International Energy Agency (IEA) expects worldwide demand will be at least 25% higher in 2050 than it is today.
Recently, oil demand has rebounded sharply, supporting higher prices. In fact, this week, oil hit a seven-year high (in part due to an attack by Yemeni Houthi rebels on the three United Arab Emirates fuel tankers).
But investors pointing toward this seven-year-high saying that prices are peaking are missing an important part of the equation – basic supply and demand.
As to demand, this is from yesterday in The Wall Street Journal:
Global oil demand will exceed pre-pandemic levels this year thanks to growing Covid-19 immunization rates and as recent virus waves haven't proved severe enough to warrant a return to strict lockdown measures, the International Energy Agency said Wednesday.
And for supply, here's Eric:
Most folks assume that OPEC and others could easily ramp production to satisfy any significant surge in demand. But that assumption rests on a frail statistical foundation.
The U.S. has supplied almost all of the world's crude production growth during the last decade, not OPEC. Pulling that rabbit out of the hat a second time will not be easy, as U.S. shale production topped out two years ago.
Eric points out that oil and gas companies have been slashing the exploration budgets for years. Global investments in oil and gas exploration and production are down by about 65% since 2014.
It's not hard to connect the dots:
Net-net: Bountiful new supplies of crude oil seem highly unlikely.
A tightening oil market, coupled with a rising inflationary trend, provides ample reason to expect oil stocks to deliver market-beating results in 2022.
***Two "hedge" plays to balance your broader portfolio
Copper and oil are likely to bring firepower to your returns this year – think "offense."
Let's now look at two ways to play defense: gold and a bet against bonds.
Starting with gold, there's no denying that this trade has been incredibly disappointing, most notably because it's done nothing while inflation has surged.
From Eric:
As the chart below shows, the gold price trend tends to track the inflation trend… but not this time around.
Despite the skyrocketing inflation reading on the right side of the chart, the gold price has been falling!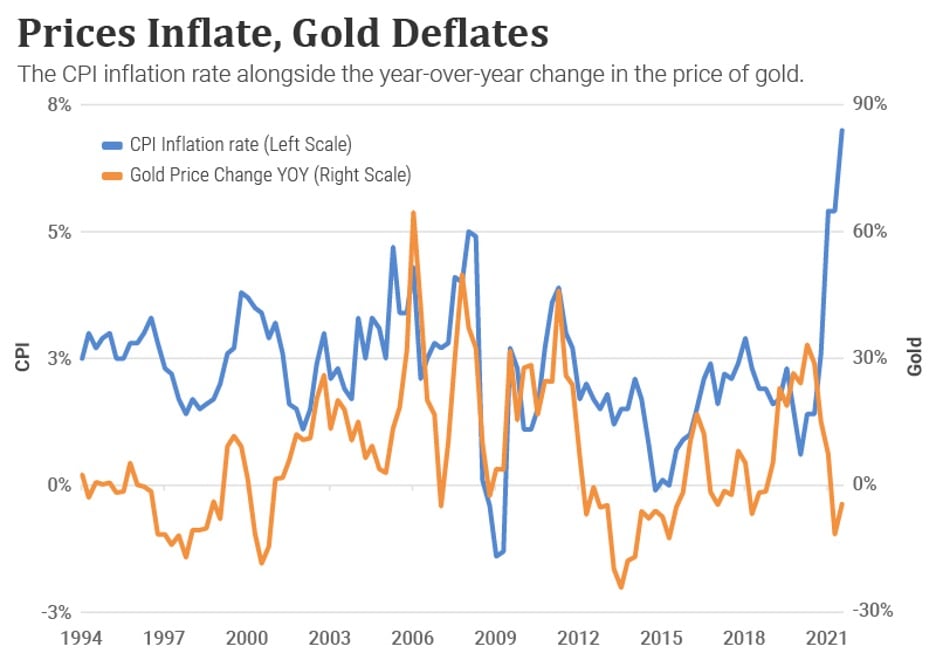 Even so, the yellow metal deserves the benefit of the doubt, both as an inflation hedge and as a hedge against stock market volatility… at least for now.
I still believe gold-related plays deserve a few investment dollars in a balanced portfolio.
Plus, gold might get a boost from an unexpected source…grumpy Bitcoin investors.
Through nearly all of 2021, Bitcoin acted like an inflation hedge. As yields surged, so too did Bitcoin's price. When they fell, Bitcoin dropped.
As we noted earlier this week here in the Digest, this relationship appears to have come to a fiery crash in 2022.
What we're seeing now is Bitcoin being treated as a risk asset. As yields surge, investors have been dumping Bitcoin.
But they're not dumping gold.
Below, we look at gold versus Bitcoin since December 1. Bitcoin has lost 27% while gold is up 4%.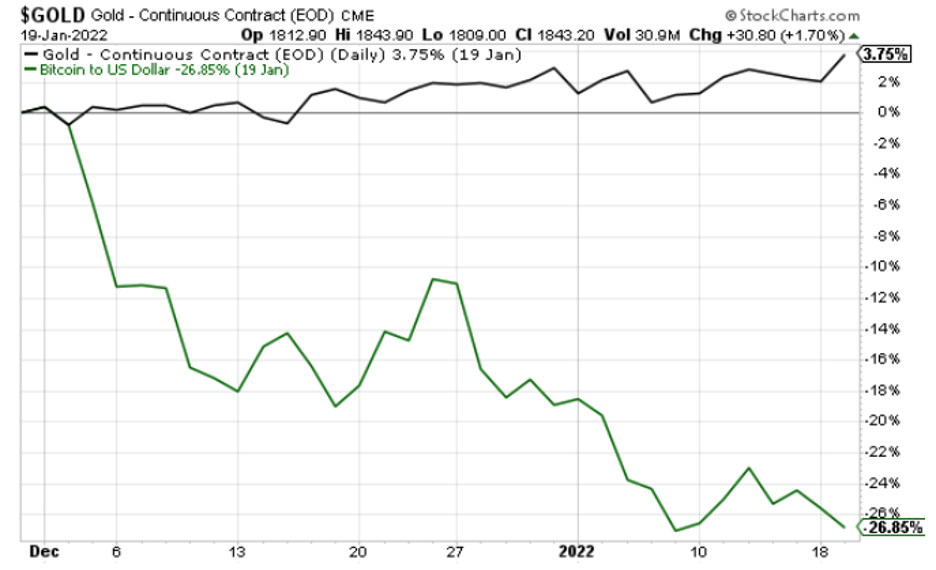 Source: StockCharts.com
Remember, both of these assets derive their value from one source – emotion.
If we are truly seeing a broad shift toward "risk off" sentiment, all signs point toward gold being considered a stabler storehouse of value than cryptos.
And this could attract some "me too" Bitcoin investors who have been burned and are now looking for something more solid.
(To avoid confusion, we're bullish on Bitcoin and elite altcoins. The analysis above refers to the mindsets behind investing in the two asset classes.)
***For the second hedge play, consider a bet against bonds
Interest rates have been sliding for four decades. But Eric suggests we could finally see a reversal this year.
From his issue:
As most folks are aware, the CPI inflation rate is running red-hot at a 40-year high of 7%. That means the buyer of a 30-year Treasury bond yielding 2.0% is receiving a robust after-inflation return of minus 5% per year.
That math is not the kind that builds wealth.
Sooner or later, bond buyers might demand more than 2% interest to tie up their money for 30 years… especially because the federal deficit is still running at a $215 billion monthly clip, or $2.6 trillion per year…
Without the price-insensitive Federal Reserve sopping a big chunk of that titanic Treasury bond supply, who will? And at what price?
Someone will buy our bonds, of course. But they might demand a much higher rate of interest to do so.
Eric is quick to point out that a sustained rising rate environment is not a certainty.
In fact, just about everyone is anticipating rates will be much higher a year from today. And longtime investors will likely tell you that when everyone believes the same narrative about the market, surprises often result.
That said, higher rates are enough of a possibility for Eric to feel confident about taking on this trade as a hedge.
If you're an Investment Report subscriber, be sure to check out your latest issue. Eric details the specific investments he's recommending for each of these trends plus a few others. To learn more about joining Eric in Investment Report, click here.
***Wrapping up, who knows what 2022 will bring, but it's unlikely to offer the huge, broad returns as 2021
Is your portfolio ready for that?
If not, look at the trends we've touched on today. They're likely to provide both returns and an added degree of portfolio hedging.
I'll give Eric the final word:
Markets are forever and always cyclical. Sometimes cycles take their sweet time to shift direction, but they always do… eventually.
Once upon a time, hedging was a worthwhile activity…
That was before the Fates shifted and began smiling on unhedged strategies.
I believe the Fates may be shifting once again. We'll see.
Have a good evening,
Jeff Remsburg
The post Portfolio Tweaks for 2022 appeared first on InvestorPlace.
gold
inflation
commodities
commodity
markets
reserve
mining
interest rates
inflationary
crash
nasdaq
copper
A greener trend for mining
An increasing level of stakeholder pressure has pushed the mining industry to re-think its approaches to environmental, social and governance responsibilities.
Australian…
An increasing level of stakeholder pressure has pushed the mining industry to re-think its approaches to environmental, social and governance responsibilities. Australian Mining speaks with some of the companies and organisations leading the transformation. 
The mining industry is a critical component to a decarbonised world. 
For it to remain essential, companies must adhere to external pressures to cut emissions and go beyond their responsibilities as corporate citizens.
A larger supply of critical minerals for net zero technologies will be needed for electric vehicles (EV), wind farm and solar power technologies if countries are to reach their emissions reduction targets.
Commodities including copper, nickel and rare earth elements will be important to this transformation, but growing stakeholder pressure means mining companies are needing to show a stronger commitment towards environmental, social and governance (ESG) requirements to retain offtake partners and supply chain stability.
ESG standards for mining include energy efficiency, emissions reduction and water efficiency, along with improved worker safety and community relations. 
Stronger ESG standards are also making their mark on other major commodities in Australia, including iron ore and gold, two of the key resources exported from Australia. 
Ernst & Young's (EY's) report, Top 10 Business Risks and Opportunities for mining and metals in 2022, reveals environmental and social risks will be the most significant factor for the industry to consider over the next year. 
The report surveyed 200 global mining executives that gave their insights into the risks and opportunities for the industry in the year ahead. 
"Investor and community relations have really changed," EY global mining and metals leader Paul Mitchell says. "If you went back in time, community relations were down the flagpole and now it's a factor that boards and CEOs ask questions about, and the importance of that role has increased."
While the risks are present, there is value to be had by mining companies if they appease ESG demands.
Mining companies including BHP, Fortescue Metals Group and Rio Tinto have also partnered with organisations, including the Cooperative Research Centre for Transformations in Mining Economies (CRC TiME), to drive sustainable change in the industry.
CRC TiME has more than 70 industry partners across the mining and METS (mining equipment, technology and service) sectors, regional development organisations, community and first nations groups, state and federal governments and research partners, all looking to address complex challenges across mine closure and rehabilitation, which are essential aspects to ESG.
The organisation was founded through the Australian Government's Cooperative Research Centre program in 2020 to improve trust between mining companies, regulators and communities. 
This is being delivered through four research programs that cover regional economic development, risk evaluation and planning, operational solutions and data integration, forecasting and scale. 
CRC TiME associate professor Bryan Maybee is part of the risk, evaluation and planning program, bringing experience in minerals and energy economics from Curtin University. 
Maybee says there is a strong value incentive for mining companies to get their rehabilitation measures completed correctly. 
"Responsible closure is one of the key factors that is used to measure ESG outcomes," he says. "Instead of looking at a five-year or a 10-year mine life, we actually have to start looking at much longer timeframes, taking into account the life after the mine and think about the future economic use for the land." 
Without a social licence to operate, mining companies may be at risk of being unable to develop new mining operations across global jurisdictions. 
If a mining company has an effective mine closure plan, government and community groups are more likely to accept a new development.
The risk, evaluation and planning program will aim to gel operational activity with mine closure planning, which requires changes to decision making in response to uncertainty. 
This involves advanced evaluation frameworks for assets, real-time predictive models and planning tools to identify risks. 
In June, CRC TiME initiated a study in collaboration with Fortescue, the University of Western Australia and Curtin University, which focusses on increasing plant nutrients in iron ore waste at Fortescue's Chichester Hub operation in Western Australia.
The move towards "green" iron ore, which is mined using zero emissions is also a factor that Australia's largest miners are having to consider.
"People want to know where everything has come from, so it is important to be able to show iron ore is mined in a responsible way," Maybee says. "Green iron ore for example is becoming an important consideration in retaining customers for your product.
"Being a good corporate citizen being responsible as far as ESG goes, we actually have the opportunity to operate more sustainably.
"An operator that closes their mine responsibly and relinquishes it will build confidence with regulators."
According to Maybee, stronger environmental outcomes can reduce community unrest related to an operation and therefore boost employee sentiment. 
"By operating in an ESG responsible manner and embedding those factors into the way that we operate you actually can reduce risk, which means smoother, more productive and efficient operations," Maybee says. 
Solving the ESG puzzle 
There are several innovative ways that mining companies can boost their ESG compliance outside of progressive mine closures. 
Advancements in Industry 4.0 technologies have delivered real-time and predictive capabilities across the entire mining operation. 
Envirosuite global head, mining and industrial, Matt Scholl says environmental solutions offer more than just compliance for mine sites.
"Any mining company that treats environmental management as a compliance issue only, will be outcompeted by the wave of progressive miners who are already using environmental intelligence to optimise their operations," Scholl says. 
Envirosuite recognises the importance of environmental management to ESG requirements for mine sites and has developed its environmental intelligence platform, which can optimise plans for weather risks and maintain compliance while reaching specific production goals. 
Environmental intelligence uses data, artificial intelligence and other digital technologies alongside environmental and sustainability research to prevent any environmental impacts. 
For example, the threat of changing weather patterns on an open pit mine could cause an unexpected shutdown. Envirosuite's platform allows mine sites to develop an awareness of these risks before they occur. 
"ESG performance covers a range of areas, however, a key pillar of ESG centres on environmental management," Scholl says. 
"ESG ratings are high-level indicators of whether companies have good measures in place to manage these risks. 
"Envirosuite provides real-time and predictive capabilities to help mining companies manage environmental risks while enabling them to optimise production."
SRK Consulting offers specialised services for the mining industry, including environment, community and mine closure services and water management.
The company was founded in 1974 and has grown to work on more than 20,000 projects worldwide.
SRK also uses data analysis to determine strategies for mining companies to comply with regulations and address environmental and social challenges for a more effective mining operation. 
According to SRK principal consultant (geochemistry) Claire Linklater, stakeholder expectations for ESG requirements are growing. 
"I think those topics are much higher on the social and political agenda and the regulators are starting to become much more informed in these areas," Linklater says. 
"The people that are financing mining projects pay much more attention to the ESG implications of what's going on. 
"Poor ESG management can cause mining companies reputational damage on the global stage and might actually impact finance for another project elsewhere. 
"This is especially true of companies operating across multiple jurisdictions and continents."
SRK can assess environmental risks in the early stages of a mining development to mitigate risks of poor environmental outcomes. 
For example, identification of problematic waste rock volumes during exploration opens up the opportunity to either avoid mining those volumes, or develop waste rock dump designs to control the potential for impacts on water quality once a mine site is up and running. 
By mitigating environmental risks before they occur, mine sites can save costly retrograde solutions down the line and prevent poor ESG ratings from stakeholder groups. 
Stakeholders are painting a clear picture of where mining company ESG requirements need to be to receive support for new developments. 
Through collaboration and the adoption of innovative ESG services, the mining industry will be able to move forward to deliver positive outcomes that are well-received by these groups.  
Gold Uptrend Confirmed
It's been a turbulent start to the year for the major market averages, with many sectors like Retail (XRT) and Staples (XLP) being hit by inflationary…
It's been a turbulent start to the year for the major market averages, with many sectors like Retail (XRT) and Staples (XLP) being hit by inflationary pressures and continued supply chain headwinds while worries about rate hikes leading to a cool-down in valuations in tech. However, one asset class that is holding its ground is gold (GLD), which is up 1% year-to-date, outperforming the Nasdaq by 700 basis points. This outperformance appears more than overdue, with gold typically performing its best when real rates are deep in negative territory, in line with the current backdrop. Let's take a closer look below:
(Source: YCharts.com, Author's Chart)
Looking at the chart above, we can see that real rates continue to trend lower and are now sitting at their lowest levels in decades, spurred by continued high single-digit inflation readings. This backdrop has typically been very favorable for gold, given that investors are not getting interest elsewhere, meaning there is no opportunity cost to holding the metal, and there is an opportunity cost to holding cash. The one impediment to gold's performance, though, has been the fact that the major market averages have been climbing higher with a relentless bid, allowing investors to park their cash safely in the market.
However, since the year began, this does not appear to be the case, and gold is massively outperforming the S&P-500, as well as growth and value ETFs. This has created a perfect storm for the metal, and its outperformance can be highlighted by the above chart, which shows gold recently breaking out to new multi-week highs vs. the S&P-500. A new trend upwards following a period of significant underperformance has typically led to sustained rallies in the gold price, with the most recent example being February 2020 ($1,500/oz to $2,050/oz). Hence, this is a very positive development for the gold bulls.
The key, however, is that gold's outperformance vs. the S&P-500 is not simply due to the S&P-500 being in a bear market and gold trending lower, but just losing less ground. The good news is that this is not the case, with the monthly chart for gold showing that it is building a massive cup and handle, with much of its handle being built above its prior resistance. This is a very bullish long-term pattern, and a successful breakout above $2,000/oz would target a move to at least $2,350/oz. 
(Source: TC2000.com)
Meanwhile, if we look at the yearly chart above, we can see an even better look at the cup and handle pattern and why the discussion that gold is dead or in a deep downtrend is simply incorrect. While one can certainly make the case that gold has gone nowhere over the past 18 months and the daily chart remains volatile, the big picture has rarely looked better in the past several decades, and zero technical damage has been done. So, for investors looking for an asset with a favorable fundamental backdrop that's also sporting a very attractive looking long-term chart, I am hard-pressed to find anything as attractive as gold among the 150+ ETFs and assets I track. 
(Source: TC2000.com)
So, what's the best course of action?
One of my favored ways to play the gold sector is Agnico Eagle Mines (AEM). The reason is that it has one of the best margin profiles sector-wide; the potential to increase production by more than 30% over the next nine years, and it operates out of the most attractive jurisdictions globally. This is evidenced by the fact that AEM should be able to grow annual gold production from ~3.4 million ounces to ~4.5 million ounces between now and 2030 and has 50% margins at a $1,800/oz gold price. 
(Source: TC2000.com)
As the chart above shows, AEM's technical picture continues to improve, with the stock building a 10+ year cup and handle base atop its prior multi-decade breakout level. This is a very bullish pattern, and a breakout above $70.00 would target a move above $95.00 in the next two years. So, with the stock consolidating near the right side of its cup and trading at a very attractive valuation of 1.0x P/NAV, I see this as an attractive entry point. Notably, AEM also pays a ~2.7% dividend yield, double that of the S&P-500. For those preferring to invest in gold, I continue to expect a trend of higher lows, with the $1,750/oz – $1,780/oz area representing a very low-risk buy zone. 
It's no secret that GLD has massively underperformed other ETFs over the past 18 months, and with many focused on the last shiny thing and having recency bias, it's no surprise that gold remains out of favor. However, the best time to buy the metal is when it's been hated and has corrected sharply from its highs, making this an attractive entry point. Given that most other ETFs could use a rest, and the fundamental backdrop remains very favorable for gold, I remain medium-term and long-term bullish, and I would not be surprised to see gold above $2,080/oz this year. 
Disclosure: I am long GLD, AEM
Disclaimer: Taylor Dart is not a Registered Investment Advisor or Financial Planner. This writing is for informational purposes only. It does not constitute an offer to sell, a solicitation to buy, or a recommendation regarding any securities transaction. The information contained in this writing should not be construed as financial or investment advice on any subject matter. Taylor Dart expressly disclaims all liability in respect to actions taken based on any or all of the information on this writing. Given the volatility in the precious metals sector, position sizing is critical, so when buying precious metals stocks, position sizes should be limited to 5% or less of one's portfolio.
The post Gold Uptrend Confirmed appeared first on ETF Daily News.