Emerita Resources Shares Up 14% on Hitting 2.5% Copper, 8.7% Lead, 17.3% Zinc, 223.5 g/t Silver 0.5 g/t Gold Over 8.2 Metres In Step Out Hole
Emerita Resources (TSXV: EMO) continued to deliver strong drill results this morning, with the latest results from its ongoing program
The post Emerita…
Emerita Resources (TSXV: EMO) continued to deliver strong drill results this morning, with the latest results from its ongoing program at its Infanta property demonstrating strong mineralization. Results released this morning include the first step out drill hole conducted under the proghram, as well as in-fill drill results.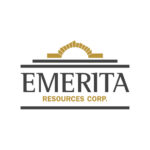 The step out drill hole, IN018, is the first such hole for which the company has received assays under the current program. The hole represented a 40 metre step out from the historical limits of the deposit to the west, and intersected 8.2 metres of 2.5% copper, 8.7% lead, 17.3% zinc, 223.5 g/t silver, and 0.5 g/t gold.
Furthermore, an additional step out hole, IN023, conducted a further 50 metres to the west is said to have intersected two zones of massive sulfides. This second zone has only been intersected in one other hole, IN017, which was drilled 300 metres to the east.
The deposit is currently expected to continue to extend to the west, due to a strong TEM conductor extending at least 300 metres in this direction based on survey data collected and shallow historical workings.
In-fill drill data for holes 14 through 16 were also released this morning, marking the final in-fill data to be collected under the current program. Results for those holes include:
IN014: 2.4$ copper, 7.3% lead, 13.4% zinc, 225 g/t silver and 0.6 g/t gold over 5.7 metres
IN015: 0.5% copper, 2.2% lead, 4.3% zinc, 50.5 g/t silver and 0.3 g/t gold over 4.0 metres
IN016: 1.3% copper, 3.5% lead, 6.7% zinc, 172.3 g/t silver and 0.4 g/t gold over 4.5 metres
"We are excited by the progress to date and particularly to be moving the program into the expansion drilling phase. Based on the latest drilling we have identified what appears to be a structural repetition of the zone at depth to the north, seen in holes IN017 and IN023 which are 300 meters apart. The deposit is interpreted to continue to depth in the north zone. Assays are pending for Hole 23 and a structural model incorporating the new information is being developed to guide future drilling. We are systematically stepping out through the deposit to build the geological model that will meet the requirements for establishing a NI 43-101 compliant mineral resource estimate," commented Joaquin Merino on the results, President of Emerita.
With the completion of the infill drilling portion of the program, the company indicated that it has confirmed historical data held on the property, which will enable proper 3D modeling of the deposit. Additional drills are now to be mobilized to hasten the pace of drilling at Romanera and other regional targets.
The company currently intends to have a total of five drills turning by year end.
Emerita Resources last traded at $2.66 on the TSX Venture.
---
FULL DISCLOSURE: Emerita Resources is a client of Canacom Group, the parent company of The Deep Dive. The author has been compensated to cover Emerita Resources on The Deep Dive, with The Deep Dive having full editorial control. Not a recommendation to buy or sell. Always do additional research and consult a professional before purchasing a security.
The post Emerita Resources Hits 2.5% Copper, 8.7% Lead, 17.3% Zinc, 223.5 g/t Silver 0.5 g/t Gold Over 8.2 Metres In Step Out Hole appeared first on the deep dive.
Monsters of Rock: Hydrogen an investor gold mine, actual gold looks 'asthmatic'
The Materials sector – comprising mostly large and mid-cap miners – edged lower today but preserves a healthy +6% gain … Read More
The post Monsters…
The Materials sector – comprising mostly large and mid-cap miners – edged lower today but preserves a healthy +6% gain over the past month.
The iron ore miners fell marginally – sans FMG – despite the steelmaking ingredient's move above $US110/t over the last few days.
The day was dominated by mid-cap Vulcan Energy (ASX:VUL) which announced a binding lithium offtake deal with behemoth Volkswagen Group — the world's largest automaker by revenue and the largest company in Germany.
Hydrogen remains an investor gold mine
FMG's (ASX:FMG) positive move (1.5%) may have been hydrogen related.
It's renewable energy arm, Fortescue Future Industries (FFI), has formed a JV with domestic utility AGL Energy to look at  converting two coal-fired power plants to produce hydrogen.
FFI is looking to repurpose infrastructure at the 1,680MW Liddell power station in the Hunter Valley region of NSW — earmarked to fully close by April 2023 — along with the 2,640MW Bayswater power station that is forecast to close by 2036.
Initial renewable electricity production through new wind and solar capacity could be 250MW, generating 30,000 t/yr of green hydrogen at a Hunter Energy Hub, FFI said.
Meanwhile, global commodities trading firm Trafigura has announced plans to build an ammonia and hydrogen plant at Port Pirie in South Australia with an initial production capacity of 20 t/d of green ammonia for export by 2025.
Trafigura plans to make a final investment decision by the end of next year, with construction starting in 2023.
…while actual gold looks 'asthmatic'
Gold also edged higher to $US1,786/oz ($2,490/oz Aussie) with the big miners Kirkland Lake (ASX:KLA), and Newcrest (ASX:NCM) responding in kind.
Australia's biggest gold miner NCM – which is making substantial profits at current prices — is down 5.65% over the past month and 12.81% year-to-date.

Jeffrey Halley Senior Market Analyst, Asia Pacific, OANDA says golds "asthmatic" attempt to rise overnight "is a warning that bullishness is very fragile and that selling will resume at the first sign of trouble".
"The downside continues to be very clearly, the path of least resistance," he says.
"In the bigger picture, gold still looks confined to a US$1,770.00 to US$1,800.00 range this week, unable to sustain momentum above or below those levels."
"The 50,100 and 200-day moving averages (DMAs), clustered between US$1,790.30 and US$1,795.50 are capping gains."
"$1800.00 and $1810.00 will prove equally formidable. Support lies at US$1,770.00 and US$1,760.00."
The post Monsters of Rock: Hydrogen an investor gold mine, actual gold looks 'asthmatic' appeared first on Stockhead.
Galan's HWM project value jumps 120pc after update on lithium prices
Special Report: Galan Lithium has updated the Preliminary Economic Assessment (PEA) study for its flagship Hombre Muerto West (HWM) Project … Read More
The…
Galan Lithium has updated the Preliminary Economic Assessment (PEA) study for its flagship Hombre Muerto West (HWM) Project in Catamarca Province, Argentina, based on a revised lithium price.
The original PEA was based on an average lithium price of US$11,687/tonne to the year 2040, with the updated study using the long-term average real lithium price assumption (2025-2040) of US$18,594/tonne battery grade lithium carbonate (LCE).
The unleveraged pre-tax net present value (NPV) has increased to US$2.2 billion – a 120% increase from US$1 billion in 2020.
The internal rate of return (IRR) is 37.5%, the project has less than a three-year payback period and the average life-of-mine annual EBITDA is US$287 million, up from US$174 million.
The company now has two PEA study level projects – HMW and Candelas – which have a combined long term production potential of 34ktpa LCE and a combined pre-tax NPV of US$3.4 billion.
'Phenomenal' NPV on conservative price assumption
The updated economic study retains the original production profile of a long-life 40 years+ project at 20,000 tonnes per annum of battery grade LCE, including competitive cash production cost for Li2CO3 of US$3,518/tonne in the first quartile of global lithium cost production curve.
Galan Lithium (ASX:GLN) managing director Juan Pablo Vargas de la Vega said the updated project economics for HMW show how healthy the project is.
"Despite using a conservative long-term price assumption, HMW has delivered a phenomenal pre-tax NPV of nearly US$2.2 billion," he said.
"The company is in an enviable space whereby it has two study level projects that can potentially deliver combined long term production levels of 34ktpa LCE along with NPVs that are above US$3.4 billion.
"As we have previously said, Galan remains excited about the potential value add for our shareholders once we enter the lithium market with prices expected to be +US25k/tonne LCE.
"Our projects would now be among the lowest cost of any future producers in the lithium industry, due to their high grade and low impurity setting, green credentials and a low carbon footprint.
"Galan is excited to be a part of the solution to the global decarbonisation story." 
DFS planned in 2022
Since the release of the original HMW PEA Study in 2020, the company has confirmed laboratory lithium chloride concentrations of 6% lithium several times and confirmed production of lithium carbonate battery grade of 99.88% LCE from its concentrate.
It has also received permits for new drilling and Stage 1 construction permits for the HMW camp and pilot plant.
During 2022, Galan will be undertaking a definitive feasibility level study (DFS) with the appointment of an independent, well credentialed engineering firm imminent.
The company also expects the new HMW drilling to increase its indicated resources as well as a likely move into the measured and indicated mineral resource category.

This article was developed in collaboration with Galan Lithium Limited, a Stockhead advertiser at the time of publishing.
This article does not constitute financial product advice. You should consider obtaining independent advice before making any financial decisions.
The post Galan's HWM project value jumps 120pc after update on lithium prices appeared first on Stockhead.
Resources Top 5: Tanzania gold project gets the green light, and a copper-gold play in Mongolia stays hot
Orecorp gains following the grant of a special mining licence  Genmin is up on the release preliminary test work results  … Read More
The post Resources…
Orecorp gains following the grant of a special mining licence 
Genmin is up on the release preliminary test work results 
Xanadu Mines gains again following yesterday's resource upgrade 
Here are the top five biggest small cap resources movers in early trade Thursday, December 9. 
Orecorp (ASX:ORR)
Orecorps' shares are up 13.97%, after the company received notification of approval for its special mining licence (SML) grant pertaining to the Nyanzaga Gold project in northwest Tanzania.
The company has been working with the Government of Tanzania (GoT) to finalise the framework and shareholders agreements for a new joint venture company, named Sotta Mining Corporation.
ORR says the grant of the SML represents a pivotal milestone towards the development of the Nyanzaga project.
Genmin (ASX:GEN)
African iron ore explorer and developer Genmin has announced preliminary results of the value-in-use (VIU) test work at the Central South University in Changsha, Huan, China on fines and lump iron ore products form its Baniaka Iron Ore Project in Gabon, Africa.
These results indicate Baniaka Fines and Baniaka Lump iron ore samples have a potentially high value in the Blast Furnace iron making process and will now inform the financial model which will be included in the preliminary feasibility study.
Managing director and CEO Joe Ariti said: "The preliminary value-in-use results show Baniaka Fines and Baniaka Lump have a potentially significant value to Chinese steel mills with both being high iron grade, low silica and alumina, with very low levels of deleterious elements and alkali metals."
"Metallurgically, Baniaka Lump has excellent thermal stability and reducibility, and Baniaka Fines not only delivers high iron grades and low deleterious elements but improves Sintering efficiency with a 12.5% increase in productivity and 8.6% lower solid fuel consumption when substituting for some Australian Fines and Brazilian Fines currently used in Sinter feed blends".
He said this also fits China's decarbonisation policy with greener iron ore products through a high proportion of Lump and mine site infrastructure planned to be powered by renewable hydroelectricity.
GEN shares are up 6.25% at the time of writing.
(Up on no news)
Yesterday the company updated its copper-gold resource estimate at the Mongolian-based Kharmagati mine to 1.1 billion tonnes.
The resource now contains 3mt of copper and 8 million oz gold, representing a >50% increase in the contained copper and >80% increase in contained gold metal.
Since 2018, XAM said it has completed 120 diamond drill holes for 69,479m and has grown the resource at a rate of around 11mt copper equivalent per month.
A scoping study is now underway to model the project, leveraging key advantages such as cohesive high-grade zones to drive early payback of initial capita and strong project economics.
Chief executive officer Andrew Stewart said this positions Kharmagtai as one of the largest undeveloped copper and gold resources on the ASX, and one of the largest globally.
"The higher-grade zones (>0.8% copper equivalent) have grown from 58Mt in the previous estimate to just on 100Mt with this update," he said.
"This could be a real game-changer for project economics."
Shares are up 8% to 2.7c at the time of writing.
Frontier Resources (ASX:FNT)
(Up on no news)
Last week the company announced the completion of an exploration program at the Taula prospect adjacent to the Tolukuma gold mine in Papua New Guinea.
The Taula vein has been mapped for more than 750 metres subparallel to the mineralised Tolukuma mine structures, and FNT believes these extensions signify enhanced potential for developing near mine gold resources.
Vulcan Energy Resources (ASX:VUL)
VUL has signed a binding lithium hydroxide offtake agreement with Volkswagen Group, the world's largest automaker by revenue and the largest company in Germany.
The agreement is for an initial five-year term and the start of commercial delivery is set for 2026.
Vulcan is aiming to become the world's first lithium producer with net zero greenhouse gas emissions.
Its Zero Carbon Lithium Project intends to produce a battery-quality lithium hydroxide chemical product from its combined geothermal energy and lithium resource, which is Europe's largest lithium resource in Germany.
Shares in the company ripped higher by 17.9% on the news, to ~$11.50.
Today's announcement marks one of a number of offtake deal Vulcan has flagged since short-seller J Capital took aim at the business in late October when VUL shares were trading at $14.99.
The post Resources Top 5: Tanzania gold project gets the green light, and a copper-gold play in Mongolia stays hot appeared first on Stockhead.