How AI Is Fueling Supply of Battery Metals For Electric Vehicles
Source: Streetwise Reports   11/22/2021
With most of the easy to find mineral deposits already uncovered, KoBold, Azincourt Energy, and Fobi…
Source: Streetwise Reports   11/22/2021
With most of the easy to find mineral deposits already uncovered, KoBold, Azincourt Energy, and Fobi are turning to artificial intelligence to guide exploration. While KoBold is privately held — by the likes of Bill Gates and Jeff Bezos — Azincourt Energy and Fobi offer investors with more modest portfolios access to AI-based exploration.
With the push for more renewable sources of energy and electric vehicles comes the need for the materials needed to produce them. Demand for metals, such as cobalt, lithium, copper, and uranium is predicted to grow much faster than available supply.
Finding new sources of these minerals is going to take innovation and new types of technology, such as artificial intelligence (AI).
One company fueling the shift to electric power is KoBold Metals, a minerals explorer that is using AI to find the cobalt resources manufacturers need. Privately held, Kobold is funded in part by climate tech group Breakthrough Energy, which is backed by Bill Gates, Jeff Bezos, Richard Branson, and Michael Bloomberg, to name a few of Breakthrough's heavy hitters. Founded in 2015 by Gates, Breakthrough Energy is "concerned about the impacts of accelerating climate change" and "supports the innovations that will lead the world to net-zero emissions." Investors also include well-known names Andreessen Horowitz and Equinor.
KoBold bills itself as "the world's first AI powered mineral exploration company, "innovating at the very upstream of the EV supply chain." It pairs mineral explorers with cutting edge AI technology "to bring the most comprehensive and cutting-edge knowledge available to bear on battery mineral exploration." The company uses AI to decide what land to acquire, and then its geoscientists use AI to drive exploration programs. The company noted that it has formed alliances with mining companies to use historical and "underexploited datasets to generate new exploration opportunities."
In September, KoBold announced a partnership with mining giant BHP Group where KoBold's AI technology will be used initially to explore a wide area of Western Australia. "We need new approaches to find the next generation of essential minerals, and this alliance will combine historical data, artificial intelligence, and geoscience expertise to uncover what has previously been hidden," said Keenan Jennings, BHP's head of metals exploration.
This Publicly Traded Explorer Also Supports Clean Energy
KoBold is privately held, so investors can't participate in its value proposition. But another resource explorer that's in on the AI-meets-mining trend is Azincourt Energy Corp. (AAZ:TSX.V; AZURF:OTC), a Vancouver-based, public company specializing in the strategic acquisition, exploration, and development of alternative energy/fuel projects, including uranium, lithium, and other critical clean energy elements.
Azincourt was the only company that matched all of my criteria, with its focus on clean energy, solid ESG principals, and cutting-edge technology. — PennyQueen
Azincourt has entered into a data consulting agreement with Fobi AI Inc. (FOBI:TSX), a data intelligence company also based in Vancouver, British Columbia, that uses AI to mine real-time data for actionable insights.
Why did PennyQueen invest in Azincourt? Read her thoughts and due diligence on Azincourt Energy Corp exclusively avalable for Streetwise Reports' Readers. Click here and we will deliver the FREE due diligence Report link to your inbox.
PennyQueen is an investor who focuses mostly on clean tech and does her own independent analysis. She has created a social media community of over 10,000 like-minded investors with whom she has shared her progress of taking a $329k nest egg and building it to over $6 million within a year.
Chart analyst Clive Maund said, "We bought Azincourt Uranium at what turned out to be a good entry at a low on 10th October… After we bought it popped higher nicely, but has since reacted back. The price / volume pattern suggests a Triangular consolidation is forming that should lead to renewed advance, and it is therefore rated an immediate buy again here." Through a one-year, $250,000 contract, Fobi will help Azincourt develop an operational intelligence platform to help transform legacy exploration practices: This will potentially allow the company to generate more impactful drill holes in less time and with fewer costs. Fewer holes means less impact on the environment, and efficiency here, if achieved, reflects an even deeper commitment from Azincourt to the development of clean energy sources.
The team-up will allow Azincourt to benefit from Fobi's experience architecting and deploying its established AI and big data operational applications in an effort to support Azincourt's goal of making discoveries and delineating a resource at its East Preston project.
Rob Anson, CEO of Fobi commented, "This agreement with Azincourt will enable Fobi to demonstrate the power of our real-time operational data applications and real-time analytics and insights to provide Azincourt with leading-edge technology, strategies, and the necessary tools to streamline and automate current manual applications. Fobi will continue to drive innovation and best practices to improve the industry's existing antiquated operational and data systems."
Anson concluded, "The powerful combination of Fobi's artificial intelligence and real-time big data applications will be key to enabling Azincourt to make faster, smarter, data-driven decisions which ultimately will be key to driving further success in regard to the Company's operational efficiencies and performance."
Potential of AI to Streamline Exploration
"Exploration is the riskiest endeavor in mineral exploration, and we have to be efficient in how we spend money to do it," said Alex Klenman, president and CEO of Azincourt Energy. "I'm interested in perhaps speeding up the exploration process by using artificial intelligence to possibly recognize patterns that weren't as readily apparent in current methods of exploration."
Klenman said the company will work with Fobi to acquire and accumulate public data about uranium exploration in the Athabasca region through historical reports, releases, and public filings, and then apply artificial intelligence techniques to determine any patterns that may exist.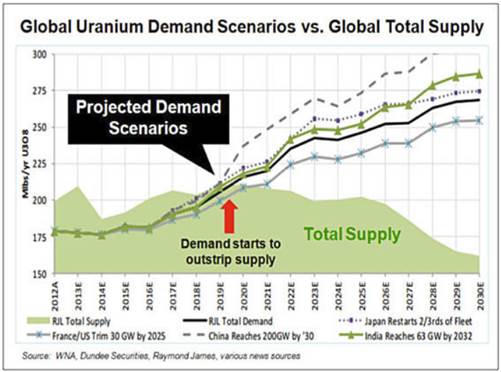 "I look at this as our company dipping our toe in a new area," Klenman said. "At some point, it may lead to cutting down the number of exploratory drill holes."
Klenman said Azincourt is not aware of other uranium companies using AI and said he was intrigued by KoBold Metals, which calls itself the first AI-powered mineral exploration company and is committed to the long-term development of new battery metal resources.
Uranium prices are now in the $40 to $50 per pound range, Klenman said, down from a peak of $160 in 2007.
"We've been in a prolonged bear market since then and some mines have been shut," he said. "Existing supplies have been used for the past 10 years, but we're reaching a point where demand could turn. Even with existing reactors, the need for raw material is there."
Azincourt Energy is currently active at its majority-controlled joint venture East Preston uranium project in the Athabasca Basin in Saskatchewan and in the Escalera Group uranium-lithium project located on the Picotani Plateau in southeastern Peru.
"In terms of drilling, we expect to explore another 7000 meters this winter at a cost of somewhere around plus or minus $3M. We have approximately CA$14M on-hand, and that will buy us several more years," concludes Klenman.
If you have not already, be sure to read PennyQueen's thoughts and due diligence on Azincourt Energy Corp exclusively avalable for Streetwise Reports' Readers. Click here and we will deliver the FREE due diligence Report link to your inbox.
EV Nickel starts trading on TSX Venture Exchange
  TORONTO – EV Nickel Inc.'s [EVNI-TSXV] initial public offering (IPO) prospectus dated November 19, 2021, has been filed with and accepted by the…
TORONTO – EV Nickel Inc.'s [EVNI-TSXV] initial public offering (IPO) prospectus dated November 19, 2021, has been filed with and accepted by the TSX Venture Exchange and has begun trading on the Exchange.
The closing of the IPO, scheduled for December 2, 2021, was expected to have gross proceeds of $5,440,292 for a total of 1,442,200 flow-through (FT) common shares at 86 cents per FT common share and of 5.6 million units at 75 cents per unit. The company has 30,355,667 common shares issued and outstanding
EV Nickel, classified as a Tier 2 issuer, is a Canadian nickel exploration company, focused on the Shaw Dome area, south of Timmins, Ontario. The Shaw Dome area is home to its Langmuir project, which includes W4, the basis of a 2010 historical estimate of 677,000 tonnes at 1% nickel for approximately 15 million pounds of Class 1 nickel.
EV Nickel's objective is to grow and advance a nickel business, targeting the growing demand for Class 1 nickel from the electric vehicle battery sector. EV Nickel has almost 9,100 hectares to explore across the Shaw Dome area and has identified 30 km of additional strike length.
"We are excited to get out into the public markets and begin telling the world about our wonderful assets, on the Shaw Dome, just south of Timmins," said Sean Samson, president and CEO. "The world needs more nickel and especially the type of high-grade, clean nickel that we plan to build our business around. Decarbonization is the challenge of a lifetime and we plan to source the material that will help the EV [electric vehicle] companies grow and help address that challenge."
Vision Lithium to Buy The Cadillac Canadian Lithium Property
Canadian-based exploration company Vision Lithium agreed to acquire 100% interest in 215 contiguous mining claims in Quebec, Canada.  Combined with an…
Canadian-based exploration company Vision Lithium agreed to acquire 100% interest in 215 contiguous mining claims in Quebec, Canada. 
Combined with an additional 105 stakes claimed by the company, the group of claims will be collectively referred to as The Cadillac lithium property.  
Details of the agreement include the vendor groups receiving an aggregate cash consideration of $102,427.92 from Vision Lithium, as well as ​​issue a total of 4,300,000 common shares of the company. The shares are not divided evenly, with 1.5 million each going to the CMH Group and Fancamp, the Leblanc-Lavoie Group will receive 1 million and 300,000 Shares will go to the Tremblay Group. The company will also pay each vendor group a 2% net smelter return royalty on the claims. 
President & CEO of Vision Lithium Yves Rougerie commented in a press release, "The Cadillac lithium project is an exciting addition to our growing portfolio of lithium properties. The Property is located 10 km south of the Trans-Canada highway and only metres from the secondary road, ensuring easy access for logistics, materials and qualified manpower."
The claims acquired by Vision Lithium combined with the additional 105 claims staked, means the property holds a total of 320 claims covering 18,378 hectares. The property is easily accessible year-round in an area with well-maintained roads. This is especially helpful since Quebec can become covered in snow for multiple months of the year, and established infrastructure gives the company a head start.
There are also at least 4 pegmatite dikes which are spaced approximately 100 metres apart and traced for at least 300 metres along on the property. 
Rougerie continued "The property hosts a cluster of close-spaced parallel lithium-bearing dikes. Spodumene has been observed in the outcropping dikes and we believe there are likely more dikes in the cluster. The dikes have seen surprisingly little historical exploration with only a handful of samples and no drilling to date." 
High Potential for Additional Lithium Discoveries
Lithium crystals have been observed on all four dikes of the property, with even a few large crystals visible. 
The property is located approximately 10 km south of Cadillac, a historic mining town, and about halfway between the major mining centres of Rouyn-Noranda and Val-d'Or in Quebec. 
"We believe the potential for additional lithium discoveries within the main cluster area is excellent and the larger property also has tremendous upside potential for discovery. The entire area acquired and staked is very large at almost 200 square kilometres. We plan to aggressively explore the Property over the winter by drilling the main cluster of dikes and to plan and complete field work next summer over the large tract of land," Rougerie said. 
There are a number of closing conditions and post-closing obligations for the company until the transaction is officially completed. This includes the execution of certain deeds and instruments of conveyance, and the approval of joining the TSX Venture Exchange. Completion of the transaction is expected to be finished in the coming days. 
Vision Lithium focuses on exploring and developing mineral assets such as lithium and copper in different parts of Canada. Other than the claims they have just received in the recent transaction, the company has operations in Manitoba, and multiple properties in New Brunswick and Quebec. The first drill program at the company's Dome Lemieux copper property in Quebec has commenced. Vision has also recently completed the Red-Brook copper and zinc drill program in New Brunswick. 
Vision Lithium is focused on developing their Sirmac lithium project in Quebec which is a hard rock source of lithium. Lithium can either come from hard rock sources or brines, and about 50% of each make up the world's lithium compound production. Both sources can produce battery-grade lithium, but the extraction process is very different. The company plans on using existing methods to extract lithium for the battery market. This is a key area for the company as demand for battery materials is soaring in the middle of a global energy transition. 
The above references an opinion and is for information purposes only. It is not intended to be investment advice. Seek a licensed professional for investment advice. The author is not an insider or shareholder of any of the companies mentioned above.
The post Vision Lithium to Buy The Cadillac Canadian Lithium Property appeared first on MiningFeeds.
NIO Stock Alert: One Big Reason EV Maker Nio Is Plunging Today
As all eyes turn to Chinese stocks today, Chinese electric vehicle (EV) producer Nio (NYSE:NIO) is in the spotlight. Indeed, as NIO stock slides, investors…
As all eyes turn to Chinese stocks today, Chinese electric vehicle (EV) producer Nio (NYSE:NIO) is in the spotlight. Indeed, as NIO stock slides, investors are left to ponder the news coming out of the Securities and Exchange Commission (SEC) as well as what it might mean for the EV industry as a whole.
Source: Sundry Photography / Shutterstock.com
So, what is this big news?
Chinese stocks that trade on major U.S. exchanges have been sliding since markets opened this morning, a direct result of the recent news from the SEC. The regulatory agency has announced that it will be implementing a new law that will require all international companies that trade on the NYSE or Nasdaq to turn over their financial books to U.S. regulators upon request or face being delisted.
One major stock has already delisted and others seems poised to follow. These events have cast a cloud of uncertainty over markets, and investors have many questions about their Chinese investments. Investors have a lot to think about as NIO stock falls, in terms of the future of both the company and its industry.
What's Happening With NIO Stock
Like most China-based companies that trade in the U.S., NIO stock has been falling all day. As of this writing, it is down by almost 9%. Despite an earlier uptick, it isn't showing signs of rebounding. The stock has been declining since December began, but yesterday's news has caused it to plunge, pulling it into the red by more than 20% for the month. It's clear that since news broke of Chinese ride-sharing giant Didi Global (NYSE:DIDI) making the move to delist from the NYSE, investors are nervous, bracing for a selloff.
Nio isn't the only Chinese EV manufacturer that hasn't been enjoying the ride today. Its peers XPeng (NYSE:XPEV) and Li Auto (NASDAQ:LI) have seen worse declines. Both are down as of this writing, by 9% and 13%, respectively.
Why It Matters
While this news has sent Chinese stocks across many different sectors into a downward tailspin, there are other factors that are worth considering. Nio filed for an additional listing on a Hong Kong exchange in early 2021, but the decision was delayed for months, stretching into 2022 with little information provided by the company as to the reasons behind it. If the company was already planning to list in another market, this news from the SEC could prove the incentive it needs to delist in order to expedite the process. It's hard to pinpoint exactly what this means for NIO stock.
Wall Street hates uncertainty. And since an important international company decided to comply with unprecedented orders from its government, uncertainty has reigned supreme. Nio's incentive to delist is likely high, and if one industry leader makes a decision, others may follow. Adding to the turbulent market outlook is the fact that many Chinese business leaders haven't said much since news broke of the SEC's decision, leaving investors to wonder what the immediate future will look like.
The fact that Chinese EV stocks are slipping across the board indicates that this news is serious. The EV race, in which China's companies have played a key role, has come to define investing in 2021 and looks set to continue into the new year. If such a prominent sector can feel the strain of this news, no industry is immune.
What It Means
The road ahead looks bumpy for all Chinese stocks that trade on U.S. markets, not just the EV sector. The emerging threat of the omicron variant was already casting doubt over markets, as investors braced for what will likely be known as the "omicron winter." Now they have an even shorter-term concern to field.
With all this in mind, there are plenty of factors that contribute to a stock making the move to delist. We don't know for sure what this news will mean for NIO stock, but it is certainly a name to watch as Chinese companies make decisions and trends start to develop.
On the date of publication, Samuel O'Brient did not have (either directly or indirectly) any positions in the securities mentioned in this article. The opinions expressed in this article are those of the writer, subject to the InvestorPlace.com Publishing Guidelines.
More From InvestorPlace
The post NIO Stock Alert: One Big Reason EV Maker Nio Is Plunging Today appeared first on InvestorPlace.