Indicators Point to a Gold Bull Market Running well into 2021 Making Euro Sun a Good Buy
Gold is having a fantastic run. All-time price highs are in sight, and all the indicators are pointing to this bull market running well into 2021- if not beyond.
Since August 2018, the price of the precious metal has risen from around $1,200 an ounce ("/oz") to its current $1,729/oz. In 2020 alone, it has surged from $1,500/oz.
The last time gold rose through this key price level in a bull market was back in 2011. This heralded the start of a two-year spree of corporate takeovers, with larger gold mining companies aggressively snapping up their smaller peers in a bid to boost their reserves.
It now looks like we are on the cusp of history repeating itself. For eagle-eyed investors, this presents a fantastic opportunity to make a great deal of money.
The trick will be to invest in the right companies.
One obvious stock pick is Euro Sun Mining (TSX:ESM, OTCQB:CPNFF).
In its 10-million-ounce Rovina Valley gold project in Romania, Euro Sun (TSX:ESM, OTCQB:CPNFF) owns Europe's…
This article was originally published by Mining Maven.
Gold is having a fantastic run. All-time price highs are in sight, and all the indicators are pointing to this bull market running well into 2021- if not beyond.
Since August 2018, the price of the precious metal has risen from around $1,200 an ounce ("/oz") to its current $1,729/oz. In 2020 alone, it has surged from $1,500/oz.
The last time gold rose through this key price level in a bull market was back in 2011. This heralded the start of a two-year spree of corporate takeovers, with larger gold mining companies aggressively snapping up their smaller peers in a bid to boost their reserves.
It now looks like we are on the cusp of history repeating itself. For eagle-eyed investors, this presents a fantastic opportunity to make a great deal of money.
The trick will be to invest in the right companies.
One obvious stock pick is Euro Sun Mining (TSX:ESM, OTCQB:CPNFF).
In its 10-million-ounce Rovina Valley gold project in Romania, Euro Sun (TSX:ESM, OTCQB:CPNFF) owns Europe's second-largest commercial gold resource. With permitting for mine construction also well on the way to completion, the asset has to be one of the sector's most attractive takeout targets.
However, with Euro Sun's (TSX:ESM, OTCQB:CPNFF) market-cap sitting at just $36.9 million, Rovina Valley's gold is currently valued at only $2-3 an ounce ("/oz").
Historically, you would expect to see a project of this quality, and at this late stage of development, valued closer to $20/oz valuation.
But with the gold price rocketing, something has surely got to give.
After all, Rovina Valley is drill-ready with a vast gold resource and is located in one of the world's safest jurisdictions.
In short, this project ticks all the boxes for a significant acquisition.
How much longer can Euro Sun (TSX:ESM, OTCQB:CPNFF) trade at such a discount?
With increasingly cashed-up gold miners now on the hunt to boost their reserves, the answer is almost certainly "not long".
Gold – in the early stages of a strengthening bull market
A big part of the investment case for Euro Sun (TSX:ESM, OTCQB:CPNFF) comes down to whether you believe gold's bull market will continue into the medium term?
The renowned safe-haven asset was already performing exceptionally well as we entered 2020, boosted by growing concerns about the escalating US/China trade war and fears about weakening global growth.
Then the Coronavirus struck.
That black swan has changed everything, and with central banks now rushing to print money on an unprecedented scale, the outlook for many is frightening.
And there is nothing the price of gold loves more than fear.
As other markets recoil from the impact of Covid-19, gold has continued to soar.
There is no sign of this slowing down anytime soon.
The longer this run continues, the better the prospects for companies like Euro Sun (TSX:ESM, OTCQB:CPNFF).
To see how big an opportunity could be in front of you right now, take a step back for a moment.
Look at the graph below.
Gold price in dollars per ounce over the past 12 months (Source: Kitco)
Bar a very brief dip in mid-March 2020, when a huge S&P sell-off led investors to panic-sell to cover other losses, gold has now traded above $1,500/oz since late December 2019.
Remember, this price is a crucial threshold for the sector as a whole.
Now take a look at this second graph.
Gold prices in dollars per ounce since 2000 (Source: goldprice.org)
The last time we saw a gold bull run break out beyond $1,500/oz was back in 2011. When it did, it stayed above this key psychological barrier until 2013.
This sustained period of price strength was marked by a massive surge in acquisitions from major gold producers as they used extra cash on their balance sheets to build up their long-term reserves and resources.
With so much turmoil in the world today, and the extraordinary actions of central banks gathering pace, gold's run shows no sign of stopping in the near future. Bank of America even predicts that gold will reach $3,000/oz within 18 months!
This can only be positive for takeout targets like Euro Sun (TSX:ESM, OTCQB:CPNFF).
So, what makes Euro Sun (TSX:ESM, OTCQB:CPNFF) such an attractive takeover target?
In broad terms, there are three main criteria that miners use in their hunt for new projects. These are:
Quality – the major miner wants to produce as much metal as it can for as little cost
Jurisdiction – the major miner wants to operate over the long-term in an area that is safe and mining-friendly
Progress – the major miner wants projects that are as close to being "shovel ready" as possible
Rovina Valley scores about as high as you can get in all three areas.
The project is the European Union's ("EU") second-largest gold deposit, with 10.11 million equivalent ounces of gold in the measured and indicated categories. These are the two most valuable categories for any mining asset to have.
It also boasts a considerable amount of upside potential in the form of the Stanija prospecting permit, where sampling has returned grades of up to 25.9 grams per tonne gold and 0.34% copper. Stanija, also wholly-owned by Euro Sun (TSX:ESM, OTCQB:CPNFF), is based just six kilometers away from Rovina Valley.
Location of the Rovina Valley project and neighboring Stanija Prospect (Source: Euro Sun Mining)
Meanwhile, Rovina Valley is based in Romania's "Golden Quadrilateral", one of Europe's largest gold-producing areas. This is a critical jurisdictional de-risking factor for Euro Sun (TSX:ESM, OTCQB:CPNFF).
Since joining the EU in 2007, Romania has taken full advantage of its membership of the world's largest trading block, regenerating its economy and opening up for international business – particularly in the mining space.
Euro Sun (TSX:ESM, OTCQB:CPNFF) broke new ground in November 2018 when it became the first non-state-owned firm in Romania to be awarded a mining licence. The clincher was the firm's deep-rooted commitment to Environmental, Social, and Governance ("ESG") principals, which saw it win government-backed authorizations at Rovina Valley previously denied to other firms.
In a March 2020 update, Euro Sun (TSX:ESM, OTCQB:CPNFF) went on to state publicly that it is confident it will win a construction permit and deliver a definitive feasibility study for Rovina Valleyin 2020. Notwithstanding any minor Covid-19-related delays, the asset will at this point be "shovel ready" and primed for production.
With Europe's second-largest gold resource in an EU-member state and permitting well on the way to completion, Rovina Valley really is an ideal takeout target.
It is no surprise that billion-dollar fund manager Ruffer and specialist resource investor Orion Mine Finance have taken such considerable stakes in Euro Sun (TSX:ESM, OTCQB:CPNFF).
These backers represent some of the smartest money around. They recognize true value when they see it.
With Rovina Valley's 10 million ounces of gold priced at only $2-3/oz, against an expected value of $20/oz, it is obvious what attracted them to this investment.
Given the huge discount currently being offered by the market, it will not be long before Euro Sun (TSX:ESM, OTCQB:CPNFF) sees a significant and hugely positive rerate.
————————–
IMPORTANT NOTICE AND DISCLAIMER
Paid Advertisement
This communication is a paid advertisement. ValueTheMarkets is a trading name of Digitonic Ltd, and its owners, directors, officers, employees, affiliates, agents and assigns (collectively the "Publisher") is often paid by one or more of the profiled companies or a third party to disseminate these types of communications. In this case, the Publisher has been compensated by Euro Sun Mining Inc to conduct investor awareness advertising and marketing and has paid the Publisher the equivalent of eighty seven thousand and seventy four pound sterling and twenty seven pence to produce and disseminate this and other similar articles and certain related banner advertisements. This compensation should be viewed as a major conflict with the Publisher's ability to provide  unbiased information or opinion.
Changes in Share Trading and Price
Readers should beware that third parties, profiled companies, and/or their affiliates may liquidate shares of the profiled companies at any time, including at or near the time you receive this communication, which has the potential to adversely affect share prices. Frequently companies profiled in our articles experience a large increase in share trading volume and share price during the course of investor awareness marketing, which often ends as soon as the investor awareness marketing ceases. The investor awareness marketing may be as brief as one day, after which a large decrease in share trading volume and share price may likely occur.
No Offer to Sell or Buy Securities
This communication is not, and should not be construed to be, an offer to sell or a solicitation of an offer to buy any security.
Information
Neither this communication nor the Publisher purport to provide a complete analysis of any company or its financial position.
This communication is based on information generally available to the public and on an interview conducted with the company's CEO, and does not contain any material, non-public information. The information on which it is based is believed to be reliable. Nevertheless, the Publisher does not guarantee the accuracy or completeness of the information. Further, the information in this communication is not updated after publication and may become inaccurate or outdated. No reliance should be placed on the price or statistics information and no responsibility or liability is accepted for any error or inaccuracy.
No Financial Advice
The Publisher is not, and does not purport to be, a broker-dealer or registered investment adviser or a financial adviser. The Publisher has no access to non-public information about publicly traded companies. The information provided is general and impersonal, and is not tailored to any particular individual's financial situation or investment objective(s) and this communication is not, and should not be construed to be, personalized investment advice directed to or appropriate for any particular investor or a personal recommendation to deal or invest in any particular company or product. Any investment should be made only after consulting a professional investment advisor and only after reviewing the financial statements and other pertinent corporate information about the company. Further, readers are advised to read and carefully consider the Risk Factors identified and discussed in the advertised company's SEC, SEDAR and/or other government filings. Investing in securities, particularly microcap securities, is speculative and carries a high degree of risk. Past performance does not guarantee future results.
Forward Looking Statements
This communication contains forward-looking statements, including statements regarding expected continual growth of the featured companies and/or industry. Statements in this communication that look forward in time, which include everything other than historical information, are based on assumptions and estimates by our content providers and involve risks and uncertainties that may affect the profiled company's actual results of operations. These statements involve known and unknown risks, uncertainties and other important factors that could cause the actual results and performance to differ materially from any future results or performance expressed or implied in the forward-looking statements. These risks, uncertainties and other factors include, among others: the success of the profiled company's operations; the size and growth of the market for the company's products and services; the company's ability to fund its capital requirements in the near term and long term; pricing pressures; changes in business strategy, practices or customer relationships; general worldwide economic and business conditions; currency exchange and interest rate fluctuations; government, statutory, regulatory or administrative initiatives affecting the company's business.
Indemnification/Release of Liability
By reading this communication, you acknowledge that you have read and understand this disclaimer in full, and agree and accept that the Publisher provides no warranty in respect of the communication or the profiled company and accepts no liability whatsoever. You acknowledge and accept this disclaimer and that, to the greatest extent permitted under applicable law, you release and hold harmless the Publisher from any and all liability, damages, injury and adverse consequences arising from your use of this communication. You further agree that you are solely responsible for any financial outcome related to or arising from your investment decisions.
Terms of Use and Disclaimer
By reading this communication you agree that you have reviewed and fully agree to the Terms of Use found here https://www.valuethemarkets.com/terms-conditions/ and acknowledge that you have reviewed the Disclaimer found here  https://www.valuethemarkets.com/disclaimer/. If you do not agree to the Terms of Use, please contact ValueTheMarkets.com to discontinue receiving future communications.
Intellectual Property
All trademarks used in this communication are the property of their respective trademark holders. Other than Valuethemarkets.com, the Publisher is not affiliated, connected, or associated with, and the communication is not sponsored, approved, or originated by, the trademark holders unless otherwise stated. No claim is made by the Publisher to any rights in any third-party trademarks other than Valuethemarkets.com.
Authors: Daniel Flynn & Ben Turney
Valuethemarkets.com and Digitonic Ltd and our affiliates are not responsible for the content or accuracy of this article. The information included in this article is based solely on information provided by the company or companies mentioned above.
This article does not provide any financial advice and is not a recommendation to deal in any securities or product. News and research are not recommendations to deal, and investments may fall in value so that you could lose some or all of your investment. Past performance is not an indicator of future performance.
Neither Daniel Flynn or Ben Turney hold any position in the stock(s) and/or financial instrument(s) mentioned in the above piece. Daniel Flynn & Ben Turney have been paid to produce this piece by the company or companies mentioned above. Digitonic Ltd, the owner of ValueTheMarkets.com, has been paid for the production this piece by the company or companies mentioned above.
Mining Maven disclaimer
MiningMaven Ltd, the owner of MiningMaven.com, does not a position in the stock(s) and/or financial instrument(s) mentioned in the piece.
MiningMaven Ltd, the owner of MiningMaven.com, has been paid for the production of this piece by the company or companies mentioned above.
MiningMaven.com and MiningMaven Ltd are not responsible for the article's content or accuracy and do not share the views of the author. News and research are not recommendations to deal, and investments may fall in value so that you could lose some or all of your investment. Past performance is not an indicator of future performance
Pegasus Resources Expands Its Uranium Assets In Saskatchewan
Pegasus Resources Inc. (TSXV:PEGA) continues to make its presence in the prolific Athabasca Basin uranium camp with the recently announced
The post Pegasus…
Pegasus Resources Inc. (TSXV:PEGA) continues to make its presence in the prolific Athabasca Basin uranium camp with the recently announced acquisition of three uranium properties at the northwest edge of the Basin. The 54,026 hectare properties comprising 13 mineral claims contain a cumulative total of 535,718 lbs of uranium, and significantly, includes a historic resource estimate of 202,200 tons at 0.119% U308 at an average width of 4.8 metres.
These new properties add to the previously announced Pine Channel uranium property which consists of six mineral claims covering 6,028 hectares and is located at the northern edge of the Athabasca basin, roughly 40 km west of the town of Stony Rapids. The Athabasca Basin in Northern Saskatchewan is host to several of the world's largest and highest-grade uranium mines, including Cameco's (TSX: CCO) McArthur River Mine and Cigar Lake Mine.
The Wollaston Northeast property is located in the 20A zone within the prolific Wollaston Domain, 45 kilometres northeast of the Eagle Point Uranium Mine. The property has at least eight known base metals showings and five previously documented uranium occurrences, and is considered highly prospective for basement hosted uranium mineralization.
Much of the recent renewed interest in uranium in the region is due to recent discoveries within the Wollaston Domain where the Eagle Point deposits are hosted within its basement rocks. In addition to the Eagle Point Mine, the area also hosts the historic Rabbit Lake Mine and Cameco/Orano Key Lake Mine, the world's largest high-grade uranium mine.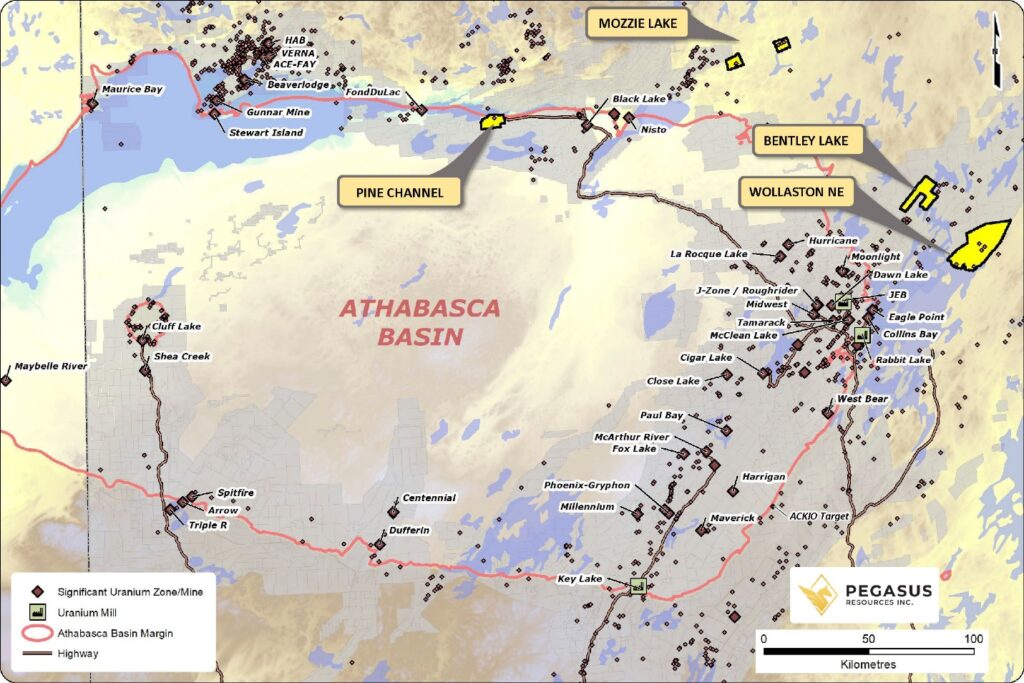 The 12,397 hectare Bentley Lake Uranium Property consisting of three mineral claims, and is located 35 kilometres northeast of the edge of the Athabasca Basin, within a transition zone between the Wollaston and Mudjatic Domains. This trend is host to several major uranium deposits, including Cigar Lake, Roughrider, McArthur River and Midwest. It is located at the transition zone between the Wollaston and Mudjatik geological domains.
The third property is located approximately 40 kilometres northeast of the edge of the Athabasca Basin and within the Charlebois-Higginson Lake Uranium District. The 6,908 hectare Mozzie Lake Uranium Property consists of three mineral claims and has a historical resource estimate of 204,200 tons at 0.119% U308, with an average width of 4.8 metres, and containing 535,718 lbs of uranium. What makes the Mozzie Lake Property particularly compelling, aside from the historical resource estimate that Pegasus's exploration efforts may be able to increase significantly, are the pegmatite deposits of the Charlebois-Higginson Lake Uranium District.
Since being initially explored from the 1940's through to the 1960's, there has been virtually no exploration on the property. Previous work in the region, as well as on the Pinkham Lake property at Mozzie Lake, indicated that the pegmatite deposits may also host mineralization which contains rare-earth-element bearing minerals. Rare earth minerals are in high demand today due to the needs of the various technology, consumer electronics, and electric vehicle manufacturing industries. PEGA plans to examine the property's rare earth potential as part of its uranium exploration program at Mozzie Lake.
Pegasus will next review the historical data on the properties to determine an exploration strategy and work programs, and will provide shareholders with updates in the near future. The company's recent announcements of the uranium assets have certainly rekindled interest in PEGA shares, and its market capitalization has increased by almost 50% to $7.98 million in recent weeks, signifying that investors are enthused about the direction management has taken.
PEGA last traded at $0.095 on the TSX Venture exchange.
---
FULL DISCLOSURE: Pegasus Resources is a client of Canacom Group, the parent company of The Deep Dive. The author has been compensated to cover Pegasus Resources on The Deep Dive, with The Deep Dive having full editorial control. Not a recommendation to buy or sell. Always do additional research and consult a professional before purchasing a security.
The post Pegasus Resources Expands Its Uranium Assets In Saskatchewan appeared first on the deep dive.
tsx tsxv tsx venture uranium electric vehicle rare-earth base metals tsxv-pega pegasus-resources-inc
The Ethical Investor: ESG moves, lessons from the energy crisis and JP Equities' stock tips
The Ethical Investor is Stockhead's weekly look at ESG moves on the ASX. This week's special guest is JP Equity … Read More
The post The Ethical…
The Ethical Investor is Stockhead's weekly look at ESG moves on the ASX. This week's special guest is JP Equity Partners' director and partner, Nic Brownbill.
The world is in the grip of an ongoing global power crisis that has seen energy prices soaring by thousands of percentage points.
From China to Europe and now India, the cost of energy is surging drastically. The price of natural gas has even quadrupled in some parts of the world.
But economists are now warning this might be just the first of many power crunches the world will see as we transition into the new economy.
According to a research paper by CommBank's analyst Vivek Dhar, there are two main root causes that led to the crisis — a strong demand recovery from the pandemic, and an acute shortage of two key power-producing fuels – natural gas and thermal coal.
As economies reopen, there is a sudden pent up demand from consumers which meant that factories were forced to switch on their production capacity at short notice. This was exacerbated by a colder than usual European autumn, as the continent potentially faces a more-freezing-than-usual winter season.
In China, the crisis mainly stemmed from an undersupply in local production of coals, according to Dhar, adding that coal supply has been hampered in China because of the government's own environmental protection regulations.
So what can we learn from all this?
Dhar reckons that we are transitioning into the new economy too fast, too soon.
"What the recent energy crisis has shown is that the energy transition needs to be planned carefully," Dhar wrote.
"This will mean significant investment in renewable generation, batteries, electricity grids and hydrogen."
But he thinks the roll-out of a decarbonised grid and role of gas need to be clearly defined too.
"Under-investing in gas infrastructure relative to its role in coming years will only serve to make Europe's energy market more vulnerable to prolonged gas shortages, and increase dependence on Russia."
Like Europe, China's decarbonisation ambition will need to be planned as well, Dhar said.
"If coal mines and coal power plants are closed before a renewable replacement is in place, power shortages in China could be an ongoing concern."
 
What's happening in Australia
Australians have chosen climate change as the top ESG priority, according to the latest survey conducted by global ESG consultant, SEC Newgate.
And more than half of the 1,000 Aussies surveyed said they were happy with the direction the government is taking on the environment.
Aussie respondents also nominated retailers Coles Group (ASX:COL) and Woolworths (ASX:WOW) as the top local companies when it came to doing well on ESG metrics.
These results should provide food for thought for PM Scott Morrison, who's currently caught in a political wrangle with the Nationals in setting our 2050 climate goals.
The PM has told Liberal colleagues that he wants to bring a binding 2050 net zero commitment to the COP26 Summit in Glasgow next month, without having to upgrade Australia's 2030 commitments.
Nationals Leader and also Deputy PM, Barnaby Joyce, said however that he was willing to back the 2050 targets only if funding for regional producers and farmers were made as part of the deal.
 
Special guest JP Equities' Nic Brownbill shares his views and ESG stocks
Nic Brownbill, a partner at JP Equity, told Stockhead that decarbonisation is a mega global investment opportunity, one that JP Equity wants to be all in on.
How big is the potential for ESG investing?
"We see the whole decarbonisation theme as the next mega global investment opportunity. An estimated $41 trillion is required to decarbonise the planet. It's going to be a bigger opportunity than the crypto market, because unlike cryptos, the carbon market is going to be mandated by governments, major asset managers and pension funds."
Which segment of the ESG market do you see outperforming?
"Some companies will fall short in trying to make their carbon targets, so the balance will need to be met with carbon credits. I think carbon emissions will eventually be metricated, and the carbon offset market is going to be a way for major companies to offset their emissions."
Would that investment opportunity catch on in Australia?
"I believe the Australian market hasn't really caught on to the opportunity of this yet. But I think something will really start to emerge from the COP26 conference in November, where you'll see a sustained mega theme starting to unfold in this country.
"I think we will start to see a complete emergence of Australian companies in the carbon space over the next few months and beyond."
What are the ASX stocks that JP Equity likes in the carbon credit space?
One ASX stock that we've been watching very closely is  Fertoz (ASX:FTZ). They're a leading North American fertiliser manufacturer that produces a unique low-emission rock phosphate product that increases crop yield by 15%.
"Importantly, it can generate significantly lower CO2 emissions in manufacturing compared with other commercial fertilisers.
"This presents a really significant opportunity because agriculture as a sector accounts for 24% of all human generated greenhouse emissions. Fertoz is one of the first movers in the carbon credit market, and since May this year has been issuing carbon offset credit certificates.
"It's not a matter of if, but when disclosure of carbon emissions will become metricated. And as a result, Fertoz is getting some strong enquiries from other companies looking to offset their footprints by buying carbon credits."
Any other ASX stocks you like in the ESG space?
"We're also bullish on Mpower (ASX:MPR). The company is Australia's leading specialist in renewable energy, battery storage and micro-grid business. It has a focus on five megawatt solar farms, and is in the process of creating an initial portfolio of 20 sites across Australia in the coming years.
"That gives them an aggregate capacity of around 100 megawatts, and an estimated value of more than $150 million. It's now down to what the team can deliver in some of those projects to build up the portfolio."
Notable ASX ESG-related news during the week
The energy giant announced that it was targeting a 50% reduction in Scope 1 and 2 emissions by 2030, and a 15% reduction by 2025 from a 2018 baseline of 32.6Mt.
Around $7.5 billion in direct capital expenditure will be spent on decarbonising Rio Tinto's assets from 2022 to 2030, including $0.5 billion per year from 2022 to 2024.
Strandline Resources (ASX:STA)
The company released its Sustainability Report for 2021, outlining its commitment to the United Nations Sustainable Development Goals (UNSDGs).
STA said it's focused on managing development risks at its Coburn project in WA to safeguard workers and ensure environmental compliance.
The company has appointed global consulting firm Deloitte to ensure a robust ESG program at its Maricunga project in Chile.
Deloitte has been tasked to imbed sustainable protocols in LPI's lithium extraction operations, and to establish ambitious standards for LPI to become a carbon neutral producer, while keeping high standards on the social aspects.
The company also said it has completed its maiden Sustainability Plan, with strategies aligned to the UNSDGs.
The views, information, or opinions expressed in the interview in this article are solely those of the interviewee and do not represent the views of Stockhead.
Stockhead has not provided, endorsed or otherwise assumed responsibility for any financial product advice contained in this article.
The post The Ethical Investor: ESG moves, lessons from the energy crisis and JP Equities' stock tips appeared first on Stockhead.
Emerita Sees Continued Success In Spain
Emerita Resources Corp (TSXV:EMO) continues to report excellent results from the Infanta drill program at its Iberia Belt West Project
The post Emerita…
Emerita Resources Corp (TSXV:EMO) continues to report excellent results from the Infanta drill program at its Iberia Belt West Project in Spain, which hosts three previously identified high-grade deposits: La Infanta, Romanera and El Cura. These are all open for expansion along strike and at depth.
On October 22, the company announced assays for the first step-out drill hole from the Infanta drill program and also the final in-fill drill holes. The significance of the in-fill program was to verify the historical drill results. They will now enable a proper 3D modelling of the deposit and will also provide additional data to be used for future metallurgical testing.
At Infanta, the step-out was conducted to expand the outer perimeter of the deposit, and the in-fill drilling was intended to confirm historical drill data within Infanta's known mineralization zone. Step-out drill hole IN018 was drilled 40 metres to the west of the historical limits of the deposit and intersected 8.2 metres with a grade of 2.5% copper, 8.7% lead, 17.3% zinc, 223.5 g/t silver and 0.5 g/t gold. A second step-out hole was drilled 50 metres to the west of hole IN018 and intersected two zones of massive sulfide but assays have not been returned yet.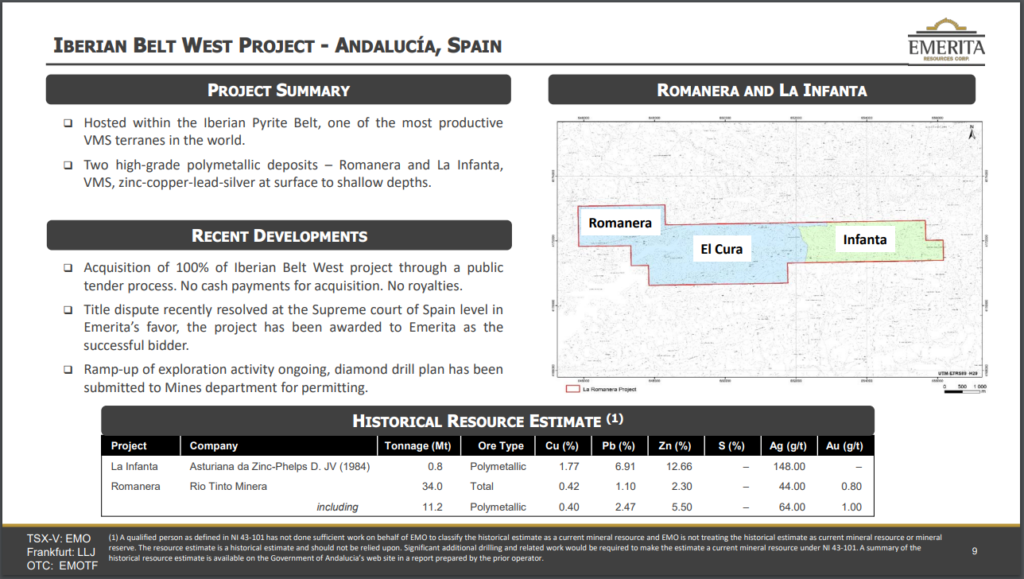 In-fill drill hole IN014 intersected 5.7 metres of 2.4% copper, 7.3 %lead, 13.4% zinc, 225 g/t silver and 0.6 g/t gold. The ongoing geophysical survey, which was suspended along with other exploration activities for the region's hunting season, is expected to resume by the end of October.
Emerita plans to have five drill rigs operating by the end of 2021 and will include the Romanera deposit, El Cura, and other targets identified by previous geophysics work. The two drills currently on site will now focus on step-out drilling to increase the size of the deposit.
Emerita also recently provided investors with an update on the legal proceedings for the Aznalcóllar Project and the company is expecting a ruling by the Administrative Court of Andalucia in Emerita's favour in the near future.
The Aznalcóllar Zinc Project is located in the prolific Iberian Pyrite Belt in the Andalusia region of southern Spain and is considered to be one of the world's largest and most productive volcanogenic massive sulfide (VMS) structures. It has been mined for over a thousand years and has produced over 2000 million tons of ore.
Aznalcóllar is considered to be one of the world's top undeveloped zinc deposits, and the project is essentially a world-class pre-production development asset. Here, the main deposit is referred to as Los Frailes, which contains a historical open pit mineral resource. Two other deposits exist on the property as well, which require further development. The Los Frailes mine operated during the 1990s until it closed due to a combination of tailings-related environmental failure and low metal prices.
After the Aznalcóllar site was rehabilitated, the government initiated a public tender process for the rights to the project and it was initially awarded to another major mining company, however Emerita believed that their bid was superior. It subsequently requested an investigation into the tender process for the property and filed a lawsuit in 2015.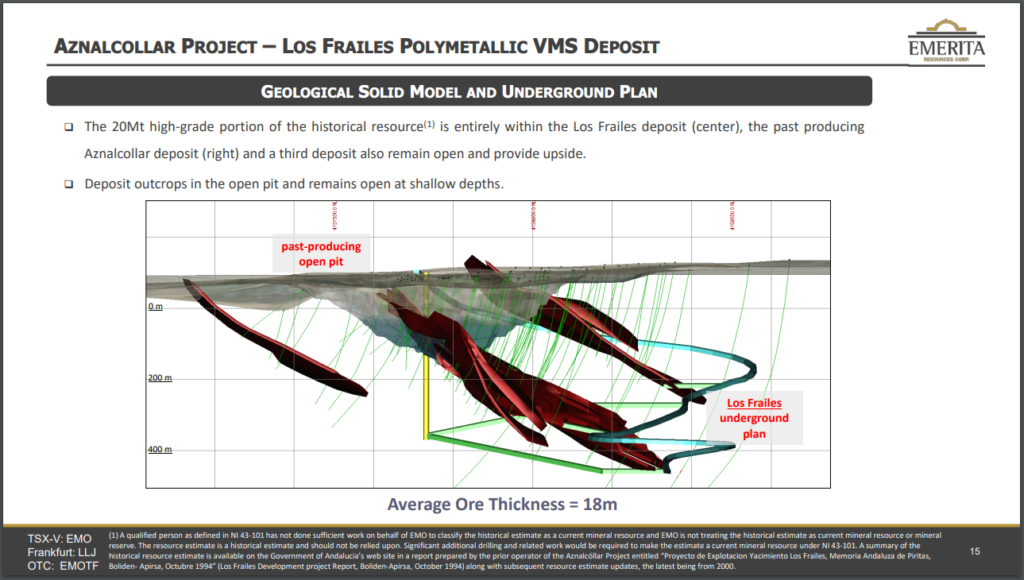 In early 2021, the Spanish court concluded that the process was fraught with corruption, fraud and other malfeasance and rescinded the rights that were awarded and criminal charges were sought for the perpetrators and their enablers. In July 2021, a Spanish judge issued additional criminal indictments against the mining company and government officials who participated in undermining the public tender process for the project.
Under Spanish law, if a crime was committed during the tender process, the rights are then awarded to the next best qualified competing bid, which in this case was Emerita. Subsequently, Emerita has been waiting for the Administrative Court to conclude the process to formally award the rights to the Aznalcóllar Project to the company, which brings us to present day.
The company is planning to develop the deposit into an underground mining operation focused on mining the high-grade zones, which are estimated to contain 20 million tonnes at a grade of 6.65% zinc, 3.87% lead, 0.29% copper and 84 ppm silver. As a requirement of the project's public tender process, Emerita submitted comprehensive. engineering, environmental and water management studies to the government, and now the company is expecting to be given the green light to proceed developing the Aznalcóllar project into an eventual producer.
Emerita is well financed, having completed a $20 million bought deal private placement in July 2021. Emerita has 182.42 million shares outstanding and due to the recent increase in the Company's share price, a market capitalization now of $556.38 million. Even so, barring any unforeseen negative developments regarding the legal issues, Emerita Resources Corp still appears to be potentially undervalued relative to the potential value of the world-class assets it is developing.
Shares of Emerita Resources Corp last traded at $3.05.
---
FULL DISCLOSURE: Emerita Resources is a client of Canacom Group, the parent company of The Deep Dive. The author has been compensated to cover Emerita Resources on The Deep Dive, with The Deep Dive having full editorial control. Not a recommendation to buy or sell. Always do additional research and consult a professional before purchasing a security.
The post Emerita Sees Continued Success In Spain appeared first on the deep dive.
tsxv
gold
silver
copper
zinc
tsxv-emo
emerita-resources-corp