Kirkland Lake Stock Rushing Higher on Sale Rumors
Kirkland Lake Gold (NYSE:KL) stock is shining brighter on Monday following rumors that the company is planning to sell itself.
Kirkland Lake Gold (NYSE:KL) stock is shining brighter on Monday following rumors that the company is planning to sell itself.
Source: Shutterstock
These Kirkland Lake Gold rumors come from IKN News and state that the company is currently negotiating between four buyers. However, it notes that one of these potential purchasers is a clear favorite to seal the deal.
According to the rumors, talks for a Kirkland Lake Gold sale are currently in the advanced stages. It's still unclear who the potential buyers are or how much they are offering to acquire Kirkland Lake Gold.
IKN News says the following about the rumored deal in its exclusive coverage.
"This deal could be announced at any moment and is the driving force behind KL's share price out-performance these last two weeks; the serious money has been accumulating in front of M&A."
It's true that KL stock has been trending higher over the last couple of weeks. However, it's also worth pointing out that the company's shares have also been on the rise since March. Even so, the upcoming sale could explain the stock's increase in price.
KL stock is catching the eyes of investors today with heavy trading. As of this writing, more than 2 million shares of the stock have changed hands. That's already well above the company's daily average trading volume of about 1.5 million shares.
KL stock was up 5.2% as of Monday afternoon but is only up slightly since the start of the year.
There's more stock market news worth checking out below!
We've got all the latest stock coverage for traders with our daily dives into the market. A few examples from today include an upcoming merger vote for Meta Materials (NASDAQ:MMAT), special purpose acquisition company (SPAC) deal details for Gores Guggenheim (NASDAQ:GGPI), as well as what has Clean Energy Fuels (NASDAQ:CLNE) heading higher today. You can find out all about that at the following links!
More Stock Market News for Monday
On the date of publication, William White did not have (either directly or indirectly) any positions in the securities mentioned in this article. The opinions expressed in this article are those of the writer, subject to the InvestorPlace.com Publishing Guidelines.
More From InvestorPlace
The post Kirkland Lake Gold Rumors: Why KL Stock Is Rushing Higher Today appeared first on InvestorPlace.
Emerita Sees Continued Success In Spain
Emerita Resources Corp (TSXV:EMO) continues to report excellent results from the Infanta drill program at its Iberia Belt West Project
The post Emerita…
Emerita Resources Corp (TSXV:EMO) continues to report excellent results from the Infanta drill program at its Iberia Belt West Project in Spain, which hosts three previously identified high-grade deposits: La Infanta, Romanera and El Cura. These are all open for expansion along strike and at depth.
On October 22, the company announced assays for the first step-out drill hole from the Infanta drill program and also the final in-fill drill holes. The significance of the in-fill program was to verify the historical drill results. They will now enable a proper 3D modelling of the deposit and will also provide additional data to be used for future metallurgical testing.
At Infanta, the step-out was conducted to expand the outer perimeter of the deposit, and the in-fill drilling was intended to confirm historical drill data within Infanta's known mineralization zone. Step-out drill hole IN018 was drilled 40 metres to the west of the historical limits of the deposit and intersected 8.2 metres with a grade of 2.5% copper, 8.7% lead, 17.3% zinc, 223.5 g/t silver and 0.5 g/t gold. A second step-out hole was drilled 50 metres to the west of hole IN018 and intersected two zones of massive sulfide but assays have not been returned yet.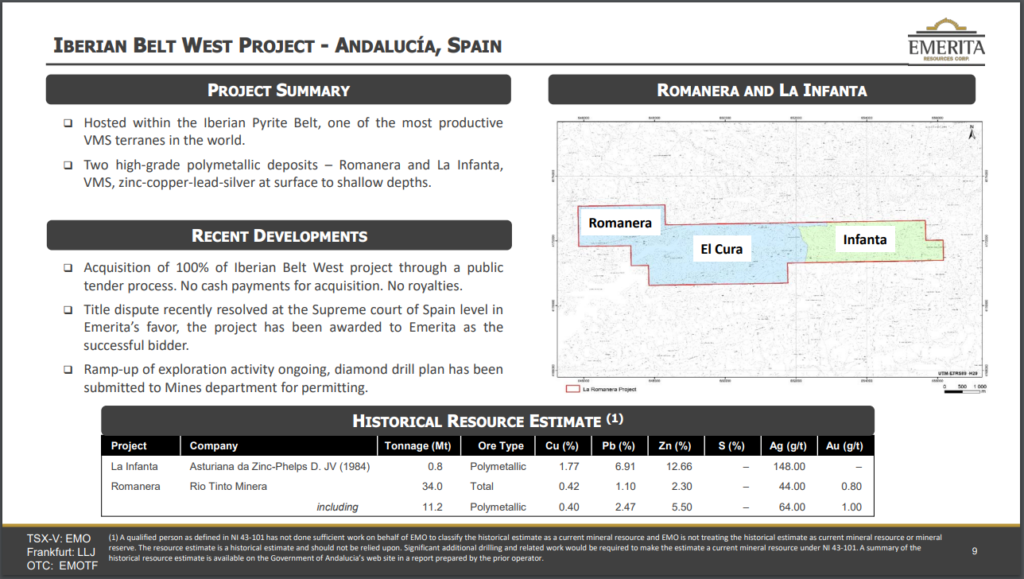 In-fill drill hole IN014 intersected 5.7 metres of 2.4% copper, 7.3 %lead, 13.4% zinc, 225 g/t silver and 0.6 g/t gold. The ongoing geophysical survey, which was suspended along with other exploration activities for the region's hunting season, is expected to resume by the end of October.
Emerita plans to have five drill rigs operating by the end of 2021 and will include the Romanera deposit, El Cura, and other targets identified by previous geophysics work. The two drills currently on site will now focus on step-out drilling to increase the size of the deposit.
Emerita also recently provided investors with an update on the legal proceedings for the Aznalcóllar Project and the company is expecting a ruling by the Administrative Court of Andalucia in Emerita's favour in the near future.
The Aznalcóllar Zinc Project is located in the prolific Iberian Pyrite Belt in the Andalusia region of southern Spain and is considered to be one of the world's largest and most productive volcanogenic massive sulfide (VMS) structures. It has been mined for over a thousand years and has produced over 2000 million tons of ore.
Aznalcóllar is considered to be one of the world's top undeveloped zinc deposits, and the project is essentially a world-class pre-production development asset. Here, the main deposit is referred to as Los Frailes, which contains a historical open pit mineral resource. Two other deposits exist on the property as well, which require further development. The Los Frailes mine operated during the 1990s until it closed due to a combination of tailings-related environmental failure and low metal prices.
After the Aznalcóllar site was rehabilitated, the government initiated a public tender process for the rights to the project and it was initially awarded to another major mining company, however Emerita believed that their bid was superior. It subsequently requested an investigation into the tender process for the property and filed a lawsuit in 2015.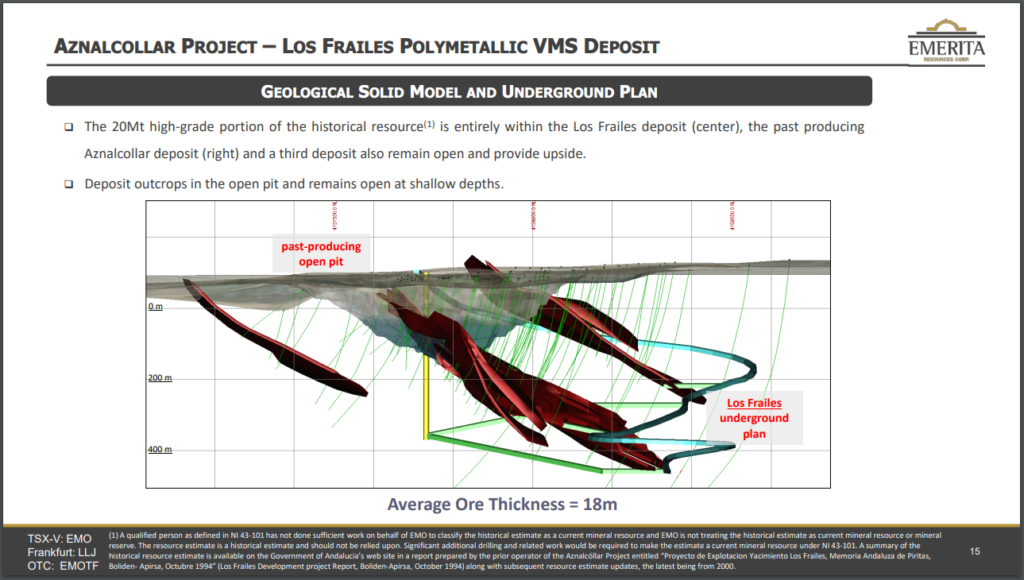 In early 2021, the Spanish court concluded that the process was fraught with corruption, fraud and other malfeasance and rescinded the rights that were awarded and criminal charges were sought for the perpetrators and their enablers. In July 2021, a Spanish judge issued additional criminal indictments against the mining company and government officials who participated in undermining the public tender process for the project.
Under Spanish law, if a crime was committed during the tender process, the rights are then awarded to the next best qualified competing bid, which in this case was Emerita. Subsequently, Emerita has been waiting for the Administrative Court to conclude the process to formally award the rights to the Aznalcóllar Project to the company, which brings us to present day.
The company is planning to develop the deposit into an underground mining operation focused on mining the high-grade zones, which are estimated to contain 20 million tonnes at a grade of 6.65% zinc, 3.87% lead, 0.29% copper and 84 ppm silver. As a requirement of the project's public tender process, Emerita submitted comprehensive. engineering, environmental and water management studies to the government, and now the company is expecting to be given the green light to proceed developing the Aznalcóllar project into an eventual producer.
Emerita is well financed, having completed a $20 million bought deal private placement in July 2021. Emerita has 182.42 million shares outstanding and due to the recent increase in the Company's share price, a market capitalization now of $556.38 million. Even so, barring any unforeseen negative developments regarding the legal issues, Emerita Resources Corp still appears to be potentially undervalued relative to the potential value of the world-class assets it is developing.
Shares of Emerita Resources Corp last traded at $3.05.
---
FULL DISCLOSURE: Emerita Resources is a client of Canacom Group, the parent company of The Deep Dive. The author has been compensated to cover Emerita Resources on The Deep Dive, with The Deep Dive having full editorial control. Not a recommendation to buy or sell. Always do additional research and consult a professional before purchasing a security.
The post Emerita Sees Continued Success In Spain appeared first on the deep dive.
tsxv
gold
silver
copper
zinc
tsxv-emo
emerita-resources-corp
Von Greyerz: Shortages & Hyperinflation Lead To Total Misery
Von Greyerz: Shortages & Hyperinflation Lead To Total Misery
Authored by Egon von Greyerz via GoldSwitzerland.com,
At the end of major…
Von Greyerz: Shortages & Hyperinflation Lead To Total Misery
Authored by Egon von Greyerz via GoldSwitzerland.com,
At the end of major economic cycles, shortages develop in all areas of the economy. And this is what the world is experiencing today on a global basis. There is a general lack of labour, whether it is restaurant staff, truck drivers or medical personnel.
There are also shortages of raw materials, lithium (electric car batteries), semi-conductors, food,  a great deal of consumer products, cardboard boxes, energy and etc, etc. The list is endless.
SHORTAGES EVERYWHERE
Everything is of course blamed on Covid but most of these shortages are due to structural problems. We have today a global system which cannot cope with the tiniest imbalances in the supply chain.
Just one small component missing could change history as the nursery rhyme below explains:
For want of a nail, the shoe was lost.
For want of a shoe, the horse was lost.
For want of a horse, the rider was lost.
For want of a rider, the battle was lost.
For want of a battle, the kingdom was lost.
And all for the want of a horseshoe nail.
The world is not just vulnerable to shortages of goods and services.
BOMBSHELLS
Bombshells could appear from anywhere. Let's just list a few like:
Dollar collapse (and other currencies)

Stock market crash

Debt defaults, bond collapse (e.g. Evergrande)

Liquidity crisis  (if  money printing stops or has no effect)

Inflation leading to hyperinflation
There is a high likelihood that not just one of the above will happen in the next few years but all of them.
Because this is how empires and economic bubbles end.
The Roman Empire needed 500,000 troops to control its vast empire.
Emperor Septimius Severus (200 AD) advised his sons to "Enrich the troops with gold but no one else".
As costs and taxes soared,  Rome resorted to the same trick that every single government resorts to when they overextend and money runs out – Currency Debasement.
So between 180 and 280 AD the Roman coin, the Denarius, went form 100% silver content to ZERO.
And in those days, the soldiers were shrewd and demanded payment in gold coins and not debased silver coins.
Although the US is not officially in military conflict with any country, there are still 173,000 US troops in 159 countries with 750 bases in 80 countries. The US spends 11% of the budget or $730 billion on military costs.
Since the start of the US involvement in Afghanistan, Pentagon has spent a total of $14 trillion, 35-50% of which going to defence contractors.
Throughout history, wars have mostly started out as profitable ventures, "stealing" natural resources (like gold or grains) and other goods–often due to shortages. But the Afghan war can hardly be regarded as economically successful and the US would have needed a more profitable venture than the Afghan war to balance its budget.
US HOPELESSLY BANKRUPT  – NEEDS TO BORROW 46% OF BUDGET
The US annual Federal Spending is $7 trillion and the revenues are $3.8 trillion.
So the US spends $3.2 trillion more every year than it earns in tax revenues. Thus, in order to "balance" the budget, the declining US empire must borrow or print 46% of its total spending.
Not even the Roman Empire, with its military might, would have got away with borrowing or printing half of its expenditure.
TOTAL MISERY AS MR MICAWBER SAID:
As Mr Micawber in Charles Dickens' David Copperfield said:
'Annual income 20 pounds, annual expenditure 19 [pounds] 19 [shillings] and six [pence], result happiness. Annual income 20 pounds, annual expenditure 20 pounds ought and six, result misery.'
And when, like in the case of the US, you spend almost twice as much as you earn that is TOTAL MISERY.
Neither an individual, nor a country can spend 100% more than their earnings without serious consequences. I have written many articles about these consequences and how to survive the Everything Bubble
INFLATION IS HERE
The most obvious course of events is continuous shortages combined with prices of goods and services going up rapidly. I remember it well in the 1970s how for example oil prices trebled between 1974 and 1975 from $3 to $10 and by 1980 had gone up 10x to $40.
The same is happening now all over the world.
That puts Central banks between a Rock and a Hard place as inflation is coming from all parts of the economy and is NOT TRANSITORY!
Real inflation is today 13.5% as the chart below shows, based on how inflation was calculated in the 1980s
IMPLOSION OR EXPLOSION
The central bankers can either squash the chronic inflation by tapering and at the same time create a liquidity squeeze that will totally kill an economy in constant need of stimulus. Or they can continue to print unlimited amounts of worthless fiat money whether it is paper or digital dollars.
If central banks starve the economy of liquidity or flood it, the result will be disastrous. Whether the financial system dies from an implosion or an explosion is really irrelevant. Both will lead to total misery.
Their choice is obvious since they would never dare to starve an economy craving for poisonous potions of stimulus.
History tells us that central banks will do the only thing they know in these circumstances which is to push the inflation accelerator pedal to the bottom.
Based of the Austrian economics definition, we have had chronic inflation for years as increases in money supply is what creates inflation. Still, it has not been the normal consumer inflation but asset inflation which has benefitted a small elite greatly and starved the masses of an increase standard of living.
As the elite amassed incredible wealth, the masses just had more debts.
So what we are now seeing is the beginning of a chronic consumer inflation that most of the world hasn't experienced  for decades.
THE INEVITABLE CONSEQUENCES OF CURRENCY DESTRUCTION
This is the inevitable consequence of the destruction of money through unlimited printing until it reaches its the intrinsic value of Zero. Since the dollar has already lost 98% of its purchasing power since 1971, there is a mere 2% fall before it reaches zero. But we must remember that the fall will be 100% from the current level.
As the value of money is likely to be destroyed in the next 5-10 years, wealth preservation is critical.  For individuals who want to protect themselves from total loss as fiat money dies, one or several gold coins are needed.
So back to the nursery rhyme:
For want of a nail gold coin, the shoe was lost.
For want of a shoe, the horse was lost.
For want of a horse, the rider was lost.
For want of a rider, the battle was lost.
For want of a battle, the kingdom was lost.
And all for the want of a horseshoe nail gold coin.
Gold is not the only solution to the coming problems in the world economy. Still, it will protect you from the coming economic crisis like it has done every time in history
And remember that if you don't hold properly stored gold you don't understand:
What happens when bubbles burst

You are living in a fake world with fake money and fake valuations

Your fake money will be revalued to its intrinsic value of ZERO

Assets that were bought with this fake money will lose over 90% of their value

Stocks will go down by over 90% in real terms

Bonds will go down by 90% to 100% as borrowers default

You lack regard for your stakeholders whether they are family or investors

You don't understand history

You don't understand risk
The 1980  gold price high of $850 would today be $21,900,  adjusted for real inflation
So gold at $1,800 today is grossly undervalued and unloved and likely to soon reflect the true value of the dollar.
Tyler Durden
Sat, 10/23/2021 – 14:30
dollar
gold
silver
inflation
money supply
bubble
dollar collapse
austrian economics
money printing
debasement
crash
ax
Torq Resources Options Santa Cecilia Gold-Copper Project, Shares Up
Torq Resources Inc. [TORQ-TSXV; TRBMF-OTCQX; S8QA-FSE] has acquired an option to earn a 100% interest…
[nxtlink id="269591"]Torq Resources Inc.[/nxtlink] [TORQ-TSXV; TRBMF-OTCQX; S8QA-FSE] has acquired an option to earn a 100% interest by paying US$25 million and spending US$15.5 million on exploration, subject to an NSR, on the 3,250-hectare (32.5 km2) Santa Cecilia gold-copper project, located approximately 100 km east of the city of Copiapo, northern Chile.
The project is in the southern region of the world-class Maricunga belt and immediately north of the El Indio belt. It is estimated the Maricunga belt could host up to 90 million ounces of gold in a belt is characterized by gold epithermal and gold-copper porphyry deposits, including multi-million-ounce deposits such as Salares Norte, La Coipa, Cerro Maricunga, Marte, Lobo, La Pepa, El Volcan, Caspiche and Cerro Casale.
The Santa Cecilia project is located immediately adjacent to the Norte Abierto project, held by Newmont and Barrick, which is comprised of the Caspiche and Cerro Casale gold-copper porphyry deposits. Collectively, these deposits contain proven and probable reserves of 23.2 million oz gold and 5.8 billion lbs copper and measured and indicated resources of 26.6 M oz gold and 6.7 B lbs copper.
Limited historical exploration work at Santa Cecilia was performed by the previous operator, a major international mining company in 1988-1990 when it drilled 47 holes, totaling ~14,000 metres, and completed 1,200 metres of exploration tunnel development that defined epithermal gold and gold-silver mineralization as well as gold-copper porphyry mineralization at surface and shallow depths, respectively.
A subsequent operator drilled two deeper holes in 2012 that successfully encountered gold-copper-molybdenum porphyry mineralization underlying the shallow mineralization defined by the previous operator.
Shawn Wallace, Executive Chair, said, "The Santa Cecilia gold-copper project represents the culmination of our acquisition strategy in Chile. It is our belief that exploration at a project of this magnitude will be transformative for Torq."
There are three primary target types associated with the 10 square km surficial hydrothermal alteration footprint: Surface epithermal disseminated oxide gold mineralization defined by the previous operator's shallow drilling, high-grade gold-silver epithermal structures and veins, as observed in the previous operator's exploration tunnel and associated drilling, and underlying copper-gold-molybdenum porphyry mineralization analogous to the Newmont/Barrick Caspiche and Cerro Casale deposits, as defined by the 2011-2012 drill holes.
At the Cerro del Medio Target, drill highlights from previous operator (1988 – 1990) included 256 metres of 0.43 g/t AuEq, or 0.37 g/t gold and 0.04% copper in hole SP-SC-23. Hole SP-SC-24 returned 162 metres of 0.58 g/t AuEq, or 0.36 g/t gold and 0.14% copper. Refer to company press release for more similar drill results.
The Vetas Condor high-grade gold – silver epithermal mineralization is encountered on the western flanks of the Cerro del Medio target area where east-west trending quartz-alunite structures are exposed over a 1 km by 350-metre area.
The previous operator completed 1,100 metres of horizontal exploration tunnels that were oriented sub-parallel to parallel to the quartz-alunite ledges. Highlighted intercepts from this section of the tunnel, while not true width, demonstrate the high-grade potential of the structures, and include 2.38 g/t gold and 101 g/t silver over 32 metres and 0.66 g/t gold and 13.5 g/t silver over 134 metres. In addition, ~436 metres into the tunnel, a high-grade vein sampled 58 g/t gold and 27 g/t silver over 2 metres. At the Vetas Condor Target, drill results from previous operator (1988-1990) included 20 metres of 7.05 g/t AuEq.
In late trading October 22, shares of Torq gained $0.16 to $0.80 on a volume of 890.000.