Lunnon Metals charts path to success in world-class nickel domain after transformative year
Special Report: While the world is on the lookout for nickel sulphide deposits anywhere they can be found, Lunnon Metals … Read More
The post Lunnon…
While the world is on the lookout for nickel sulphide deposits anywhere they can be found, Lunnon Metals chief Ed Ainscough maintains there's no place like Kambalda.
The mining town 50km south of Kalgoorlie in WA has produced 1.6Mt of the stainless steel and now lithium ion battery ingredient since 1966, when WMC driller Jack Lunnon punched the discovery hole and gave birth to Australia's first nickel boom.
Since listing in a $15 million IPO in June, Lunnon (ASX:LM8) has continued Kambalda's rich legacy of delivering high grade nickel.
Lunnon owns the Foster and Jan nickel mines from which WMC produced more than 90,000t of nickel metal from the 1975 to 1994, operations that missed the early 2000s nickel revival that proved the making of ASX success stories Mincor, IGO and Panoramic.
Lunnon already boasts 39,000t in resources at typical Kambalda nickel grades of 3.2% and drilling since its float is already delivering high grade results.
These have confirmed historical results from kilometres of old WMC drill core logged by Lunnon at the Kambalda coreyard and backed the Lunnon team's conviction in the quality of the Foster and Jan assets.
"One of the benefits at Kambalda is that generally above a 1% cut off if you're going to mine, it's going to be in the high 2s or 3s," Ainscough said.
"And it is very pleasing to not only reproduce the nickel where WMC was hitting it, but to be hitting it at the same level of mineralisation.
"I just think that speaks to the quality of the camp and that particular contact between the Kambalda Komatiite and the Lunnon Basalt.
"It's a world famous contact, and nearly all the nickel in Kambalda is on or close to that contact, and it's proven to be the case so far. You've got to persevere and be resilient because the rewards are definitely worth the effort."
An option to play the Kambalda narrative
Kambalda is on the cusp of a revival.
Mincor Resources will open the first new nickel mine in the district since production at the Long mine ceased in 2018, when its Cassini operation starts production in 2022.
That will see BHP's Nickel West division restart its Kambalda concentrator, just a few clicks from Foster/Jan, for the first time in four years.
Unfortunately for investors there are not a lot of options to play the Kambalda story, with what was a diverse field of ASX companies a few years ago whittled down to just Mincor and Lunnon after Panoramic sold Lanfranchi into private hands in 2018.
That's where the opportunity lies, Ainscough says.
"Lanfranchi's private now, so that's been a big message I've been trying to sell – if you want to invest in Kambalda through the ASX it's Mincor, and it's a half-a-billion dollar company plus, or little old us at $50 million," Ainscough said.
The key for Lunnon will be resource growth, which Ainscough said is a major aim in 2022 after its success with the drill bit in recent months.
"It's a 10 times gap and the encouragement is that's a big gap, but it's a gap we feel we can make a big effort to fill next year," he said.
"That will be filled by drill results and resource growth, but we've just got to get the runs on the board…  but what better place to be trying to do that than Kambalda?"
East Cooee resource drilling under way
One of the company's priority targets outside its Foster and Jan mines is East Cooee, a prospect to the north-northwest of Jan consisting of known hanging wall nickel mineralisation that was underexplored when the mines were in WMC hands.
Since drilling began in July, assays from East Cooee have delivered a string of strong nickel grades, with Lunnon also recording a hit of 2m at 5.07% Ni in its first assays from the East Trough target in September.
Subsequent encouraging results at East Cooee have included 1m at 3.15% Ni, 2m at 2.44% Ni and a best hit of 9m (8.7m true width) at 1.66% Ni from 113m, including 1m at 7.44% Ni.
Contractors Blue Spec are now drilling the hanging wall prospect on infill drilling spacing of less than 40m x 40m to support the delivery of an initial Mineral Resource estimate.
East Cooee is just over 300m from a mothballed open cut gold pit mined by Lunnon's major shareholder Gold Fields, providing a potential access point into a future underground development.
"That's been a little bit of the surprise package because it's so shallow and it's so close to that existing gold open pit," Ainscough said. "I hadn't really considered  that we would have the ability so early to have a second centre on top of the resources in the Foster Mine.
"We've gone back there with the RC rig and we're drilling that out probably better than 40m by 40m.
"It's so shallow we can drill it pretty quickly, we can get that done before Christmas and then as and when we get the results back next year we should be able to put that into a maiden resource."
Ainscough said the location of the gold mine relative to the shallow East Cooee mineralisation meant it wasn't out of the question that study work could begin before underground drilling starts at Foster.
Warren, historical core also delivers the goods
The other areas where Lunnon is seeing success include the Warren channel, an underexplored nickel deposit which currently hosts 211,000 tonnes at 3.1% Ni for 6400t of nickel metal.
Located 1km to the northwest of Foster itself, Lunnon believes it has the potential to mirror that mine with assays from RC drilling up and down plunge of the known resource delivering impressive results.
They included a best hit of 4m at 3.44% Ni from 163m in the channel position at Warren.
"It was seen as part of Foster underground mine (by WMC)," Ainscough said.
"Where they could they tried to drill it from Foster so the drill angles are pretty horrible.
"So I think next year for us with Warren is the ability to try and demonstrate that channel is a channel in its own right and has the ability to be as long and as prospective as Foster main.
"That's all about resource growth."
The analysis of historical WMC core is also paying off for Lunnon, with re-assayed samples from the unmined N75C area at Foster delivering 15.75m at 2.76% nickel at an estimated 10.7m true width.
This compared well to WMC's result for the same hole (CD 54) of 16.52m (11.2m true width) at 3.05% Ni from 268.22m.
In 2022 a deep drilling program is also planned beneath the historical Jan mine and a government-supported hole at the new Kenilworth target is due to be drilled.
"I think we've set the groundwork in the last six months of the year to really have a big year in 2022, hopefully leading into a buoyant nickel market," Ainscough said.
Nickel market on the up
Led by former Donegal Resources boss and now Lunnon non-executive director Ian Junk, Lunnon initially moved into the Foster and Jan projects in a joint venture with Gold Fields back in 2014.
Back then nickel was looking on the up, hovering around the US$20,000/t mark before slipping into a long bear market.
But with excitement around the use of nickel in batteries and electric vehicles and shifting supply-demand dynamics, it recently peaked above US$21,000/t, hitting a seven-year high.
Ainscough said being in Kambalda, Lunnon is seeking to outline high grade resources that are not dependent on booming nickel prices, but believes the broader market is looking positive.
"I think there is a natural rhythm to the nickel price and we're entering into that next cycle, but the whole electric vehicle story, the energy transition, that's all just a fantastic macro backdrop to the nickel price," Ainscough said.
"I try not to pontificate too much about the nickel price.
"My firm belief is that wherever it gets to, being in Kambalda and mining at the grades that Kambalda delivers – I won't say it doesn't matter what the nickel price is but I'd certainly rather be mining in Kambalda regardless of the nickel price.
"I think there's a momentum now to the whole electrification of everything that we'll just see a new floor develop in the nickel price. Where that is, I don't know."
Q&A Time
Lunnon's 2021 highlights
Acquiring 100% of the Kambalda Nickel Project.
Fully underwritten, oversubscribed, successful $15M IPO.
Drill rigs turning within a month from a standing start.
HIT NICKEL – confirming WMC historical data.
East Cooee shaping as second centre of mineral resource growth.
"Our goal is to replicate the success of those ASX companies that bought assets from WMC before the last nickel boom. Each one of the above milestones is a key step to demonstrating we are on that trajectory and can offer investors a similar growth story leading into the next nickel cycle."
Where is the nickel market heading?
"LM8 sees the macro setting for nickel as extremely positive; there are generational shifts under way at country, government, city and corporate levels regarding the push to achieve net zero goals that all tie in with the energy transition away from fossil fuels.
"These are all strongly in favour of nickel being an important, sought after and in demand metal.
"Covid-19 has also highlighted the issue of supply chain sovereignty and having nickel assets in one of the world's best nickel camps in a Tier 1 country offers the sort of sustainable supply chain that governments and downstream businesses will value highly in the future."
What is the upside for Lunnon and why will it be a good investment in 2022?
"We tell investors if you want to be exposed to nickel in Kambalda (and why wouldn't you want to be exposed to one of the world's most famous nickel camps against the backdrop described above?), you really only have two choices on the ASX.
"Mincor, who have done an amazing job of restarting their operations in Kambalda and Widgie with Nickel West planning to open up the Kambalda Concentrator, and Lunnon Metals.
"We are just starting out on the same growth journey as Mincor. Kambalda has three key advantages: The grade is high (often >3%), Nickel West's concentrator offers a 'capital light'" restart solution and the nickel assets themselves are renowned for delivering extensional growth year after year.
"We are expecting a big year in 2022 for all of these reasons."

This article was developed in collaboration with Lunnon Metals, a Stockhead advertiser at the time of publishing.
This article does not constitute financial product advice. You should consider obtaining independent advice before making any financial decisions.
The post Lunnon Metals charts path to success in world-class nickel domain after transformative year appeared first on Stockhead.
What Will Be China's Impact On Uranium Markets? – The Daily Dive
Coming back to the Daily Dive is Joe Kelly, CEO of Uranium Markets. He joins us to talk about the
The post What Will Be China's Impact On Uranium Markets?…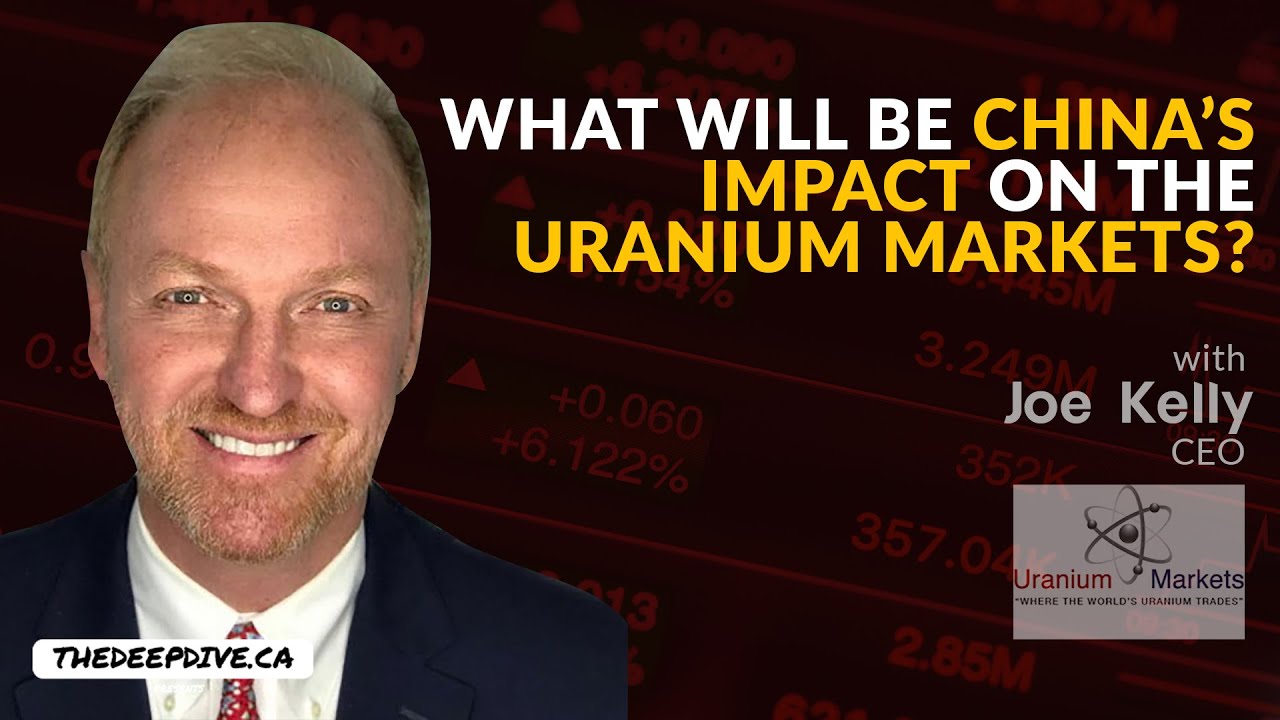 Coming back to the Daily Dive is Joe Kelly, CEO of Uranium Markets. He joins us to talk about the impact of Kazahkstan on the uranium market (0:54), Japan's play for the nuclear power (4:41), and the prospect of US giving tax credit to nuclear firms (5:53). Joe also discusses China's shift from coal to nuclear on the uranium space (7:29), the effect of Belgium shutting its nuclear plants (9:28), and his outlook for uranium in 2022 (10:48).
Uranium Markets has a full-service nuclear fuels brokerage desk assisting its customers to optimize their positions in the uranium market. The firm takes pride in combining its strong financial brokerage experience and a deep understanding of the uranium marketplace.
---
The author has no securities or affiliations related to any organization mentioned. Not a recommendation to buy or sell. Always do additional research and consult a professional before purchasing a security. The author holds no licenses.
The post What Will Be China's Impact On Uranium Markets? – The Daily Dive appeared first on the deep dive.
Fed Floats Alarming Digital Currency Plan
This week is shaping up to be a pivotal one for precious metals markets with some breakout price action on the board. As the U.S. stock market got pounded,…
Welcome to this week's Market Wrap Podcast, I'm Mike Gleason.
This week is shaping up to be a pivotal one for precious metals markets with some breakout price action on the board. As the U.S. stock market got pounded, hard assets perked up on safe haven buying.
Gold prices rallied to a two-month high on Wednesday. As of this Friday recording, the monetary metal checks in at $1,840 an ounce after gaining 0.8% on the week.
The silver market saw an even bigger jump, surging close to a buck and a half or 6.2% this week to bring spot prices to $24.47 per ounce.
The platinum group metals got in the action as well. Platinum shows a weekly gain of 6.8% to trade at $1,050. And finally, palladium is pushing higher by whopping 12.9% or nearly $250 this week to command $2,156 per ounce.
These are the times that prove the indispensable role precious metals play in a balanced investment portfolio. Year to date, the S&P 500 is down 6%. The bond market is also down. And Bitcoin is suffering a double-digit drop so far in 2022.
There has been nowhere for investors to hide except in hard assets.
Bitcoin is touted by promoters as "digital gold." Yet cryptocurrencies have been trading more like tech stocks than sound money.
The Bitcoin versus gold debate won't be settled anytime soon. Crypto enthusiasts still anticipate a massive price run-up ahead, while skeptics warn the bubble may have burst.
Regardless of where crypto markets head from here, the claim that digital tokens are somehow a substitute for physical precious metals is absolutely, positively, 100% wrong. Anyone venturing into crypto markets thinking they can obtain the digital equivalent of gold or silver is making a huge mistake.
Precious metals and cryptocurrencies are entirely separate asset classes. While they both serve as alternatives to fiat currencies and conventional investments, speculative digital assets ultimately can't stack up to physical bullion when it comes to long-term wealth protection.
Blockchain-based cryptocurrencies, like all technologies, can eventually become obsolete. Gold and silver are basic elements that can never be replaced. They will always be valued for their aesthetic properties and industrial utility even if their historic role in the monetary system diminishes to nothing.
Of course, that's not likely to be the case. Central banks around the world continue to accumulate gold in their reserves. Meanwhile, individual investors have been accumulating their own gold and silver reserves at a robust pace over the past couple years – clearing out U.S. Mint coin inventories in the process.
In other news, the Federal Reserve on Thursday released a paper on the prospects of issuing a central bank digital currency.
Steve Leisman (CNBC): The long awaited paper on the central bank digital currency being issued at this time by the Federal Reserve, in which they say that a CBDC could offer a range of benefits and risk, don't come to any particular conclusion about it, but they say could offer the, the general public, a risk free digital money that is free from credit risk, free from liquidity risk, would not place existing digital money, but would be an addition to it. The Fed will not proceed as Chair Powell has said with the CBDC without support of Congress and the executive branch, but it is potentially the biggest change to money since, I don't know, currency consolidation after the Civil War. So, we're watching it very carefully.

CNBC Anchor: Yeah. A huge step for mankind.
Critics warn that a central bank digital currency would be a huge step toward a Chinese-style social credit and financial surveillance system.
Under a CBDC, the Fed could control access to digital wallets and, together with federal agencies, monitor how digital dollars are used and by whom. Perhaps people who are behind on child support or tax bills would be denied the ability to transact in "Fedcoin." Fed-issued digital wallets could also carry data on personal vaccine status or a host of other things governments and businesses may be interested in knowing.
Although officially the Fed hasn't yet announced that it will move to implement a CBDC, the concept is backed by Fed Governor Lael Brainard. Brainard has been nominated by President Joe Biden to serve as Vice Chair of the Federal Open Market Committee.
Some members of Congress are trying to prevent the Fed from issuing a central bank digital currency before it gets the chance. Representative Tom Emmer of Minnesota introduced a bill that amends the Federal Reserve Act to prevent the central bank from assigning digital accounts or issuing digital currencies to the public.
But there is zero chance that Congress will take away the Federal Reserve's digital printing press. The vast majority of the money supply pumped into the economy by the Fed is in electronic form rather than in coins and paper bills.
The power to inflate by means of computer entries entails the power to destroy purchasing power at the push of a button.
Inflation is now running at a 40-year high. It threatens to wipe out holders of bonds and cash instruments that sport deeply negative real yields.
While there are many alternatives available in financial and crypto markets, the ultimate alternative to the risks inherent in paper and digital profusions is to seek out hard assets instead.
In other news, we're pleased to report Money Metals' nationwide sound money project is off to strong start here in 2022, with our allies in state legislatures having already introduced more than one dozen bills to repeal sales taxes on gold and silver, repeal income taxes, and even push state treasurers to hold the monetary metals as reserve assets.
You may recall that last year, Money Metals help secure passage of sales tax exemptions in Arkansas and Ohio, leaving only 8 states that still fully tax the purchase of gold and silver. We now have bills pending in Tennessee, Mississippi, Hawaii, Kentucky, and New Jersey to do the same thing.
Meanwhile, Oklahoma, Iowa, and South Carolina will be considering bills that eliminate all state income taxes on the sale of precious metals. In years past, states like Arizona have enacted such exemptions on constitutional money.
The importance of these sound money efforts should not be underestimated. After all, taxes on the purchase and/or sale of the monetary metals are real disincentives against their ownership and use.
Of course, individual states cannot bring soundness to America's monetary system on their own…. The root of the problem is the Federal Reserve, U.S. Treasury, and Congress who have fully embraced fiat money and abandoned monetary restraint.
The consequences of this are becoming more obvious by the day. With the Consumer Price Index now rising at its highest rate in 40 years, inflation is becoming the most pressing economic issue of our time.
But – even as federal policymakers seem only to be exacerbating the problem – a handful of states are trying to step up and give their citizens some tools to protect themselves.
Keep your eyes on news and announcements about Money Metals' sound money projects by visiting MoneyMetals.com — and by keeping an eye out for our emails.
Well, that will do it for this week. Be sure to check back next Friday for our next Weekly Market Wrap Podcast. Until then this has been Mike Gleason with Money Metals Exchange, thanks for listening and have a great weekend everybody.
gold
silver
inflation
monetary
markets
reserve
money supply
metals
fed
central bank
bubble
ax
platinum
palladium
precious metals
Platinex Acquires W2 Copper-Nickel-PGE Project Near Ring of Fire
Source: The Critical Investor   01/20/2022
After acquiring the W2 Copper-Nickel-PGE project in Ontario, Platinex adopted a new dual strategy…
Source: The Critical Investor   01/20/2022
After acquiring the W2 Copper-Nickel-PGE project in Ontario, Platinex adopted a new dual strategy by going back to its roots, which involved platinum group elements (PGE), but is also in the process of revitalizing its large and prospective Shining Tree gold exploration project in the Abitibi Greenstone Belt, also in Ontario, writes The Critical Investor.
Preview:
Platinex Inc. (PTX:CSE; 9PX:FSE) is developing quite an attractive asset portfolio in Ontario, Canada. The company already owns the highly prospective and strategically located district-scale Shining Tree gold project and very recently acquired the W2 Copper-Nickel-PGE project. Additionally, Platinex holds numerous net smelter return (NSR) royalties in its portfolio.
In the last year, management and board were strengthened, and a high-quality core investor base came in following these changes, providing additional value and support. The stock is coming off long time lows, and remains at an attractive entry point for new investors. Backed by its new investor base, the company is looking to raise money soon.
It is anticipated that strong drill results, positive metal price movements, and renewed enthusiasm in the Ring of Fire after the recently finalized acquisition of Noront by Wyloo Metals could provide substantial catalysts for share price appreciation in 2022. Potential new and complementary asset acquisitions could provide an additional boost. In addition, in the first half of 2022 the company will be looking at other strategic transactions to potentially enhance shareholder value without significant dilution.
Investors are encouraged to review the Key Points at the end of this article for a quick snapshot of the company.
Introduction
Platinex is a junior mining company exploring mineral properties in Ontario, Canada. The company has adopted a dual strategy: it will continue its gold exploration activities at the Shining Tree gold project in southwest Timmins, and is also entering the battery metals space now through the acquisition of the W2 Copper-Nickel-PGE project in the Ring of Fire region. Demand for battery metals such as copper, nickel and PGEs (platinum group elements including platinum and palladium), is at historical highs, with future growth expected due to the unstoppable electrification and durable energy paradigm shift.
The Shining Tree gold project has been the company's main focus for a long time, as it has been in the company since 2008. After a quiet period during the 2013–2015 bear market, the company approached Shining Tree with renewed vigor in 2017, expanding the project over five times, and completing reconnaissance exploration programs including channel sampling, mapping, and gold in till sampling, with strong results. More recently an airborne magnetics survey was completed, and a LIDAR survey will be done soon.
After this, drill targets will be selected, with the company aiming to begin the next drill program at Shining Tree in the near term, pending the closing of an upcoming capital raise. The Shining Tree asset is viewed as a strategic asset for the company. With a large land package in an active camp including Alamos Gold (AGI.TO), IAMGold (IMG.TO), Aris Gold (ARIS.TO) and many quality juniors, there is an real opportunity for the Shining Tree camp to contain another Coté Gold deposit, which located to the west.
On January 17, 2022, the company expanded its horizon, and acquired the large W2 Copper-Nickel-PGE project from a private owner, returning the company to its historical roots and in keeping with the name Platinex. As copper and nickel are both very important to the ongoing paradigm shift towards electrification, the W2 project fits perfectly with the new strategy. The next step for Platinex at W2 will be to complete a comprehensive data compilation and obtain an exploration permit. Following this, the company will be able to commence drilling of targets that have already been identified but remain untested, and carry out prospecting and geophysical surveys to identify and refine new targets.
W2 project
It seems Platinex Inc. has timed its acquisition of a 100% interest in the W2 project well, as Wyloo acquired nearby Noront (NOT.V) for C$616.9 million after a bidding war with a formidable competitor: BHP. As BHP is known for doing extremely thorough due diligence on its transactions, it seems certain the company saw compelling reasons to bypass the usual Ring of Fire objections, as this area still has been underdeveloped due to lack of infrastructure. The Ring of Fire is viewed as one of the most promising mining opportunities in Ontario for more than a century.
After a total of C$278 million in exploration has been carried out in the Ring of Fire so far, numerous significant discoveries involving chromite, copper, nickel, zinc, gold and PGEs are waiting for the first initiatives on building mining projects and accompanying infrastructure, potentially with the help of Ontario, the province with the most revenues coming from mining across Canada.
In the meantime, Platinex will be exploring its new project as soon as possible, to potentially prove up a significant deposit. The W2 project has seen significant exploration so far, ranging from sampling to airborne surveys to 8,772 meters (m) of drilling. Drill results for the property were impressive:
6 m of 0.56% copper equivalent (CuEq) or 0.956 grams per tonne (g/t) palladium equivalent (PdEq) (LH-01-06)
6 m of 0.57% CuEq or 0.971 g/t PdEq including 17 m of 1.08% CuEq or 1.86 g/t PdEq (LH-01-05)
42 m of 1.02% CuEq or 1.8 g/t PdEq including a high grade 4.5 m section of 4.52 g/t PdEq (LH-01-02)
Most results were intercepted close to surface, indicating substantial open pit potential. Numerous targets have been identified, and the T5 target appears to have the same geophysical signature as Eagle's Nest (Noront/Wyloo).
Therefore it is likely the company will start drilling at these targets soon after permits are granted.
Shining Tree
Besides the W2 project, Platinex has also assembled another impressive property: the 100% owned Shining Tree gold project in the Abitibi Greenstone Belt in Ontario, home to some of the richest gold mineralization worldwide, with total production surpassing a staggering 180 million ounces (Moz). The company has expanded this asset into an impressive 21,720 hectare land package, located strategically in between adjacent projects owned by IAMGold (the aforementioned Coté Gold > 6.5 Moz gold (Au), going into production in 2023, and Gosselin), Aris Gold (Juby, 2.3 Moz Au) and Orefinders (ORX.V) (Knight).
As can be seen, the property encompasses over 20 km of the prospective Ridout-Tyrell Deformation Zone, which is also host to the aforementioned Coté Gold and Juby deposits. The Shining Tree project is located at the crossing of the Larder Lake Fault, which is home to some of the largest gold deposits in Canada, and the Michiwakenda Lake Fault. Platinex has completed gold in till sampling in the past, outlining significant anomalies:
Platinex also completed a 51 drill hole program a while ago at the Herrick target, and hit gold at almost every hole, with highlights accounting for 7.15m @2.76 g/t Au, 46.3m @0.65 g/t Au, 7.2m @2.38 g/t Au, 14.1m @1.2 g/t Au and 12.2m @1.47 g/t Au, all within open pit depths.
Mineralization at the Herrick target is open at depth, and management hopes to find more mineralization at depth, as lots of deposits in the Abitibi show these characteristics. Besides Herrick, there are many more targets to be drill-tested, and management is currently outlining plans for this at the moment as mentioned.
Royalty portfolio
Platinex also holds an interesting portfolio of royalties on projects located in Ontario, with for example a 2.5% NSR on Big Trout Lake (PGM-Ni-Cu-Cr), a 1% NSR on a claim block in the Ring of Fire (Au-Ni-Cu-PGM-Cr) and a 1% NSR on a part of the Shining Tree project. The company also holds a 2% NSR from Newmont (NGT.TO) on the Sonia-Puma Au-Cu property in Chile. Platinex's current strategy for its royalty portfolio encompasses the creation of interesting royalties on both Shining Tree and the new W2 property, in turn creating a substantial royalty portfolio that in the future could be monetized by selling or spinning out.
Share structure
There are 161.65  million shares outstanding (fully diluted 214.65  million), 38.1 million warrants (average strike price of C$0.095) and incentive stock options issued to the tune of 15 million options. Platinex has a current market capitalization of C$7.2 million based on the January 18, 2022 share price of C$0.045. 
Platinex Inc, 1 year timeframe (Source: tmxmoney.com)
The current cash position of Platinex is approximately C$0.5 million, and the company will be looking to raise additional funds soon. Shares are tightly held, as management holds no less than 12% of the current shares outstanding (CEO Greg Ferron holds 2%), Treasury Metals (TML.TO) holds 10%, Alamos Gold 3.5%, European HNW's with strong ties to management hold 25.5%, and the company also enjoys approximately 7% institutional ownership.
Management
CEO Greg Ferron: Mr. Ferron has 20 years of mining industry and capital markets experience. He has held various senior level roles in mining, corporate finance, corporate development, and investor relations – including at Laramide Resources Ltd. (LAM.TO), Treasury Metals Inc., TMX Group and Scotiabank. Mr. Ferron has significant diverse merger and acquisitions experience, including Laramide's Westwater ISR project acquisition, and more recently the Goldlund project acquisition as CEO of Treasury Metals, creating one of Canada's largest gold developers. Mr. Ferron is also a director of Fancamp Exploration Inc (FNC.V).
Non-Executive Chairman James Trusler: Chairman of the Board of the company, 1998 to present; CEO and President of the company 1998–2018, 2019 to 2021; President, J. R. Trusler & Associates (mineral consultant), 1995 to present. Geological Engineer with over 45 years of exploration experience with a history of discovery (multiple Ni-Cu-PGM deposits at the Raglan Nickel mine, owned by Glencore) and strategic acquisitions of world-class scale gold, uranium and Ni-Cu-PGE deposits.
Director Felix Lee: Mr. Lee is an economic geologist and senior executive with over 30 years of business and project management experience in the minerals industry both in Canada and internationally. Mr. Lee completed his tenure as Director and Principal Consultant to CSA Global Canada in 2019 and was previously owner and President of the predecessor Toronto-based geological consultancy ACA Howe International Limited. Felix Lee is currently the President of Prospectors and Developers Association of Canada ("PDAC") the largest such mining industry organization in the world.
Finance Committee: Frank Hoegel: His background includes more than 20 years of direct experience in the mining industry, and a successful track record as an international financier/investor. He currently manages a natural resource fund, sits on the advisory board of Concept Capital Management, and sits on the board of several TSX Venture listed companies.
Finance Committee: Olivier Crottaz: Independent asset manager who founded Crottaz Finance. 30 years in the Swiss banking business as senior portfolio manager and tactical asset allocator at UBS and Credit Suisse as managing director.
Technical Committee: Lorne Burden: Senior manager with over 30 years experience, recently Manager Corporate Development and Senior Geologist Logistics at Royal Nickel Corporation. Former Director of PDAC.
Technical Committee: Blaine Webster: Experienced Geophysicist, Discovered 4 Moz Au property, Completed 1,500 geophysical surveys in 35 countries as President of JVX Ltd. Former President Goldeye Exploration Ltd. President Golden Mallard Corp.
Key points
On January 17, 2022, Platinex acquired the W2 Copper-Nickel-PGE property in Ontario, close to the prospective Ring of Fire area, which is home to large chromite, base-, and precious metal deposits
Platinex also fully owns the prospective 21,720 hectare Shining Tree gold project, which is located strategically between other gold projects nearby
The Shining Tree gold project contains 21 km of the prolific Ridout-Tyrell Deformation Zone, which in turn contains the 6.5 Moz Coté Gold deposit (IAMGold), and the 2.3 Moz Juby gold deposit (Aris Gold)
The company plans to conduct exploration programs on both projects in 2022
Platinex also has an interesting royalty portfolio on copper, zinc, chromite, gold and PGE properties in Canada and Chile.
Platinex has experienced management, and enjoys strong financial backing by Treasury Metals, a few institutions and a group of powerful European investors
Platinex is valued at an attractive entry point at the moment, with a tiny market cap of just C$7.2 million
With its recent acquisition of the W2 Copper-Nickel-PGE project just completed as part of its new dual strategy, a new CEO, and new strategic backers coming in, and the large, prospective Shining Tree gold project ready to explore, Platinex seems to be shifting gears now. After the upcoming raise is closed, the company will be ready to execute on new exploration programs for both W2 and Shining Tree, which already have seen strong results in the past and have lots of mineralized potential. It will be interesting to see how far Platinex management can take these two large, very intriguing land packages.    
This article is also published on www.criticalinvestor.eu. To never miss a thing, please subscribe to my free newsletter, in order to get an email notice of my new articles soon after they are published.
The Critical Investor is a newsletter and comprehensive junior mining platform, providing analysis, blog and newsfeed and all sorts of information about junior mining. The editor is an avid and critical junior mining stock investor from The Netherlands, with an MSc background in construction/project management. Number cruncher at project economics, looking for high-quality companies, mostly growth/turnaround/catalyst-driven to avoid too much dependence/influence of long-term commodity pricing/market sentiments, and often looking for long-term deep value.
Getting burned in the past himself at junior mining investments by following overly positive sources that more often than not avoided to mention (hidden) risks or critical flaws, The Critical Investor learned his lesson well, and goes a few steps further ever since, providing a fresh, more in-depth, and critical vision on things, hence the name.
Sign up for our FREE newsletter at: www.streetwisereports.com/get-news
The author is not a registered investment advisor, and currently has a long position in this stock. Platinex Inc. is a sponsoring company. All facts are to be checked by the reader. For more information go to www.platinex.com and read the company's profile and official documents on www.sedar.com, also for important risk disclosures. This article is provided for information purposes only, and is not intended to be investment advice of any kind, and all readers are encouraged to do their own due diligence, and talk to their own licensed investment advisors prior to making any investment decisions.
Streetwise Reports Disclosures:
1) The Critical Investor's disclosures are listed above.
2) The following companies mentioned in the article are sponsors of Streetwise Reports: None. Click here for important disclosures about sponsor fees. The information provided above is for informational purposes only and is not a recommendation to buy or sell any security.
3) Statements and opinions expressed are the opinions of the author and not of Streetwise Reports or its officers. The author is wholly responsible for the validity of the statements. The author was not paid by Streetwise Reports for this article. Streetwise Reports was not paid by the author to publish or syndicate this article. Streetwise Reports requires contributing authors to disclose any shareholdings in, or economic relationships with, companies that they write about. Streetwise Reports relies upon the authors to accurately provide this information and Streetwise Reports has no means of verifying its accuracy.
4) The article does not constitute investment advice. Each reader is encouraged to consult with his or her individual financial professional and any action a reader takes as a result of information presented here is his or her own responsibility. By opening this page, each reader accepts and agrees to Streetwise Reports' terms of use and full legal disclaimer. This article is not a solicitation for investment. Streetwise Reports does not render general or specific investment advice and the information on Streetwise Reports should not be considered a recommendation to buy or sell any security. Streetwise Reports does not endorse or recommend the business, products, services or securities of any company mentioned on Streetwise Reports.
5) From time to time, Streetwise Reports LLC and its directors, officers, employees or members of their families, as well as persons interviewed for articles and interviews on the site, may have a long or short position in securities mentioned. Directors, officers, employees or members of their immediate families are prohibited from making purchases and/or sales of those securities in the open market or otherwise from the time of the decision to publish an article until three business days after the publication of the article. The foregoing prohibition does not apply to articles that in substance only restate previously published company releases. 
( Companies Mentioned: PTX:CSE; 9PX:FSE,
)
tsx
tsx venture
cse
gold
nickel
copper
zinc
tsx-lam
laramide-resources-ltd
laramide resources ltd
tsx-tml
treasury-metals-inc
treasury metals inc
cse-ptx
platinex-inc
platinex inc