MoneyTalks: Mirova's Amber Fairbanks says the shift to ESG practices is happening because they 'just make sense'
Amber Fairbanks co-portfolio manager of Mirova's Global Sustainable Equity Fund says the shift to ESG practices is happening because the … Read More
The…
MoneyTalks is Stockhead's regular recap of the stocks, sectors and trends that fund managers and analysts are looking at right now and in this edition we're looking at the ESG shift.
Today we hear from Amber Fairbanks, from Mirova, co-portfolio manager of its Global Sustainable Equity Fund.
Speaking with Stockhead from Boston yesterday, she says while the ESG shift has accelerated in the past couple of years, Mirova has a long history of sustainable investing having been at it since 1994.
"We think there's a strong link between positive impact and financial outperformance. For us, it's intuitive and logical that companies that create a positive impact increase in value over time," she said.
"When I started three years ago, the global sustainable equity was $500 million; it's now about US$10 billion so we've seen substantial growth.
"It's really driven by the strong performance the strategy has seen, but also more and more people are becoming interested in ESG.
"And I think as they look under the hood of ESG managers they really see Mirova integrates ESG into the [investment] process that is both intentional and material. I think we've defined ourselves as a leader in the ESG space."
Fairbanks says Mirova looks for two trends. First, if the market underestimates the growth opportunities from secular trends, naming demographics, technology, the environment and governance.
And the second was the market underestimating the risk of poor ESG practices.
"We've built our entire process to exploit these inefficiencies to drive outperformance and create a portfolio with positive ESG impact," she said.
Economics mean ESG shift just makes sense
The COP26 climate conference may have left some disappointed with coal-reliant countries stopping a binding agreement to phase it out.
But Fairbanks says the shift to ESG friendly practices is happening anyway – and it's not just virtue signalling.
"I think if you look at alternative energy, the economics make sense and that's been driving the growth more than anything," she said.
"There's been rhetoric and concrete actions by governments but I think at the end of the day it's the economics that drives them more so than government policies.
"Similar with electric vehicles, they're better cars and there's interest in that perspective as opposed to the virtuous 'saving the environment' perspective."
Mirova's top holdings
When asked for some of the fund's top holdings, the first one Fairbanks named was Ørsted.
She explained this Danish listed firm used to be an oil and gas company but shifted its entire business to become an offshore wind power company. And it is now the largest pure-play company of its kind.
"It's a really solid company; we think wind power is set to grow 20% CAGR between now and 2030 and the company is well placed to address that," she said.
Ørsted (CPH:ORSTED) share price chart
The next two were US listed Thermo Fisher Scientific (NYSE:TMO) and Daniher (NYSE:DHR).
"What we're seeing in demographics is an ageing population in developed countries. Currently 11% of the population is 65 or older – that's going to be 22% by 2050," Fairbanks continued.
"As people age more and more, pharmaceuticals and research agencies have tried to address some of the age related diseases.
"These companies are lab equipment providers so are broadly exposed to increased spending in healthcare.
"In a gold rush you don't want to own gold miners, you want to own the pick and shovel manufacturers – that's what Thermo and Daniher are.
"They're broadly exposed to that trend around ageing populations and increased spending on healthcare."
Thermo Fisher Scientific (NYSE:TMO) share price chart
Daniher (NYSE:DHR) share price chart
Does the ESG shift mean tech is a no-go zone?
Big tech is an interesting area for ESG investors.
Mirova does invest in tech – with its top two holdings being Microsoft (NDQ:MSFT) and eBay (NDQ:EBAY) and it also owns MasterCard (NYSE:MA) and Adobe (NDQ:ADBE) as its 8th and 9th largest holdings – although unlike some other ESG investors it steers clear of the FAANG stocks.
"What we look at in technology from an ESG perspective is the protection of data predominantly," Fairbanks says.
"We don't own any of the FAANG stocks, we have ESG concerns around those stocks. But among the stocks we do hold, Microsoft is one of the largest cloud computing companies – we see valuable growth in cloud computing given the proliferation of data.
"We also see strong growth in ecommerce – hence our position in eBay which has been a strong stock for us – and increased digitisation of economy with people paying by credit and debit cards as opposed to paying with cash and cheque.
"And Mastercard is positively exposed to that and we think manages ESG risks well, even though they don't necessarily create a positive impact."
ESG shift protects investors in a declining market
Fairbanks says the first quarter of 2020 – when the markets crashed – was a solidly performing quarter for the fund and she credits it to the fund's high quality bias.
"We typically have an 80% downside capture ratio which I think protects investors in a declining market.
"In March of 2020, we had a number of stocks on our watch list which we analysed and really liked from a fundamentals and thematics perspective but we weren't quite comfortable with valuation.
"There were two stocks, Bright Horizons (NYSE:BFAM) and Intuitive Surgical (NDQ:ISRG) we added to the portfolio on April 1. Companies that were down 30-40% in the first quarter but the long term value was intact.
"For us as long term investors, we see that as an opportunity. There's a lot of stocks that we don't own and we'd love to, but don't make sense on a valuation perspective.
"When we see that disconnect between short term outlook and longer term value it's an opportunity to add stocks to the portfolio."
The views, information, or opinions expressed in the interviews in this article are solely those of the interviewee and do not represent the views of Stockhead.
Stockhead does not provide, endorse or otherwise assume responsibility for any financial product advice contained in this article.
The post MoneyTalks: Mirova's Amber Fairbanks says the shift to ESG practices is happening because they 'just make sense' appeared first on Stockhead.
Lithium Prices Continue to Soar; Acquisitions And Deals In The Space Are Accelerating
Lithium, a key component of the cathode in most electric vehicle (EV) batteries, is not only perhaps the best performing
The post Lithium Prices Continue…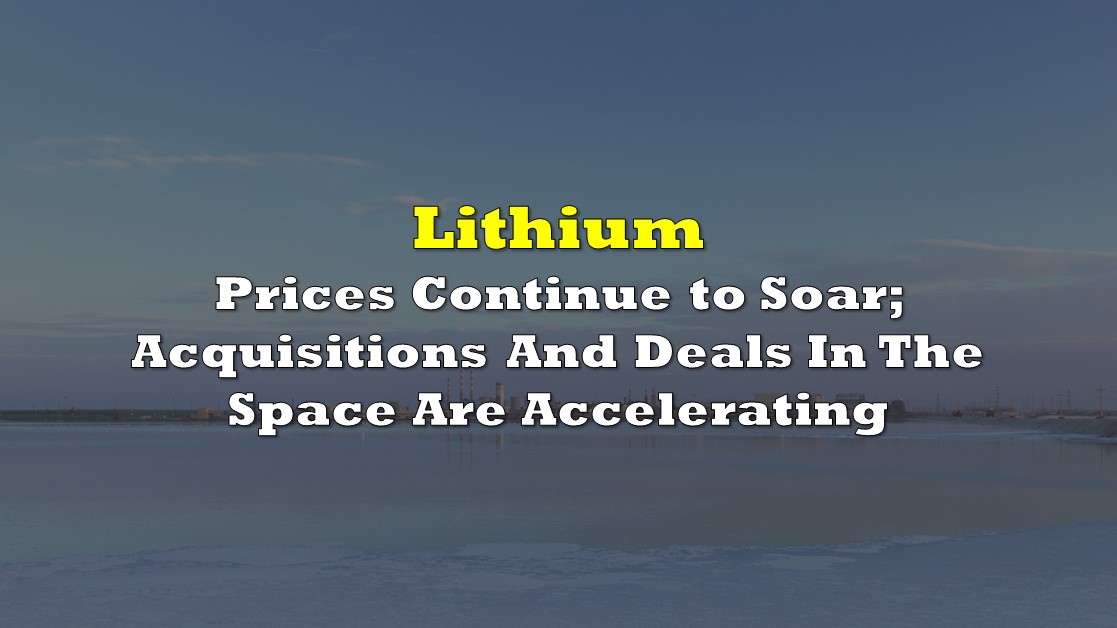 Lithium, a key component of the cathode in most electric vehicle (EV) batteries, is not only perhaps the best performing commodity in 2021, but also among the best performing assets of any type this year. Battery grade lithium carbonate prices have approximately quadrupled since December 31, 2020, and the pace of the increase has accelerated over the past few months.
According to China Central Television, this increase in lithium carbonate pricing has increased the cost to produce a battery-powered vehicle by nearly US$500. By comparison, through early October, Bitcoin, with a 49% return, was the broad asset class with the greatest year-to-date appreciation.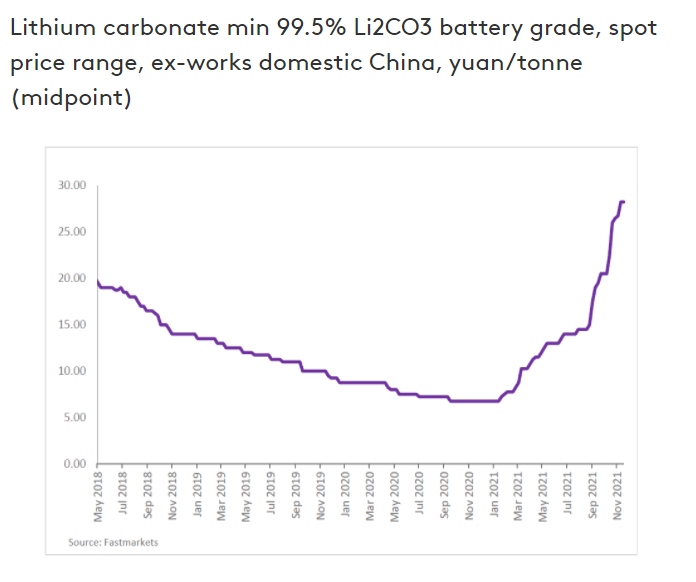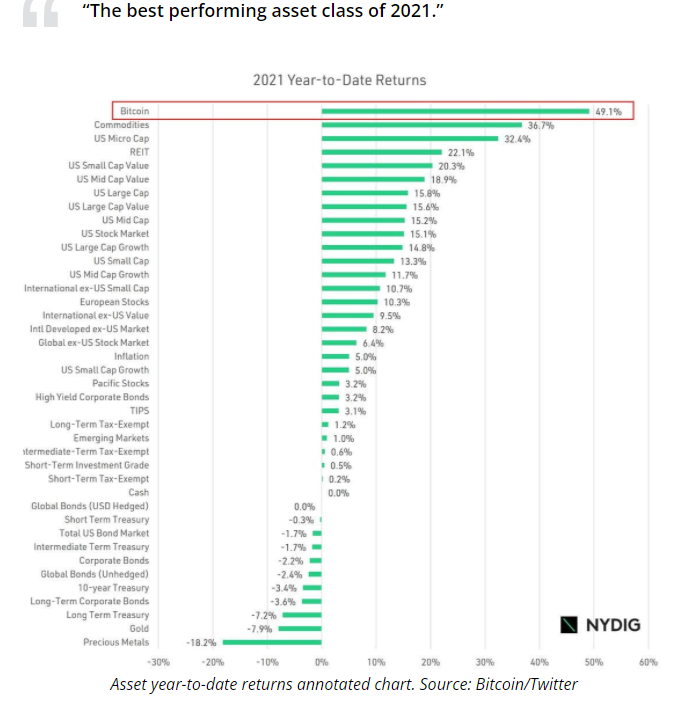 A passage in Fastmarkets, a publication which chronicles prices and supply-demand characteristics of many commodities, discussing the status of the lithium market in late November is telling: "A Chinese distributor active in southern Europe that sources lithium technical-grade carbonate said that producers he dealt with preferred to discuss short-term supply contracts rather than committing to long-term contracts on expectations that prices will continue to rise."
The supply-demand lithium situation has prompted many lithium producers and EV manufacturers, particularly China-based companies, to secure future lithium production capacity. This is the case despite China's possessing the fourth largest lithium reserves in the world (primarily in its remote Tibet and Qinghai provinces). Indeed, China imports about 70% of its lithium from foreign producers. As U.S.-based EV OEMs ramp up production, they will have to source all lithium from overseas producers as no lithium mines are currently operational in America.
Over the last few months, Ganfeng Lithium, one of the world's leading lithium producers, and battery maker Contemporary Amperex Technology Co., Limited (CATL), China's second largest company by stock market value, attempted to acquire Millennial Lithium Corp. (TSXV: ML). Millennial Lithium owns a lithium brine development project in Argentina. Another lithium company, Lithium Americas Corp. (TSX: LAC) ultimately outbid both Chinese companies for Millennial.
In September, Ganfeng bought the 9% stake it did not own in another lithium brine project in Argentina called the Mariana project. Mariana is less than 140 kilometers south of Atacama Salar in Chile, the largest producing lithium brine deposit in the world.
In October, Zijin Mining Group, a China-based gold, copper and zinc producer, decided to enter the lithium mining business when it reached a deal to buy Neo Lithium Corp. (TSXV: NLC) for around US$750 million in cash. Neo's lithium brine project in Catamarca, Argentina is one of the highest-grade projects of its kind.
In early November, Do-Fluoride New Materials of China agreed to supply lithium hexafluophosphate (LiPF6) to BYD, a China-based EV OEM, for four years beginning in January 2022. The supply price was not disclosed.
Finally, on November 29, Stellantis NV (NYSE: STLA), the parent of Fiat Chrysler and Peugeot, signed a five-year agreement starting in 2026 with Germany-based Vulcan Energy Resources Ltd. Vulcan, which plans to utilize clean geothermal energy to produce battery-quality lithium hydroxide, will supply 81,000 to 99,000 tonnes of that material to Stellantis. The accord is predicated on the future successful start of production at Vulcan and full product qualification.
As an aside, even Albemarle Corp. (NYSE: ALB; market cap of US$31 billion), the world's largest lithium miner, does not rule out acquiring smaller lithium producers, according to Eric Norris, its head of lithium, in an early November interview with Yahoo Finance.
Investors may want to consider two smaller lithium developers, Lithium Americas Corp. and Sigma Lithium Corporation (NASDAQ: SGMA). The flagship lithium properties for both companies, located in Argentina and Brazil, respectively, are expected to commence production in 2022.
And this is just the start. With the price of lithium expected to continue to rise, more transaction of this nature are surely to arise as global producers look to secure their supply chains in an increasingly electrified world.     
---
Information for this briefing was found via Edgar and the companies mentioned. The author has no securities or affiliations related to this organization. Not a recommendation to buy or sell. Always do additional research and consult a professional before purchasing a security. The author holds no licenses.
The post Lithium Prices Continue to Soar; Acquisitions And Deals In The Space Are Accelerating appeared first on the deep dive.
tsx
tsxv
nyse
nasdaq
lithium
zinc
tsxv-sgml
sigma-lithium
sigma lithium
Best Mining Penny Stocks to Buy Right Now? 3 To Look at This Month
Will these mining stocks make your watchlist? When discussing mining penny stocks,…
The post Best Mining Penny Stocks to Buy Right Now? 3 To Look at…
Will these mining stocks make your watchlist?
When discussing mining penny stocks, it is difficult not to highlight how well they have performed over the last year and a half. It all started with the pandemic, which pushed precious commodities like gold and silver to new highs. As a result, more types of mining equities began to perform better. There are far more of these assets than many investors think.
Many people think of gold and silver stocks when they think about mining assets. In reality, there are numerous different types of mining stocks. Companies in this category include those that look for copper, steel, uranium, lithium, lead, and other minerals. Bitcoin mining stocks, for example, can be considered for this type of asset.
What should you look for when investing in mining penny stocks, you may be wondering? There are a few critical actions that may be taken to ensure that the moment is perfect to invest in a company. The first and most obvious step is to read the news from across the world. Consider how the pandemic affected and continues to affect the mining industry. Sector news is also critical; for example, shortages and growing demand are useful pieces of information to have. Let's look at three mining stocks performing well in December 2021.
Top Mining Stocks To Watch
Denison Mines Corp. is a mining penny stock that just gained 2% on December 2nd. This is a mining business that is engaged in uranium development. The development business owns a 95 percent share in the Wheeler uranium project, which is located in the Athabasca Basin of northern Saskatchewan. This is a mining stock that has previously gotten a lot of attention on this site due to its consistent upward market momentum.
The corporation announced the adoption of an Indigenous Peoples Policy, or IPP, on December 2nd. The Board of Directors endorsed this, which indicates the company's acknowledgment of the critical role of Canadian business in reconciling with Indigenous peoples in the country. This is consistent with Denison's pledge to take action to advance reconciliation. This was critical for the corporation because it operates in several areas across Canada that are on Indigenous peoples' traditional territory.
President and CEO of Denison, David Cates said, "I believe Industry has an important role to play in acknowledging, and building awareness of, the history of Indigenous people in Canada and the critical importance of pursuing the objectives of reconciliation. As such, the adoption of an Indigenous Peoples Policy is a notable step in our Company's journey to bring reconciliation to the forefront of what we do and how we do it." DNN stock has increased in value during the last six months. Will DNN stock be added to your watchlist as a result of its recent advancements?
IAMGOLD Corporation is a gold mining company that has seen its stock price rise in the previous 30 days. This firm looks for, develops, and manages land for the sale of gold in a variety of countries. IAMGOLD is a global company with operations in North America, South America, and West Africa. These territories are home to the Westwood mine, the Boto gold project, and a slew of other ventures.
IAMGOLD released their third-quarter results for 2021 on November 3rd. The firm released its third-quarter results for 2021 on November 3rd. IAMGOLD generated $121.6 million in mine-site free cash flow, while adjusted EBTIDA was $265.7 million. During the same time period, IAMGOLD reported a total net loss of $20.1 million, or $0.04 per share. Despite certain flaws in its financial results, IAMGOLD has had several moments of strong performance this year.
CEO and President of IAMGOLD, Gordon Stothart said, "The third quarter of 2021 saw improvement in our operating performance supported by the continued strong results at Essakane. Rosebel performed in line with the revised plan. Construction activities at Côté continue to proceed well, reaching 36% project completion at quarter-end." Is IAG on your list of mining penny stocks to watch right now?
We've previously identified New Gold Inc. as a mining penny stock with a lot of momentum on multiple occasions. This firm develops and manages a number of mineral properties throughout North America. The Rainy River gold-silver mine, which it controls 100 percent of, is one of its most important assets. The Rainy River mine is located in the Canadian province of Ontario. In addition, the corporation owns a 100% stake in the New Afton gold-copper mine. This mine is in the Canadian province of British Columbia.
On October 13th, the company revealed its third-quarter operational results. New Gold produced a total of 105,628 gold equivalent ounces throughout this time. Rainy River and New Afton mines yielded 60,785 and 44,843 gold equivalent ounces, respectively. Due to fewer tons milled, its gold equivalent production dropped in the third quarter.
President and CEO of New Gold, Renaud Adams said, "We remain on track to deliver on our updated guidance, and we continue to make progress towards securing the Company's future growth at both assets. Our liquidity position improved for a third consecutive quarter, and I continue to expect meaningful free cash flow generation from our operations in the near-term" Amid these new developments, will NGD be on your mining penny stock watchlist?
Top Mining Penny Stocks To Buy?
Penny stocks are infamous for being extremely volatile and unpredictable. As a result, it is suggested that you concentrate on studying and investing carefully. No one knows what will happen to mining stocks in the market as long as inflation fears persist. As we approach 2022, only time will tell what happens to mining penny stocks. For the time being, which companies will you add to your watchlist?
The post Best Mining Penny Stocks to Buy Right Now? 3 To Look at This Month appeared first on Gold Stocks to Buy, Picks, News and Information | GoldStocks.com.
nyse
gold
silver
uranium
copper
tsx-img
iamgold-corporation
iamgold corporation
7 Stocks to Buy If the Government Shuts Down in February 2022
Since Wall Street's opening bell sounded on the day after Thanksgiving, clouds of uncertainty have hung over U.S. markets. Reports of what would soon…
Since Wall Street's opening bell sounded on the day after Thanksgiving, clouds of uncertainty have hung over U.S. markets. Reports of what would soon be dubbed the omicron variant were quick to send shock waves across certain sectors. And since then, more news has risen from Capitol Hill that has proved unsettling for investors. Bipartisan bickering has led to increasing discussion of a government shutdown.
Fortunately, Democratic lawmakers managed to avert the shutdown just before a key Dec. 3 deadline, securing funding through February 2022. This represents only a temporary solution to a larger problem, though, leaving investors with pressing questions. What could a government shutdown mean for markets?
If you're wondering what stocks to buy as the next funding, you're not alone.
While we don't know for sure what the immediate future will look like, if it does include a government shutdown, either partial or complete, it likely won't be all bad news for investors. On the contrary, there are some industries that stand to benefit. Let's take a look at some stocks to buy if a shutdown does occur.
Stocks to Buy for a Government Shut Down: Procter & Gamble (PG)
Source: Jonathan Weiss / Shutterstock.com
As you can probably tell from the names on this list, the consumer staples sector is likely to benefit the most from a shutdown. No company produces more household items than Procter & Gamble. Its holdings are truly vast, spanning healthcare, home care, and baby and feminine care, to name just a few. And in each area, P&G has secured a significant market share.
Government shutdowns tend to induce strong feelings of uncertainty, compelling consumers to stock up on the items they don't want to be without if things take a turn for the worst. During the shutdown of 2018, many government agency workers found themselves working without pay or with wages in furlough. They remember that feeling well and if a shutdown comes again, they don't want to be ill-prepared.
We also know that during periods of uncertainty, nervous Americans tend to over-prepare by over-shopping. The kind of products they need are distributed by large companies, and Procter & Gamble controls many of the country's most trusted brands.
PG stock has also been touted for its resistance to the inflationary trends that are also affecting consumer habits. If you're looking for stocks to buy in preparation for a shutdown, there's no better bet than this consumer staples giant.
Campbell Soup Company (CPB)
Source: HeinzTeh / Shutterstock.com
If Americans are going to be stocking up on essentials, they'll be employing the same practice when it comes to food. And when it comes to stockpiling non-perishable food items, there's no better bet than Campbell Soup.
The iconic brand is sold everywhere, from big-box markets to dollar stores, and it keeps for months upon months. Additionally, we're heading into the coldest season and as temperatures drop, the need for warm items such as hearty soups will only mount. InvestorPlace contributor Joel Baglole named CPB as  stock to buy the next time a national event gives Americans apocalyptic anxieties. As he stated, "When people think of stockpiling food supplies, they turn to soup. It's hearty, comforting, makes for a great lunch, and has a shelf life that can outdo most other canned goods."
Sales are likely to increase as the company heads into a winter marked by multiple events that could easily have Americans stocking up on food items. CPB stock should definitely be high on your list of stocks to buy for a shutdown, particularly as it's been struggling lately, creating what could become a lucrative opportunity to buy the dip if such trends continue.
Stocks to Buy for a Government Shutdown: Archer-Daniels-Midland (ADM)
Source: Katherine Welles / Shutterstock.com
The company commonly referred to by its initials is known as a staple of food production and distribution. With a reach that extends far beyond that, though, it's also a leader in the global field of agricultural processing. Throughout years of fairly steady growth, the company has worked to emphasize practices that center around health and sustainability. ADM doesn't own farms, but it partners with them by supplying innovative technologies to help spur the growth and distribution of agricultural products.
It doesn't stop with agricultural services, though. The company's work spans areas including oilseeds and carbohydrate solutions as well as animal nutrition ingredients. Moreover, if it involves food and will be in demand as America faces a daunting economic outlook, ADM will be helping provide it.
It's worth noting that while many consumers will absolutely be stocking up on items like Campbell soups, their more health-conscious peers will be more focused on the food items provided by companies like Archer-Daniels-Midland. ADM was recently named to a list of consumer staple stocks to buy for reasons even more pronounced today.
Coca-Cola Company (KO)
Source: Fotazdymak / Shutterstock.com
There's likely no brand more iconically American than Coca-Cola. Even non-soda drinkers have sampled some product owned by the massive soft drink conglomerate whose holdings are also quite vast, encompassing brands such as Dasani Waters, Honest Tea and Minute Maid Beverages.
If nervous Americans are stocking up on food, they'll also have to stock up on beverages and there is no beverage company better-known than Coca-Cola. Not all Americans drink the soda for which the company is named, but their beverage of choice is likely made by one of the company's subsidiaries. With this type of empire, KO is a safe investment as the country prepares for a period of uncertainty.
Even in the face of inflation, KO stock appears to be standing its ground. As it turns out, there is plenty of reason, as the stock is touted for its inflation-proof qualities. As InvestorPlace contributor Alex Sirois noted in a recent list on exactly that topic, "the general thesis is that consumer goods bear the brunt of inflation." KO stock should definitely should not be counted out of lists of stocks to buy in the face of a government shutdown.
Stocks to Buy for a Government Shutdown: Colgate-Palmolive (CL)
Source: Shutterstock
It isn't just food and beverages that Americans will be stocking up on if the shutdown proceeds, though. You probably associate the name with products such as toothpaste, but the multi-national corporation under which Colgate operates produces and distributes toothbrushes, mouthwashes, and rinses for both adults and children. It also produces products of general hygiene needs for both humans and animals. For anyone concerned with dental wellness or just general hygiene, Colgate's products are essential, and they will be of paramount importance in a time of economic uncertainty. If you keep it next to your bathroom sink, Colgate-Palmolive probably made it.
Earlier this year, InvestorPlace contributor Josh Enomoto named CL among recession-resistant stocks to buy for nervous investors. "A recession would have to be pretty darn awful for people to skimp out on the bare necessities," he noted.
While we're not facing a recession just yet, it seems a safe assumption that Colgate-Palmolive will be a company that only sees business increases as nervous Americans prepare for the worst. The last government shutdown we saw led to considerable economic instability and plenty of anxiety among consumers. This time around, Americans will want to be prepared and shopping helps the nervous feel better, particularly for the type of essentials that Colgate-Palmolive provides.
Altria Group (MO)
Source: Kristi Blokhin / Shutterstock.com
We've discussed the essentials quite a bit throughout this list, but we all know that nervous Americans won't just be buying what's good for them. They'll be stocking up on things that help them feel better, such as alcohol and cigarettes. Tobacco companies stand to benefit from an economic period where stress will be high. This giant of its sector owns several of the biggest names in big tobacco including PhilipMorrisUSA. It's also worth noting that Altria has been exploring expansions into the fast-growing cannabis market. In 2018, it made a strategic investment in Canadian cannabis producer Cronos Group (NASDAQ:CRON) and explored further investments more recently.
As InvestorPlace contributor Chris Lau noted, "Some investors view tobacco as an unattractive investment. But people who smoke still need to buy the company's products. Plus, Altria has a discount segment that is growing. It is careful not to gouge price-sensitive customers, especially its premium brands."
Anyone seeking to capitalize on the increase in cigarette sales that the country could see would be well served to consider MO among shutdown stocks to buy.
Stocks to Buy for a Government Shutdown: Newmont (NEM)
Source: Piotr Swat/Shutterstock
While this name may seem like an odd choice for a list that primarily includes consumer staples stocks, it's also worthwhile to consider a worst-case scenario play, examining the type of stock that stands to benefit if a shutdown is prolonged or leads to a worse economic landscape in which fears are amplified significantly.
If we start approaching that type of scenario, we're likely to see companies with heavy ties to gold mining start to benefit as Americans seek the safest ways to store their money and protect their assets. As the country's largest gold mining company, Newmont is worth a look if you're seeking stocks to buy. The company's mines can be found in the American west, but its mining reach has expanded to countries such as the Dominican Republic, Ghana and Australia.
We recently saw a rally in gold prices following the inflationary trends that came to define the late fall. While prices have fallen since then, fears are now rising for other reasons and if they continue to worsen, gold mining companies will be standing at the ready.
For anyone interested in stocks to buy for a time marked by panic and uncertainty, this could be a good time for a bullish play on gold mining.
On the date of publication, Samuel O'Brient did not have (either directly or indirectly) any positions in the securities mentioned in this article. The opinions expressed in this article are those of the writer, subject to the InvestorPlace.com Publishing Guidelines.
More From InvestorPlace
The post 7 Stocks to Buy If the Government Shuts Down in February 2022 appeared first on InvestorPlace.
dollar
gold
inflation
markets
mining
inflationary
nyse
nasdaq