Neo Battery Shares up 17% on Silicon Prototype News
Neo Battery Materials Ltd. [NBM-TSXV, NBMFF-OTC] shares rallied strongly in active trading Friday…
Neo Battery Materials Ltd. [NBM-TSXV, NBMFF-OTC] shares rallied strongly in active trading Friday after the company said the first prototype of silicon (Si) anode active materials has been successfully produced and sent to NDA partners for full evaluation and electrochemical characterization.
Neo Battery Metals has said it will focus on exploring and producing silicon at the mining claims it has staked in Golden, British Columbia. The properties occupy 467 hectares and are located along a strike with a quartzite bed, targeting silica in the quartzites.
Silicon, when added to anode materials in the production of lithium-ion batteries, provides improvements in capacity and efficiency over lithium-ion batteries using graphite in their anode materials. The company says it intends to become an integrated silicon producer and anode materials supplier to the electric vehicle industry.
The aim is to capitalize on the expected increase in demand for more efficient batteries that will be needed to power electric vehicles in the future.
"The first working set of Neo's proprietary silicon anode materials has been manufactured through our unique process,'' said Neo President and CEO Spencer Huh.
"Our prototype will be utilized by third-party partners for evaluating the performance and efficacy of Neo's anodes in each respective party's cell system and environment,'' he said. "Neo will complete due diligence during and after testing to refine and strengthen the prototype or commercialization."
Neo Battery shares advanced on the news, jumping 17% or 10 cents to 70 cents on volume of 510,150. The shares are currently trading in a 52-week range of $1.31 and $0.08. On Friday shares traded up to 73 cents.
Neo Battery Materials has secured key intellectual properties related to advanced silicon enhanced technology to meet the increasing demands for next generational battery anode materials.
Silicon has been considered as one of the most attractive anode materials in decades because of its exceptionally high energy density. However, the volume expansion issue of silicon during lithiation has been the main obstacle for the industry to adopt the technology.
Lithiation refers to the process by which a lithium atom replaces a hydrogen atom in an organic molecule. The resulting molecule is described as an organolithium compound.
Conventional approaches to mitigate volume expansion problems of Si anode material are not cost-effective and scalable due to the process complexity and high material input costs.
The company believes that the secured technology could manage and resolve this specific issue related to silicon.
"The Si anode prototype for sample testing is based on low-cost raw materials and was manufactured through our one-pot, cost-effective process,'' said Dr. J.H. Park, Neo Battery's Director and Chief Scientific Advisor.
"Neo's ability of economically manufacturing silicon anode materials is a substantial point of differentiation from existing companies and we expect this development to act as a catalyst to accelerate the commercialization of our Si anode active materials.''
Regulatory tightening explained: A strategic policy shift and the outlook for China's private sector
What should investors make of the flurry of regulatory tightening that China has implemented since the second half of 2020? How do the measures fit into…
What should investors make of the flurry of regulatory tightening that China has implemented since the second half of 2020? How do the measures fit into China's central strategy as it seeks to strengthen its domestic sector and embarks on long-term strategic competition with the US?
---
This is an abridged version of a paper by the same title by Chi Lo
---
A change in reform tactics
The economic recovery from the Covid-19 shock has given China's leadership an opportunity to tackle structural problems by tightening regulatory oversight which favours the development of 'hard tech' hardware and components over 'soft tech' (e-commerce) expansion. This marks a shift in Beijing's approach that had focused on consumption-driven growth.
Beijing now wants to increase high-value manufacturing to support the development of the technology and renewable energy industries in response to the changing domestic and international environment including intensified Sino-US competition.
US national security hawks have successfully hampered corporate China's expansion through embargos and supply restrictions. Even China's most successful companies are vulnerable.[1] Their supply chains are overly dependent on the US and its allies as China lacks the ability to produce key hardware and technology components. This vulnerability drives China's import substitution efforts.
Soft tech, in Beijing's eyes, has attracted too much investment and it only serves consumption and sectors that have little long-term strategic value.
Manufacturing is back
Manufacturing has regained policy favour. This has positive implications for long-term growth.
China's domestic sector started a structural rebalancing in 2005 with lower costs and improving infrastructure driving industrialisation to poor inland provinces. This resulted in a regional division of labour, with the costly eastern region moving from manufacturing to high value-added services industries. Cheaper inland regions picked up low value-added manufacturing.
The process was reversed in 2013 when Beijing made services and consumption the drivers of economic progress. The idea was to lift the quality of growth, even if that meant a slower growth rate.
Under the current approach, industrial migration to the interior provinces is likely to resume, with high-value-added industries dominating the trend. This will revive the momentum of GDP growth and raise China's productivity in the longer term.
The role of the private sector
Beijing attaches great importance to developing cutting-edge technologies and reducing the dependence of supply chains on external sources. It sees innovation as a way to achieve common prosperity, with digitalisation as the solution to improve economic efficiency and people's access to modern services. 
While it wants state-owned entities to do the heavy lifting on tech investment, it wants small and medium-sized companies and the private sector to drive innovative change and fund the development of hard tech.
In this context, China has announced the setting-up of a new stock exchange in Beijing offering SMEs a low-cost financing channel with simple listing procedures.[2] This is a step towards developing onshore capital markets so that they reallocate capital to the real economy.
It will also go a long way to facilitating common prosperity by redistributing wealth to the SMEs and privately owned businesses away from the state sector and conglomerates. The new exchange can be seen as a signal that private businesses would be encouraged if they help achieve the country's strategic goals.
So the recent regulatory crackdowns are not meant to rein in the private sector. Rather, they aim at aligning the private sector interests with Beijing's strategic targets. Those deviating from the public goals will risk being sidelined and penalised.
This approach underscores our long-held argument that economic reforms were based on the strategic use of markets under state guidance and not on using market forces to drive change.[3]
The domestic agenda
Further underscoring this argument is China's concern over the media influencing public opinion and government policy, risking potential abuse by serving vested interests, distorting public policy and creating systemic instability. To minimise these risks, the cybersecurity regulator took board seats in some of China's social media platforms this August.
Reducing wealth inequality is now a top policy priority. President Xi sees income and social inequality as threats to long-term development. Indeed, the common prosperity policy aims at raising labour compensation as a share of GDP to help address inequality (see exhibit 1).
Faced with increased scrutiny, many large companies have announced plans to donate funds to society. However, it is unlikely that the good old days of lax supervision and regulatory forbearance will return. Regulatory execution will be tough as Beijing is determined to redistribute income and create high-value jobs by boosting innovation and technological advancement.
Implications for consumption
Such policies should lift consumption. Building a better social safety net should help reduce household savings and increase consumer confidence. Since the poor have a higher marginal propensity to consume than the rich, the positive impact on consumption of distributing income more equally should be significant.
Spending can be expected to be aimed at the mass and mid-value consumption sectors. However, distributing wealth more evenly to the SMEs and the private sector should augment aggregate income growth, allowing it to continue to drive the growth of the luxury goods sector even without policy endorsement.
---
Any views expressed here are those of the author as of the date of publication, are based on available information, and are subject to change without notice. Individual portfolio management teams may hold different views and may take different investment decisions for different clients. The views expressed in this podcast do not in any way constitute investment advice.
The value of investments and the income they generate may go down as well as up and it is possible that investors will not recover their initial outlay. Past performance is no guarantee for future returns.
Investing in emerging markets, or specialised or restricted sectors is likely to be subject to a higher-than-average volatility due to a high degree of concentration, greater uncertainty because less information is available, there is less liquidity or due to greater sensitivity to changes in market conditions (social, political and economic conditions).
Some emerging markets offer less security than the majority of international developed markets. For this reason, services for portfolio transactions, liquidation and conservation on behalf of funds invested in emerging markets may carry greater risk. 
---
[1] US foreign policy towards China has changed from constructive engagement, as pursued by the administrations before Donald Trump, to strategic competition. For example, see "Strategic Asia 2020: U.S. – China Competition For Global Influence", Edited by Ashley J. Tellis, Alison Szalwinski and Michael Willis, The National Bureau of Asian Research, Seattle, Washington D.C. 2019      https://carnegieendowment.org/files/SA_20_Tellis.pdf 
[2] "China's Xi Jinping Says It Will Set Up a Stock Exchange in Beijing for SMEs", CNBC, September 2, 2021 https://www.cnbc.com/2021/09/03/xi-jinping-says-china-to-set-up-beijing-stock-exchange-for-smes.html 
[3] See "Chi on China" Mega Trends of China (6): Evolution of China's Growth Model", 6 April 2018.
Writen by Chi Lo. The post Regulatory tightening explained: A strategic policy shift and the outlook for China's private sector appeared first on Investors' Corner - The official blog of BNP Paribas Asset Management, the sustainable investor for a changing world.
markets
policy
policy shift
renewable
Uranium Prices Sent Soaring as Investors Bet on Higher Demand, Depleting Supplies
The competition for uranium supplies among nuclear power providers has ramped up as of late, as an increasing number of
The post Uranium Prices Sent Soaring…
The competition for uranium supplies among nuclear power providers has ramped up as of late, as an increasing number of financial investors bet on a bullish sector.
Raw uranium, also known as yellowcake, has seen prices skyrocket to the highest since 2014, as a newly-created investment trust from Canadian-based Sprott Asset Management snaps up uranium supplies. Since first launching an at-the-money program in August, the asset manager has bought over 10 million pounds of uranium via its Sprott Physical Uranium Trust (TSX: U.UN).
The trust plans to purchase even more uranium, upping its initial ATM financing from $300 million to $1.3 billion, helping push uranium prices even further upwards. When combined with previously purchased uranium from a former fund, Sprott's total uranium holdings amount to over 28.3 million pounds of the metal, which could provide enough power for France's entire nuclear industry for a year.
Sprott's sharp buying tactics will likely create added pressure on utilities, many of which need to ensure adequate supplies necessary for vital energy generation. The latest demand for yellowcake also comes as China is expected to ramp up its nuclear power capacity for the next ten years. As of current, long-term contracts account for 98% of yellowcake required by utility companies in the US; however, that figure is expected to decline to 84% come 2022, followed by a decline to around 55% before 2025, according to projections from Yellow Cake.
According to data obtained from the World Nuclear Association, demand for yellowcake is expected to rise form 162 million pounds to around 206 million pounds before the end of the decade, followed by a further increase to 292 million pounds by 2040. Simultaneously, uranium supplies are expected to decline by about 15% by 2025, followed by a subsequent depletion of at least 50% by the end of the decade, as investment into new mines dries up.
The Covid-19 pandemic also helped erode uranium supplies, as Cameco, one of Canada's largest mining companies, temporarily halted production at its Cigar Lake mine in response to labour shortages. Since the beginning of the year, Cameco shares have jumped by nearly 70%.
In the meantime, the Sprott uranium trust, which currently trades on the TSX, plans to make its public debut on the NYSE sometime in 2022, which according to Canaccord, could lead to additional purchases. The Sprott Physical Uranium Trust buys physical uranium stored in Canada, the US, and France via WMC Energy. In exchange, Sprott collects a 0.35% management fee, in addition to a 1% commission fee based on the gross value of purchases or sales of uranium.
---
Information for this briefing was found via Sedar and the companies mentioned. The author has no securities or affiliations related to this organization. Not a recommendation to buy or sell. Always do additional research and consult a professional before purchasing a security. The author holds no licenses.
The post Uranium Prices Sent Soaring as Investors Bet on Higher Demand, Depleting Supplies appeared first on the deep dive.
tsx
nyse
uranium
Hype Alone Could Keep Lucid Group Stock Steady, But Watch Out
I wouldn't go as far as to call myself a "Lucid skeptic." But if you've read my prior coverage of Lucid Group (NASDAQ:LCID) stock, you'll know…
I wouldn't go as far as to call myself a "Lucid skeptic." But if you've read my prior coverage of Lucid Group (NASDAQ:LCID) stock, you'll know I've said this popular electric vehicle (EV) play has more room to pullback from here.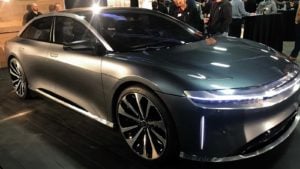 Source: ggTravelDiary / Shutterstock.com
Mostly, due to the risk that a possible stock market correction knocks it down to lower price levels. How low? As I put it in my last article, market-specific concerns could sink it to $10 per share, which was the initial offering price for this former SPAC (special purpose acquisition company).
Giving this more thought, assuming that it's set to fall back to $10 per share may be wishful thinking. Even if a correction happens, it may not see a 56%+ move back to $10 per share. Instead, with the hype still surrounding it, possible declines may wind up being not as severe.
However, don't assume the buzz still surrounding Lucid today is guaranteed to stay in place. Positive headlines notwithstanding, there's still a lot that could go wrong with this "too hot to touch" early-stage EV company.
LCID Stock: High Hopes Could Minimize Impact of Correction
As you're likely aware, excitement surrounding Lucid remains high. Recent headlines, like news of the EPA giving one of its models, the Air Dream Edition Range, its highest EV range rating ever are helping to drive this, along with upcoming events like its Production Preview Week.
The analyst community is starting to sing the praises of LCID stock as well. Earlier this month, Citigroup's Itay Michaeli came out with the first Wall Street sell-side rating for it. Rating it a "buy," with a $28 per share price target, he believes the company could sell $2.2 billion worth of vehicles next year. Impressive given that the EV startup is still in its pre-revenue stage. Analysts at Bank of America have also come out with a bullish call on it. With a price target of $30 per share, you can also say BofA's analyst team laid it on thick, calling it both the Tesla (NASDAQ:TSLA) and Ferrari (NYSE:RACE) of the many EV upstarts.
Mostly-bullish analyst coverage, along with positive news coverage, may not only be enough to keep shares steady right now. It may enable the stock to avoid big downside risk. Assuming factors like Federal Reserve tapering, and rising bond yields, change investor sentiment this fall. In articles about other growth stocks, like DraftKings (NASDAQ:DKNG), I've talked about how richly-priced names could see big declines if this happens, due to multiple compression.
However, what ends up playing out may not be so dramatic. We could see only a modest correction. Along with the high hopes investors and analysts alike have for Lucid? Downside risk in the near-term may not be so substantial. So, does that mean it's time to hop in its shares? Not so fast.
Company-Specific Risks Remain on the Table
If it's not at risk of taking a big dive if markets get rocky, what's the risk in buying LCID stock today at around $22.75 per share? Market sentiment about it could keep it steady in the near-term. But in the coming year, company-specific issues could be its undoing.
Above, I mentioned that analyst coverage for shares today is mostly bullish. But there's one key exception. Last week, Morgan Stanley's Adam Jonas, known for his coverage of Tesla and other EV plays, came out with his rating. The analyst's take? Bearish, with a "sell" rating and a $12 per share price target. In his research note, Jonas cited both high competition from legacy automakers, as well as higher execution risk, as factors that make this an EV stock to avoid right now.
More or less, I agree with Jonas' assessment. In my view, high competition is an overlooked concern when it comes to Lucid. As more established luxury brands, like Daimler's (OTCMKTS:DMLRY) Mercedes-Benz and BMW (OTCMKTS:BMWYY), pivot to electrified fleets, it's going to be tougher for the company to grow its sales fast enough to justify, much less grow, its current valuation (shares today trade for nearly 20x projected 2022 sales).
When it comes to execution risk? As our Chris Lau recently pointed out, the company continues to face ongoing production delays. This may signal further hiccups and hurdles are in store. Buying this stock now, with "out of the gate" success already factored into its valuation, appears to be a risky move.
Lucid May be Safe For Now, But Be Careful
The current buzz surrounding it may be enough to keep Lucid steady in the near-term. Even if a much-feared correction/sell-off ends up happening between now and the end of 2021. That said, company-specific risks remain.
Execution hiccups, and well as underwhelming sales figures due to high competition, remain big risks that could affect the performance of LCID stock going forward.
On the date of publication, Thomas Niel did not have (either directly or indirectly) any positions in the securities mentioned in this article. The opinions expressed in this article are those of the writer, subject to the InvestorPlace.com Publishing Guidelines.
Thomas Niel, contributor for InvestorPlace.com, has been writing single-stock analysis for web-based publications since 2016.
More From InvestorPlace
The post Hype Alone Could Keep Lucid Group Stock Steady, But Watch Out appeared first on InvestorPlace.
electric vehicle