Northern Graphite Snaps Up 2 Mines for US$40M
Northern Graphite Corp. [NGC-TSXV; NGPHF-OTCQB] has agreed to acquire a 100% interest in two graphite…
Northern Graphite Corp. [NGC-TSXV; NGPHF-OTCQB] has agreed to acquire a 100% interest in two graphite mines from French industrial minerals company Imerys Group for US$40 million, a move that CEO Greg Bowes described as "transformational" for the company.
The assets being acquired include the producing Lac des Iles graphite mine in Quebec and the Okanjande graphite deposit/Okorusu processing plant in Namibia. The Namibian project is held by Imerys and a joint venture partner.
Closing of the transaction is subject to a number of conditions, including the approval of the TSX Venture Exchange. The transaction is considered a "fundamental acquisition" under TSX Venture Exchange policies. As a result, trading in the company's shares has been halted pending a satisfactory review by the TSX-V or closing of the transaction, whichever occurs firs.
Northern Graphite said it intends to raise US$55 million in financing to complete the transaction, which includes payment of the purchase price, capital improvements, reclamation bonding, working capital and transaction expenses.
The company has signed a term sheet with Sprott Resource Streaming and Royalty Corp. for US$40 million in debt/royalty/stream financing and an engagement letter with Sprott Capital Partners LP to act as lead agent with respect to an equity offering of US$15 million.
The Sprott Group intends to participate in the equity offering with an investment of US$3 million, and Imerys will receive US$3 million in equity on the same terms as the offering, as partial payment for the purchase price. Imerys is also providing other support for the transaction.
Northern Graphite is a mineral development and technology company that has been working to develop its flagship Bissett Creek graphite deposit in northern Ontario.
The company is also focused on upgrading mine concentrates into high value components used in lithium-ion batteries, electric vehicles, fuel cells, graphene and other advanced technologies.
Its aim has been to become a leading supplier of graphite, an industrial mineral that has long been associated with steel manufacturing, lead pencils and golf clubs, but is now a key ingredient used in the production of electric vehicles.
Speaking about the acquisition of the Imerys assets, Bowes said: "This is a truly transformational deal that will elevate Northern from one of over 20 junior graphite companies looking for project financing to being the only North American and the world's third largest non-Chinese graphite-producing company."
In addition, he said Northern will have two large-scale development projects in stable jurisdictions that will enable the company to significantly expand production to meet growing demands from the [electric vehicle]/battery markets,'' Bowes said.
Transaction highlights include the acquisition of 40,000 to 50,000 tonnes per year of graphite concentrate production capacity. The Namibian operation will be brought back on line, enabling Northern Graphte to expand its market share in North America and Europe.
Terms of the deal were announced just before the market close on December 2, 2021, when Northern Graphite shares were priced at 83 cents and trade in a 52-week range of 92 cents and 23 cents.
Intel to ramp up domestic production again
Intel breaks news today with additional plans to help with an ongoing chip shortage in the microprocessor industry.   Reuters reports Intel plans a $20…
Intel breaks news today with additional plans to help with an ongoing chip shortage in the microprocessor industry.
Reuters reports Intel plans a $20 billion investment in two Ohio plants that would create a combined 10,000 jobs, including the labor needed to build the plants.
Citing previous Intel efforts in Arizona, Martin Baccardax at The Street also offers the context of a $52 billion Biden funding plan for domestic chip development.
"(The bill) would help U.S. chipmakers expand domestic production levels and reduce their dependence on overseas markets for crucial components in the nation's industrial and tech supply chain," Baccardax writes.
But lest we think that the chip shortage is over, we have breaking updates showing that companies are still having a hard time sourcing microprocessors, including this news from Toyota:
"Toyota (has said it is) unlikely to meet its 2021-22 production target due to the chip shortage," writes an unnamed analyst at TechXplore. "The world's top-selling carmaker Toyota said Tuesday it no longer expects to meet its annual production target with operations hampered by the global chip crunch."
"The chip shortage isn't likely to resolve itself until well into 2022, and eventually, the group of people willing to pay a higher price may run dry," adds Sean Szymkowski at Road/Show.
And then there's the EV boom.
"The price of nickel, a critical component in the production of electric vehicle (EV) batteries, has hit a decade high," writes Amit Mishra at Swarajya Jan. 20. "On the London Metal Exchange, the three-month nickel contract jumped as much as 4.4 per cent to $22,745 a tonne on 12 January 2022, the highest since August 2011. The rise reflects a broader boom in the commodity market due to falling stockpiles of critical metals and a production increase of EV's from car manufacturers. With battery raw material prices soaring, the price sustainability of EV is under stress and has the potential to disrupt the transition to electric mobility which is a promising global strategy for decarbonising the transport sector. India is among a handful of countries that support the global [email protected] campaign, which targets to have at least 30 per cent of new vehicle sales be electric by 2030."
So if you have related holdings, form your own idea of what to expect with chips based on available data. And make moves accordingly.
The post Intel to ramp up domestic production again appeared first on Warrior Trading News.
Promising EV Play Lucid is Worth a Look as it Stops to Recharge
After a stunning run last fall, investors have hit the brakes with shares in Lucid Group (NASDAQ:LCID). Granted, LCID stock isn't the only electric…
After a stunning run last fall, investors have hit the brakes with shares in Lucid Group (NASDAQ:LCID). Granted, LCID stock isn't the only electric vehicle (EV) play to slow down over the past few months. Many of its publicly traded rivals, early stage and established alike, have run into the same issue.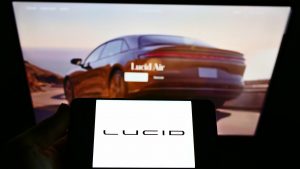 Source: T. Schneider / Shutterstock
As the market takes a breather on growth stocks of all kinds, it may be difficult for Lucid, one of the more promising EV plays out there, to accelerate higher in the near term, even as it wows the world with its flagship vehicle, the Lucid Air. Winner of Motor Trend's 2022 "Car of the Year" award, the electric-powered luxury sedan began to roll off the assembly line last October.
It may be executing flawlessly, proving its doubters and skeptics wrong. But admittedly, the market got somewhat ahead of itself bidding it up throughout 2021. You could say that its inclusion in a major stock market index (more below) was premature, as well.
Having said all this, I wouldn't write it off as an opportunity. While it may hold steady at or around current prices of $38.72 per share for the time being, think of it like it is stopping to recharge. When the next big bit of positive news come out, chances are it will zoom higher once again.
The Latest With LCID Stock
Lucid shares may be slowing down. But the company itself continues to charge ahead. Not too long after the start of the new year, the automaker announced its plans to begin making European deliveries later this year. Expect to hear similar headlines many times this year as the company, leveling up after completing the first hurdle of making initial deliveries, now moves to the second challenge of scaling up production.
The ultimate performance of LCID stock in 2022 hinges on climbing this second hurdle. Only time will tell whether it makes it. That may explain the sell-side community's largely "on the fence" view on it. According to the Wall Street Journal, roughly half of analysts covering the stock give it a "hold" rating.
Still, it's hard not to see Lucid carry on with its winning streak. Even as the stock has lost momentum in the past few months, the underlying company is still on a tear. In recent months, it has hit a lot of milestones. Reservation numbers continue to ratchet up. Assuming it hits its 2022 production goal of 20,000 vehicles, chances are it won't have much trouble finding buyers, as 17,000 customers have put in reservations for the Lucid Air.
Put simply, prospects remain bright for the company. Nevertheless, don't expect that to immediately translate into a resurgence of excitement for the stock.
"Too Far, Too Fast" Is no Deal Breaker
The company may be firing on all cylinders operations-wise. But it's really no surprise that LCID stock has seemingly stalled out as of late. It's not just volatility that's playing a role in its short-term performance. The market is now taking into account that it got a little ahead of itself with its exuberance during 2021.
Investors themselves weren't the only ones possibly guilty of getting carried away. The Nasdaq 100's selection committee may have put the electric cart before the horse, as well. That is, when it added the EV maker to the widely-followed index. My view is that it was too soon to add it.
However, don't mistake "too far, too fast" to mean that this is a situation you should take a hard pass on. Far from it, as what we have seen so far indicates it has the makings of a long-term winner. The takeaway from this is that, after getting a lot of its future growth priced into it, the underlying company needs to play catch up.
Fortunately, this does necessarily mean it's going to be a long process. A "little bit carried away" is the keyword here. It may trade sideways for now, yet once it has game-changing news to report, shares will start to rev up again.
The Verdict With LCID Stock
Earning a "B" rating in my Portfolio Grader, don't get impatient if Lucid remains at the charging station in the near-term. Don't panic either if another bout of market volatility knocks it back down to say, $35, $30, or even $25 per share.
The story here is still playing out. At times, it's going to get bumpy. But if you approach it as a long-term play and take into account its risks by making it a small position in your portfolio, consider now a good time to hop along for the ride with LCID stock.
On the date of publication, neither Louis Navellier nor the InvestorPlace Research Staff member primarily responsible for this article held (either directly or indirectly) any positions in the securities mentioned in this article.
Louis Navellier, who has been called "one of the most important money managers of our time," has broken the silence in this shocking "tell all" video… exposing one of the most shocking events in our country's history… and the one move every American needs to make today.
More From InvestorPlace
The post Promising EV Play Lucid is Worth a Look as it Stops to Recharge appeared first on InvestorPlace.
Dubai Expo spotlights 'mighty' potential of small modular reactors
"A mighty source of energy to power cities of the future…"
The post Dubai Expo spotlights 'mighty' potential of small modular reactors appeared first…
"A mighty source of energy to power cities of the future…"
This was how Dr Sergey Brilev, President of the Global Energy Association, described small modular nuclear reactors at SMR Day hosted by Russian nuclear company Rosatom at EXPO 2020 in Dubai.
The goal of SMR day was to explore the role of nuclear power in the future energy mix, with a specific focus on small modular nuclear reactors, the prospects for their development and how this technology can be applied around the world.
Alexey Likhachev, Director General of Rosatom, said: "For me personally, last year's UN Climate Change Conference in Glasgow was a watershed moment. I literally felt the winds of change… that people were realising that a carbon-free future is impossible without the peaceful use of nuclear technology."
Likhachev made reference to the latest proposal from the EU that labelled nuclear power as a clean fuel in its Taxonomy. He also pointed the audience to nuclear's carbon footprint, the upper threshold of hydrocarbon emissions being 5.5 gram /KWh and the lower threshold of wind power being 6 grams.
Likhachev added: "We are convinced in the Russian Federation that the energy transition would not be possible without the expansion of nuclear capacity in our country."
Kirill Komarov, First Deputy Director-General for Development and International Business of Rosatom, noted that nuclear provides good baseload power regardless of the weather and that SMRs in particular have very specific advantages.
Small power plants are fit for remote regions, where capacity demand is high, but available infrastructure is low;
SMRs can produce power for hybrid applications;
They can be used in combination with renewable technology especially in disributed systems;
SMRs require lower capital costs;
Can more readily move into brown field sites, for example where coal is being decommissioned, and
SMRs can be built independently or as part of larger modules with capacity added incrementally.
For these reasons, SMRs are viewed as an upcoming trend and an important addition to the energy, rather than some sort of 'Holy Grail' of energy, explained Komarov.
He added: "There are certain tasks that would be impossible to achieve without the use of SMRs," providing examples such as bringing energy to remote locations like islands, archipelagos and rural areas not grid-connected.
Have you read?
Small modular reactor market to reach $18.8 billion by 2030
Ontario Power Generation to deploy GE Hitachi small modular reactor tech
"SMRs can deliver long-term predictability for large scale industrial projects, as well as add sustainability and eco-friendliness to the production chain in projects where decarbonisation is key."
Komarov provided an example of how SMRs are making a positive difference in the remote northern territory of Russia, where about 20 million people are living in a decentralised energy zone with minimal infrastructure.
A floating nuclear power plant was ideal to provide electricity, said Komarov, and a plant with two SMRs and a capacity of up to 77MW of electricity was commissioned in 2019.
Another example of where SMRs could prove useful is in the Baimskaya ore field in Russia which will be explored for the next 40 years.
"At first, using LNG seemed the logical power supply, however, the price of natural gas has increased over 10 times over the last six months, increasing cost and risk," said Komarov.
In contrast to the volatile price of gas, speakers agreed that the nuclear price is predictable for decades, and stable enough to minimise the impact on the consumer.
Dr Sama Bilbao y Leon, Director General of the World Nuclear Association, said SMRs "have brought so much excitement and energy, within the nuclear community and externally".
"It's the crystallisation of much of the innovation within the industry, in terms of technology, fuels and coolants, as well as completely different strategies to deliver power."
Technology specs
The new floating power units are based on the RITM-series SMR, which uses pressurized water technology.
It is safe and compact, said Komarov, and has formed the basis for the land-based NPP which can produce up to 110MW of power, providing an uninterrupted supply for 60 years and has a construction period of 3-4 years.
The first land-based plant will be commissioned in 2028 in the Russian region of Yakutia, which heavily relies on coal and diesel. The new SMR will decrease emissions by 20 000 tonnes per year and will help decarbonise the local economy and increase fuel independence, stated Komarov.
"Rosatom is moving towards closed fuel cycle systems and is therefore building the SVBR -100 reactor, a generation 4 reactor based on heavy metal coolant with a 100MW capacity.
"Also, microreactors, the Shelf-M with a 10MW capacity and a refuel cycle of eight years, is becoming a focus for us.
"Micros reactors are fully factory-built, installed on-site, are quickly shipped and removed and small enough to be transported by truck," concluded Komarov.
The post Dubai Expo spotlights 'mighty' potential of small modular reactors appeared first on Power Engineering International.