QuantumScape: Charging Higher on Infrastructure News, Tread Carefully
After months of trading sideways, EV battery maker Quantumscape (NYSE:QS) has seen a big jolt in its share price. Thanks to the passage of the U.S. infrastructure…
After months of trading sideways, EV battery maker Quantumscape (NYSE:QS) has seen a big jolt in its share price. Thanks to the passage of the U.S. infrastructure bill, and progress with setting up its manufacturing operations, QS stock is up over 71% in the past month.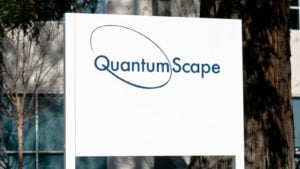 Source: Michael Vi/Shutterstock.com
As this latest run-up wraps up, could $35-$40 per share become the new floor for shares? Not so fast.  Years away from the commercialization stage, there are three ways the stock could pull back after its recent turbo-charged spike.
First, shares could dip due to a bit of negative company-specific news. Second, investor impatience may result in a big drift lower. Third, there's still the looming risk that interest rates rise, negatively affecting growth stocks like this one.
So, what's the best now for shares? Investors who smartly got in ahead of the bill passage should cash out. If you aren't in that category, and have yet to enter a position? Definitely sit this one out right now.
QS Stock and The Infrastructure Bill
It's not as if Quantumscape was lacking in positive developments before the recent news. Back in September, shares got a bit of a boost from news that another major automaker was joining Volkswagen (OTCMKTS:VWAGY) in becoming a partner with this early stage "future of EV batteries play."
But the "game changer" level of that development for QS stock pales in comparison to the possible upside resulting from the above-mentioned infrastructure bill. Although just a small portion of the package is going toward EV-related initiatives, it could go a long way in enabling electric vehicles to achieve critical mass.
With funding included in the bill to expand the number of EV charging stations to 500,000 by 2030, it will in time become even easier to convince the public to make the switch to EVs. Better yet, this company could be the one that helps solve a key challenge preventing electric vehicles from becoming a full-on substitute for gas-powered ones: battery limitations.
Today, the predominant types of batteries used to power EVs (lithium ion) have many disadvantages. These include limited range, long charging times, as well as the risk of being a fire hazard. However, Qunatumscape isn't producing lithium-ion batteries. Instead, it's making solid state batteries, or SSBs. Not only do they offer greater safety and longer range. They also have shorter charging times as well. The incredible run shares have gone on due to this news is warranted. However, as explained below, don't take this to mean that the stock's days of high volatility are over.
Three Ways Shares Could Stumble to Lower Prices
In the immediate future, QS stock may be able to stay at its current elevated price (around $39.10 per share). Other early stage EV names, such as automakers like Fisker (NYSE:FSR) and Lucid Group (NASDAQ:LCID), are still trending higher.
But a few weeks (or months) from now? This may no longer be the case. As mentioned above, there are three ways for shares to stumble back toward prior price levels. A bit of negative news, for example, any sort of hiccup/setback that causes it to delay its commercialization timeline.
So too, could investor impatience. The infrastructure news certainly bodes well for Quantumscape. Yet it won't be until 2024 or 2025 that the anticipated boost in demand thanks to the Federal Government's financial support will translate into tangible benefits for the company.
Lastly, something I've talked about that's a risk for growth stocks in general is a risk for QS stock as well. That would be rising interest rates causing multiple compression. Low interest rates have played a big role in sending early stage companies to rich valuations, and keeping them there. This however could change, if high inflation forces the U.S. Federal Reserve to start its so-called "interest rate liftoff" in 2022 rather than in 2023.
Depending on how quickly it happens, if rates rise, it could have an inverse effect on growth stock prices. This is because higher rates lower the present value of future hypothetical cash flows, pushing their shares to lower prices.
Bottom Line: No Need to Chase The Recent Quantumscape Run-Up
The recent infrastructure bill news signals things are moving along for the EV industry. In the coming years, demand for electric cars will speed up. During this timeframe, Quantumscape will also be ready to bring its SSBs to market. With two of the largest automakers signing on as its partners? It could be a quick path to billions in annual revenue.
Still, it could experience some challenges along the way, take too long to have its "payoff moment," or simply get caught up in a possible growth stock correction. All things considered, it's best not to chase the latest QS stock run-up, and instead wait for lower prices.
On the date of publication, Thomas Niel did not have (either directly or indirectly) any positions in the securities mentioned in this article. The opinions expressed in this article are those of the writer, subject to the InvestorPlace.com Publishing Guidelines.
Thomas Niel, contributor for InvestorPlace.com, has been writing single-stock analysis for web-based publications since 2016.
More From InvestorPlace
The post QuantumScape: Charging Higher on Infrastructure News, Tread Carefully appeared first on InvestorPlace.
Ground Breakers: Costs rise for ASX gold miners as inflation bites
Gold miners have endured an arduous 2021 in equity markets. While cash has been easy to come by and deals … Read More
The post Ground Breakers: Costs…
Gold miners have endured an arduous 2021 in equity markets.
While cash has been easy to come by and deals are being done, most gold producers have been hit by poor sentiment as prices have struggled to break out.
Over the past year the All Ordinaries Gold Index has sagged around 20%.
Although most are still making good money, rising costs and the impact of inflation and labour challenges are also hitting miners in the hip pocket.
Metals Focus says the global average all in sustaining cost for gold miners hit its highest level since 2013 in the September quarter, rising 3.6% quarter on quarter to US$1123/oz.
Australian miners were the worst off when it came to cost pressures, with costs in Australia climbing by an average of 13.1%.
Global AISC margins fell by 9% QoQ to US$667/oz, with Australia's sliding 18%, Canada's dropping 5% and Russia's falling 7%.
Margins remain high historically speaking, and 94% of gold operations tracked by Metals Focus remain profitable.
"As might be expected, increasing costs and a lower gold price have squeezed margins in the September quarter," they said.
"However it is worth noting that their margins are still substantially higher than in previous years."
"Despite the relatively healthy margins, the lower gold price and rising costs are putting pressure on higher cost operators," Metals Focus said.
"While the proportion of output that is profitable remains high at 94%, it has fallen from 98% in Q2.21. A number of operations and projects are already under strategic review with regards to increasing costs."
"If cost inflation persists and margins diminish even further it is likely that development project approvals will be delayed and also possible that the highest cost production of more marginal producers could potentially be closed."
Although global average head grades rose 0.5% (5% in Australia), inflationary pressures including crude oil prices, rising salaries amid Covid restrictions, labour shortages and turnover, and the cost of equipment due to supply chain issues drove up operating costs for the fourth straight quarter.
Markets reacted badly this morning to news of the spread of the omicron coronavirus variant around the world, with materials sliding 1.19% this morning.
Chalice soars on new Julimar discovery
Market darling is a phrase that doesn't quite cut it with Chalice Mining (ASX:CHN), which is up 60 times over since making the Gonneville nickel-copper-PGE discovery 70km north of Perth early last year.
Shares jumped more than 4% this morning after Chalice announced another discovery at Julimar, where last month it declared Gonneville the world's biggest nickel sulphide discovery in 20 years and Australia's first major platinum group elements resource.
The new mineralised intrusion is an ultramafic unit to the west of Gonneville, separated by around 70m of metasediments.
Located immediately south of the 6.5km Hartog anomaly, Chalice struck 3m at 2g/t palladium, 0.3g/t platinum, 0.6% nickel, 0.5% copper and 0.05% cobalt for a 1.7% nickel equivalent from 68m in one hole.
The second mineralised intercept struck 2m at 1.8g/t Pd, 0.2g/t Pt, 0.6% Ni, 0.5% Cu and 0.06% Co for a 1.9%NiEq from 139.2m.
The discovery did not show up on EM, "highlighting the potential for further blind discoveries" according to Chalice.
While Chalice has already drilled around 180,000m at Julimar, part of its value proposition is the idea that more will be found with the Gonneville resource accounting for just 7% of the 26km strike of the Julimar complex.
It has submitted a conservation management plan to get at the Hartog target, which will be a bit more thorny because unlike previous drilling which has been located on private farmland, Hartog lies beneath the Julimar State Forest.
Chalice says its CMP for drilling the Hartog-Baudin targets is sitting with the WA Government and it expects approvals shortly.
Chalice Mining share price today:
The post Ground Breakers: Costs rise for ASX gold miners as inflation bites appeared first on Stockhead.
QMines tops the class with second resource update just a few months after listing
Special Report: In just the six short months since making its debut on the ASX, QMines has delivered its second … Read More
The post QMines tops the…
In just the six short months since making its debut on the ASX, QMines has delivered its second resource estimate for the Mt Chalmers copper-gold project, which is 38% higher than the previous estimate and largely in the higher confidence measured and indicated categories.
QMines (ASX:QML) has delivered an updated resource for its flagship Mt Chalmers project in Queensland of 5.8 million tonnes at 1.7% for 101,000 tonnes of contained copper equivalent, which includes for the first time measured and indicated resources.
Significantly, 78% of the updated resource falls into the higher confidence measured and indicated categories. This is important because it gives an explorer sufficient information on geology and grade continuity to support mine planning and allows the definition of a reserve.
The updated resource is not far off the 120,000 tonnes that respected Australian investment firm Shaw and Partners forecast for the latest resource upgrade in a research note in early October.
Shaw and Partners, however, anticipated the updated resource would still be 100% inferred. This attracted an increased 72c price target from the investment firm which is a nearly 90% premium to the 38c share price QMines is trading at currently.
QMines share price chart (ASX:QML)

So the fact that such a large chunk of the resource is in the measured and indicated categories is a big leap in terms of confidence in the resource and should be a positive signal to the market of QMines' ability to over-deliver against the target.
"As the company only listed in May 2021, it is a fantastic achievement to be delivering a resource upgrade for our shareholders in such a short period of time," executive chairman Andrew Sparke said.
"It is very pleasing to see that the upgraded resource has substantially grown in both size and confidence level, with the measured and indicated categories now comprising 78% of the overall resource."
Offering further exploration upside, Sparke says QMines has identified several volcanic-hosted massive sulphide (VHMS) prospects outside the known resource, which bodes well for further resource upgrades and the potential for future development.
A world class mine in the making
Mt Chalmers is already considered one of the world's highest-grade gold-rich VHMS systems.
QMines has previously demonstrated the significant size potential and high-grade nature of the deposit, with recent peak grades of from a 15-hole, 2,182m diamond drilling program including 5.3% copper, 11.75 grams per tonne (g/t) gold, 243g/t silver, 33% zinc and 19% lead.
Those results, which were reported just last week, follow close on the heels of 'bonanza' grade copper, gold, silver, lead and zinc intercepts announced in October.
A major 30,000m drilling program continues unabated, with a third resource upgrade planned for the first half of 2022.
This article was developed in collaboration with QMines, a Stockhead advertiser at the time of publishing.
This article does not constitute financial product advice. You should consider obtaining independent advice before making any financial decisions.
The post QMines tops the class with second resource update just a few months after listing appeared first on Stockhead.
Miramar finds 'very large' gold footprint at Glandore project
Special Report: Miramar has outlined shallow supergene gold anomalism over almost 5 kilometres of strike and across multiple targets at … Read More
The…
Miramar has outlined shallow supergene gold anomalism over almost 5 kilometres of strike and across multiple targets at its Glandore project in WA.
Multiple holes from the lake aircore drilling across the expanded Glandore East footprint returned and/or ended in results >0.25 g/t gold including hole GDAC037 which intersected 6m at 0.62 g/t from 12m and ended in 2m at 1.04 g/t.
Hole GDAC061 intersected 4m at 0.46 g/t and 4m at 0.61 g/t – and is approximately 400m south of historical aircore holes which intersected 6m at 1.33 g/t and 9m at 1.10 g/t (EOH).
The Glandore East footprint now extends for over 3km towards historic gold workings and remains open.
Follow up drilling planned in the new year
Miramar Resources' (ASX:M2R) executive chairman Allan Kelly, said the recent lake drilling had identified a very substantial gold system at Glandore and greatly increased the potential for the discovery of gold mineralisation including that like the nearby Majestic and Trojan deposits.
"Our first pass lake drilling has outlined coherent supergene gold anomalism within multiple targets over almost five kilometres of strike which is a considerable proportion of the entire project area," he said.
"Today's results indicate the presence for multiple NE-trending mineralised structures within the granodiorite pluton extending over a significant strike length, along with coherent gold mineralisation across several other targets which will need to be followed up early in the new year.
"Gold mineralisation at Majestic and Trojan is also hosted in NE-striking structures within granitic intrusions, so our recent results indicate significant potential for a similar discovery at Glandore."
The company will now plan for follow-up aircore drilling in the new year, and then plan for diamond drilling.

This article was developed in collaboration with Miramar Resources Limited, a Stockhead advertiser at the time of publishing.
This article does not constitute financial product advice. You should consider obtaining independent advice before making any financial decisions.
The post Miramar finds 'very large' gold footprint at Glandore project appeared first on Stockhead.