REPORT: Fosterville South Exploration – pursuing a new frontier in high-grade gold exploration
Download this EXCLUSIVE report from ValueTheMarkets to discover why Fosterville South (TSX-V:FSX) is among the world's hottest, high-grade gold exploration plays.
A spectacular underground gold rush is underway in the Australian state of Victoria.
It began just five years ago with the discovery of vast seams of high-grade gold at the Fosterville Gold Mine.
Thanks to significant advances in drilling technology and subterranean surveying techniques, mining companies can now access previously untapped, large-scale deposits of high-grade gold.
For gold exploration firms, this is an extremely exciting new frontier.
The official Geological Survey of Victoria has even gone on-the-record to say it believes that at least 75,000,000 ounces of the precious metal are now waiting to be discovered across the state.
To put this into context, 88,000,000 ounces of gold have been mined in Victoria in the last 170 years.
At current spot prices, those undiscovered ounces would be worth…
Download this EXCLUSIVE report from ValueTheMarkets to discover why Fosterville South (TSX-V:FSX) is among the world's hottest, high-grade gold exploration plays.
A spectacular underground gold rush is underway in the Australian state of Victoria.
It began just five years ago with the discovery of vast seams of high-grade gold at the Fosterville Gold Mine.
Thanks to significant advances in drilling technology and subterranean surveying techniques, mining companies can now access previously untapped, large-scale deposits of high-grade gold.
For gold exploration firms, this is an extremely exciting new frontier.
The official Geological Survey of Victoria has even gone on-the-record to say it believes that at least 75,000,000 ounces of the precious metal are now waiting to be discovered across the state.
To put this into context, 88,000,000 ounces of gold have been mined in Victoria in the last 170 years.
At current spot prices, those undiscovered ounces would be worth a staggering $127,500,000,000.
With such great potential, it is no wonder the region is attracting so much international investor interest.
After all, the results at Fosterville have been stunning.
By the end of 2019, the mine's owner, Kirkland Lake Gold (TSX:KL) (NYSE:KL), reported high-grade gold reserves of 2 million ounces with an additional 1.7 million inferred ounces at the site.
Better yet, between 2017 and 2019, the company mined 1.2 million ounces at Fosterville for a cost of just $315 an ounce, and an incredible average grade of 30.6 grams a tonne!
The Fosterville Gold Mine comfortably leads the pack when it comes to the world's highest-grade, lowest-cost mining operations.
With such phenomenal success, it is no surprise that Kirkland Lake's share price shot up over 27 TIMES, from C$2.20 in July 2015 to more than C$60 by the end of last year.
This has transformed the miner into a C$15 billion firm.
Now, with so much more high-grade gold potential remaining in Victoria,  which company might be the next to experience such meteoric growth?
Fosterville South Exploration (TSX-V:FSX) certainly has strong potential.
Read this SPECIAL REPORT from ValueTheMarkets to learn the fascinating backstory to the incredible opportunity at Fosterville South (TSX-V:FSX)
The pitch for Fosterville South (TSX-V:FSX) is as straightforward as it comes.
Fosterville South (TSX-V:FSX) has managed to secure 1,386km2 of what could prove to be some of the most promising prospecting land for large-scale, high-grade gold deposits anywhere on the planet.
With a fully-funded, high-impact drill campaign ready to go in 2020, Fosterville South's (TSX-V:FSX) award-winning technical team is particularly bullish about the company's Lauriston Project.
Lauriston directly borders the Fosterville Gold mine, and the indications are that it shares the same geological features.
Rex Motton, Fosterville South's (TSX-V:FSX) chief operating officer and the original inspiration behind this opportunity, is convinced about the potential for what modern drilling could uncover: 
"Victoria has hardly scratched the surface when it comes to exploring these newly identified, high-grade underground gold zones.
There has been a lot of exploration done at Ballarat and Bendigo as they are very big goldfields, but when you look in a regional sense, there are very few deep drill holes.
Even on our ground in Lauriston, which sits directly adjacent to the Fosterville Gold Mine, there are only about a dozen reverse circulation holes and half a dozen diamond holes
None of these have gone deeper than about 200m in terms of drilling. For an area that is 600km2 in size that is minuscule. With such high-grade, near-surface historic production here, that is extremely surprising, but it also opens up an incredible opportunity for Fosterville South.)
To learn exactly why Rex Motton is so confident about Fosterville South (TSX-V:FSX) and how he was able to secure such a large area of prime high-grade gold exploration land DOWNLOAD THIS EXCLUSIVE REPORT from ValueTheMarkets.
——————
IMPORTANT NOTICE AND DISCLAIMER PAID ADVERTISEMENT.
This communication is a paid advertisement. ValueTheMarkets, Digitonic Ltd, and their owners, managers, employees, and assigns (collectively "the Publisher") is often paid by one or more of the profiled companies or a third party to disseminate these types of communications. In this case, the Publisher has been compensated by Fosterville South Exploration Ltd. to conduct investor awareness advertising and marketing. Fosterville South Exploration Ltd. paid the Publisher the equivalent of one hundred thousand US dollars to produce and disseminate this and other similar articles and certain banner ads. This compensation should be viewed as a major conflict with our ability to be unbiased. Readers should beware that third parties, profiled companies, and/or their affiliates may liquidate shares of the profiled companies at any time, including at or near the time you receive this communication, which has the potential to hurt share prices. Frequently companies profiled in our articles experience a large increase in volume and share price during the course of investor awareness marketing, which often ends as soon as the investor awareness marketing ceases. The investor awareness marketing may be as brief as one day, after which a large decrease in volume and share price may likely occur. This communication is not, and should not be construed to be, an offer to sell or a solicitation of an offer to buy any security. Neither this communication nor the Publisher purport to provide a complete analysis of any company or its financial position. The Publisher is not, and does not purport to be, a broker-dealer or registered investment adviser. This communication is not, and should not be construed to be, personalized investment advice directed to or appropriate for any particular investor. Any investment should be made only after consulting a professional investment advisor and only after reviewing the financial statements and other pertinent corporate information about the company. Further, readers are advised to read and carefully consider the Risk Factors identified and discussed in the advertised company's SEC, SEDAR and/or other government filings. Investing in securities, particularly microcap securities, is speculative and carries a high degree of risk. Past performance does not guarantee future results. This communication is based on information generally available to the public and on an interview conducted with the company's CEO, and does not contain any material, non-public information. The information on which it is based is believed to be reliable. Nevertheless, the Publisher cannot guarantee the accuracy or completeness of the information.
FORWARD LOOKING STATEMENTS.
This publication contains forward- looking statements, including statements regarding expected continual growth of the featured companies and/or industry. The Publisher notes that statements contained herein that look forward in time, which include everything other than historical information, involve risks and uncertainties that may affect the companies' actual results of operations. Factors that could cause actual results to differ include, but are not limited to, the success of the company's operations, the size and growth of the market for the companies' products and services, the companies' ability to fund its capital requirements in the near term and long term, pricing pressures, etc.
INDEMNIFICATION/RELEASE OF LIABILITY.
By reading this communication, you acknowledge that you have read and understand this disclaimer, and further that to the greatest extent permitted under law, you release the Publisher, its affiliates, assigns and successors from any and all liability, damages, and injury from this communication. You further warrant that you are solely responsible for any financial outcome that may come from your investment decisions.
TERMS OF USE.
By reading this communication you agree that you have reviewed and fully agree to the Terms of Use found here https://www.valuethemarkets.com/disclaimer/ If you do not agree to the Terms of Use, please contact ValueTheMarkets.com to discontinue receiving future communications.
INTELLECTUAL PROPERTY.
ValueTheMarkets.com is the Publisher's trademark. All other trademarks used in this communication are the property of their respective trademark holders. The Publisher is not affiliated, connected, or associated with, and is not sponsored, approved, or originated by, the trademark holders unless otherwise stated. No claim is made by the Publisher to any rights in any third-party trademarks.
Author: Daniel Flynn
The Author does not hold any position in the stock(s) and/or financial instrument(s) mentioned in the piece.
MiningMaven Ltd, the owner of MiningMaven.com, does not a position in the stock(s) and/or financial instrument(s) mentioned in the piece.
MiningMaven Ltd, the owner of MiningMaven.com, has been paid for the production of this piece by the company or companies mentioned above.
MiningMaven.com and MiningMaven Ltd are not responsible for the article's content or accuracy and do not share the views of the author. News and research are not recommendations to deal, and investments may fall in value so that you could lose some or all of your investment. Past performance is not an indicator of future performance
Silver Mountain Resources Seeks To Raise $23 Million In TSXV IPO
Mining firm Silver Mountain Resources Inc. is looking to go public on the TSX Venture Exchange. The firm announced today
The post Silver Mountain Resources…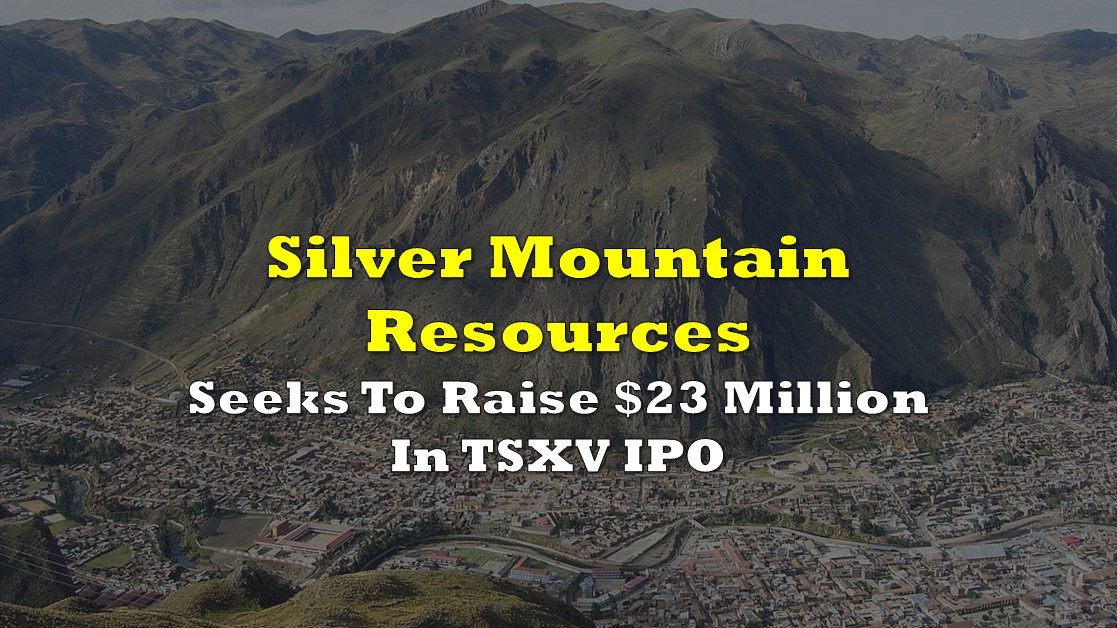 Mining firm Silver Mountain Resources Inc. is looking to go public on the TSX Venture Exchange. The firm announced today that it is seeking to raise a total of $23 million in its initial public offering.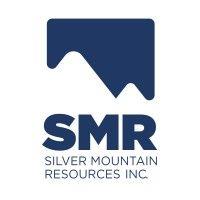 The proposed offering will be conducted through the issuance of 46.0 million company units selling at $0.50 per share. This is an upsize from the original plan of raising $15 million in the IPO. Each company unit will comprise of one common share and one-half purchase warrant, with each whole warrant exercisable to acquire one common share at $0.70 per share within 24 months following the closing.
The offering is being managed by Eight Capital and Sprott Capital Partners leading a syndicate of underwriters, which were given a 30-day overallotment option to purchase additional 6.9 million units at the same IPO price.
The silver miner plans to restart the Reliquias underground mine at the Castrovirreyna project in Huancavelica, Peru.
---
Information for this briefing was found via Sedar and the companies mentioned. The author has no securities or affiliations related to this organization. Not a recommendation to buy or sell. Always do additional research and consult a professional before purchasing a security. The author holds no licenses.
The post Silver Mountain Resources Seeks To Raise $23 Million In TSXV IPO appeared first on the deep dive.
Mandalay Drills 47.7 g/t Gold Over 11.7m at Bjorkdal Property, Sweden
Mandalay Resources Corp. [MND-TSX; MNDJF-OTCQB; R7X-FSE] provided an update on the eastern extension drilling programs…
Mandalay Resources Corp. [MND-TSX; MNDJF-OTCQB; R7X-FSE] provided an update on the eastern extension drilling programs at its 100%-owned Bjorkdal operation in Sweden.
Central Zone Extension infill highlights include 47.7 g/t gold over 11.7 metres (Estimated True Width "ETW" 5.85 m) in drill hole MU21-052, including 1,056.0 g/t over 0.40 metres. Drill hole MU21-047 returned 47.5 g/t gold over 6.4 metres (ETW 4.11 m), including 716.0 g/t over 0.31 metres and 507.0 g/t gold over 0.45 metres (ETW 0.23 m) in hole MU21-051.
Central Zone Extension testing returned 45.5 g/t gold over 2.3 metres (ETW 1.15 m) in hole MU21-028. Hole MU21-029 returned 83.1 g/t gold over 0.4 metres (ETW 0.39 m). Hole MU21-030 returned 8.4 g/t gold over 5.7 metres (ETW 5.35 m) and hole MU21-031 returned 5.1 g/t gold over 8.0 metres (ETW 6.13 m).
At the Central Zone Lake Zone Link, hole MU21-028 returned 13.2 g/t gold over 1.0 metre (ETW 0.94 m). Hole MU21-029 returned 19.3 g/t gold over 0.4 metres (ETW 0.35 m).
Dominic Duffy, President and CEO, commented: "Following the success of the Main and Lake zone extension programs, Mandalay diverted focus to this high potential area. These recent drilling programs have supported the initial finding with some of the best grades seen at Bjorkdal. Predominantly, the intercepts are interpreted to be direct extensions of the Main and Central zone veining, however, the grades recovered from the Central Extension drilling show a distinct upgrading down plunge.
"The increasing grades within the extensions of the Bjorkdal deposit at depth to the east mark a significant development in the multifaceted efforts to lift ore grades produced from the mine and will be a major focus of our production in the years to come. The Main, Lake and Central zones are all open to the north-east and those drilling results are showing higher grades the deeper and further to the east we drill. This is very exciting, and this drilling will continue to be one the primary exploration focuses over the course of 2022.
"As a result of these excellent results, a mining concession application has already been submitted to the relevant authorities in order to extend the mining license holdings to cover this eastward extension of veining."
Since the success of the Lake and Main Zone extension projects, Mandalay has drilled a further 17 holes and 7,253 metres into the eastern extension of the Bjorkdal veining in three programs. These are the Central Zone Extension, Central Zone Conversion and Central to Lake Zone Link drilling programs. Currently, these results have been connected to the continuation of 21 existing veins and 16 new veins have been discovered. Significant grade also sits outside of currently modelled veining and it is expected that additional drilling will improve confidence in structural connections leading to further vein definition. So far, and to varying degrees, the veining has been extended up to 350 metres from current workings.
Kenorland Options Hunter Project to Centerra Gold Inc.
Kenorland Minerals Ltd. (TSXV:KLD) (OTCQX:NWRCF) (FSE:3WQ0) ("Kenorland" or "the Company") is pleased to announce it…
Kenorland Minerals Ltd. (TSXV:KLD) (OTCQX:NWRCF) (FSE:3WQ0) ("Kenorland" or "the Company") is pleased to announce it has entered into a property option agreement (the "Option Agreement") with a wholly owned subsidiary of Centerra Gold Inc. ("Centerra") (TSX: CG and NYSE: CGAU) pursuant to which Kenorland has agreed to grant to Centerra the option to acquire up to a 70% interest in the Hunter property (the "Project"), located within the southern Abitibi Greenstone Belt, in Quebec.
Zach Flood, CEO of Kenorland Minerals states, "We're looking forward to working with Centerra on the Hunter Project and to kick-off another large-scale systematic greenfields exploration initiative in the Abitibi Greenstone Belt.  We believe this prospective region is generally under-explored due to the extensive glacial cover masking the bedrock geology and we look forward to advancing the project towards discovery with our newest partner."
Option Agreement
Pursuant to the Option Agreement, Centerra can earn an initial 51% interest in the Project by incurring an aggregate of $5,000,000 in mineral exploration expenditures on or before the fourth anniversary of the Option Agreement (the "First Option").
Centerra can earn an additional 19% interest in the Project, for an aggregate 70% interest held (the "Second Option"), by completing a technical report in respect of the Project that establishes a mineral resource of at least one million ounces of AuEq prepared in accordance with the requirements of National Instrument 43-101 of the Canadian Securities Administrators on or before the fourth anniversary of the exercise of the First Option, provided that Centerra must provide notice of its intent to exercise the Second Option within 90 days of the exercise of the First Option.
Following the earning of a 70% interest, Centerra and Kenorland will form a joint venture in respect of the Project.  In the event a joint venture participant's interest is diluted to below 10%, it will exchange its joint venture interest for a net smelter returns royalty of 2% on currently unencumbered claims and 1.5% on claims currently encumbered by an existing royalty.
About the Hunter Project
In 2019, the Company acquired the Hunter Project through map staking after completing a comprehensive compilation and review of historical exploration data covering the project area. The property covers 18,177 hectares of mineral tenure over a felsic volcanic complex within the southern Abitibi Greenstone Belt. These felsic-dominant volcanic complexes are highly prospective for syn-volcanic, Au-VMS type systems such as the world-class Horne and LaRonde deposits. The property is dominantly covered by glacial till and lake sediments, resulting in sparse bedrock exposure with very little systematic exploration due to the challenges of exploring through thick glacial sedimentary cover. In early 2020 the company completed 5 sonic drill-for-till holes to confirm the presence of elevated gold anomalism in the glacial till cover identified from historical data compilation. In August 2021, the Company completed a property-wide airborne Versatile Time Domain Electromagnetic (VTEM) geophysical survey aimed to identify potential volcanogenic massive sulphide (VMS) targets for follow-up exploration. A total of 1,104 line-kilometers were flown at a spacing of 200m.
Figure 1. Hunter Project Location
Qualified Person
Mr.  Jan Wozniewski, B. Sc., P. Geo., OGQ (#2239) is the "Qualified Person" under National Instrument 43-101, has reviewed and approved the scientific and technical information in this press release.
About Kenorland Minerals
Kenorland Minerals Ltd. (TSX.V KLD) is a mineral exploration Company incorporated under the laws of the Province of British Columbia and based in Vancouver, British Columbia, Canada. Kenorland's focus is early to advanced stage exploration in North America.  The Company currently holds three projects in Quebec where work is being completed under joint venture and earn-in agreement from third parties. The Frotet Project is held under joint venture with Sumitomo, the Chicobi Project is optioned to Sumitomo, and the Chebistuan Project is optioned to Newmont Corporation. In Ontario, the Company holds the South Uchi Project under an earn-in agreement with a wholly owned subsidiary of Barrick Gold Corporation.  The Company also owns 100% of the advanced stage Tanacross porphyry Cu-Au-Mo project as well as an option to earn up to 70% from Newmont Corporation on the Healy Project, both located in Alaska, USA.
Further information can be found on the Company's website www.kenorlandminerals.com
Cautionary Statement Regarding Forward Looking Statements
This news release contains forward-looking statements and forward-looking information (together, "forward-looking statements") within the meaning of applicable securities laws. All statements, other than statements of historical facts, are forward-looking statements. Generally, forward-looking statements can be identified by the use of terminology such as "plans", "expects', "estimates", "intends", "anticipates", "believes" or variations of such words, or statements that certain actions, events or results "may", "could", "would", "might", "will be taken", "occur" or "be achieved". Forward looking statements involve risks, uncertainties and other factors disclosed under the heading "Risk Factors" and elsewhere in the Company's filings with Canadian securities regulators, that could cause actual results, performance, prospects and opportunities to differ materially from those expressed or implied by such forward-looking statements. Although the Company believes that the assumptions and factors used in preparing these forward-looking statements are reasonable based upon the information currently available to management as of the date hereof, actual results and developments may differ materially from those contemplated by these statements. Readers are therefore cautioned not to place undue reliance on these statements, which only apply as of the date of this news release, and no assurance can be given that such events will occur in the disclosed times frames or at all. Except where required by applicable law, the Company disclaims any intention or obligation to update or revise any forward-looking statement, whether as a result of new information, future events or otherwise.
Neither the TSX Venture Exchange nor its Regulation Services Provider (as that term is defined in the policies of the TSX Venture Exchange) accepts responsibility for the adequacy or accuracy of this release.
tsx
tsxv
tsx venture
nyse
otcqx
gold
tsx-abx
barrick-gold-corporation
barrick gold corporation
tsx-cg
centerra-gold-inc
centerra gold inc
tsx-ngt
newmont-corporation
newmont corporation
tsxv-kld
kenorland-minerals-ltd