September Panning Out As Expected. Is Now the Time to Act?
An uncertain week in the markets has seen asset prices taking hits across the board. The question is whether this is a dip…
Read More…
The post September…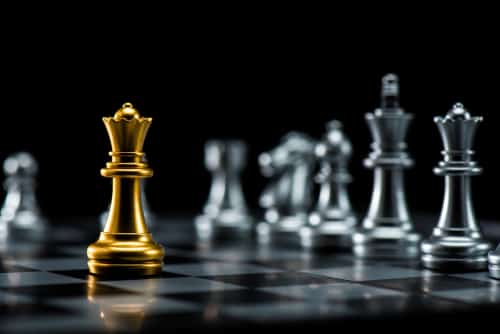 An uncertain week in the markets has seen asset prices taking hits across the board. The question is whether this is a dip to buy and "just" part of the September Effect highlighted by the Forex Traders analyst team on the 2nd of September or the start of something more serious. The market note 'What to expect from the markets in September' raised the risk of a sell-off, but the details of how it came about need to be unravelled by those looking for clues as to whether the worst is over.
Source: ForexTraders
Released on the 3rd of September, the US Non-farm payroll numbers were followed by a market holiday on the sixth of the month in the US. That extra day to digest the jobs data and the state of the markets has had some effect, with the following four trading days all being negative for the major US stock indices. A similar move in forex saw the US dollar gain ground against EUR and GBP, with stock and forex moves appearing to be mainly down to the market pricing in US interest rate rises sooner rather than later. The greenback is sometimes sought out as a safe haven; however, that doesn't appear to have been what drove dollar strength. Gold and bitcoin, which are also seen as positions of last resort, were both also down on the week, 2.03% and 13.9%, respectively.
Covid Fears Haunting the Market
Covid has also played a part in dampening the mood. The return to more normal activity following the summer break appears to have raised fears about the autumn-winter flu season. The extension of the lockdown in Auckland provided clear evidence that even remote, developed economies with stringent controls can't avoid the economic impact of the virus if the calendar is pointing towards the winter months. During the last six months, the successive lockdowns of southern hemisphere nations are a depressing yardstick for the northern hemisphere countries.
The marker trade of long Nasdaq, considered last week as part of the tracking of tech stocks, has certainly done its job. The entry point was 15592, and by Monday morning, the index was trading at 15495. The loss on that virtual position being a reminder that it could still be too early to jump in to take advantage of Nasdaq's recent price slide.

Source: IG
The four negative days have taken price down to the Daily 20 SMA but has held at that critical support. A break of that and the next support is the 50 SMA at the big number 15200 price level.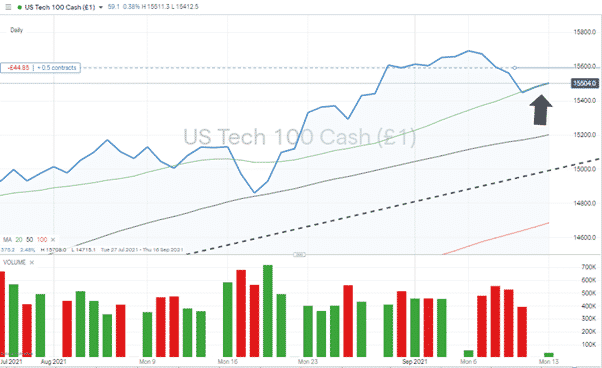 Source: IG
If you want to know more about this topic, please contact us at editorial@forextraders.com
The post September Panning Out As Expected. Is Now the Time to Act? appeared first on Forextraders.com.
nasdaq
gold
Toshiba, Sojitz and CBMM partner to commercialize next-generation Li-ion batteries with NTO anodes
Toshiba Corporation, Sojitz Corporation, and CBMM have entered into a joint development agreement for the commercialization of next generation lithium-ion…
Toshiba Corporation, Sojitz Corporation, and CBMM have entered into a joint development agreement for the commercialization of next generation lithium-ion batteries using niobium titanium oxide (NTO) as the anode material.
One of the major requirements for rechargeable battery development is greater energy density and faster charging. NTO has twice the theoretical volume density of the graphite-based anode generally used in lithium-ion batteries. In June 2018, the three companies entered into a joint agreement to develop NTO's potential as an anode material.
This work, led by Toshiba's Corporate Research & Development Center, has reached fruition with the development of prototype cells, and the companies have now agreed to extend collaboration for accelerating development of mass production processes and the early commercialization of next-generation lithium-ion batteries.
Prototype cell & Niobium Titanium Oxide (NTO)
---
The three companies aim to commercialize high energy density, quick charging batteries in FY2023, mainly targeting application in commercial e-vehicles. CBMM has contracted with Volkswagen Caminhões e Ônibus, a pioneer in the development and serial production of electric trucks in Latin America, to mature this technology further in real application. Toshiba and Sojitz will support this project.
The NTO battery will be installed on new electric vehicle designed by Volkswagen Caminhões e Ônibus as a pilot project and parties will collect the valuable vehicle operation data.
Niobium (Nb), one of the metallic elements, is an important additive in the production of high-grade steel alloys, including high-tensile and stainless steel, and its ability to enhance strength while reducing weight has made it indispensable for automotive applications. Brazil-based CBMM is the world's leading producer of niobium and is well-known for its strong technology and product development programs.
As CBMM's shareholder and distribution agent in the Japanese market, Sojitz has cultivated the knowledge and capabilities needed to establish a stable supply system and assist in the development of different applications for niobium.
Towards commercialization, Toshiba aims to secure stable supply of niobium materials from CBMM and Sojitz, and the three companies will target to gain market share in the rapidly expanding secondary battery market by utilizing CBMM and Sojitz's global network.
aim
lithium
titanium
niobium
batteries
graphite
electric vehicle
li-ion
steel
Your cash will lose at least 5% of its purchasing power in the next year
Earlier this week, Fed Chair Jerome Powell announced that the real yield on dollar cash and cash equivalents is likely to be -5% or less over the next…
Earlier this week, Fed Chair Jerome Powell announced that the real yield on dollar cash and cash equivalents is likely to be -5% or less over the next 12 months. Yes, your cash balances will lose at least 5% of their purchasing power over the next year, and that's virtually guaranteed. So what are you—and others—going to do about it?
Assumptions: This forecast of mine optimistically assumes that 1) the first Fed rate hike of 25 bps comes, as the market now expects, about a year from now, and 2) the rate of inflation slows over the next 12 months to 5% from its year-to-date rate of 5.9%. Personally, I think inflation next year likely will be higher, if only because of the delayed effect of soaring home prices on Owner's Equivalent Rent (about one-third of the CPI), the recent end of the eviction moratorium on rents, and the continued, unprecedented expansion of the M2 money supply.
I'm a supply-sider, and that means I believe in the power of incentives. Tax something less and you will get more of it. Tax something more and you will get less of it. Erode the value of the dollar at a 5% annual rate and people will almost certainly want to hold fewer dollars than they do today.
I'm also a monetarist, and that means I believe that if the supply of dollars (e.g., M2) increases by more than the demand for dollars, higher inflation will be the result. We've already seen this play out over the past year: the M2 money supply has grown by more than 25% (by far an all-time record) and inflation has accelerated from less than 2% to 6-8%. Massive fiscal deficits have played an important role in this, but so has an accommodative Fed. Between the Fed and the banking system, 3 to 4 trillion dollars of extra cash were created over the past 18 months. At first that was necessary to supply the huge demand for cash the followed in the wake of the Covid shutdowns. But now that things are returning to normal, people don't need or want that much cash. Yet the Fed continues to expand its balance sheet, and they won't finish "tapering" their purchases of notes and bonds until the middle of next year. That means that there will be trillions of dollars of cash sitting in retail bank accounts (checking, demand deposits and savings accounts) that people will be trying to unload.
If we're lucky, the inept and feckless Biden administration will be unable to pass its $1.5 trillion infrastructure and $3.5 trillion reconciliation bills in the next several weeks. This will lessen the pressure on the Fed to remain accommodative, but it's not clear at all whether it will encourage the Fed to reverse course before we have a huge inflation problem on our hands. Non-supply-siders (like Powell) view an additional $5 trillion of deficit-financed spending as an unalloyed stimulus for the economy. Supply-siders view it as a virtually guaranteed way to increase government control over the economy and thereby destroy growth incentives and productivity.
Amidst all this potential gloom, there are some very encouraging signs, believe it or not. Chief among them: household net worth has soared to a new high in nominal, real, and per capita terms. Also, believe it or not, the soaring federal debt has not outpaced the rise in the wealth of the private sector. See the following charts for more details:
Chart #1
Chart #1 is a reminder of just how low today's interest rates are relative to inflation. Terribly low! In normal times, a 4-5% inflation rate would call for 5-yr Treasury yields to be at least 4-5%. yet today they are not even 1%. The incentives this creates are pernicious: holding cash and/or Treasuries implies steep losses in terms of purchasing power. That in turn erodes the demand for cash and that fuels more spending and higher inflation.
Chart #2 shows the growth of the non-currency portion of M2 (currency today is about 10% of M2). Currency in circulation—currently about $2.1 trillion—is not an inflation threat, because no one holds currency that they don't want. The rest of M2, just over $18 trillion, is held by the public (not institutions) in banks, in the form of checking, savings, and various types of demand deposits. For many, many years M2 has grown at an annual rate of 6-7%. But beginning in March of last year, M2 growth broke all prior growth records. As the chart suggests, the non-currency portion of M2 is about 25% higher than it would have been had historical trends persisted. That means there is almost $4 trillion of "extra" money in the nation's banks. This extra money has been created by the same banks that are holding it: banks, it should be noted, are the only ones that can create cash money. The Fed can only create bank reserves, which banks must hold to collateralize their deposits. Today banks hold far more reserves than they need, so that means they have a virtually unlimited ability to create more deposits. And they have been very busy doing this over the past 18 months. 
For most of the past year I have been predicting that this huge expansion of the money supply would result in rising inflation, and so far that looks exactly like what has happened. People don't need to hold so much of their wealth in the form of cash, so they are trying to spend it. But if the Fed and the banks don't take steps to reduce the amount of cash, then the public's attempts to get rid of unwanted cash can only result in higher prices, and perhaps some extra spending-related growth. It's a classic case of too much money chasing too few goods and services. And Fed Chair Powell has just added some incentives for people to try to reduce their cash balances. He's fanning the flames of inflation at a time when there is plenty of dry fuel lying around.
Now for some good news. Chart #3 shows the evolution of household balance sheets in the form of four major categories. The one thing that is not soaring is debt, which has increased by a mere 20% since just prior to the 2008-09 Great Recession. 
With private sector debt having grown far less than total assets, households' leverage has declined by 45% from its all-time peak in mid-2008. The public hasn't had such a healthy balance sheet since the early 1970s (which was about the time that inflation started accelerating). Hmmm....
In inflation-adjusted terms, household net worth is at another all-time high: $142 trillion. 
On a per capita and inflation-adjusted basis, the story is the same (see Chart #6). We've never been richer as a society.
Total federal debt owed to the public is now about $22 trillion, or about the same as annual GDP. It hasn't been that high since WWII. So it's amazing that, as Chart #8 shows, federal debt has not exploded relative to the net worth of the private sector. As I've shown in previous posts, the burden of all that debt is historically quite low, thanks to extraordinarily low interest rates. 
Chart #8 adds some color to my prior post, "
What's wrong with gold?
" What it suggests is that gold prices are weak today because the market is anticipating higher short-term interest rates. The red line shows the yield on 3-yr forward Eurodollar futures contracts (inverted), which is a good proxy for where the market thinks the federal funds rate will be in three years' time. Gold peaked when forward interest rate expectations were at an all-time low. Why? Because super-low interest rates pose the risk of higher inflation. With the Fed now talking about raising rates (albeit sometime next year, and very slowly thereafter), gold doesn't make as much sense because forward-looking investors are judging the risk of future inflation to be somewhat less than it was a few years ago.
dollar
gold
inflation
money supply
interest rates
fed
ax
Commodities and Cryptos: Oil's path higher, Gold turns positive, China's Bitcoin blow
Oil Crude prices continue to climb higher as both short-term supply and demand fundamentals suggest the oil market will remain tight throughout the winter. …
Oil
Crude prices continue to climb higher as both short-term supply and demand fundamentals suggest the oil market will remain tight throughout the winter.  The crude demand outlook is turning very upbeat as some scientist's models predict a steady decline in COVID cases through March.  Holiday bookings will continue to pick up, supporting jet fuel demand and a trucking demand crisis will likely mean diesel demand will remain very strong.
A cherry on top for the bullish outlook is that low natural gas inventories and a cold winter for the northern hemisphere could mean added demand for crude as an alternative energy source.  Today's rally in crude prices is impressive as it has been a steady climb higher this week, alongside a strengthening dollar that normally dampens appeal for commodities.   Oil prices have one direction to go for the remainder of the year and that is higher.
Before the New York open, WTI crude softened after Iranian Foreign Minister Hossein Amirabdollahian said Iran nuclear deal talks will resume soon.  Expectations for sanction relief for Iran have diminished since Iran's inauguration day.  Negotiations will be a long drawn-out process that will likely require compliance before the US gives any sanction relief.  Extra Iranian barrels of crude seem unlikely to be a 2021 story.
Gold
Gold prices turned positive after Evergrande's woes extended beyond China.  US Evergrande investors reportedly have not yet received interest payments and the China Evergrande New Energy Vehicle Group Ltd has a serious shortage of funds.  It looks like China won't save Evergrande but will try to contain any systemic risks, which should lead to some safe-haven flows for bullion.
Gold has been battling against a stronger dollar that stemmed from surging Treasury yields post-Fed.  Gold is in a very tough spot and volatility will remain elevated with the risks remaining to the downside.  The US growth story will continue to improve if COVID modelers are right about a steady decline in COVID cases through March.  If Evergrande's fallout is contained over the weekend, gold could be vulnerable for a test of the $1700 level.
Bitcoin
Bitcoin was dealt a major blow after China's central bank said all cryptocurrency transactions are illegal and must be banned.  Bitcoin initially fell over 5% and the other top coins dropped around 10%.   Overseas exchanges that offer Chinese residents services are illegal, also taking aim at Chinese nationals who work at those exchanges are at risk of an investigation.  Bitcoin, Ethereum, and Tether were specifically named as cryptos that can't circulate in China.
Beijing withheld banning possession of cryptocurrencies, which would have dealt a massive blow to the entire crypto space.  A banning of possession of cryptos probably would have sent everything crypto 20% lower.  If you are a Chinese crypto holder, you might be deciding now is the time to cash out.  Three years ago, crypto was heavily centralized in China, with over two-thirds of the mining happening there.  If Chinese crypto holders fear a 'possession ban' is looming, a tremendous amount of selling from old wallets may occur.
Bitcoin remains extremely vulnerable on the break of the $38,000 level, which could trigger momentum selling to the $35,000 level.
aim
gold