Teck Gets Boost From Coal – Q3 Earnings More Than Tripled
Teck Resources Ltd. (TECK.B-TSX, TECK.A-TSX, TECK-NYSE) said earnings more than tripled in the third quarter…
Teck Resources Ltd. (TECK.B-TSX, TECK.A-TSX, TECK-NYSE) said earnings more than tripled in the third quarter of 2021, thanks to an "extremely favourable commodity price environment – particularly for steelmaking coal."
"Heading into the fourth quarter, we are focused on continuing to optimize sales and production to capitalize on high commodity prices and advancing our priority QB2 project,'' said Teck President and CEO Don Lindsay.
The company said adjusted EBITDA (earnings before interest, tax and depreciation) was a record $2.1 billion in the third quarter, more than triple the same period last year. Profit attributable to shareholders was $816 million or $1.53 per share and adjusted profit attributable to shareholders was $1.0 billion or $1.91 per share in the third quarter, more than seven times higher than the same period last year.
Realized copper, zinc and steelmaking coal prices were US$4.25 per pound, US$1.38 per pound and US$277 per tonne respectively in the months of September (2021). As a result, Teck said its EBITDA for the month of September contributed approximately half of its adjusted EBITDA in the third quarter.
Sales of steelmaking coal were 5.9 million tonnes in the third quarter, with approximately 1.9 million tonnes or 32% sold to China significantly above FOB Australia prices. The FOB Australia price increased sharply in the latter half of the second quarter and continued to increase to unprecedented levels through the third quarter.
It is worth noting that these developments follow recent speculation that Teck was planning to unload its coal operations and increase the emphasis on copper production.
They also follow recent revisions to the company's 2021 coal and zinc production forecasts. The revisions were driven by the impact of British Columbia wildfires and increased absenteeism associated with COVID-19 protocols.
Annual coal production is expected to be at the lower end of the annual guidance range of 25.0-26.0 million tonnes.
Due to the impact of wildfires, Teck trimmed its 2021 refined zinc production at the Trail, B.C. smelting operation by 3.0% and warned that copper sales at the Highland Valley operation, also in B.C., are unlikely to catch up to output due to logistical disruptions.
Meanwhile, the company has said it continues to makes solid progress at the Quebrada Blanca Phase 2 (QB2) copper project in Chile.
"Overall progress on our QB2 project is now past the two-thirds mark and we continue to expect first production in the second half of 2022,'' Teck said.
QB2 is essentially as continuation of the existing Quebrada Blanca open pit operation, which is located in the Tarapaca Region of northern Chile, and is expected to produce up to 8,000 tonnes of cathode copper this year.
The copper growth from QB2 will, over time, help to balance Teck's portfolio so that the contribution from the company's copper business could be similar to its steelmaking coal business.
On October 26, 2021, Teck's Class B common shares closed at $34.95. The shares are currently trading in a 52-week range of $37.00 and $15.81.
The Mining Tech That Could Accelerate The EV Boom
Thanks to a potentially disruptive new technology, a revolution could be on the horizon in the lithium industry.This revolution – which could see lithium…
Thanks to a potentially disruptive new technology, a revolution could be on the horizon in the lithium industry.
This revolution – which could see lithium production that is faster, cheaper and more environmentally friendly – would be happening at a time when demand for lithium is extraordinarily high.
With its proprietary lithium extraction technology, this company could unlock a significant amount of potential dollar value…possibly starting with their lithium exploration properties in Thunder Bay, Ontario and James Bay, Quebec.
This company – Vancouver-based Medaro Mining (CSE:MEDA; OTC:MEDAF)  – is currently flying beneath Wall Street's radar…but the exciting potential of its lithium extraction technology means that it may not be the case for much longer.
Global Shift to Lithium Batteries Triggers Continued Strong Demand for Lithium…for Years to Come
Lithium is now in what appears to be a long-term bull market thanks to increasing global demand.
It has become a necessary component in everything from cell phones to electric vehicles. And massive industries all around the world are transitioning to lithium batteries simultaneously.
This historic shift to lithium batteries could make continued strong demand a virtual certainty.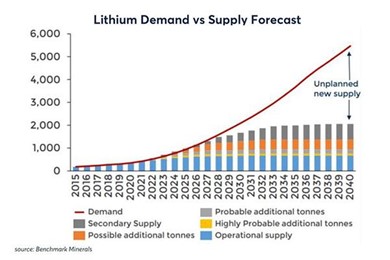 In fact, the experts at Macquarie Group Limited have stated that, "the lithium market is likely to be in a perpetual deficit. As a result, lithium prices are expected to continue to rise."
And this forecast was echoed by Credit Suisse who said, "Lithium prices have risen sharply since February and we do not believe it is temporary."
Credit Suisse went on to predict that lithium demand might triple by 2025 from 2020 levels.
This red-hot bull market for lithium – along with the expected strong demand for years to come – may create exciting opportunities for investors.
One opportunity comes in the form of little-known Medaro Mining (CSE:MEDA; OTC:MEDAF), a company that is looking to develop a proprietary lithium extraction technology that may turn out to have great industry potential.
If Developed and Commercialized, Medaro's Unique New Technology Could Prove to Be an Industry Game-Changer
One thing many investors aren't aware of is that lithium is not a rare metal; in fact, it's the 25th most abundant element in the Earth's crust.
The problem is, however, that lithium has historically been difficult to get out of the ground.
For decades, lithium producers have been using the same outdated, inefficient, and environmentally harmful extraction methods…and only with a modest degree of success.
But Medaro could change this in a powerful way.
Medaro is working to develop a proprietary lithium extraction technology that could be faster, cheaper, more environmentally friendly, and more effective than any previous method for extracting lithium.
Lithium, of course, can be extracted from one of only two sources: brines or hard rock.
In the case of brine-sourced lithium, production typically happens in remote desert locations via a brining method that involves costly, harmful chemicals…and waiting for pools of salt water to evaporate. Once the salt water has dried up, concentrated lithium deposits are left behind.
That process can take years – with average production time running 18 months – so exploration companies that are discovering new supplies of lithium, in most cases, are very slow to bring those new supplies to market.
Medaro's process offers the prospect of cutting that production time significantly – and potentially bringing supplies to market much faster – as it looks to pioneer a potentially game-changing extraction technology.
Traditional Lithium Extraction: Brine vs. Hard Rock

Medaro Mining (CSE:MEDA; OTC:MEDAF) is employing a new process, known as Hard Rock Lithium Technology (HLT), aimed to be demonstrably faster than brine extraction…and significantly less expensive than traditional hard rock mining.
Medaro's thermochemical technology is designed to rapidly extract lithium from spodumene and convert it to high-purity lithium carbonate and/or lithium hydroxide…and/or lithium metal.
In addition, value-added commodity by-products can be produced including aluminum oxide and high-quality silica.
This method is compact…modular… scalable…and amendable to deployment in remote geographic locations.
 A preliminary technical and economic analysis conducted by the company's joint venture partner indicates that this Hard Rock Lithium Technology is likely capable of lowering overall spodumene processing costs by 30% to 50%.
Potential Benefits of Medaro Mining Corp.'s Hard Rock Lithium Technology (HLT)
* Could produce virtually zero waste
* Could be more environmentally friendly as dual closed loop ensures solvents, leachates and precipitants are continually recycled
* Could involve lower reagent cost, lower resupply cost, no cleanup cost
* Clean and Green: The entire process could be operated electrically
* Expected to produce commercial grades and quantities of Alumina and Silica for added value sales
* The entire operation can be assembled in remote areas close to productive mines, helping reduce shipping costs
* Medaro intends to patent and license the technology to derive potential multiple, long-term revenue generation
* Could offer potential savings of between 30% and 50% compared to traditional lithium processing operations
Initial studies of this HLT predict that every tonne of concentrated spodumene could potentially deliver almost 1/5 of a tonne of Lithium Carbonate and approximately ¼ tonne of Lithium Hydroxide ready for market at battery grades.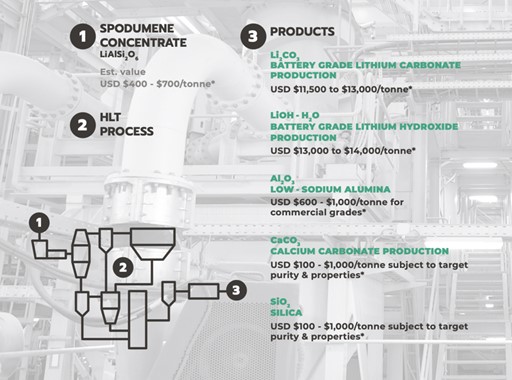 And assuming the technology is proven and commercialized, customers might be able to situate Medaro-licensed processing facilities adjacent to their mines…allowing for faster and more cost-effective shipment of battery-grade lithium and valuable by-products directly to end-use markets.
A company that intends to offer the potential for producing higher-grade lithium more quickly – at a time when entire industries are in desperate need of it – could in our view prove to be truly disruptive…possibly even changing the industry in a huge way forever.
Simply put…solving the problem of slow, expensive, and outdated extraction techniques in the lithium industry could be worth hundreds of billions of dollars.
Assuming the technology can be proved out, it is precisely why we think this company – Medaro (CSE:MEDA; OTC:MEDAF) – is unlikely to fly under Wall Street's radar for much longer…the potential is just too exciting.
Two Large Exploration Properties in the Heart of Canada's Lithium Discovery Belt
In addition to its unique extraction technology, Medaro also has a pair of large exploration projects which we think have exciting potential.
These projects could not only offer significant lithium resources…they might also serve as the proving grounds for the effectiveness of the company's Hard Rock Lithium Technology.
Property #1: Cyr South Lithium Project
Medaro has acquired an option on the Cyr South Lithium Property which consists of 52 mining claims covering approximately 2,748 hectares in the James Bay area of Quebec.
The property is located just 3 kilometers to the south of Galaxy Resources' James Bay Lithium Project…a source of roughly 40.8 million tonnes of lithium.
Geologically, the property is located in the Archean Lower- Eastmain Group, constituted of volcano-sedimentary formational units and ultramafic to felsic intrusives.
The geological reports of the area indicate that pegmatite dykes generally strike WSW-ENE with dips of 60 degrees or steeper.
Property #2: Superb Lake Lithium Project
The town of Thunder Bay, located about 375 kilometers from Medaro's Superb Lake Project is the largest city in Northwestern Ontario. It's the heart of the highly active exploration and mine operations throughout the region.
Many junior exploration and mining companies are based in Thunder Bay, and the city is a source of skilled mining labor.
The Superb Lake Property is an exploration stage prospect consisting of eight mining claims totaling approximately 2,187 hectares in the O'Sullivan Lake / Maun Lake Area.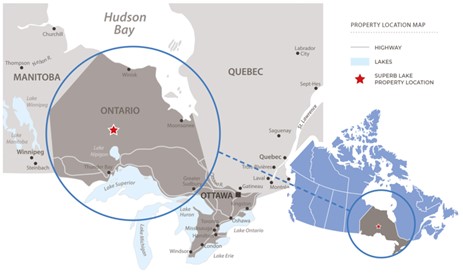 The results of four samples taken from spodumene-rich samples on the property indicate lithium oxide (Li2O) values in the range of 1.77 percent (%) to 4.03%.
Bottom Line: We Think Medaro Mining (CSE:MEDA; OTC:MEDAF) Could One Day Change Lithium Extraction Forever
* The lithium market is in the early stages of a long-term growth phase, thanks to the global shift to lithium batteries. Experts are predicting that demand for lithium could triple by 2025.
* Traditional sources of lithium extraction have proven to be slow, expensive, and environmentally harmful in many cases. Now Medaro Mining Corp. could bring to market a new extraction method that we think could bring significant disruption to the lithium industry.
* The company's Hard Rock Lithium Technology (HLT) could potentially cut production time significantly…slash production costs by as much as 50%…produce valuable by-products…and be much more environmentally friendly than traditional extraction methods.
* Solving the problems of the slow, expensive and outdated extraction techniques that have held back the lithium industry could bring substantial rewards…and that's why, if their technology is proved out and commercialized, we think Medaro could receive a great deal of attention.
* In addition to its potentially game-changing technology, Medaro has a pair of exciting exploration properties – including one that sits just 3 kilometers south of a major lithium source consisting of over 40 million tonnes.
* Both of Medaro's lithium exploration projects are located in mining-friendly regions that possess excellent infrastructure… access to a skilled, experienced labor force… and inexpensive nearby hydroelectric power.
Other companies to watch as lithium prices continue to surge:
Blackberry Limited (NYSE:BB, TSX:BB) is a company that is distinctly aware of how important lithium is to the future of technology. While it has pivoted away from its iconic cell phones of yesteryear, it is still very much involved in the industry. From its high-profile partnerships with the likes of Amazon and more, to its key posturing in the Internet of Things explosion, BlackBerry is a great stock that could be trading at a relative discount compared to some of its peers.
BlackBerry recently launched a new research and development arm called BlackBerry Advvanced Technology Labs. Charles Eagan, BlackBerry CTO. "Today's cybersecurity industry is rapidly advancing and BlackBerry Labs will operate as its own business unit solely focused on innovating and developing the technologies of tomorrow that will be necessary for our sustained competitive success, from A to Z; Artificial Intelligence to Zero-Trust environments.
Though BlackBerry has seen some increased volatility in recent weeks due to its popularity among Redditors, the company has a lot of potential in the long term, and will likely remain as one of Canada's premiere tech firms for years to come. 
Turquoise Hill Resources Ltd. (NYSE:TRQ, TSX:TRQ) is a key player in Canada's resource and mineral industry. It is a major producer of coal and zinc, two resources with distinctly different futures. While headlines are already touting the end of coal, zinc is a mineral that will play a key role in the future of energy for years and years to come.
In addition to its zinc operations, Turquoise Hill is also a significant producer of Uranium. Uranium is a key material in the production of nuclear energy, which many analysts are suggesting could be a major component in the global transition to cleaner energy. While the mineral has not seen significant price action in recent years, there are a number of new projects set to come online across the globe in the medium term, which could be a boon to Turquoise Hill, especially as alternative energies gain traction in the marketplace. 
Orocobre (TSX:ORL) has had some serious problems in the past, and its stock price has fallen significantly from January 2018 highs. The company's flagship project is the Salar de Olaroz lithium project located in the Jujuy province of northern Argentina.  
Despite the fact that EV makers are using some 76% more lithium to produce battery packs this year, Orocobre's CEO Perez de Solay voiced concern about price volatility and with it the increasing difficulty to find financing for new products.
Magna International (TSX:MG) was already making major moves in the battery market over a decade ago, investing over half a billion dollars in battery production while the market was still in its infancy. At the time, electric vehicles as we know them had barely hit the scene, with Tesla launching its premiere car just two years prior.
Magna's massive investment has paid if in a big way, however. Since its battery bet, the company has seen its valuation soar by tens of billions of dollars, and it has solidified itself as one of the leaders in the business.
The Descartes Systems Group Inc. (TSX:DSG) is a Canadian multinational technology company specializing in logistics software, supply chain management software, and cloud-based services for logistics businesses. Recently, Descartes announced that it has successfully deployed its advanced capacity matching solution, Descartes MacroPoint Capacity Matching. The solution provides greater visibility and transparency within their network of carriers and brokers. This move could solidify the company as a key player in transportation logistics which is essential-and-often-overlooked in the mitigation of rising carbon emissions.
By. Tom Kool
**IMPORTANT! BY READING OUR CONTENT YOU EXPLICITLY AGREE TO THE FOLLOWING. PLEASE READ CAREFULLY**
This news release contains certain forward-looking statements within the meaning of applicable securities laws. All statements that are not historical facts, including without limitation, statements regarding future estimates, plans, programs, forecasts, projections, objectives, assumptions, expectations or beliefs of future performance, are forward-looking statements. Forward-looking statements in this material include the Medaro Mining Corp. (the "Company") joint venture (JV) with Global Lithium Extraction Technologies Inc. to develop a proprietary method of lithium extraction; that the Company will succeed in the development and commercialization of the proprietary technology to extract lithium which is highly cost effective, efficient and clean; that the Company will be able to earn its option to acquire ownership in its lithium projects; that the Company's lithium projects will have commercial amounts of lithium which may be extracted and developed using its proposed technology or otherwise; that the market for lithium will continue to grow to billions of dollars; that the Company will be able to produce sufficient quantities of lithium to supply major contracts worldwide or be otherwise able to commercialize its business; that the Company's JV will be able to develop, commercialize and license the technology on a global scale; that the technology will be able reduce extraction costs by up to 50%; that the technology will be implemented in remote areas close to productive mines; that the Company will design processing facilities for lithium extraction using the technology developed by the JV; that the technology will be able to extract commercial amounts of lithium; that the Company will be able to earn its option to acquire ownership in its uranium project; that the Company's uranium project will have commercial amounts of uranium which may be developed; . Forward-looking statements are subject to a number of risks and uncertainties, which may cause actual outcomes to differ materially from those discussed in the forward-looking statements. Risks that could change or prevent these statements from coming to fruition include that the Company's JV may be unable to successfully develop a proprietary method of lithium extraction; that the Company may be unsuccessful in the development of its proposed technology, or even if developed, that the Company may be unable to commercialize the technology or otherwise be able to extract lithium by a method which is cost effective, efficient or clean; that the Company may fail to be able to develop lithium extraction facilities or to license its technology; that the Company may fail to fulfill its obligations under its option agreements in respect of its lithium and uranium projects and be unable to acquire ownership in the properties; that the Company's lithium and uranium projects may be fail to have any or sufficient commercially viable amounts of lithium or uranium which may be extracted and/or developed; that the market for lithium may not grow as quickly or as much as anticipated; that the Company may not be able to finance its intended development of technology and/or the maintenance/development of its lithium and uranium properties; competitors may offer cheaper or better products; markets don't develop for the products as expected; intellectual property rights may not protect the Company's processes and the Company's technology may infringe on the intellectual property of others; and the Company may not be able to carry out its business plans as expected. The forward-looking information contained herein is given as of the date hereof and the writer assumes no responsibility to update or revise such information to reflect new events or circumstances, except as required by law.
DISCLAIMERS 
ADVERTISEMENT. This communication is for entertainment purposes only. Never invest purely based on our communication. Oilprice.com, Advanced Media Solutions Ltd, and their owners, managers, employees, and assigns (collectively, "Oilprice.com") are being paid ninety thousand USD for this article as part of a larger marketing campaign for CSE:MEDA. This compensation is a major conflict with our ability to be unbiased. This communication is for entertainment purposes only. Never invest purely based on our communication. The information in this report and on our website has not been independently verified and is not guaranteed to be correct.
SHARE OWNERSHIP. The owner of Oilprice.com owns shares of this featured company and therefore has an additional incentive to see the featured company's stock perform well. The owner of Oilprice.com will not notify the market when it decides to buy more or sell shares of this issuer in the market. The owner of Oilprice.com will be buying and selling shares of this issuer for its own profit. This is why we stress that you conduct extensive due diligence as well as seek the advice of your financial advisor or a registered broker-dealer before investing in any securities.  
NOT AN INVESTMENT ADVISOR. The Company is not registered or licensed by any governing body in any jurisdiction to give investing advice or provide investment recommendation. 
ALWAYS DO YOUR OWN RESEARCH and consult with a licensed investment professional before making an investment. This communication should not be used as a basis for making any investment. 
RISK OF INVESTING. Investing is inherently risky. Don't trade with money you can't afford to lose. This is neither a solicitation nor an offer to Buy/Sell securities. No representation is being made that any stock acquisition will or is likely to achieve profits.
tsx
cse
nyse
otc
lithium
uranium
zinc
aluminum
tsx-orl
orocobre-limited
tsx-trq
turquoise-hill-resources-ltd
cse-meda
medaro-mining-corp
PEI Connect: Nuclear power supports quantum computing
We explore how Helium-3, a by-product of nuclear power generation, can support quantum computing and other applications.
The post PEI Connect: Nuclear…
PEi Connect provides a brief look at what got our attention during the week (2-9 Dec) and first up we consider a story about how Helium-3, a by-product of nuclear power generation, can support quantum computing and other applications.
Beyond scientific frontiers
Canada's Darlington Nuclear Generating Station is using a new tool to extract Helium-3 from stored tritium.
Helium-3 is a rare but stable isotope with unique physical properties that make it suitable for use in a range of applications, notably quantum computing with its requirement for an ultracold operating environment close to absolute zero (-273°C). Read more about this innovative project.
Is rooftop hydrogen a thing?
Even though it might be a good few years away, scientists have suggested that rooftop hydrogen generated by small-scale electrolysers is not only feasible but holds great potential to decarbonise energy.
An interesting article by M. Ramesh for The Hindu Business Line delves into how India might benefit from an alternative to rooftop solar and expensive battery storage and unpacks the promise of emergent technologies that could change the face of electrolysis in the near future. Read more.
Pufferfish or photovoltaics
German engineering firm Schlaich Bergermann Partner has installed a floating PV system in Hungary that is designed to inflate like pufferfish.
The floats consist of air-filled membrane tubes and internal pressure of the tubes can be adapted according to the site and environmental conditions. The project has been named Gömbhal, Hungarian for pufferfish, and has been hailed as the first bifacial floating PV system. Read more.
Earth's Black Box
Scientists and artists in Australia plan to build an indestructible black box to store data recording how the world dealt with climate change.
Based on the concept of a black box flight data recorder, the idea behind its creation is to ensure a record of all our efforts to combat climate change, as well as hold leaders accountable for their actions.
The 10-metre-long steel monolith will be based in Tasmania. It's designed to withstand natural disasters and will be powered by solar and thermal energy.
Elon Musk's take on nuclear
And it seems Musk isn't alone in his pro-nuclear sentiments. Surprisingly, a recent survey conducted by YouGov shows a slight majority of respondents from Germany are open to nuclear as an option to decrease greenhouse gas emissions.
Germany took a firm stance against nuclear power in the wake of the Fukushima disaster in Japan, however, locals are warming to the power source as Europe prioritises the fight against climate change.
According to the survey, 22% said nuclear power is "very important" in the fight against global warming and should be given equal weight to renewables. View the survey findings.
Connect with us next week for another selection of interesting sector news.
Until then, take care, stay safe and power on.
The PEi Ed team ????
The post PEI Connect: Nuclear power supports quantum computing appeared first on Power Engineering International.
Monsters of Rock: Hydrogen an investor gold mine, actual gold looks 'asthmatic'
The Materials sector – comprising mostly large and mid-cap miners – edged lower today but preserves a healthy +6% gain … Read More
The post Monsters…
The Materials sector – comprising mostly large and mid-cap miners – edged lower today but preserves a healthy +6% gain over the past month.
The iron ore miners fell marginally – sans FMG – despite the steelmaking ingredient's move above $US110/t over the last few days.
The day was dominated by mid-cap Vulcan Energy (ASX:VUL) which announced a binding lithium offtake deal with behemoth Volkswagen Group — the world's largest automaker by revenue and the largest company in Germany.
Hydrogen remains an investor gold mine
FMG's (ASX:FMG) positive move (1.5%) may have been hydrogen related.
It's renewable energy arm, Fortescue Future Industries (FFI), has formed a JV with domestic utility AGL Energy to look at  converting two coal-fired power plants to produce hydrogen.
FFI is looking to repurpose infrastructure at the 1,680MW Liddell power station in the Hunter Valley region of NSW — earmarked to fully close by April 2023 — along with the 2,640MW Bayswater power station that is forecast to close by 2036.
Initial renewable electricity production through new wind and solar capacity could be 250MW, generating 30,000 t/yr of green hydrogen at a Hunter Energy Hub, FFI said.
Meanwhile, global commodities trading firm Trafigura has announced plans to build an ammonia and hydrogen plant at Port Pirie in South Australia with an initial production capacity of 20 t/d of green ammonia for export by 2025.
Trafigura plans to make a final investment decision by the end of next year, with construction starting in 2023.
…while actual gold looks 'asthmatic'
Gold also edged higher to $US1,786/oz ($2,490/oz Aussie) with the big miners Kirkland Lake (ASX:KLA), and Newcrest (ASX:NCM) responding in kind.
Australia's biggest gold miner NCM – which is making substantial profits at current prices — is down 5.65% over the past month and 12.81% year-to-date.

Jeffrey Halley Senior Market Analyst, Asia Pacific, OANDA says golds "asthmatic" attempt to rise overnight "is a warning that bullishness is very fragile and that selling will resume at the first sign of trouble".
"The downside continues to be very clearly, the path of least resistance," he says.
"In the bigger picture, gold still looks confined to a US$1,770.00 to US$1,800.00 range this week, unable to sustain momentum above or below those levels."
"The 50,100 and 200-day moving averages (DMAs), clustered between US$1,790.30 and US$1,795.50 are capping gains."
"$1800.00 and $1810.00 will prove equally formidable. Support lies at US$1,770.00 and US$1,760.00."
The post Monsters of Rock: Hydrogen an investor gold mine, actual gold looks 'asthmatic' appeared first on Stockhead.