Top 5 Weekly TSXV Mining & Exploration Stocks: Grande Portage Up 40%
The top-gaining TSXV stocks last week were Laurion Mineral Exploration, Grande Portage, Noram Ventures, Wealth Minerals and Vanadium One Iron.
The post 5 Top Weekly TSXV Stocks: Grande Portage Rises Over 40 Percent appeared first on Investing News Ne…
This article was originally published by Investing News.
The S&P/TSX Venture Composite Index (INDEXTSI:JX) was fairly flat last week, but overall trended down, opening the five day period at 948.66 and closing at 930.22. 
Palladium was the star in the commodities space last week, hitting a new all-time high. Precious metals gold and silver also moved higher, while base metals were more muted.
The Bank of Canada surprised market watchers mid-week when it hinted that interest rates may rise sooner than expected and started reducing bond purchases. According to the Financial Post, that makes Canada the first major economy to signal its intent to reduce emergency levels of monetary stimulus.
Against that backdrop, the TSXV-listed mining stocks below saw the biggest share price moves last week:
Here's a look at what may have moved their share prices over the last five days.
Laurion Mineral Exploration's main focus is its Ontario-based Ishkoday gold-polymetallic project. Ishkoday is home to the past-producing Sturgeon River mine, while the company's Brenbar property, which is contiguous with Ishkoday, hosts the historic Brenbar mine.
Laurion announced the start of a 10,000 meter diamond drill program at Ishkoday on April 13, and filed various documents on SEDAR last Friday (April 23). The company's share price increased 43.1 percent last week to finish at C$0.42.
Grande Portage Resources is focused on its Alaska-based Herbert gold discovery.
Last Monday (April 19), the company received regulatory approval for its upcoming drill program at Herbert, stating that all permits are now in place. Its plan is to drill about 20,000 feet of diamond drill core, testing multiple targets from as many as nine platforms. Two days later, on Wednesday (April 21), Grande Portage announced a non-brokered private placement for gross proceeds of up to $310,000.
Grande Portage's share price jumped 40.74 percent last week to close at C$0.38.
Exploration company Noram Ventures' goal is to become a low-cost supplier of lithium. Zeus, the company's flagship asset, is located in Nevada's Clayton Valley.
There were two pieces of news from Noram last week. First, on Wednesday, the company announced assay results from hole CVZ-67 at Zeus. The hole was completed as part of a Phase 5 drill program, and the interval from 282 to 502 feet contained 220 feet averaging 1,000 parts per million lithium.
On Friday (April 23), Noram provided the final results from the Phase 5 drill program at Zeus, reporting that hole CVZ-68 contained the best results to date. The company's share price increased 39.78 percent last week to finish at C$0.65.
With interests in Canada, Mexico, Peru and Chile, Wealth Minerals is focused mainly on acquiring and developing lithium projects in South America. The company has set itself up to develop the Quisquiro salar and holds a position in the Atacama salar, both located in Chile.
Wealth Minerals filed various documents on SEDAR last Thursday (April 22), including a notice for its annual general meeting. Its share price leaped 38.18 percent last week, ending the period at C$0.38.
Vanadium One Iron is moving forward at its Quebec-based Mont Sorcier iron ore-vanadium project. According to the company, the asset is near key rail, port and electrical power networks, which will facilitate rapid development and startup.
There was no fresh news from Vanadium One Iron last week, but its share price moved up by 35.14 percent, closing the five day segment at C$0.25.
Data for 5 Top Weekly TSXV Stocks articles is retrieved each Friday at 10:30 a.m. PST using TradingView's stock screener. Only companies with market capitalizations greater than C$10 million prior to the week's gains are included. Companies within the non-energy minerals and energy minerals are considered.
Don't forget to follow us @INN_Resource for real-time updates!
Securities Disclosure: I, Charlotte McLeod, hold no direct investment interest in any company mentioned in this article.
The post 5 Top Weekly TSXV Stocks: Grande Portage Rises Over 40 Percent appeared first on Investing News Network.
tsx
tsxv
tsx venture
gold
lithium
vanadium
iron
diamond
palladium
precious metals
base metals
Emerita Sees Continued Success In Spain
Emerita Resources Corp (TSXV:EMO) continues to report excellent results from the Infanta drill program at its Iberia Belt West Project
The post Emerita…
Emerita Resources Corp (TSXV:EMO) continues to report excellent results from the Infanta drill program at its Iberia Belt West Project in Spain, which hosts three previously identified high-grade deposits: La Infanta, Romanera and El Cura. These are all open for expansion along strike and at depth.
On October 22, the company announced assays for the first step-out drill hole from the Infanta drill program and also the final in-fill drill holes. The significance of the in-fill program was to verify the historical drill results. They will now enable a proper 3D modelling of the deposit and will also provide additional data to be used for future metallurgical testing.
At Infanta, the step-out was conducted to expand the outer perimeter of the deposit, and the in-fill drilling was intended to confirm historical drill data within Infanta's known mineralization zone. Step-out drill hole IN018 was drilled 40 metres to the west of the historical limits of the deposit and intersected 8.2 metres with a grade of 2.5% copper, 8.7% lead, 17.3% zinc, 223.5 g/t silver and 0.5 g/t gold. A second step-out hole was drilled 50 metres to the west of hole IN018 and intersected two zones of massive sulfide but assays have not been returned yet.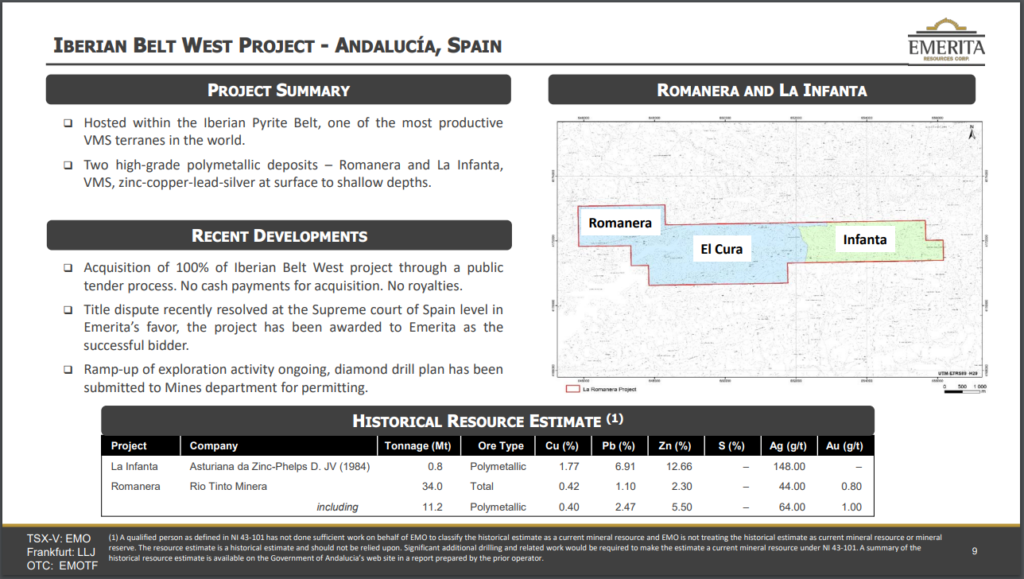 In-fill drill hole IN014 intersected 5.7 metres of 2.4% copper, 7.3 %lead, 13.4% zinc, 225 g/t silver and 0.6 g/t gold. The ongoing geophysical survey, which was suspended along with other exploration activities for the region's hunting season, is expected to resume by the end of October.
Emerita plans to have five drill rigs operating by the end of 2021 and will include the Romanera deposit, El Cura, and other targets identified by previous geophysics work. The two drills currently on site will now focus on step-out drilling to increase the size of the deposit.
Emerita also recently provided investors with an update on the legal proceedings for the Aznalcóllar Project and the company is expecting a ruling by the Administrative Court of Andalucia in Emerita's favour in the near future.
The Aznalcóllar Zinc Project is located in the prolific Iberian Pyrite Belt in the Andalusia region of southern Spain and is considered to be one of the world's largest and most productive volcanogenic massive sulfide (VMS) structures. It has been mined for over a thousand years and has produced over 2000 million tons of ore.
Aznalcóllar is considered to be one of the world's top undeveloped zinc deposits, and the project is essentially a world-class pre-production development asset. Here, the main deposit is referred to as Los Frailes, which contains a historical open pit mineral resource. Two other deposits exist on the property as well, which require further development. The Los Frailes mine operated during the 1990s until it closed due to a combination of tailings-related environmental failure and low metal prices.
After the Aznalcóllar site was rehabilitated, the government initiated a public tender process for the rights to the project and it was initially awarded to another major mining company, however Emerita believed that their bid was superior. It subsequently requested an investigation into the tender process for the property and filed a lawsuit in 2015.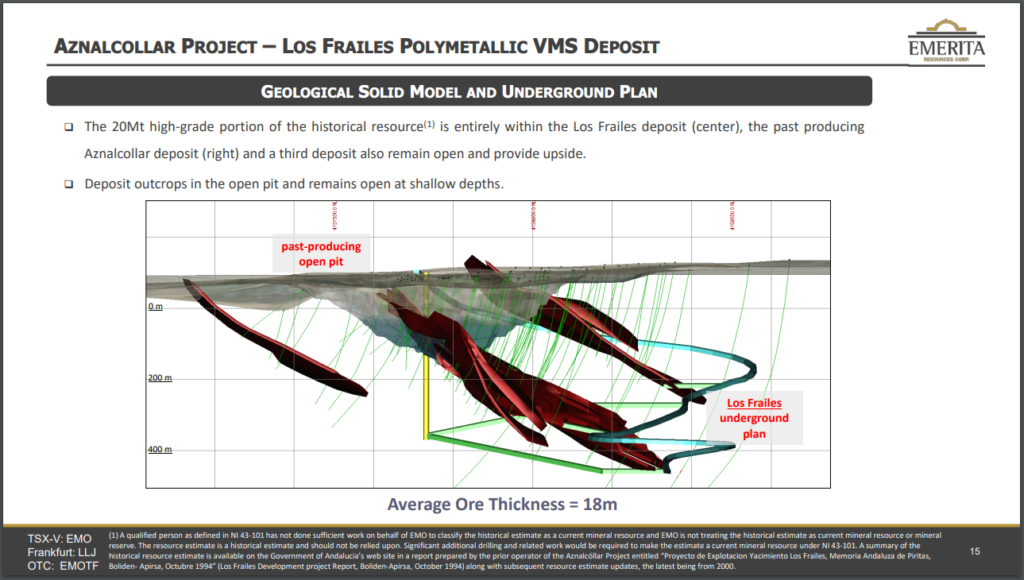 In early 2021, the Spanish court concluded that the process was fraught with corruption, fraud and other malfeasance and rescinded the rights that were awarded and criminal charges were sought for the perpetrators and their enablers. In July 2021, a Spanish judge issued additional criminal indictments against the mining company and government officials who participated in undermining the public tender process for the project.
Under Spanish law, if a crime was committed during the tender process, the rights are then awarded to the next best qualified competing bid, which in this case was Emerita. Subsequently, Emerita has been waiting for the Administrative Court to conclude the process to formally award the rights to the Aznalcóllar Project to the company, which brings us to present day.
The company is planning to develop the deposit into an underground mining operation focused on mining the high-grade zones, which are estimated to contain 20 million tonnes at a grade of 6.65% zinc, 3.87% lead, 0.29% copper and 84 ppm silver. As a requirement of the project's public tender process, Emerita submitted comprehensive. engineering, environmental and water management studies to the government, and now the company is expecting to be given the green light to proceed developing the Aznalcóllar project into an eventual producer.
Emerita is well financed, having completed a $20 million bought deal private placement in July 2021. Emerita has 182.42 million shares outstanding and due to the recent increase in the Company's share price, a market capitalization now of $556.38 million. Even so, barring any unforeseen negative developments regarding the legal issues, Emerita Resources Corp still appears to be potentially undervalued relative to the potential value of the world-class assets it is developing.
Shares of Emerita Resources Corp last traded at $3.05.
---
FULL DISCLOSURE: Emerita Resources is a client of Canacom Group, the parent company of The Deep Dive. The author has been compensated to cover Emerita Resources on The Deep Dive, with The Deep Dive having full editorial control. Not a recommendation to buy or sell. Always do additional research and consult a professional before purchasing a security.
The post Emerita Sees Continued Success In Spain appeared first on the deep dive.
tsxv
gold
silver
copper
zinc
tsxv-emo
emerita-resources-corp
Von Greyerz: Shortages & Hyperinflation Lead To Total Misery
Von Greyerz: Shortages & Hyperinflation Lead To Total Misery
Authored by Egon von Greyerz via GoldSwitzerland.com,
At the end of major…
Von Greyerz: Shortages & Hyperinflation Lead To Total Misery
Authored by Egon von Greyerz via GoldSwitzerland.com,
At the end of major economic cycles, shortages develop in all areas of the economy. And this is what the world is experiencing today on a global basis. There is a general lack of labour, whether it is restaurant staff, truck drivers or medical personnel.
There are also shortages of raw materials, lithium (electric car batteries), semi-conductors, food,  a great deal of consumer products, cardboard boxes, energy and etc, etc. The list is endless.
SHORTAGES EVERYWHERE
Everything is of course blamed on Covid but most of these shortages are due to structural problems. We have today a global system which cannot cope with the tiniest imbalances in the supply chain.
Just one small component missing could change history as the nursery rhyme below explains:
For want of a nail, the shoe was lost.
For want of a shoe, the horse was lost.
For want of a horse, the rider was lost.
For want of a rider, the battle was lost.
For want of a battle, the kingdom was lost.
And all for the want of a horseshoe nail.
The world is not just vulnerable to shortages of goods and services.
BOMBSHELLS
Bombshells could appear from anywhere. Let's just list a few like:
Dollar collapse (and other currencies)

Stock market crash

Debt defaults, bond collapse (e.g. Evergrande)

Liquidity crisis  (if  money printing stops or has no effect)

Inflation leading to hyperinflation
There is a high likelihood that not just one of the above will happen in the next few years but all of them.
Because this is how empires and economic bubbles end.
The Roman Empire needed 500,000 troops to control its vast empire.
Emperor Septimius Severus (200 AD) advised his sons to "Enrich the troops with gold but no one else".
As costs and taxes soared,  Rome resorted to the same trick that every single government resorts to when they overextend and money runs out – Currency Debasement.
So between 180 and 280 AD the Roman coin, the Denarius, went form 100% silver content to ZERO.
And in those days, the soldiers were shrewd and demanded payment in gold coins and not debased silver coins.
Although the US is not officially in military conflict with any country, there are still 173,000 US troops in 159 countries with 750 bases in 80 countries. The US spends 11% of the budget or $730 billion on military costs.
Since the start of the US involvement in Afghanistan, Pentagon has spent a total of $14 trillion, 35-50% of which going to defence contractors.
Throughout history, wars have mostly started out as profitable ventures, "stealing" natural resources (like gold or grains) and other goods–often due to shortages. But the Afghan war can hardly be regarded as economically successful and the US would have needed a more profitable venture than the Afghan war to balance its budget.
US HOPELESSLY BANKRUPT  – NEEDS TO BORROW 46% OF BUDGET
The US annual Federal Spending is $7 trillion and the revenues are $3.8 trillion.
So the US spends $3.2 trillion more every year than it earns in tax revenues. Thus, in order to "balance" the budget, the declining US empire must borrow or print 46% of its total spending.
Not even the Roman Empire, with its military might, would have got away with borrowing or printing half of its expenditure.
TOTAL MISERY AS MR MICAWBER SAID:
As Mr Micawber in Charles Dickens' David Copperfield said:
'Annual income 20 pounds, annual expenditure 19 [pounds] 19 [shillings] and six [pence], result happiness. Annual income 20 pounds, annual expenditure 20 pounds ought and six, result misery.'
And when, like in the case of the US, you spend almost twice as much as you earn that is TOTAL MISERY.
Neither an individual, nor a country can spend 100% more than their earnings without serious consequences. I have written many articles about these consequences and how to survive the Everything Bubble
INFLATION IS HERE
The most obvious course of events is continuous shortages combined with prices of goods and services going up rapidly. I remember it well in the 1970s how for example oil prices trebled between 1974 and 1975 from $3 to $10 and by 1980 had gone up 10x to $40.
The same is happening now all over the world.
That puts Central banks between a Rock and a Hard place as inflation is coming from all parts of the economy and is NOT TRANSITORY!
Real inflation is today 13.5% as the chart below shows, based on how inflation was calculated in the 1980s
IMPLOSION OR EXPLOSION
The central bankers can either squash the chronic inflation by tapering and at the same time create a liquidity squeeze that will totally kill an economy in constant need of stimulus. Or they can continue to print unlimited amounts of worthless fiat money whether it is paper or digital dollars.
If central banks starve the economy of liquidity or flood it, the result will be disastrous. Whether the financial system dies from an implosion or an explosion is really irrelevant. Both will lead to total misery.
Their choice is obvious since they would never dare to starve an economy craving for poisonous potions of stimulus.
History tells us that central banks will do the only thing they know in these circumstances which is to push the inflation accelerator pedal to the bottom.
Based of the Austrian economics definition, we have had chronic inflation for years as increases in money supply is what creates inflation. Still, it has not been the normal consumer inflation but asset inflation which has benefitted a small elite greatly and starved the masses of an increase standard of living.
As the elite amassed incredible wealth, the masses just had more debts.
So what we are now seeing is the beginning of a chronic consumer inflation that most of the world hasn't experienced  for decades.
THE INEVITABLE CONSEQUENCES OF CURRENCY DESTRUCTION
This is the inevitable consequence of the destruction of money through unlimited printing until it reaches its the intrinsic value of Zero. Since the dollar has already lost 98% of its purchasing power since 1971, there is a mere 2% fall before it reaches zero. But we must remember that the fall will be 100% from the current level.
As the value of money is likely to be destroyed in the next 5-10 years, wealth preservation is critical.  For individuals who want to protect themselves from total loss as fiat money dies, one or several gold coins are needed.
So back to the nursery rhyme:
For want of a nail gold coin, the shoe was lost.
For want of a shoe, the horse was lost.
For want of a horse, the rider was lost.
For want of a rider, the battle was lost.
For want of a battle, the kingdom was lost.
And all for the want of a horseshoe nail gold coin.
Gold is not the only solution to the coming problems in the world economy. Still, it will protect you from the coming economic crisis like it has done every time in history
And remember that if you don't hold properly stored gold you don't understand:
What happens when bubbles burst

You are living in a fake world with fake money and fake valuations

Your fake money will be revalued to its intrinsic value of ZERO

Assets that were bought with this fake money will lose over 90% of their value

Stocks will go down by over 90% in real terms

Bonds will go down by 90% to 100% as borrowers default

You lack regard for your stakeholders whether they are family or investors

You don't understand history

You don't understand risk
The 1980  gold price high of $850 would today be $21,900,  adjusted for real inflation
So gold at $1,800 today is grossly undervalued and unloved and likely to soon reflect the true value of the dollar.
Tyler Durden
Sat, 10/23/2021 – 14:30
dollar
gold
silver
inflation
money supply
bubble
dollar collapse
austrian economics
money printing
debasement
crash
ax
Week Ahead – Between a Rock and a Hard Place
Inflation is a growing concern For years central banks have been operating under the assumption that inflation will eventually return to target while having…
Inflation is a growing concern
For years central banks have been operating under the assumption that inflation will eventually return to target while having the flexibility to wait until the economy is fully ready for higher rates. That luxury is a thing of the past and many now feel stuck between a rock and a hard place.
Most are hoping that a modest tightening of monetary policy will begin the address the problem and buy them enough time for inflation to show itself to be as transitory as they believe. Some are taking more drastic action with larger rate hikes to quickly bring inflation under control. And then there's the CBRT.
Next week it's the ECB's turn to shed some light on how it will deal with inflation which is running well above target, an unusual problem for the central bank after a decade in which the threat of deflation has been a much greater risk.
Earnings season keeps investors positive
ECB prepares for the end of PEPP
Lira slides as CBRT loses credibility
US
The calm before the November 3rd Fed storm should have investors focus on the advance reading of third-quarter GDP, mega-cap tech earnings, and the final version of President Biden's economic package.  The economy was dealt a blow from the delta variant but most of the lost growth appears to be pushed back to next year.  On Thursday, analysts expect the economy in the third quarter to slow from 6.7% to 3.0%, which is a reflection of current supply chain issues and not falling demand. 
Risk appetite has remained intact as Wall Street continues to overlook supply chain issues, surging commodity prices, and rising transportation costs, but that could change if inflationary pressures intensify.  The next round of mega-cap tech earnings from Apple, Amazon, Microsoft, and Facebook could change Wall Street's expectation on how much pricing pressures are persisting. 
Optimism is growing that after some large concessions, Democrats will get Senators Manchin and Sinema on board with President Biden's economic package.  The US economic outlook next year is still looking bright as pent up demand and more stimulus will spur growth.  
EU 
The ECB meeting next week is the obvious standout event as markets look for clues on how the PEPP program will be replaced when it expires in March and whether it will be tempted to follow other central banks in tightening monetary policy. Headline inflation may be above target but there appears to be a firmer belief than elsewhere that this is temporary and they'll be back below before long. With that in mind, investors will be keen to know whether other stimulus measures will be introduced in March. They may have to wait until December though when new economic projections will be prepared.
UK
UK businesses and households are facing a squeeze over the next year from higher energy prices, taxes, prices and interest rates as the BoE prepares to raise interest rates to counter high supply-side driven inflation. 
That makes the Chancellors Autumn budget on Wednesday all the more important. While the governments focus in the coming years will have to be on paying for the pandemic, they won't want to act too fast and turn an already sluggish recovery into something worse. 
Russia
The ruble rallied strongly after the Bank of Russia raised interest rates by 0.75% on Friday, surpassing expectations of a 0.25% or 0.5% hike. Clearly, unlike their Turkish counterparts, the CBR is taking the threat of inflation serious and is prepared to raise them further as it raised its inflation forecast at the end of the year to 7.4-7.9%, almost double its 4% target.
The announcement saw the dollar fall briefly back below 70 against the ruble for the first time since June last year. Higher rates and soaring energy prices have supported the currency in recent months and with more hikes and a possible winter crisis in the pipeline, it could remain in favour for some time.
The unemployment rate on Friday is the only notable release.
South Africa
PPI and trade balance releases are the only releases of note next week.
Turkey
The lira fell more than 3% to a record low on Thursday and has continued to slide on Friday after the CBRT cut rates by 2%, at least twice as much as markets expected. The move ends the debate, if there was one, that the central bank is being influenced by President Erdogan, whose long-held views that high-interest rates spur inflation are well known.
The central banks' credibility under Şahap Kavcıoğlu is ruined and its only hope of avoiding further troubles down the road is inflation falling significantly and very soon. Even then, central bank credibility is important, as is the divide between politics and monetary policy and they are both irreversibly damaged under Kavcıoğlu. The lira could remain under severe pressure for some time.
China
Evergrande has paid an offshore bond coupon today, one day before the grace period expiry. That has removed the immediate financial contagion threat from Mainland markets and reduced weekend risk. It faces another coupon payment deadline on the 29th though and this story is probably not going away soon.
China has no significant data this coming week, but with the central committee meeting due on the 8th of November, authorities will be doing their utmost to ensure that markets remain "serene" until then.  
PBOC officials have expressed comfort that the Yuan is fairly priced at these levels, so strength may continue. With China needing to source energy stocks "at any cost" a strong Yuan is probably their favoured position.
India
The Indian rupee recovery continues, but the story is more a weak US dollar one than a strong rupee one. A strong US earnings season is causing dollar weakness and this story means the rupee rally may have more life in it. 
India is entering the holiday season over the next two weeks and market volumes are likely to decrease, potentially amplifying short-term moves. No significant data releases this week. 
Australia & New Zealand
The Aussie and New Zealand dollars rallied strongly as global risk sentiment improved thanks to a strong US earnings season so far. Melbourne and Sydney's reopening will also lift sentiment and the huge New Zealand inflation number leaves the RBNZ 0.50% hike trade, pencilled in for next month, in full swing. Going forward both will continue to be buffeted by swinging sentiment shifts in overseas markets. 
Australia has inflation data this Monday and PPI and Retail Sales on Friday. The RBA had to intervene in the 3-year bond market to cap rate hikes as markets locally started pricing in a change in RBA guidance from ultra-dovish. 
New Zealand markets continue ignoring rising delta cases and are myopically focused on pricing in a large RBNZ hike next month. Although the trade is now crowded, kiwi outperformance will continue as long as global risk sentiment remains positive.
Japan
The Bank of Japan announces its latest policy decision next week on Thursday. However, there is little chance of any change before November's FOMC and ahead of the Lower House election on October 31st. Electioneering will dominate the headlines in Japan next week, but despite the noise, the Nikkei is following the Nasdaq closely. It would take a huge shift in polling away from the ruling LDP to shift the narrative negatively into domestic markets. 
USD/JPY remains near 114.00 and continues to be a purely US/Japan rate differential play. With rates firming in the US, and Japan low forever, USD/JPY's path of least resistance continues to be higher. 
---
Key Economic Events
Sunday, Oct. 24
Events
By-elections will be held for upper house seats in Japan's Shizuoka and Yamaguchi prefectures
Bank of England policymaker Mann speaks at the 3rd Bund Summit, China Finance Forum 40 on a panel about "Asset prices, inflation expectation and exit from economic stimulus."
Monday, Oct. 25
Economic Data/Events
The ASEAN Business and Investment Summit speakers include US President Biden and Chinese Premier Li Keqiang.
EU energy ministers hold an extraordinary council in Luxembourg to discuss rising energy prices in the bloc.
Germany IFO business climate
Mexico Unemployment
Singapore CPI
Japan leading index
Switzerland domestic sight deposits
Turkey real sector confidence
BOE policymaker Tenreyro speaks at an event hosted by CEPR and the central bank.
Tuesday, Oct. 26
Economic Data/Events
FDA advisory panel meeting may decide on whether children ages 5 to 11 could get a COVID vaccine
Bank of France Governor Villeroy de Galhau speaks at a sustainable finance event in Paris.
Canadian Prime Minister Trudeau may announce the new cabinet
Australia ANZ consumer confidence
China Bloomberg economic survey
Hong Kong trade
PPI: Spain, Sweden, Japan
South Korea GDP
Mexico international reserves
Japan bond purchases
Singapore industrial production
U.S. new home sales, U.S. Conf. Board consumer confidence
South Africa leading indicator
Finland unemployment
Wednesday, Oct. 27
Economic Data/Events
UK Chancellor of Exchequer Rishi Sunak to unveil the government's autumn budget including new forecasts from the Office of Budget Responsibility.
US wholesale inventories, U.S. durable goods
Bank of Canada (BOC) rate decision: Expected to keep interest rate steady at 0.25%
New Zealand trade, ANZ business confidence
Australia CPI
China industrial profits
Germany GfK consumer confidence
Thailand manufacturing production index, capacity utilization
Mexico trade
Russia industrial production, CPI (weekly)
France PPI
Turkey trade, economic confidence
EIA Crude Oil Inventory Report
Thursday, Oct. 28
Economic Data/Events
US Q3 Advance GDP Q/Q: 3.0%e v 6.7% prior, initial jobless claims
BOJ rate decision: No change in policy expected, could lower growth forecast for this year and raise 2022 forecast
Japan retail sales
ECB rate decision: No change to policy, possibly setting up December as pivotal meeting for a decision on APP; President Lagarde holds a post-rate decision press conference
Eurozone economic confidence, consumer confidence
Germany CPI, unemployment
Australia export and import price indexes
Singapore unemployment
Russia forex and gold reserves
Sweden GDP, retail sales
South Africa PPI
Apple and Amazon report earnings after the bell
Turkey central bank Governor Kavcioglu discusses inflation 
EU economy and finance ministers meet online to talk about the implementation of the recovery and resilience facility.
Friday, Oct. 29
Economic Data/Events
G-20 joint finance and health ministers meet before the weekend leaders' summit
US consumer income, University of Michigan consumer sentiment
Eurozone GDP, CPI
UK mortgage approvals, money supply, consumer credit
Germany GDP
Czech Republic GDP
Mexico GDP
France GDP, CPI
Italy GDP, CPI
Poland CPI
Russia unemployment
South Africa trade balance, private credit, money supply, budget balance
Japan unemployment, Tokyo CPI, industrial production, housing starts
Australia retail sales, private sector credit, PPI
Singapore money supply
India fiscal deficit, eight infrastructure industries
Hong Kong money supply, budget balance
New Zealand ANC consumer confidence
Thailand trade, BoP, trade, foreign reserves, forward contracts
Russia consumer data
Sovereign Rating Updates
– Germany (Fitch)
– Czech Republic (S&P)
– Poland (Moody's)
– Norway (Moody's) 
– Italy (DBRS)
dollar
gold
inflation
deflation
commodity
monetary
markets
policy
money supply
interest rates
fed
central bank
us dollar
monetary policy
inflationary