3 Hot Mining Stocks That Just Increased In Price
Are these mining stocks on your list this year? Mining stocks have…
The post Best Mining Stocks To Buy In 2021? 3 That Just Increased In Price appeared…
Are these mining stocks on your list this year?
Mining stocks have had quite an interesting and volatile year in the market. The year started with a lot of vaccine distribution and hope that the COVID-19 pandemic will be coming to a class. In turn, this hurt a lot of mining stocks during 2021. This is because mining stocks strive when the economy is worse off. This is the case because many invest in assets like gold and silver instead of the dollar during dark economic times.
While gold stocks and silver stocks are among the most popular, there are many other mining stocks that are performing well in the market right now. So how do you know which sector to look at? Well, there are quite a few sector options when you are looking to invest in these assets. Uranium stocks have been performing particularly well recently as a result of social media hype coming from places like Reddit. This material has been mentioned a lot recently on the popular subreddit WallStreetBets, which has sent many uranium stocks upwards.
Uranium stocks are not the only mining assets that are performing well this year, though. Iron ore, lead, copper, and lithium are just a few more of the big names in the mining sector. Often it can be difficult to decide which one of these is right for you. That is why looking at the latest news in each sector can be very useful when investing. For example, if a metal was experiencing a shortage at the moment, it could catch your attention for your mining stock watchlist. It all depends on the investor, of course. For now, let's have a good look at three mining stocks that are pulling ahead as we continue through the volatility of 2021.
Top Mining Stocks To Watch
New Gold Inc. (NYSE: NGD)
Energy Fuels Inc. (NYSE: UUUU)
Cameco Corporation (NYSE: CCJ)
New Gold Inc. (NYSE: NGD)
New Gold Inc. is a mining stock that just went up 2.48% in the market. This is a company that mines for gold and develops various mineral properties. In addition to gold, this corporation also searches for silver and copper deposits. The company's main operation is the Rainy River gold and silver mine in Canada, which it holds a 100% interest in. The company also has the New Afton gold-copper mine, also located in Canada.
Just a day ago, New Gold restructured its operational outlook. Early last month, the gold company specified that its July production at the Rainy River mine was from the eastern area of the ODM zone at the development. Now New Gold has a decrease in its near-term guidance at the project. In July and August, the high and medium grade ore from the East Lobe harmfully reconciled to ounces mined.
Because of this issue, there were 20,000 lower gold ounces produced in this time period. President and CEO Renaud Adams said, "While the reduction in our near-term guidance at Rainy River is unfortunate, I remain confident the mine has reached an inflection point, as evidenced by the free cash flow generated in the second quarter and the mine is on track to deliver an improved second half of the year." Investors don't seem to be too concerned with this update, as on the same day its stock price went up by more than 2.4% in the market. The company's volume is also higher than its average at the moment. Keeping this in mind, will NGD enter your list of mining stocks to watch?
Energy Fuels Inc. (NYSE: UUUU)
Energy Fuels Inc. is a uranium stock that is performing very well in the market right now. This is a mining corporation that extracts, recovers, explores for, and sells uranium products. These products include both conventional and in situ uranium. Energy Fuels actively operates the Nichols Ranch project, Hank project, Alta Mesa project, and many more in the United States. It also has an alliance agreement with RadTran LLC to evaluate the recovery of thorium and potentially radium.
On July 30th, the company released its financial results for the quarter ended June 30th, 2021. The company entered a definitive agreement to sell a package of its non-core conventional uranium projects in Utah and Colorado to International Consolidated Uranium Inc. during this quarter. The current proforma value of this divestment is about $24 million as of July 30th. At the end of this quarter, the company had $98.8 million in working capital.
President and CEO Mark S. Chalmers said, "Energy Fuels achieved another significant milestone in restoring U.S. rare earth supply chains when we recently announced the successful production of rare earth carbonate from U.S.-sourced natural monazite sand at our White Mesa Mill." Now UUUU stock price has gone up possibly as a result of Reddit hype from subreddit WallStreetBets. Its stock price is up 4.77% in the market on September 13th, and its volume is more than two times its average in the market. So will UUUU stock make your watchlist of mining corporations in 2021?
Cameco Corporation (NYSE: CCJ)
Cameco Corporation is another uranium stock that just went up in the market. This is a company that both produces and sells uranium products. Primarily, Cameco will mine, mill, purchase, and sell uranium concentrate. It also has a fuel services segment that refined, converts, and fabricates uranium concentrate.
In July, the company reported its second-quarter results for 2021. The company also announced further contracting progress and continued execution of strategy to support global clean-air transition. Cameco experienced a second-quarter net loss of $37 million and an adjusted net loss of $38 million. Its balance sheet remains strong with $1.2 billion in cash and short-term investments. Cameco is another uranium stock that has gone up in the market, possibly as a result of WallStreetBets and other related social media hype on websites such as Reddit. Its volume is over 3 times its average in the market at the moment. So with all of this in mind, is CCJ stock a contender for your mining watchlist?
The Future of Mining Stocks
Because of the volatility in the world, nobody truly knows what direction mining stocks could go in at the moment. That is why taking things on a week-to-week basis is often a good strategy if you are short-term investing right now. For example, uranium stocks going up because of social media hype. No matter which mining stocks you decide to invest in, there is a lot of potential in the market right now. So which mining stocks from this list will make it into your portfolio, if applicable?
The post Best Mining Stocks To Buy In 2021? 3 That Just Increased In Price appeared first on Gold Stocks to Buy, Picks, News and Information | GoldStocks.com.
nyse gold silver uranium copper iron tsx-cco cameco-corporation cameco corporation
Looking for the Next Big Crypto to Explode in 2021? Try These 5 Coins
Bitcoin (CCC:BTC-USD) launched on January 3, 2009. The oldest and largest cryptocurrency, prices of this coin have swung wildly since its inception. But…
Bitcoin (CCC:BTC-USD) launched on January 3, 2009. The oldest and largest cryptocurrency, prices of this coin have swung wildly since its inception. But last year, Bitcoin experienced explosive institutional and retail interest in the space alongside the broader crypto world. Now thousands of altcoin investors are betting that they can pick the next crypto to explode.
Even though Bitcoin recently underwent a correction, trading volume remains strong between $42,000 and $50,000. Of course, that is very expensive, considering the median household income is $62,843 right now. Yes, you can invest in Bitcoin through PayPal (NASDAQ:PYPL) and Square (NYSE:SQ). But the crypto is still expensive when you compare it to several altcoins out there.
Plus, there are over 7,000 cryptocurrencies you can choose from for your portfolio. When it comes to making big gain, it's easier for a coin to gain 100x if you're starting from a smaller size, rather than chasing after a rocket that's already taken off.
Here are 5 coins that could be the next big crypto to explode:
When investing in any crypto, remember to check if there is an inherent utility to the coin. Even cryptos meme coins need developers to crank out regular updates to stay relevant.
The Next Big Crypto to Explode: Ethereum (ETH-USD)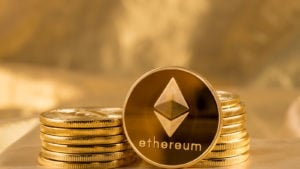 Source: shutterstock
Ethereum is a decentralized, blockchain-based software platform, and its cryptocurrency is called Ether or Ethereum. Ether is the world's second-largest cryptocurrency and has held this position for a long time now. Recently, Ethereum has been in the news for its hard fork "London upgrade," a major revamp for the platform. The hard fork comprises five Ethereum Improvement Proposals (EIPs). The upgrades are important, but the most notable is EIP 1559, which reduced Ether supply with every transaction.
In addition, the upgrade will lead to the Ethereum network handling more transactions per second, improving scalability, and bringing down transaction fees. Another major benefit is expected to decrease the total number of ether coins in circulation, making it a deflationary cryptocurrency. In the run-up to the upgrade, Ethereum did very well. However, considering the next upgrade will occur at the end of 2021, there is an upside here that you can exploit.
Binance Coin (BNB-USD)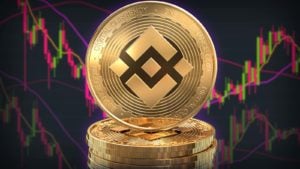 Source: Shutterstock
Binance is one of the most successful crypto exchanges globally when ranked by trading volumes, which is why BNB, its native cryptocurrency, is soaring.
Much like Bitcoin, the thing to like about Binance Coin is the hard limit on the total number of tokens in circulation. It has a strict maximum limit of 200 million BNB tokens. As a result, the token price has risen exponentially for the year thus far.
Binance uses around one-fifth of its profits every quarter to eliminate or "burn" BNB tokens. The reason for destroying or "burning," coins makes sense: it increases the worth of the remaining tokens.
One of the biggest reasons to be optimistic about Binance Coin is its many use cases. Initially, it was developed as a utility token for discounted trading fees in 2017. But now, you can use it to make travel payments, financial services, and entertainment, among others.
The driving force behind any token is its usability and that's why BNB will be the next crypto to explode.
Tether (USDT-USD)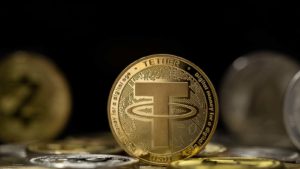 Source: DIAMOND VISUALS / Shutterstock.com
Stablecoins are a new breed of crypto gaining prominence. They are a less volatile alternative to Bitcoin because they are linked to an asset like the U.S. dollar, as is the case with Tether. The cryptocurrency allows you to transact in traditional currencies and avoid the complexities of digital currencies.
Tether is designed to bridge fiat currencies and cryptocurrencies, allowing users to transfer other cryptocurrencies back to U.S. dollars in a less complex, faster manner. Tether has a 1-to-1 ratio with the U.S. dollar for valuation.
Consequently, the altcoin is less speculative than popular cryptocurrencies like Bitcoin and Ethereum. For crypto investors who want to avoid the wild swings that are part and parcel of this space, Tether should be right up your alley as the next crypto to explode.
Monero (XMR)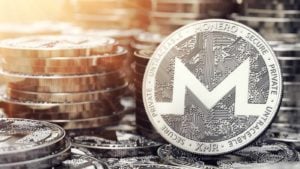 Source: Wit Olszewski / Shutterstock.com
Monero is very popular these days because it has the ability to anonymize users. Ring signatures and stealth addresses help in accomplishing this task. Due to the technology at its disposal, the privacy-focused Monero cab hides the identities of the sender and the receiver.
The only problem some might have with Monero's approach is that privacy isn't really an option. It enforces anonymity at a fundamental level. That may rub certain people the wrong way.
But there are several people out there who love this feature and want to protect their identity online since this was one of the main initial benefits of blockchain technology — to remain completely anonymous.
Algorand (ALGO-USD)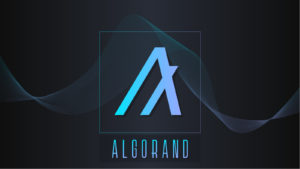 Source: shutterstock.com/Shizume
Algorand investors have enjoyed blockbuster returns following an announcement that El Salvador would establish blockchain infrastructure using Algorand.
Italian computer scientist Silvio Micali is the man behind the platform. ALGO-USD has positioned itself as a competitor to Ethereum. One of the biggest things going for it is the proof-of-stake proofing algorithm, which is less energy-intensive to run. One of the main criticisms against Bitcoin is that it consumers a lot of energy. Through using a proof-of-stake mechanism, ALGO-USD sets itself apart from the rest of the altcoins out there.
On the publication date, Faizan Farooque did not have (either directly or indirectly) any positions in the securities mentioned in this article. The opinions expressed in this article are those of the writer, subject to the InvestorPlace.com Publishing Guidelines.
Faizan Farooque is a contributing author for InvestorPlace.com and numerous other financial sites. Faizan has several years of experience in analyzing the stock market and was a former data journalist at S&P Global Market Intelligence. His passion is to help the average investor make more informed decisions regarding their portfolio.
More From InvestorPlace
The post Looking for the Next Big Crypto to Explode in 2021? Try These 5 Coins appeared first on InvestorPlace.
dollar
deflationary
nyse
nasdaq
diamond
Evergrande weighing on Asian markets
China equities bashed on return to work Wall Street had a very noisy and choppy session overnight, buffeted by an impending FOMC, Evergrande, slowing growth…
China equities bashed on return to work
Wall Street had a very noisy and choppy session overnight, buffeted by an impending FOMC, Evergrande, slowing growth prospects, Covid-19, the US debt ceiling, and the future of the Democrat's $3.5 trillion spending bill; chose your crisis. When the dust settled, a few day traders were probably licking wounds, but the main indexes closed not too far from where they finished the day before. The S&P 500 closed just 0.08% lower, the Nasdaq rose 0.22% in a tech-safety play, and the Dow Jones edged 0.14% lower. US futures are almost unchanged in Asia, erring to the heavy side.
The return of Mainland China markets hasn't been a happy one. Despite a CNY 100 bio liquidity injection from the PBOC, and news that a local Evergrande unit will make a local bond coupon payment tomorrow, equity markets have headed south. Evergrande is due to also make an offshore coupon payment tomorrow and there has been no word on whether this will happen, and that could be keeping local equities subdued. The Shanghai Composite has fallen by 1.90% today as Evergrande contagion fears take centre stage. The CSI 300 is 1.10% lower while Hong Kong markets are closed for a public holiday.
The negative day for China has spilled over to regional markets. The Nikkei 225 is 0.50% lower after the BOJ left policy unchanged. After two days of holidays, South Korea remains closed, but Taipei is playing catchup after a return from holidays, the TAIEX slumping by 2.20%. Singapore is 0.60% lower while Kuala Lumpur is down 0.40% while Jakarta is bucking the trend, helped by rebounding commodity and energy prices, rising 0.90%.
Rebounds in iron ore and copper, along with surging energy prices has lifted Australian markets by mid-session, after a slow start. The Evergrande local unit coupon payment news has also lifted sentiment, although Australian markets, seizing on any snippet of good news could be getting ahead of themselves, as no news has emerged on whether an offshore coupon, also due tomorrow, will be paid. Nevertheless, Australian markets are now solidly in the green, the ASX 200 jumping higher by 0.70%, and the All Ordinaries rallying 0.90%.
Given the neutral finish by Wall Street, and the negative tone pervading Asia, and with the FOMC to come later today, European stocks are likely to adopt a cautious stance this afternoon, remaining vulnerable to negative headlines emanating from China. The increasing noise surrounding the gas price rally is also likely to dampen spirits in today's session.
nasdaq
asx
iron
Selloff Puts All Eyes on the Fed
Looking for a dovish Fed … the crypto sector suffers another drawdown … will gold ever register a pulse?
Tomorrow, all eyes are on the Fed.
It's…
Looking for a dovish Fed … the crypto sector suffers another drawdown … will gold ever register a pulse?
Tomorrow, all eyes are on the Fed.
It's the most anticipated Fed announcement in recent memory. Investors are expecting hints about the timing and scope of a Fed bond-purchase tapering.
Economists surveyed by Bloomberg expect the November meeting is when we'll get a formal announcement on the Fed reducing its monthly purchases of $80B of Treasurys and $40B mortgage-backed securities.
Of the 52 economists surveyed, two-thirds expect November. More than half of them believe the taper will begin in December.
But as we noted in yesterday's Digest, Louis Navellier believes we'll get more information tomorrow, which will calm markets.
From Louis' Platinum Growth Club Flash Alert yesterday:
I am expecting a dovish statement.
I am expecting the Fed will clarify that they will begin tapering.
But it's probably just going to be a mini-taper, not a big one. And so, I think it will be interpreted as dovish, and the market will rally.
***Louis isn't the only one expecting a dovish Fed
Our hypergrowth expert, Luke Lango, also expects the Fed will tell the market what it wants to hear, resulting in a late-week rebound.
Interestingly, Luke points toward yesterday's volatility as a clear signal to Federal Reserve Chairman, Jay Powell.
From Luke's latest update of Hypergrowth Investing:
The Fed is slated to meet today and tomorrow to discuss monetary policy. Many Fed members have voiced a hawkish tone ahead of that meeting, advocating for some tightening via a tapering of asset purchases.
Wall Street is braced for this – investors are largely "OK" with a gradual and smooth taper.
But Wall Street doesn't want anything more, and they're letting the Fed know by selling stocks ahead of the meeting, basically saying: "Hey, Fed, if you tighten more aggressively than you've signaled, the stock market's going to collapse, and the whole world is going to blame you."
It's a warning shot.
And it'll work.
Luke believes that today and tomorrow could be choppy in the markets. But tomorrow at 2 p.m. ET, Powell will take the stage. Luke anticipates he will announce a taper, while delivering it in an ultra-dovish tone – pleasing the markets.
That will lead to a market rebound to close out the week.
***If you follow the money-flows, U.S. investors are also expecting this "Wall-Street-friendly" Fed
From Seeking Alpha:
The market is seeing a "monster reallocation cash-to-stocks as tax redistribution threat recedes & Fed expected to remain Wall St-friendly (liquidity easiest since Jul'07)," Michael Hartnett, BofA chief investment strategist, wrote in the "Flow Show" note on Friday.
How big is this reallocation?
Last week, investors dumped cash in favor of stocks at the greatest pace of the entire year. The outflows from money market funds registered $43.5 billion, the biggest of 2021, according to Refinitiv Lipper.
It also marked the largest inflow into U.S. large-cap funds ever. It was $28.3 billion, to be exact. Growth funds saw nearly $7 billion, with small-caps getting $4.2 billion.
So, the results of tomorrow's FOMC meeting could be a market-mover. We'll let you know how it goes here in the Digest.
***Stocks aren't the only asset class in the red recently – the crypto sector has been suffering a sell-off
It feels like bitcoin and the crypto sector had finally begun turning the corner after the 50%+ drop from the spring. That was, until a flash crash from two weeks ago ushered in more weakness.
Yesterday's multi-asset class selloff hit crypto as well.
From Forbes:
Cryptocurrency prices plunged Monday morning during a widespread market sell-off sparked by concerns of a potentially catastrophic debt default in China, pushing many of the world's largest digital currencies to their lowest levels in more than a month.
The value of the world's cryptocurrencies plunged to a low of less than $1.9 trillion by 8:45 a.m. EDT on Monday, nearly 11% less than 24 hours prior and reflecting a loss of more than $250 billion, according to crypto-data website CoinMarketCap.
Pullbacks like this are never fun to sit through, but they're not unusual. So, it's critical to avoid interpreting "temporary weakness" as a sign of "impending doom." This is just standard crypto volatility.
Luke, who is also our crypto specialist, echoed this same point in his Saturday update of Ultimate Crypto. And this was before yesterday's sector weakness.
After highlighting bullish adoption news about several holdings in the Ultimate Crypto portfolio, Luke wrote:
That's not to say we won't get a big sell-off here soon. We may.
That's what cryptos do – from time to time, they plunge.
But it is to say that consumer adoption is progressing at breakneck speed, and consumer adoption will ultimately determine the long-term price trajectory of cryptos.
That's why we're more bullish than ever, and why we will be huge buyers on any future plunges in cryptos.
By the way, if you missed it, last week, Luke sat down with fellow crypto expert, Charlie Shrem, to discuss the huge opportunities in the crypto sector.
In short, they believe a new massive crypto bull market is forming, and certain cryptos are likely to go parabolic. Weakness like we're seeing right now is offering investors greatly-discounted entry prices to top-tier cryptos.
If you've been looking for a time to begin a crypto portfolio, this is a good opportunity. To watch the free replay of Luke and Charlie's event, just click here.
***Meanwhile, even with stocks and cryptos down and anxieties up, gold still can't catch a bid
There was a time when steep selloffs in stocks and other asset classes would frighten investors, resulting in huge inflows into the "chaos hedge" of gold.
Though that time may return, it's not here right now.
Yesterday, as all three major stock indexes dropped more than 2%, gold yawned, barely inching higher (and silver actually lost 0.6%).
Our macro specialist and the editor of Investment Report, Eric Fry, put a poetic spin on this…
The yellow metal is barely registering a pulse at the moment. Most of the wax figures inside Madame Tussauds museum seem more vibrant and lifelike.
But the thing about gold is it tends to come back from the grave at the exact moment that dejected investors finally leave it for dead.
Back to Eric:
After gold's decade-long dormancy from 1991 to 2001, for example, it suddenly sprung to life and soared 500% over the ensuing decade.
More recently, the gold price drifted 40% lower during the seven-year span from 2011 to 2018. But then it revived once again and rallied as much as 70% from its 2018 low.
That rally was probably the first phase of what will become a much bigger move. Now that the gold price has spent more than a year going nowhere, it has gained plenty of rest for its next major move higher.
Frankly, the pessimism has grown so intense that gold is beginning to resemble a dream-trade for a contrarian investor.
Back to Eric to put some numbers on this:
Most folks want little to do with gold at the moment.
On a net basis, investors have withdrawn more than $15 billion from the SPDR Gold Shares ETF (GLD) during the last 12 months. That's the most rapid and sizable retreat from this gold fund since 2013.
To summarize today's approximate investor attitudes, they like stocks, adore cryptos, and feel sorry for gold and silver.
"Both metals are suffering from a complete lack of investor interest," griped Ole Hansen, head of commodity strategy at Saxo Bank A/S, during Thursday's abrupt selloff.
But remember, there are two macro factors in gold's corner – inflation and soaring government debt.
Eric notes that the 12-month federal deficit stands at $2.8 trillion…which is a whopping 12.5% of U.S. GDP. Meanwhile, the six-month average U.S. inflation rate is hitting levels not seen in 30 years.
Back to Eric:
Historically, great, big governments deficits, coupled with great, big inflation readings, trigger great, big gold rallies.
Perhaps this time is different. But there's a reason why many seasoned investors say that "This time is different" is the most expensive phrase in finance.
Because it is…
We'll keep checking for a pulse here in the Digest and will let you know.
See you back here tomorrow for the post-mortem on the Fed announcement.
Have a good evening,
Jeff Remsburg
The post Selloff Puts All Eyes on the Fed appeared first on InvestorPlace.
gold
silver
inflation
commodity
monetary
markets
reserve
policy
metals
fed
monetary policy
crash
ax