Denarius Silver: Corporate Overview
Denarius Silver Corp (TSXV: DSLV) is a Toronto-based junior silver exploration company engaged in the acquisition, exploration, development and eventual
The…
Denarius Silver Corp (TSXV: DSLV) is a Toronto-based junior silver exploration company engaged in the acquisition, exploration, development and eventual operation of mining projects in high-grade districts. The company is focused on developing the past-producing Guia Antigua and Zancudo silver-gold projects in Colombia, and its Lomero-Poyatos project in Spain's prolific Iberian Pyrite Belt, which hosts the world's largest concentration of massive sulphides.
The Investment Thesis
We base our investment thesis on the following factors:
The Lomero-Payatos project is located within the prolific Iberian Pyrite Belt in northern Spain, which is considered to be one of the world's largest and most productive volcanogenic massive sulfide (VMS) structures.
The Iberian Pyrite Belt been mined for over a thousand years and has produced over 2000 million tons of ore.
Spain and Colombia are both well established mining jurisdictions with a long history of mining. Denarius' projects are supported by well established mining infrastructure. 
Denarius' Colombia projects are in close proximity to Gran Colombia's Segovia Mine, and Gran Colombia is a major shareholder in DSLV.
The Colombia properties had historical production and vein structures offer significant discovery potential for new mineralized zones.
The company has an experienced management team that is focused on building a business around production and cash flow, and developing its exploration projects to a point where the added value will attract potential merger and acquisition partners.
The Deep Dive views Denarius Silver as a development-stage exploration company with considerable upside potential and relatively low downside risk. In Colombia, the two DSLV projects are close to Gran Colombia's flagship Segovia Mine and host to past-producing silver-gold mines that the Company will restart and conduct more extensive exploration to expand the size and scope of the deposits. Positive exploration results could generate interest from larger players and could prompt an exit transaction or strategic partnership for Denarius.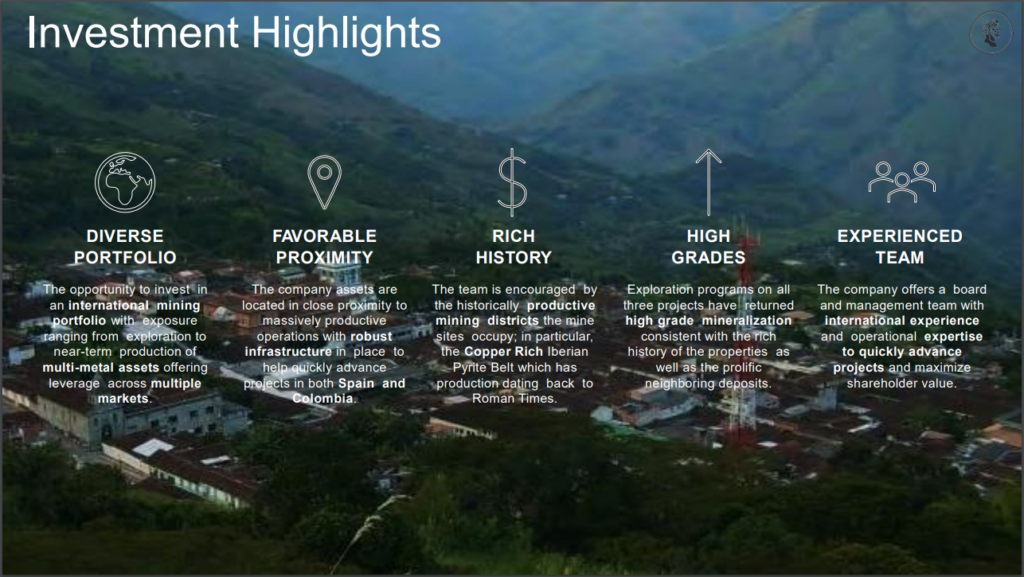 The Projects
Lomero-Poyatos Project
The Lomero-Poyatos deposit is located in the north-east part of the prolific Spanish/Portuguese Iberian Pyrite Belt in the Huelva Province of Southern Spain, one of the world's most productive volcanogenic massive sulfide IVMS) belts. The site has a well established water, power and highway infrastructure, a reliable local workforce and services, as well as proximity to several high-capacity processing facilities and the port at Huelva.
The Lomero-Poyatos deposit has two separate near-surface mineral deposits, the Lomero to the east and Poyatos to the west, that combine to form a single deposit at depth. Mineralization is said to consist of gold, as well as zinc, lead, and copper. Further, Lomero has one of the largest concentrations of gold mineralization in the region, having assayed 2.0 metres at 14.1 g/t gold as well as 0.55 metres at 16.84 g/t gold.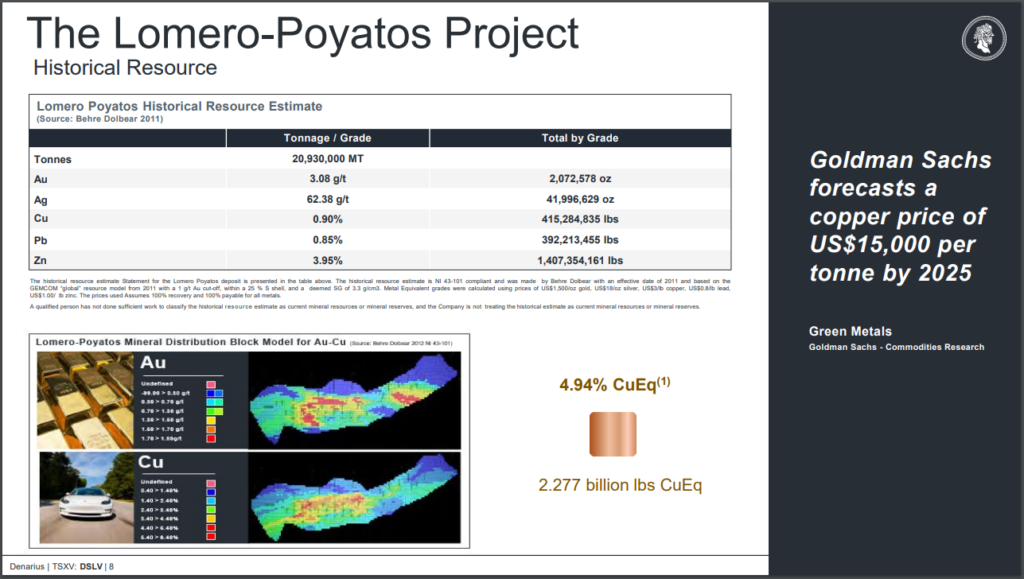 The Lomero-Poyatos deposit was discovered in 1853 and is a former sulphide pyrite mine with underground development on eight levels, which are currently flooded. The property was initially mined in the late 1850's as an open pit operation until 1905 when it became an underground mine until its eventual closure in 1991.
Most of the historical production of 2.6 million tonnes came from underground operations, and the mined massive pyrite ore was used as a source of sulphur for sulphuric acid production. The historical resource calculation as per a 2002 NI-43-101 report showed 20.61 Mt of 3.1 g/t gold,  70 g/t silver, 3.3% zinc, 1.2% copper, 1.2% lead, and 37% sulfur. Management believes that because a gravity survey identified anomalies at depth and the deposit is open along strike and down dip, there is potential to significantly increase the resource estimate for the deposit.
A 23,500 metre exploration program is currently underway on the property, with the program slated to consist of 81 drill holes which will include both infill and step out drilling.
Guia Antigua Project
The Guia Antigua Project was acquired from Gran Colombia Gold Corp (TSX:GCM), Colombia's largest underground gold producer and is located in the prolific Segovia-Remedios mining district, Department of Antioquia, 130 kilometers northeast of Medellin. The Guia Antigua Project gives Denarius exploration, development and mining rights under a mining license agreement to a 386-hectare area of the eastern part of Gran Colombia's mining title RPP-140. The high-grade mines in this region have produced roughly 5 million ounces of gold over a 150 year period.
The property is host to the Guia Antigua mine, which was operated by Sociedad Guias-Gold from 2014–2016 and processed 6,034 tonnes of ore resulting in production of 78,558 ounces of silver and 1,174 ounces of gold with an average head grade of 404.9 g/t silver and 6.05 g/t gold. 
The Guia Antigua property has a highly productive vein system, and a 2018 drill program discovered 3 new veins which returned values of 3,268 g/t of silver and 8.57 g/t gold over 1.2m, and provides significant potential for additional discoveries. Denarius will focus its exploration activities on the Guia Antigua vein, which has similarity to the geology, structure, vein type, and mineralization of the high-grade Segovia Mine veins.
Zancudo Project
The Zancudo property is a 1,052-hectare mining concession within the Middle Cauca Gold Belt in the Titiribi mining district in Antioquia, near GoldMining's (TSX: GOLD) Titiribi Project, about 27 km south of Medellin. It is host to the historical Independencia silver-gold mine, with the region as a whole having historical production of 1.5 million ounces of silver and 2 million ounces of gold equivalent dating back to 1793. 
The Zancudo deposit lies within the Romeral terrane, which is located on the western side of the Central Cordillera of the Colombian Andes and is covered by continental sediments. Gold mineralization occurs in two zones, the Upper Zone has flat-lying veins with sandstones, and the lower zone, which runs north-south in steep dipping veins.
The Zancudo Project is currently being explored by IAMGOLD Corp. (TSX: IMG) pursuant to an option agreement for the exploration and potential purchase of an interest in the project, which was previously established by Gran Colombia. Iamgold completed a total of 16,224 meters of drilling at Zancudo between 2017 and 2018 and has incurred over $4 million of its $10 million exploration commitment, but due to covid-19, Iamgold suspended its drilling program in 2020. Denarius expects to form a joint venture with IAMGOLD to advance the project.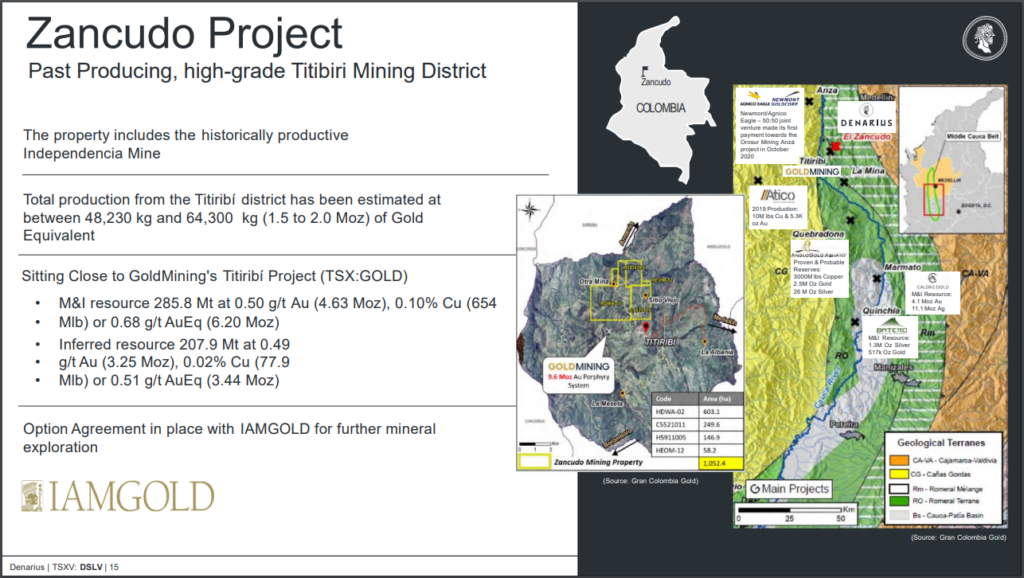 The Management Team
Serafino Iacono – Interim Chief Executive Officer, Executive Chairman
Mr. Iacono is Executive Chairman of Gran Colombia Gold Corp, and has over 30 years experience in capital markets and public companies, having raised in excess of $4 billion for numerous natural resource projects internationally in Latin America, Canada and the United States. He was a co-founder of Bolivar Gold Corp and Pacific Stratus, and has served as a director and senior executive for a number of resource companies including Pacific Exploration and Production Corp and PetroMagdalena Energy Corp.
Michael Davies – Chief Financial Officer
Mr. Davies holds a B. Commerce degree from the University of Toronto and has over 20 experience as a Chartered Professional Accountant (Ontario) for a number of international and public natural resources companies, providing financial management and strategic planning. He has served in senior management positions several resource companies, including with PetroMagdalena Energy Corp., Coalcorp Mining Inc., Medoro Resources Inc., and LAC Minerals Ltd. 
Jeff Couch – Director
Mr. Couch is a senior financial services executive with extensive experience in the natural resources sector, having advised and raised capital for clients globally, with a particular focus in emerging markets. He has advised several governments on their natural resources capital requirements and has served as a director for a number of resources companies. Mr. Couch works with Orion Resource Partners, a mining focused private equity firm with $6 billion under management, and previously held senior investment banking positions at several large international banks, including BMO Capital Markets (Bank of Montreal), Credit Suisse Europe and Citigroup. 
Lombardo Parades-Arenas – Director
Mr. Paredes-Arenas holds a B. Science in Mechanical Engineering and Master of Economic Analysis and Financial Economics. He currently serves as Chief Executive Officer of Gran Colombia Gold Corp. and brings over 20 years of corporate leadership and operations management experience in the Latin American resource sector. Mr. Paredes held various roles at Petroleos de Venezuela (PDVSA) before becoming an international energy and environmental consultant.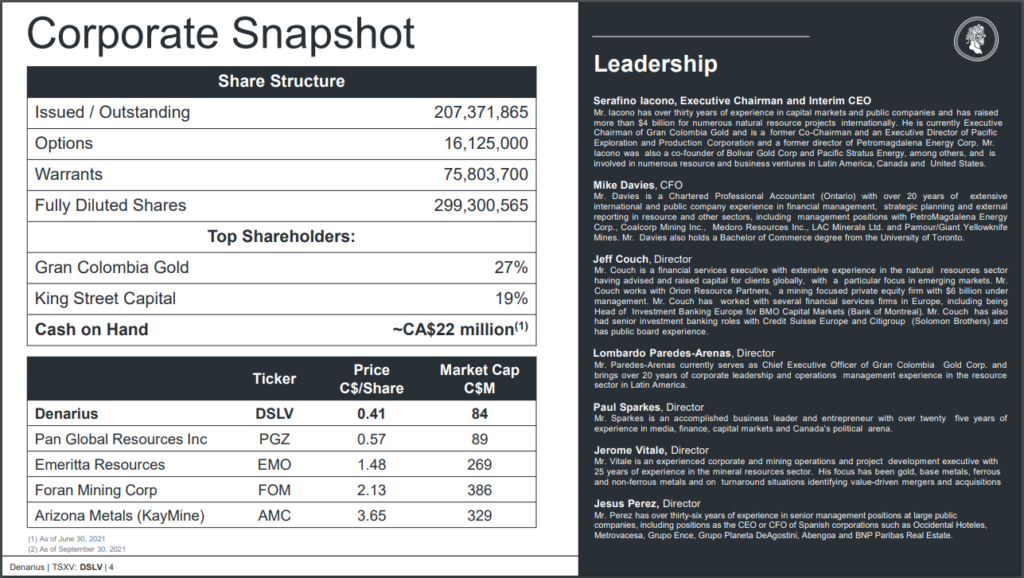 The Comparables
Colombia
Colombia is rich in minerals and base metals, which are dispersed throughout the country, and include silver, gold, copper, platinum, emeralds, coltan, and coal. The country has had a long history of gold and silver mining. Although there are a number of gold mines operated by publicly-traded companies in the central and southern parts of the country, much of Colombia's gold and silver mining production comes from artisanal miners. The Segovia-Remedios mining district is a prolific gold mining district that hosts a number of rich gold mines, yet despite that, the region is still largely unexplored.
In Colombia, the Zancudo and Guia Antigua Projects are close to several medium and large-scale producers, including:
Gran Colombia Gold: produced 225,000 ounces of gold in 2020
AngloGold and B2 Gold Joint-Venture: 6 million ounces of gold reserves at the Gramalote mine
Zijin: 6 million ounces of gold reserves at the Buriticá mine, which Consolidated Gold, sold  to Zijin for USD $1.4 billion
Other exploration companies in the area include:
Antioquia Gold Inc (TSXV: AGD) is a Calgary, Alberta-based mineral exploration and development company that is engaged in the acquisition, exploration, and development of mineral resource properties in Colombia. The company's project includes their flagship Cisneros project, a 5,630 hectare property located in the central portion of the department of Antioquia, about 80 kilometers northeast of Medellin. The Cisneros mine commenced production in 2019 and the Company is actively exploring the rest of the property to further delineate the size and scope of the deposit.
Soma Gold Corp. (TSXV: SOMA) is a Vancouver-based junior exploration and development company that owns and operates three producing gold mines on a 29,000 hectare property in Antioquia, Colombia within the Central Cordillera of the Andes Mountains. The ore extracted from the La Ye, El Limon and Nechí projects is processed at two mills operated by the company. The mills also process ore from local artisanal miners. Soma is actively continuing its exploration activities to add to its gold reserves.
Gran Colombia Gold Corp (TSX:GCM) is a Toronto-based gold and silver exploration, development and production company with a focus on gold projects in the South American countries of Colombia and Guyana. The Company's flagship asset in Colombia is the Segovia Project, which hosts the El Silencio gold mine that produced 225,000 ounces of gold in 2020. It is considered to be one of the world's highest-grade gold mines with proven and probable reserves of over 632,000 ounces at an average grade of 8.92 g/t gold. Gran Colombia is actively exploring the Segovia project that has several other mineralized zones on the property.
O2Gold Inc. (TSXV: OTGO) is an early-stage Canadian mineral exploration company focused on the acquisition and development of mineral projects in Colombia, South America. The Company's management and professional teams are based in Medellin, Colombia, and have extensive experience in the region. Its Otú Central Project is a 30,000 hectare property comprising 26 mining claim titles and applications located on the Otú Fault and is in close proximity to several other gold producers in the Segovia and Zaragoza regions of Antioquia in Colombia. During the second half of 2021, O2Gold will be actively drilling its Aurora-Quintanillo trench to determine its production strategy to validate its 30 year mining license and to generate cash flow that will help fund the Company's other exploration activities on the Otú property.
Spain
The Iberian Pyrite Belt is arguably the world's most productive volcanic-hosted massive sulphide (VMS) district with over 80 known deposits producing copper, zinc, lead, gold, silver and tin. The belt hosts eight giant-sized deposits of more than 100 million tonnes of massive sulphides and a number of major mining companies such as Lundin Mining, Trafigura Mining Group and ALMINA have major operations in the region. Aside from Denarius, there are several other junior companies exploring in the vicinity.
Aside from Denarius there are several other junior companies exploring in the vicinity.
Vancouver-based Pan Global Resources Inc (TSXV: PGZ) is a junior exploration company that is developing its Aguilas and Escacena projects in the Iberian Pyrite Belt in southern Spain. The Escacena property is in close proximity to the past-producing Aznalcóllar and Los Frailes mines, and First Quantum's Las Cruces operating copper mine, 40 km from Seville.
Emerita Resources Corp (TSXV: EMO), is a Canadian resource company currently developing two world-class zinc projects in Spain. The first project, the Iberian Belt West property, has a historical resources estimate of 34.0 tonnes of 0.42% copper, 1.10% lead, 2.30% zinc, 44.0 g/t silver and 0.80 g/t gold. It's second project, which it expects to be awarded soon, meanwhile hosts a deposit of 20.0 tonnes of of +10% zinc, lead, and silver in an open pit model.
The Risks
From our view the following risks are worth considering.
Price of copper, gold and silver. Just as metals prices can be a catalyst, a potential decline in price would have a negative impact on exploration stocks. Copper tends to mirror the economic cycle and poor economic conditions can depress copper prices. If the Chinese economic recovery stumbles, that could cause copper demand to slow and prices to decline.
Drill Results. Poor drill results could negatively affect price performance of the stock.
Market Sentiment. Markets can fluctuate wildly as investor expectations can change rapidly depending on the two most common drivers; fear and greed.
The Catalysts
Some of the potential catalysts we see that could have a large impact on the share price include:
The price of copper, gold, and silver. The most obvious variable for any mineral explorer, developer, or producer is the price of the underlying metals. As the price of a metal rises so does the net asset value of projects rise, which increases shareholder value. 
Broad economic indicators. Given the recent COVID stimulus packages which have seen a massive number of jobless claims, the assumption is that governments and central banks will take on debt funded through quantitative easing (money printing) to fill the gap. Eventually this will likely become inflationary; historically the price of gold and other metals increases with an increase in inflation as investors seek a hedge against inflation. .
The results of any future drill programs at the Company's projects. DSLV is working to put the Lomero-Poyatos deposit into production and continuing its exploration program with the goal of expanding the resource and getting a better understanding of the underlying size of the deposit. The work programs at the Colombian projects are designed to expand the size and scope of the mineralized zones and to prepare for production. Any meaningful discovery could serve as a catalyst for the common shares. 
Potential future merger and acquisition activity. Due to DSLV management's extensive experience, expertise, and credibility in Spain and Colombia, it has the ability to attract opportunities to acquire additional quality projects through acquisition or joint venture.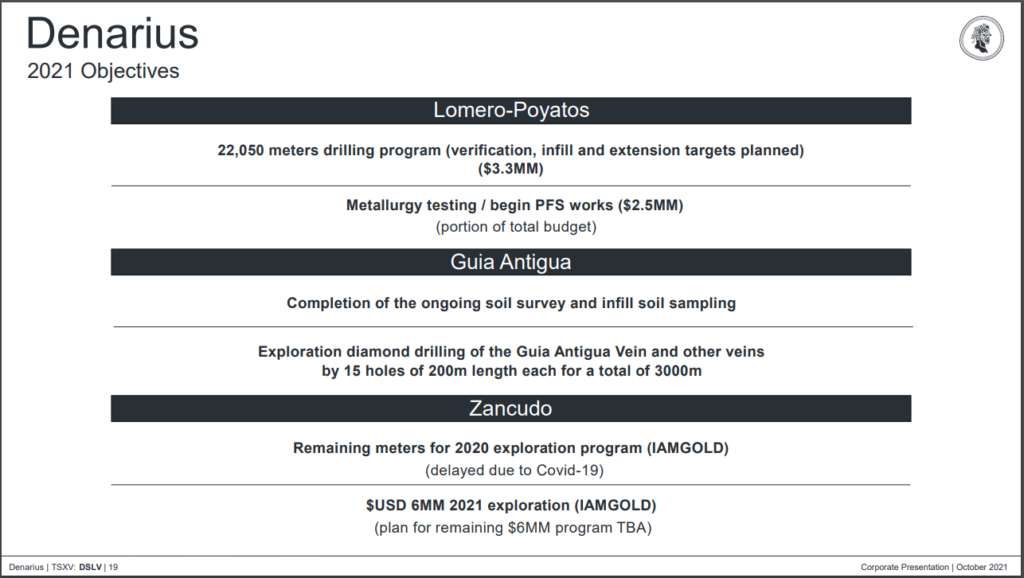 In Conclusion
Denarius Silver Corp is well-positioned in two prolific mining districts in Spain and Colombia which offer shareholders a degree of diversification and somewhat helps de-risk the company. Any meaningful exploration results on the properties could lead to a takeover or joint venture event. The company plans to commence production on its Lomero-Poyatos project in Spain as soon as feasible and will be conducting drilling to expand the size of the deposit and to increase its resources. 
Denarius Silver Corp. represents a compelling new silver-gold opportunity for junior exploration investors. 
---
FULL DISCLOSURE: Denarius Silver Corp is a client of Canacom Group, the parent company of The Deep Dive. The author has been compensated to cover Denarius Silver Corp on The Deep Dive, with The Deep Dive having full editorial control. Not a recommendation to buy or sell. Always do additional research and consult a professional before purchasing a security.
The post Denarius Silver: Corporate Overview appeared first on the deep dive.
tsx
tsxv
gold
silver
copper
zinc
tsx-gcm
gran-colombia-gold-corp
Karora Resources Strengthens Board with Appointment of New Australian-based Director Shirley In't Veld
TORONTO, Dec. 6, 2021 – Karora Resources Inc. (TSX: KRR) (OTCQX: KRRGF) ("Karora" or the "Corporation") is pleased to announce the appointment…
TORONTO, Dec. 6, 2021 – Karora Resources Inc. (TSX: KRR) (OTCQX: KRRGF) ("Karora" or the "Corporation") is pleased to announce the appointment of Shirley In't Veld to its Board of Directors effective immediately.
Paul Andre Huet, Chairman and CEO of Karora said, ""I am pleased to welcome Shirley In't Veld to Karora's Board of Directors. The addition of Shirley's extensive experience as a senior executive and director in the Australian mining, renewables and energy sectors to our team further strengthens our Board and is a strong endorsement of Karora's position as a premier gold producer. In particular, her experience as a former Director of Northern Star Resources (an Australian gold producer with World class projects located in Australia and North America), her in depth knowledge of Western Australia, and expertise in ESG matters will be a tremendous addition to our Board. We look forward to benefitting from Shirley's input as we continue to unlock the full potential of our Australian operations."
Shirley In't Veld has over 30 years of career experience in mining, renewables and energy sectors. She is currently a Director of Alumina Limited, NBN Co Limited (National Broadband Network Co.) and APA Group. She was formerly Deputy Chair of CSIRO (Commonwealth Science and Industrial Research Organisation), Director of Northern Star Resources Limited, Perth Airport, DUET Group, Asciano Limited and Alcoa of Australia Limited and a Council Member of the Chamber of Commerce and Industry of Western Australia. She was also the Managing Director of Verve Energy (2007 – 2012) and, previously, served 10 years in senior roles at Alcoa of Australia Limited, WMC Resources Ltd, Bond Corporation and BankWest Perth.
In 2014, Shirley was Chair of the Queensland Government Expert Electricity Panel and a member of the Renewable Energy Target Review Panel for the Australian Department of Prime Minister and Cabinet. She also served as a member of the COAG Energy Council Selection Panel, a Council member of the Australian Institute of Company Directors (Western Australia) and the SMART Infrastructure Facility (University of Wollongong).
About Karora Resources 
Karora is focused on doubling gold production to 200,000 ounces by 2024 compared to 2020 and reducing costs at its integrated Beta Hunt Gold Mine and Higginsville Gold Operations ("HGO") in Western Australia. The Higginsville treatment facility is a low-cost 1.6 Mtpa processing plant, expanding to a planned 2.5 Mtpa by 2024, which is fed at capacity from Karora's underground Beta Hunt mine and Higginsville mines. At Beta Hunt, a robust gold Mineral Resource and Reserve is hosted in multiple gold shears, with gold intersections along a 4 km strike length remaining open in multiple directions. HGO has a substantial Mineral gold Resource and Reserve and prospective land package totaling approximately 1,900 square kilometers. The Company also owns the high grade Spargos Reward project which is anticipated to begin mining in 2021. Karora has a strong Board and management team focused on delivering shareholder value and responsible mining, as demonstrated by Karora's commitment to reducing emissions across its operations. Karora's common shares trade on the TSX under the symbol KRR and also trade on the OTCQX market under the symbol KRRGF.
Cautionary Statement Concerning Forward-Looking Statements
This news release contains "forward-looking information" including without limitation statements relating to the growth potential of the Beta Hunt Mine, the results of exploration and development work, liquidity and capital resources of Karora, production guidance and the potential of the Beta Hunt Mine, Higginsville Gold Operation, the Aquarius Project and the Spargos Gold Project.
Forward-looking statements involve known and unknown risks, uncertainties and other factors which may cause the actual results, performance or achievements of Karora to be materially different from any future results, performance or achievements expressed or implied by the forward-looking statements. Factors that could affect the outcome include, among others: future prices and the supply of metals; the results of drilling; inability to raise the money necessary to incur the expenditures required to retain and advance the properties; environmental liabilities (known and unknown); general business, economic, competitive, political and social uncertainties; results of exploration programs; accidents, labour disputes and other risks of the mining industry; political instability, terrorism, insurrection or war; or delays in obtaining governmental approvals, projected cash operating costs, failure to obtain regulatory or shareholder approvals. For a more detailed discussion of such risks and other factors that could cause actual results to differ materially from those expressed or implied by such forward-looking statements, refer to Karora 's filings with Canadian securities regulators, including the most recent Annual Information Form, available on SEDAR at www.sedar.com.
Although Karora has attempted to identify important factors that could cause actual actions, events or results to differ materially from those described in forward-looking statements, there may be other factors that cause actions, events or results to differ from those anticipated, estimated or intended. Forward-looking statements contained herein are made as of the date of this news release and Karora disclaims any obligation to update any forward-looking statements, whether as a result of new information, future events or results or otherwise, except as required by applicable securities laws.
Cautionary Statement Regarding the Higginsville Mining Operations
A production decision at the Higginsville gold operations was made by previous operators of the mine, prior to the completion of the acquisition of the Higginsville gold operations by Karora and Karora made a decision to continue production subsequent to the acquisition. This decision by Karora to continue production and, to the knowledge of Karora, the prior production decision were not based on a feasibility study of mineral reserves, demonstrating economic and technical viability, and, as a result, there may be an increased uncertainty of achieving any particular level of recovery of minerals or the cost of such recovery, which include increased risks associated with developing a commercially mineable deposit. Historically, such projects have a much higher risk of economic and technical failure. There is no guarantee that anticipated production costs will be achieved. Failure to achieve the anticipated production costs would have a material adverse impact on the Corporation's cash flow and future profitability. Readers are cautioned that there is increased uncertainty and higher risk of economic and technical failure associated with such production decisions.
SOURCE Karora Resources Inc.
Copaur Minerals Looks To Acquire New Placer Dome Gold In An All-Stock Deal
Copaur Minerals Inc. (TSXV: CPAU) announced on Friday evening a binding letter agreement stipulating its planned acquisition of all the
The post Copaur…
Copaur Minerals Inc. (TSXV: CPAU) announced on Friday evening a binding letter agreement stipulating its planned acquisition of all the issued and outstanding common shares of New Placer Dome Gold Corp. (TSXV: NGLD). The acquisition is expected to be settled in an all-stock deal.
The combination of the British Columbia-focused Copaur Minerals and Arizona-focused New Placer Dome Gold is said to "create a leading gold-copper exploration and development company with a portfolio of assets in two of North America's foremost mining districts."
Under the terms of the agreement, each New Placer Dome Gold share held will be exchanged for 0.1182 shares of Copaur Minerals, the ratio being a 55% premium on the 20-day average price of each company as of November 30, 2021.
The firm reported that after the transaction, New Placer Dome Gold will become a wholly-owned subsidiary representing 47% equity in Copaur Minerals and will be delisted from the TSX Venture Exchange. New Placer Dome Gold is also being proposed to get a minimum of two seats on the Copaur Minerals board, subject to the latter's approval.
Currently, New Placer Dome Gold has approximately 170.4 million shares while Copaur Minerals has roughly 23.0 million shares.
In their latest quarterly financials dated September 30, 2020, Copaur Minerals recorded total assets worth $5.87 million and a net loss of $0.07 million while New Placer Dome Gold reported a total of $14.59 million in assets and a net loss of $0.08 million.
A concurrent financing by the two companies is in the pipeline as a condition to the transaction, with plans to raise gross proceeds of up to $15.0 million. Copaur Minerals will also lend New Placer Dome Gold $0.8 million in debt to fund the latter's exploration work on the Bolo property. The loan is convertible to company units at $0.08 per unit at the sole discretion of Copaur Minerals.
The proposed transaction is expected to close in March 2022, subject to the approval of the shareholders of New Placer Dome Gold and customary regulatory approvals and closing conditions.
Copaur Minerals last traded at $1.16 while New Placer Dome Gold last traded at $0.085 on the TSX Venture. Trading for both shares has been halted since the announcement of the acquisition.
---
Information for this briefing was found via Sedar and the companies mentioned. The author has no securities or affiliations related to this organization. Not a recommendation to buy or sell. Always do additional research and consult a professional before purchasing a security. The author holds no licenses.
The post Copaur Minerals Looks To Acquire New Placer Dome Gold In An All-Stock Deal appeared first on the deep dive.
Top Silver Stocks To Watch In December
3 Silver Stocks For Your Watchlist…
3 Silver Stocks For Your Potential Watchlist
In recent times, the market for silver stocks has been fairly interesting to follow. Throughout the last year and a half, the price of silver assets has skyrocketed due to the pandemic. Many silver assets gained more in percentage terms than gold stocks. This drew a large number of new investors to the metal who had previously disregarded it.
The pandemic and market uncertainties have produced a level of volatility that has prompted some investors to reinvest in silver stocks. Silver stocks were also boosted as mainstream media reported that Reddit traders were pushing the metal's price higher at the start of 2021. This drew a lot more attention to silver equities and, as a result, more investors.
So, why should you buy silver stocks? Silver, like gold, is an asset that people may own rather than money. When a metal is utilized more frequently by industrial enterprises, it tends to perform better. Fears of inflation are also affecting this industry right now, and no one knows what will happen in the end. So, plainly, there is a lot to consider if you are considering investing in silver stocks. Some people make an investment plan to pick which tickers to buy. With this in mind, let's take a look at three silver stocks to keep an eye on right now.
Top Silver Stocks To Watch
Harmony Gold Mining Company Limited (NYSE: HMY)
Fortuna Silver Mines is a company that explores, extracts, and processes precious metals. The company is looking for reserves of silver, gold, zinc, and lead. Its main assets include the Cayloma and San Jose mines, as well as the Lindero Gold Project.
The business recorded a record third-quarter 2021 output of 87,950 gold equivalent ounces on October 12th. Its overall gold production in the quarter was 26,235 ounces, with 24,318 ounces in dore and a 1918 ounce gain in gold-in-carbon inventory. It produced 68,088 ounces of gold in the first nine months of 2021. This figure is consistent with the company's revised annual outlook.
The company stated that "Gold production was 1,529 ounces, an increase of 12 percent over the third quarter of 2020. The increase in production is due to higher head grades located in the Animas NE vein. Gold production for the first nine months of 2021 totaled 4,712 ounces, which is above plan." Will FSM be on your list of silver stocks to watch?
Endeavour Silver Corp. is a silver firm that we have previously discussed extensively. This corporation acquires, explores, and develops land. Endeavour is working on mineral processing, refining, and reclamation. The majority of Endeavour's key assets are in both Mexico and Chile. Endeavour's mines are mostly used to mine silver and gold.
On December 2nd, the company announced that it has intersected high-grade silver-gold mineralization at its Guanacevi and Bolanitos operations. At its Guanacevi operations, it reported 1.97 gpt Au and 1,254 gpt Ag for 1,412 gpt AgEq over a 3.22 m ETW, and 4.36 gpt Au and 1,450 gpt Ag for 1,798 gpt AgEq over a 3.18 m ETW. At Bolanitos, Endeavour reported 8.08 gpt Au and 151 gpt Ag for 797 gpt AgEq over a 1.67 m ETW, and 1.26 gpt gold and 241 gpt silver for 342 gpt AgEq over a 0.96 m ETW.
CEO of Endeavour, Dan Dickson said, "We continue to see exceptional drilling results within the El Curso and the Santa Cruz Sur systems at our Guanacevi silver mine. We have been operating at Guanacevi for more than 15 years and these encouraging results support our view that we can continue to extend the mine life." Will EXK be on your silver stock watchlist?
Harmony Gold Mining Company Limited (NYSE: HMY)
Harmony Gold Mining Company Limited is a mining stock that has been mentioned a lot on goldstocks.com in the past. This firm searches for, extracts, and processes gold, silver, copper, and uranium. It presently operates in South Africa and Papua New Guinea, both of which have proven to be profitable for the company.
The company's earnings and revenues increased year over year in fiscal year 2021, according to the most recent release. This was owing to rising metal prices and the company's rapid expansion. Given that Harmony hasn't issued any updates in quite some time, it'll be interesting to see what they have in store for their shareholders before the end of the year.
Best Silver Stocks In 2021?
It's challenging to decide which silver stocks to buy. There are several factors to consider before investing in mining companies. However, completing an extensive study and selecting what is ideal for you will be quite beneficial throughout the process. Which silver stocks will you be keeping an eye on for the time being?
The post Top Silver Stocks To Watch In December appeared first on Gold Stocks to Buy, Picks, News and Information | GoldStocks.com.