3 Hot Mining Stocks To Watch For Mid October
Which mining stocks are on your October 2021 watchlist? The COVID-19 situation…
The post 3 Hot Mining Stocks To Watch For Mid October appeared first…
Which mining stocks are on your October 2021 watchlist?
The COVID-19 situation in 2020 caused many mining stocks to reach new highs. Metals and materials prices surged as the economy collapsed. The fundamental reason for the spike was increased demand and more shortages. When it comes to mining stocks, the majority of people will look at gold and silver stocks first. Last year, both of these assets hit fresh all-time highs.
So, in 2021, you might be wondering where things stand. Mining stocks soared at first but then began to decline. For a long time, gold and silver assets were unable to break through significant price barriers. Copper, lithium, iron ore, and other mining stocks took advantage of the opportunity to increase in the market at this time. Many mining stocks are still heading upwards in the market this year.
What should you look for when investing in mining stocks, you might be wondering? There are a few key steps one can take to ensure that investing in a company is the informed option. The first and most obvious is to read the news from across the world. Consider how the pandemic impacted and continues to impact the mining industry. News from the industry is also crucial; things like shortages and growing demand are useful bits of information to know. Let's take a look at three mining stocks that are performing well in the market as we head into mid-October.
Best Mining Stocks To Watch
Harmony Gold Mining Company Limited (NYSE: HMY)
On October 14th, the mining stock McEwen Mining Inc. saw its shares rise 1.69 percent in the market. This is a business that searches for, develops, manufactures, and sells various resources. Silver, gold, and copper make up the majority of the company's sales. It has a 100 percent stake in the El Gallo project, the Fenix project, the Black Fox mine, and many more projects. Mexico, Canada, Argentina, and the United States are among the countries where it has properties.
McEwen announced its consolidation production for the third quarter of 2021 on October 6th. In the same period last year, the business reported 30,400 gold equivalent ounces, compared to 42,900 this year. McEwen was able to achieve his target thanks to 32,100 ounces of gold and 792,000 ounces of silver production. Its consolidated production for the nine months ending September 30th, 2021 was 114,300 gold equivalent ounces, up from 85,700 in 2020.
[Read More]
This signifies that its output this year is approaching the midpoint of its annual projection range. McEwen just completed commercial production at the Froome deposit three months ahead of plan. Noting this new info, will MUX be on your list of mining stocks to watch right now?
IAMGOLD is a gold mining business that searches for, develops, and runs a few gold mines. The Americas and West Africa are the locations of these properties. It now owns the Rosebel mine, the Essakane mine, the Westwood mine, the Diakha-Siribaya project, and a number of other assets. This company just experienced an uptick in its stock price on October 14th, 2021.
Read More – Top Mining Stocks To Watch Under $5
IAMGOLD hasn't made any recent announcements. However, the business aims to reveal its third-quarter financial figures for 2021 on Wednesday, November 3rd. After the market closes on that date, these results will be revealed. The next day, IAMGOLD will host a conference call with management to explain the situation. Now on October 14th, IAG stock has increased by nearly 2%. Keeping this in mind, will IAG be on your mining stock watchlist?
Harmony Gold Mining Company Limited (NYSE: HMY)
Harmony Gold Mining Company Limited, a mining stock we've mentioned on goldstocks.com before, has recently performed well in the market. This is a company that recovers and processes gold, silver, copper, and uranium from mines. Its activities are based in South Africa and Papua New Guinea, both of which have proven to be favorable to Harmony.
Harmony recently released an operating report for the fiscal year ending June 30th, 2021. The company's sales climbed by 45.2 percent year over year throughout this time period. Furthermore, its net debt decreased by 52% year over year. Although the company's performance was good, it was not the sole factor for determining its stock price. The stock price of HMY fluctuates on the market in tandem with gold prices. Will you add HMY stock to your watchlist this month as a result of this information?
The Future of Mining Stocks
The world will see how the market reacts if mining stocks continue to rise as the pandemic slowly diminishes. At the moment, the world is still in a constant state of change. Materials are increasing in value as industrial demand and retail sales both rise. So, which mining stocks will you add to your portfolio in mid-October?
The post 3 Hot Mining Stocks To Watch For Mid October appeared first on Gold Stocks to Buy, Picks, News and Information | GoldStocks.com.
nyse
gold
silver
lithium
copper
iron
tsx-img
iamgold-corporation
iamgold corporation
Silver Price Outlook Ahead of US Inflation Data
Silver price is trading within a tight range, as has been the case since the beginning of December. The range will remain a crucial one for the precious…
Silver price is trading within a tight range, as has been the case since the beginning of December. The range will remain a crucial one for the precious metal as focus shifts to inflation data.  
Inflation outlook
In the meantime, silver price will remain within the current horizontal channel. The subtle gains recorded on Wednesday are a reaction to the decline in Treasury yields. Yields tend to have an inverse correlation with precious metals. This is founded on the fact that declining yields lower the metals' opportunity cost, thus boosting their prices.
Since the beginning of December, the benchmark 10-year Treasury yields have remained below the psychologically crucial level of 1.50. On Monday, it dropped to an over two-month low at 1.33 before bouncing back. In Wednesday's session, it has reversed the previous day's gains at its current 1.42.
Investors are now keen on the US inflation data scheduled for later in the week and the policy decisions by various central banks in the coming week. Interest rate decisions by the Bank of England (BoE), Federal Reserve, and European Central Bank (ECB) are set for release in the coming week.
Before then, Friday's CPI reading will offer some cues on the probable direction by the Fed. On a year-over-year basis, experts expect consumer prices to have risen by 6.8% compared to 6.2% in the previous month.
Notably, a lower-than-expected CPI reading may ease the focus on interest rate hikes in the coming year. However, further rebounding of the stock market in the ensuing sessions may lower precious metals' safe-haven appeal.
NASDAQ, S&P 500, and Dow Jones are all on a rebound after the over two-week decline. The stock market will likely record further gains amid eased concerns over the Omicron variant. Based on these two clashing factors, the range between $22.65 and $22.13 will remain a crucial one for silver price in the short term.
2022 forecast
According to Metals Focus, silver price will likely average at $25.75 in 2022's initial months. In its Precious Metals Investment Focus 2021/2022, the consultancy has indicated that the metals' industrial demand will boost its price. This includes governments' investment in green infrastructure, vehicle electrification, and the spread of 5G technologies.
However, in the second half of the year, silver price is expected to decline. The drop will be a reaction to a clearer plan by the Federal Reserve on rate hikes.
The post Silver price outlook ahead of US inflation data appeared first on Invezz.
silver
inflation
reserve
policy
metals
fed
central bank
correlation
nasdaq
precious metals
i-80 Gold Assays 48.6 Metres Of 7.54 G/T Gold At Granite Creek
i-80 Gold Corp. (TSX: IAU) reported this morning the assay results for the first phase of drilling at its Granite
The post i-80 Gold Assays 48.6 Metres…
i-80 Gold Corp. (TSX: IAU) reported this morning the assay results for the first phase of drilling at its Granite Creek property in Nevada. The results highlighted an intersect of 7.54 g/t gold over 48.6 metres.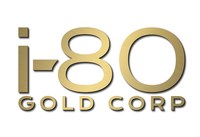 The drill program was designed for geotechnical and metallurgical purposes for permitting a planned open-pit project. In August 2021, the firm reported an intersect of 6.80 g/t gold over 51.1 metres from the maiden hole drilled for the program.
Highlights of the drill results include:
iGM21-09: 7.54 g/t gold over 48.6 metres
iGM21-08: 2.25 g/t gold over 125.3 metres
iGM21-06: 2.45 g/t gold over 5.2 metres and 36.74 g/t gold over 9.1 metres
"These successes bode well for the planned ramp-up of underground mining, planned for H1-2022 and the long-term future of this exciting property," said i-80 Gold President Matt Gili.
Consequently, the majority of the ongoing program is focused on defining and expanding mineralization in areas proximal to existing underground mine workings at the property.
In November 2021, the mining firm also reported results from the concurrent surface drill program at the property, highlighting an intersect of 14.7 g/t gold over 10.2 metres.
i-80 Gold last traded at $2.62 on the TSX.
---
Information for this briefing was found via Sedar and the companies mentioned. The author has no securities or affiliations related to this organization. Not a recommendation to buy or sell. Always do additional research and consult a professional before purchasing a security. The author holds no licenses.
The post i-80 Gold Assays 48.6 Metres Of 7.54 G/T Gold At Granite Creek appeared first on the deep dive.
Puma Exploration Discovers Large Quartz Veins at Surface With Visible Gold on Its Williams Brook Gold Property
RIMOUSKI, Quebec, Dec. 08, 2021 – Puma Exploration Inc. (TSXV: PUMA) (the "Company" or "Puma") is pleased to report that it has discovered a…
RIMOUSKI, Quebec, Dec. 08, 2021 – Puma Exploration Inc. (TSXV: PUMA) (the "Company" or "Puma") is pleased to report that it has discovered a series of thick quartz veins that contain visible gold ("VG") between the Chubby and Moose Gold zones of its Williams Brook Gold property in New Brunswick, Atlantic-Canada.
The discoveries were made during the Company's ongoing stripping program that targets the favourable rhyolite/sediment contact along the O'Neil Gold Trend (OGT) and is designed to confirm continuous gold mineralization at surface over the trend's 700-meters strike length (Figure 1).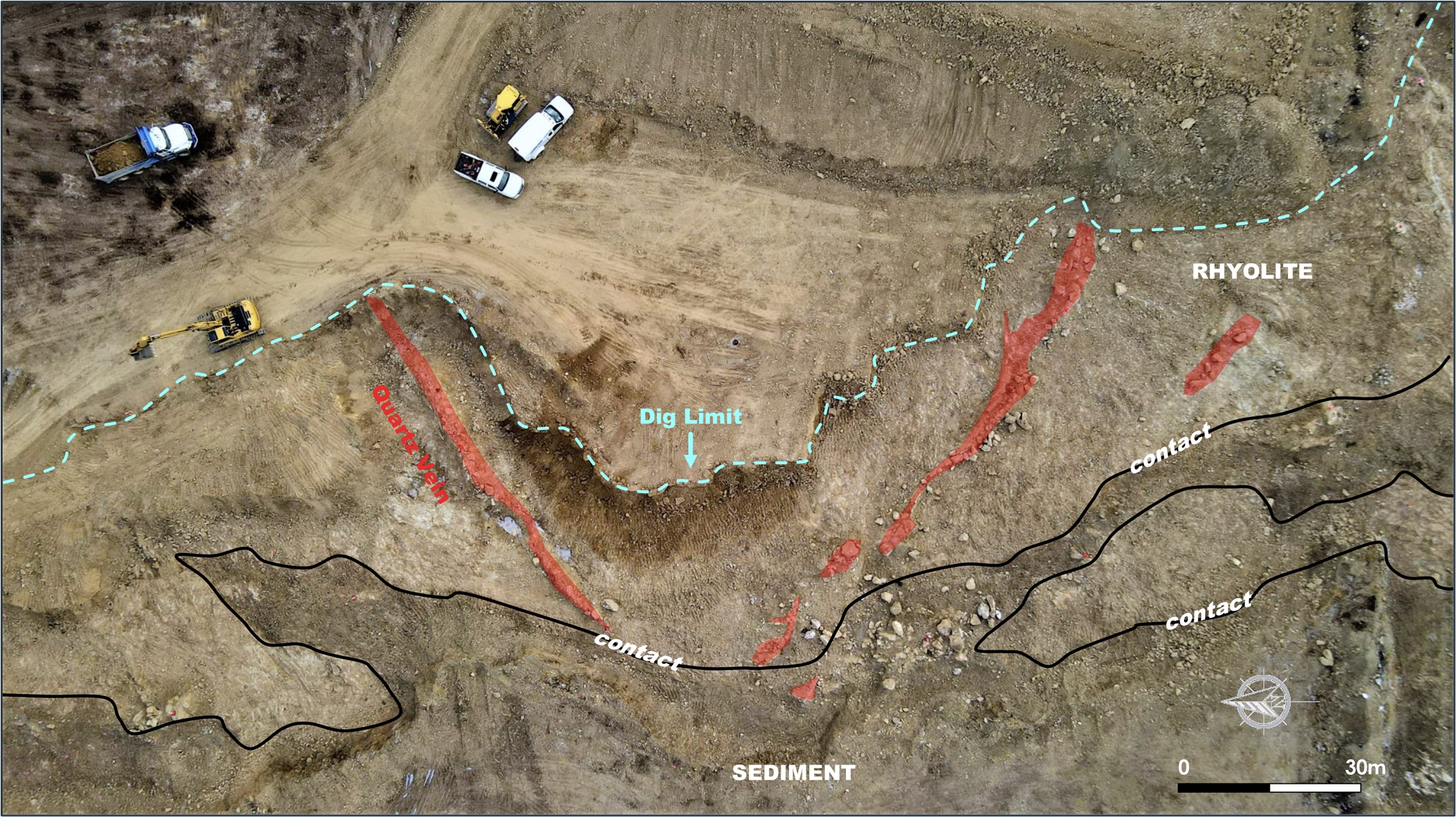 Rejean Gosselin, geologist and Chairman of the Board, noted: "We are excited about this discovery at the Chubby-Moose gold area (Figure 2). The mineralization of these near-surface, highly altered and large thick quartz veins is similar to what we observed at O'Neil, Lynx, and Pepitos.
This discovery further supports the potential for a large gold deposit that could extend over a strike length of 700 meters at Williams Brook. Building on the success of our inaugural drilling program in other areas of the property, we will test this new target in early 2022 to show that the gold mineralization observed here at surface also extends at depth."
RECENT EXPLORATION HIGHLIGHTS
Discovery of a pervasive network of altered and thick quartz veins;
Discovery of three (3) additional areas with visible gold, over 25 meters, in quartz vein;
Discovery of several N340 structures in the rhyolite that could represent important conduits to the formation of the quartz veins and associated high-grade gold mineralization;
The entire OGT belt is heavily oxidized and mineralized;
Over 750 samples sent for assays (results pending);
Compilation of a robust geological model in collaboration with Terrane Geosciences and Mira Geoscience underway;
Launch of a 10,000-meters drilling campaign in January 2022.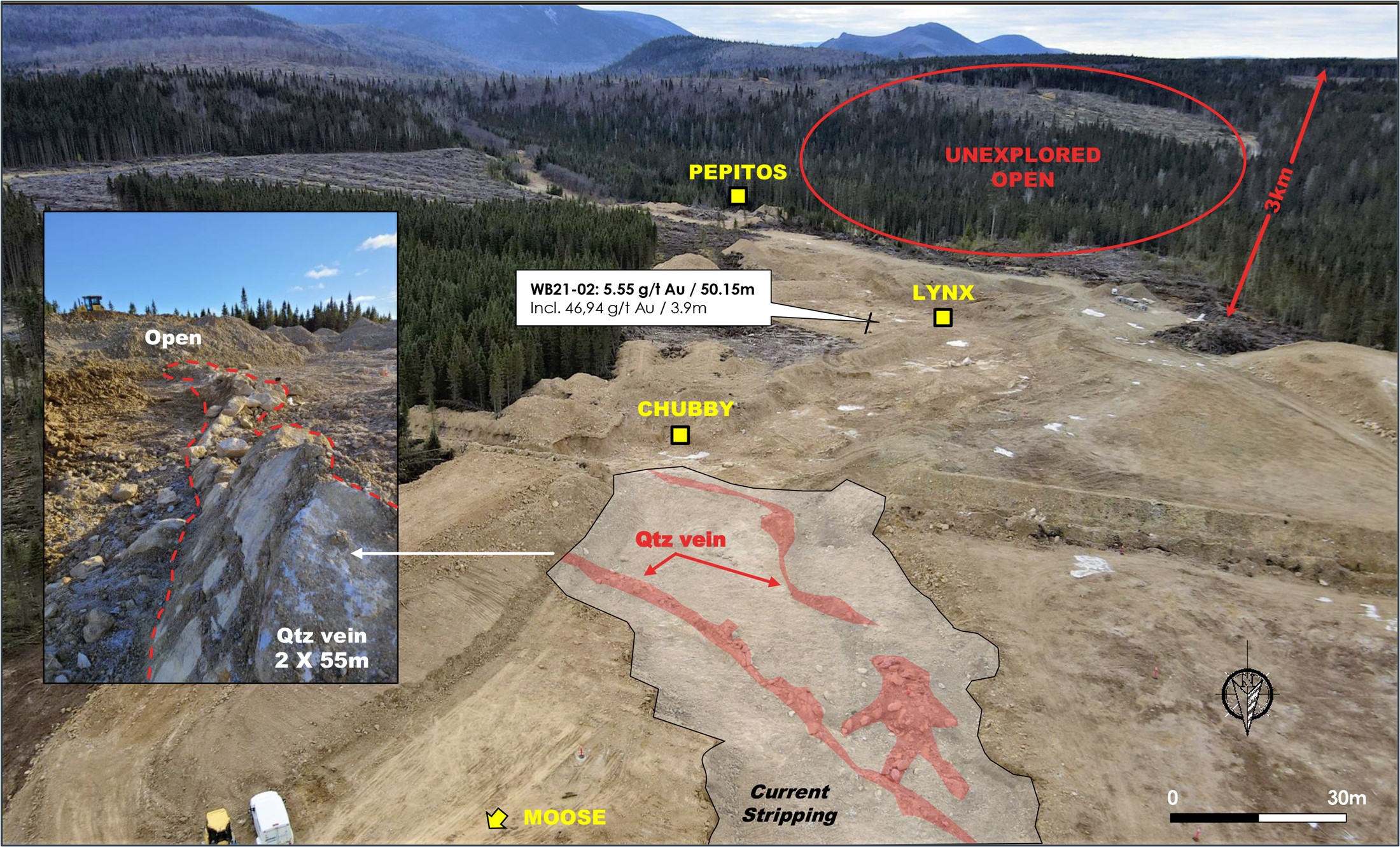 ONGOING EXPLORATION PROGRAM
Puma's ongoing surface exploration and stripping program, launched in June 2021, is focused on testing and extending the O'Neil Gold Trend at its Williams Brook property. Building on the Company's success, the aggressive mechanized stripping program continues to uncover prospective areas for high-grade gold mineralization along the OGT. The entire 300-meters strike length contact between the Lynx Zone up to the Moose Zone was stripped at a width varying between 25 to 100 meters (Figure 3). The pervasive altered rock package that hosts networks of quartz veins with high-grade gold mineralization seen at O'Neil, Lynx, and Pepitos is also present here. This significant discovery shows that gold mineralization extends over 700 meters along strike from the O'Neil area all the way to the Lynx area and that a large gold deposit is possible at Williams Brook.
With surface gold mineralization extending at depth, as shown by Puma's inaugural drilling program, the technical team is aggressively sampling the uncovered quartz veins to identify potential high-grade gold targets and improve the outcomes of its upcoming drilling program (Figure 4). Over 750 samples have been collected to date, with assays pending. Mapping and analysis of structural data are also underway to further optimize the upcoming drilling program. Terrane Geosciences mapped the favourable rhyolite/sediment contact in the area, and the structural features and the quartz veins orientation are currently being analyzed to improve targeting. As long as field conditions allow, Puma will continue to advance its surface stripping and sampling work aggressively.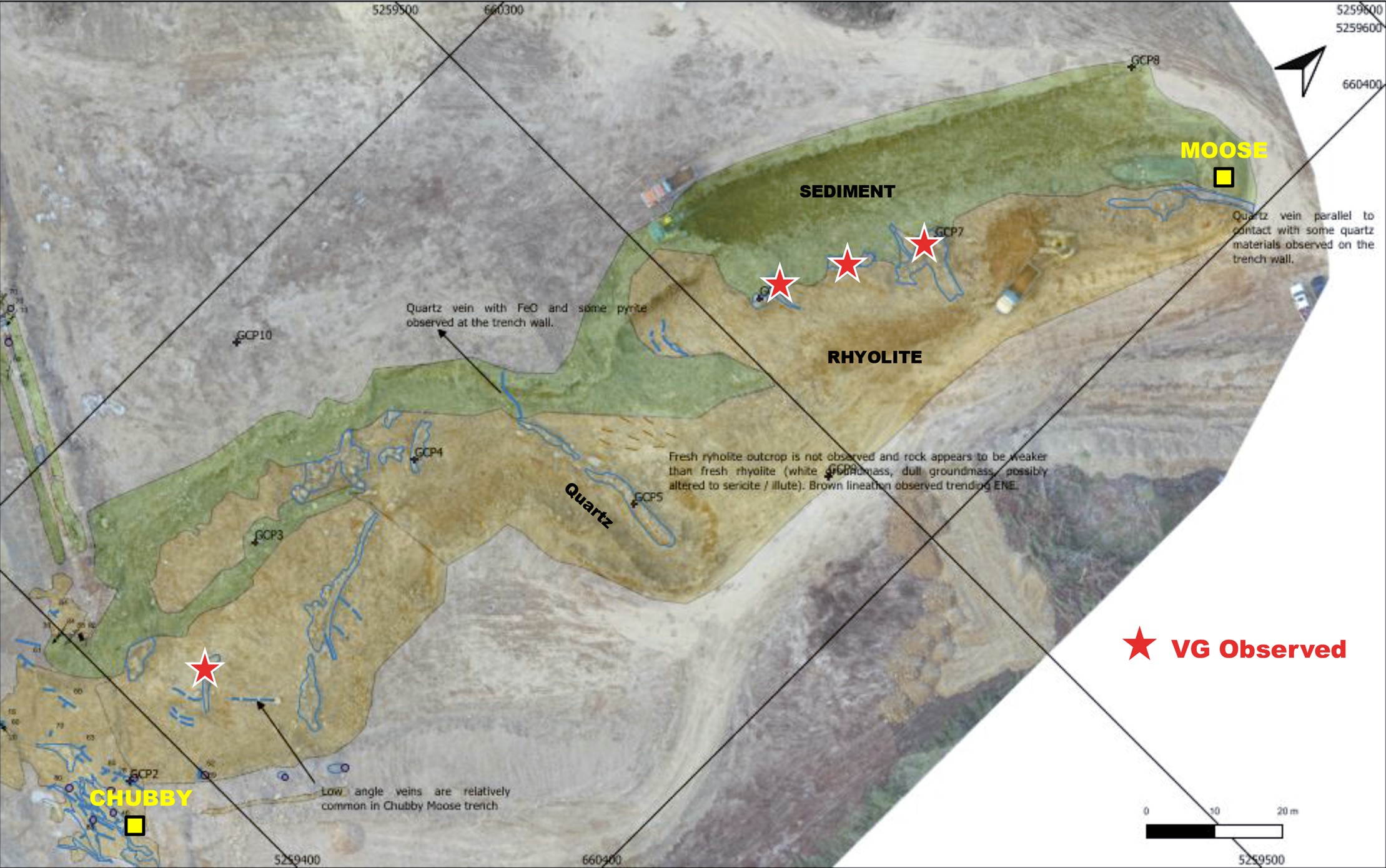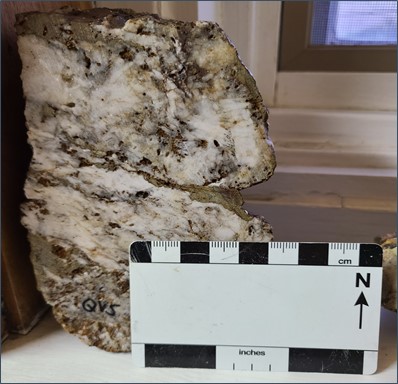 QUALIFIED PERSON
Dominique Gagné, PGeo, independent qualified person as defined by Canadian National Instrument 43-101 standards, has reviewed and approved the geological information reported in this news release. Neither TSX Venture Exchange nor its Regulation Services Provider (as that term is defined in the policies of the TSX Venture Exchange) accepts responsibility for the adequacy or accuracy of this release. Mr. Gagné is independent of the Company.
ABOUT PUMA EXPLORATION
Puma Exploration is a Canadian-based mineral exploration company with precious and base metals projects in early to advanced stages located in the Famous Bathurst Mining Camp (BMC) in New Brunswick, Canada. The Company is committed to its DEAR strategy (Development, Exploration, Acquisition and Royalties) to generate maximum value for shareholders with low share- dilution.
Connect with us on Facebook / Twitter / LinkedIn
Visit www.explorationpuma.com for more information or contact:
Marcel Robillard,
President, (418) 750-8510;
[email protected]
Mia Boiridy,
Head of Investor Relations and Corporate Development, (250) 575-3305;
[email protected]
Neither the TSX Venture Exchange nor its Regulation Services Provider (as that term is defined in the policies of the TSX Venture Exchange) accept responsibility for the adequacy or accuracy of this release.
Forward-Looking Statements: This press release may contain forward-looking statements. Such forward-looking statements involve a number of known and unknown risks, uncertainties and other factors which may cause the actual results, performance or achievements of Puma to be materially different from actual future results and achievements expressed or implied by such forward-looking statements. Readers are cautioned not to place undue reliance on these forward-looking statements which speak only as of the date the statements were made, except as required by law. Puma undertakes no obligation to publicly update or revise any forward-looking statements. These risks and uncertainties are described in the quarterly and annual reports and in the documents submitted to the securities administration.
tsx
tsxv
tsx venture
gold
tsxv-puma
puma-exploration-inc
puma exploration inc