Major Gold Miners are Racing to the Golden Triangle
The "Golden Triangle" may be one of the most prolific mining areas in the world. Estimated to hold about 219 million ounces of gold, about 87.7…
The "Golden Triangle" may be one of the most prolific mining areas in the world. Estimated to hold about 219 million ounces of gold, about 87.7 million pounds of copper, and about 1,342 million ounces of silver, it could offer substantial opportunity for Metallis Resources Inc. (TSXV: MTS)(OTCQB: MTLFF)(FSE: 0CVM), Seabridge Gold Inc. (NYSE:SA)(TSX:SEA), Eskay Mining Corp. (TSXV:ESK)(OTC:ESKYF), Tudor Gold Corp. (TSXV:TUD)(OTC:TDRRF), and Skeena Resources Ltd. (TSX:SKE)(OTC:SKREF).
Better, "Over 130 million ounces of gold, 800 million ounces of silver and 40 billion pounds of copper have been discovered in the Golden Triangle and this is only scratching the surface. Exploration results by numerous junior explorers have made it clear that the Golden Triangle is metal-rich with further significant discovery potential," as reported by Resource World.
One of the Companies Operating in the Golden Triangle is Metallis Resources Inc.
Metallis Resources Inc. (TSXV: MTS)(OTCQB:MTLFF)(FSE:0CVM) just announced the commencement of its 2021 drill program at its 100%-owned Kirkham Property. The Property is situated in the prolific Eskay Camp of the Golden Triangle in northwestern British Columbia, a district known worldwide for the past producing Eskay Creek and Snip gold mines, Seabridge's KSM porphyry deposits and Pretium's producing Brucejack gold mine.
An initial 8,000m drill program has begun – with a focus on the Cliff-Miles porphyry corridor that forms a 4 km section of the Hawilson Monzonite, a 7.5 km long porphyritic intrusion on the property. The Program will target two types of mineralization. The first holes (Click Here to View Map) are intended to test for higher grade copper and gold mineralization beneath previous drill hole intersections. The other target in the Miles Zone is the large gold-bearing overprinted siliceous zones and quartz-carbonate-sulphide veins that are coincident with a prominent IP resistivity-high and a strong gold-in-soil geochemical anomaly. Preliminary results from the recently completed property wide ZTEM survey, along with drill core re-logging and ground truthing work over the last two weeks, has helped support the geological team with confirming optimal drill collar locations.
Metallis' VP of Exploration Dave Dupre stated, "Metallis' planning and early execution of time sensitive actions have led to the on-time commencement of the diamond drilling program at the Cliff/Miles Zone. During the past two weeks, the field crew has constructed most of the drill pads and relogged over 6,500m of drill core from 12 holes that have a bearing on this year's target selection." He went on to add, "A very aggressive drilling campaign has been planned for this field season. This program will seek to expand on last year's results such as KH20-37 which returned 83m @ 0.68 g/t AuEq.* and KH20-34 which returned 141m @ 0.64 g/t AuEq."
*Gold equivalent grades ("AuEq.") are for comparative purposes only. Calculations are uncut and recovery is assumed to be 100% as no metallurgical data are available. The metal prices including: US$1700/oz Gold, US$20/oz Silver, US$3.0/lb. Copper & $9.0/lb. Mo. were used for (AuEq g/t).
Other related developments from around the markets include:
Seabridge Gold and Eskay Mining Corp. announced that they have entered into an agreement whereby Seabridge and Eskay Mining will share the costs equally on construction of the first 9 kilometres of the Coulter Creek Access Road, estimated to cost $12.0 million. Construction is planned to commence in July. Eskay Mining's share of the costs will be financed by Seabridge. As background, the CCAR is one of two main access roads planned and permitted for Seabridge's 100% owned KSM project situated within the Golden Triangle in British Columbia, Canada. The road is designed to connect the KSM project with the existing Eskay mine road to the northwest (see attached map). Approximately 2.92 kilometres of the First Segment of the CCAR is situated on mineral tenures held by Eskay Mining.
Tudor Gold Corp. announced the proposed spin-off of its six contiguous mineral properties located in the Golden Triangle Area in northwestern British Columbia by way of a plan of arrangement under the Business Corporations Act (British Columbia). In furtherance thereof, the Company has entered into an arrangement agreement with Goldstorm Metals Corp., a wholly-owned subsidiary of the Company. Pursuant to the Arrangement, among other things:
Tudor Gold shareholders will receive approximately 0.253 of a common share of Goldstorm for every one common share of Tudor Gold held; and Goldstorm will acquire the Company's six contiguous Golden Triangle Area mineral properties, being the Mackie East, Mackie West, Fairweather, High North, Delta and Orion and Electrum properties in consideration for Goldstorm issuing 44,999,999 Goldstorm Shares to Tudor Gold.
Skeena Resources Ltd. announced the results of the Prefeasibility Study completed by Ausenco Engineering Canada Inc., supported by SRK Consulting (Canada), and AGP Mining Consultants, for the Eskay Creek gold-silver project located in the Golden Triangle of British Columbia. Skeena's CEO, Walter Coles Jr. commented, "Eskay Creek has a rare combination of attributes: scale, impressive grade and location in a tier one mining jurisdiction with strong First Nations support. In the first 5 years of operation, it is anticipated that Eskay Creek will produce, on average, 450,000 gold equivalent ounces per year. We expect further increases to the annual production profile as we move to the Feasibility Study in Q1 of 2022, and beyond. Our goal is to create a mine producing 500,000 gold equivalent ounces per year for 10 years. The PFS is only based on the current open-pit resources. Skeena has a 35,000-metre exploration program underway at Eskay Creek to continue to grow the open-pit resources, and we have yet to focus on the considerable underground exploration potential."
Legal Disclaimer / Except for the historical information presented herein, matters discussed in this article contains forward-looking statements that are subject to certain risks and uncertainties that could cause actual results to differ materially from any future results, performance or achievements expressed or implied by such statements. Winning Media is not registered with any financial or securities regulatory authority and does not provide nor claims to provide investment advice or recommendations to readers of this release. For making specific investment decisions, readers should seek their own advice. Winning Media is only compensated for its services in the form of cash-based compensation. Pursuant to an agreement Winning Media has been paid three thousand five hundred dollars for advertising and marketing services for Metallis Resources Inc. by Metallis Resources Inc. We own ZERO shares of Metallis Resources Inc. Please click here for full disclaimer.
Contact Information:
2818047972
[email protected]
tsx tsxv nyse otc otcqb gold silver copper diamond tsx-sea seabridge-gold-inc tsx-ske skeena-resources-limited tsxv-esk eskay-mining-corp tsxv-tud tudor-gold-corp
B2Gold (NYSE:BTG) (TSX:BTO) shows strong production, but Mali risks persist
B2Gold's (NYSE:BTG) strong 2021 production numbers are overshadowed by its underperforming Gold Miners Index (GDX) by nearly 20%. The drop was partly…
B2Gold's (NYSE:BTG) strong 2021 production numbers are overshadowed by its underperforming Gold Miners Index (GDX) by nearly 20%.
The drop was partly due to a record comparative earnings year in 2020 as well as perceived risk in Mali. If recent sanctions do not impact mining operations, B2Gold's price could start to better reflect its solid fundamentals. 
Low cost producer with strong cash position
Annual production for FY2021 was 1.04M oz. with all-in sustaining costs (AISC) between $870 and $910. AISC for FY2022 are projected to be $1,010-$1,050 due to inflationary pressures. Even so, B2G is poised to remain among the lowest cost producers in the industry.
2021 cash flow from operations is estimated at $650M. The strong cash position with virtually no debt gives the company options for exploration and M&A. $29M has been allocated to grassroots exploration for 2022, highlighting their ambition to continue to grow by drilling.
In the words of chief executive Clive Johnson, "we've always been very entrepreneurial, yet we're very good at the bricks and mortar of our business…. We'll do deals that other companies may not do."  
Perceived Mali risks but no impact on production
Over half of B2Gold's production comes from the Fekola Mine in Mali, where regulatory and geopolitical events have been an ongoing theme. 
There was a military coup in May which, while not impacting operations, created some negative investor sentiment regarding one of Africa's biggest gold producers. The government's revocation of an exploration permit for B2Gold's Menankoto property also caused negative market reaction. Although a permitting agreement was reached in December, recent sanctions on the country imposed by the Economic Community of West African States (ECOWAS) raise the possibility of supply disruptions.  
Nonetheless, Fekola exceeded 2021 production estimates with 567,795 oz. and CEO Clive Johnson maintains that it will withstand supply disruptions and meet 2022 targets.     
Image source: b2gold.com
Underexplored jurisdictions
Part of B2Gold's strategy is to operate and develop in jurisdictions which, while relatively underexplored, are often perceived as higher risk compared to, for instance, Canada, Nevada, or Australia. As Clive Johnson states, "a core part of our strategy is to go where others fear to tread."
Aside from core operations in Mali, The Philippines, and Namibia, the company has exploration projects in Uzbekistan and Finland as well as a JV development in Colombia. In July 2021, they signed exploration contracts in Egypt.  
In the face of perceived geopolitical risks, Johnson highlights the solid economic foundation gold miners brought to countries during COVID and anticipates B2Gold's experience and reputation will set it apart.     
Valuation fundamentals
B2Gold offers one of the highest dividends in the industry (4.38%). It is trading at 8.67 times earnings and has healthy current and quick ratios of 4.89 and 2.90, respectively. Price to forward earnings and price to cash flow are both below industry averages.
If perceived Mali risks begin to ease and gold continues to show a strong hand in volatile markets, B2Gold's value could start to be better reflected in the price.
The above references an opinion and is for information purposes only. It is not intended to be investment advice. Seek a licensed professional for investment advice. The author is an insider or shareholder of one or more of the companies mentioned above.
The post B2Gold (NYSE:BTG) (TSX:BTO) shows strong production, but Mali risks persist appeared first on MiningFeeds.
gold
markets
mining
inflationary
tsx
nyse
tsx-bto
b2gold-corp
Here's How Fed Hikes Could Affect Your Retirement Savings
Investors Alley
Here's How Fed Hikes Could Affect Your Retirement Savings
The public is on to the Fed's inflation game! The Fed called it "transitory"….
Investors Alley
Here's How Fed Hikes Could Affect Your Retirement Savings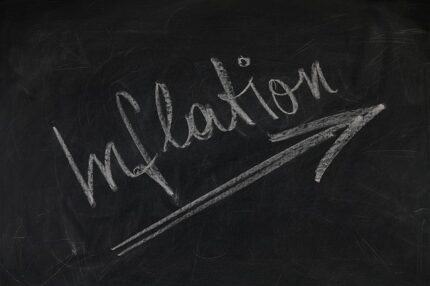 The public is on to the Fed's inflation game! The Fed called it "transitory". Baloney! The Fed announced:
"…it is accelerating its removal of monetary support for the economy, citing a rise in inflation that has seen the biggest jump in prices nearly 40 years. In a move to cool growth, policy makers also said they expect to hike interest rates three times in 2022." (Emphasis mine)
John Williams (www.shadowstats.com) calculates inflation the same way they did 40 years ago. Using the 1980 calculations, inflation is over 14%.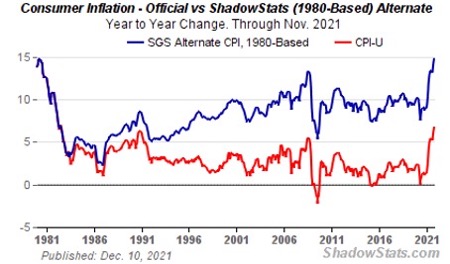 Jared Dillian writes:
"I don't have much in the way of ideas or investment themes for the New Year, other than the Fed is going to hike rates into an uncomfortable orifice. If that was your base case, for 2022, what would you do? Buy stocks? Buy commodities? Buy bonds?
You would buy none of the above. And that is the predicament I am in. I write a couple of investment newsletters with trade ideas, typically long trade ideas, and nothing looks especially attractive.
…. Will 2022 be different? It's hard to beat the index when the index is basically 5 stocks, and you don't own any of those five stocks."
ZeroHedge reports:
"…51% of all market gains from April through December were just from the five most popular tech names – AAPL, MSFT, NVDA, TSLA, GOOGL – Sundial Research notes that a near-record number of tech stocks have plunged by some 50%, a number that was only surpassed by the March 2021 crash and the global financial crisis."
The investor challenge? Earn 14% after taxes just to keep up with inflation.
Who do you trust?
Richard Maybury's January issue of the "U.S. & World Early Warning Report" asks:
"…. Socialism/Keynesianism assumes governments can be trusted, while Austrianism asks, where is the evidence for this faith?"
"It is well enough that people of the nation do not understand our banking and monetary system, for if they did, I believe there would be a revolution before tomorrow morning."
— Henry Ford
Do you believe the Fed is serious about taming inflation? Are they willing to see bond prices tumble and a major market correction? Remember, the Fed that told us the 2008 bailout and low interest rates were "temporary" and would soon return to normal.
40 years ago, Fed Chairman Paul Volcker needed double-digit interest rates to do the job. Today the Fed is owned by the biggest investment houses in the world. If Fed Chairman Jerome Powell raises rates, it will negatively impact casino bank profits, while adding trillions in interest cost to US government debt.
Time to go to our Fed expert Chuck Butler for help.
DENNIS: Chuck, once again, thank you for your time for the benefit of our readers.
The casino banks bailouts continue. Jeff Clark recently discussed the 2022 "potholes" and remarks, "US debt continues to not only grow, but according to Treasury data it increased in December, by 50% of what had been seen in all of 2021."
Chuck, as a long-time Fed watcher, what the Fed announces, versus what happens doesn't always match up. Powell announced his inflation-busting plan. How do you see it being implemented?
CHUCK: Dennis, once again thank you for inviting me to opine for your readers, I truly appreciate this opportunity.
I feel the current edition of Fed Heads will attempt to tackle inflation with 25 BPS rate hikes… The Fed has mentioned that they will be hiking rates 2-3 times in 2022… Well, if my thoughts are correct, that would only bring our base rates to 1/2% – 3/4%… How's that going to tackle 14% inflation? It won't… Meanwhile Main Street will continue to scramble.
The Fed will get a little traction. Each time they hike rates, they'll tell the markets that they intend to continue, and that will keep the markets on key; feeling more help is on the way… Of course, they'll be wishin', hopin' and prayin', the Fed backs off.
"The Federal Reserve is a cartel – it's a banking cartel. And like all cartels, it only has one purpose – and that is to serve the benefit of the members of the cartel, period."
— G. Edward Griffin
I could be wrong. The Fed could aggressively go after inflation with BIG rate hikes of 50 BPS or more while tapering their asset purchases… Given what you've seen from these knuckleheads since 2008, what do you think the odds are for an aggressive Fed? (Slim and None, and Slim left town)…
DENNIS: Continuing the fiddling while Rome burns…
If interest rates were to rise even 1%, how much affect do you feel it would really have in taming inflation? Would it have any effect on out-of-control government spending, particularly in an election year?
CHUCK: Any rate hikes of any size will put the kyboshes on the more than 20-year rally in bonds… If the Fed hadn't been the #1 buyer of Treasuries these past few years, that bond rally would have ended long ago…
The Fed stated that they are no longer in the bond-buying business… Remaining investors will demand higher yields. If you bought a 10-year Treasury at 1.75% yield, and the Fed hikes rates, new 10-year Treasuries will pay more. If you want to resell your current bonds, you will sell them below par value – or you must hold them to maturity.
The stock market bubble has been searching for a pin for longer than anyone has imagined. That pin will be the announced rate hikes. No matter what size the rate hike, I expect the market correction Dillian referred to.
Gov't curbing deficit spending? I doubt it, especially in an election year. The public views the ruling party as responsible for this rising inflation which puts a major dent in their disposable income… So, expect the ruling party to jump in with more Stimmy checks, aka deficit spending…
DENNIS: Recall the old line, "I'm not trying to get rich; but rather trying to avoid getting poor!" Fixed-income investments are losers with high inflation. The market is fraught with risk. How do baby boomers protect their nest egg with some margin of safety?
CHUCK: Yes, this is a very frustrating time; safe places to invest are so limited… The one true and tried way to protect one's investment portfolio in times of rising inflation is Gold (or Silver). Real Estate can help, but the problem is that it's not as liquid, as Gold.
My humble country boy opinion is that you had better get Gold while the getting is good… Long time readers of my newsletter: A Pfennig For Your Thoughts, (a shameless plug) have read my thoughts on Gold price suppression for years… I've consistently told them that there will come a day when the physical buying of Gold (and Silver) will overtake the short paper trades at the COMEX, and the price suppression will end.
I feel this run in Gold will occur in 2022, when inflation goes wild, the Fed tries to react, bonds get sold, stocks get sold, and everyone turns to Gold once again… And it's at that time, that all those naysayers to Gold, will find that they can't find a dealer to sell them physical Gold… Uh-Oh!
DENNIS: How do you feel about gold stocks? The large, established mining companies pay minimal dividends, but every little bit helps.
CHUCK: In the run-up of the Gold price in the '70s to combat Carter years inflation, the Gold Miners made huge profits, making their stocks very profitable. So, if history repeats, we could very well see the Gold Miners' stocks rise again… I'm talking about the Gold producing companies, not the exploration miners… Despite paying minimal dividends, gold price increases could pave the way for dividend increases, adding icing to the cake.
DENNIS: During the Volcker years, buying and selling real estate was tough as interest rates were at record levels. Using the premise that the Fed will take baby steps, do you feel any different about real estate this time around?
CHUCK: The other day, I saw a commercial on TV, for a mortgage lender, who said that he could rush a closing to 3 weeks… OK, so let's say you get a phone call from your broker, and your margin account is down and needs a cash infusion by the next day, or face selling of positions… But you won't get your cash from your real estate holding for 3 weeks?
To answer your question, that would still be more liquid than the Volcker years.
DENNIS: One final question. High inflation means no one wants to hold a particular currency and investors move to other, more stable currencies.
Are there certain currencies that you would recommend to readers as a hedge?
CHUCK: Historically, in inflationary times, commodities do well… When a country is a commodity exporter, their currency becomes more valuable.
Commodity exporters are Russia, Australia, New Zealand, Canada, Norway, Brazil, and a few others. There is a reasonable chance their currencies will rise, helping offset the ravages of inflation on your portfolio.
When I was at EverBank (1-800-926-4922… I don't get a thin dime from them if you do call them), I created what was called the Commodity Currency Index CD… It still exists and has probably been improved upon. You may also want to ask your financial advisor about Exchange Traded Funds specializing in foreign currencies.
Dennis thank you once again for this opportunity… I'm also glad to hear that your health has turned a corner, and that you're felling much better these days… to health and happiness in 2022…
Dennis here. Thanks again to Chuck for his candid opinion. Inflation is scary and we all need to take steps to protect our accumulated wealth.
Here's How Fed Hikes Could Affect Your Retirement Savings
Dennis Miller
Investing Legend Turns Apocalyptic, Expects Stocks To Crater 50% In Largest Wealth Destruction In US History
With stocks again swooning on fears Fed support of gradually fading, it didn't take long for the 83-year-old Grantham to publish his most apocalyptic note yet…
Investing Legend Turns Apocalyptic, Expects Stocks To Crater 50% In Largest Wealth Destruction In US History
It was several years ago when Jeremy Grantham quietly turned from stock bull to vocal permabear, and while his market notes turned breathlessly alarmist (if only to those who were long his multi-billion fund GMO), such as this from June 2020 "Stock-market legend who called 3 financial bubbles says this one is the 'Real McCoy,' this is 'crazy stuff'", it wasn't until early 2021 that Grantham's warnings of an imminent crash became especially shrill… and spectacularly wrong. Recall, back in January 2021, Grantham wrote that "Bursting Of This "Great, Epic Bubble" Will Be "Most Important Investing Event Of Your Lives", while was followed by warnings of a "Spectacular" Crash In "The Next Few Months."
Needless to say, no crash followed as the Fed and other central banks went all in on stabilizing the market, resulting in an epic year for risk assets which closed 2021 at all time highs, while GMO suffered not only steep losses but also substantial redemptions, a humiliating outcome for Grantham who had previously called the bursting of both the dot com and housing bubbles, but failed to account for just how determined the Fed is to avoid another bubble bursting.
But with stocks again swooning on fears Fed support of gradually fading, it didn't take long for the 83-year-old Grantham to publish his most apocalyptic note yet, "Let The Wild Rumpus Begin" out this morning, in which he revisits the familiar them that we are currently living in a superbubble – only the fourth of the past century – and like the crash of 1929, the dot-com bust of 2000 and the financial crisis of 2008, Grantham is "nearly certain" the bursting of this bubble has begun, sending indexes back to statistical norms and possibly further.
How much lower? The iconic value manager sees the S&P tumbling by nearly 50% to 2,500 from its all time highs of 4,800 just a few weeks ago. The Nasdaq Composite, which closed in a technical correction on Wednesday down 10% from its all time high, may sustain an even bigger correction.
"I wasn't quite as certain about this bubble a year ago as I had been about the tech bubble of 2000, or as I had been in Japan, or as I had been in the housing bubble of 2007," Grantham told Bloomberg in a "Front Row" interview. "I felt highly likely, but perhaps not nearly certain. Today, I feel it is just about nearly certain."
The signs that Grantham has been looking at are hardly a secret: the first indication that the bursting of the superbubble has begun came last February, when dozens of the most speculative stocks began falling. One proxy, Cathie Wood's ARK Innovation ETF, has since tumbled by 52%. Next, the Russell 2000, an index of mid-cap equities that typically outperforms in a bull market, trailed the S&P 500 in 2021. Indeed, many of the bubble baskets which are a proxy of central bank liquidity, have been sharply lower for the past year with a handful of exceptions.
Grantham also points to the kind of "crazy investor behavior" indicative of a late-stage bubble: meme stocks, a buying frenzy in electric-vehicle names, the rise of nonsensical cryptocurrencies such a dogecoin and multimillion-dollar prices for non-fungible tokens, or NFTs. However, while it has certainly become more subdued, as the following chart of single stock option activity from Goldman shows, retail is still solidly in the market.
"This checklist for a super-bubble running through its phases is now complete and the wild rumpus can begin at any time," Grantham, writes adding that "when pessimism returns to markets, we face the largest potential markdown of perceived wealth in U.S. history"
To be sure, Grantham admits that he may not have timed the top perfectly, but says it's only a matter of time before the bubble bursts. In the meantime, we are living in the "vampire phase of the bull market" which will survive for a while but eventually it "keels over and dies. The sooner the better for everyone", to wit:
… we are in what I think of as the vampire phase of the bull market, where you throw everything you have at it: you stab it with Covid, you shoot it with the end of QE and the promise of higher rates, and you poison it with unexpected inflation – which has always killed P/E ratios before, but quite uniquely, not this time yet – and still the creature flies. (Just as it staggered through the second half of 2007 as its mortgage and other financial wounds increased one by one.) Until, just as you're beginning to think the thing is completely immortal, it finally, and perhaps a little anticlimactically, keels over and dies. The sooner the better for everyone.
Sparing no superlatives to describe what is coming, Grantham said the coming crash could rival the impact of the dual collapse of Japanese stocks and real estate in the late 1980s, with catastrophic consequences.
Not only are equities in a super-bubble, according to Grantham there's also a bubble in bonds, "the broadest and most extreme" bubble ever in global real estate and an "incipient bubble" in commodity prices. Even without a full reversion back to statistical trends, he calculates that losses in the U.S. alone may reach $35 trillion.
While Grantham is one of the iconic (and last remaining) value managers who's been investing for 50 years and calling bubbles for almost as long, Bloomberg's Erik Shatzker writes that he knows his predictions are fodder for skeptics. One obvious question: How could the S&P 500 advance 26.9% in 2021 — its seventh-best performance in 50 years — if stocks were poised to plummet, especially when Grantham was warning of an epic crash last January?
Rather than disprove his thesis, Grantham said the strength in blue-chip stocks at a time of weakness in speculative bets only reinforces it: "This has been exactly how the great bubbles have broken," he said. "In 1929, the flakes were down for the year before the market broke, they were down 30%. The year before they'd been up 85%, they had crushed the market." In other words, Grantham is pointing to the same lack of market breadth that prompted even Goldman to ring the alarm last month, when the bank pointed out that 51% of all market gains since April are from just 5 stocks..
Having seen the same pattern that played out in every past super-bubble is what gives him so much confidence in predicting this one will implode similarly.
Echoing what we have said since 2009, when the view was largely contrarian and has since become consensus, Grantham puts the blame for bubbles of the past 25 years on bad monetary policy. Ever since Alan Greenspan was Fed chairman, he argues, the central bank has "aided and abetted" the formation of successive bubbles by first making money too cheap and then rushing to bail out markets when corrections followed.
Now, Grantham warns, investors may no longer be able to count on that implied put. He says that with inflation running at the fastest clip in four decades "limits" the Fed's ability to stimulate the economy by cutting rates or buying assets,..
"They will try, they will have some effect," he added. "There is some element of the put left. It is just heavily compromised."
Under these conditions, the traditional 60/40 portfolio of stocks offset by bonds offers so little protection it's "absolutely useless," Grantham said. He advises selling U.S. equities in favor of stocks trading at cheaper valuations in Japan and emerging markets, owning resources for inflation protection, holding some gold and silver, and raising cash to deploy when prices are once again attractive.
"Everything has consequences and the consequences this time may or may not include some intractable inflation" Grantham writes. "But it has already definitely included the most dangerous breadth of asset overpricing in financial history."
Here, we disagree: yes, there will be a crash, one which will send deflationary shockwaves around the world, but it will only prompt an even bigger rescue by the same Fed which no longer has an alternative after it crossed the Rubicon in 2020 and bought corporate bonds and junk bond ETFs to avoid an all out collapse in the post-covid turmoil. In the next crash the Fed, whose only contribution over the past 100 years has been to make the rich richer and create an epic "wealth effect" bubble, will buy stocks and ETFs, transforming into the Bank of Japan, before eventually it loses all credibility. But by then, stocks will be orders of multiple higher, completely disconnected from reality and fundamentals and trading only on the quadrillions in liquidity central banks inject to preserve the western way of life.
Incidentally, the question of what happens after the next crash is one that was posed just yesterday by another market bear, Stifel strategist Barry Bannister, who predicts a market drop to 4,200 in Q1 2022, but wonders what happens post-correction, when he writes that "equities risk the third bubble in 100 years if the Fed loses its nerve and cancels much of the tightening plan. We doubt that occurs anytime soon, because we believe bubbles are exceptionally poor policy, and the prior two equity bubble tops (1929 and 2000) were followed by "lost decades."
We do not doubt it at all, and are absolutely certain that the Fed – which has no choice but to blow an even bigger bubble after the coming market crash – will do just that.
The only question we have is how much of a crash can the Fed weather before it capitulates, i.e., what is the level of the Fed put. We are confident that another 10-20% lower – which will obliterate Biden's ratings and Republican avalanche in the miderms, surging inflation notwithstanding – and the market will finally discover what it is looking for.
Grantham's full note is below (pdf link).
Tyler Durden Thu, 01/20/2022 – 15:05 dollar gold silver inflation commodity monetary markets policy fed central bank bubble monetary policy deflationary crash