CMC Metals up 60% on Yukon Drilling News
  VANCOUVER – CMC Metals Ltd. [CMB-TSXV] shares jumped near 60% on Wednesday as investor reacted to drilling results from the company's Silver Hart…
VANCOUVER – CMC Metals Ltd. [CMB-TSXV] shares jumped near 60% on Wednesday as investor reacted to drilling results from the company's Silver Hart project in the Canadian Yukon.
The company said drilling produced multiple high-grade-silver-lead-zinc intersections in the TM West Vein, including 2.3 metres of 4,910 g/t silver equivalent (AgEq).
The shares rallied on the news, rising 59% or $0.05 to 13.5 cents on volume of 4.36 million. That made CMC the volume leader on the TSX Venture Exchange. The shares have been trading in a 52-week range of 26.5 cents and $0.075.
CMC Metals is a growth-stage exploration company with a focus on high grade polymetallic deposits in the Yukon, British Columbia, Newfoundland and Labrador. Its silver-lead-zinc prospects in the Rancheria Silver District include the Silver Hart Deposit and Blue Haven claims (the Silver Hart Project) in the Yukon, and Rancheria South, Amy and Silverknife claims in British Columbia.
Its polymetallic projects with potential for copper-silver gold and other metals include Logjam (Yukon), Bridal Veil and Terra Nova, both of which are located in Newfoundland.
On Tuesday, the company said 2,100 metres (19 holes) of diamond drilling was completed at Silver Hart. It said the majority of that drilling focused on the TM West vein in the Main Zone.  Drilling also resulted in an extension of the TM West Vein structure for 360 metres.
In its press release, the company said the Main Zone requires a lot of additional drilling to fully evaluated the resource that exists within it. CMC notes that there is considerable opportunity to further extend the TM West vein and extend other known mineralized vein systems within the Main Zone.
"This work will be incorporated into the planning and implementation of future drilling programs,'' the company said.
CMC Chairman John Bossio said further resource delineation at the Main Zone and preliminary testing of targets such as T1, T4 and the hockey stick anomaly will require a minimum of 10,000 metres of drilling. "We have a lot of work to do yet to truly understand the resource potential of Silver Hart,'' he said.
CEO Kevin Brewer said there remains over 10 areas in the Main Zone alone that are yet to be drill tested. "As a result of successful drilling in 2019 and 2021, we are very confident that further drilling in the Main Zone will result in connectivity, down-dip and lateral extensions of the known mineralized areas and the possibility also remains to identify new mineralization.''
"In addition, we have not even started to investigate the new targets at Silver Hart, including possible extensions of the Main Zone, KW Zone, South Zone and Ridge Zone.''
tsx
tsxv
tsx venture
silver
zinc
diamond
tsxv-cmb
cmc-metals-ltd
cmc metals ltd
UK SMEs join forces to drive energy storage innovation
Sodium-ion battery module meets artificial intelligence at testbed to drive technologies to market.
The post UK SMEs join forces to drive energy storage…
Sodium-ion battery module meets artificial intelligence at testbed to drive technologies to market
A trio of SMEs have joined forces to accelerate to market innovations in energy storage.
AMTE Power, Brill Power and Starke Energy are collaborating at a commercial-scale testbed at Harwell Campus in Oxfordshire, England.
They aim to prove three new technologies at a battery energy storage system to be integrated with a solar array operated by the Science and Engineering Facilities Council (STFC) at Harwell Science and Innovation Campus.
AMTE Power develops new battery cell technologies; Brill Power is a spin-out from the University of Oxford which develops intelligent battery management and control technology; and Starke Energy uses artificial intelligence to optimise batteries.
First time deployment
The testbed will demonstrate AMTE's sodium-ion battery module using Brill Power's technology and Starke's energy management system, which links stored energy into the electricity grid and markets.
This is the first time that these technologies are being deployed in a commercially relevant project.
Emma Southwell-Sander from the STFC and manager of the EnergyTec Cluster at Harwell Campus said the project "is a prime example of how Harwell's EnergyTec cluster is facilitating access to young innovative businesses to a wealth of resources to supercharge their route to market".
The energy storage system at Harwell is expected to be operational from March and will is intended to run for a minimum of 12 months.
As a benchmark, in the project's first phase, AMTE Power will deploy lithium-ion cells before switching to use the company's sodium-ion cell technology in the second demonstration phase of the project.
AMTE's director of business development John Fox said: "The ability to test our new products in a commercial operating environment is invaluable. Having access to the Harwell site will accelerate the time to market for our new energy storage products."
Network resilience
Sodium-ion batteries offer an alternative to lithium-ion in those markets where cost is more important than weight or performance: particularly energy storage, network resilience and energy in remote locations. Improvements in competitiveness of energy storage technologies will accelerate the uptake of small-scale renewable sources of electricity generation.
Catch up on these related features
Trends shaping the next DER decade
Energy storage system to harness Faroe Islands' windpower
The commercialisation of sodium-ion technology lags behind Li-ion but offers significant advantages that makes it suited as a solution for static energy storage applications; it uses earth-abundant elements, has long cycle life and intrinsic safety advantages.
Brill Power's battery intelligence technology will be deployed to ensure optimal battery usage, lifetime, performance, and safety. Real-world data and operating parameters will be collected, which will support further optimisation of the technologies deployed in the demonstrator.
Brill launched its first battery management system last year, which is supported by its proprietary battery monitoring and analytics software platform.
"Brill Power's battery intelligence technology can improve all aspects of advanced battery systems, including performance, cost of ownership, reliability and safety," said the company's chief executive Christoph Birkl.
"This testbed will enable us to integrate our technology with other cutting-edge battery innovations and collect real-world data on a commercially relevant site".
Optimise storage
Starke Energy's energy management system will integrate the battery system with the local energy network at Harwell.
Using artificial intelligence, it learns how much energy is being produced by renewable sources, and how much is being used to optimise the storage and release of energy across a network of connected intelligent batteries.
Exclusive industry insight: Not all storage solutions are created equal
The project is part of the Interreg North-West Europe STEPS programme that is supporting 40 businesses through, in its first phase, a competitive product enhancement voucher programme – valued at €12.5k each.
AMTE, Brill and Starke were all awarded first phase vouchers in March 2021 and each have benefited from support from Cambridge Cleantech, the UK's longest-standing membership organisation for the cleantech sector, and the Faraday Institution, the UK's independent institute for electrochemical energy storage R&D, market analysis and early-stage commercialisation.
This has included tailored testing, introductions to potential end-users and market knowledge to strengthen the competitiveness of their products.
Faraday Institution chief executive Professor Pam Thomas said the energy storage project was "another example of the Faraday Institution acting as convener for partnerships between UK industry, academia and funding organisations as a route to commercialise breakthrough science and engineering to maximise economic value".
Sam Goodall, head of international projects at Cambridge Cleantech added that the three SMEs "have technologies that can revolutionise the energy storage sector, from AMTE's Na-ion batteries which remove the need for mineral extraction, Brill Power who make batteries last longer and be more efficient, and Starke's energy management system which helps optimise the use of the energy and how it is sold together based on AI and IoT".
The post UK SMEs join forces to drive energy storage innovation appeared first on Power Engineering International.
Alamos Gold: Haywood Lowers Target To $12.75 Following 2022 Guidance
Last week, Alamos Gold Inc. (TSX: AGI) reported its fourth quarter and full-year production results, as well as their 2022
The post Alamos Gold: Haywood…
Last week, Alamos Gold Inc. (TSX: AGI) reported its fourth quarter and full-year production results, as well as their 2022 to 2024 production estimates.
For the fourth quarter, Alamos Gold produced 112,500 ounces of gold, bringing the full year 2021 production to 457,200 ounces, which was the lower range of guidance. Costs have not yet been finalized but the company says that it is expected to be consistent with their guidance.
The company also provided 2022 guidance, which included expected gold production of 440,000 to 480,000 ounces. Cash costs are expected to be between $875 to $925 per ounce and all-in sustaining costs are to be between $1,190 to $1,240 per ounce. Total capital expenditures will be between $305 and $345 million, while exploration is expected to cost $27 million for 2022.
For the longer run, the company expects these numbers to grow to 460,000 to 500,000 ounces of gold in 2024, with cash costs of $650 to $750 per ounce and $950 to $1,050 of all-in sustaining costs per ounce.
Currently Alamos Gold currently has 13 analysts covering the stock with an average 12-month price target of C$12.46, or a 36% upside to the current stock price. Out of the 13 analysts, 1 has a strong buy rating, 6 have buy ratings, 5 have holds and 1 analyst has a sell rating. The street high sits at C$17.50 or a 91% upside to the current stock. While the lowest price target sits at C$9.98.
In Haywood Capital Markets' note, they reiterate their buy rating but lower their 12-month price target from C$15 to C$12.75, saying, "lower production and higher costs for 2022," and that inflation is finally starting to impact the production costs.
For the fourth quarter and full-year production numbers, they came in line with Haywood's estimates although they note that the full-year production numbers came in the lower half of guidance.
For the companies three-year guidance, Haywood expected 2022 production to be 485,000 ounces, below their high-end figure. While cash costs were expected to be $785 per ounce, lower than their guided number. This is the same for all-in sustaining costs as Haywood expected it to be $1,055 per ounce. Haywood says that this cost increase in 2022, "is due to industry-wide cost inflation as well as temporary higher costs at Mulatos."
Below you can see Haywood's estimates versus the company's guidance.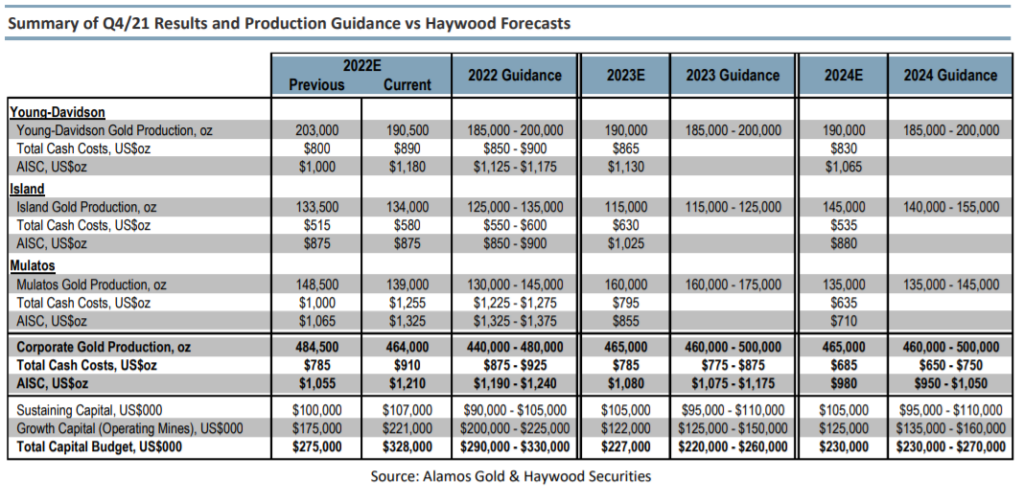 ---
Information for this briefing was found via Sedar and Refinitiv. The author has no securities or affiliations related to this organization. Not a recommendation to buy or sell. Always do additional research and consult a professional before purchasing a security. The author holds no licenses.
The post Alamos Gold: Haywood Lowers Target To $12.75 Following 2022 Guidance appeared first on the deep dive.
gold
inflation
markets
tsx
tsx-agi
alamos-gold-inc
alamos gold inc
S&P Suffers Worst Start To A Year Since 1939 As Yield Curve Yells 'Recession'
S&P Suffers Worst Start To A Year Since 1939 As Yield Curve Yells 'Recession'
Before we start, let's make this clear right from the start…
S&P Suffers Worst Start To A Year Since 1939 As Yield Curve Yells 'Recession'
Before we start, let's make this clear right from the start – despite today's panic-buying, this is the worst start to a year for the S&P 500 since 1939 (and on course for its worst January ever)…
Nasdaq is down 5 straight weeks (16% from its highs) – the longest losing streak since 2012 – while Small Caps are down 22% from their highs (in a bear market)…
Source: Bloomberg
Everything was going so well too… "smooth sailing" they said! "Fed Put" they said! "Transitory inflation" they said…
Today was just a little bit turbo as it seems ugly sentiment data (10 year lows) and plunging growth expectations (Q1 GDP forecasts collapsed), was the 'bad news' the dip-buyers needed to reassure themselves that uber-hawkish Powell wouldn't execte on his plan to crush inflation into a recessionary environment. We have one word for them – stagflation, and it leave Powell in an ugly box.
Atlanta Fed GDP expectations crashed to zero for Q1…
Source: Bloomberg
And as that happened, rate-hike expectations shifted dovishly lower (modestly at the time)…
Source: Bloomberg
Which helped send stocks soaring (particularly hyper-growth, long duration stocks). But that all came to an abrupt end at 1400ET today (for no obvious reason)… which was immediately met with a wall of dip-buyers amid the total lack of liquidity. Then all the majors just went vertical into the last 10 minutes as a significant buy-imbalance appeared (all helped by AAPL's explosive gains today). Nasdaq was up a shocking 3% today (from down 1% pre-open). The S&P was up 2.5% today (from down 1% pre-open). Russell 2000 closed up almost 2% today from down 2% pre-open…
As one veteran trader noted, "today was a shitshow, no liquidity, gamma-driven gappy jumps everywhere… it was all algos and no average joes."
Well that idiotic rampage managed to get the Dow, S&P, and Nasdaq unchanged on the week (which appears to be all that mattered to the machines)…
Just look at the volatility (but Monday's puke lows held… and so did Wednesday's pre-Fed highs).
Growth stocks were flat on the week as Value was bid (mostly benefitting on Thursday)…
Source: Bloomberg
Both Defensive and Cyclical stocks were hammered equally this week (while obviously cyclicals were more volatile)…
Source: Bloomberg
Today's bounce was not really triggered by a short-squeeze as the size of the swing higher is very modest and unsustained…
Source: Bloomberg
The energy sector is the only one up in January while Tech and Consumer Discretionary are down hard MTD…
Source: Bloomberg
Real yields continue to rise (to their highest since June 2020 – but still negative), and have recoupled with gold…
Source: Bloomberg
…but have completely decoupled from stocks (Nasdaq should be significantly lower relative to Russell 2000)…
Source: Bloomberg
Notably, if real yields keep rising, then valuations are going to come under significant pressure…
Credit markets saw very little of the chaotic chop in stocks this week as they just fell with HYG (HY Corporate Bond ETF) at its lowest since Nov 2020…
Source: Bloomberg
Treasury yields were extremely mixed on the week with the short-end exploding higher and long-end actually coming all the way back to unchanged…
Source: Bloomberg
This week saw 2Y yields jump most since Oct 2019 (up for the 6th week in a row to the highest since Feb 2020).
Source: Bloomberg
The yield curve was crushed this week, triggered by The Fed's hawkish tilt…
Source: Bloomberg
…with 7s10s at almost record flats, 20s30s still inverted, and 2s30s at its flattest since March 2020… all screaming The Fed is about to make a big mistake and hinting strongly at recessionary risks rising fast…
Source: Bloomberg
Short-term markets are now fully pricing in 5 rate-hikes by year-end (and a 25% chance of 50bps hike in March)
Source: Bloomberg
Perhaps even more notably, the forward OIS market is pricing in rate-cuts between 2024 and 2025…
Source: Bloomberg
The dollar soared higher for the 5th straight week (best week since June 2021), closing at its highest since July 2020. NOTE, the dollar took out the December USD spike highs and faded…
Source: Bloomberg
Cryptos had a nasty drop on Monday, along with stocks, and another puke after The Fed, but bitcoin ended the week modestly higher, while Ether was down around 5%…
Source: Bloomberg
Commodities were very mixed this week with most lower by hawkish tilts (Silver slammed 8% on the week) while crude rallied on geopolitical tensions…
Source: Bloomberg
Silver dropped back below $23…
WTI came very close to $89 intraday during the week, its highest since Oct 2014 (up for the 6th straight week in a row)…
NatGas went supersonic this week amid chaotic settlement and a new cold front, breaking above the early Jan highs (and up 19%, its best week since Aug 2020)…
Finally, just in case you think the market can handle all this vol, think again – liquidity in the most-liquid global equity futures contract (ES) is at its lowest since the COVID crash in 2020…
Simply put, a moderate-sized order moves ES 10 ticks so how do you think it's going to handle all the fintwit/tiktokkers "paper hands" puking out of their Robinhood accounts?
The good news is that US COVID cases are following the same trajectories at UK and South Africa and tumbling…
Source: Bloomberg
Nevertheless, as we noted above, GDP in Q1 could well print contractionary.
Tyler Durden
Fri, 01/28/2022 – 16:02
dollar
gold
silver
inflation
stagflation
commodities
markets
fed
crash
nasdaq