Top Canadian Lithium Stocks
Looking for the top Canadian lithium stocks? These TSX- and TSXV-listed stocks have seen the biggest year-to-date gains so far in 2021.
Click here to read the previous top Canadian lithium stocks article.
Lithium's popularity has been rising for several years due to the energy storage revolution.
After an interesting 2020, many market watchers continue to be optimistic about the future of the metal, with the demand narrative getting stronger every day. Lithium stocks had a good start to the year, despite the pressure brought by the coronavirus outbreak.
For investors interested in the lithium space, the Investing News Network has created an overview of the top Canadian lithium stocks on the TSX and the top Canadian lithium stocks on the TSXV with year-to-date gains. This list was generated on July 6, 2021, using TradingView's stock screener. Only companies with market caps above C$10 million are included.
Current share price: C$0.35; year-to-date gain: 311.18 percent
Wealth Minerals has interests in Canada, Mexico, Peru and Chile. The company's main focus is the acquisition and development of lithium projects in South America, with its flagship Atacama Salar located in the world's highest-grade and largest-producing lithium brine deposit.
Wealth Minerals' concessions cover 46,200 hectares in the northern part of the Salar, in close proximity to top producer SQM (NYSE:SQM). The company also holds the Ollague project, which consists of 4,200 hectares located in Northern Chile, Region II, near the Chile-Bolivia border and approximately 200 kilometers due north from Atacama.
Current share price: C$0.13; year-to-date gain: 285.71 percent
Junior Vision Lithium is focused on exploring and developing battery minerals assets, primarily in Canada. The company's projects include the Sirmac lithium property located in Northern Quebec, which it acquired from Nemaska Lithium in 2017. In March 2021, the company purchased the Godslith lithium property in Manitoba.
Current share price: C$5.22; year-to-date gain: 208.88 percent
Aiming to be one of the first lithium hydroxide producers outside of China, Rock Tech Lithium is pursuing a two pillar approach that includes the production of sustainably sourced spodumene feedstock at its Georgia Lake project in Ontario and the construction of a lithium hydroxide converter in Europe.
At Georgia Lake, lithium mineralization was discovered in 1955 and subsequently explored by several historic owners. Rock Tech acquired the licenses in 2009 and carried out several drill campaigns until 2017. In 2018, the company published a preliminary economic assessment and is now moving forward to the feasibility stage.
Current share price: C$0.36; year-to-date gain: 200 percent
Vancouver-based Global Battery Metals currently has two projects: an option to acquire up to 90 percent of the North-West Leinster lithium property in Ireland, and a 55 percent stake in the Peru-based Lara copper property, which has over 10,000 meters of drilling.
At North-West Leinster, the company is focused on exploration for lithium mineralization (spodumene pegmatites) in the north of the Leinster Massif in Southeast Ireland. The project area is covered by 15 prospecting licences termed the North-West Leinster Block, which covers a total area of 477.39 square kilometers. The company also holds an interest in the Lithium King property, which is a prospective lithium-bearing brine aquifer located on the west side of the Great Salt Lake Basin in Western Utah.
Current share price: C$1.88; year-to-date gain: 118 percent
Alberta-based E3 Metals not only combines a significant resource in an established local industry, but also holds its own proprietary direct lithium extraction technology.
E3 Metals' lithium resource is located below surface in depleted oil reservoirs in Alberta that are full of lithium-enriched brine. The company has a lithium resource of 7 million tonnes of lithium carbonate equivalent, hosted in the world-class Leduc Reservoir, which covers only a third of the company's permit area in South-Central Alberta.
Don't forget to follow us @INN_Resource for real-time news updates.
Securities Disclosure: I, Priscila Barrera, hold no direct investment interest in any company mentioned in this article.
Editorial Disclosure: Rock Tech Lithium is a client of the Investing News Network. This article is not paid-for content.
The post Top Canadian Lithium Stocks appeared first on Investing News Network.
tsx
tsxv
nyse
lithium
uranium
tsxv-etmc
e3-metals-corp
tsxv-gbml
global-battery-metals-ltd
tsxv-rck
rock-tech-lithium-inc
tsxv-vli
vision-lithium-inc
Q3 Report: King coal makes return amid Europe's record gas prices
Record gas prices across Europe saw coal and lignite make up a greater share of Europe's fuel mix than gas in the third quarter of 2021.
The post Q3…
Record gas prices across Europe saw coal and lignite make up a greater share of Europe's fuel mix than gas in the third quarter of 2021.
That was one of the key standouts from the latest report from energy market data analyst EnAppSys, European Electricity Generation Summary Q3-2021.
European coal and lignite plants produced 110TWh during the quarter compared with 92TWh generated by gas-fired plants.
Gas-fired generation output was 21TWh (18%) down on the previous quarter and 55TWh (37%) lower than in the same quarter last year. Meanwhile, coal generation in Q3 2021 was 21TWh (24%) greater than the previous quarter and 19TWh (21%) up on the same quarter last year.
Have you read?
Efficient network tariffs: A must for the energy transition
Britain hits power imports record
Jean-Paul Harreman, director of EnAppSys BV, said: "The sustained trend of increasing gas prices across Europe was driven by several factors, including the need to replenish low levels of storage resulting from a long cold winter last year, high levels of global LNG demand and limited flows of Russian gas into Europe as Russia reportedly sought to replenish its own storage stocks.
"The high price levels flipped the economics of coal/lignite versus gas-fired generation, despite the high price of EU Emissions Trading Scheme (ETS) allowances resulting from the increased demand caused by such fuel-switching."
The third quarter of 2021 saw electricity demand reach 653TWh, slightly below levels in most previous years although 2% higher than in the COVID lockdown-affected Q3 last year.
Renewable output contributed more than 40% of total generation in Q3, as increasing levels of installed wind capacity offset the impact of reduced wind speeds throughout the period. After low levels of output in Q3 last year, nuclear output of 184TWh returned to levels more typically seen in the same period in previous years. 
The EnAppSys report, GB Electricity Market Summary Q3-2021, shows that in the United Kingdom, record-breaking power prices were seen in the third quarter as margins of generation over demand were squeezed due to very low wind output. 
System prices, day-ahead prices and within-day off-peak prices all increased dramatically from the previous quarters – and hit record highs towards the end of the quarter.
EnAppSys said the record prices were due to several factors, including lower wind generation, low nuclear utilisation and unfavourable conditions for solar, higher imports and low European gas storage levels following a long winter last year, which led to extreme gas prices.
Paul Verrill, director of EnAppSys, said: "High wholesale electricity prices throughout the quarter were driven by gas prices, which were already high at the start of the quarter at £31.37/MWh and continued to rise further as the quarter progressed. The price passed £50.00/MWh on September 13 and closed the quarter at £72.01/MWh, showing no signs of easing. A major contributor to this is the global gas shortage, with total European stored gas reserves not yet replenished after a long winter and being around 25% lower than the same period last year. Indeed, these reserves were lower than in any Q3 since 2015.
"Carbon allowance prices were also at an all-time high, rising consistently from August onwards and peaking at £75.57/te on the penultimate day of the quarter. This also fed into the high level of wholesale electricity prices seen throughout the quarter.
"The break-even cost of gas generation increased to such a degree that by mid-September, at times it became cheaper to generate using the least efficient coal units than the most efficient gas units.
"The record prices were also driven by lower wind output, which was 28% down on levels seen in the same period last year, while low nuclear utilisation and unfavourable conditions for solar further reduced supply margins.
"Looking ahead to Q4, if levels of renewable generation remain low, trends of high prices are likely to continue into the winter."
Due to the low levels of renewables and nuclear, interconnectors from the continent saw record level import volumes, although a fire at the IFA interconnector in September reduced capacity in the last two weeks of the quarter.
Gas and coal made up the majority of the generation (42.5%), while renewables accounted for 29.1%. Imports (12.4%) and nuclear 16.1%) made up the rest of Britain's power mix during the quarter.
Paul Verrill continued: "Average APX prices reached £128.59/MWh, a 78.1% increase from Q2. System prices peaked at a record £4,037.80/MWh on September 9. This was the highest imbalance price seen since the £5,003.33/MWh in June 2001, shortly after NETA Go-Live, breaking the next highest for this year that had been set on January 8 2021 at £4,000.00/MWh at 19:00 and 19:30.
"The average system price was £126.14/MWh, the highest of any quarter back to the start of our dataset in Q4 2011, with the next highest being an average of £74.85/MWh in the previous quarter.
"Auctions for the UK Emissions Trading Scheme allowances launched in May 2021, with clearing prices initially higher than those for the EU scheme that it replaced, amounting to £48.01/te for GB compared with £42.37/te for EU. They had converged to within around £2.00/te from June until September, but then diverged with GB prices peaking at £75.57/te on September 29, while EU remained under £55.00/te."
The third quarter of 2021 also saw ten energy suppliers cease trading amid the surge in wholesale gas prices, most notably Avro, Green and People's Energy. In total, more than 1,840,000 customers were affected.
All reports are available online.
The post Q3 Report: King coal makes return amid Europe's record gas prices appeared first on Power Engineering International.
Even After Soaring in its Debut, President Trump's Social Media SPAC DWAC Could be an Interesting Speculation
On October 20, former U.S. President Donald Trump, perhaps the most polarizing world figure in decades, announced an agreement whereby
The post Even After…
On October 20, former U.S. President Donald Trump, perhaps the most polarizing world figure in decades, announced an agreement whereby the newly formed Trump Media & Technology Group (TMTG) will merge in a SPAC transaction with a SPAC sponsor called Digital World Acquisition Corp. (NASDAQ: DWAC). TMTG intends to launch a conservative social network called TRUTH Social. Ultimately, after regulatory and shareholder approval, TMTG would become the surviving publicly traded company.
Details on the venture are scarce, but TRUTH Social plans to launch for invited users in November 2021 and hopes to be available to all users in early 2022. The company also expects to create a subscription video-on-demand service.
TMTG says the enterprise value (EV) of the company will be US$875 million. An undefined US$825 million provision was also mentioned, which could bring the initial EV to US$1.7 billion. We note these figures are presumably based on an initial US$10 share price, as is the convention with SPACs. 
Since DWAC is trading at about US$45 as of yesterdays close, the current implied EV could be around four or more times these US$875 million/US$1.7 billion figures. Reflected in these calculations is some portion of the US$293 million of cash that DWAC has in trust. This cash will initially fund the launch of TRUTH Social. It is not clear if the DWAC-TMTG venture will include private investment in public equity (PIPE) financing that is typically part of SPAC transactions.
It would be easy to scoff at this transaction. In a typical SPAC transaction, the underlying business may not yet be generating revenue, but it is at least operating (e.g., electric vehicle SPACs). TRUTH Social is not yet even operating. In addition, the Trump venture provides no forecast information. Since such forecast information is used to justify (frequently inflated) SPAC valuations, this raises the question of how the initial enterprise valuation was determined.
However, Trump supporters are very loyal and may be inclined to support his venture enthusiastically. Indeed, former President Trump raised US$170 million from donors in just a few weeks last fall to fight what he termed election fraud. 
More explicitly, many Trump supporters could very well join his platform, including as paying subscribers. To put this in a numerical context, President Trump, at his peak before he was barred from appearing on various social media outlets, had 146.5 million total followers on Twitter, Facebook and Instagram combined. If even a fairly smaller fraction of these followers were to join TRUTH Social, that platform could have many tens of millions of members.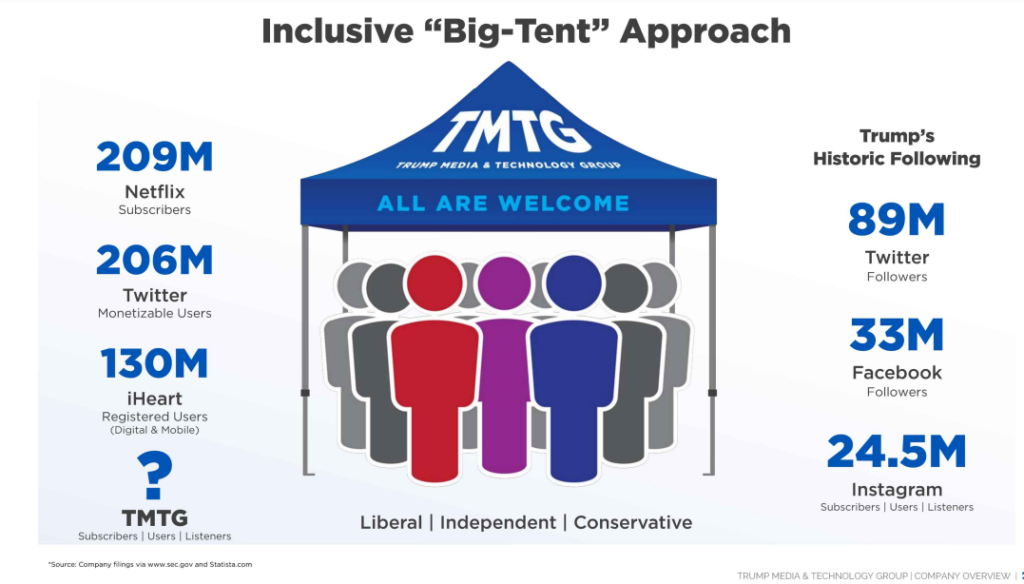 To put this in economic perspective, consider the following: Twitter (NYSE: TWTR) currently has 396.5 million users, including 206 million active users. Its stock market value is US$52 billion. While the number of active users is far from a direct link to stock market capitalization, it does not seem impossible that TRUTH Social could achieve a daily active user base (and therefore an advertising audience) of perhaps a third of Pres. Trump's previous total followers, or around 50 million. Based on Twitter's valuation, the market could value such a venture at significantly more than just US$4-US$7 billion.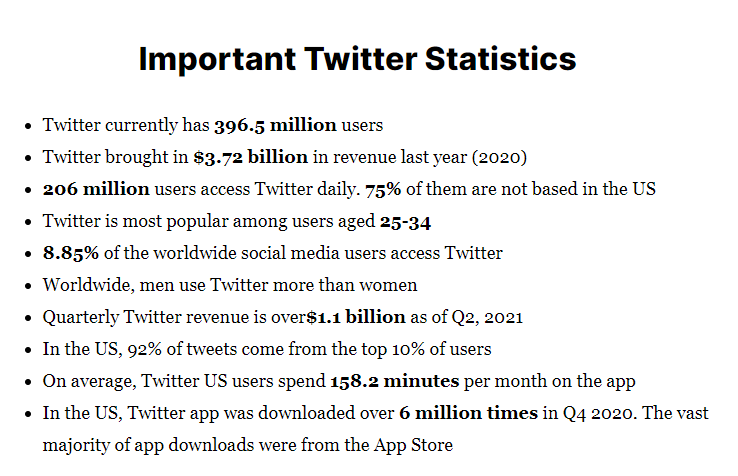 Clearly, DWAC is a highly speculative stock, but the outsized media attention that is lavished on its very public leader could bring many members and subscribers to the upstart social media platform. That attention could drive its equity value well above current levels. After all, "There is no such thing as bad publicity."
Digital World Acquisition Corp. last traded at US$101.50 on the NASDAQ.
---
Information for this briefing was found via Edgar and the companies mentioned. The author has no securities or affiliations related to this organization. Not a recommendation to buy or sell. Always do additional research and consult a professional before purchasing a security. The author holds no licenses.
The post Even After Soaring in its Debut, President Trump's Social Media SPAC DWAC Could be an Interesting Speculation appeared first on the deep dive.
An In-Depth Look at Lithium – "White Gold" Has Been Discovered in Newfoundland
By Ron Hall According to the latest report (August 2021) from Roskill, the leading consultancy…
By Ron Hall
According to the latest report (August 2021) from Roskill, the leading consultancy in critical metals supply chain intelligence, the outlook for the lithium market is dominated by rapid and sustained demand growth, driven by the use of lithium-ion (Li-ion) batteries in automotive and energy storage applications (ESS).
Furthermore, Roskill expect that fundamental changes in operation size and the range of lithium production sources will be needed to meet forecast demand growth and avoid a growing supply deficit and for this to succeed, producers will require adequate lithium compound prices to attract investment and incentivise the develop of lithium resources, a factor which is expected to see lithium prices well supported over the period to 2031.
Lithium does not occur as the metal in nature but is found combined in small amounts in nearly all igneous rocks and in the waters of many mineral springs. Spodumene, petalite, lepidolite, and amblygonite are the more important minerals containing lithium.
The first lithium mineral petalite, LiAlSi4O10, was discovered on the Swedish island of Utö by the Brazilian, Jozé Bonifácio de Andralda e Silva in the 1790s. It was observed to give an intense crimson flame when thrown onto a fire. In 1817, Johan August Arfvedson of Stockholm analysed it and deduced it contained a previously unknown metal, which he called lithium. He realized this was a new alkali metal and a lighter version of sodium.
However, unlike sodium, he was not able to separate it by electrolysis. In 1821 William Brande obtained a tiny amount this way but not enough on which to make measurements. It was not until 1855 that the German chemist Robert Bunsen and the British chemist Augustus Matthiessen obtained it in bulk by the electrolysis of molten lithium chloride.
Lithium is a chemical element with the symbol Li and atomic number 3. It is a soft, silvery-white alkali metal and under standard conditions, it is the lightest metal and the lightest solid element. Its compounds have many uses in the modern world. Lithium oxide is used in special glasses and glass ceramics and lithium chloride is one of the most hygroscopic materials known and is used in air conditioning and industrial drying systems.
Lithium stearate is used as an all-purpose and high-temperature lubricant and lithium hydride is used as a means of storing hydrogen for use as a fuel. The metal is also made into alloys with aluminum and magnesium, improving their strength and making them lighter. For example, a magnesium-lithium alloy is used for armour plating and aluminum-lithium alloys are used in aircraft, bicycle frames and high-speed trains.
Other lithium compounds are used in psychiatric medication primarily to treat bipolar disorder and major depressive disorders that do not improve following the use of antidepressants. It is also used in some non-rechargeable batteries for heart pacemakers, toys and clocks.
But by far its biggest use is in the rechargeable batteries that are used in electronics and electric vehicles. The Li-ion battery uses lithium ions as a key component of its electrochemistry. During a discharge cycle, lithium atoms in the anode are ionized and separated from their electrons. The lithium ions move from the anode and pass through the electrolyte until they reach the cathode, where they recombine with their electrons and electrically neutralize. The lithium ions are small enough to be able to move through a micro-permeable separator between the anode and cathode. In part because of lithium's small size (third only to hydrogen and helium), Li-ion batteries are capable of having a very high voltage and charge storage per unit mass and unit volume.
Li-ion batteries can use a number of different materials as electrodes. The most common combination is that of lithium cobalt oxide (cathode) and graphite (anode), which is most found in portable electronic devices such as cellphones and laptops. Other cathode materials include lithium manganese oxide (used in hybrid electric and electric automobiles) and lithium iron phosphate. Li-ion batteries typically use ether (a class of organic compounds) as an electrolyte.
Compared to other high-quality rechargeable battery technologies (nickel-cadmium or nickel-metal-hydride), Li-ion batteries have several advantages. They have one of the highest energy densities of any battery technology today (100-265 Wh/kg or 250-670 Wh/L). In addition, Li-ion battery cells can deliver up to 3.6 Volts, 3 times higher than technologies such as Ni-Cd or Ni-MH.
This means that they can deliver large amounts of current for high-power applications. They are also comparatively low maintenance, and do not require scheduled cycling to maintain their battery life. Li-ion batteries have no memory effect, a detrimental process where repeated partial discharge/charge cycles can cause a battery to 'remember' a lower capacity. This is an advantage over both Ni-Cd and Ni-MH, which display this effect. Li-ion batteries also have low self-discharge rate of around 1.5-2% per month. They also do not contain toxic cadmium, which makes them easier to dispose of than Ni-Cd batteries.
Due to these advantages, Li-ion batteries have displaced Ni-Cd batteries as the market leader in portable electronic devices such as smartphones and laptops. Li-ion batteries are also used to power electrical systems for some aerospace applications, notable in the new and more environmentally friendly Boeing 787, where weight is a significant cost factor.
Despite their technological promise though, Li-ion batteries still have several shortcomings, particularly with regards to safety. Li-ion batteries tend to overheat and can be damaged at high voltages. In some cases, this can lead to thermal runaway and combustion. This has caused significant problems, notably the grounding of the Boeing 787 fleet after onboard battery fires were reported. Because of the risks associated with these batteries, several shipping companies refuse to perform bulk shipments of batteries by plane. Li-ion batteries require safety mechanisms to limit voltage and internal pressures, which can increase weight and limit performance in some cases. Li-ion batteries are also subject to aging, meaning that they can lose capacity and frequently fail after a number of years.
Another factor limiting their widespread adoption is their cost, which is around 40% higher than Ni-Cd. Addressing these issues is a key component for current research into the technology. Finally, despite the high energy density of Li-ion compared to other kinds of batteries, they are still around a hundred times less energy dense than gasoline (which contains 12,700 Wh/kg by mass or 8760 Wh/L by volume).
Nonetheless, the lithium mining sector has seen a proliferation of activity in the last 10 years largely driven by the EV industry:
Jiangxi Ganfeng Lithium Co. Ltd., based in China, is the largest lithium metal producer in the world, while its lithium compound capacity ranks third worldwide and first in China. The firm holds lithium resources across Australia, Argentina, and Mexico and has over 4,844 employees. It reported a revenue of 2020 $839.26 million in 2020, almost double the $432.11 million it reported in 2016. Tianqi Lithium, also headquartered in China, is the world's largest hard-rock lithium producer and holds resource and production assets across Australia, Chile, and China. The company has over 1,800 employees globally and in 2018 controlled more than 46% of the global production of lithium. In its 2021 Q1 report, it announced total revenues of $140 million.
In the USA, Albemarle Corp. [ALB-NYSE], based in Charlotte, North Carolina and founded in 1994, has grown to establish itself as the second-largest lithium miner in the world, with revenues of $3.128 billion in 2020. With over 5,000 employees in 100 countries worldwide, Albemarle, as of 2020, was the largest provider of lithium for electric vehicle batteries.
Sociedad Química y Minera (SQM) is a Chilean chemical company whose main production facilities are located in the Atacama Desert. In 2020, SQM produced 72.2 thousand tonnes of lithium carbonate at their Salar de Atacama mine. By comparison, in 2011 it mined only 38 thousand tonnes.
In Canada, Sokoman Minerals Corp. [SIC-TSXV, SICNF-OTCQB] and Benton Resources Inc. [BEX-TSXV] recently formed an alliance in a bid to share the cost of acquiring and exploring gold opportunities (on a 50-50 basis) in Newfoundland.
The aim is to show there is a lot more gold to be found beyond recent discoveries by Sokomon, Marathon Gold Corp. [MOZ-TSX, OTC-MGDPF], New Found Gold Corp. [NFG-TSXV], and others.
However, the alliance made headlines back in August, 2021, when it announced what is believed to be the first discovery of significant lithium mineralization on the island of Newfoundland.
During a recent trip to the Golden Hope property, one of three gold projects in the alliance's portfolio, senior executives from both companies identified a swarm of spodumene-bearing pegmatite dykes.
In an October 14, 2021 press release, the companies said prospecting has expanded the area containing lithium-bearing pegmatite dykes, now known as The Kraken Pegmatite Swarm, to an area measuring approximately 2.2 kilometres long by 0.85 kilometres wide. Assays from rock samples have shown that the dyke system contains economic grades of lithium (up to 2.37% Li2O), is widespread and open along strike.
Benton President and CEO, Stephen Stares, said it is quickly becoming evident that the Kraken dyke system is a large, highly-evolved, pegmatite field. Stares said he is seeing similarities to the geological environment and setting of other large systems in the Appalachian belt, including important deposits held by Piedmont Lithium Inc. in eastern U.S. and Genfeng Lithium's Avalonia project in Ireland.
Exploration crews are working to establish targets for a drill program on the Kracken Pegmatite Swarm. A drone survey is also being planned to provide a structural/lithological setting and help identify gold-bearing structure extensions, as well as any unrecognized structures including those potentially related to lithium-bearing pegmatites.
"Lithium is the green metal of the future with the electric vehicle buzz,'' said Sokoman President and CEO Timothy Froude.  "Now is the time to get into lithium.''
However, in the interview, Froude was quick to stress that gold is the primary focus on all of the properties in the alliance portfolio, including Golden Hope, Grey River and Kepenkeck.
Golden Hope is a property that was acquired by staking. It is a large, district-scale project consisting of 3,146 claims (78,650 hectares) and is accessible by the Burgeo Highway and transected by a major power transmission line.
The property covers extensions of two major structures linked to significant gold prospects and deposits in southern Newfoundland. The rock units and structures on the property are likewise related to those associated with new low-sulphidation gold discoveries in central Newfoundland, including Sokoman's Moosehead Project and New Found Gold's Queensway Project.
Sokoman says Golden Hope is extremely underexplored, despite known occurrences of gold, and the presence of unsourced till, soil and stream sediment geochemical anomalies.
Meanwhile, news that the Grey River gold project on Newfoundland south coast has been advanced to the inaugural drilling stage, sparked active trading in both Sokoman and Benton (October 13, 2013).
Exploration crews are targeting high-grade gold mineralization similar in style to the Pogo gold deposit in the Tintina Belt of Alaska. The Pogo mine has produced 3.9 million ounces of gold at 13.6 g/t gold (to the end of 2019) with mineral reserves of more than 7 million ounces of gold.
Exploration at Grey River will focus on areas of anomalous gold with six to ten reconnaissance holes using data from a recently completed, high resolution, magnetic/electromagnetic airborne survey that identified potential structures correlating with the gold enriched areas.
Historical sampling results include chip/channel samples of 225 g/t gold, and widespread grab sample values of less than detection to 3.8 g/t gold. None of the gold enriched areas, which occur over an 8.0-kilometre length of the silica body, have been drill-tested.
The project is centred on the community of Grey River, a deep-water, ice-free harbour on the south coast of Newfoundland, about 38 kilometres southeast of the Golden Hope joint venture.
Like Golden Hope, the alliance's Kepenkeck Gold property lies along trend from Canstar Resources Inc.'s [ROX-TSXV, CSRNF-OTCPK] Golden Baie property.
Kepenkeck covers 595 claims over 15,625 hectares located near the northeast extension of the Hermitage Flexure, the predominant geological feature of the south Newfoundland Appalachians.
Recent prospecting identified up to 5.34 g/t gold in grab samples. Visible gold has been panned from till in two locations on the property where the target is high grade and quartz veining, hosted in graphitic shales similar to that of New Found Gold Corp's Queensway property.
It is worth noting that Benton and Sokoman were already established players in Newfoundland before the strategic alliance was announced in May, 2021.
Sokoman's key asset is its 100%-owned high-grade, low-sulfidation-style Moosehead Gold Project. It is located along the Trans-Canada Highway in North-Central Newfoundland and on the same structural trend as Marathon Gold's Valentine Gold Project and New Found Gold's Queensway Project.
Sokoman emerged on investor radar screens in July, 2018, when discovery hole MH-18-01 returned 11.90 metres of 44.96 g/t gold from 109 metres down hole. The company is now one of the largest land holders in Newfoundland with direct ownership or co-ownership of over 150,000 hectares. The company said it is sufficiently funded to advance its portfolio of properties, which includes the Fleur de Lys Project in northwest Newfoundland.
Froude said Sokoman plans to spend $5 million between now and the end of 2021, including $3.5 million at Moosehead, where the emphasis is on barge-based drilling, and $1.5 million on the alliance properties.
Benton Resources is a multi-commodity project generator with a high-quality portfolio and partners. Its aggressive and experienced management team is focused on base and precious group metal exploration.
Benton's portfolio includes the Far Lake copper-silver project in northwestern Ontario, a new high-grade copper discovery that the junior has optioned from White Metal Resources [WHM-TSXV], with exploration and drilling continuing throughout 2021.
Trench samples have returned assays of 22% copper from Far Lake, which Benton said shows characteristics similar to that of other large world-class porphyry and IOCG deposits.
In June, 2021, Benton completed a $2.25 million financing that was led by Bay Street financier Eric Sprott. Whenever possible, Benton retains net smelter return royalties for potential long-term cash flow.
Meanwhile, on October 13, 2021, Sokoman was trading at 39.5 cents, in a 52-week range of 78 cents and 14.5 cents, leaving the company with a market cap of $76.2 million, based on 200 million shares outstanding.
Benton was trading at 20 cents in a 52-week range of 25 cents and 13.5 cents, leaving the company with a market cap of $23 million based on 115.6 million shares outstanding.
tsx tsxv aim nyse otc otcqb gold lithium manganese nickel copper iron aluminum cadmium