Stratabound files updated NI 43-101 technical report on Fremont Project, CA, confirming increases to both indicated and inferred mineral resources
Stratabound Minerals Corp. (TSXV:SB, OTCQB:SBMIF) ("Stratabound") announces that it has filed on SEDAR an updated…
Stratabound Minerals Corp. (TSXV:SB, OTCQB:SBMIF) ("Stratabound") announces that it has filed on SEDAR an updated National Instrument 43-101 technical report (the "Technical Report") relating to the Company's Fremont Gold Property (the "Property") located in the Mother Lode Gold Belt of California.  The Technical Report, which was prepared by SLR Consulting (Canada) Ltd. (SLR), has an effective date of September 30, 2021 and is entitled "Technical Report on the Fremont Gold Project, Central California, USA, Report for NI 43-101". The Company acquired the Fremont Project through a plan of arrangement under the Business Corporations Act (Ontario) announced in its press release of August 16, 2021.
The Property hosts several gold-mineralized occurrences including the Pine Tree-Josephine deposit, (the "Deposit") for which an historic Mineral Resource estimate was prepared in 2016 by Roscoe Postle Associates Inc. (RPA), now part of SLR.  The purpose of the Technical Report is to support the disclosure of an updated Mineral Resource estimate for the Pine Tree-Josephine deposit, to document subsequent exploration work done elsewhere on, and to document the change of ownership for the Property.
Open pit Mineral Resources estimated at a 0.4 g/t Au cut-off grade and based on a gold price of US$1,800 per ounce include 10,236,000 tonnes at an average grade of 1.60 g/t Au for 526,000 ounces in the Indicated Resource category and 10,920,000 tonnes at an average grade of 1.29 g/t Au for 452,000 ounces in the Inferred Mineral Resource category (Table 1).  Mineral Resources conform to Canadian Institute of Mining, Metallurgy and Petroleum (CIM) Definition Standards for Mineral Resources and Mineral Resources dated May 10, 2014 (CIM (2014) definitions).
Highlights of the updated Technical Report:
The Deposit Indicated Mineral Resource increased by 2.1% to 526,000 ounces of gold (10,236,000 tonnes grading 1.60 g/t gold)
The Deposit Inferred Mineral Resource increased by 24.2% to 452,000 ounces of gold (10,920,000 tonnes grading 1.29 g/t gold)
The current resource spans approximately 950 m along strike and reaches 350 m below surface, remaining open along strike and at depth.
Subsequent to the preceding historical 2016 Mineral Resource estimate conducted by RPA a total of twenty-one diamond drill holes were completed on the Queen Specimen Zone located approximately one kilometre north of the Pine Tree-Josephine deposit. The Queen Specimen Zone drilling  does not affect the updated resource estimate reported herein.
The Technical Report concludes, "There is good exploration potential remaining at the Property and elsewhere on the Property."   It also recommends additional exploration programs and analysis of historical information for the Fremont Project, specifically to explore the strike and dip continuation of the existing gold mineralization, evaluate the potential of other gold targets on the Property and increase confidence in the location of historical underground workings.
The resource estimate was prepared by Tudorel Ciuculescu, M.Sc., P.Geo., who is a Consultant Geologist with SLR.  Mr. Ciuculescu is an independent "qualified person", as defined by NI 43-101, and has reviewed and approved the technical contents of this press release.
ABOUT THE FREMONT PROJECT
The Fremont Gold Project located in Mariposa County, California lies within California's prolific Mother Lode Gold Belt. The Project hosts four gold occurrences including two historical underground gold mines across approximately one kilometre out of a total four kilometres of strike along the regional Mother Lode Shear Zone extending across and beyond the Property.
ABOUT STRATABOUND
Stratabound Minerals Corp. is a Canadian exploration and development company that, in addition to developing its new flagship Fremont Gold Project is also focused on gold exploration at its Golden Culvert Project, Yukon Territory and its McIntyre Brook Project, New Brunswick, Canada. The Company also holds a significant land position that hosts three base metals deposits in the Bathurst base metals camp of New Brunswick featuring the Captain Copper-Cobalt-Gold Deposit that hosts a Measured and Indicated Resource prepared following CIM (2014) Definition Standards.
Mr. R. Kim Tyler, P.Geo., President and CEO of Stratabound, and a "Qualified Person" for the purpose of NI 43-101, has reviewed and approved the contents and technical information of this news release.
For more information, please visit the company's website at www.stratabound.ca or contact: R. Kim Tyler, President and CEO 416-915-4157 [email protected]
Neither the TSX Venture Exchange nor its Regulation Services Provider (as that term is defined in the policies of the TSX Venture Exchange) accepts responsibility for the adequacy or accuracy of this release.
WARNING: The Company relies upon litigation protection for "forward-looking" statements. The information in this release may contain forward-looking information under applicable securities laws. This forward-looking information is subject to known and unknown risks, uncertainties and other factors that may cause actual results to differ materially from those implied by the forward-looking information. Factors that may cause actual results to vary materially include, but are not limited to, inaccurate assumptions concerning the exploration for and development of mineral deposits, currency fluctuations, unanticipated operational or technical difficulties, changes in laws or regulations, failure to obtain regulatory, exchange or shareholder approval, the risks of obtaining necessary licenses and permits, changes in general economic conditions or conditions in the financial markets and the inability to raise additional financing. Readers are cautioned not to place undue reliance on this forward-looking information. The Company does not assume the obligation to revise or update this forward-looking information after the date of this release or to revise such information to reflect the occurrence of future unanticipated events, except as may be required under applicable securities laws.
tsx
tsxv
tsx venture
otcqb
gold
diamond
tsxv-sb
stratabound-minerals-corp
Great Bear To Be Acquired For $29 Per Share In Initial Consideration By Kinross Gold
Well, the seemingly impossible has happened. Great Bear Resources (TSXV: GBR), a firm with no official resource estimate as of
The post Great Bear To Be…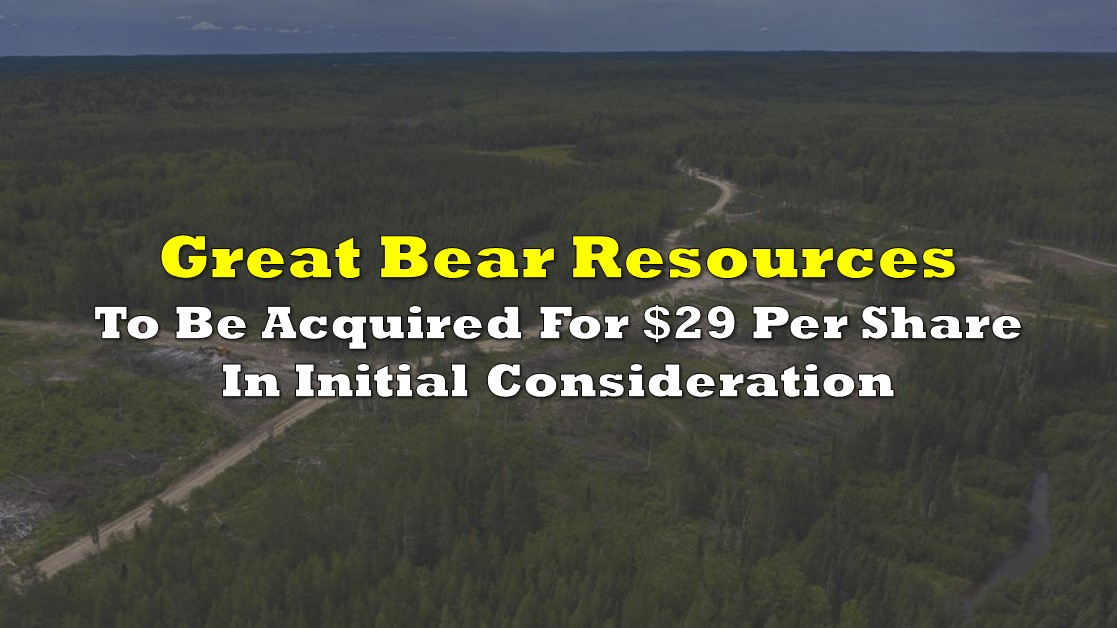 Well, the seemingly impossible has happened. Great Bear Resources (TSXV: GBR), a firm with no official resource estimate as of yet on its flagship property, has been bought out for C$1.8 billion in cash and shares, which represents a 31% premium to yesterdays close. Kinross Gold (TSX: K) announced the arrangement late last night jointly with the firm.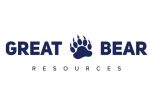 The transaction will see Kinross pay a total figure of $1.8 billion, of which up to 75% will be paid in cash. Investors are to receive the equivalent of $29.00 per share in cash, either via cash or the issuance of 3.8564 Kinross shares, based on a pro-ration formula that will see no more than 75% of the total transaction paid in cash, and no more than 40% of the deal paid in shares.
Contingent consideration of $1.00 per share is also in play, via 0.1330 Kinross shares per Great Bear share, based on whether Kinross turns the firms Dixie project into commercial production, with at least 8.5 million ounces of measured and indicated gold ounces being estimated. No resource estimate presently exists for the property, despite over 340,000 metres of drilling occurring in aggregate on the property.
The acquisition will see Great Bear's flagship Dixie project "become a centerpiece in [Kinross'] development portfolio," while strengthening the firms long term production portfolio. Kinross plans to conduct a 200,000 metre drill program in 2022 at the LP Fault, as it looks to rapidly advance the project. Exploration will also occur outside of the LP Fault, including at satellite deposits on the property.
The firm intends to initially develop Dixie into a high grade open pit mine, before "potentially" transforming it into an underground mine.
The transaction is to be funded via the firms cash on hand and outstanding revolving credit facility, with the deal remaining subject to approval by shareholders of Great Bear. The board has approved the transaction, while recommending that shareholders proceed with the deal. An $85 million termination fee is also in play on the transaction should Great Bear proceed with a superior proposal.
Great Bear Resources last traded at $22.93 on the TSX Venture.
---
Information for this briefing was found via Sedar, and Great Bear Resources. The author has no securities or affiliations related to this organization. Not a recommendation to buy or sell. Always do additional research and consult a professional before purchasing a security. The author holds no licenses.
The post Great Bear To Be Acquired For $29 Per Share In Initial Consideration By Kinross Gold appeared first on the deep dive.
Monsters of Rock: Hydrogen an investor gold mine, actual gold looks 'asthmatic'
The Materials sector – comprising mostly large and mid-cap miners – edged lower today but preserves a healthy +6% gain … Read More
The post Monsters…
The Materials sector – comprising mostly large and mid-cap miners – edged lower today but preserves a healthy +6% gain over the past month.
The iron ore miners fell marginally – sans FMG – despite the steelmaking ingredient's move above $US110/t over the last few days.
The day was dominated by mid-cap Vulcan Energy (ASX:VUL) which announced a binding lithium offtake deal with behemoth Volkswagen Group — the world's largest automaker by revenue and the largest company in Germany.
Hydrogen remains an investor gold mine
FMG's (ASX:FMG) positive move (1.5%) may have been hydrogen related.
It's renewable energy arm, Fortescue Future Industries (FFI), has formed a JV with domestic utility AGL Energy to look at  converting two coal-fired power plants to produce hydrogen.
FFI is looking to repurpose infrastructure at the 1,680MW Liddell power station in the Hunter Valley region of NSW — earmarked to fully close by April 2023 — along with the 2,640MW Bayswater power station that is forecast to close by 2036.
Initial renewable electricity production through new wind and solar capacity could be 250MW, generating 30,000 t/yr of green hydrogen at a Hunter Energy Hub, FFI said.
Meanwhile, global commodities trading firm Trafigura has announced plans to build an ammonia and hydrogen plant at Port Pirie in South Australia with an initial production capacity of 20 t/d of green ammonia for export by 2025.
Trafigura plans to make a final investment decision by the end of next year, with construction starting in 2023.
…while actual gold looks 'asthmatic'
Gold also edged higher to $US1,786/oz ($2,490/oz Aussie) with the big miners Kirkland Lake (ASX:KLA), and Newcrest (ASX:NCM) responding in kind.
Australia's biggest gold miner NCM – which is making substantial profits at current prices — is down 5.65% over the past month and 12.81% year-to-date.

Jeffrey Halley Senior Market Analyst, Asia Pacific, OANDA says golds "asthmatic" attempt to rise overnight "is a warning that bullishness is very fragile and that selling will resume at the first sign of trouble".
"The downside continues to be very clearly, the path of least resistance," he says.
"In the bigger picture, gold still looks confined to a US$1,770.00 to US$1,800.00 range this week, unable to sustain momentum above or below those levels."
"The 50,100 and 200-day moving averages (DMAs), clustered between US$1,790.30 and US$1,795.50 are capping gains."
"$1800.00 and $1810.00 will prove equally formidable. Support lies at US$1,770.00 and US$1,760.00."
The post Monsters of Rock: Hydrogen an investor gold mine, actual gold looks 'asthmatic' appeared first on Stockhead.
Galan's HWM project value jumps 120pc after update on lithium prices
Special Report: Galan Lithium has updated the Preliminary Economic Assessment (PEA) study for its flagship Hombre Muerto West (HWM) Project … Read More
The…
Galan Lithium has updated the Preliminary Economic Assessment (PEA) study for its flagship Hombre Muerto West (HWM) Project in Catamarca Province, Argentina, based on a revised lithium price.
The original PEA was based on an average lithium price of US$11,687/tonne to the year 2040, with the updated study using the long-term average real lithium price assumption (2025-2040) of US$18,594/tonne battery grade lithium carbonate (LCE).
The unleveraged pre-tax net present value (NPV) has increased to US$2.2 billion – a 120% increase from US$1 billion in 2020.
The internal rate of return (IRR) is 37.5%, the project has less than a three-year payback period and the average life-of-mine annual EBITDA is US$287 million, up from US$174 million.
The company now has two PEA study level projects – HMW and Candelas – which have a combined long term production potential of 34ktpa LCE and a combined pre-tax NPV of US$3.4 billion.
'Phenomenal' NPV on conservative price assumption
The updated economic study retains the original production profile of a long-life 40 years+ project at 20,000 tonnes per annum of battery grade LCE, including competitive cash production cost for Li2CO3 of US$3,518/tonne in the first quartile of global lithium cost production curve.
Galan Lithium (ASX:GLN) managing director Juan Pablo Vargas de la Vega said the updated project economics for HMW show how healthy the project is.
"Despite using a conservative long-term price assumption, HMW has delivered a phenomenal pre-tax NPV of nearly US$2.2 billion," he said.
"The company is in an enviable space whereby it has two study level projects that can potentially deliver combined long term production levels of 34ktpa LCE along with NPVs that are above US$3.4 billion.
"As we have previously said, Galan remains excited about the potential value add for our shareholders once we enter the lithium market with prices expected to be +US25k/tonne LCE.
"Our projects would now be among the lowest cost of any future producers in the lithium industry, due to their high grade and low impurity setting, green credentials and a low carbon footprint.
"Galan is excited to be a part of the solution to the global decarbonisation story." 
DFS planned in 2022
Since the release of the original HMW PEA Study in 2020, the company has confirmed laboratory lithium chloride concentrations of 6% lithium several times and confirmed production of lithium carbonate battery grade of 99.88% LCE from its concentrate.
It has also received permits for new drilling and Stage 1 construction permits for the HMW camp and pilot plant.
During 2022, Galan will be undertaking a definitive feasibility level study (DFS) with the appointment of an independent, well credentialed engineering firm imminent.
The company also expects the new HMW drilling to increase its indicated resources as well as a likely move into the measured and indicated mineral resource category.

This article was developed in collaboration with Galan Lithium Limited, a Stockhead advertiser at the time of publishing.
This article does not constitute financial product advice. You should consider obtaining independent advice before making any financial decisions.
The post Galan's HWM project value jumps 120pc after update on lithium prices appeared first on Stockhead.