Top Rare Earth Stocks to Consider Heading into 2022
At the moment, nearly all rare earth comes from China, which has proven to be unstable. Worse, according to Forbes, China is stockpiling rare earths and…
At the moment, nearly all rare earth comes from China, which has proven to be unstable. Worse, according to Forbes, China is stockpiling rare earths and critical minerals for its own domestic use, as companies and governments face worldwide shortages due to new demand for electric vehicles. For example, analysts at UBS say electric vehicle demand could trigger a big increase in rare earth prices over the next few years, "especially for neodymium and praseodymium (commonly traded as NdPr) which could double from $50/kilogram to $100/kg by 2024. That's part of the reason the U.S. – which relies on 80% of China for rare earth imports aggressively looking for other rare earth hot spots, which could be beneficial for Monumental Minerals Corp. (TSXV:MNRL) (OTC:MNMRF), Lynas Rare Earths Ltd. (OTC:LYSCF), MP Materials Corp. (NYSE:MP), Ucore Rare Metals Inc. (OTC:UURAF)(TSXV:UCU), and Rare Element Resources Ltd. (OTC:REEMF).
Monumental Minerals Corp. (TSXV:MNRL)(OTC:MNMRF) Just Announced Reconnaissance Trip to the Jemi Heavy Rare Earth Project
Monumental Minerals Corp. announced the appointment of an advisory board to assist with the exploration and drill target definition of the Jemi heavy rare earth element (HREE) Project located in Coahuila, Mexico, about 40 km south of the Texas, USA border.
The Jemi Project hosts numerous rare earth element (REE) occurrences containing potentially economic concentrations of the high value magnetic REEs including neodymium (Nd), praseodymium (Pr), dysprosium (Dy) and terbium (Tb) with associated tantalum (Ta), niobium (Nb), and zirconium (Zr). Jemi sits within the North American Alkaline Igneous Belt, an under explored north-south trend over 3000km long of alkaline igneous rocks and carbonatites that are host to numerous REE, gold and other critical element deposits.
The REE mineralization discovered to date at Jemi exhibits characteristics and mineralogy consistent with peralkaline intrusion related deposits, which represent an important potentially economic style for the highest value HREE. Deposits of this type are being explored and prepared for development in Australia, Europe and North America.
At present, ionic clay deposits in southern China and Myanmar are the primary source of the world's HREE, however the limited resource size, high environmental legacy of such deposits and increasing export restriction, is driving the discovery and development other more sustainable sources of HREE. The REEs Dy and Tb are typically enriched in peralkaline deposits and are essential for the performance of high strength permanent magnets for electric vehicles and wind turbines.
Exploration at Jemi is currently at an early stage, with less than 5% of the Project having been evaluated for HREE. A site visit is currently being planned and is expected to occur within the coming weeks to lay next steps for exploration.
Proposed Advisory Board
Mark Saxon, FAusIMM, MAIG – Senior Technical Advisor
Mr. Saxon brings thirty years of experience in the resources industry, representing junior and senior companies in Australia, Canada and Europe. An Honours BSc graduate in Geology from the University of Melbourne, he received a Graduate Diploma of Applied Finance and Investment in 2007. Mr. Saxon's experience covers most facets of the exploration and mining business in a wide range of geological environments, with a particular focus on discovery, processing, marketing and the political context of critical raw materials. Mr. Saxon has extensive experience in the exploration of peralkaline REE deposits.
Cal Everett, B.Sc, Technical Advisor
Mr. Everett is a geologist with more than 20 years of surface and underground exploration experience with senior mining companies. He moved to the financial sector in 1990 and spent 12 years with BMO Nesbitt Burns focused on resource equities, and seven years with PI Financial Corp. in senior resource institutional sales and capital markets. From 2008 to 2015, he was President and Chief Executive Officer of Axemen Resource Capital. Mr. Everett holds a Bachelor of Science degree in Economic Geology from the University New Brunswick. Mr. Everett is currently Chief Executive Officer and president of Liberty Gold Corp. (TSXV: LGD)
Dan Harmening, Technical Advisor
Dan Harmening is a Professional Land Surveyor and prospector with over 25 years of experience in the minerals exploration and mining business. He is the President, CEO and cofounder of Lago de Oro Resources and cofounder of 3rd Rock Exploration, both registered in USA and Mexico. Mr. Harmening is currently negotiating a sale agreement of Lago de Oro Resources SA de CV Mexico to a Canadian junior mining company. Previously, he vended several projects in Mexico, including the Jemi Rare Earth property into what is now Discovery Silver Corporation. He has facilitated over $40 million in private placements and open market investments in junior mining companies, and has consulted to several companies leading to major deposit discoveries in Nevada. Mr. Harmening holds a B.S. in Geomatics from Oregon Institute of Technology.
Craig Taylor, Strategic Advisor
Mr. Taylor is currently the CEO of Defense Metals (TSXV: DEFN) an advanced LREE exploration company that most recently completed a PEA on the Wicheeda Rare Earth deposit located in Prince George, British Columbia. From March 2008 until December 2016, Mr. Taylor was CEO of Saber Capital Corp., a former capital pool company, which was acquired by Aleafia Health in a $173mm transaction. In addition, he was a director of Valor Ventures, CPC that completed at QT with Advantage Lithium and was eventually acquired by Orocobre. Mr. Taylor was a founding director of Clear Mountain Resources Corp., a TSX-V listed company (now named Patriot One Technologies Inc.). Mr. Taylor has served as director and officer of several other public companies engaged in mineral exploration and development.
Other related developments from around the markets include:
Lynas Rare Earths Ltd. is taking the next step in its ESG journey with our commitment to the Science Based Targets initiative. In line with this commitment, and our Greenhouse Gas Policy, we will develop science-based targets with the Paris Agreement goal to limit the global temperature increase to well-below 2°C compared to pre-industrial levels. The Science Based Targets initiative is a collaboration between CDP, World Resources Institute (WRI), the World Wide Fund for Nature (WWF), and the United Nations Global Compact (UNGC). Science-based targets provide a clearly defined pathway to future-proof growth by specifying how much and how quickly companies need to reduce their greenhouse gas emissions. Lynas Rare Earths CEO, Amanda Lacaze, said: "Lynas Rare Earths was built from the ground up as an ethical and responsible producer of Rare Earth materials and we embrace sustainability principles across all of our operations. As a science-based business, our commitment to the Science Based Targets initiative reflects our determination to make a positive impact today and work towards more challenging targets in the longer term.
MP Materials, announced its financial results. "The MP Materials team continues to deliver, with record quarterly production and shipments driving strong growth in revenue and Adjusted EBITDA," said Chairman and CEO, James H. Litinsky. "Our performance reflects continued execution and cost discipline at Mountain Pass coupled with strong global demand for rare earth materials. Also in the quarter, we continued to march toward our goal to restore the full rare earth supply chain to the United States, including progress on our Stage II optimization project and Stage III downstream expansion into magnetics."
Ucore Rare Metals Inc. announced that on November 10, 2021, the United States Department of Agriculture's Forest Service issued a 1-year authorization for Ucore to commence with the Dotson Ridge 2021 Surface Exploration Project Plan of Operations. The Company has elected to conduct the sampling work during next summer's field season and now has all required state and federal Project permits for this work. On May 12, 2021, Ucore announced the Project to upgrade its Bokan-Dotson Ridge heavy rare earth element mineral resource, disclosed in accordance with National Instrument 43-101, with a budget of approximately $400,000. The Project is expected to result in converting approximately 17-20% of the mineral resource to a new Measured mineral resource category; with over 90% of the new Measured material being drawn from currently Indicated mineral resource material and 10% from currently Inferred mineral resource material. This will be accomplished through the execution of approximately 50 additional channel samplings along the ≈2 km of exposed vein outcroppings of the Dotson Ridge Zone. Secondly, the Company will conduct bulk sampling activities to obtain ≈50 tonnes of additional mineralized material to facilitate prospective pilot-scale testing of its metallurgical recovery methods currently under laboratory-scale finalization at SGS Canada's Lakefield facility.
Rare Element Resources Ltd. announced the finalization of negotiations with the U.S. Department of Energy Office of Energy Efficiency and Renewable Energy for an Assistance Agreement providing approximately $21.9 million of government funds for the engineering, construction and operation of a rare earth separation and processing demonstration plant to be located in Wyoming. The DoE/EERE has notified General Atomics, an affiliate of Synchron, the Company's largest shareholder, of the finalization of the award. The Company is a subrecipient to General Atomics in the demonstration project, which will incorporate the Company's proprietary technology. As previously reported, RER, along with team members General Atomics, and its affiliates, and LNV, an Ardurra Group, Inc. company, as engineering and construction subcontractor, received notice on January 20, 2021 that it had been selected as a potential award recipient, subject to finalization of pre-award negotiations. Those negotiations have been successfully completed and the award has been finalized, resulting in an approximately US$21.9 million contribution by the DoE/EERE toward the total cost of the demonstration project. The award represents approximately one-half of the total estimated costs for the project, with the remainder of the funding to be secured by the Company. The Company, along with the other team members, is expected to finalize within the next several weeks contractual arrangements with General Atomics to perform work on the project.
Legal Disclaimer / Except for the historical information presented herein, matters discussed in this article contains forward-looking statements that are subject to certain risks and uncertainties that could cause actual results to differ materially from any future results, performance or achievements expressed or implied by such statements. Winning Media is not registered with any financial or securities regulatory authority and does not provide nor claims to provide investment advice or recommendations to readers of this release. For making specific investment decisions, readers should seek their own advice. Monumental Minerals Corp. has paid three thousand five hundred dollars for advertising and marketing services to be distributed by Winning Media. Winning Media is only compensated for its services in the form of cash-based compensation. Winning Media owns ZERO shares Monumental Minerals Corp.. Please click here for full disclaimer.
Contact Information:
2818047972
[email protected]
tsx tsxv nyse otc gold rare earths rare metals ree praseodymium neodymium terbium dysprosium tantalum niobium tsxv-ucu ucore-rare-metals-inc
Tesla Stock Will Be a Self-Driving Winner. Canada Is Just the Start.
As the electric vehicle race has heated up, investors have been waiting anxiously for self-driving technology to progress. Elon Musk has long had his eye…
As the electric vehicle race has heated up, investors have been waiting anxiously for self-driving technology to progress. Elon Musk has long had his eye on this this area of automotive innovation. He initially predicted that the full self-driving (FSD) beta would be available before the end of 2020. At the end of that year, he tweeted that the beta would be "extended to Canada very soon." Things didn't exactly go according to plan.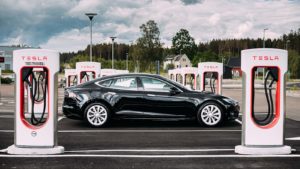 Source: Grisha Bruev / Shutterstock.com
While Tesla's (NASDAQ:TSLA) history with missing deadlines is well documented, it hasn't stopped the company's progress. Now, investors waiting for the Canadian FSD launch may be in luck. Earlier this week, Must tweeted an update that, if accurate, will could boost Tesla stock significantly.
What's Happening With Tesla Stock
On Jan. 16, Musk responded to the 2020 Twitter thread. When a Canada-based user asked when the FSD beta would be rolled out in Canada, Musk tweeted the following:
We will start rolling out FSD beta in Canada cautiously in next 2 to 4 weeks
— Elon Musk (@elonmusk) January 16, 2022
It's easy to question how serious Musk is. After all, he's promised the FSD rollout in Canada already and it hasn't happened. The fact that he laid out a specific timeline in this tweet, though, indicates that this time may be different.
This comes at a time when Tesla stock could certainly use a boost. Shares began to decline this morning and closed down 3.3%. Declines for the week come in at 10%. It's safe to say that Tesla's 2022 isn't off to a great start.
Why It Matters
Much of the decline that Tesla stock has experienced so far can be chalked up to negative market momentum. That doesn't change the fact, though, that the company needs a catalyst to help it regain momentum. Some concrete progress on the self-driving front could be exactly what it needs.
If the Canada rollout does indeed happen, it would be opportune for more than one reason. Tesla has recently received some negative press following an update that a driver in a 2019 crash will face felony charges. Why does this matter? Tesla's Autopilot mode was in use at the time.
While the driver has been charged for the crime, instances like this don't do much to inspire confidence in hands-off automotive technology. It could have been an isolated incident, but both the automotive and financial communities would like feel better if they saw some reassuring progress from the company associated with this sad story.
Canada's EV market may not be as large as that of the U.S., but it is growing. The company saw 2021 sales of the Tesla Model Y increase by 137% year over year. Tesla's Model 3 and Model Y were among the country's best-selling EVs. What better way to get more consumers interested in buying your cars than by introducing a beta test close to home that promises to revolutionize driving?
If Musk does succeed in rolling out the FSD beta in Canada within the coming weeks, it will generate the type of momentum that will send Tesla stock shooting up. In the months following, the boost in sales will help it stay elevated.
What It Means for Tesla
As is often the case, Musk is unpredictable. EV aficionados have been disappointed by his lofty promises before. Every time Tesla has missed a deadline, though, it has come back just as strong. Recent drone footage suggests that the company is making progress on the Model Y at Giga Austin, though it hasn't been confirmed.
Rolling out the FSD beta in Canada would be a strategic move, exactly the type Musk loves. This development is worth watching, regardless of when the rollout happens. When it does, Tesla stock will react well.
On the date of publication, Samuel O'Brient did not have (either directly or indirectly) any positions in the securities mentioned in this article. The opinions expressed in this article are those of the writer, subject to the InvestorPlace.com Publishing Guidelines.
More From InvestorPlace
The post Tesla Stock Will Be a Self-Driving Winner. Canada Is Just the Start. appeared first on InvestorPlace.
NKLA Stock Just Hit a New Low, But Nikola Has Plans to Turn Things Around
Despite several signs of life this year, electric truck company Nikola (NASDAQ:NKLA) is still suffering consequences from last year's bitter controversy….
Despite several signs of life this year, electric truck company Nikola (NASDAQ:NKLA) is still suffering consequences from last year's bitter controversy. NKLA stock saw its share value reach an all-time low today after dropping more than 5% yesterday. It appears investors are still hesitant over the troubled EV company despite encouraging recent deals.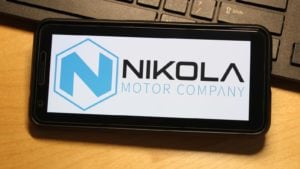 Source: Stephanie L Sanchez / Shutterstock.com
So, what's going on with Nikola today?
It's difficult to pinpoint the exact reasoning behind NKLA's drop. One obvious contender is simply investor sentiment. Last year, Nikola came under fire after allegations that it had made several fictitious claims regarding its technological capabilities. Its founder and then Chief Executive Trevor Milton was arrested, and Nikola recently agreed to pay $125 million in fraud charges. It's a major mark against Nikola and clearly not something a company can simply walk away from unscathed.
Regardless, Nikola has largely persevered. Nikola has made a number of promising deals to start the new year, including letters of intent from several companies interested in buying or leasing its emission-less trucks. Despite this, Nikola's share price has failed to hold up its end of the bargain. The company is down nearly 6% today, trending around $8.71 at the time of writing, for a more than 37% decline in the past six months.
What other forces are at play for Nikola?
Investors Remain Speculative of NKLA Stock
Nikola is also likely a victim of impending market conditions against the innovative EV company. Treasury yields saw a sizable jump yesterday, projecting concerns related to impending interest rate hikes. This is a sell-sign for many technology and growth stocks, as it functionally means their future earnings will be discounted. EV startup Nikola is a perfect victim of this latest market indicator.
And it's truly a shame. Nikola's hot streak of deals continued just yesterday when the company announced a multi-year deal with another EV company, Proterra (NASDAQ:PTRA). Proterra agreed to supply batteries for Nikola's semi-trucks, with estimates of prototypes to be delivered starting in Q2 of this year. By all counts, this is good news for the company and reflective of its vigor this year.
But alas, investors are demonstrably dismissive of the news. All eyes will be on Nikola ahead of its February quarterly earnings report to see if its comeback really is happening. But until then, it seems fans of the truck maker will have to hold on through the turbulence to see if there are clear skies ahead.
On the date of publication, Shrey Dua did not hold (either directly or indirectly) any positions in the securities mentioned in this article. The opinions expressed in this article are those of the writer, subject to the InvestorPlace.com Publishing Guidelines.
More From InvestorPlace
The post NKLA Stock Just Hit a New Low, But Nikola Has Plans to Turn Things Around appeared first on InvestorPlace.
Nio Could Soon Be in Another Electric Tizzy
Electric vehicle (EV) companies are great long-term investments, but investors need to ensure that they manage their short-run value at risk because it…
Electric vehicle (EV) companies are great long-term investments, but investors need to ensure that they manage their short-run value at risk because it tends to be negatively skewed when volatility enters the fray. Nio (NYSE:NIO) performed especially well during the earlier stages of the pandemic for two reasons. First, NIO stock gained because unexpected expansionary monetary policy allowed for growth stocks to surge. Secondly, the market was craving a Tesla (NASDAQ:TSLA) competitor that could possibly emulate TSLA's impressive bull run.
Source: xiaorui / Shutterstock.com
The broad-based market climate is set to change in 2022, however. With contractionary monetary policy entering the building, I expect many growth investors to scatter. NIO stock is one of the names that could be subject to such an event.
Here's why.
NIO Stock: Deliveries Could Disappoint Many
According to Morgan Stanley analyst Tim Hsiao, Nio's deliveries are set to get off to a slow start in January amid Chinese New Year celebrations and tight Covid-19 restrictions. The analyst has the following to say:
"The industry is looking for a pre-holiday boost to rev up weekly sales until later in January, when store traffic/deliveries could fall substantially. This is especially the case given sporadic lock-downs amid resurgence of Covid cases in China. With easing chip shortage, we saw more resilient sales in ICEVs than EVs at the beginning of year, likely due to unleashing of pent-up demand from 2021."
With this in mind, I believe there will be a cooldown in demand for the rest of 2022 as well. Of course, many investors may be tired of hearing about China's revised debt policies and its crackdown on big tech. But it's very relevant in relation to car sales — especially when it involves product switching from ICE vehicles to EVs.
When it comes down to it, the reduction of private-sector leverage and a smoothing in technological development will likely underscore previously estimated real GDP forecasts, potentially damaging Nio's top-line earnings growth as a result. In turn, that could damage the price of NIO stock.
There's a Pricing Problem Here
The price-sales (P/S) ratio is an excellent metric to use when valuing a growth company. Why? Because it's less susceptible to volatility and not easily manipulated by a company's management team. One would usually compare a stock's price multiples to its five-year average to justify an overvalued or undervalued call. However, seeing as Nio only listed in 2018, we'll need to look at a sector comparison and then discuss cyclicality.
Currently, Nio's P/S ratio is trading at a 7.7 times premium to the industry. That isn't good news. Rather, it tells us that the market has gotten ahead of itself, which may mean that NIO stock is set for downward mean reversion in the short term. And business cyclicality certainly doesn't help the cause. As I mentioned before, we're heading into a contractionary monetary cycle. That usually gives rise to value stocks while stunning growth stocks like NIO.
A final pricing problem to look at is the company's price-book (P/B) ratio. Right now, Nio's P/B ratio is also trading at a premium relative to industry peers. The P/B ratio is an important metric to consider with asset-heavy businesses and Nio's isn't only overvalued based on a peer analysis. It's also considerably above the valuation threshold, yet again suggesting downward short-term mean reversion.
What's Next for NIO Stock?
All things considered, Nio is a great company. However, it could be subject to macroeconomic headwinds going into 2022. Furthermore, NIO stock isn't priced correctly, with the lingering effects of 2020's market gunning still present.
NIO stock is trading below its 10-, 50-, 100- and 200-day moving averages, conveying a downward momentum pattern that would take a lot to reverse. I wouldn't look at shorting the stock, however. Last year, China's recent hard-line political shift was a catalyst to a significant drawdown. Rather, investors should look to manage risk by shedding some weight from their portfolios or divesting until the stock's key drivers are back in check.
On the date of publication, Steve Booyens did not hold (either directly or indirectly) any positions in the securities mentioned. The opinions expressed in this article are those of the writer, subject to the InvestorPlace.com Publishing Guidelines.
Steve Booyens co-founded Pearl Gray Equity and Research in 2020 and has been responsible for equity research and PR ever since. Before founding the firm, Steve spent time working in various finance roles in London and South Africa, and his articles are published on various reputable web pages such as Seeking Alpha, Benzinga, Gurufocus, and Yahoo Finance. Steve's content for InvestorPlace includes stock recommendations, with occasional articles on crowdfunding, cryptocurrency, and ESG.
More From InvestorPlace
The post Nio Could Soon Be in Another Electric Tizzy appeared first on InvestorPlace.
monetary
policy
expansionary
monetary policy
electric vehicle