Berco's mining undercarriage transition takes shape in Copparo
With the opening of Berco's new R&D facility in Copparo, Italy, the manufacturer and supplier of undercarriage systems and components has cemented…
With the opening of Berco's new R&D facility in Copparo, Italy, the manufacturer and supplier of undercarriage systems and components has cemented a growth plan that could see it gain further market share in both its OEM and aftermarket segments and expand its product range for mining applications.
Covering 2,000 sq.m, the new department is located beside the entrance of the company's main plant, a building that captures 101 years of company history and is being updated with a new vision backed by parent company thyssenkrupp.
The new R&D hub is home to the T&I (technology and innovation) team, which will be divided into two subgroups: the metallurgical laboratory and product engineering.
Officially opened on November 17 – IM and other trade press members received a sneak peek a day earlier – the facility houses state-of-the-art machinery, specifically developed to advance the company's strategic plans for the future.
These strategic plans date back to early 2018 when, as part of the Forged Technologies business unit, Berco developed a strategy that encompassed "lean manufacturing" and the company's unique know-how, according to Berco CEO, Piero Bruno.
"We have a unique know-how of metallurgy within Berco," he said during last week's press event. "We, as part of Forged Technologies, represent a strategic pillar for thyssenkrupp. We are a core business within the group (thyssenkrupp Industrial Components)."
The latter is an important point considering the divestments thyssenkrupp has been making in recent years – which includes plans to offload its mining business to FLSmidth. Berco has been safeguarded from this corporate activity, evidenced by the recent investment in its facilities.
Berco is a rarity in the mining sector; a company able to deliver the full undercarriage (chains, rollers, drive sprockets, track adjusters, track chains or idlers) for large dozers and excavators, for both aftermarket applications and equipment manufacturers. Mining and construction represent more than 30% of its sales currently, with on-highway trucks and passenger vehicles taking up around 60% of the remaining share.
There are other undercarriage suppliers on the market, but few of them have 32,000 t and 16,000 t screw presses capable of forging the scale of products needed in heavy-duty mining applications. Even fewer have the expertise to take an industry-standard product and tailor it for longer life and increased uptime in such applications.
This puts Berco in an interesting position where, in some instances, it is producing components or complete systems that compete directly with the equipment manufacturers.
In the instance of the Cat 6020B hydraulic mining shovel, Berco has built a complete undercarriage system as an alternative to the OEM equivalent on the market.
Outside of dozers and excavators, the Berco name has also been seen on components fitted on apron feeders and bucketwheel excavators. It may also soon find its way into conveyors (on the aftermarket side) and drill rigs (for equipment manufacturers), in addition to new excavator and dozer models.
Going platinum
When it comes to mining equipment innovation from Berco, one only need look at the Platinum line of products, which are focused solely on performance in the field and operating costs.
The new Cat 6020B undercarriage (below, right) is the most recent addition to this line, also representing the first "non-captive" range available to purchase, according to the company.
With this product, Berco becomes the only company – aside from Cat – currently capable of providing what it says is a full and significantly more affordable variety of undercarriage replacement components for this particular machine.
Launched in 2014, the Cat 6020B is a 230 ton (224 t) excavator at the high end of the mining range. Depending on the abrasiveness of the soil, undercarriage components need to be replaced every four-to-five years, according to Berco, meaning there are significant numbers of this model currently due undercarriage maintenance.
For the Cat 6020B hydraulic mining shovel range, Berco used a "reverse engineering" process to deconstruct the original equipment components. Three-dimensional material scanning was carried out to gain a complete understanding of the initial design criteria, while laboratory analysis determined the materials used as well as the heat treatments and microstructures.
Berco-originated innovations that feature on this non-captive undercarriage system include the BPR2 (Berco Positive Pin Retention2 system) to improves the working lifetime of the components through mechanical locking of the link to the pin; a newly designed track link for the track chain with a 350 mm pitch produced using the "drop forged" process made from mild carbon steel with boron and chromium additives; and track bushings with 60 HRC hardness steel that have a high resistance to wear.
Additionally, the track roller can, because of its lubrication and seal features, adopt an "all-weather" configuration ranging from -40°C to 50°C.
The first of these new undercarriages is due to be dispatched from Copparo by the end of the year, destined for a customer in Africa.
This type of aftermarket strategy – where the company identifies a product area and develops an improved industry solution in line with expected maintenance intervals – could end up being used for future products if proven successful, Francesco Grenzi, Executive Director of R&D Department, told IM.
Grenzi and his new T&I team are integral to making this happen.
Having in the past four years added five new patents to the Berco offering, the R&D head is keen to develop products that outperform the industry standard and are tailored to the application at hand.
He can already point to several success stories in the dozer and excavator categories even before the first 6020B goes out the door.
For example, one of the company's Platinum line undercarriage systems for dozers is outperforming the OEM equivalent by up to 25-35%. It performs in an extremely consistent manner for applications used in different conditions such as hard rock, coal or copper mines. Platinum line products are available along the complete mining dozer range, from 350 hp (261 kW) to 1,000 hp crawler dozers.
Other Platinum line products already on the market include high strength track link, ground engaging tools and its Robustus (ROtating BUShing Track Undercarriage System) solution.
Diego Buffoni, Head of Aftermarket, said these products represent a "niche" for the company when compared with the thousands of components and systems Berco produces on an annual basis, but their development also provides "an open door" for other sales.
"The Platinum line will contribute to growth, but it will not be the main driver," he said. "It will help with our marketing presence, though…where we are able to show that Berco has a solution for every application worldwide."
The development of such 'best of breed' solutions will have a knock-on impact on all the products that come out of Copparo, according to Bruno.
"If you look at F1, for example, you can see what manufacturers can produce for high-performance sports cars when budgets are not scrutinised or restricted to the same extent as they are in traditional markets," he told IM.
"We see the Platinum line as potentially uplifting the wider Berco portfolio, which will also have a positive impact on the products going to our OEM customers."
Automation and digitalisation
Observations like this are now being backed up by an increased focus on digitalisation and remote monitoring of Berco products.
This starts with digital records of tests in the new R&D facility – where there is a benchmark room, a metallurgical lab, a revamped roller test bench, updated rubber testing machines able to perform cryostatic tests for anticipated performance at very low temperatures and a new spectrometer machine, to name a few innovations – through to automated data analysis during the manufacturing process to ensure products are matched to their final applications, and finally 3D geometric scans for product benchmarking against the competition.
The company's Bopis Life system has now moved onto generation two where undercarriage measurement and wear conditions are monitored remotely using ultrasonic probes. This enables predictive maintenance of critical parts, while supporting fleet management, the company said. Berco currently has 15 licences for this system, backed up by 22 ultrasonic probes that provide such feedback. This is some improvement on the 'traditional' monitoring of undercarriage components that normally takes place on mine sites with callipers and clipboards.
Berco is also looking to add in-built sensors to track links to provide real-time wear performance data that customers and company technicians can use to improve machine uptime. These are termed "smart undercarriages".
The digitalisation and innovation do not end here.
What is perhaps most impressive about the 101-year-old company is its willingness to change with the times.
In 2018, it brought in Mario Andaloni as Chief Operating Officer to steer a €40 million ($44.9 million) project to refurbish and invest in the company's facilities in Copparo.
This massive job has seen the company de-centralise its energy sources to a much more efficient and modern heating system that will achieve a 13% decrease in gas consumption in the first year alone; re-design the steel yard in line with a 'lean manufacturing' methodology; reorient its forging, heat treatment and shoes areas; and significantly reduce the company's waste footprint. A more strategic and efficient use of robots in the manufacturing process is also coming to the fore.
The principles that Andaloni has instilled are set to pay off when it comes to the output of equipment.
When asked what impact the project was likely to have on product turnaround times when completed in 2023, he said the aim was for products that required no forging or component additions to take five days to manufacture. When forging and components were added on, the target was 10 days.
"Currently we are around 20 days duration for the complete process," he told IM. "Before we started this new lean manufacturing strategy, we were around 35 days to make products; that was without forging included."
These durations don't include the raw material deliveries into Copparo and transport requirements from the facility, but they are a major signal of the company's intent to make a real impact on the undercarriage supply chain.
The initiation of an e-commerce platform for Berco aftermarket dealers across the globe – due to launch in late January – will make the company "more agile, more flexible, more in line with the needs of today's global market", Bruno said. It will inevitably capitalise on the work Andaloni and his team have been doing on optimising the factory workflow, too, allowing customers to see product availability as well as potential lead times.
All these developments are setting Berco up to capitalise on increased demand from both the mining and construction sectors, with it anticipating future sales increases across both its aftermarket and OEM segments into the future.
On the latter, Buffoni said there was potential to address a market worth some €23 billion in the future with key production additions and developments backed up by an aftermarket organisation that is proactive and flexible. He currently saw Berco playing in a €2 billion market, divided 50:50 between mining and construction.
His counterpart on the OEM side, Fedele Salvatore (Head of Sales OEM), said there were many opportunities to grow its own 13% market share in the €2 billion undercarriage global original equipment market through a "funnel" approach that included more engagement with existing and new original equipment customers, entries into new regional markets in key areas such as Asia and further diversification of the product line.
A re-focus on providing complete undercarriage systems, as opposed to components, would also go some way to achieving growth aims.
What is clear is that the Berco name, 101 years after its birth, has a bright future in the mining segment. By the end of 2023, it will have the equipment and infrastructure to serve a market in need of robust solutions for today's and tomorrow's mines.
The post Berco'[nxtlink id="269493"]s mining[/nxtlink] undercarriage transition takes shape in Copparo appeared first on International Mining.
With Low Vaccination Rates, Africa's COVID Deaths Remain Far Below Europe & US
With Low Vaccination Rates, Africa's COVID Deaths Remain Far Below Europe & US
Authored by Ryan McMaken via The Mises Institute,
Since…
With Low Vaccination Rates, Africa's COVID Deaths Remain Far Below Europe & US
Authored by Ryan McMaken via The Mises Institute,
Since the very beginning of the covid panic, the narrative has been this: implement severe lockdowns or your population will experience a bloodbath.
Morgues will be overwhelmed, the death total toll will be astounding. On the other hand, we were assured those jurisdictions that do lock down would see only a fraction of the death toll.
Then, once vaccines became available, the narrative was modified to:
"Get shots in arms and then covid will stop spreading. Those countries without vaccines, on the other hand, will continue to face mass casualties."
The lockdown narrative, of course, has already been thoroughly overturned.
Jurisdictions that did not lock down or adopted only weak and short lockdowns ended up with covid death tolls that were either similar to—or even better than—death tolls in countries that adopted draconian lockdowns. Lockdown advocates said locked-down countries would be overwhelmingly better off. These people were clearly wrong. 
Undaunted by the increasing implausibility of the lockdown narrative, the global health bureaucrats are nonetheless doubling down on forced vaccines—as we now see in Austria—and we continue to be assured that only countries with high vaccination rates can hope to avoid disastrous covid outcomes. 
Yet, the experience in sub-Saharan Africa calls both these narratives into question: Africa's numbers have been far, far lower than the experts warned would be the case. 
For example, the AP reported this week that in spite of low vaccination rates, Africa has fared better than most of the world:
[T]here is something "mysterious" going on in Africa that is puzzling scientists, said Wafaa El-Sadr, chair of global health at Columbia University.

"Africa doesn't have the vaccines and the resources to fight COVID-19 that they have in Europe and the U.S., but somehow they seem to be doing better," she said….

Fewer than 6% of people in Africa are vaccinated. For months, the WHO has described Africa as "one of the least affected regions in the world" in its weekly pandemic reports.
Yet disaster for Africa has long been predicted for several reasons even beyond the availability of vaccines. For instance, it is known that lockdowns are especially impractical in the poorest parts of the world. This is because populations in places with undeveloped economies can't simply sit at home and live off savings or debt. Rather, these people must go out into the world and earn a living on a day-to-day basis. Starvation is the alternative. Moreover, much of this work is done in the informal economy, so enforcing lockdowns becomes especially difficult.
Source: Our World in Data (Confirmed Deaths per Million, November 19, 2021;  Share of People Vaccinated against Covid-19, November 19, 2021).
It was also assumed covid would be especially deadly in Africa due to the fact many large households live in small housing units.
But that "conventional wisdom" flies in the face of the reality of covid in Africa, which is that there have been fewer deaths.
The "experts" have groped around, looking for possible explanations.
Some sources, for example, insist that the low death totals are only an artifact of incomplete reporting on covid infections and that "a lack of good qualitative data was the issue."
But Richard Wamai at Northeastern University rejects the claim it's all about case reporting, and says that "local systems for reporting deaths in Africa make it difficult to hide COVID-19 casualties." In a paper for the International Journal of Environmental Research and Public Health, Wamai and his coauthors conclude, "[T]here is no evidence that COVID-19 mortality data is less accurately reported in Africa than elsewhere" and "While the true picture of infections and mortality in the continent has yet to fully emerge, the quality of data for other diseases, such as HIV/AIDS, indicates that Africa has the capacity to collect and report valid disease surveillance data."
In any case, the World Health Organization reports that covid deaths in Africa make up only 2.9 percent of covid deaths, while Africa's population is 16 percent of the global total. Africa's covid total could double or triple, and Africa would still be faring far better than Europe and the Americas.
Wamai et al. also note that at this point "[i]t is likely that SARS-CoV-2 has already been widely disseminated through Africa…. If so, widespread infection is likely to also result in widespread natural immunity."
In other words, continued claims by health officials—both in Africa and elsewhere—that mass death is right around the corner with the "next wave" look increasingly implausible. 
It looks increasingly likely that the lack of covid mortality in Africa is not due to a data issue nor a situation in which covid has been "contained" up until now. So then why is Africa doing so much better than the wealthy West?
Naturally, the advocates of forced lockdowns and coerced vaccines would prefer to ignore this issue altogether, but the undeniable reality of Africa's experience has forced mainstream researchers to publicly admit the many ways that many factors can explain covid's prevalence beyond vaccination rates and mask mandates.
For instance, mentioning that obesity is an important factor in covid mortality has in the past been likely to get one savaged in the media for "fat shaming." Yet the Africa situation has forced the well informed to admit that yes, obese populations clearly suffer more from covid. In Africa, not surprisingly, we find that obesity rates are far below those found in North America and Europe.
Other possible explanations forwarded as reasons for Africa's situation include past exposure to other coronaviruses, youthful populations, fewer patients lacking zinc and vitamin D, past use of the Bacillus Calmette-Guérin vaccination, climate, genetic background, and parasite load. 
In addressing the African "enigma" one group of researchers in the journal Colombia medica dared even suggest it's possible—although not conclusively shown at this point—that "a mass public health preventive campaign against COVID-19 may have taken place, inadvertently, in some African countries with massive community ivermectin use."
Source: "Global Obesity Levels," ProCon.org, last modified March 27, 2020; Our World in Data (Share of People Vaccinated against Covid-19, November 19, 2021).
In the West, however, the media drumbeat around covid has consistently been "Shut up, stay home, get jabbed, and stop doubting the experts on forced vaccines." Fortunately, however, the African situation has forced many researchers to ask inconvenient questions.
In fact, it's amazing Africa has not been overcome by mass death considering that covid lockdowns and covid "mitigation" measures have contributed to the impoverishment and mass starvation on the continent. Or as Germany's DW News puts it, "Measures put in place to slow the spread of the novel coronavirus are pushing millions of people in Africa into severe hunger." And as Wamai notes, "[S]ome of the excess deaths in Africa "can be attributed not to the disease, but to lockdown measures that cut off access to medical care for other illnesses."
But Africa hasn't gotten the bloodbath that was promised, and as one Nigerian put it, "They said there will be dead bodies on the streets and all that, but nothing like that happened."
Tyler Durden
Thu, 11/25/2021 – 05:10
zinc
Lundin Mining: BMO Lowers Target After Weaker Than Expected Guidance
On November 22nd, Lundin Mining Corporation (TSX: LUN) provided production guidance all the way out to the end of 2024.
The post Lundin Mining: BMO Lowers…
On November 22nd, Lundin Mining Corporation (TSX: LUN) provided production guidance all the way out to the end of 2024. The company also provided cash cost, capital, and exploration expenditures for 2022.
For the cash cost guidance for 2020, copper sits between $1.55 per pound to $1.80 per pound depending on the mine, while zinc cash cost is expected to be $0.55 per pound and nickel will be a ($0.25) cost per pound in 2022. Nickel will be negative due to significant by-product copper credits, the company says.
The capital expenditure is expected to be $630 million for 2022, primarily due to $370 million going to the Candelaria mine. With the $630 million in capital expenditure during 2022, there will be an expected $45 million in exploration investments. With $40 million of the $45 million being spent supporting "significant in-mine and near-mine targets."
| | | | |
| --- | --- | --- | --- |
| Production Guidance | 2022 | 2023 | 2024 |
| Zinc | 188,000 – 203,000 tonnes | 227,000 – 242,000 tonnes | 225,000 – 240,000 tonnes |
| Gold | 153,000 – 163,000 ounces | 155,000 – 165,000 ounces | 153,000 – 163,000 ounces |
| Nickel | 15,000 – 18,000 tonnes | 13,000 – 16,000 tonnes | 9,000 – 12,000 tonnes |
A number of analysts cut their 12-month price target, bringing the 12-month price target down to C$12.24, or a 14.4% upside to the current stock price. Lundin Mining currently has 23 analysts covering the stock with 2 analysts having strong buy ratings, 7 have buy ratings, 13 have hold ratings and 1 analyst has a sell rating. The street high sits at C$16.50 while the lowest comes in at C$8.56.
In BMO's update, they reiterate their market perform rating but lowered their 12-month price target on Lundin Mining to C$15 from C$16.50, saying that the three-year guidance came in below their expectations.
For the three-year production guidance, BMO forecasted copper and zinc production at the low end of Lundin's old guidance while nickel and gold estimates were at the high end of their old guidance. With the updated guidance, they are now revising these estimates down. You can see the updated production estimates below.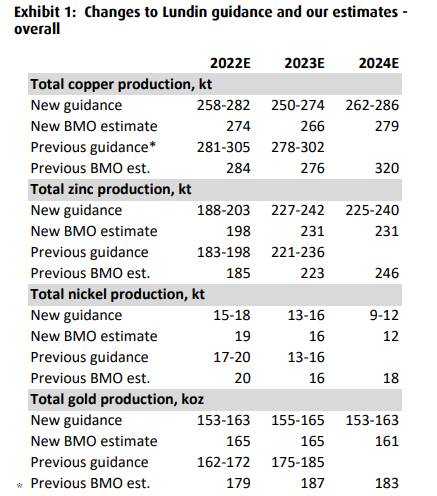 BMO believes that the first half of 2021 will look light as the company expects both production and sales to be weighted heavily towards the second half of 2022. BMO says that the second half weighting comes from Candelario, Chapada, and Eagle but they believe that Neves-Corvo copper production could help make the first half of 2021 look better than expected.
Lastly, the company also modeled 2022 capital and operating expenses to be lower than guidance. They say the major difference is BMO's commodity price assumptions in 2022. Below you can see BMO's updated estimates.

---
Information for this briefing was found via Sedar and Refinitiv. The author has no securities or affiliations related to this organization. Not a recommendation to buy or sell. Always do additional research and consult a professional before purchasing a security. The author holds no licenses.
The post Lundin Mining: BMO Lowers Target After Weaker Than Expected Guidance appeared first on the deep dive.
tsx
nickel
copper
zinc
tsx-lun
lundin-mining-corporation
lundin mining corporation
Guy on Rocks: This platinum group metals stock represents 'value for money'
'Guy on Rocks' is a Stockhead series looking at the significant happenings of the resources market each week. Former geologist … Read More
The post…
'Guy on Rocks' is a Stockhead series looking at the significant happenings of the resources market each week. Former geologist and experienced stockbroker Guy Le Page, director, and responsible executive at Perth-based financial services provider RM Corporate Finance, shares his high conviction views on the market and his "hot stocks to watch".
Market Ructions
The copper market continues its wild ride with China copper premiums reaching seven-year highs on dwindling stocks (figure 1) and the imposition of a VAT on copper imports.
KGMKRMCopper was trading just above US$4.44/lb at the open on Tuesday.  
Copper 3-month backwardation spreads have collapsed down from a record US$0.50 to 0.70 cents however the cash premium in Shanghai is currently US$120/tonne on fears surrounding refined exports going to LME warehouses.
There is no sign of copper volatility abating particularly in the light of rampant inflation.
The slow-moving train-wreck otherwise known as the Federal Reserve continues to calm the nerves of the great unwashed with the re-appointment in February 2022 of Chairman Jerome "steady as—it-goes" Powell (who has been doing the job of two men, Laurel and Hardy) to another term.
For some reason the broader market saw this as a positive resulting in a sell off in the precious metals sector with gold retreating to US$1,785 (down over US$19/oz in trading on Tuesday) at the time of writing and off from its recent five-month highs of US$1,872/ounce last week. The US dollar hit is highest level since July 2020.
Given Powell has the US economy sailing on  an easy monetary trajectory straight into the eye of an inflation hurricane (already at 6.2% a 31 year high), I think his appointment will ultimately be good for gold.
"Now is not the time to raise rates" according to Powell, may as well wait until hyperinflation turns up and maybe he could reconsider his position?
Anyway, I shouldn't be too harsh on him, at least he hasn't  done a Joe Biden and ripped one off with a member of the Royal Family downwind from the blast…
It is clear that (figure 3) the broader market is not convinced that gold's short to medium term price outlook is positive with Swap Dealer Net positions still in decline.
Not surprisingly nickel processing costs have continued rising sharply over 2021 (figure 4), particularly with regard to the energy intensive laterite ores.
Chinese nickel pig iron costs are projected to be in the order of  US$19,000/t according to Macquarie Strategy (2021) up from around US$11,000/t in early 2020.
Indonesian nickel pig iron costs are also estimated to have risen from US$7,000/t to over $11,000/t over the last rolling 12 months.
This is likely to support the nickel price in the short-medium term (figure 5) which recently broke through US$9.50/lb.
New Ideas
For those of you looking for another PGM play you may want to take a closer look at Kingsrose Mining Ltd (ASX:KRM) (figure 6).
The share price has responded positively to the proposed acquisition of Element 46 earlier in November which has title to the 'Penikat' high-grade PGE-nickel-copper-gold deposit hosted within a layered intrusion (figure 7).
Mineralisation at Penikat is hosted in three outcropping parallel reefs with an apparent strike of approximately 25 kilometres with 4,158 meters of historical drilling that only reached an average depth 43 metres.
Not surprisingly, the company believes that mineralisation remains open at depth.
The company has identified a number of high-grade targets. Previous drilling suggests widths range from 0.50 to 2 metres with mineralisation believe to be similar to that found in the Bushveld complex of South Africa.
Better intersections from higher grade "potholes" have included:
SI/KI-34 with 8 metres downhole at 10.9 g/t PdEq from surface
SI/KI-33 with 6 metres downhole at 4.9 g/t PdEq from surface.
The Porsanger Project is another focus of exploration in 2022 with 50km2 of licenses covering the Krasjok Greenstone Belt, and PGE-copper mineralisation analogous to Anglo American's Sakatti nickel-copper-PGE deposit.
Previous drilling into outcropping magmatic sulphide PGE-copper mineralisation has returned a number of encouraging intersections including PV-01 with 43.2 metres at 1.2 g/t PdEq (0.9 g/t Pd, 0.4 g/t Pt, 0.1 % Cu) from 67 metres downhole. (figure 9)
High-grade copper mineralisation over 10 kilometres of strike length has also been outlined from rock sampling (Figure 10).
The Company also recently announced (24th November 2021) results from re-assaying of core not previously assayed for PGM's with some impressive numbers.
SI/KI-456 and SI/KI-457 (figure 11) were not assayed historically for PGE with resampling returning some impressive grades and extending near surface mineralisation by 20 metres to thenorth, supporting the model that mineralisation remains open along strike.
I think the grades and dimensions of Penikat are quite compelling as to the enterprise value at just under $30 million this does actually represent value for money.
I note in their recent presentation a plot of global PGE deposits interestingly showing Julimar (Chalice Mining ASX:CHN) near the bottom of the pile (from a grade perspective) (figure 12).
I think CHN have outlined an interesting and very large resource but even the higher-grade core of 74Mt @ 1.8g/t 3E, 0.22% Ni, 0.21% Cu, 0.021% Co (~1.0% NiEq or ~2.8g/t PdEq) is not high grade as such and does have a significant strip component.
It has been a great ride but I would venture to say the market capitalisation has gone a little over the top at $3.4 billion (for basically an in-ground resource of 3.3Mt of Nickel equivalent) and is either factoring in very large Net Present Value or significant exploration upside or possibly both.
Time will tell but I think higher-grade core of mineralisation is needed to make Julimar work — hopefully exploration will find additional near surface, higher grade mineralisation along strike.
At RM Corporate Finance, Guy Le Page is involved in a range of corporate initiatives from mergers and acquisitions, initial public offerings to valuations, consulting, and corporate advisory roles.
He was head of research at Morgan Stockbroking Limited (Perth) prior to joining Tolhurst Noall as a Corporate Advisor in July 1998. Prior to entering the stockbroking industry, he spent 10 years as an exploration and mining geologist in Australia, Canada, and the United States. The views, information, or opinions expressed in the interview in this article are solely those of the interviewee and do not represent the views of Stockhead.
Stockhead has not provided, endorsed, or otherwise assumed responsibility for any financial product advice contained in this article.
The post Guy on Rocks: This platinum group metals stock represents 'value for money' appeared first on Stockhead.