Congress Passes Funding Bill To Avert Shutdown, Rest Of Legislation In Limbo
Congress Passes Funding Bill To Avert Shutdown, Rest Of Legislation In Limbo
Update (1546ET): The House has OK'd the Senate-passed Continuing…
Congress Passes Funding Bill To Avert Shutdown, Rest Of Legislation In Limbo
Update (1546ET): The House has OK'd the Senate-passed Continuing Resolution (CR) by a 254-175 vote – avoid a government shutdown at midnight, after the Senate passed the stopgap spending bill 65-35.
U.S. House, in 254-175 vote, OKed the Senate-passed continuing resolution ("CR") to extend government funding to Dec. 3 and avert a partial shutdown. Also includes billions for disaster aid and Afghan evacuation & resettlement. Biden's signature next.

D 220-0, R 34-175

— Greg Giroux (@greggiroux) September 30, 2021
Next stop, Biden's desk.
The bill only passed after Democrats eliminated an earlier attempt to link a suspension of the debt deiling to the bill, which was blocked by GOP senators on Monday.
It also does not include a proposed $1 billion allocation for Israel's Iron Dome missile defense system pushed by GOP lawmakers. That said, the House has already passed a standalone bill to provide that funding, which the Senate may soon take up.
The move will keep the government funded until Dec. 3, after which they can bring a new Continuing Resolution (CR). It contains $28.6 billion to resettle refugees from the Afghanistan debacle.
According to House Speaker Nancy Pelosi (D-CA), her chamber will take up the bill on Thursday, where it's expected to receive overwhelming support.
*  *  *
Update (1340ET): The US Senate has enough votes to pass a bill which will extend government funding through Dec. 3, averting a shutdown at midnight tonight.
The bill will next move to the House, which is expected to clear it for President Biden's signature this afternoon.
Meanwhile, the rest of the Democrat's agenda remains in limbo, after Rep. Pramila Jayapal said House progressives were "in the same place" following a meeting with Speaker Pelosi regarding their refusal to vote 'yes' on the $1.2 trillion infrastructure bill without concurrently passing the $3.5 trillion economic blueprint.
Progs: Vote will fail.
Mods: Vote will happen.
New Dem: Maybe. https://t.co/sbM62hWhNV

— Jake Sherman (@JakeSherman) September 30, 2021
Progs: Vote will fail.
Mods: Vote will happen.
New Dem: Maybe. https://t.co/sbM62hWhNV

— Jake Sherman (@JakeSherman) September 30, 2021
*  *  *
While Congressional Democrats are nowhere near a deal on a $3.5 trillion social spending package, and House Speaker Nancy Pelosi planning to move forward with a Thursday vote on the $1.2 trillion infrastructure bill that's doomed to fail due to party infighting, Republicans are set to grant them a minor victory.
On Thursday, Senate Minority Leader Mitch McConnell (R-KY) predicted that the Senate would pass a Continuing Resolution (CR) to avoid a partial government shutdown – suggesting that enough Republican Senators will support the Democratic measure due for a vote later in the day.
"The Continuing Resolution contains a number of key items that Republicans call for," said McConnell. "That includes supplemental funds to resettle Afghan refugees, and hurricane recovery aid for Louisiana."
McConnell then said it was "seriously disappointing" that Democrats wouldn't let them fund Israel's Iron Dome, adding "It honestly baffles me that defensive aid to our ally, Israel, has become a thorny subject for the political left. But overall, this is encouraging progress."
"On government funding, what Republicans laid out all along was a plain, continuing resolution, without the poison pill of a debt limit increase. That's exactly what we'll pass today."
#BREAKING: Senate Minority Leader Mitch McConnell (R-KY) says a government funding deal will go through and a shutdown will be avoided. pic.twitter.com/X9BjZJwW2N

— Forbes (@Forbes) September 30, 2021
The CR is a stop-gap measure which temporarily provides funding for the government through December 3rd, at which point Congress will need to issue another CR to fund the remainder of the fiscal year.
As we noted earlier Thursday, the Democrats' hopes of passing $4.6 trillion in legislation anytime soon appear to be slim.
Despite moderate Democrat Sen. Joe Manchin of West Virginia refusing on Wednesday to back his party's $3.5 trillion spending plan  – calling it the "definition of fiscal insanity," Speaker Nancy Pelosi still plans to hold a vote on the $1.2 trillion infrastructure bill that House progressives vowed to sink unless the $3.5 trillion plan was passed in tandem.
"So far, so good for today," said Pelosi at a press conference following a meeting with her leadership team, adding "We're on a path to win the vote."
According to Assistant Speaker Katherine Clark, even if the bill doesn't pass today, the impact will be limited.
"Whether that vote happens today, and I hope it does, this is not over," she told Bloomberg TV, adding ""If we haven't reached that point in our negotiations, our commitment is to getting this entire agenda done, and that will happen."
Good luck with that.
In short, looks like the government won't shut down – but the debt ceiling and the spending packages remain in limbo.
Tyler Durden
Thu, 09/30/2021 – 13:41
iron
Critical Resources nabs Mavis Lake project and foothold in established Canadian lithium province
Special Report: Critical minerals explorer Critical Resources has notched another arrow to its bow, signing a binding terms sheet with … Read More
The…
Critical minerals explorer Critical Resources has notched another arrow to its bow, signing a binding terms sheet with Essential Metals (ASX:ESS) and International Lithium Corporation (TSVX:ILC) for a 100% interest in the Mavis Lake lithium project in Canada.
The proposed acquisition is a big opportunity for Critical Resources (ASX:CRR) to add a high-quality critical minerals project with excellent further exploration potential to its portfolio.
Especially considering the strong outlook for the lithium market.
The price for lithium carbonate, 99.5% Li2CO3 min, battery grade, spot price CIF China, Japan, and Korea is sitting around US$26/kg.
Not to mention, Canada is a first-class low-risk mining jurisdiction which is strategically located for lithium offtake into the North American manufacturing markets – with the project close to the Trans-Canada highway and railway arteries.
Excellent opportunity to enter the lithium market
Previous drill programs in 2018 returned high-grade lithium oxide intercepts including 55.25m at 1.04% from 82.75m, and 26.30m at 1.70% from 111.9m including 7.70m at 2.97% from 130.5m – which the company says presents significant exploration potential.
"The Mavis Lake terms sheet presents an excellent opportunity for the company to add a high-quality project to our portfolio that further increases our exposure to critical minerals," Critical Resources (ASX:CRR) CEO Alex Biggs said.
"The company is on a trajectory to become a high growth business focused on building a project pipeline based on asset quality and exposure to in-demand minerals.
"Our focus for this year remains on the upcoming exploration of our Halls Peak base metals asset in New South Wales, Australia which we are very excited about.
"The Mavis Lake project fits all these requirements and provides an excellent entry to the lithium market with an asset that offers excellent prospectivity in a tier 1 jurisdiction.
"Due diligence is ongoing, and we will update the market in due course."
Exclusivity fee allows due diligence 
As part of the terms of the agreement, the company will pay a total non-refundable exclusivity fee of $200,000, which provides exclusivity until 4 January 2022 – during which Critical Resources will undertake due diligence on the project.
Subject to the satisfaction of the conditions precedent, at completion the company will be required to:
Pay $1.5 million cash payment to the sellers;
Issue 68,000,000 shares in Critical Resources to the sellers (or their nominees) at an issue price of $0.022 per share (a deemed value of $1.496 million); and
Issue 8,000,000 fully paid ordinary shares to the deal facilitator who is a non-related party.
Milestone 1 payment and deferred consideration includes:
Payment of $1.50 million cash to the sellers; and
$100,000 of fully paid ordinary shares in Critical Resources (up to a maximum of 4,000,000 shares) to the facilitator upon definition of JORC compliant resource of not less than 5.00 million tonnes containing not less than 50,000t of Li2
Milestone 2 payment and deferred consideration includes:
Payment of $1.50 million cash to the sellers; and
$100,000 of fully paid ordinary shares (up to a maximum of 4,000,000 shares) in Critical Resources to the facilitator upon definition of JORC compliant resource of not less than 10.0 million tonnes containing not less than 100,000t of Li2
$4 million placement planned
As a condition to completion of the acquisition, Critical Resources will conduct a capital raising via a placement to professional and sophisticated investors at $0.029 per share to raise around $4 million. The company confirmed all directors will be participating in the raise.
Participants will receive one free attaching option for every three shares with an exercise price of $0.04 and expiring 3 December 2024.
The proceeds will fund
Halls Peak drilling: $1.5 million;
Mavis Lake Lithium acquisition, preliminary drilling, and associated costs: $2.15 million; and
Corporate and working capital: $0.350 million.
Sixty Two Capital Pty Ltd is the lead manager and on completion will be entitled to a capital raising fee of 6% of the total amount – and subject to shareholder approval, will be entitled to be granted 15,000,000 unlisted lead manager options with an exercise price of $0.04 and expiring 3 December 2024.

This article was developed in collaboration with Critical Resources Limited, a Stockhead advertiser at the time of publishing.
This article does not constitute financial product advice. You should consider obtaining independent advice before making any financial decisions.
The post Critical Resources nabs Mavis Lake project and foothold in established Canadian lithium province appeared first on Stockhead.
Goldman Cut's China's 2022 GDP To Just 5.2%
Goldman Cut's China's 2022 GDP To Just 5.2%
Less than a month after Goldman stunned its Wall Street peers when it slashed its Q3 China GDP…
Goldman Cut's China's 2022 GDP To Just 5.2%
Less than a month after Goldman stunned its Wall Street peers when it slashed its Q3 China GDP forecast to just 0%, forecasting no growth in the world's second largest economy, Goldman has done it again and in a note published late on Sunday, not only does the bank admit that China has entered a phase of "temporary stagflation", but in a tone that is almost apologetic as Beijing will likely take great offense at this provocation, the bank cut its 2022 GDP forecast form an already low 5.8% to just 5.4%.
Goldman first summarizes the stagflationary dynamics of the recently concluded third quarter, in which just Chinese real GDP growth slowed to a 0.8% annual rate while at the same time, PPI inflation reached 10.7% yoy in September, the highest on record.
However, and this is where Goldman is ever so sorry for offending Beijing with its "math", Goldman's Hui Shan writes that this "stagflation" is very different from the experience of the US and other developed countries in the 1970 (spoiler alert: it actually isn't different at all as we explained in "Is Stagflation Here: Comparing The 2020s With The 1970s…").
Goldman then spends the balance of the note not so much focusing on China's deep economic problems, as much as apologetically explaining (to anyone who will listen), why these challenges are so transitory, they can effectively be ignored. As Shan writes, "the weakness in Q3 growth was driven by a number of factors, including the August Covid outbreak that impacted many provinces, the sharp slowdown in the property market, and the energy shortages and power cuts in late September. We think the Covid outbreak probably played the biggest role in negatively impacting Q3 activity, followed by property and energy."
It gets better: to make sure the message is received loud and clear in Beijing, Goldman goes so hyperbolic as to call events in Q3 a "perfect storm" (which of course is unpredictable, so it's not Beijing's fault for what is taking place in the economy). Here are Goldman's key observations on this topic:
The weak Q3 growth was driven by a number of factors – Covid outbreaks and chip shortages that the government has less control over on the one hand, and property tightening and power cuts that are mostly policy-driven on the other. The September activity data show evidence on the combination of various shocks to the economy (fig.3) For example, catering sales (i.e., restaurant services) rebounded sharply in September after slumping in August on Covid lockdowns in multiple provinces. Auto production and sales remained soft on chip shortages. Property sales continued to drop on the government's deleveraging efforts and lending restrictions. Output of high-emission products such as steel and cement fell sharply on the "dual controls" of energy use and severe coal shortages which led to power cuts and production halts in these sectors.

After the anemic sequential growth year-to-date (averaging only about 2% annualized rate), the Chinese economy appears to have gone from a positive output gap at the end of last year to some excess capacity in Q3.

Looking across different sectors, Exhibit 5 shows that, with the exception of agriculture, all industries are currently at or below trend level of output, assuming a pre-Covid sector-specific trend. In the case of leasing and commercial services (e.g., travel agencies and large conferences), hotel and restaurant services, and other services (e.g., household cleaning services), the negative output gap remains significant. Eighteen months after the onset of the Covid outbreak early last year and with no end of the "zero Covid" policy in sight, activity in these sectors is at risk for longer-term scarring effects.

Household consumption was the hardest-hit part of the economy last year on both lower income growth and a higher saving rate. By Q3, household saving rate has mostly normalized to its pre-Covid level, falling from a peak of 35% in 2020Q1 to 30% now (Exhibit 6). The main constraint to consumption is income growth. As of Q3, the growth of household disposable income averaged only 6.6% per year over the past two years, compared to 8.8% in 2019. Among different sources of income, growth of business income underperformed the most, averaging 3.6% per year over the past two years compared to 8.0% in 2019 (Exhibit 7).
In other words, China's stagflation is "temporary" and should reverse soon. Until it does, however, Goldman is tracking the contribution of housing to GDP growth, and calculates it as subtracting 0.5% from Q3 GDP. The bank admits that it expects "even bigger drags in the coming quarters."
Meanwhile, as the property market shrinks, and the overall economy is barely growing, PPI inflation soared in September, but here too Goldman expects CPI inflation "to remain muted in the coming months for two reasons. First, food and service inflation has little relationship with PPI inflation and is likely to stay low. Second, even at extremely high levels of PPI inflation, the pass-through into CPI inflation is fairly low: we estimate an additional 1pp increase in PPI inflation raises headline CPI inflation by 0.1pp." It explains further below:
September PPI inflation reached the highest level since the data were available in 1997, raising questions about both the duration of the high PPI inflation and its potential passing through into CPI inflation which has remained low. On the first question, PPI inflation is likely to stay high in the near term, but should soften notably in six months on base effect. If prices were to remain unchanged from here, PPI inflation would drop to about 2% in mid-2022. On the latter, we expect the pass-through from PPI to CPI to be limited for two reasons.

First, CPI has three distinct components – food, non-food goods, and services (Exhibit 11). Food inflation and service price inflation are likely to remain low in the coming months on depressed pork prices (which dominate food prices) and negative output gap (which is a key driver of service inflation). Second, historically the sensitivity of CPI non-food goods inflation to PPI inflation is statistically significant but economically small. Exhibit 12 shows a nonlinear relationship where relatively mild year-over-year PPI inflation (i.e., between -5% and +5%) appears to have very little impact on CPI non-food goods inflation.

But even at more extreme levels of PPI inflation, the magnitude of the pass-through remains modest: an additional 1pp increase in PPI inflation from its currently elevated levels boosts CPI non-food goods inflation by 0.25pp which translates into 0.1pp for headline CPI inflation.
Goldman's bottom line is please don't revoke our operating license in China for telling it how it is that things are bad but will get better soon because "unlike the stagflation of the 1970s, the very low growth and high inflation in China in Q3 were policy-driven (e.g., property tightening and decarbonization), partial (e.g., PPI only), and likely temporary (e.g., policies have already been adjusted to boost coal production and accelerate fiscal spending in Q4)." Again, all of this is a pure figment of Goldman's goalseeking imagination. For a full picture of how the 1970s stagflation is ominously similar to what is going on now, read this.
In any case, with China's economy now at stall speed, Goldman had a choice: bad news and even worse news, or good, if meaningless news and, well, worse news. The bank picked the latter writing that it now expects a sequential pickup in growth in Q4 – which by the way  is unchanged from Goldman's previous forecast – with year-over-year GDP growth to drop to 3.1%. However, while nobody cares about Q4 without the bigger picture, it was here that Goldman saved its worst news for last, warning that "long-term policy direction such as property deleveraging remains unchanged as evidenced by the latest news on starting property tax trials in select cities." As such, the bank has slashed its 2022 growth forecast to 5.2% from 5.6% previously.
And, as was the case with Goldman's overoptimistic 2021 GDP forecasts, expect  many more GDP cuts as China's economy gets dangerously close to a hard landing, if not outright crash. Not surprisingly, Goldman's conclusion suggests as much:
Given the continued slowdown in credit growth – the year-over year growth in the stock of total social financing (TSF) dropped to 10.0% in September from 13.5% a year ago – and the "just do enough" approach of policymakers, we revise down our credit growth forecast to 10.5% for 2021 (previously 11.5%). This still implies a modest pick-up in sequential credit growth in Q4. In addition, we recently changed our monetary policy forecast and no longer expect a RRR cut in Q4. This is not a call on the broader monetary policy stance. Rather, recent communications by the PBOC suggest that the central bank is likely to use targeted liquidity instruments (e.g., SME and green financing relending programs) instead of broad-based RRR cut to replace the large amounts of maturing MLF loans.
Finally, Goldman looks at its downside case scenario (the onw which will happen), and says that "if growth were to deteriorate sharply, we believe the government will react decisively, especially as China prepares for next year's Beijing Winter Olympics" (starting from Feb 4)and the 20th Party Congress (October/November). Spoiler alert: growth will deteriorate sharply from here, something which the PBOC clearly see and is why the central bank just injected a net $190BN in reverse repo, the biggest liquidity injection since January. Here, too, expect much more.
And while Goldman expects a sequential pickup inQ4, its year-over-year growth is poised to decline further. But under the "just do enough" mentality of policymakers, especially as the unemployment rate remains low despite weak growth, the bank warns that "growth headwinds are likely to linger and the slower-than-expected credit growth over the past few months should weigh on economic activity next year based on historical experience."
Tyler Durden
Sun, 10/24/2021 – 22:04
inflation
stagflation
monetary
policy
central bank
monetary policy
crash
steel
Pegasus Resources Expands Its Uranium Assets In Saskatchewan
Pegasus Resources Inc. (TSXV:PEGA) continues to make its presence in the prolific Athabasca Basin uranium camp with the recently announced
The post Pegasus…
Pegasus Resources Inc. (TSXV:PEGA) continues to make its presence in the prolific Athabasca Basin uranium camp with the recently announced acquisition of three uranium properties at the northwest edge of the Basin. The 54,026 hectare properties comprising 13 mineral claims contain a cumulative total of 535,718 lbs of uranium, and significantly, includes a historic resource estimate of 202,200 tons at 0.119% U308 at an average width of 4.8 metres.
These new properties add to the previously announced Pine Channel uranium property which consists of six mineral claims covering 6,028 hectares and is located at the northern edge of the Athabasca basin, roughly 40 km west of the town of Stony Rapids. The Athabasca Basin in Northern Saskatchewan is host to several of the world's largest and highest-grade uranium mines, including Cameco's (TSX: CCO) McArthur River Mine and Cigar Lake Mine.
The Wollaston Northeast property is located in the 20A zone within the prolific Wollaston Domain, 45 kilometres northeast of the Eagle Point Uranium Mine. The property has at least eight known base metals showings and five previously documented uranium occurrences, and is considered highly prospective for basement hosted uranium mineralization.
Much of the recent renewed interest in uranium in the region is due to recent discoveries within the Wollaston Domain where the Eagle Point deposits are hosted within its basement rocks. In addition to the Eagle Point Mine, the area also hosts the historic Rabbit Lake Mine and Cameco/Orano Key Lake Mine, the world's largest high-grade uranium mine.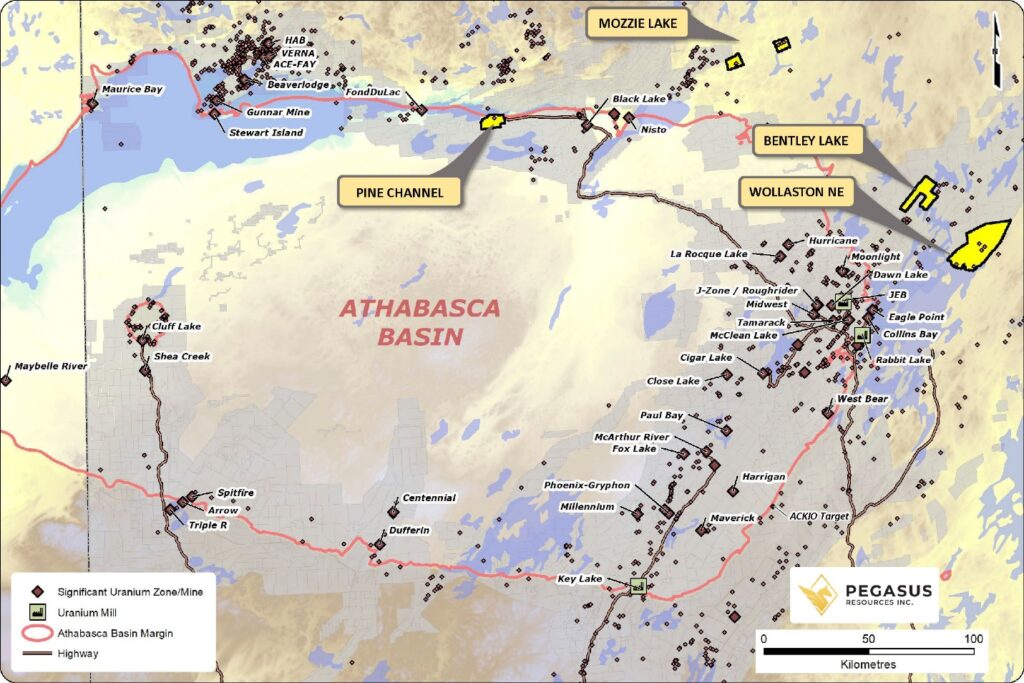 The 12,397 hectare Bentley Lake Uranium Property consisting of three mineral claims, and is located 35 kilometres northeast of the edge of the Athabasca Basin, within a transition zone between the Wollaston and Mudjatic Domains. This trend is host to several major uranium deposits, including Cigar Lake, Roughrider, McArthur River and Midwest. It is located at the transition zone between the Wollaston and Mudjatik geological domains.
The third property is located approximately 40 kilometres northeast of the edge of the Athabasca Basin and within the Charlebois-Higginson Lake Uranium District. The 6,908 hectare Mozzie Lake Uranium Property consists of three mineral claims and has a historical resource estimate of 204,200 tons at 0.119% U308, with an average width of 4.8 metres, and containing 535,718 lbs of uranium. What makes the Mozzie Lake Property particularly compelling, aside from the historical resource estimate that Pegasus's exploration efforts may be able to increase significantly, are the pegmatite deposits of the Charlebois-Higginson Lake Uranium District.
Since being initially explored from the 1940's through to the 1960's, there has been virtually no exploration on the property. Previous work in the region, as well as on the Pinkham Lake property at Mozzie Lake, indicated that the pegmatite deposits may also host mineralization which contains rare-earth-element bearing minerals. Rare earth minerals are in high demand today due to the needs of the various technology, consumer electronics, and electric vehicle manufacturing industries. PEGA plans to examine the property's rare earth potential as part of its uranium exploration program at Mozzie Lake.
Pegasus will next review the historical data on the properties to determine an exploration strategy and work programs, and will provide shareholders with updates in the near future. The company's recent announcements of the uranium assets have certainly rekindled interest in PEGA shares, and its market capitalization has increased by almost 50% to $7.98 million in recent weeks, signifying that investors are enthused about the direction management has taken.
PEGA last traded at $0.095 on the TSX Venture exchange.
---
FULL DISCLOSURE: Pegasus Resources is a client of Canacom Group, the parent company of The Deep Dive. The author has been compensated to cover Pegasus Resources on The Deep Dive, with The Deep Dive having full editorial control. Not a recommendation to buy or sell. Always do additional research and consult a professional before purchasing a security.
The post Pegasus Resources Expands Its Uranium Assets In Saskatchewan appeared first on the deep dive.
tsx tsxv tsx venture uranium electric vehicle rare-earth base metals tsxv-pega pegasus-resources-inc