Funding news roundup: Pandion's parcel network, Copper's banking app for teens, mentoring app Tribute, life navigator OwnTrail, and more deals
Pacific Northwest companies are raising venture capital dollars at a rapid clip — so much so that it's hard to keep up. Here's the latest on the…
Pacific Northwest companies are raising venture capital dollars at a rapid clip — so much so that it's hard to keep up. Here's the latest on the most recent rounds.
Pandion, a year-old logistics startup founded by former Amazon and Walmart executive Scott Ruffin, reeled in $30 million in fresh capital that it will use to continue building out a so-called "parcel network" to help online retailers more efficiently ship packages. 
The gist: The company, which recently emerged from stealth mode, will use the funds to hire 80 people at a new 150,000 square foot facility in Quakertown, Penn., that will serve as a hub to route packages on behalf of a growing roster of clients. The timing is also good, with the holiday shipping season just around the corner.
The backers: The $22.5 million Series A round was led by Bow Capital, with existing investors Playground Global, Schematic Ventures, AME Cloud Ventures and Innovation Endeavors also participating. An additional $7.5 million was quickly added led by Telstra Ventures, a sign of a very hot deal.
The deets: Pandion slipped under our radar here at GeekWire, and maybe with good reason since Ruffin previously led the stealthy efforts as the founder and leader of Amazon Air. He then held short stints as executive vice president and chief strategy officer at J.W. Logistics and most recently, until June of 2020, worked as vice president and head of e-commerce transportation at Walmart.
The take: Raising this amount of early-stage capital is impressive, as we recall the days when Series A rounds were in the $500,000 to $2 million range. Obviously, Pandion's business is a bit more capital intensive, and the latest fundraising effort speaks to the revolution going on in logistics sparked by the boom in e-commerce. Seattle on-demand warehousing startup Flexe — which has raised $144 million to date — also is riding this wave. "Plastics" might have been the sage industry advice provided in The Graduate, but maybe the 2021 equivalent is "logistics."
Seattle's Tribute raised $1.5 million over a two-part seed round, allowing the mentoring app to hire former Amazon AWS architect Ian Ma as its chief technical officer. 
The gist: Tribute, which integrates with Slack and Microsoft Teams, is trying to solve the fear-of-commitment hurdle that prevents mentor-mentee relationships from ever getting off the ground. The app limits a mentoring interactions to a month, with the option of both parties agreeing to renew for additional 30-day stretches.
The cost: There's a free version with limited functionality for teams of up to 50 people, and costs $5 per user per month for up 5,000 people and $7 per user per month for up to 50,000 people. 

The backers: Portland Seed Fund, Tapas Capital, DNX Ventures, Avalanche VC, Mastersfund and ScoutFund.
The deets: Founder Sarah Haggard was at Microsoft for a decade before launching Tribute in 2018. Customers include Microsoft, Sonos, Zillow, Remitly, Reckitt and the University of Washington. At AWS, Ma helped startups utilize artificial intelligence and machine learning technologies. He previously co-founded Decide, the Seattle online shopping product research site that eBay acquired in 2013 and promptly shut down. The startup was recently selected to partner with Microsoft Viva, the company's employee experience platform.
The take: It's become increasingly challenging for teams to connect, collaborate and build meaningful work relationships, especially during the pandemic. A number of new work collaboration tools are looking to solve this problem, and just this week we saw Microsoft buy Seattle startup Ally which also is looking to bring teams together in a more cohesive manner. As an example of the money flowing into this space, check out OwnTrail below.
Seattle startup Copper Banking closed a $13.3 million seed round. GeekWire previously reported on the initial $4.3 million raise.
The gist: Copper wants to help teens spend money smarter with its debit card and app. It incentivizes teens to save money by giving cash in exchange for hitting a savings goal or paying back parents on time. Copper earns revenue via a small fee that is charged to merchants running payments made via a Copper debit card.
The backers: PSL Ventures, the venture capital arm of Pioneer Square Labs, led the round. Clocktower Ventures, Index Ventures Scout Fund, Launchpad Capital, Financial Venture Studio, Maven Ventures, Fiat Ventures, Samsung Next and Arnold Ventures also participated.
The leaders: The 25-person company is helmed by Stefan Berglund and Eddie Behringer, who previously co-founded Snap Raise, a Seattle-based online fundraising platform for youth groups. They took many learnings from that experience of building trust with the teen/high school demographic and are applying those lessons to Copper.
The take: Copper says that a third of U.S. teenagers have no bank account, so its total addressable market is certainly large. There is early traction — the company says it has more than 350,000 members, with 70% of users coming from organic word of mouth.
OwnTrail, a self-described "authentech" startup that lets women share career advice and make meaningful connections, raised $570,000, bringing total funding to $1.2 million.
The gist: "We're about helping women make it through hard things," co-founder and CEO Rebekah Bastian told GeekWire last year.
The backers: The House Fund led the round, which included Wright Ventures, Union Bay Partners, Christi Muoneke, Ellie Wu, Adam Schoenfeld, Uma Sekar and David Aronchick. OwnTrail also joined the accelerator run by The House Fund, which invests in alumni and faculty from University of California Berkeley — including Bastian who earned her master's degree there in mechanical engineering.
The deets: Bastian, who previously spent 14 years at Zillow Group as vice president of community and culture, coined authentech to describe companies focused on community building, empowering their users, and putting value for customers ahead of profit — the latter being a strategy that whistleblowers say Facebook has clearly not embraced.
The cost: The platform has been free for users since its creation in February 2020. OwnTrail claims 3,000 users with accounts, and 1,200 have published their paths. It recently launched an optional $10 per month membership program that provides additional coaching and networking opportunities.
The take: Bastian was a rockstar in helping to build Zillow into a juggernaut in the online real estate arena, and when she left the company last year co-founder and CEO Rich Barton called her "an incredible force who has helped Zillow from our earliest days." And as we noted above, in this era more people are craving mentoring and personal connection.
Fullcast, a Bellevue, Wash.-based company that helps automate the back-end work for sales reps, has raised a $4 million Series A round, bringing total funding to $7.5 million.
The gist: Fullcast's software automates "all of that non-sexy, back-end stuff that keeps a sales team running," CEO Dharmesh Singh told GeekWire an earlier interview. That includes the repetitive, non-sales work being done by sales teams: setting quotas, defining and assigning territories, bringing on new customers, tracking contacts, compiling data, etc. It can then integrate this information with Salesforce tools target sales, marketing and customer support teams.
The deets: Co-founders Singh and Bala Balabaskaran met years ago at Microsoft, worked together again at Salesforce and reconnected to launch. While running sales operations teams at Salesforce, Singh and Balabaskaran saw firsthand the inefficiencies of certain tasks in the sales planning cycle. After automating these operations for Salesforce, the duo saw the benefits — and business case — for "turning it into a service for the world," as they previously explained.  The company has 14 customers and 20 employees.
The backers: Companyon Ventures led the round, joined by Epic Ventures, WestWave Capital and CreativeCo Capital.
The cost: Fullcast's services cost $75,000-to-$125,000 per year for the base offering, which the company claims pays for itself in about two months.
The take: There are plenty of players trying to make life easier for sales teams. Fullcast's competitors include Anaplan and Xactly. In Seattle, sales engagement platform Outreach scored $200 million last summer — valuing it at $4.4 billion.
Other deals:
Portland healthcare startup Brave Care raised a $25 million Series B round and announced a national partnership with publicly-traded company Mednax, which invested $20 million as part of the round. Brave Care is akin to ZOOM+Care clinics but specifically targets kids. The fresh cash and partnership will help the company open more clinics. Brave Care is led by CEO Darius Monsef, who sold Sightbox to Johnson & Johnson in 2017. Total funding to date is $43 million.
Spokane, Wash.-based Treasury4 raised $3.4 million. The 14-person company, led by former employees of publicly traded Itron, sells data analytics software for corporate finance and treasury professionals. Kick-Start and Cowles Company led the round.
Madrona Venture Group led an $8 million series A investment in Troop, a London-based startup that helps people book travel and organizing in-person meetings. Madrona's Steve Singh, who previously sold travel and entertainment expense giant Concur to SAP, is joining the board. Other backers include Epic Ventures, Conexo, All Iron, Plug and Play, Travel Tech 1 – Top Seed Labs, and Founders Factory, along with Trivago founder Rolf Schromgens; former Egencia president Rob Greyber; former Uber COO, Barney Harford; and former SAP Concur Presidents Jim Lucier and Mike Eberhard.
And even more notable Pacific Northwest startup funding rounds GeekWire tracked over the past week:
Want to check out all of GeekWire's startup news? Sign up for our startup email newsletter; check out the GeekWire funding tracker; and follow all of our startup news headlines.
Pegasus Resources Expands Its Uranium Assets In Saskatchewan
Pegasus Resources Inc. (TSXV:PEGA) continues to make its presence in the prolific Athabasca Basin uranium camp with the recently announced
The post Pegasus…
Pegasus Resources Inc. (TSXV:PEGA) continues to make its presence in the prolific Athabasca Basin uranium camp with the recently announced acquisition of three uranium properties at the northwest edge of the Basin. The 54,026 hectare properties comprising 13 mineral claims contain a cumulative total of 535,718 lbs of uranium, and significantly, includes a historic resource estimate of 202,200 tons at 0.119% U308 at an average width of 4.8 metres.
These new properties add to the previously announced Pine Channel uranium property which consists of six mineral claims covering 6,028 hectares and is located at the northern edge of the Athabasca basin, roughly 40 km west of the town of Stony Rapids. The Athabasca Basin in Northern Saskatchewan is host to several of the world's largest and highest-grade uranium mines, including Cameco's (TSX: CCO) McArthur River Mine and Cigar Lake Mine.
The Wollaston Northeast property is located in the 20A zone within the prolific Wollaston Domain, 45 kilometres northeast of the Eagle Point Uranium Mine. The property has at least eight known base metals showings and five previously documented uranium occurrences, and is considered highly prospective for basement hosted uranium mineralization.
Much of the recent renewed interest in uranium in the region is due to recent discoveries within the Wollaston Domain where the Eagle Point deposits are hosted within its basement rocks. In addition to the Eagle Point Mine, the area also hosts the historic Rabbit Lake Mine and Cameco/Orano Key Lake Mine, the world's largest high-grade uranium mine.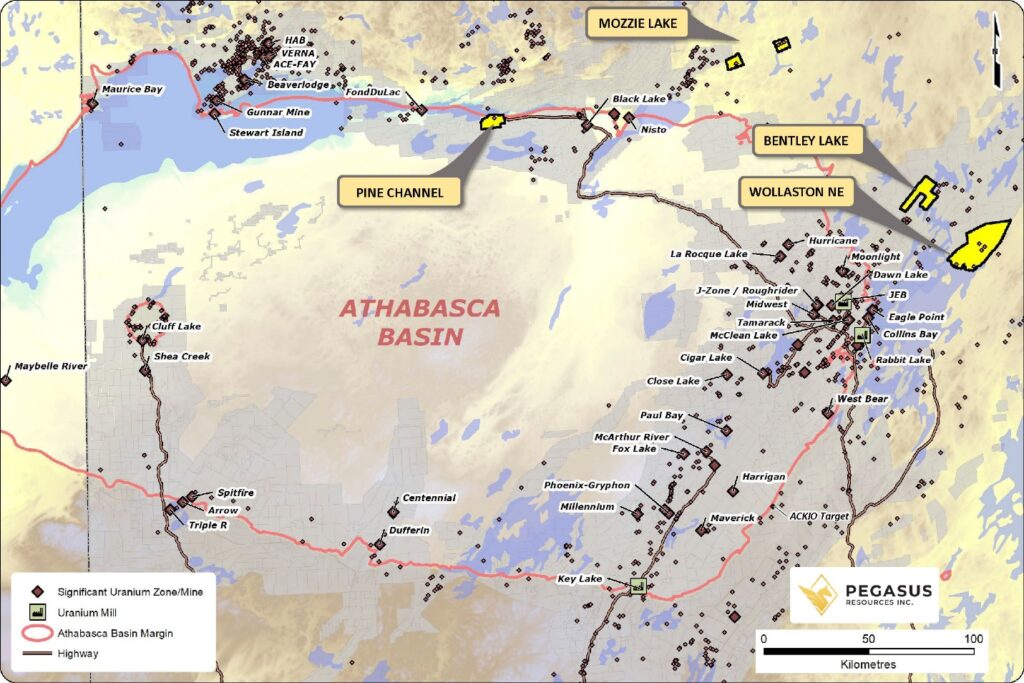 The 12,397 hectare Bentley Lake Uranium Property consisting of three mineral claims, and is located 35 kilometres northeast of the edge of the Athabasca Basin, within a transition zone between the Wollaston and Mudjatic Domains. This trend is host to several major uranium deposits, including Cigar Lake, Roughrider, McArthur River and Midwest. It is located at the transition zone between the Wollaston and Mudjatik geological domains.
The third property is located approximately 40 kilometres northeast of the edge of the Athabasca Basin and within the Charlebois-Higginson Lake Uranium District. The 6,908 hectare Mozzie Lake Uranium Property consists of three mineral claims and has a historical resource estimate of 204,200 tons at 0.119% U308, with an average width of 4.8 metres, and containing 535,718 lbs of uranium. What makes the Mozzie Lake Property particularly compelling, aside from the historical resource estimate that Pegasus's exploration efforts may be able to increase significantly, are the pegmatite deposits of the Charlebois-Higginson Lake Uranium District.
Since being initially explored from the 1940's through to the 1960's, there has been virtually no exploration on the property. Previous work in the region, as well as on the Pinkham Lake property at Mozzie Lake, indicated that the pegmatite deposits may also host mineralization which contains rare-earth-element bearing minerals. Rare earth minerals are in high demand today due to the needs of the various technology, consumer electronics, and electric vehicle manufacturing industries. PEGA plans to examine the property's rare earth potential as part of its uranium exploration program at Mozzie Lake.
Pegasus will next review the historical data on the properties to determine an exploration strategy and work programs, and will provide shareholders with updates in the near future. The company's recent announcements of the uranium assets have certainly rekindled interest in PEGA shares, and its market capitalization has increased by almost 50% to $7.98 million in recent weeks, signifying that investors are enthused about the direction management has taken.
PEGA last traded at $0.095 on the TSX Venture exchange.
---
FULL DISCLOSURE: Pegasus Resources is a client of Canacom Group, the parent company of The Deep Dive. The author has been compensated to cover Pegasus Resources on The Deep Dive, with The Deep Dive having full editorial control. Not a recommendation to buy or sell. Always do additional research and consult a professional before purchasing a security.
The post Pegasus Resources Expands Its Uranium Assets In Saskatchewan appeared first on the deep dive.
tsx tsxv tsx venture uranium electric vehicle rare-earth base metals tsxv-pega pegasus-resources-inc
Emerita Sees Continued Success In Spain
Emerita Resources Corp (TSXV:EMO) continues to report excellent results from the Infanta drill program at its Iberia Belt West Project
The post Emerita…
Emerita Resources Corp (TSXV:EMO) continues to report excellent results from the Infanta drill program at its Iberia Belt West Project in Spain, which hosts three previously identified high-grade deposits: La Infanta, Romanera and El Cura. These are all open for expansion along strike and at depth.
On October 22, the company announced assays for the first step-out drill hole from the Infanta drill program and also the final in-fill drill holes. The significance of the in-fill program was to verify the historical drill results. They will now enable a proper 3D modelling of the deposit and will also provide additional data to be used for future metallurgical testing.
At Infanta, the step-out was conducted to expand the outer perimeter of the deposit, and the in-fill drilling was intended to confirm historical drill data within Infanta's known mineralization zone. Step-out drill hole IN018 was drilled 40 metres to the west of the historical limits of the deposit and intersected 8.2 metres with a grade of 2.5% copper, 8.7% lead, 17.3% zinc, 223.5 g/t silver and 0.5 g/t gold. A second step-out hole was drilled 50 metres to the west of hole IN018 and intersected two zones of massive sulfide but assays have not been returned yet.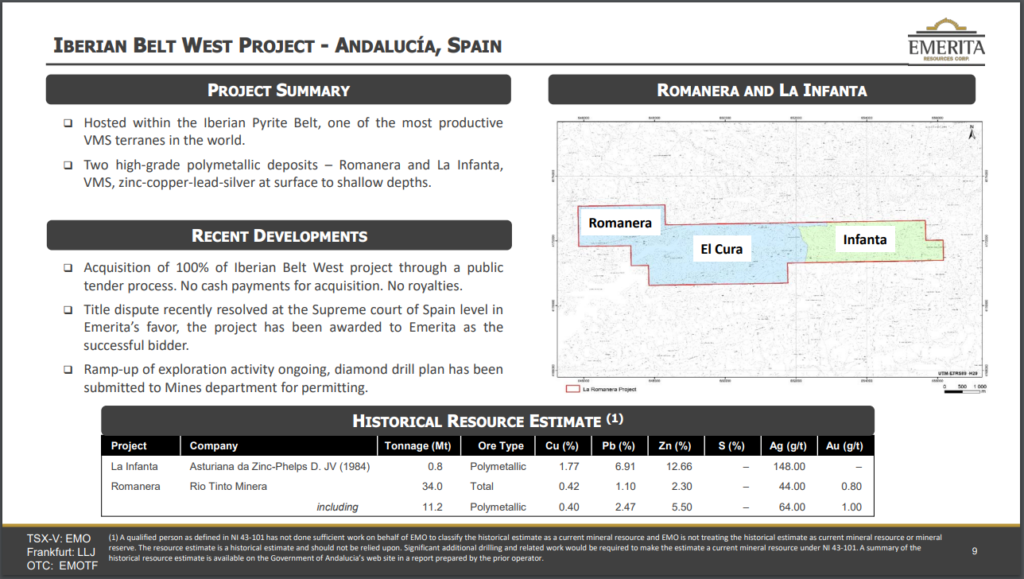 In-fill drill hole IN014 intersected 5.7 metres of 2.4% copper, 7.3 %lead, 13.4% zinc, 225 g/t silver and 0.6 g/t gold. The ongoing geophysical survey, which was suspended along with other exploration activities for the region's hunting season, is expected to resume by the end of October.
Emerita plans to have five drill rigs operating by the end of 2021 and will include the Romanera deposit, El Cura, and other targets identified by previous geophysics work. The two drills currently on site will now focus on step-out drilling to increase the size of the deposit.
Emerita also recently provided investors with an update on the legal proceedings for the Aznalcóllar Project and the company is expecting a ruling by the Administrative Court of Andalucia in Emerita's favour in the near future.
The Aznalcóllar Zinc Project is located in the prolific Iberian Pyrite Belt in the Andalusia region of southern Spain and is considered to be one of the world's largest and most productive volcanogenic massive sulfide (VMS) structures. It has been mined for over a thousand years and has produced over 2000 million tons of ore.
Aznalcóllar is considered to be one of the world's top undeveloped zinc deposits, and the project is essentially a world-class pre-production development asset. Here, the main deposit is referred to as Los Frailes, which contains a historical open pit mineral resource. Two other deposits exist on the property as well, which require further development. The Los Frailes mine operated during the 1990s until it closed due to a combination of tailings-related environmental failure and low metal prices.
After the Aznalcóllar site was rehabilitated, the government initiated a public tender process for the rights to the project and it was initially awarded to another major mining company, however Emerita believed that their bid was superior. It subsequently requested an investigation into the tender process for the property and filed a lawsuit in 2015.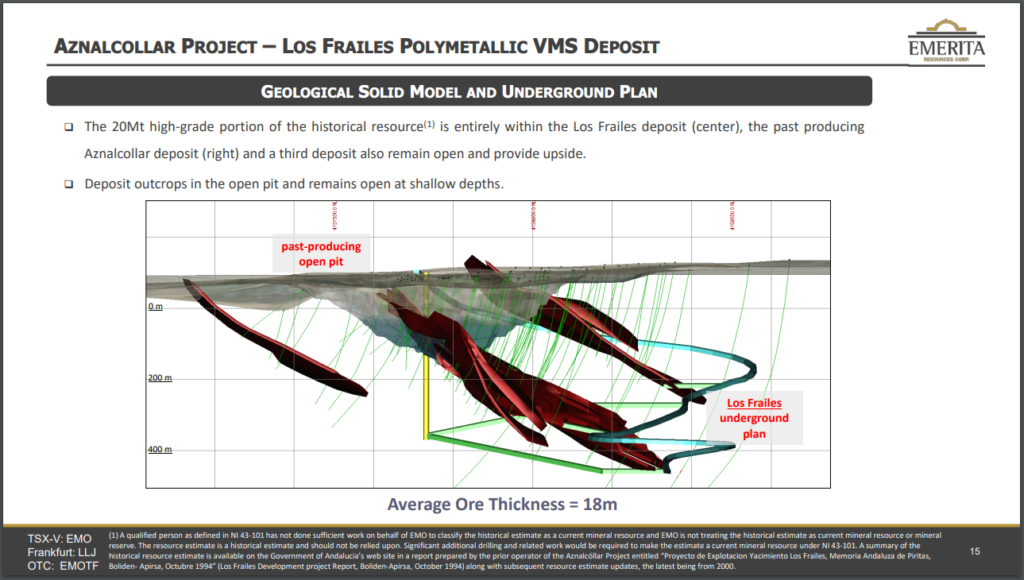 In early 2021, the Spanish court concluded that the process was fraught with corruption, fraud and other malfeasance and rescinded the rights that were awarded and criminal charges were sought for the perpetrators and their enablers. In July 2021, a Spanish judge issued additional criminal indictments against the mining company and government officials who participated in undermining the public tender process for the project.
Under Spanish law, if a crime was committed during the tender process, the rights are then awarded to the next best qualified competing bid, which in this case was Emerita. Subsequently, Emerita has been waiting for the Administrative Court to conclude the process to formally award the rights to the Aznalcóllar Project to the company, which brings us to present day.
The company is planning to develop the deposit into an underground mining operation focused on mining the high-grade zones, which are estimated to contain 20 million tonnes at a grade of 6.65% zinc, 3.87% lead, 0.29% copper and 84 ppm silver. As a requirement of the project's public tender process, Emerita submitted comprehensive. engineering, environmental and water management studies to the government, and now the company is expecting to be given the green light to proceed developing the Aznalcóllar project into an eventual producer.
Emerita is well financed, having completed a $20 million bought deal private placement in July 2021. Emerita has 182.42 million shares outstanding and due to the recent increase in the Company's share price, a market capitalization now of $556.38 million. Even so, barring any unforeseen negative developments regarding the legal issues, Emerita Resources Corp still appears to be potentially undervalued relative to the potential value of the world-class assets it is developing.
Shares of Emerita Resources Corp last traded at $3.05.
---
FULL DISCLOSURE: Emerita Resources is a client of Canacom Group, the parent company of The Deep Dive. The author has been compensated to cover Emerita Resources on The Deep Dive, with The Deep Dive having full editorial control. Not a recommendation to buy or sell. Always do additional research and consult a professional before purchasing a security.
The post Emerita Sees Continued Success In Spain appeared first on the deep dive.
tsxv
gold
silver
copper
zinc
tsxv-emo
emerita-resources-corp
Torq Resources Options Santa Cecilia Gold-Copper Project, Shares Up
Torq Resources Inc. [TORQ-TSXV; TRBMF-OTCQX; S8QA-FSE] has acquired an option to earn a 100% interest…
[nxtlink id="269591"]Torq Resources Inc.[/nxtlink] [TORQ-TSXV; TRBMF-OTCQX; S8QA-FSE] has acquired an option to earn a 100% interest by paying US$25 million and spending US$15.5 million on exploration, subject to an NSR, on the 3,250-hectare (32.5 km2) Santa Cecilia gold-copper project, located approximately 100 km east of the city of Copiapo, northern Chile.
The project is in the southern region of the world-class Maricunga belt and immediately north of the El Indio belt. It is estimated the Maricunga belt could host up to 90 million ounces of gold in a belt is characterized by gold epithermal and gold-copper porphyry deposits, including multi-million-ounce deposits such as Salares Norte, La Coipa, Cerro Maricunga, Marte, Lobo, La Pepa, El Volcan, Caspiche and Cerro Casale.
The Santa Cecilia project is located immediately adjacent to the Norte Abierto project, held by Newmont and Barrick, which is comprised of the Caspiche and Cerro Casale gold-copper porphyry deposits. Collectively, these deposits contain proven and probable reserves of 23.2 million oz gold and 5.8 billion lbs copper and measured and indicated resources of 26.6 M oz gold and 6.7 B lbs copper.
Limited historical exploration work at Santa Cecilia was performed by the previous operator, a major international mining company in 1988-1990 when it drilled 47 holes, totaling ~14,000 metres, and completed 1,200 metres of exploration tunnel development that defined epithermal gold and gold-silver mineralization as well as gold-copper porphyry mineralization at surface and shallow depths, respectively.
A subsequent operator drilled two deeper holes in 2012 that successfully encountered gold-copper-molybdenum porphyry mineralization underlying the shallow mineralization defined by the previous operator.
Shawn Wallace, Executive Chair, said, "The Santa Cecilia gold-copper project represents the culmination of our acquisition strategy in Chile. It is our belief that exploration at a project of this magnitude will be transformative for Torq."
There are three primary target types associated with the 10 square km surficial hydrothermal alteration footprint: Surface epithermal disseminated oxide gold mineralization defined by the previous operator's shallow drilling, high-grade gold-silver epithermal structures and veins, as observed in the previous operator's exploration tunnel and associated drilling, and underlying copper-gold-molybdenum porphyry mineralization analogous to the Newmont/Barrick Caspiche and Cerro Casale deposits, as defined by the 2011-2012 drill holes.
At the Cerro del Medio Target, drill highlights from previous operator (1988 – 1990) included 256 metres of 0.43 g/t AuEq, or 0.37 g/t gold and 0.04% copper in hole SP-SC-23. Hole SP-SC-24 returned 162 metres of 0.58 g/t AuEq, or 0.36 g/t gold and 0.14% copper. Refer to company press release for more similar drill results.
The Vetas Condor high-grade gold – silver epithermal mineralization is encountered on the western flanks of the Cerro del Medio target area where east-west trending quartz-alunite structures are exposed over a 1 km by 350-metre area.
The previous operator completed 1,100 metres of horizontal exploration tunnels that were oriented sub-parallel to parallel to the quartz-alunite ledges. Highlighted intercepts from this section of the tunnel, while not true width, demonstrate the high-grade potential of the structures, and include 2.38 g/t gold and 101 g/t silver over 32 metres and 0.66 g/t gold and 13.5 g/t silver over 134 metres. In addition, ~436 metres into the tunnel, a high-grade vein sampled 58 g/t gold and 27 g/t silver over 2 metres. At the Vetas Condor Target, drill results from previous operator (1988-1990) included 20 metres of 7.05 g/t AuEq.
In late trading October 22, shares of Torq gained $0.16 to $0.80 on a volume of 890.000.