House Progressives Strip $1BN In Military Aid For Israel From Stopgap Funding Bill
House Progressives Strip $1BN In Military Aid For Israel From Stopgap Funding Bill
Authored by Dave DeCamp via AntiWar.com,
House Democrats removed…
House Progressives Strip $1BN In Military Aid For Israel From Stopgap Funding Bill
Authored by Dave DeCamp via AntiWar.com,
House Democrats removed $1 billion for additional military aid for Israel from a stopgap funding bill that was passed in the House on Tuesday.
The $1 billion would be on top of the $3.8 billion the US already gives Israel each year. Israel requested the additional amount after its bombardment in Gaza in May, which killed over 250 Palestinians, including over 60 children.
The Israelis say they need the money to restock the iron dome missile defense system. But when the request was first reported, Israeli officials also said they would also use the money to purchase munitions, mainly precision-guided bombs for the Israeli Air Force.
The stopgap bill is being pushed through to avert a government shutdown, but it could fail in the Senate. The $1 billion for Israel was removed over protests by progressive Democrats, including Reps. Alexandria Ocasio-Cortez (D-NY), Ilhan Omar (D-MN), and Rashida Tlaib (D-MI).
Since no Republicans were expected to vote for the bill, Democratic leadership needed the support of the progressives to pass the legislation.
US lawmakers were quick to assure Israel that it will get its money. Rep. Steny Hoyer (D-MD) promised to bring the extra $1 billion to a vote in the House as early as this week during a call with Israeli Foreign Minister Yair Lapid.
This evening, I announced on the Floor that the House will consider legislation this week to fully fund Iron Dome. We will act to ensure Israel has the ability to defend itself, and I expect strong, bipartisan support for this effort.

— Steny Hoyer (@LeaderHoyer) September 22, 2021
"This evening, I announced on the Floor that the House will consider legislation this week to fully fund Iron Dome," Hoyer wrote on Twitter. Other members of Congress said the extra $1 billion will be included in the 2022 defense appropriations bill.
Tyler Durden
Wed, 09/22/2021 – 21:20
iron
You Can Now Buy A Flying Car That Looks Like A Star Wars Spacecraft
You Can Now Buy A Flying Car That Looks Like A Star Wars Spacecraft
Forget Elon Musk's Tesla Cyberquad ATV because there's a new form of transportation…
You Can Now Buy A Flying Car That Looks Like A Star Wars Spacecraft
Forget Elon Musk's Tesla Cyberquad ATV because there's a new form of transportation for the offroad enthusiast now available, and it looks like something out of Star Wars. 
Sweden's Jetson Aero has begun manufacturing a personal electric vertical take-off and landing (eVTOL) aircraft that will zip around the skies at 63 mph. 
The Jetson One eVTOL is an octocopter with four arms that produce 88 kW (118 horsepower) at full throttle. The pilot sits in an aluminum/carbon fiber frame and controls the craft via a throttle lever on the left, a joystick on the right, and a pair of pedals, likely controlling yaw.
According to vehicle car website Autoevolution, "the company [Jetson Aero] said that you can easily climb as high as 1,500 meters (4,921 feet) with Jetson One." So far, videos only show the eVTOL moving at high rates of speed at low altitudes.  
Someone who weighs roughly 187 pounds can expect 15-20 minutes of flight time before the batteries need a recharge. 
New Atlas noted the eVTOL comes 50% built, and presumably, owners will have to assemble the rest. For that reason, the craft will likely fly under "experimental" where pilots don't need a license to fly. 
As for price, a $22k deposit will give someone the right to reserve a build slot for 2023. There are only three left. Production in 2022, a total of 12, has already been secured from people worldwide, including a few in California. 
Personal eVTOLs appear to be the next big trend in transportation that will revolutionize how people (rich people) travel and commute or spend their leisure time. 
Tyler Durden
Sat, 10/23/2021 – 23:00
batteries
aluminum
Emerita Sees Continued Success In Spain
Emerita Resources Corp (TSXV:EMO) continues to report excellent results from the Infanta drill program at its Iberia Belt West Project
The post Emerita…
Emerita Resources Corp (TSXV:EMO) continues to report excellent results from the Infanta drill program at its Iberia Belt West Project in Spain, which hosts three previously identified high-grade deposits: La Infanta, Romanera and El Cura. These are all open for expansion along strike and at depth.
On October 22, the company announced assays for the first step-out drill hole from the Infanta drill program and also the final in-fill drill holes. The significance of the in-fill program was to verify the historical drill results. They will now enable a proper 3D modelling of the deposit and will also provide additional data to be used for future metallurgical testing.
At Infanta, the step-out was conducted to expand the outer perimeter of the deposit, and the in-fill drilling was intended to confirm historical drill data within Infanta's known mineralization zone. Step-out drill hole IN018 was drilled 40 metres to the west of the historical limits of the deposit and intersected 8.2 metres with a grade of 2.5% copper, 8.7% lead, 17.3% zinc, 223.5 g/t silver and 0.5 g/t gold. A second step-out hole was drilled 50 metres to the west of hole IN018 and intersected two zones of massive sulfide but assays have not been returned yet.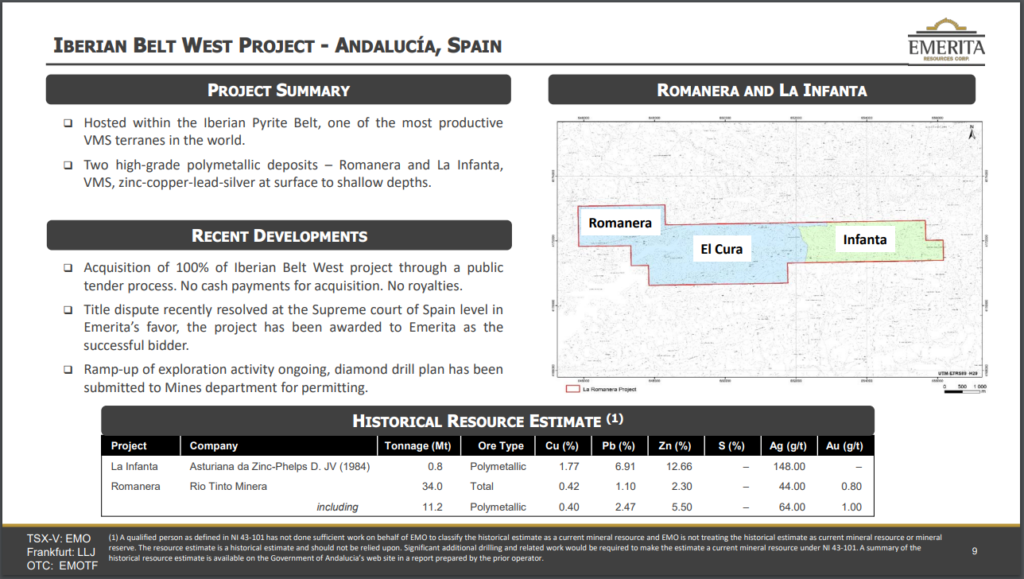 In-fill drill hole IN014 intersected 5.7 metres of 2.4% copper, 7.3 %lead, 13.4% zinc, 225 g/t silver and 0.6 g/t gold. The ongoing geophysical survey, which was suspended along with other exploration activities for the region's hunting season, is expected to resume by the end of October.
Emerita plans to have five drill rigs operating by the end of 2021 and will include the Romanera deposit, El Cura, and other targets identified by previous geophysics work. The two drills currently on site will now focus on step-out drilling to increase the size of the deposit.
Emerita also recently provided investors with an update on the legal proceedings for the Aznalcóllar Project and the company is expecting a ruling by the Administrative Court of Andalucia in Emerita's favour in the near future.
The Aznalcóllar Zinc Project is located in the prolific Iberian Pyrite Belt in the Andalusia region of southern Spain and is considered to be one of the world's largest and most productive volcanogenic massive sulfide (VMS) structures. It has been mined for over a thousand years and has produced over 2000 million tons of ore.
Aznalcóllar is considered to be one of the world's top undeveloped zinc deposits, and the project is essentially a world-class pre-production development asset. Here, the main deposit is referred to as Los Frailes, which contains a historical open pit mineral resource. Two other deposits exist on the property as well, which require further development. The Los Frailes mine operated during the 1990s until it closed due to a combination of tailings-related environmental failure and low metal prices.
After the Aznalcóllar site was rehabilitated, the government initiated a public tender process for the rights to the project and it was initially awarded to another major mining company, however Emerita believed that their bid was superior. It subsequently requested an investigation into the tender process for the property and filed a lawsuit in 2015.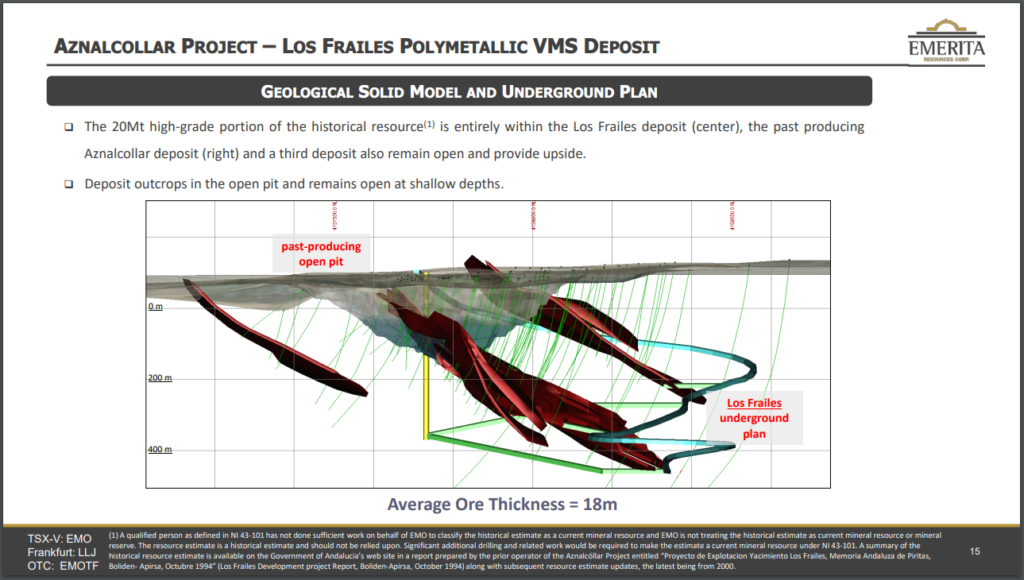 In early 2021, the Spanish court concluded that the process was fraught with corruption, fraud and other malfeasance and rescinded the rights that were awarded and criminal charges were sought for the perpetrators and their enablers. In July 2021, a Spanish judge issued additional criminal indictments against the mining company and government officials who participated in undermining the public tender process for the project.
Under Spanish law, if a crime was committed during the tender process, the rights are then awarded to the next best qualified competing bid, which in this case was Emerita. Subsequently, Emerita has been waiting for the Administrative Court to conclude the process to formally award the rights to the Aznalcóllar Project to the company, which brings us to present day.
The company is planning to develop the deposit into an underground mining operation focused on mining the high-grade zones, which are estimated to contain 20 million tonnes at a grade of 6.65% zinc, 3.87% lead, 0.29% copper and 84 ppm silver. As a requirement of the project's public tender process, Emerita submitted comprehensive. engineering, environmental and water management studies to the government, and now the company is expecting to be given the green light to proceed developing the Aznalcóllar project into an eventual producer.
Emerita is well financed, having completed a $20 million bought deal private placement in July 2021. Emerita has 182.42 million shares outstanding and due to the recent increase in the Company's share price, a market capitalization now of $556.38 million. Even so, barring any unforeseen negative developments regarding the legal issues, Emerita Resources Corp still appears to be potentially undervalued relative to the potential value of the world-class assets it is developing.
Shares of Emerita Resources Corp last traded at $3.05.
---
FULL DISCLOSURE: Emerita Resources is a client of Canacom Group, the parent company of The Deep Dive. The author has been compensated to cover Emerita Resources on The Deep Dive, with The Deep Dive having full editorial control. Not a recommendation to buy or sell. Always do additional research and consult a professional before purchasing a security.
The post Emerita Sees Continued Success In Spain appeared first on the deep dive.
tsxv
gold
silver
copper
zinc
tsxv-emo
emerita-resources-corp
Torq Resources Options Santa Cecilia Gold-Copper Project, Shares Up
Torq Resources Inc. [TORQ-TSXV; TRBMF-OTCQX; S8QA-FSE] has acquired an option to earn a 100% interest…
[nxtlink id="269591"]Torq Resources Inc.[/nxtlink] [TORQ-TSXV; TRBMF-OTCQX; S8QA-FSE] has acquired an option to earn a 100% interest by paying US$25 million and spending US$15.5 million on exploration, subject to an NSR, on the 3,250-hectare (32.5 km2) Santa Cecilia gold-copper project, located approximately 100 km east of the city of Copiapo, northern Chile.
The project is in the southern region of the world-class Maricunga belt and immediately north of the El Indio belt. It is estimated the Maricunga belt could host up to 90 million ounces of gold in a belt is characterized by gold epithermal and gold-copper porphyry deposits, including multi-million-ounce deposits such as Salares Norte, La Coipa, Cerro Maricunga, Marte, Lobo, La Pepa, El Volcan, Caspiche and Cerro Casale.
The Santa Cecilia project is located immediately adjacent to the Norte Abierto project, held by Newmont and Barrick, which is comprised of the Caspiche and Cerro Casale gold-copper porphyry deposits. Collectively, these deposits contain proven and probable reserves of 23.2 million oz gold and 5.8 billion lbs copper and measured and indicated resources of 26.6 M oz gold and 6.7 B lbs copper.
Limited historical exploration work at Santa Cecilia was performed by the previous operator, a major international mining company in 1988-1990 when it drilled 47 holes, totaling ~14,000 metres, and completed 1,200 metres of exploration tunnel development that defined epithermal gold and gold-silver mineralization as well as gold-copper porphyry mineralization at surface and shallow depths, respectively.
A subsequent operator drilled two deeper holes in 2012 that successfully encountered gold-copper-molybdenum porphyry mineralization underlying the shallow mineralization defined by the previous operator.
Shawn Wallace, Executive Chair, said, "The Santa Cecilia gold-copper project represents the culmination of our acquisition strategy in Chile. It is our belief that exploration at a project of this magnitude will be transformative for Torq."
There are three primary target types associated with the 10 square km surficial hydrothermal alteration footprint: Surface epithermal disseminated oxide gold mineralization defined by the previous operator's shallow drilling, high-grade gold-silver epithermal structures and veins, as observed in the previous operator's exploration tunnel and associated drilling, and underlying copper-gold-molybdenum porphyry mineralization analogous to the Newmont/Barrick Caspiche and Cerro Casale deposits, as defined by the 2011-2012 drill holes.
At the Cerro del Medio Target, drill highlights from previous operator (1988 – 1990) included 256 metres of 0.43 g/t AuEq, or 0.37 g/t gold and 0.04% copper in hole SP-SC-23. Hole SP-SC-24 returned 162 metres of 0.58 g/t AuEq, or 0.36 g/t gold and 0.14% copper. Refer to company press release for more similar drill results.
The Vetas Condor high-grade gold – silver epithermal mineralization is encountered on the western flanks of the Cerro del Medio target area where east-west trending quartz-alunite structures are exposed over a 1 km by 350-metre area.
The previous operator completed 1,100 metres of horizontal exploration tunnels that were oriented sub-parallel to parallel to the quartz-alunite ledges. Highlighted intercepts from this section of the tunnel, while not true width, demonstrate the high-grade potential of the structures, and include 2.38 g/t gold and 101 g/t silver over 32 metres and 0.66 g/t gold and 13.5 g/t silver over 134 metres. In addition, ~436 metres into the tunnel, a high-grade vein sampled 58 g/t gold and 27 g/t silver over 2 metres. At the Vetas Condor Target, drill results from previous operator (1988-1990) included 20 metres of 7.05 g/t AuEq.
In late trading October 22, shares of Torq gained $0.16 to $0.80 on a volume of 890.000.