Li-S Energy CEO Dr Lee Finniear on the disruptive battery tech allowing EVs to drive further, for longer
Battery tech company Li-S Energy (ASX:LIS) listed on the ASX this week after raising $34 million via an IPO of … Read More
The post Li-S Energy CEO Dr…
Battery tech company Li-S Energy (ASX:LIS) listed on the ASX this week after raising $34 million via an IPO of 40 million shares at $0.85. It jumped a whopping 221% on day one, with shares trading at $2.70 before setting down to a solid $2.08 today.
So, what's all the fuss about?
Stockhead asked CEO Dr Lee Finniear, who said it all comes down to its unique tech which extends the life cycle of lithium-sulphur batteries to create a genuine alternative to lithium-ion.

Boron nitride nanotubes extend the battery life
"With a lithium sulphur battery, we've got a lithium metal anode and a sulphur carbon cathode that has a theoretical energy density of around five times that of a lithium-ion battery," Dr Finniear said.
To put this in perspective, lithium-ion batteries are currently getting up to around 270–280-watt hours per kilogram, compared to lithium-sulphur batteries at around 450-watt hours per kilogram.
This means Li-S technology could substantially extend battery life, allowing EVs to drive further, drones to fly longer and mobile devices to last for days instead of hours.
The key is using boron nitride nanotubes (BNNTs) to mitigate the polysulphide shuttle effect.
Basically, the batteries are normally so energetic that they fail after around 55 charge/discharge cycles.
This is because when the lithium sulphur battery discharges, its sulphur forms lithium polysulphides – some of which are soluble.
These soluble polysulphides can come out of the cathode onto the anode, meaning active sulphur is lost and the capacity of the battery is reduced over time.
But by using BNNTs in the construction of the cathode it stops the polysulphides moving while still allowing the lithium ions – which are a lot smaller – to move.
"BNNTs are really unique material, they're over 100 times stronger than steel, they're an electrical insulator, which is good, but they're also highly conductive," Dr Finniear said.
"It acts a bit like reinforcing bars in concrete to help strengthen the cathode to reduce mechanical degradation."
Fixing the dendrite problem with nanomesh
"When lithium-ion batteries were first invented they had a lithium metal anode, but they had a lot of dendrite problems," Dr Finniear said.
"Dendrites are kind of like spikes that grow out of the lithium as it charges and discharges.
"We've developed a new composite nanomaterial called Li-Nanomesh which smooths the flow of lithium ions back onto the lithium anode.
"Without that, what happens is the lithium ions tend to be attracted to high spots on the anode – very much like a lightning conductor on the roof of the building attracts all the lightning – and dendrites grow.
"This nanomesh actually spreads the flow of the ions out across the surface of the lithium."
Dr Finniear said that in tests on cells without the nanomesh, dendrites have formed and the battery has failed within about 45 cycles.
"But with the nanomesh on, we've gone over 1000 cycles with no hint of dendrites – so it's very exciting," he said.
Commercialisation plan is to license IP
Dr Finniear said the next step for the company is rigorously testing the technology with the end goal to licence the IP to battery makers.
"Battery manufacturers have incredible skills for high volume, low cost manufacturing, they invested billions of dollars into factories and have thousands of people that know how to manufacture batteries at scale," he said.
"We're not that kind of company and we don't want to compete with those organisations, we want to partner with them.
"We think that's the fastest route to market.
"And we have also cornered the market in terms of the Li-Nanomesh as well as the BNNts because we have an exclusive distribution agreement from BNNT Technology Limited that allows us to sell BNNTs on to anyone in the battery industry making lithium sulphur batteries.
"So, we'll make will make money out of the nanomaterial sales as well as the licensing and royalties."
The post Li-S Energy CEO Dr Lee Finniear on the disruptive battery tech allowing EVs to drive further, for longer appeared first on Stockhead.
Emerita Sees Continued Success In Spain
Emerita Resources Corp (TSXV:EMO) continues to report excellent results from the Infanta drill program at its Iberia Belt West Project
The post Emerita…
Emerita Resources Corp (TSXV:EMO) continues to report excellent results from the Infanta drill program at its Iberia Belt West Project in Spain, which hosts three previously identified high-grade deposits: La Infanta, Romanera and El Cura. These are all open for expansion along strike and at depth.
On October 22, the company announced assays for the first step-out drill hole from the Infanta drill program and also the final in-fill drill holes. The significance of the in-fill program was to verify the historical drill results. They will now enable a proper 3D modelling of the deposit and will also provide additional data to be used for future metallurgical testing.
At Infanta, the step-out was conducted to expand the outer perimeter of the deposit, and the in-fill drilling was intended to confirm historical drill data within Infanta's known mineralization zone. Step-out drill hole IN018 was drilled 40 metres to the west of the historical limits of the deposit and intersected 8.2 metres with a grade of 2.5% copper, 8.7% lead, 17.3% zinc, 223.5 g/t silver and 0.5 g/t gold. A second step-out hole was drilled 50 metres to the west of hole IN018 and intersected two zones of massive sulfide but assays have not been returned yet.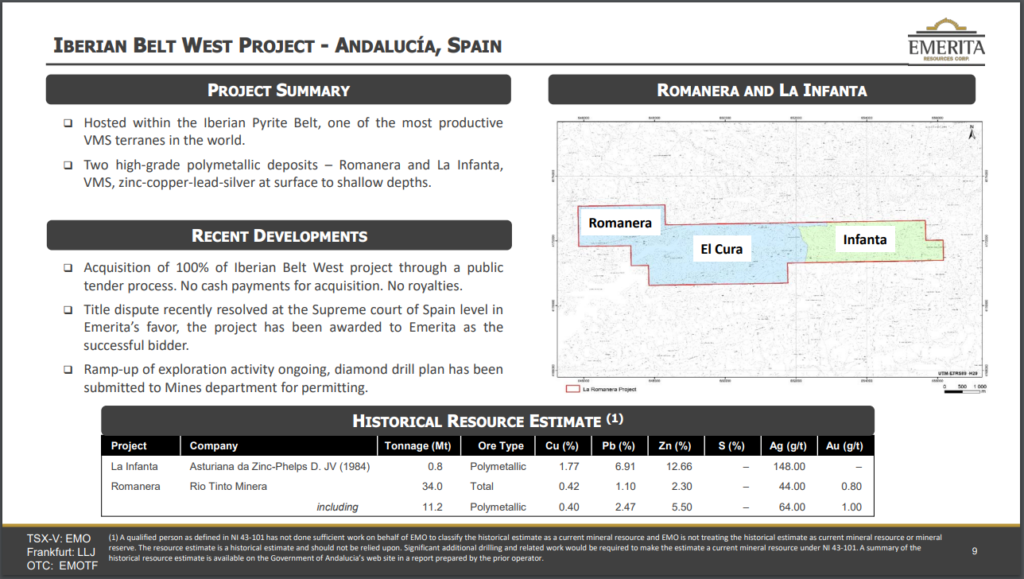 In-fill drill hole IN014 intersected 5.7 metres of 2.4% copper, 7.3 %lead, 13.4% zinc, 225 g/t silver and 0.6 g/t gold. The ongoing geophysical survey, which was suspended along with other exploration activities for the region's hunting season, is expected to resume by the end of October.
Emerita plans to have five drill rigs operating by the end of 2021 and will include the Romanera deposit, El Cura, and other targets identified by previous geophysics work. The two drills currently on site will now focus on step-out drilling to increase the size of the deposit.
Emerita also recently provided investors with an update on the legal proceedings for the Aznalcóllar Project and the company is expecting a ruling by the Administrative Court of Andalucia in Emerita's favour in the near future.
The Aznalcóllar Zinc Project is located in the prolific Iberian Pyrite Belt in the Andalusia region of southern Spain and is considered to be one of the world's largest and most productive volcanogenic massive sulfide (VMS) structures. It has been mined for over a thousand years and has produced over 2000 million tons of ore.
Aznalcóllar is considered to be one of the world's top undeveloped zinc deposits, and the project is essentially a world-class pre-production development asset. Here, the main deposit is referred to as Los Frailes, which contains a historical open pit mineral resource. Two other deposits exist on the property as well, which require further development. The Los Frailes mine operated during the 1990s until it closed due to a combination of tailings-related environmental failure and low metal prices.
After the Aznalcóllar site was rehabilitated, the government initiated a public tender process for the rights to the project and it was initially awarded to another major mining company, however Emerita believed that their bid was superior. It subsequently requested an investigation into the tender process for the property and filed a lawsuit in 2015.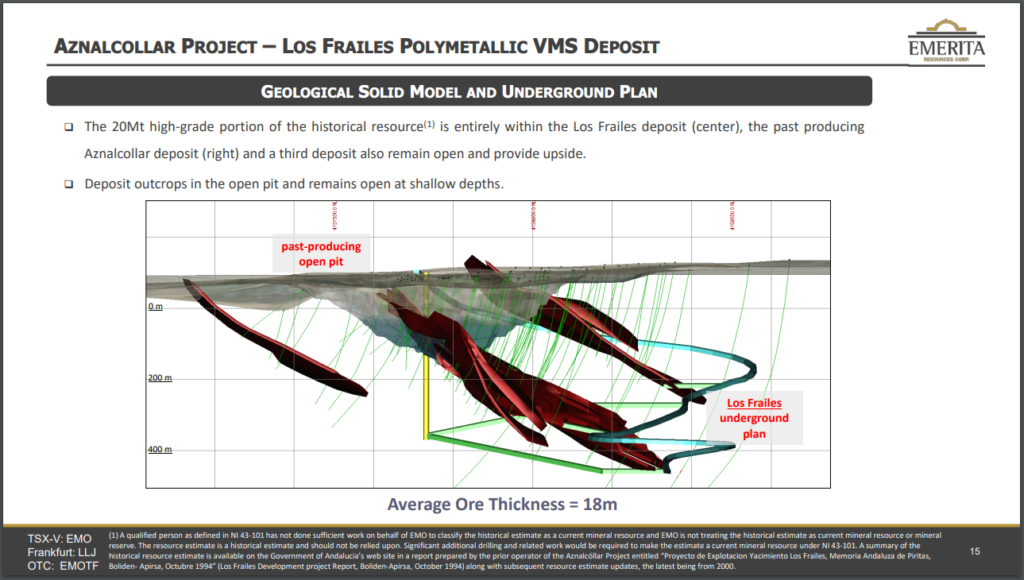 In early 2021, the Spanish court concluded that the process was fraught with corruption, fraud and other malfeasance and rescinded the rights that were awarded and criminal charges were sought for the perpetrators and their enablers. In July 2021, a Spanish judge issued additional criminal indictments against the mining company and government officials who participated in undermining the public tender process for the project.
Under Spanish law, if a crime was committed during the tender process, the rights are then awarded to the next best qualified competing bid, which in this case was Emerita. Subsequently, Emerita has been waiting for the Administrative Court to conclude the process to formally award the rights to the Aznalcóllar Project to the company, which brings us to present day.
The company is planning to develop the deposit into an underground mining operation focused on mining the high-grade zones, which are estimated to contain 20 million tonnes at a grade of 6.65% zinc, 3.87% lead, 0.29% copper and 84 ppm silver. As a requirement of the project's public tender process, Emerita submitted comprehensive. engineering, environmental and water management studies to the government, and now the company is expecting to be given the green light to proceed developing the Aznalcóllar project into an eventual producer.
Emerita is well financed, having completed a $20 million bought deal private placement in July 2021. Emerita has 182.42 million shares outstanding and due to the recent increase in the Company's share price, a market capitalization now of $556.38 million. Even so, barring any unforeseen negative developments regarding the legal issues, Emerita Resources Corp still appears to be potentially undervalued relative to the potential value of the world-class assets it is developing.
Shares of Emerita Resources Corp last traded at $3.05.
---
FULL DISCLOSURE: Emerita Resources is a client of Canacom Group, the parent company of The Deep Dive. The author has been compensated to cover Emerita Resources on The Deep Dive, with The Deep Dive having full editorial control. Not a recommendation to buy or sell. Always do additional research and consult a professional before purchasing a security.
The post Emerita Sees Continued Success In Spain appeared first on the deep dive.
tsxv
gold
silver
copper
zinc
tsxv-emo
emerita-resources-corp
Torq Resources Options Santa Cecilia Gold-Copper Project, Shares Up
Torq Resources Inc. [TORQ-TSXV; TRBMF-OTCQX; S8QA-FSE] has acquired an option to earn a 100% interest…
[nxtlink id="269591"]Torq Resources Inc.[/nxtlink] [TORQ-TSXV; TRBMF-OTCQX; S8QA-FSE] has acquired an option to earn a 100% interest by paying US$25 million and spending US$15.5 million on exploration, subject to an NSR, on the 3,250-hectare (32.5 km2) Santa Cecilia gold-copper project, located approximately 100 km east of the city of Copiapo, northern Chile.
The project is in the southern region of the world-class Maricunga belt and immediately north of the El Indio belt. It is estimated the Maricunga belt could host up to 90 million ounces of gold in a belt is characterized by gold epithermal and gold-copper porphyry deposits, including multi-million-ounce deposits such as Salares Norte, La Coipa, Cerro Maricunga, Marte, Lobo, La Pepa, El Volcan, Caspiche and Cerro Casale.
The Santa Cecilia project is located immediately adjacent to the Norte Abierto project, held by Newmont and Barrick, which is comprised of the Caspiche and Cerro Casale gold-copper porphyry deposits. Collectively, these deposits contain proven and probable reserves of 23.2 million oz gold and 5.8 billion lbs copper and measured and indicated resources of 26.6 M oz gold and 6.7 B lbs copper.
Limited historical exploration work at Santa Cecilia was performed by the previous operator, a major international mining company in 1988-1990 when it drilled 47 holes, totaling ~14,000 metres, and completed 1,200 metres of exploration tunnel development that defined epithermal gold and gold-silver mineralization as well as gold-copper porphyry mineralization at surface and shallow depths, respectively.
A subsequent operator drilled two deeper holes in 2012 that successfully encountered gold-copper-molybdenum porphyry mineralization underlying the shallow mineralization defined by the previous operator.
Shawn Wallace, Executive Chair, said, "The Santa Cecilia gold-copper project represents the culmination of our acquisition strategy in Chile. It is our belief that exploration at a project of this magnitude will be transformative for Torq."
There are three primary target types associated with the 10 square km surficial hydrothermal alteration footprint: Surface epithermal disseminated oxide gold mineralization defined by the previous operator's shallow drilling, high-grade gold-silver epithermal structures and veins, as observed in the previous operator's exploration tunnel and associated drilling, and underlying copper-gold-molybdenum porphyry mineralization analogous to the Newmont/Barrick Caspiche and Cerro Casale deposits, as defined by the 2011-2012 drill holes.
At the Cerro del Medio Target, drill highlights from previous operator (1988 – 1990) included 256 metres of 0.43 g/t AuEq, or 0.37 g/t gold and 0.04% copper in hole SP-SC-23. Hole SP-SC-24 returned 162 metres of 0.58 g/t AuEq, or 0.36 g/t gold and 0.14% copper. Refer to company press release for more similar drill results.
The Vetas Condor high-grade gold – silver epithermal mineralization is encountered on the western flanks of the Cerro del Medio target area where east-west trending quartz-alunite structures are exposed over a 1 km by 350-metre area.
The previous operator completed 1,100 metres of horizontal exploration tunnels that were oriented sub-parallel to parallel to the quartz-alunite ledges. Highlighted intercepts from this section of the tunnel, while not true width, demonstrate the high-grade potential of the structures, and include 2.38 g/t gold and 101 g/t silver over 32 metres and 0.66 g/t gold and 13.5 g/t silver over 134 metres. In addition, ~436 metres into the tunnel, a high-grade vein sampled 58 g/t gold and 27 g/t silver over 2 metres. At the Vetas Condor Target, drill results from previous operator (1988-1990) included 20 metres of 7.05 g/t AuEq.
In late trading October 22, shares of Torq gained $0.16 to $0.80 on a volume of 890.000.
Hawkish Powell Hits Stocks; Bitcoin Flat As Breakevens, Bond Yields & Bullion Bounce
Hawkish Powell Hits Stocks; Bitcoin Flat As Breakevens, Bond Yields & Bullion Bounce
A very mixed week across the asset-classes.
Hawkish…
Hawkish Powell Hits Stocks; Bitcoin Flat As Breakevens, Bond Yields & Bullion Bounce
A very mixed week across the asset-classes.
Hawkish Powell: rate-hike expectations surged higher but stocks gained, crude rallied but copper tumbled. Growth and Value stocks basically ended the week up around the same amount (while Cyclicals modestly outperformed Defensives). Perhaps most notably, rates vol and stock vol expectations are dramatically decoupled from one another.
Inflation: Breakevens soared to record highs… globally, bullion bounced but bitcoin ended the week unchanged and bonds only modestly higher in yield.
Source: Bloomberg
We do not that the long-end of the curve notably outperformed today (flattening the curve significantly) after Powell's comments, in a clear signal from the market that it's expecting a Policy error…
Source: Bloomberg
Arguably, as Goldman details below, the market could be morphing back from a 'stagflation' narrative to a 'reflation' narrative…
Heading into the week, the 'stagflation' narrative was continuing despite the fact that the S&P 500 had already bounced off of its late-September bottom and was heading back towards an all-time high.  And as we exit the week, the inflation debate seems to be evolving into a 'the Fed will hike earlier' narrative, with yields on 2-year Notes spiking to 0.50% — a level last seen in the first days of the pandemic way back on March 18, 2020.  Praveen Korapaty writes in last Friday's note, "Front-end pressures mount," that markets appear to have returned to a paradigm of simultaneously bringing forward and/or accelerating hike pricing and taking down terminal rate assumptions. Bond investors appear to be increasingly thinking that the rise in inflation that we have been observing will translate into an earlier Fed funds rate hike.

And yields on 10-year Treasuries also briefly touched 1.70% this week, suggesting that bond investors are actually also feeling fine about longer-term growth.  And this better feeling is also being reflected in stock prices with the S&P 500 breaking up above 4500 and hitting a new all-time high this week.  So, the 'stagflation' narrative seems to be morphing back into a 'reflation' narrative — something similar to what we were experiencing when the economy first 'reopened' last spring.
Digging into each asset class, stocks ended the week higher overall (despite today's Powell-driven dip that sent Nasdaq down around 1% today)…
The S&P and Dow closed at record weekly closing highs…
In Canada, the S&P/TSX Composite is up 13 straight days to a new record high – the longest winning streak since 1985…
Source: Bloomberg
Rather interestingly, this week saw "get out and party" recovery stocks underperform the "stay at home and sulk" stocks…
Source: Bloomberg
Cyclicals modestly outperformed Defensives on the week…
Source: Bloomberg
Growth barely outperformed Value on the week…
Source: Bloomberg
TSLA topped FB in terms of market cap again today (to become the 5th biggest company in the S&P) as Musk's carmaker surged to new record highs above $900…
Source: Bloomberg
But the week's biggest gainer was Trump's "TRUTH" SPAC which ended up over 800% (though at one point it was up over 1600%)…
Source: Bloomberg
VIX traded down to a 14 handle this morning – the lowest since before the pandemic lockdowns began…
Treasury yields ended the week higher, but the long-end notably outperformed…
Source: Bloomberg
The yield curve ended the week notably flatter (after a wild ride midweek back to last week's highs)…
Source: Bloomberg
Policy Error? The flattening started with the June taper chatter…
Source: Bloomberg
Inflation Breakevens soared to record highs today (US 5Y topped 3.0%) across the globe today…
Source: Bloomberg
The dollar ended the week lower, chopping around at one-month-lows…
Source: Bloomberg
Cryptos had a wild ride for the week with Bitcoin reaching new record highs after BITO's launch before fading back to unchanged on the week today (Ethereum modestly outperformed on the week)…
Source: Bloomberg
Bitcoin ended the week just above $60k, well off the $67k record high…
Source: Bloomberg
The newly launched Bitcoin (futures) ETF (BITO) ended below its opening level…
Bitcoin Futures were well bid as BITO launched but the premium over spot has faded since…
Source: Bloomberg
Commodities were very mixed with copper clubbed and silver soaring (gold and crude also rallied)…
Source: Bloomberg
Rather interestingly, the huge divergence between copper and silver occurred at a key resistance level (around 20 ounces of silver to buy copper)
Source: Bloomberg
Finally, we note Mizuho's warning of the impact of today's more hawkish speech from Fed chair Powell. Our view that the divergence of equity implied vol (at pre-pandemic lows) from rates implied vol (rising to the highs of the year in most markets) is unsustainable, is showing tentative signs of turning.
Source: Bloomberg
The sharp move lower in Nasdaq futures and widening of CDS indices is a warning shot, we feel, of how risk assets would break down if the Fed was to try to stamp out inflation at such an early point in the cycle as mid 2022.
Commodities relative to stocks are starting to flash some red alerts…
Regime Change

The recent commodity outperformance vs. the Nasdaq (9% in 8 days) is one of the most significant stretches in twelve years. On par with readings in 2008 and the dot-com bubble. pic.twitter.com/nNm1rUsuNT

— The Bear Traps Report (@BearTrapsReport) October 5, 2021
And if one needed an excuse to buy some protection against that whiplash reality check for stocks, VIX is at a critically cheap level relative to VXV…
Source: Bloomberg
That has not tended to end well for stocks.
Tyler Durden
Fri, 10/22/2021 – 16:01
tsx
nasdaq
silver
copper