Max Resource Obtains Three More Mining Concession Contracts In Colombia
Max Resource Corp (TSXV: MXR) has received three additional mining concession contracts in Colombia. The news follows the firm receiving
The post Max Resource…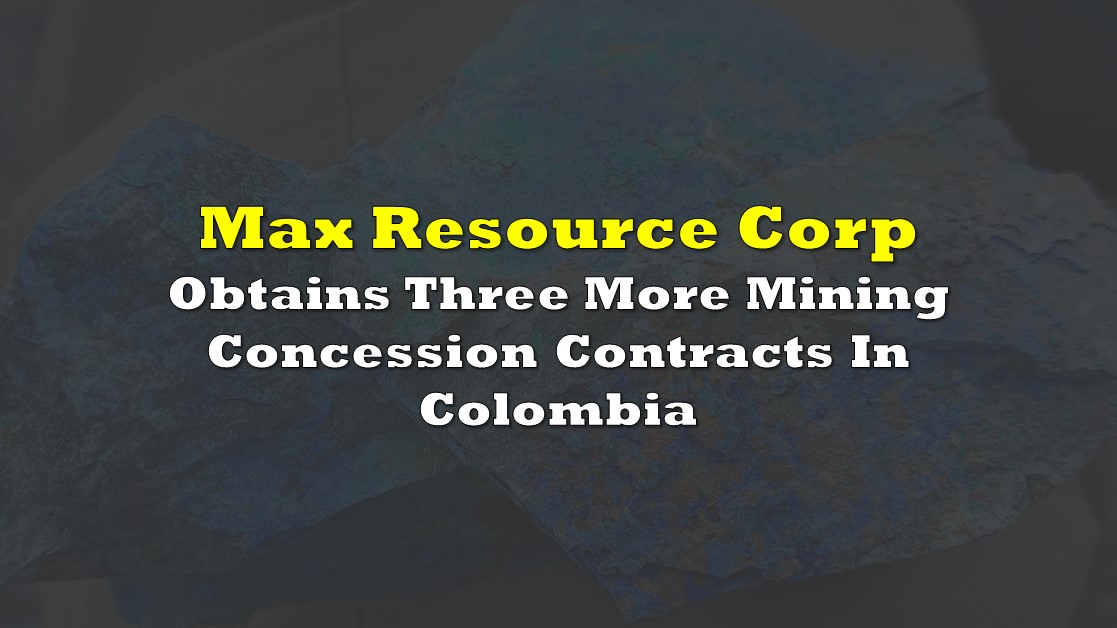 Max Resource Corp (TSXV: MXR) has received three additional mining concession contracts in Colombia. The news follows the firm receiving its first such contract just weeks ago, after years of conducting sampling on its flagship property in the region, the Cesar copper-silver project.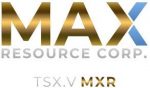 The three new mining concessions, much like the one announced two weeks ago, are for the URU zone, which is part of the Cesar North property. The concessions are said to be contiguous and cover 70 square kilometres.
With concession contracts in hand, the company can now proceed with more in-depth exploration of the property. Next steps include conducting infill mapping and sampling of the entire concession area, following by ground geophysics to identify the best drill targets. From here, environmental surveys will be conducted for drill permitting, after which a phase one drill program will be conducted.
"Achieving this critical milestone expedites Max's first drill program at URU, being a significant event in the Cesar basin since the discovery of Cerrejón, the largest coal mine in South America and the basis for much of the critical infrastructure in the Cesar basin. Max's exploration focus aligns directly with the Agencia Nacional de Minera's strategy of copper exploitation and future development of the Cesar basin," commented Brett Matich, CEO of Max Resource Corp.
Max Resource Corp last traded at $0.21 on the TSX Venture.
---
FULL DISCLOSURE: Max Resource Corp is a client of Canacom Group, the parent company of The Deep Dive. The author has been compensated to cover Max Resource Corp on The Deep Dive, with The Deep Dive having full editorial control. Not a recommendation to buy or sell. We may buy or sell securities in the company at any time. Always do additional research and consult a professional before purchasing a security.
The post Max Resource Obtains Three More Mining Concession Contracts In Colombia appeared first on the deep dive.
EV Nickel starts trading on TSX Venture Exchange
  TORONTO – EV Nickel Inc.'s [EVNI-TSXV] initial public offering (IPO) prospectus dated November 19, 2021, has been filed with and accepted by the…
TORONTO – EV Nickel Inc.'s [EVNI-TSXV] initial public offering (IPO) prospectus dated November 19, 2021, has been filed with and accepted by the TSX Venture Exchange and has begun trading on the Exchange.
The closing of the IPO, scheduled for December 2, 2021, was expected to have gross proceeds of $5,440,292 for a total of 1,442,200 flow-through (FT) common shares at 86 cents per FT common share and of 5.6 million units at 75 cents per unit. The company has 30,355,667 common shares issued and outstanding
EV Nickel, classified as a Tier 2 issuer, is a Canadian nickel exploration company, focused on the Shaw Dome area, south of Timmins, Ontario. The Shaw Dome area is home to its Langmuir project, which includes W4, the basis of a 2010 historical estimate of 677,000 tonnes at 1% nickel for approximately 15 million pounds of Class 1 nickel.
EV Nickel's objective is to grow and advance a nickel business, targeting the growing demand for Class 1 nickel from the electric vehicle battery sector. EV Nickel has almost 9,100 hectares to explore across the Shaw Dome area and has identified 30 km of additional strike length.
"We are excited to get out into the public markets and begin telling the world about our wonderful assets, on the Shaw Dome, just south of Timmins," said Sean Samson, president and CEO. "The world needs more nickel and especially the type of high-grade, clean nickel that we plan to build our business around. Decarbonization is the challenge of a lifetime and we plan to source the material that will help the EV [electric vehicle] companies grow and help address that challenge."
Vision Lithium to Buy The Cadillac Canadian Lithium Property
Canadian-based exploration company Vision Lithium agreed to acquire 100% interest in 215 contiguous mining claims in Quebec, Canada.  Combined with an…
Canadian-based exploration company Vision Lithium agreed to acquire 100% interest in 215 contiguous mining claims in Quebec, Canada. 
Combined with an additional 105 stakes claimed by the company, the group of claims will be collectively referred to as The Cadillac lithium property.  
Details of the agreement include the vendor groups receiving an aggregate cash consideration of $102,427.92 from Vision Lithium, as well as ​​issue a total of 4,300,000 common shares of the company. The shares are not divided evenly, with 1.5 million each going to the CMH Group and Fancamp, the Leblanc-Lavoie Group will receive 1 million and 300,000 Shares will go to the Tremblay Group. The company will also pay each vendor group a 2% net smelter return royalty on the claims. 
President & CEO of Vision Lithium Yves Rougerie commented in a press release, "The Cadillac lithium project is an exciting addition to our growing portfolio of lithium properties. The Property is located 10 km south of the Trans-Canada highway and only metres from the secondary road, ensuring easy access for logistics, materials and qualified manpower."
The claims acquired by Vision Lithium combined with the additional 105 claims staked, means the property holds a total of 320 claims covering 18,378 hectares. The property is easily accessible year-round in an area with well-maintained roads. This is especially helpful since Quebec can become covered in snow for multiple months of the year, and established infrastructure gives the company a head start.
There are also at least 4 pegmatite dikes which are spaced approximately 100 metres apart and traced for at least 300 metres along on the property. 
Rougerie continued "The property hosts a cluster of close-spaced parallel lithium-bearing dikes. Spodumene has been observed in the outcropping dikes and we believe there are likely more dikes in the cluster. The dikes have seen surprisingly little historical exploration with only a handful of samples and no drilling to date." 
High Potential for Additional Lithium Discoveries
Lithium crystals have been observed on all four dikes of the property, with even a few large crystals visible. 
The property is located approximately 10 km south of Cadillac, a historic mining town, and about halfway between the major mining centres of Rouyn-Noranda and Val-d'Or in Quebec. 
"We believe the potential for additional lithium discoveries within the main cluster area is excellent and the larger property also has tremendous upside potential for discovery. The entire area acquired and staked is very large at almost 200 square kilometres. We plan to aggressively explore the Property over the winter by drilling the main cluster of dikes and to plan and complete field work next summer over the large tract of land," Rougerie said. 
There are a number of closing conditions and post-closing obligations for the company until the transaction is officially completed. This includes the execution of certain deeds and instruments of conveyance, and the approval of joining the TSX Venture Exchange. Completion of the transaction is expected to be finished in the coming days. 
Vision Lithium focuses on exploring and developing mineral assets such as lithium and copper in different parts of Canada. Other than the claims they have just received in the recent transaction, the company has operations in Manitoba, and multiple properties in New Brunswick and Quebec. The first drill program at the company's Dome Lemieux copper property in Quebec has commenced. Vision has also recently completed the Red-Brook copper and zinc drill program in New Brunswick. 
Vision Lithium is focused on developing their Sirmac lithium project in Quebec which is a hard rock source of lithium. Lithium can either come from hard rock sources or brines, and about 50% of each make up the world's lithium compound production. Both sources can produce battery-grade lithium, but the extraction process is very different. The company plans on using existing methods to extract lithium for the battery market. This is a key area for the company as demand for battery materials is soaring in the middle of a global energy transition. 
The above references an opinion and is for information purposes only. It is not intended to be investment advice. Seek a licensed professional for investment advice. The author is not an insider or shareholder of any of the companies mentioned above.
The post Vision Lithium to Buy The Cadillac Canadian Lithium Property appeared first on MiningFeeds.
Northern Graphite Snaps Up 2 Mines for US$40M
Northern Graphite Corp. [NGC-TSXV; NGPHF-OTCQB] has agreed to acquire a 100% interest in two graphite…
Northern Graphite Corp. [NGC-TSXV; NGPHF-OTCQB] has agreed to acquire a 100% interest in two graphite mines from French industrial minerals company Imerys Group for US$40 million, a move that CEO Greg Bowes described as "transformational" for the company.
The assets being acquired include the producing Lac des Iles graphite mine in Quebec and the Okanjande graphite deposit/Okorusu processing plant in Namibia. The Namibian project is held by Imerys and a joint venture partner.
Closing of the transaction is subject to a number of conditions, including the approval of the TSX Venture Exchange. The transaction is considered a "fundamental acquisition" under TSX Venture Exchange policies. As a result, trading in the company's shares has been halted pending a satisfactory review by the TSX-V or closing of the transaction, whichever occurs firs.
Northern Graphite said it intends to raise US$55 million in financing to complete the transaction, which includes payment of the purchase price, capital improvements, reclamation bonding, working capital and transaction expenses.
The company has signed a term sheet with Sprott Resource Streaming and Royalty Corp. for US$40 million in debt/royalty/stream financing and an engagement letter with Sprott Capital Partners LP to act as lead agent with respect to an equity offering of US$15 million.
The Sprott Group intends to participate in the equity offering with an investment of US$3 million, and Imerys will receive US$3 million in equity on the same terms as the offering, as partial payment for the purchase price. Imerys is also providing other support for the transaction.
Northern Graphite is a mineral development and technology company that has been working to develop its flagship Bissett Creek graphite deposit in northern Ontario.
The company is also focused on upgrading mine concentrates into high value components used in lithium-ion batteries, electric vehicles, fuel cells, graphene and other advanced technologies.
Its aim has been to become a leading supplier of graphite, an industrial mineral that has long been associated with steel manufacturing, lead pencils and golf clubs, but is now a key ingredient used in the production of electric vehicles.
Speaking about the acquisition of the Imerys assets, Bowes said: "This is a truly transformational deal that will elevate Northern from one of over 20 junior graphite companies looking for project financing to being the only North American and the world's third largest non-Chinese graphite-producing company."
In addition, he said Northern will have two large-scale development projects in stable jurisdictions that will enable the company to significantly expand production to meet growing demands from the [electric vehicle]/battery markets,'' Bowes said.
Transaction highlights include the acquisition of 40,000 to 50,000 tonnes per year of graphite concentrate production capacity. The Namibian operation will be brought back on line, enabling Northern Graphte to expand its market share in North America and Europe.
Terms of the deal were announced just before the market close on December 2, 2021, when Northern Graphite shares were priced at 83 cents and trade in a 52-week range of 92 cents and 23 cents.