Three Valley Copper (TSXV:CNL) Delivers Notice of Intent to Acquire Remaining Share of Minera Tres Valles
Three Valley Copper (TSXV:CNL) is one step closer to its goal of 100% ownership of the Minera Tres Valles copper project in Chile. The company has delivered…
Three Valley Copper (TSXV:CNL) is one step closer to its goal of 100% ownership of the Minera Tres Valles copper project in Chile. The company has delivered written notice of its intention to acquire the remaining ownership of MTV that SRH Chile SpA doesn't own to the minority shareholder. 
Currently, Three Valley Copper (TSXV:CNL) owns 91.1% of Minera Tres Valles. The company's shareholder agreement with the minority shareholder holding the remaining 8.9% of the project stipulates that SRH has 30 days from October 2, 20201 to deliver that written notice of its intention to acquire the remaining share of the project.
This would mean moving toward 100% ownership over the following months and determining a purchase price before completing the transaction. 
Michael Staresinic, President and CEO of Three Valley Copper, commented, "This is the first step in completing the acquisition of the remaining ownership of MTV. The SHA provides for a sequence of steps to be undertaken in completing this acquisition and the delivery of the call notice is the first step. We believe it will be several months before a purchase price is concluded on and the transaction complete."
Controlling 100% of the project will allow Three Valley Copper to make decisions faster and more efficiently as it continues to produce Grade A high-quality copper cathodes (99.99%) at the site. 
Shares of Three Valley Copper (TSXV:CNL) are up 5% to CAD$0.42 in early Monday morning trading. 
The above references an opinion and is for information purposes only. It is not intended to be investment advice. Seek a licensed professional for investment advice. The author is not an insider or shareholder of any of the companies mentioned above.
The post Three Valley Copper (TSXV:CNL) Delivers Notice of Intent to Acquire Remaining Share of Minera Tres Valles appeared first on MiningFeeds.
Denarius Silver: Corporate Overview
Denarius Silver Corp (TSXV: DSLV) is a Toronto-based junior silver exploration company engaged in the acquisition, exploration, development and eventual
The…
Denarius Silver Corp (TSXV: DSLV) is a Toronto-based junior silver exploration company engaged in the acquisition, exploration, development and eventual operation of mining projects in high-grade districts. The company is focused on developing the past-producing Guia Antigua and Zancudo silver-gold projects in Colombia, and its Lomero-Poyatos project in Spain's prolific Iberian Pyrite Belt, which hosts the world's largest concentration of massive sulphides.
The Investment Thesis
We base our investment thesis on the following factors:
The Lomero-Payatos project is located within the prolific Iberian Pyrite Belt in northern Spain, which is considered to be one of the world's largest and most productive volcanogenic massive sulfide (VMS) structures.
The Iberian Pyrite Belt been mined for over a thousand years and has produced over 2000 million tons of ore.
Spain and Colombia are both well established mining jurisdictions with a long history of mining. Denarius' projects are supported by well established mining infrastructure. 
Denarius' Colombia projects are in close proximity to Gran Colombia's Segovia Mine, and Gran Colombia is a major shareholder in DSLV.
The Colombia properties had historical production and vein structures offer significant discovery potential for new mineralized zones.
The company has an experienced management team that is focused on building a business around production and cash flow, and developing its exploration projects to a point where the added value will attract potential merger and acquisition partners.
The Deep Dive views Denarius Silver as a development-stage exploration company with considerable upside potential and relatively low downside risk. In Colombia, the two DSLV projects are close to Gran Colombia's flagship Segovia Mine and host to past-producing silver-gold mines that the Company will restart and conduct more extensive exploration to expand the size and scope of the deposits. Positive exploration results could generate interest from larger players and could prompt an exit transaction or strategic partnership for Denarius.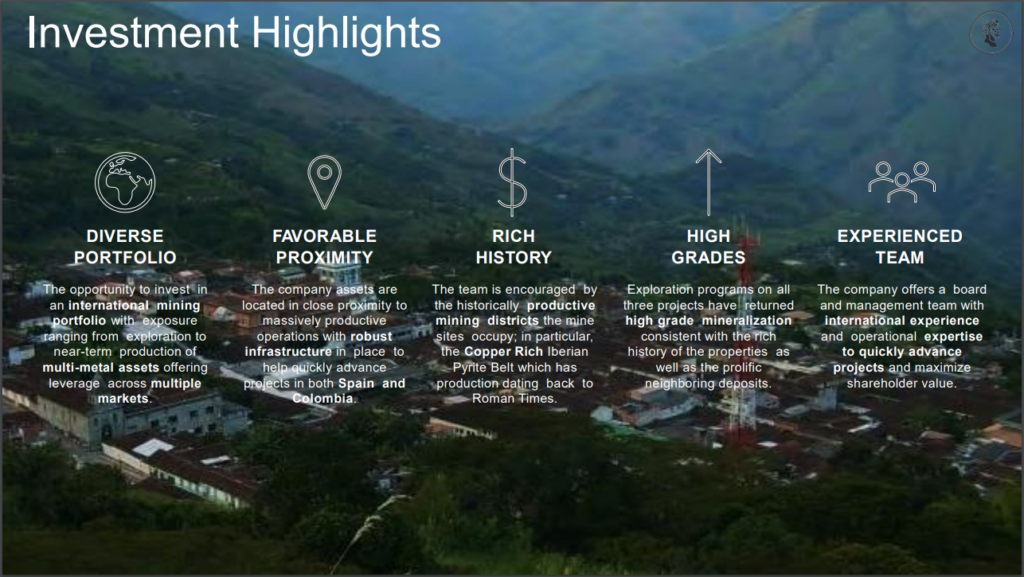 The Projects
Lomero-Poyatos Project
The Lomero-Poyatos deposit is located in the north-east part of the prolific Spanish/Portuguese Iberian Pyrite Belt in the Huelva Province of Southern Spain, one of the world's most productive volcanogenic massive sulfide IVMS) belts. The site has a well established water, power and highway infrastructure, a reliable local workforce and services, as well as proximity to several high-capacity processing facilities and the port at Huelva.
The Lomero-Poyatos deposit has two separate near-surface mineral deposits, the Lomero to the east and Poyatos to the west, that combine to form a single deposit at depth. Mineralization is said to consist of gold, as well as zinc, lead, and copper. Further, Lomero has one of the largest concentrations of gold mineralization in the region, having assayed 2.0 metres at 14.1 g/t gold as well as 0.55 metres at 16.84 g/t gold.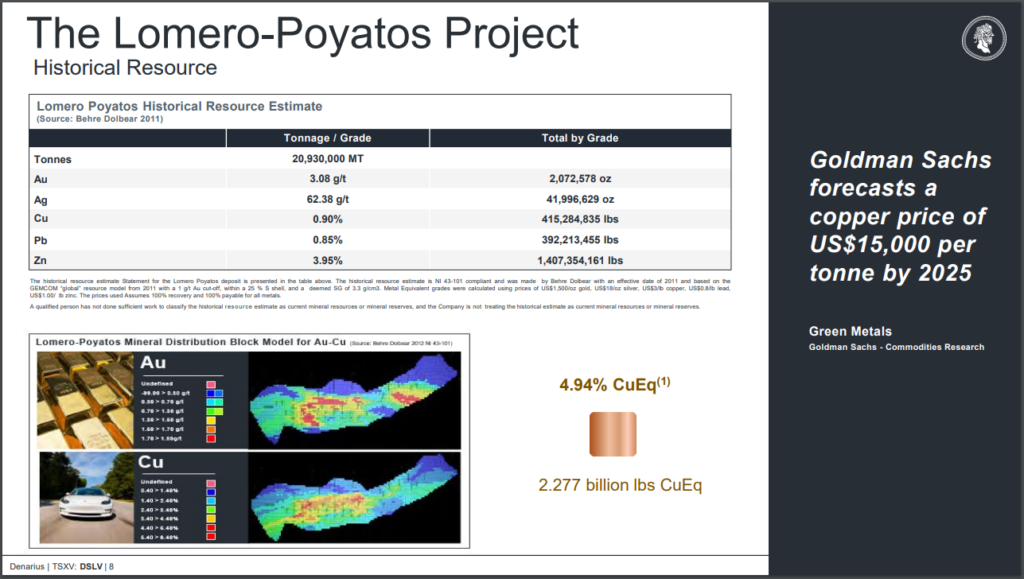 The Lomero-Poyatos deposit was discovered in 1853 and is a former sulphide pyrite mine with underground development on eight levels, which are currently flooded. The property was initially mined in the late 1850's as an open pit operation until 1905 when it became an underground mine until its eventual closure in 1991.
Most of the historical production of 2.6 million tonnes came from underground operations, and the mined massive pyrite ore was used as a source of sulphur for sulphuric acid production. The historical resource calculation as per a 2002 NI-43-101 report showed 20.61 Mt of 3.1 g/t gold,  70 g/t silver, 3.3% zinc, 1.2% copper, 1.2% lead, and 37% sulfur. Management believes that because a gravity survey identified anomalies at depth and the deposit is open along strike and down dip, there is potential to significantly increase the resource estimate for the deposit.
A 23,500 metre exploration program is currently underway on the property, with the program slated to consist of 81 drill holes which will include both infill and step out drilling.
Guia Antigua Project
The Guia Antigua Project was acquired from Gran Colombia Gold Corp (TSX:GCM), Colombia's largest underground gold producer and is located in the prolific Segovia-Remedios mining district, Department of Antioquia, 130 kilometers northeast of Medellin. The Guia Antigua Project gives Denarius exploration, development and mining rights under a mining license agreement to a 386-hectare area of the eastern part of Gran Colombia's mining title RPP-140. The high-grade mines in this region have produced roughly 5 million ounces of gold over a 150 year period.
The property is host to the Guia Antigua mine, which was operated by Sociedad Guias-Gold from 2014–2016 and processed 6,034 tonnes of ore resulting in production of 78,558 ounces of silver and 1,174 ounces of gold with an average head grade of 404.9 g/t silver and 6.05 g/t gold. 
The Guia Antigua property has a highly productive vein system, and a 2018 drill program discovered 3 new veins which returned values of 3,268 g/t of silver and 8.57 g/t gold over 1.2m, and provides significant potential for additional discoveries. Denarius will focus its exploration activities on the Guia Antigua vein, which has similarity to the geology, structure, vein type, and mineralization of the high-grade Segovia Mine veins.
Zancudo Project
The Zancudo property is a 1,052-hectare mining concession within the Middle Cauca Gold Belt in the Titiribi mining district in Antioquia, near GoldMining's (TSX: GOLD) Titiribi Project, about 27 km south of Medellin. It is host to the historical Independencia silver-gold mine, with the region as a whole having historical production of 1.5 million ounces of silver and 2 million ounces of gold equivalent dating back to 1793. 
The Zancudo deposit lies within the Romeral terrane, which is located on the western side of the Central Cordillera of the Colombian Andes and is covered by continental sediments. Gold mineralization occurs in two zones, the Upper Zone has flat-lying veins with sandstones, and the lower zone, which runs north-south in steep dipping veins.
The Zancudo Project is currently being explored by IAMGOLD Corp. (TSX: IMG) pursuant to an option agreement for the exploration and potential purchase of an interest in the project, which was previously established by Gran Colombia. Iamgold completed a total of 16,224 meters of drilling at Zancudo between 2017 and 2018 and has incurred over $4 million of its $10 million exploration commitment, but due to covid-19, Iamgold suspended its drilling program in 2020. Denarius expects to form a joint venture with IAMGOLD to advance the project.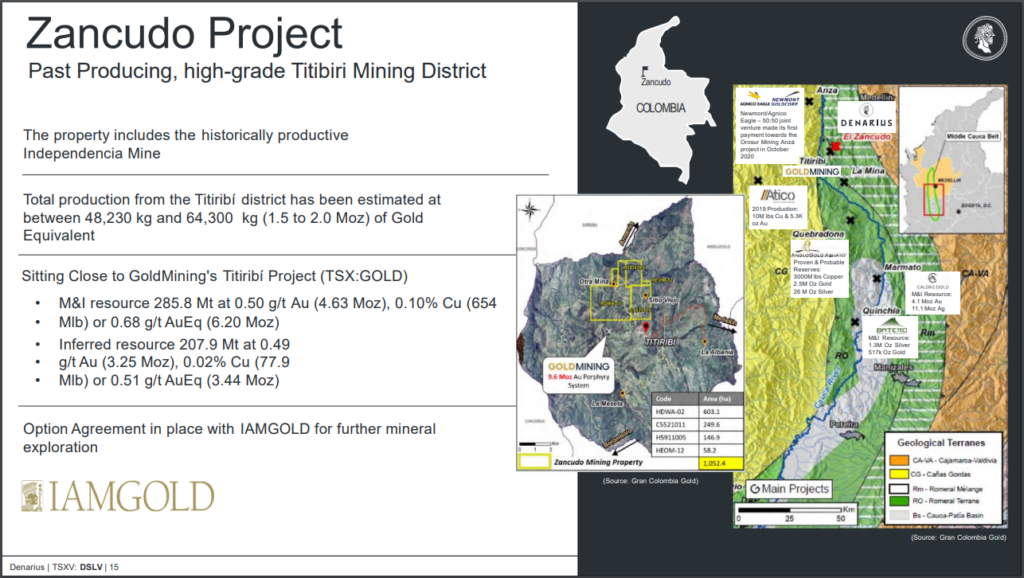 The Management Team
Serafino Iacono – Interim Chief Executive Officer, Executive Chairman
Mr. Iacono is Executive Chairman of Gran Colombia Gold Corp, and has over 30 years experience in capital markets and public companies, having raised in excess of $4 billion for numerous natural resource projects internationally in Latin America, Canada and the United States. He was a co-founder of Bolivar Gold Corp and Pacific Stratus, and has served as a director and senior executive for a number of resource companies including Pacific Exploration and Production Corp and PetroMagdalena Energy Corp.
Michael Davies – Chief Financial Officer
Mr. Davies holds a B. Commerce degree from the University of Toronto and has over 20 experience as a Chartered Professional Accountant (Ontario) for a number of international and public natural resources companies, providing financial management and strategic planning. He has served in senior management positions several resource companies, including with PetroMagdalena Energy Corp., Coalcorp Mining Inc., Medoro Resources Inc., and LAC Minerals Ltd. 
Jeff Couch – Director
Mr. Couch is a senior financial services executive with extensive experience in the natural resources sector, having advised and raised capital for clients globally, with a particular focus in emerging markets. He has advised several governments on their natural resources capital requirements and has served as a director for a number of resources companies. Mr. Couch works with Orion Resource Partners, a mining focused private equity firm with $6 billion under management, and previously held senior investment banking positions at several large international banks, including BMO Capital Markets (Bank of Montreal), Credit Suisse Europe and Citigroup. 
Lombardo Parades-Arenas – Director
Mr. Paredes-Arenas holds a B. Science in Mechanical Engineering and Master of Economic Analysis and Financial Economics. He currently serves as Chief Executive Officer of Gran Colombia Gold Corp. and brings over 20 years of corporate leadership and operations management experience in the Latin American resource sector. Mr. Paredes held various roles at Petroleos de Venezuela (PDVSA) before becoming an international energy and environmental consultant.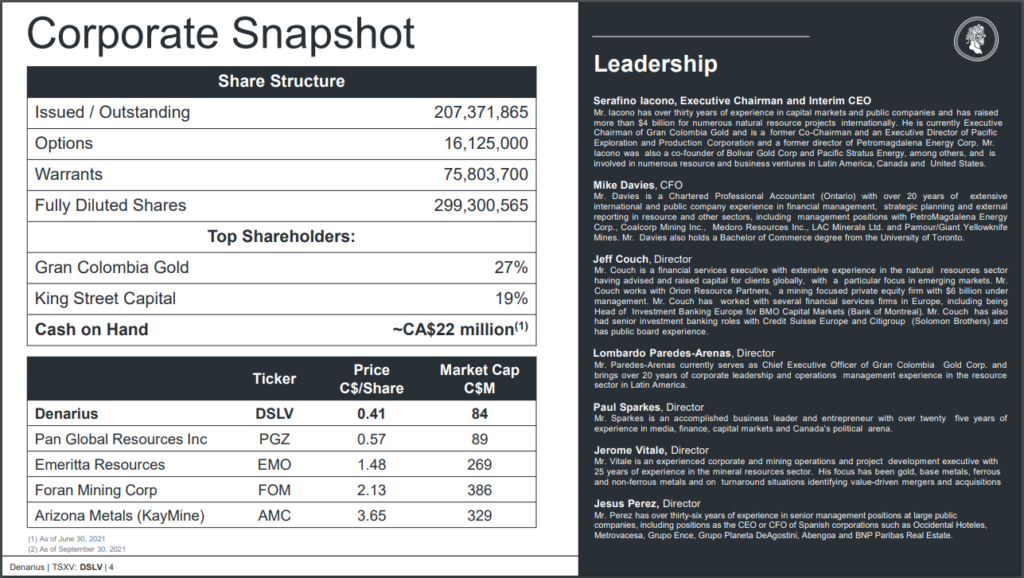 The Comparables
Colombia
Colombia is rich in minerals and base metals, which are dispersed throughout the country, and include silver, gold, copper, platinum, emeralds, coltan, and coal. The country has had a long history of gold and silver mining. Although there are a number of gold mines operated by publicly-traded companies in the central and southern parts of the country, much of Colombia's gold and silver mining production comes from artisanal miners. The Segovia-Remedios mining district is a prolific gold mining district that hosts a number of rich gold mines, yet despite that, the region is still largely unexplored.
In Colombia, the Zancudo and Guia Antigua Projects are close to several medium and large-scale producers, including:
Gran Colombia Gold: produced 225,000 ounces of gold in 2020
AngloGold and B2 Gold Joint-Venture: 6 million ounces of gold reserves at the Gramalote mine
Zijin: 6 million ounces of gold reserves at the Buriticá mine, which Consolidated Gold, sold  to Zijin for USD $1.4 billion
Other exploration companies in the area include:
Antioquia Gold Inc (TSXV: AGD) is a Calgary, Alberta-based mineral exploration and development company that is engaged in the acquisition, exploration, and development of mineral resource properties in Colombia. The company's project includes their flagship Cisneros project, a 5,630 hectare property located in the central portion of the department of Antioquia, about 80 kilometers northeast of Medellin. The Cisneros mine commenced production in 2019 and the Company is actively exploring the rest of the property to further delineate the size and scope of the deposit.
Soma Gold Corp. (TSXV: SOMA) is a Vancouver-based junior exploration and development company that owns and operates three producing gold mines on a 29,000 hectare property in Antioquia, Colombia within the Central Cordillera of the Andes Mountains. The ore extracted from the La Ye, El Limon and Nechí projects is processed at two mills operated by the company. The mills also process ore from local artisanal miners. Soma is actively continuing its exploration activities to add to its gold reserves.
Gran Colombia Gold Corp (TSX:GCM) is a Toronto-based gold and silver exploration, development and production company with a focus on gold projects in the South American countries of Colombia and Guyana. The Company's flagship asset in Colombia is the Segovia Project, which hosts the El Silencio gold mine that produced 225,000 ounces of gold in 2020. It is considered to be one of the world's highest-grade gold mines with proven and probable reserves of over 632,000 ounces at an average grade of 8.92 g/t gold. Gran Colombia is actively exploring the Segovia project that has several other mineralized zones on the property.
O2Gold Inc. (TSXV: OTGO) is an early-stage Canadian mineral exploration company focused on the acquisition and development of mineral projects in Colombia, South America. The Company's management and professional teams are based in Medellin, Colombia, and have extensive experience in the region. Its Otú Central Project is a 30,000 hectare property comprising 26 mining claim titles and applications located on the Otú Fault and is in close proximity to several other gold producers in the Segovia and Zaragoza regions of Antioquia in Colombia. During the second half of 2021, O2Gold will be actively drilling its Aurora-Quintanillo trench to determine its production strategy to validate its 30 year mining license and to generate cash flow that will help fund the Company's other exploration activities on the Otú property.
Spain
The Iberian Pyrite Belt is arguably the world's most productive volcanic-hosted massive sulphide (VMS) district with over 80 known deposits producing copper, zinc, lead, gold, silver and tin. The belt hosts eight giant-sized deposits of more than 100 million tonnes of massive sulphides and a number of major mining companies such as Lundin Mining, Trafigura Mining Group and ALMINA have major operations in the region. Aside from Denarius, there are several other junior companies exploring in the vicinity.
Aside from Denarius there are several other junior companies exploring in the vicinity.
Vancouver-based Pan Global Resources Inc (TSXV: PGZ) is a junior exploration company that is developing its Aguilas and Escacena projects in the Iberian Pyrite Belt in southern Spain. The Escacena property is in close proximity to the past-producing Aznalcóllar and Los Frailes mines, and First Quantum's Las Cruces operating copper mine, 40 km from Seville.
Emerita Resources Corp (TSXV: EMO), is a Canadian resource company currently developing two world-class zinc projects in Spain. The first project, the Iberian Belt West property, has a historical resources estimate of 34.0 tonnes of 0.42% copper, 1.10% lead, 2.30% zinc, 44.0 g/t silver and 0.80 g/t gold. It's second project, which it expects to be awarded soon, meanwhile hosts a deposit of 20.0 tonnes of of +10% zinc, lead, and silver in an open pit model.
The Risks
From our view the following risks are worth considering.
Price of copper, gold and silver. Just as metals prices can be a catalyst, a potential decline in price would have a negative impact on exploration stocks. Copper tends to mirror the economic cycle and poor economic conditions can depress copper prices. If the Chinese economic recovery stumbles, that could cause copper demand to slow and prices to decline.
Drill Results. Poor drill results could negatively affect price performance of the stock.
Market Sentiment. Markets can fluctuate wildly as investor expectations can change rapidly depending on the two most common drivers; fear and greed.
The Catalysts
Some of the potential catalysts we see that could have a large impact on the share price include:
The price of copper, gold, and silver. The most obvious variable for any mineral explorer, developer, or producer is the price of the underlying metals. As the price of a metal rises so does the net asset value of projects rise, which increases shareholder value. 
Broad economic indicators. Given the recent COVID stimulus packages which have seen a massive number of jobless claims, the assumption is that governments and central banks will take on debt funded through quantitative easing (money printing) to fill the gap. Eventually this will likely become inflationary; historically the price of gold and other metals increases with an increase in inflation as investors seek a hedge against inflation. .
The results of any future drill programs at the Company's projects. DSLV is working to put the Lomero-Poyatos deposit into production and continuing its exploration program with the goal of expanding the resource and getting a better understanding of the underlying size of the deposit. The work programs at the Colombian projects are designed to expand the size and scope of the mineralized zones and to prepare for production. Any meaningful discovery could serve as a catalyst for the common shares. 
Potential future merger and acquisition activity. Due to DSLV management's extensive experience, expertise, and credibility in Spain and Colombia, it has the ability to attract opportunities to acquire additional quality projects through acquisition or joint venture.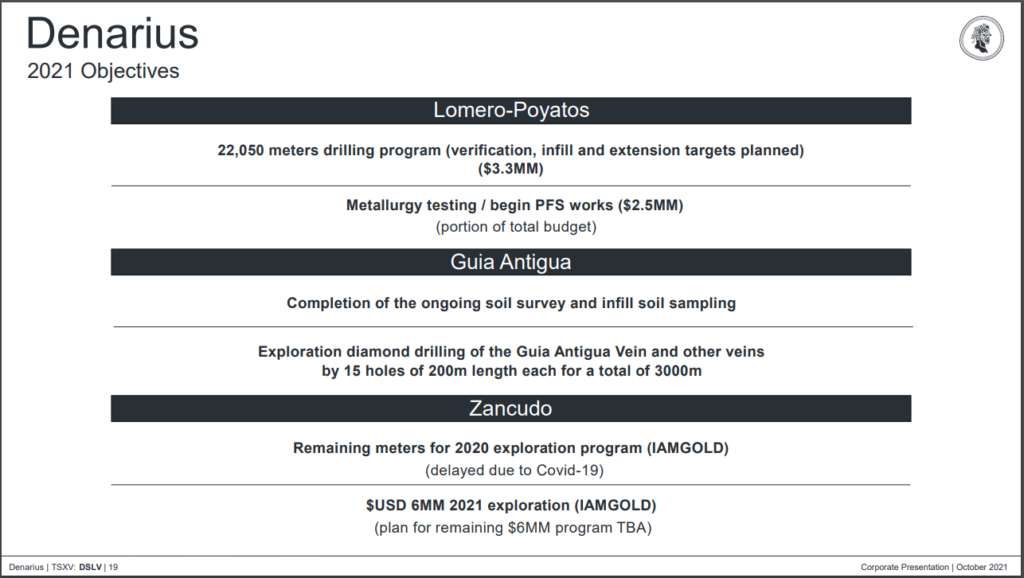 In Conclusion
Denarius Silver Corp is well-positioned in two prolific mining districts in Spain and Colombia which offer shareholders a degree of diversification and somewhat helps de-risk the company. Any meaningful exploration results on the properties could lead to a takeover or joint venture event. The company plans to commence production on its Lomero-Poyatos project in Spain as soon as feasible and will be conducting drilling to expand the size of the deposit and to increase its resources. 
Denarius Silver Corp. represents a compelling new silver-gold opportunity for junior exploration investors. 
---
FULL DISCLOSURE: Denarius Silver Corp is a client of Canacom Group, the parent company of The Deep Dive. The author has been compensated to cover Denarius Silver Corp on The Deep Dive, with The Deep Dive having full editorial control. Not a recommendation to buy or sell. Always do additional research and consult a professional before purchasing a security.
The post Denarius Silver: Corporate Overview appeared first on the deep dive.
tsx
tsxv
gold
silver
copper
zinc
tsx-gcm
gran-colombia-gold-corp
Base Metal Earnings Previews: Here's What to Expect
Base metal producers and miners are preparing to release their third-quarter earnings results, and the sector should display strong free cash flow. Copper…
Base metal producers and miners are preparing to release their third-quarter earnings results, and the sector should display strong free cash flow. Copper miners should benefit due to the metal's average price of $4.25 per pound during the quarter.
Source: Coldmoon Photoproject/Shutterstock.com
Some themes expected in the miners' earnings reports this time around include capital allocation, shareholder returns, accelerated projects, and the possibility of merger in the space.
Copper Prices Drive Attractive Valuations
However, copper miners will also face some challenges, according to RBC Capital Markets analysts Sam Crittenden and Alexander Jackson. They expect cost inflation and issues with the copper supply chain to negatively impact their results. The RBC team also noted that copper prices have remained range-bound around $4.25 a pound after hitting $4.86 a pound in the middle of May.
They expect copper prices to weaken going into next year and look for an average price of $3.75 per pound for 2022 amid slowing demand in China due to increased supply. However, the RBC team noted that low inventories and expectations of deficits in the medium term should support copper prices.
They believe valuations among North American base metal producers are attractive after plunging about 30% since mid-May, especially at current spot prices and an average free cash flow yield of 27%. Thus, the RBC team continues to see opportunities in some base metal stocks.
Commodity Strength to Drive Improvements in Earnings
Crittenden and Jackson noted that commodity prices have been strong, and they expect those strong prices to drive improved earnings, although cost inflation will likely offset the positive impact from commodity prices. Base metals were mixed quarter over quarter as copper fell 3%, zinc rose 2%, and nickel climbed 10%. Gold held steady with a 1% decline, while silver tumbled 9%.
Bulk metals were the most volatile of the bunch as iron ore prices plunged 18% quarter over quarter, and met coal climbed 89%. The RBC team expects cost escalation to continue in oil, with WTI up 6% quarter over quarter and global steel prices up from already-elevated levels.
Out of the base metal universe, they have several preferred names, including Teck Resources (NYSE:TECK), First Quantum, Ivanhoe Mines, Capstone Mining, HudBay Minerals and Champion Iron.
Favored Names
The RBC team said Teck Resources, which is expected to report its third-quarter earnings on Oct. 26, will benefit from record-high coal prices and a 60% increase in copper production by 2023. They don't expect any surprises from the company due to the recent investor day and guidance update. However, they do expect to see the beginning of benefits from higher coal prices. The RBC analysts peg coal at $226 per ton in the third quarter, compared to $144 per ton in the second.
They expect First Quantum, which is slated to release its next earnings report on Oct. 26, to generate strong free cash flow amid the ramp-up of Cobre Panama to a top 10 copper mine. Other potential impacts on First Quantum's earnings report include changes to the tax regime in Zambia, which could clear the path for expansion at Kansanshi and the Enterprise nickel project at Sentinel. The RBC team looks for another solid operating quarter from the company, although it could be overshadowed by an update on the Panama tax and royalty negotiations. They warned that the reaction could be mixed or negative.
Ivanhoe, which is expected to report its third-quarter results on Nov. 15, is close to demonstrating the potential of its Kamoa-Kakula copper mine. Meanwhile, Capstone could see a meaningful catalyst in the form of a Santo Domingo partnership. However, the RBC team also warned that Capstone's results could be negatively impacted by heavy rain in Arizona. Capstone is expected to release its earnings on Oct. 26.
They added that HudBay, which is scheduled to release its earnings on Nov. 4, is at an inflection point for free cash flow after completing investments in Peru and Manitoba. The analysts look for a modest improvement in the company's results due to the ramp of gold production in New Britannia and contributions from Pampacancha. However, they look for a larger impact from these factors in the fourth quarter and next year.
The RBC team sees strong growth potential for Champion Iron due to contributions from the phase two project in the middle of next year. They expect a solid operating quarter from the company with positive free cash flow generation, although they expect weaker results on a quarter-over-quarter basis due to lower iron ore prices. Champion Iron is expected to release its next earnings report on Oct. 28.
Other Names
The RBC team said Lundin Mining, which is expected to release its next earnings report on Oct. 27, could see some relief if it can update investors on potential improvements at its Candelaria asset. However, they warned that investors may have to wait for the full details until the company provides its three-year guidance update late next month.
Turquoise Hill Resources (NYSE:TRQ) is expected to report its third-quarter results on Nov. 11. The RBC team warned that those results could be negative as the company deals with border closures in Mongolia. Additionally, the start of the block cave is still on hold pending negotiations with the government.
Warrior Met Coal's (NYSE:HCC) union is still on strike, but the RBC analysts believe the recent settlement at the nearby Shoal creek mine could lead to a resolution for the six-month strike. They expect strong earnings results from the company due to much higher met coal prices, although they warned that there could be a lag in realizing the higher prices. Warrior Met Coal is expected to release its results on Nov. 2.
Labrador Iron Ore is expected to report its third-quarter results on Nov. 4. The RBC team expects a neutral reaction to those earnings results, which they expect to increase sequentially due to higher sales volumes. However, they said that could be partially offset by lower iron ore prices.
On the date of publication, the author did not have (either directly or indirectly) any positions in the securities mentioned in this article. The opinions expressed in this article are those of the writer, subject to the InvestorPlace.com Publishing Guidelines.
Michelle Jones is editor-in-chief for ValueWalk.com and has been with the site since 2012. Previously, she was a television news producer for eight years. She produced the morning news programs for the NBC affiliates in Evansville, Indiana and Huntsville, Alabama and spent a short time at the CBS affiliate in Huntsville. She has experience as a writer and public relations expert for a wide variety of businesses. Email her at [email protected].
More From InvestorPlace
The post Base Metal Earnings Previews: Here's What to Expect appeared first on InvestorPlace.
Silver Sands Neighbor Golden Arrow Resources Commences Exploration at Various Projects
Source: The Critical Investor for Streetwise Reports   10/24/2021
Golden Arrow Resources is looking to benefit from current positive sentiment…
Source: The Critical Investor for Streetwise Reports   10/24/2021
Golden Arrow Resources is looking to benefit from current positive sentiment in metals, as it recently commenced drilling at the Terra Dorada gold project in Paraguay and at its Rosales Copper project in Chile, but it also optioned the Libanesa silver-gold project in Argentina, and is planning early stage exploration at this and two other projects.
Sampling Rosales Copper project, Chile
After lots of reconnaissance exploration at several of their projects, Golden Arrow Resources Corp. (GRG:TSX.V; GARWF:OTCQB; G6A:FSE) is ready for the follow-up, and recently commenced drilling at two different projects. These are the Rosales Copper project in Chile, and the Terra Dorada gold project in Paraguay. The company also completed an IP and magnetics surveys, and a mapping/rock sampling program at their Yanso gold project in Argentina.
Furthermore, it finished a trenching program at the Esperanza target, part of the Flecha de Oro gold project in Argentina.
Lastly Golden Arrow Resources very recently signed an option agreement for the Libanesa silver-gold project, also in Argentina, the longtime base for the company, and plans to do reconnaissance exploration on this project soon. These activities and more will be discussed with VP Exploration Brian McEwen in this article.
All pictures are company material, unless stated otherwise.
All currencies are in US Dollars, unless stated otherwise. 
Update
After a lackluster summer, the tide for mining seems to be turning, as large scale shortages for many metals cause renewed multi-year high spikes in metal prices, from copper to zinc, from uranium to lithium. These shortages have been caused by a combination of reasons, mostly underinvestment combined by economic recovery after COVID-19, and subjects like inflation. Increasing inflation, caused by extremely dovish policies by central banks around the world, took a while to develop, but now it seems to be there, and one of the benefits of a devaluating US Dollar is higher metal prices, including gold and silver.
It is anticipated that central banks are wary to end their stimulus programs, as the world economy is far from out of the woods yet, and fragile. This dovish environment is interpreted as good for stocks, as interest rates are kept low and money has to produce returns somehow. It seems Golden Arrow Resources is positioned well in this context, as it is exploring precious metals projects, but also a copper project. The two recently commenced drill programs, if successful, should be able to generate much more investor interest compared to the last 2 years:  
Share price five-year time frame (Source: tmxmoney.com)
As the share price still seems to be bottoming, with investors waiting for exciting exploration/drill results from multiple projects, and with plenty of cash in the treasury, management viewed this as a good opportunity to announce another buyback of up to 10% of the public float, or 10.13M shares, after they did a similar buyback from March 17, 2020 to March 16, 2021.
During this program, 3,147,076 shares were repurchased. The current program started at September 1, 2021, and will end at August 31, 2022 or earlier. Since September 1, 2021, 1,191,000 shares have been bought back.
As per the last financials (June 2021) the company owns 675,580k shares of SSR Mining (SSRM.TO), this equity being worth C$13.55M at the moment (October 15, 2021, share price C$20.05) as well as C$4M in cash. As such it is clearly fully funded for upcoming exploration programs for at least the next two years.
Keep in mind the current market cap is C$19.78M, which is almost exactly the value of the SSR shares and cash, which is not only extremely rare for explorers, but also hardly assigning any value to the array of various projects.
Let's have a look at these exploration projects of Golden Arrow Resources.
Rosales Copper project, Chile
Golden Arrow Resources has been busy all year at their Rosales Copper project in Chile with surface exploration, including geophysical surveying. The goal of the recent geophysics program was to detect and delineate prospective electromagnetic conductor responses consistent with near-surface copper stockwork mineralization, potentially related to larger copper systems at depth, and associated with surface anomalies.
As a reminder, the Rosales Copper project includes several targets, with one located on the Margarita Trend, which is a structural trend that continues from the adjacent operating Margarita mine southwest onto the Rosales Project:
Mineralized occurrences were sampled and returned high values from rock chip samples in a target area.
The company completed the first pass of sampling in February, and has completed a Transient Electromagnetic (TEM) surface geophysical survey in June. This survey generated better than expected results, as they identified large areas with near-surface anomalies, starting about 100m depth, which can be seen here:
The anomaly G1, as indicated on the left map, is the highest priority target, based on size, conductivity, and correlation with high-grade copper sampling (up to 4.37% Cu). The second target is G2, as indicated on the right map below. The third G3 target to the north is the smallest target and thus the lowest priority, although all three targets returned significant sampling grades. As the high conductivity seems to be continuing to the south, the company decided to apply for additional concessions to cover the entire anomaly zone.
The company also completed three lines of TEM soundings, crossing the G1 and G2 anomalies, to provide resistivity, displayed in vertical images. These TEM sounding sections reveal one or more upper zones of moderate conductivity above 250m from surface, interpreted to correlate with the conductors detected in the previously reported fixed in-loop TEM surveys.
It was very interesting to see the large and intense conductor at approximately 500m depth and appear to resolve increased conductivity below G1, proximal to a vertical corridor postulated to represent a feeder-structure. The flat-lying and layered appearance of the anomalies, combined with the copper sulphide mineralization observed at surface, are consistent with expectations for copper manto deposits.  
The geophysical consultant Miles Rideout was enthusiastic about what he observed from the readings:" The observed TEM responses show broader conductors consistent with manto deposits and strong narrow features consistent with feeder structures. It is easy to recommend drilling based on these very positive results."
VP Exploration Brian McEwen was excited as well:
"We are very excited by this additional data from TEM soundings, which suggests a stratabound or mantos-style copper deposit model, which is further supported by the mineralization, alteration, and host rocks identified to date at Rosales. This type of high-flat-laying, layered, high-grade (1-2%) copper deposit is common in Chile, with well-known examples including the El Soldado and Mantos Blanco mines. We are very excited to have the drills turning to test our interpretation".
and didn't hesitate long on this recommendation, and decided to commence drilling as soon as possible on a 3,000m program, which was announced on September 23, 2021. The first phase of drilling will include approximately 1,400 metres in four holes, to test both the upper and lower conductors and confirm the geophysical interpretation. As can be seen in the sections, 4 trajectories of upcoming drill holes are planned, and as I like big targets, drill hole P2 is the one I'm particularly interested in as it will be directed to hit the large conductor at depth. The subsequent 1,600 metres will be used to test the extent of the anomalies as well as other targets. The program is expected to continue through this quarter, and as the turnaround time for assay labs is about 6-8 weeks now, the first results can be expected somewhere after this timeframe.
Tierra Dorada gold project, Paraguay
Management considers their Tierra Dorada project in Paraguay its second flagship project. As a reminder, highlights of the last drill program completed early this year at their Alvaro target were DHTD18 returning 0.5m @143.5g/t Au from 3m, and DHTD35 returning 3.16m @11.8g/t Au from 1.7m. Golden Arrow initiated a new 2,000m diamond drill program on September 28, 2021, focusing on better defining this target, and drill-test a new target 10km southwest of Alvaro called Itayuru, with one hole. Sampling from the past returned up to 7.04g/t Au, an outcrop returned 3.49g/t Au recently, and assays of a recent, extensive 475 soil sample program are pending.
The program will start with shallow drilling of up to 1,000 metres in 50 holes, as already permitted. All application requirements for the full exploration permit, which allows for deeper drilling, are complete and management is anticipating the granting of that permit imminently. The alternative deep program includes up to 1,536 metres in 12 holes as a first priority, with up to 17 holes or 2,096 metres in total. The company had to wait longer for the full exploration permit than expected due to COVID-19 outbreaks, but fortunately this kind of delays seem to be something of the past now.
Libanesa silver-gold project, Argentina
The company executed a definitive option agreement on October 12, 2021 to acquire a 75% interest in the (now fully) drill-permitted, 14,500ha Libanesa silver-gold project from Mirasol Resources in the Santa Cruz province of Argentina, which is a mining friendly province as it hosts many mines and mining projects:
Libanesa is a drill-ready project hosting several diversified geological, geochemical and geophysical supported drill targets. Mineralization at Libanesa is developed as localized hydrothermal and phreatic breccias, sulphide-quartz veining and gossans. Analysis of geological and geophysical results suggests that soil anomalies form two parallel northeast-trending structural belts associated with a series of andesitic dykes. The more pronounced northern belt, which hosts the Cerro Plomo Breccia, is open-ended to the east and west, and produced silver/gold-polymetallic anomalies, developed intermittently over 1.2 kilometers of strike length:
When seeing the small inserted ground magnetics image, I wondered if Golden Arrow is looking to explore the strong magnetic zones to the northwest. VP Ex McEwen answered that target delineation is ongoing throughout the properties.
Based on the work to date, Cerro Plomo is the principal target and is characterized by a mineralized Au/Ag hydrothermal breccia that is exposed at surface, and both chargeability and resistivity geophysical anomalies at depth. Trenching at Libanesa returned results up to 18g/t Au, and 3910g/t Ag:
The geophysical anomalies can be observed in the following section below. One is a 250m long conductive anomaly, potentially representing the continuation of the outcropping breccia, another is 200m long, potentially related to a soil anomaly, indicating a blind breccia body:
Vendor Mirasol already defined 2 drill targets as can be seen in the section above, and Golden Arrow management is looking to refine these targets further. Additional targets within Libanesa include the peripheral polymetallic veins at the Libanesa Main prospect; and, the Lagunita prospect, which has reported rock chip values up to 7.2 g/t gold.
The 75% interest in Libanesa will be earned by Golden Arrow Resources over 6 years by the following terms:
incurring exploration expenditures totaling $4,000,000
o $500,000 per year during the first 2 years, with a minium of 2,000m of drilling at the end of year 2; and
         o $750,000 per year thereafter. 
making cash payments to Mirasol totaling US$1,000,000
o $100,000 to be paid on the 2nd, 3rd and 4th anniversaries;
         o S$250,000 on the 5th anniversary; and
         o $450,000 on the 6th anniversary.
It is good to see the company only has to spend C$600k per annum during the first two years. The initial US$500,000 in exploration expenditures is a firm commitment. Golden Arrow will be the operator, and after completion of the option, Mirasol and Golden Arrow will hold 25% and 75% in the resulting JV. If an interest is diluted below 10%, it will convert to a 2% net smelter return royalty.
Golden Arrow Resources has concrete plans to start exploration as soon as possible, as it is planning to mobilize an exploration team to Santa Cruz this month. The goal is to complete additional surface work which may include geophysical surveying, with the intent of refining targets as mentioned for a drill program to start in the first quarter of 2022.
Yanso gold project, Argentina
The 100% owned Yanso Gold Project is a gold-copper intrusive-related target with a 300 metre by 90 metre zone of strong alteration coincident with gold and other geochemical anomalies, which is open along strike and untested at depth. It includes 12,480 hectares in five non-contiguous concessions, situated approximately 27 kilometres south of the Gualcamayo mine in San Juan province, Argentina. Previous sampling returned 16m @ 0.6g/t Au, 2m @ 3.46g/t Au and 2m @ 3.15g/t Au.
Golden Arrow Resources announced a new exploration program on July 23, 2021, which includes a 6.6 line-kilometre Induced Polarization (IP) resistivity survey. Gold-copper mineralization at Yanso is associated with pyrite or related oxidized surface minerals, so management believes that this technique will provide an excellent tool to understand the subsurface extents of the mineralized zone based on chargeability.
The survey will cover the known target area and test for extensions to the north and south over a distance of 2.4km, most of which is under recent alluvial cover. In addition, Golden Arrow's field team will complete a 700-hectare ground magnetics survey, and the field team will initiate a surface reconnaissance program of mapping and rock sampling.
According to VP Ex Brian McEwen, the IP survey is completed along with a portion of the magnetics and the mapping and sampling program.
McEwen expects to announce the compiled and interpreted results later this quarter.
Flecha De Oro gold project, Argentina
The Flecha de Oro project includes the La Esperanza, Puzzle and Maquinchao properties, and the company completed a trenching program at the Puzzle property last December and January, and subsequently at La Esperanza.
The trenching program of Puzzle didn't return the desired results, so McEwen decided to prioritize Esperanza for ongoing exploration.
This property hosts multiple vein corridors defined by outcropping quartz veins, boulders and quartz float (quartz float are discrete pieces of quartz vein at surface, likely from closer to the source than a boulder).
Since the commencement of trenching at Esperanza on March 1st, 2021, Golden Arrow completed 30 trenches totaling 2,200 metres across surface quartz veins and sheeted veinlets that range from a few centimeters to two metres in width. Assays have been announced for 10 of these trenches, generating results like 1.8m @ 3.19g/t Au, and 5m @2.98g/t Au.
I wondered what the current status of the program was, if new results will be announced soon, and what the next plans for La Esperanza are. McEwen stated that the trenching was completed and that results compilation and interpretation is continuing for La Esperanza. The company is also waiting for permits to start working at the third property in the project area, the Maquinchao tenement which was optioned in June 2020. In the meantime, the field team has been deployed to Yanso and Libanesa.
With 5 projects being drilled, explored or planning exploration soon, Golden Arrow Resources is clearly intensifying its activities after the quiet COVID-19 period, becoming one of the more active juniors I know of. As the company discovered and advanced several meaningful deposits in the past, I'm sure they aren't satisfied by exploring and killing assets into eternity, but they are focusing on real discoveries.
Their extensive network and expertise in Latin America, their huge treasury, extensive portfolio of projects and turning mining sentiment should be strong fundamentals in order to achieve a successful discovery sooner or later. 
Conclusion
In a time of slowly improving gold sentiment, and increasing (base) metal prices due to increasing shortages everywhere, as the world economy is picking up pace after the worst of COVID-19 seems behind us, Golden Arrow Resources is ramping up their exploration activities. Drill programs have recently commenced at their copper project Rosales in Chile, and their other gold project Tierra Dorada in Paraguay. The first results for both projects may come by the end of the quarter.
This is not all, as the company is working on three projects in Argentina, Libanesa, Yanso, and Flecha de Oro. With exploration at five projects underway soon, Golden Arrow has several chances to hit significant mineralization in Latin America, which in the current environment of improving sentiment should be a serious catalyst for a higher share price.
I hope you will find this article interesting and useful, and will have further interest in my upcoming articles on mining. To never miss a thing, please subscribe to my free newsletter on my website www.criticalinvestor.eu, in order to get an email notice of my new articles soon after they are published.
The Critical Investor is a newsletter and comprehensive junior mining platform, providing analysis, blog and newsfeed and all sorts of information about junior mining. The editor is an avid and critical junior mining stock investor from The Netherlands, with an MSc background in construction/project management. Number cruncher at project economics, looking for high-quality companies, mostly growth/turnaround/catalyst-driven to avoid too much dependence/influence of long-term commodity pricing/market sentiments, and often looking for long-term deep value. Getting burned in the past himself at junior mining investments by following overly positive sources that more often than not avoided to mention (hidden) risks or critical flaws, The Critical Investor learned his lesson well, and goes a few steps further ever since, providing a fresh, more in-depth, and critical vision on things, hence the name.
Sign up for our FREE newsletter at: www.streetwisereports.com/get-news
Disclaimer: The author is not a registered investment advisor, and currently has a long position in this stock. Golden Arrow Resources is a sponsoring company. All facts are to be checked by the reader. For more information go to https://goldenarrowresources.com/ and read the company's profile and official documents on www.sedar.com, also for important risk disclosures. This article is provided for information purposes only, and is not intended to be investment advice of any kind, and all readers are encouraged to do their own due diligence, and talk to their own licensed investment advisors prior to making any investment decisions.
Streetwise Reports Disclosure:
1) The Critical Investor's disclosures are listed above.
2) The following companies mentioned in the article are sponsors of Streetwise Reports: None. Click here for important disclosures about sponsor fees. The information provided above is for informational purposes only and is not a recommendation to buy or sell any security.
3) Statements and opinions expressed are the opinions of the author and not of Streetwise Reports or its officers. The author is wholly responsible for the validity of the statements. The author was not paid by Streetwise Reports for this article. Streetwise Reports was not paid by the author to publish or syndicate this article. Streetwise Reports requires contributing authors to disclose any shareholdings in, or economic relationships with, companies that they write about. Streetwise Reports relies upon the authors to accurately provide this information and Streetwise Reports has no means of verifying its accuracy.
4) The article does not constitute investment advice. Each reader is encouraged to consult with his or her individual financial professional and any action a reader takes as a result of information presented here is his or her own responsibility. By opening this page, each reader accepts and agrees to Streetwise Reports' terms of use and full legal disclaimer. This article is not a solicitation for investment. Streetwise Reports does not render general or specific investment advice and the information on Streetwise Reports should not be considered a recommendation to buy or sell any security. Streetwise Reports does not endorse or recommend the business, products, services or securities of any company mentioned on Streetwise Reports.
5) From time to time, Streetwise Reports LLC and its directors, officers, employees or members of their families, as well as persons interviewed for articles and interviews on the site, may have a long or short position in securities mentioned. Directors, officers, employees or members of their immediate families are prohibited from making purchases and/or sales of those securities in the open market or otherwise from the time of the decision to publish an article until three business days after the publication of the article. The foregoing prohibition does not apply to articles that in substance only restate previously published company releases. As of the date of this article, officers and/or employees of Streetwise Reports LLC (including members of their household) own securities of Golden Arrow Resources, a company mentioned in this article.
Charts and graphics provided by the author.
( Companies Mentioned: GRG:TSX.V; GARWF:OTCQB; G6A:FSE, )