FPX Nickel Rallies on Decar, B.C., Drilling News – Shares Up 5.88%
FPX Nickel Corp. [TSXV-FPX] shares rallied Monday after the company released additional drill results from…
FPX Nickel Corp. [TSXV-FPX] shares rallied Monday after the company released additional drill results from its wholly-owned Decar nickel district in central British Columbia.
The Decar Nickel District is a greenfield discovery of nickel mineralization in the form of a naturally-occurring nickel-iron alloy called awaruite. Covering 245 square kilometres, it represents a promising target for bulk tonnage, open pit mining, the company has said.
FPX said the latest results have confirmed the lateral extension of the significant new discovery at the Van target area, which is located six kilometres north of the Baptiste deposit. Baptiste has been the main focus of diamond drilling at the site since 2010.
FPX shares advanced on the news, rising 8% or $0.04 to 55 cents on volume of 216,320. The shares are currently trading in a 52-week range of 94 cents and 42 cents.
The company said it has completed a nine-hole, 2,688-metre drill program at the Van Target where bedrock samples occur in an area that was previously unexplored due to ground cover and which was recently exposed by logging activity. The program was expected to take eight weeks to complete.
Results from holes 21VAN-003 and 21VAN-004 complement the first two discovery holes reported by the company on October 19, 2021. The company said the first four VAN holes are defining a zone of strong awaruite nickel mineralization measuring approximately 350 metres wide by 400 to 55 metres long, to down hole depths of 350 metres.
Assays from the remaining five holes from this year's maiden drill program are expected to be reported in the company weeks.
Hole 21VAN-003, which intersected 0.143% DTR nickel (0.196% total nickel) starting at an approximate vertical depth of 48 metres below surface. This intercept marks one of the 10 highest-grading, near-surface intervals in the history of Decar, the company said.
FPX said results from hole 21VAN-003 compare favourably with previous drilling at Baptiste, which contains 1.996 billion tonnes of indicated resources at an average grade of 0.122% DTR nickel and 593 million tonnes of inferred resources with an average grade of 0.114% DTR nickel, both reported at a cut-off grade of 0.06% DTR nickel.
FPX President and CEO Martin Turenne said the positive results from drill holes 21Van-003 and 21VAN-004 support the view that strong mineralization can occur in areas that extend beyond mineralized outcrop, thus expanding the scale of the conceptual target at Van. "We look forward to reporting additional assays form this year's maiden nine-hole Van program in the coming weeks.''
President Trump's Social Media SPAC Could Now Have Interesting Risk-Reward Characteristics
Former U.S. President Donald Trump's SPAC stock, Digital World Acquisition Corp. (NASDAQ: DWAC), has reversed ~60% of the outsized gains
The post President…
Former U.S. President Donald Trump's SPAC stock, Digital World Acquisition Corp. (NASDAQ: DWAC), has reversed ~60% of the outsized gains it realized in the first two days (October 21 and 22) after its merger agreement was announced. The decline may have created a second potential entry point for this extremely volatile — and controversial — stock.
On October 20, President Donald Trump, perhaps the most polarizing world figure in decades, announced an agreement whereby the Trump Media & Technology Group (TMTG) will merge in a SPAC transaction with SPAC sponsor DWAC. TMTG intends to launch a conservative social network called TRUTH Social. Ultimately, after regulatory and shareholder approval, TMTG would become the surviving publicly traded company.
Details on the venture are scarce, but TRUTH Social plans to launch for invited users before year-end 2021 and hopes to be available to all users in early 2022. The company also expects to create a subscription video-on-demand service.
The principal issue which has affected the stock, particularly over the last week, seems to be a late October report by The New York Times that DWAC's founder Patrick Orlando may have been in discussions with President Trump for months prior to DWAC's public market listing in September 2021. According to U.S. law, a SPAC sponsor is not supposed to have a merger "pre-planned" at the time of its IPO. 
Such discussions can begin only after the empty-shell SPAC sponsor has begun trading on a stock exchange. The thinking is that having an agreement worked out beforehand would make it too easy for private companies to go public via a SPAC transaction and therefore avoid the long, detailed and sometimes convoluted SEC S-1 filing process.
The Trump discussion timing issue received more headlines on November 18 when U.S. Senator Elizabeth Warren, a vocal opponent of President Trump, wrote an open letter to SEC Chairman Gary Gensler, asking him to investigate the matter. Senator Warren suggested there could be violations of securities laws and requested an answer by November 29. According to Reuters, a spokesperson for the SEC has declined comment, saying merely that the SEC does not "comment on the existence or nonexistence of a possible investigation."
When TMTG and DWAC announced their merger agreement, TMTG said the enterprise value (EV) of the company will be US$875 million. An undefined US$825 million provision was also mentioned which could bring the initial EV to US$1.7 billion. We note these figures are presumably based on an initial US$10 share price, as is the convention with SPACs. 
Since DWAC is trading at US$39.48 (down from a US$94.20 close on October 22), the current implied EV could be around four times these US$875 million/US$1.7 billion figures, or US$3.5 billion to US$7 billion. Reflected in these calculations is some portion of the US$293 million of cash that DWAC has in trust. This cash will initially fund the launch of TRUTH Social. It is not clear if the DWAC-TMTG venture will include private investment in public equity (PIPE) financing that is typically part of SPAC transactions.
We emphasize this is a quite unusual SPAC transaction. In a typical SPAC deal, the underlying business may not yet be generating revenue, but it is at least operating (e.g., electric vehicle SPACs). TRUTH Social is not yet even operating. In addition, the Trump venture provides no forecast information. Since such forecast information is used to justify (frequently inflated) SPAC valuations, this raises the question of how the initial enterprise valuation was determined.
However, Trump supporters are very loyal and may be inclined to support his venture enthusiastically. Many Trump supporters could very well join his platform, including as paying subscribers, particularly given the rapidly approaching (November 2022), highly contentious mid-term Congressional elections. President Trump seems likely to play a large role in these contests.
To put this in numerical context, President Trump at his peak before he was barred from appearing on various social media outlets, had 146.5 million total followers on Twitter, Facebook and Instagram combined. If even a fairly small fraction of these followers were to join TRUTH Social, that platform would have many tens of millions of members.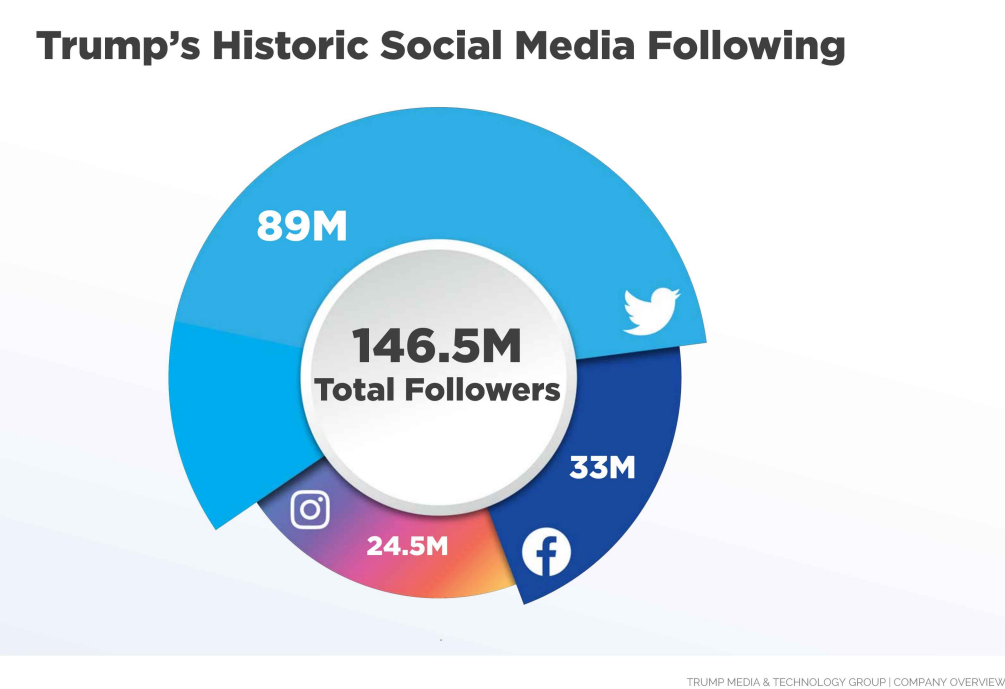 From a comparative economic perspective, consider the following: Twitter currently has 436.4 million users including 211 million monetizable daily active users. Its stock market value is about US$38 billion. While the number of active users is far from a direct link to stock market capitalization, it does not seem impossible that TRUTH Social could achieve a daily active user base (and therefore an advertising audience) of perhaps a third of President Trump's previous total followers, or around 50 million. Based on Twitter's valuation, the market could value such a venture at significantly more than just US$3.5 to US$7 billion — even factoring in the uncertainty regarding SPAC timing discussions between President Trump and DWAC.
Admittedly, DWAC is a difficult-to-analyze stock, as information on its financials and business plan are far from complete. However, for an active investor with high risk tolerance, the stock's 60%+ collapse over the last month may be overdone. It is, after all, unclear if the SEC will choose to investigate the TMTG/DWAC SPAC transaction, and, even if it does so, what remedy/penalty that regulatory body would require or impose.
---
Information for this briefing was found via Edgar and the companies mentioned. The author has no securities or affiliations related to this organization. Not a recommendation to buy or sell. Always do additional research and consult a professional before purchasing a security. The author holds no licenses.
The post President Trump's Social Media SPAC Could Now Have Interesting Risk-Reward Characteristics appeared first on the deep dive.
Standard Lithium Files PEA Report for the South-West Arkansas Lithium Project
EL DORADO, Ark., Nov. 26, 2021 (GLOBE NEWSWIRE) — Standard Lithium Ltd. ("Standard Lithium" or the "Company") (TSXV: SLI) (NYSE: SLI) (FRA:…
EL DORADO, Ark., Nov. 26, 2021 (GLOBE NEWSWIRE) — Standard Lithium Ltd. ("Standard Lithium" or the "Company") (TSXV: SLI) (NYSE: SLI) (FRA: S5L), today announced it has now filed a Preliminary Economic Assessment Report (Technical Report) for the Company's South-West Arkansas Lithium Project, further to its news release dated October 12, 2021. The report is available on www.sedar.com and https://www.standardlithium.com/projects/arkansas-smackover.
The Technical Report, entitled "Preliminary Economic Assessment of SW Arkansas Lithium Project" was prepared by independent consulting companies: NORAM, HGA (Hunt, Guillot & Associates), APEX Geoscience Ltd., ECCI, Matrix Solutions Inc., and METNETH2O Inc.
Key Points:
Pre-tax US$2.83 Billion NPV at 8% discount rate and IRR of 40.5%;
After-tax US$1.97 Billion NPV at 8% discount rate and IRR of 32.1%;
20-year mine-life producing an average of 30,000 tonnes per year of battery-quality lithium hydroxide monohydrate (LHM);
Operating costs of US$2,599 per tonne of battery quality lithium hydroxide;
AACE Class 5 Total CAPEX estimate of US$870 Million including conservative 25% contingency of direct capital costs; and,
SW Arkansas Lithium Project PEA lithium brine resource is updated to consider the potential unitized area of production, leading to an increased total (global) in-situ resource of 1,195,000 tonnes Lithium Carbonate Equivalent (LCE) at the Inferred Category.
The final content of this news release has been reviewed by Clive Brereton, a fellow of the Canadian Academy of Engineering and vice-president of NORAM Engineering and Constructors, and reviewed and approved by Eric Mielke, of NORAM. Mr. Mielke is a qualified person as the term is defined in National Instrument 43-101 and is independent of the company.
About Standard Lithium Ltd.
Standard Lithium is an innovative technology and lithium development company. The Company's flagship project is located in southern Arkansas, where it is engaged in the testing and proving of the commercial viability of lithium extraction from over 150,000 acres of permitted brine operations. The Company has commissioned its first-of-a-kind industrial-scale direct lithium extraction demonstration plant at Lanxess's south plant facility in southern Arkansas. The demonstration plant utilizes the Company's proprietary LiSTR technology to selectively extract lithium from Lanxess's tail brine. The demonstration plant is being used for proof-of-concept and commercial feasibility studies. The scalable, environmentally friendly process eliminates the use of evaporation ponds, reduces processing time from months to hours and greatly increases the effective recovery of lithium. The Company is also pursuing the resource development of over 30,000 acres of separate brine leases located in south west Arkansas and approximately 45,000 acres of mineral leases located in the Mojave Desert in San Bernardino county, California.
Standard Lithium is jointly listed on the TSX Venture and the NYSE American Exchanges under the trading symbol "SLI"; and on the Frankfurt Stock Exchange under the symbol "S5L". Please visit the Company's website at www.standardlithium.com.
On behalf of the Board of Standard Lithium Ltd.
Robert Mintak, CEO & Director
Neither TSX Venture Exchange nor its Regulation Services Provider (as that term is defined in policies of the TSX Venture Exchange) accepts responsibility for the adequacy or accuracy of this release. This news release may contain certain "Forward-Looking Statements" within the meaning of the United States Private Securities Litigation Reform Act of 1995 and applicable Canadian securities laws. When used in this news release, the words "anticipate", "believe", "estimate", "expect", "target", "plan", "forecast", "may", "schedule" and other similar words or expressions identify forward-looking statements or information. These forward-looking statements or information may relate to future prices of commodities, accuracy of mineral or resource exploration activity, reserves or resources, accuracy of the PEA, including NPV, IRR, capital and operating costs, life of mine production, progression of the project, including to a pre-feasibility study, regulatory or government requirements or approvals, the reliability of third party information, continued access to mineral properties or infrastructure, fluctuations in the market for lithium and its derivatives, changes in exploration costs and government regulation in Canada and the United States, and other factors or information. Such statements represent the Company's current views with respect to future events and are necessarily based upon a number of assumptions and estimates that, while considered reasonable by the Company, are inherently subject to significant business, economic, competitive, political and social risks, contingencies and uncertainties. Many factors, both known and unknown, could cause results, performance or achievements to be materially different from the results, performance or achievements that are or may be expressed or implied by such forward-looking statements. The Company does not intend, and does not assume any obligation, to update these forward-looking statements or information to reflect changes in assumptions or changes in circumstances or any other events affecting such statements and information other than as required by applicable laws, rules and regulations. 
CONTACT: For further information, contact Anthony Alvaro at (604) 240 4793

Contact: [email protected]
Twitter: @standardlithium
LinkedIn: https://www.linkedin.com/company/standard-lithium/
tsxv-sll standard-lithium-ltd standard lithium ltd press-release
Ground Breakers: Big miners dip to close the week as 2021 darlings hold the fort
Positivity around iron ore and other commodities that has driven the materials index to a 1.92% gain this week cooled … Read More
The post Ground Breakers:…
Positivity around iron ore and other commodities that has driven the materials index to a 1.92% gain this week cooled this morning as iron ore futures dived.
On a weak morning for trade in the big miners and across the ASX, 2021 success stories Liontown Resources (ASX:LTR) and West African Resources (ASX:WAF) were among the few to prosper.
Liontown has recovered from a selldown following the release of its Kathleen Valley definitive feasibility study earlier this month.
A 14% charge over the past week has taken the lithium developer back to all time highs of $1.94 this morning, a market cap of around $3.6 billion.
The Tim Goyder-chaired company released an ESG report this week featuring this chart based off Roskill data, which says a lot about why lithium investors are frothing at the mouth right now.
West African Resources has defied negativity around the gold space in 2021 to rise ~22% to a market cap of $1.3 billion, on the back of strong performance in the first year at its Sanbrado mine in Burkina Faso.
Liontown and West African share prices today:
Iron ore prices cool, dropping big miners
It's been a week dominated by China's apparent thawing of its frosty fiscal policy, leading to expectation steel demand would grow.
That turned this morning as Dalian iron ore future sunk by more than 5% on negative news about the impact of power issues in China and reports pollution levels would see the key steelmaking hub of Tangshan renew factory restrictions.
Equally bearish was the mid-November steel survey from the China Iron and Steel Association, which showed China's steel mills produced at a rate of just 2.24Mt per day between November 11 and November 20, MySteel reported.
A drop of 1.5% on earlier in the month, that would place China well to meet its ambitions of keeping 2021 steel production numbers at or beneath 2020's record of 1.065Bt.
It remains to be seen what restrictions China will keep in place after the Beijing Winter Olympics take place early next year.
Fortescue Metals Group (ASX:FMG), which has added ~$10 billion to its market cap over the past month, was down 3.13% while Rio Tinto (ASX:RIO), BHP (ASX:BHP), Champion Iron (ASX:CIA) and MinRes (ASX:MIN) all ate significant losses at the Materials index fell almost 1.5%.
Iron ore miners share prices today:
The post Ground Breakers: Big miners dip to close the week as 2021 darlings hold the fort appeared first on Stockhead.