Ukraine's NKMZ delivers new mine winder & bucketwheel miner to Kazakhstan iron ore mining complex SSGPO
At the end of October 2021, Ukraine's Novokramatorsky Mashinostroitelny Zavod (NKMZ) shipped a skip mine winder of model ШПМ ЦШ-5х8 to the Sokolovsky…
At the end of October 2021, Ukraine's Novokramatorsky Mashinostroitelny Zavod (NKMZ) shipped a skip mine winder of model ШПМ ЦШ-5х8 to the Sokolovsky iron ore mine of SSGPO in Kazakhstan, which is part of ERG. This is the fourth mine winder designed, manufactured and shipped to customers this year by the mining and press-forging equipment production division of NKMZ.
The ШПМ ЦШ-5х8 model NKMZ says is one of the most productive mine winders in the world, able to lift 60 t of iron ore from a depth of more than 700 m in one lifting operation. By its type, it belongs to multi-rope machines that lift their vehicles due to the friction forces between the drum lining and the rope. The ШПМ ЦШ-5х8 model is mounted on a tower-type headgear, equipped with two lifting motors of 3,800 kW each, a traction sheave with a diameter of 5 m with eight strands for lifting ropes. Its design also includes eight lined strands with a removable lining made of modern German Becorit material with a high friction coefficient to transmit the required torque. The machine is also fitted with shoe brakes having four spring-loaded drives, which provide reliable braking, ease of setup and maintenance. The mining and press-forging equipment production division is also manufacturing another mine winder of the ШПМ 2Ц-6,4 х 2,4 ТД model for TNC Kazchrome JSC in Kazakhstan whose assembly will begin in December 2021.
For the SSGPO Sarbaisky surface mining operations, NKMZ this year launched production of the ЭР1500 – 9,5/0,5 bucket wheel excavator that was also designed by the mining and press-forging equipment production division of the company. This is the third bucket wheel excavator of this model manufactured by NKMZ for SSGPO. Two previous ones, supplied by NKMZ in 2012, are still being successfully operated. "The miners are completely satisfied with the performance of these excavators and therefore placed their order at NKMZ for the production of the third machine. Taking into account customer's wishes, the NKMZ team made minor modifications in the design of this machine in order to increase its maintainability and ease of use."
NKMZ is widely known as a supplier of reliable and high-quality large bucketwheel complexes weighing up to 6000 t, manufactured during the Soviet period for work in open pit mines. Some of them are still operating far beyond the guaranteed service life. For example, a large bucketwheel complex has been operating at Volnogorsk GMK since 1979.
The 1,500 t/h bucketwheel excavator for Sarbaisky is a compact machine (weight >188 t, length 35 m, width 7.5 m, height 8 m), which is used in closed warehouses for material handling. Its main advantages are mobility and productivity.
The post Ukraine's NKMZ delivers new mine winder & bucketwheel miner to Kazakhstan iron ore mining complex SSGPO appeared first on International Mining.
Copper Producer Capstone Mining Acquires Private Mining Company; Looks to be a Sound Strategic Transaction
On November 30, Capstone Mining Corp. (TSX: CS) announced an agreement to acquire the private company Mantos Copper (Bermuda) Limited.
The post Copper…
On November 30, Capstone Mining Corp. (TSX: CS) announced an agreement to acquire the private company Mantos Copper (Bermuda) Limited. Current Capstone shareholders will receive one newly issued share for each share they currently own in the company, which will be renamed Capstone Copper Corp.
Two-thirds of Capstone Mining shareholders must vote in favor of the transaction for the merger to occur. If they do so, the transaction is expected to close in 1Q 2022. Current Capstone Mining Corp. shareholders will own 60.75% of the resultant Capstone Copper Corp. and Mantos Copper shareholders the balance, or 39.25%.
The combination creates one of the largest copper-producing companies in the world. Perhaps more important, the pro forma company could generate an average of US$650 million of EBITDA annually over the two-year period 2022 – 2023 if copper prices average US$4.00 per pound.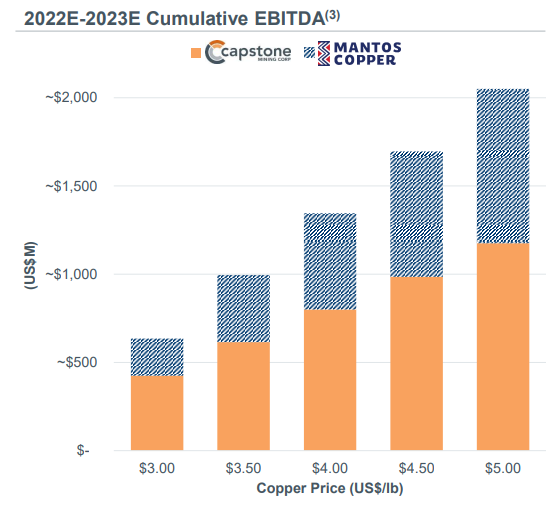 Four mines — Pinto Valley in the U.S.; Cozamin in Mexico; and Mantos Blancos and Mantoverde in Chile — form the backbone of the pro forma company. Together, they are expected to produce about 175,000 tonnes of copper in 2021.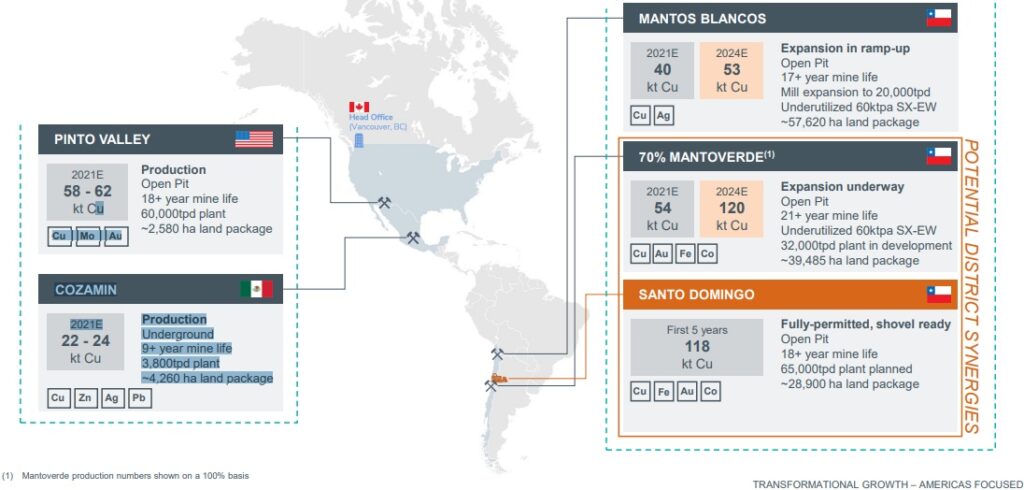 Capstone Mining's total shares outstanding are about 413.3 million, so the share count of the merged company will be around 680 million shares (413.3 million divided by 0.6075). At Capstone Mining's current share price of C$6.32, the pro forma company's stock market valuation is about US$3.36 billion. Furthermore, the combined company is expected to be debt-free and have around US$220 million of net cash, which implies a pro forma enterprise value (EV) for Capstone Copper of US$3.1 billion.
As a consequence, the pro forma merged company trades at an EV-to-EBITDA ratio of 4.8x (US$3.1 billion divided by US$650 million). This represents a substantial discount to the 15.8x EV/EBITDA ratio of copper mining peer OZ Minerals Limited (ASX: OZL),and about the same as Lundin Mining Corporation's (TSX: LUN) 4.9x ratio.
The chief risk associated with an investment in a copper miner is a marked decline in copper prices. If the global economy were to slow, due to the impact of the new Omicron COVID variant or other factors, Capstone Mining shares could be negatively affected.
Copper prices soared from March 2020 through the first few months of this year but have been approximately unchanged over the last six months. Analysts generally expect the price of copper to resume an upward trajectory over the next few years.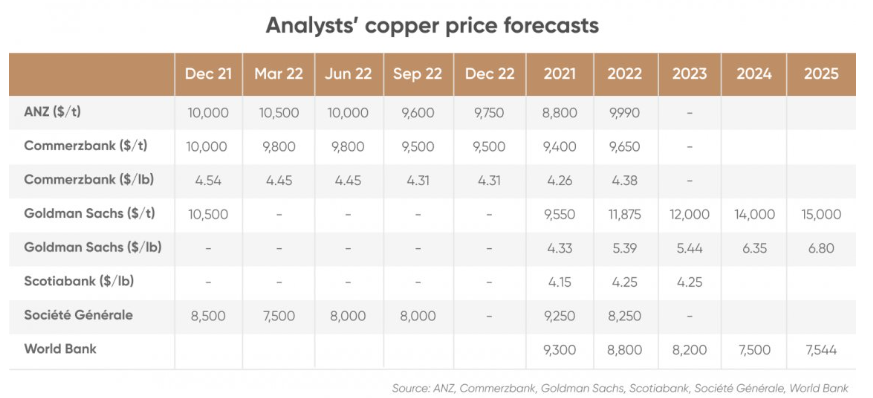 Capstone Mining's acquisition of Mantos Copper looks to make both strategic and financial sense for Capstone's shareholders. The combined company should generate substantial cash flow over the intermediate term, and its valuation looks reasonable versus its mining peers.
Capstone Mining Corp. last traded at $5.73 on the TSX Exchange.
---
Information for this briefing was found via Sedar and the companies mentioned. The author has no securities or affiliations related to this organization. Not a recommendation to buy or sell. Always do additional research and consult a professional before purchasing a security. The author holds no licenses.
The post Copper Producer Capstone Mining Acquires Private Mining Company; Looks to be a Sound Strategic Transaction appeared first on the deep dive.
tsx
asx
copper
tsx-lun
lundin-mining-corporation
lundin mining corporation
Omicron: More Transmissible, Less Severe Due To 'Common Cold' Mutation?
Omicron: More Transmissible, Less Severe Due To 'Common Cold' Mutation?
As the Omicron Covid strain gains a foothold – and policymakers begin…
Omicron: More Transmissible, Less Severe Due To 'Common Cold' Mutation?
As the Omicron Covid strain gains a foothold – and policymakers begin their Pavlovian knee-jerk to more economy-killing lockdowns, it's become abundantly clear that this version of the virus is far more infectious than prior strains, yet may also be far less deadly.  In fact, it may unseat Delta as the dominant strain – which could be great news if its effects are as mild as initial reports suggest.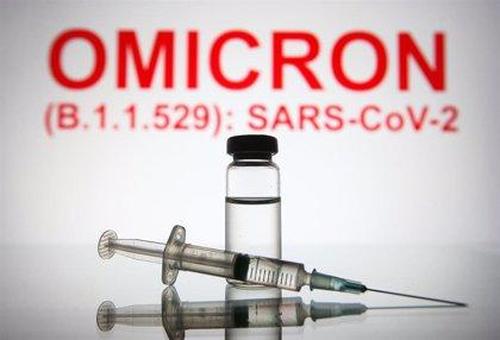 And while the jury's still out as far as iron-clad peer-reviewed data, early indications suggest that the 'hyper-mutated' Omicron has resulted in shorter hospitalizations, along with asymptomatic infections in many. Last week, South African Medical Association chairwoman Angelique Coetezee said "the new Omicron variant of the Coronavirus results in mild disease, without prominent symptoms."
Here's a snippet of a recent report from hospitals in Tshwane, South Africa, which has been hit the hardest by Omicron:
A significant early finding in this analysis is the much shorter average length of stay of 2.8 days for SARS-CoV-2 positive patients admitted to the COVID wards over the last two weeks compared to an average length of stay of 8.5 days for the past 18 months.  The NICD reports a similar shorter length of stay for all hospitals in Tshwane in its weekly report. It is also less than the Gauteng or National average length of stay reported by the NICD in previous waves.

In summary, the first impression on examination of the 166 patients admitted since the Omicron variant made an appearance, together with the snapshot of the clinical profile of 42 patients currently in the COVID wards at the SBAH/TDH complex, is that the majority of hospital admissions are for diagnoses unrelated to COVID-19. The SARS-CoV-2 positivity is an incidental finding in these patients and is largely driven by hospital policy requiring testing of all patients requiring admission to the hospital.
So most patients didn't even know they had it, and it was discovered 'incidentally' while they were there for other issues. Let's assume for the sake of this report that the testing is accurate.
But of course, given that it also appears to be hyper-virulent, simple math suggests that the overall number of hospitalizations should rise, even if a lower percentage of those infected need hospitalization.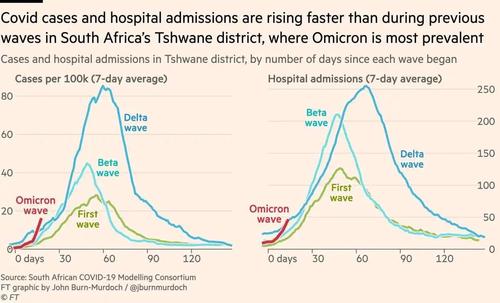 Goldman has slammed the 'lockdown-happy' reaction to Omicron, saying that the mutation was "unlikely to be more malicious and that the existing vaccines will most likely continue to be effective in preventing hospitalizations and deaths," adding that "COVID waves are becoming a regular thing — seasonal like the flu the perhaps."
Meanwhile, the Financial Times on Saturday published a stellar write-up on Omicron – what we know, what we don't know, and where things may be headed.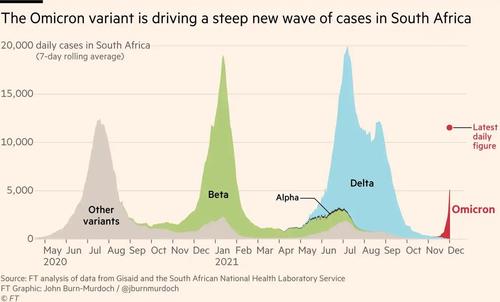 One of the journalists on the FT byline, John Burn-Murdoch, dropped a great Twitter thread summing up the data, while noting relevant caveats. He considers the Tshwane report 'essential reading, along with this thread breaking it down and adding much-needed context.
First up, the question of severity of hospital cases:
• Data from @nicd_sa for the whole of Gauteng province echo the report's finding for Tshwane: to date, a much lower share of Covid-positive patients in this wave require ICU than at same stage of Delta wave pic.twitter.com/wYHjPsx8dw

— John Burn-Murdoch (@jburnmurdoch) December 4, 2021
One critical thing to note at this stage — as highlighted in the Tshwane report — is the markedly different age profiles of the two waves:

Over first two weeks of each wave, Omicron cases and hospitalisations skew *much* younger. That alone would be expected to reduce ICU share. pic.twitter.com/zmoGbxF4WU

— John Burn-Murdoch (@jburnmurdoch) December 4, 2021
We recommend clicking into the thread above and reading the rest for yourself. 
That said, research from South Africa cited by the FT report shows that people are more likely to be reinfected with Omicron vs. other strains – a sign of immune invasion.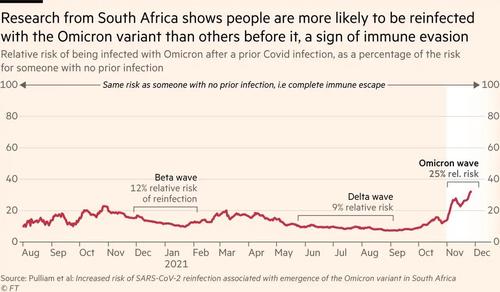 Common cold mutations?
Reuters (via SCMP) is out with an interesting report on Omicron after researchers found 'a snippet of genetic material from another virus' in the new strain, 'possibly one that causes the common cold.'
The Omicron variant of the virus that causes Covid-19 likely acquired at least one of its mutations by picking up a snippet of genetic material from another virus – possibly one that causes the common cold – present in the same infected cells, according to researchers.

This genetic sequence does not appear in any earlier versions of the coronavirus, called Sars-CoV-2, but is ubiquitous in many other viruses including those that cause the common cold, and also in the human genome, researchers said.

By inserting this particular snippet into itself, Omicron might be making itself look "more human," which would help it evade attack by the human immune system, said Venky Soundararajan of Cambridge, Massachusetts-based data analytics firm nference, who led the study posted on Thursday on the website OSF Preprints.
And the punchline: "This could mean the virus transmits more easily, while only causing mild or asymptomatic disease."
Stay tuned…
Tyler Durden
Sun, 12/05/2021 – 15:00
iron
Ironbark Zinc is blazing an EXIM Bank funding trail. Could others follow?
As the world's supply chain crisis and geopolitical tensions continue to make headlines, global superpowers are looking to secure the … Read More
The…
As the world's supply chain crisis and geopolitical tensions continue to make headlines, global superpowers are looking to secure the minerals they deem critical to their strategic needs.
That includes zinc, which was recently added to the US Geological Survey's (USGS) list of Critical Minerals on the back of serious price improvement driven by curtailed production amid power shortages in China – a nation on which the US is reliant for supply.
According to USGS, the US imported 83% of its domestic consumption of zinc last year – a hefty 710,000t – despite having 14 operating mines and three smelter facilities.
With the designation of zinc as a critical mineral, that reliance is clearly on the mind of the Americans, and a recent move by the government's Export-Import Bank (EXIM) to grant its 402(A) support status to an ASX-listed zinc developer highlights this point.
Ironbark Zinc (ASX:IBG) was the recipient of the designation, which makes it eligible for special funding considerations under the 'China and Transformational Exports Program' (CTEP).
 
What does that actually mean?
That's a very valid question. Probably the main question.
In 2019, the US government added the CTEP to the EXIM Bank charter – a move which set EXIM a goal of reserving no less than 20% of its total financing authority to support loans, guarantees and insurance at rates and terms fully competitive with those from China and some other countries.
The move was made for a number of reasons, including to neutralise export subsidies for competing goods and services offered by official export credit, tied aid or blended financing provided by China.
In essence, it allows Ironbark to apply for project development funding through EXIM on more favourable terms than it would otherwise be able to get.
Should its loan application succeed, EXIM may be able to offer the ASX-listed company extended repayment tenors, extended drawdowns and reduced fees.
Ironbark's Citronen zinc project in Greenland, the subject of the funding, became the first standalone project globally to qualify for the designation.
It's not been a short path. Ironbark had been working towards the designation for 15 months – blazing a trail which other ASX-listed developers will surely watch with interest.
Speaking to Stockhead, Ironbark managing director Michael Jardine said the strategic interest of EXIM Bank in Citronen made sense given the global economic climate.
"The US and Europe are both net importers of millions of tonnes of zinc metal per annum," he said.
"Post-COVID, governments are much more focused on things like supply chain security, which also spills over into things like ESG demands as well.
"If Citronen was running today, it would be the 10th largest zinc mine in the world, and the largest in Europe by a considerable margin, so it has the ability to displace other metal sourced into Europe and America.
"Factor in further that the metal currently being imported almost certainly comes from regions with lower ESG standards, while Citronen would effectively be operating to EU standards on emissions, labour laws, supply chain certification, environmental monitoring and so on, and we think we have a really compelling project."
Citronen has a mineral resource of 85 million tonnes at 4.7% zinc and 0.5% lead. A bankable feasibility study completed this year demonstrated a 3.3Mtpa operation which would deliver post-tax free cash flow of $1.46 billion.
CAPEX was reported at US$654 million. Ironbark expects to hear back on its EXIM Bank loan application this month.
Broader implications?
Mineral supply concerns don't appear to be going away in a hurry, which could create further opportunities for those looking to develop projects in areas of strategic interest.
Jardine said he felt the export credit route was one historically underused by junior miners but felt awareness of such arrangements was growing.
"There have been instances on the ASX, particularly with things like potash, where export credit has been applied, and there are others in Greenland pursuing an EXIM-led strategy who are not as far advanced in discussions as we are," he said.
"If we are successful, I expect it will be easier for others to follow in that slipstream, rather than trying to blaze a trail.
"If the application is successful for us, I hope it is successful for others as well, and the industry continues to grow."
The post Ironbark Zinc is blazing an EXIM Bank funding trail. Could others follow? appeared first on Stockhead.