With Low Vaccination Rates, Africa's COVID Deaths Remain Far Below Europe & US
With Low Vaccination Rates, Africa's COVID Deaths Remain Far Below Europe & US
Authored by Ryan McMaken via The Mises Institute,
Since…
With Low Vaccination Rates, Africa's COVID Deaths Remain Far Below Europe & US
Authored by Ryan McMaken via The Mises Institute,
Since the very beginning of the covid panic, the narrative has been this: implement severe lockdowns or your population will experience a bloodbath.
Morgues will be overwhelmed, the death total toll will be astounding. On the other hand, we were assured those jurisdictions that do lock down would see only a fraction of the death toll.
Then, once vaccines became available, the narrative was modified to:
"Get shots in arms and then covid will stop spreading. Those countries without vaccines, on the other hand, will continue to face mass casualties."
The lockdown narrative, of course, has already been thoroughly overturned.
Jurisdictions that did not lock down or adopted only weak and short lockdowns ended up with covid death tolls that were either similar to—or even better than—death tolls in countries that adopted draconian lockdowns. Lockdown advocates said locked-down countries would be overwhelmingly better off. These people were clearly wrong. 
Undaunted by the increasing implausibility of the lockdown narrative, the global health bureaucrats are nonetheless doubling down on forced vaccines—as we now see in Austria—and we continue to be assured that only countries with high vaccination rates can hope to avoid disastrous covid outcomes. 
Yet, the experience in sub-Saharan Africa calls both these narratives into question: Africa's numbers have been far, far lower than the experts warned would be the case. 
For example, the AP reported this week that in spite of low vaccination rates, Africa has fared better than most of the world:
[T]here is something "mysterious" going on in Africa that is puzzling scientists, said Wafaa El-Sadr, chair of global health at Columbia University.

"Africa doesn't have the vaccines and the resources to fight COVID-19 that they have in Europe and the U.S., but somehow they seem to be doing better," she said….

Fewer than 6% of people in Africa are vaccinated. For months, the WHO has described Africa as "one of the least affected regions in the world" in its weekly pandemic reports.
Yet disaster for Africa has long been predicted for several reasons even beyond the availability of vaccines. For instance, it is known that lockdowns are especially impractical in the poorest parts of the world. This is because populations in places with undeveloped economies can't simply sit at home and live off savings or debt. Rather, these people must go out into the world and earn a living on a day-to-day basis. Starvation is the alternative. Moreover, much of this work is done in the informal economy, so enforcing lockdowns becomes especially difficult.
Source: Our World in Data (Confirmed Deaths per Million, November 19, 2021;  Share of People Vaccinated against Covid-19, November 19, 2021).
It was also assumed covid would be especially deadly in Africa due to the fact many large households live in small housing units.
But that "conventional wisdom" flies in the face of the reality of covid in Africa, which is that there have been fewer deaths.
The "experts" have groped around, looking for possible explanations.
Some sources, for example, insist that the low death totals are only an artifact of incomplete reporting on covid infections and that "a lack of good qualitative data was the issue."
But Richard Wamai at Northeastern University rejects the claim it's all about case reporting, and says that "local systems for reporting deaths in Africa make it difficult to hide COVID-19 casualties." In a paper for the International Journal of Environmental Research and Public Health, Wamai and his coauthors conclude, "[T]here is no evidence that COVID-19 mortality data is less accurately reported in Africa than elsewhere" and "While the true picture of infections and mortality in the continent has yet to fully emerge, the quality of data for other diseases, such as HIV/AIDS, indicates that Africa has the capacity to collect and report valid disease surveillance data."
In any case, the World Health Organization reports that covid deaths in Africa make up only 2.9 percent of covid deaths, while Africa's population is 16 percent of the global total. Africa's covid total could double or triple, and Africa would still be faring far better than Europe and the Americas.
Wamai et al. also note that at this point "[i]t is likely that SARS-CoV-2 has already been widely disseminated through Africa…. If so, widespread infection is likely to also result in widespread natural immunity."
In other words, continued claims by health officials—both in Africa and elsewhere—that mass death is right around the corner with the "next wave" look increasingly implausible. 
It looks increasingly likely that the lack of covid mortality in Africa is not due to a data issue nor a situation in which covid has been "contained" up until now. So then why is Africa doing so much better than the wealthy West?
Naturally, the advocates of forced lockdowns and coerced vaccines would prefer to ignore this issue altogether, but the undeniable reality of Africa's experience has forced mainstream researchers to publicly admit the many ways that many factors can explain covid's prevalence beyond vaccination rates and mask mandates.
For instance, mentioning that obesity is an important factor in covid mortality has in the past been likely to get one savaged in the media for "fat shaming." Yet the Africa situation has forced the well informed to admit that yes, obese populations clearly suffer more from covid. In Africa, not surprisingly, we find that obesity rates are far below those found in North America and Europe.
Other possible explanations forwarded as reasons for Africa's situation include past exposure to other coronaviruses, youthful populations, fewer patients lacking zinc and vitamin D, past use of the Bacillus Calmette-Guérin vaccination, climate, genetic background, and parasite load. 
In addressing the African "enigma" one group of researchers in the journal Colombia medica dared even suggest it's possible—although not conclusively shown at this point—that "a mass public health preventive campaign against COVID-19 may have taken place, inadvertently, in some African countries with massive community ivermectin use."
Source: "Global Obesity Levels," ProCon.org, last modified March 27, 2020; Our World in Data (Share of People Vaccinated against Covid-19, November 19, 2021).
In the West, however, the media drumbeat around covid has consistently been "Shut up, stay home, get jabbed, and stop doubting the experts on forced vaccines." Fortunately, however, the African situation has forced many researchers to ask inconvenient questions.
In fact, it's amazing Africa has not been overcome by mass death considering that covid lockdowns and covid "mitigation" measures have contributed to the impoverishment and mass starvation on the continent. Or as Germany's DW News puts it, "Measures put in place to slow the spread of the novel coronavirus are pushing millions of people in Africa into severe hunger." And as Wamai notes, "[S]ome of the excess deaths in Africa "can be attributed not to the disease, but to lockdown measures that cut off access to medical care for other illnesses."
But Africa hasn't gotten the bloodbath that was promised, and as one Nigerian put it, "They said there will be dead bodies on the streets and all that, but nothing like that happened."
Tyler Durden
Thu, 11/25/2021 – 05:10
zinc
Resources Top 5: Big hits, Chalice's new 'Julimar like' target, and Greenland — one of exploration's final frontiers
Manhattan hits 8m at 40.5g/t gold, including 3m at 105.34g/t Chalice completes first stage of Venture Minerals nickel-copper-PGE project earn … Read…
Manhattan hits 8m at 40.5g/t gold, including 3m at 105.34g/t
Chalice completes first stage of Venture Minerals nickel-copper-PGE project earn in deal
Coda Minerals' 'Emmie Bluff Deeps' IOCG discovery keeps getting bigger
Here are the biggest small cap resources winners in early trade, Monday December 6.
The stock excited punters late last year when a maiden drilling program discovered a new shallow and high-grade gold lode ' at the 'Tibooburra' project in NSW, 240m west of the historic 'Main Zone' at the project's New Bendigo prospect.
The company failed to maintain this momentum into 2021.
Now the excitement could be back, with MHC pulling up nice hits like 8m at 40.5 g/t gold from about 70m, including 3m at 105.34 g/t at Main Zone.
This wasn't the only big hit from the completed 20 hole, ~2,100m program either, which is also a good sign.
It also only covered a small, 650m chunk of a much larger 5km long gold-in-soil anomaly.
Future drilling will focus on testing the size of Main Zone which has the potential to be a significant shallow, high-grade gold resource, MHC says.
A planned 5,000m drilling program will now be significantly increased and extended to include diamond drilling at depth (>100m). Drilling is scheduled to kick off after the Christmas Break.
"These are the best gold drill intersections reported from the Koonenberry Region to date," exec director Kell Nielsen says.
"We are extremely pleased with their significance and feel that they prove the potential of the Tibooburra Project to host multi-million-ounce gold discoveries."
"The next steps and drill planning will be important in understanding the potential of the mineralised system at New Bendigo where numerous individual lenses (or shoots) may exist."
"From the recently completed RC drilling, MHC is better placed to target future drilling, specifically the high-grade lenses that traditionally can be up to 15-20m thick and 50-150m wide and plunge or extend over several hundred metres in length."
The $20m market cap stock is up 30% over the past month, and down 57% year-to-date. It had $3.8m in the bank at the end of September.
Chalice Mining (ASX:CHN) reckons Venture Minerals has some of the best-looking ground in the Julimar region (besides their own, of course), which is why they inked a earn in JV agreement over VMS' 'South West' nickel-copper-PGE project.
$3.2bn market cap CHN has now completed the first stage of the deal by spending at least $300,000 on exploration by November 30.
The focus right now is Thor', a 20km long Julimar lookalike magnetic anomaly.
Results of an early-stage electromagnetic program will be announced "once Chalice's exploration team have received the final data and completed their interpretation of any resultant bedrock conductors", VMS says.
This is expected in early 2022.
Chalice will follow-up any conductors from the EM program with soil sampling to define potential drill targets. Should Chalice elect to drill the targets it will need to spend a cumulative $1.2 million by 29th July 2022 to earn 51%, and then a further $2.5 million to earn 70%.
"With Venture's JV partner Chalice Mining completing the first stage of the JV earn-in through the completion of a detailed EM survey, the company now eagerly awaits the survey results," VMS managing director Andrew Radonjic says.
"The knowledge gained from Chalice's Julimar discoveries will be a huge advantage in determining which conductors should be drilled first and this no doubt increases the probability of bringing a discovery forward."
$68m market cap VMS – which also has advanced iron ore and tin-tungsten projects in the portfolio — is up 20% over the past month and down 4% year-to-date. It had about $9m in the bank at the end of September.
On 9 June Coda announced that its first diamond drillhole at 'Emmie Bluff Deeps' IOCG target in South Australia had intersected 200m of "intense IOCG alteration", including~ 50m of copper sulphides.
The market loved it. IOCG (iron oxide copper gold) discoveries — while often super deep — are big, lucrative, and rare as hens' teeth.
Subsequent assay results confirmed the potentially company making find which, since then, has only gotten bigger.
The mineralised envelope at Emmie Bluff Deeps has now been "materially extended by drilling to the north, east and south". It remains open in all directions, COD says.
Critically, hole 'EBD3W3B' encountered additional zones dominated by bornite — a high-grade copper sulphide — extending the core of the mineralised zone a further 70m to the south where it remains open.
Assay results from five drill holes, for which visual observations of mineralisation have been released to ASX, remain outstanding due to delays at assay labs, COD says.
The company expects to receive and release most of these results prior to Christmas. A maiden resource for the shallow Emmie Bluff Zambian-style copper cobalt deposit is also on track for release before the end of the year.
"We have now had an outstanding run of nine holes from this and the previous drilling program," Coda CEO Chris Stevens says.
"All have returned materially important intersections and we are beginning to demonstrate a clear trend of increasing thickness and tenor of mineralisation as we systematically follow the bornite-dominant zone to the south-east."
"In particular, the results from EBD3W3B are exceptional. Once confirmed by assays, this hole will not only materially extend the known bornite-dominated zone but should also give us one of our thickest sulphide intersections to date."
"It also appears to have identified at least one major mineralising structure, providing a significantly improved structural understanding of the deposit – and possible vectors towards a basement-tapping source or 'pipe' structure."
COD has now approved an "ambitious" ongoing exploration program which is underpinned by a strong cash balance of $17.8m at the end of the September quarter.
The $90m market cap stock is up 11% over the past month, and 211% year to date.
(Up on no news)
Former coal minnow PDZ has done a full 180-degree swivel, dumping its fossil fuel focus in favour sexier, 'new age' metals like copper, nickel and PGMs. It is also changing its name to GreenX Metals.
The main game is some newly acquired ground in Greenland called 'Arctic Rift', where historical exploration results are indicative of an extensive mineral system "with potential to host world-class copper deposits".
Greenland is increasingly recognised as one exploration's final frontiers, as melting ice caps reveal more ground. All the big boys want a slice, PDZ says.
"Greenland is increasingly recognised as one of the last great mineral resource frontiers having recently attracted interest from Rio Tinto, Anglo American, DeBeers, Glencore, Trafigura, and IGO, as well as KoBold Metals who have joint ventured with Bluejay Mining to explore in Greenland for critical materials used in EVs," it said October 6.
"KoBold is backed by Microsoft co-founder Bill Gates, Bloomberg founder Michael Bloomberg, Amazon founder Jeff Bezos, and Ray Dalio, founder of the world's largest hedge fund Bridgewater Associates."
The $61m market cap stock is up 4% over the past month, and 41% year-to-date. The company is looking to raise $4.6m to fund the Greenland acquisition and exploration into the new year.
POSCO-backed BKT wants to bring its advanced 'Mahenge' graphite project in Tanzania into production.
Mahenge's 212 million tonne graphite resource makes it the fourth largest in the world. BKT says it has lowest peak capital expenditure per annual tonne of production of any development stage global graphite project and would enjoy a high AISC margin of 63.1% once in production.
The company has just completed a massive 500t pilot plant run – the largest ever, it says — to send to off for qualification (testing) to POSCO and potential customers in North America, Asia and Europe. This will ultimately support project financing, BKT says.
"Black Rock has delivered the largest customer qualification program in the graphite sector globally, that continues to demonstrate to the market that we have a high-quality commercial grade product," BKT managing director John de Vries says.
"The positive outcomes from this large-scale qualification plant campaign effectively provide a robust platform for our strong customer base to now base their decisions to confidently partner with Black Rock for the long-term."
"This in turn provides confidence to financiers that the robust economics of the Project are supported through a clear path to market."
BKT now needs to finalise off-take terms with POSCO and secure finance to underpin $US116m Phase 1 development capex.
The $170m market cap stock is down 17% over the past month, and up 100% year-to-date. It had $9.3m in the bank at the end of September.

The post Resources Top 5: Big hits, Chalice's new 'Julimar like' target, and Greenland — one of exploration's final frontiers appeared first on Stockhead.
Copper Producer Capstone Mining Acquires Private Mining Company; Looks to be a Sound Strategic Transaction
On November 30, Capstone Mining Corp. (TSX: CS) announced an agreement to acquire the private company Mantos Copper (Bermuda) Limited.
The post Copper…
On November 30, Capstone Mining Corp. (TSX: CS) announced an agreement to acquire the private company Mantos Copper (Bermuda) Limited. Current Capstone shareholders will receive one newly issued share for each share they currently own in the company, which will be renamed Capstone Copper Corp.
Two-thirds of Capstone Mining shareholders must vote in favor of the transaction for the merger to occur. If they do so, the transaction is expected to close in 1Q 2022. Current Capstone Mining Corp. shareholders will own 60.75% of the resultant Capstone Copper Corp. and Mantos Copper shareholders the balance, or 39.25%.
The combination creates one of the largest copper-producing companies in the world. Perhaps more important, the pro forma company could generate an average of US$650 million of EBITDA annually over the two-year period 2022 – 2023 if copper prices average US$4.00 per pound.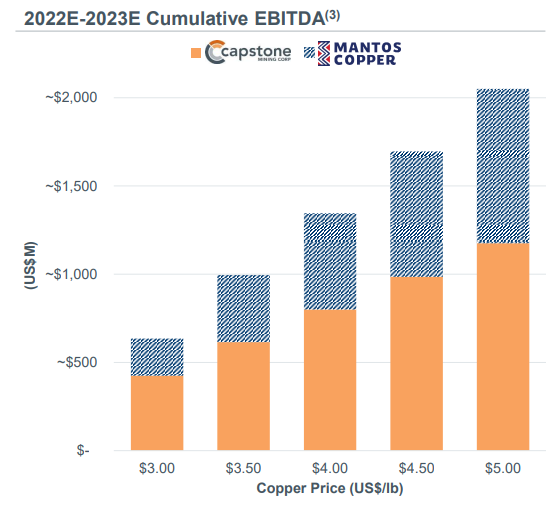 Four mines — Pinto Valley in the U.S.; Cozamin in Mexico; and Mantos Blancos and Mantoverde in Chile — form the backbone of the pro forma company. Together, they are expected to produce about 175,000 tonnes of copper in 2021.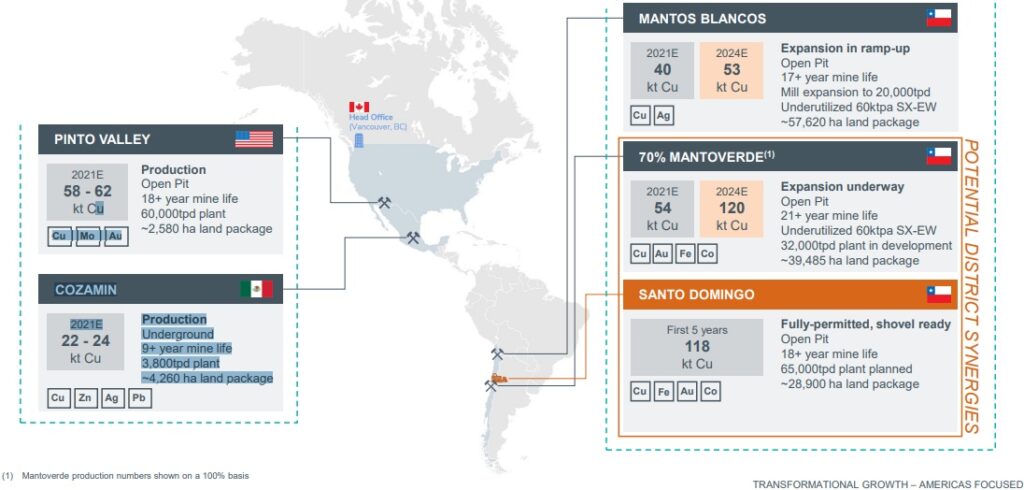 Capstone Mining's total shares outstanding are about 413.3 million, so the share count of the merged company will be around 680 million shares (413.3 million divided by 0.6075). At Capstone Mining's current share price of C$6.32, the pro forma company's stock market valuation is about US$3.36 billion. Furthermore, the combined company is expected to be debt-free and have around US$220 million of net cash, which implies a pro forma enterprise value (EV) for Capstone Copper of US$3.1 billion.
As a consequence, the pro forma merged company trades at an EV-to-EBITDA ratio of 4.8x (US$3.1 billion divided by US$650 million). This represents a substantial discount to the 15.8x EV/EBITDA ratio of copper mining peer OZ Minerals Limited (ASX: OZL),and about the same as Lundin Mining Corporation's (TSX: LUN) 4.9x ratio.
The chief risk associated with an investment in a copper miner is a marked decline in copper prices. If the global economy were to slow, due to the impact of the new Omicron COVID variant or other factors, Capstone Mining shares could be negatively affected.
Copper prices soared from March 2020 through the first few months of this year but have been approximately unchanged over the last six months. Analysts generally expect the price of copper to resume an upward trajectory over the next few years.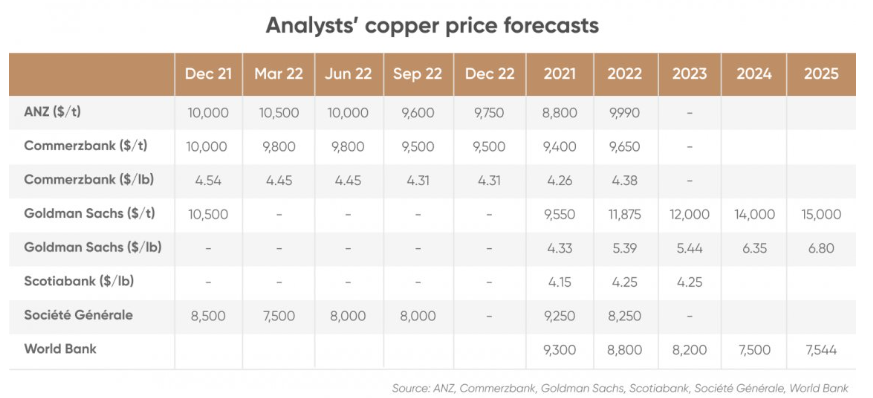 Capstone Mining's acquisition of Mantos Copper looks to make both strategic and financial sense for Capstone's shareholders. The combined company should generate substantial cash flow over the intermediate term, and its valuation looks reasonable versus its mining peers.
Capstone Mining Corp. last traded at $5.73 on the TSX Exchange.
---
Information for this briefing was found via Sedar and the companies mentioned. The author has no securities or affiliations related to this organization. Not a recommendation to buy or sell. Always do additional research and consult a professional before purchasing a security. The author holds no licenses.
The post Copper Producer Capstone Mining Acquires Private Mining Company; Looks to be a Sound Strategic Transaction appeared first on the deep dive.
tsx
asx
copper
tsx-lun
lundin-mining-corporation
lundin mining corporation
Omicron: More Transmissible, Less Severe Due To 'Common Cold' Mutation?
Omicron: More Transmissible, Less Severe Due To 'Common Cold' Mutation?
As the Omicron Covid strain gains a foothold – and policymakers begin…
Omicron: More Transmissible, Less Severe Due To 'Common Cold' Mutation?
As the Omicron Covid strain gains a foothold – and policymakers begin their Pavlovian knee-jerk to more economy-killing lockdowns, it's become abundantly clear that this version of the virus is far more infectious than prior strains, yet may also be far less deadly.  In fact, it may unseat Delta as the dominant strain – which could be great news if its effects are as mild as initial reports suggest.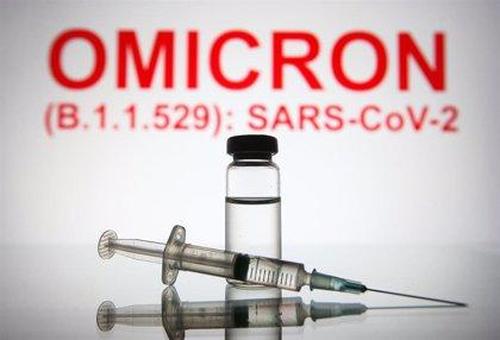 And while the jury's still out as far as iron-clad peer-reviewed data, early indications suggest that the 'hyper-mutated' Omicron has resulted in shorter hospitalizations, along with asymptomatic infections in many. Last week, South African Medical Association chairwoman Angelique Coetezee said "the new Omicron variant of the Coronavirus results in mild disease, without prominent symptoms."
Here's a snippet of a recent report from hospitals in Tshwane, South Africa, which has been hit the hardest by Omicron:
A significant early finding in this analysis is the much shorter average length of stay of 2.8 days for SARS-CoV-2 positive patients admitted to the COVID wards over the last two weeks compared to an average length of stay of 8.5 days for the past 18 months.  The NICD reports a similar shorter length of stay for all hospitals in Tshwane in its weekly report. It is also less than the Gauteng or National average length of stay reported by the NICD in previous waves.

In summary, the first impression on examination of the 166 patients admitted since the Omicron variant made an appearance, together with the snapshot of the clinical profile of 42 patients currently in the COVID wards at the SBAH/TDH complex, is that the majority of hospital admissions are for diagnoses unrelated to COVID-19. The SARS-CoV-2 positivity is an incidental finding in these patients and is largely driven by hospital policy requiring testing of all patients requiring admission to the hospital.
So most patients didn't even know they had it, and it was discovered 'incidentally' while they were there for other issues. Let's assume for the sake of this report that the testing is accurate.
But of course, given that it also appears to be hyper-virulent, simple math suggests that the overall number of hospitalizations should rise, even if a lower percentage of those infected need hospitalization.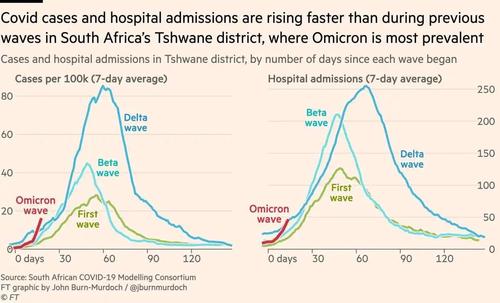 Goldman has slammed the 'lockdown-happy' reaction to Omicron, saying that the mutation was "unlikely to be more malicious and that the existing vaccines will most likely continue to be effective in preventing hospitalizations and deaths," adding that "COVID waves are becoming a regular thing — seasonal like the flu the perhaps."
Meanwhile, the Financial Times on Saturday published a stellar write-up on Omicron – what we know, what we don't know, and where things may be headed.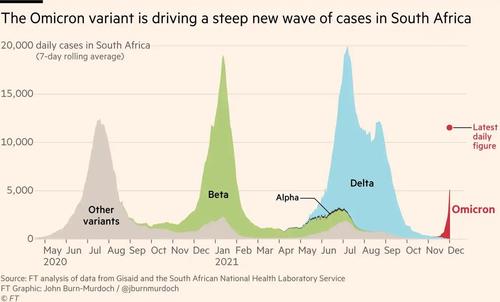 One of the journalists on the FT byline, John Burn-Murdoch, dropped a great Twitter thread summing up the data, while noting relevant caveats. He considers the Tshwane report 'essential reading, along with this thread breaking it down and adding much-needed context.
First up, the question of severity of hospital cases:
• Data from @nicd_sa for the whole of Gauteng province echo the report's finding for Tshwane: to date, a much lower share of Covid-positive patients in this wave require ICU than at same stage of Delta wave pic.twitter.com/wYHjPsx8dw

— John Burn-Murdoch (@jburnmurdoch) December 4, 2021
One critical thing to note at this stage — as highlighted in the Tshwane report — is the markedly different age profiles of the two waves:

Over first two weeks of each wave, Omicron cases and hospitalisations skew *much* younger. That alone would be expected to reduce ICU share. pic.twitter.com/zmoGbxF4WU

— John Burn-Murdoch (@jburnmurdoch) December 4, 2021
We recommend clicking into the thread above and reading the rest for yourself. 
That said, research from South Africa cited by the FT report shows that people are more likely to be reinfected with Omicron vs. other strains – a sign of immune invasion.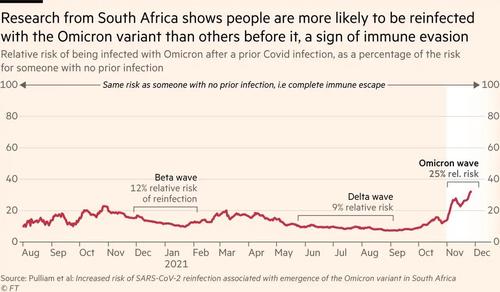 Common cold mutations?
Reuters (via SCMP) is out with an interesting report on Omicron after researchers found 'a snippet of genetic material from another virus' in the new strain, 'possibly one that causes the common cold.'
The Omicron variant of the virus that causes Covid-19 likely acquired at least one of its mutations by picking up a snippet of genetic material from another virus – possibly one that causes the common cold – present in the same infected cells, according to researchers.

This genetic sequence does not appear in any earlier versions of the coronavirus, called Sars-CoV-2, but is ubiquitous in many other viruses including those that cause the common cold, and also in the human genome, researchers said.

By inserting this particular snippet into itself, Omicron might be making itself look "more human," which would help it evade attack by the human immune system, said Venky Soundararajan of Cambridge, Massachusetts-based data analytics firm nference, who led the study posted on Thursday on the website OSF Preprints.
And the punchline: "This could mean the virus transmits more easily, while only causing mild or asymptomatic disease."
Stay tuned…
Tyler Durden
Sun, 12/05/2021 – 15:00
iron