Kışladağ and Weir Minerals on the HPGR-backed gold recovery trail
The story that led to the installation of a Weir Minerals Enduron® high pressure grinding roll (HPGR) at Eldorado Gold's Kışladağ heap leach operation…
The story that led to the installation of a Weir Minerals Enduron® high pressure grinding roll (HPGR) at Eldorado Gold's Kışladağ heap leach operation in Turkey is a fascinating read, as well as a great example of the benefits of using such technology.
Back in March 2018, Eldorado announced it would suspend mining to evaluate processing options for the operation. This decision followed extensive laboratory tests that indicated gold recoveries would continue to trend downwards around the base of the open pit where mining was underway.
This suspension, plus further engineering and test work, led to the company advancing the potential development of a mill project. The transition away from its heap leaching roots to a possible mill and carbon-in-leach (CIL) process would have added significant capital costs and shortened the mine life significantly.
Before making this significant capital decision, Eldorado paused to take time to undertake the necessary technical work and sought the technical collaboration of Weir Minerals on a solution.
"It was a very challenging period," George Burns, President & CEO of Eldorado Gold Corporation, told IM. "Kışladağ is a cornerstone asset in our portfolio. It required collaboration with our geologists, metallurgists, site teams and technology providers, including Weir, working together on a solution."
In late 2018, results showed increased recoveries from an extended leach cycle. Following a deeper understanding of the geometallurgical drivers of the sulphide component of the deposit, improved heap leach recoveries were realised by optimising the metallurgical conditions. With these improved recoveries confirmed, the heap leach plan was revised in early 2019. Eldorado announced plans to resume mining, crushing, stacking and heap leaching at Kışladağ, and suspended plans to build the processing plant.
The decision came following metallurgical test work on the material placed on the heap leach pad in 2018. Gold recovery had increasingly exceeded expectations throughout the year, providing a new, positive heap leaching outlook beyond the near term. At the same time, Eldorado worked with Weir Minerals on the potential use of an HPGR at the operation.
HPGR creates a finer particle size, which helps to liberate the gold particles, resulting in increased recoveries.
An improved understanding of the leaching process on its low-grade ore and the potential of this cost-effective grinding addition provided it with the confidence to continue heap leaching beyond the short-term time horizon previously envisaged.
"Our collaboration with Weir on this effort is an excellent example of how Eldorado collaborates with technology leaders and seeks out solutions," Burns said. "We believe this is a strength of the company's core business values. We are agile and flexible ‒ a good example in both business and operations to find innovative, technical solutions and demonstrate prudent capital discipline. Ultimately, the solution was the best technical and economic decision for Eldorado."
Testing, testing, testing
"The relationship between Weir Minerals' and Kışladağ goes back to 2013," Bjorn Dierx, Global Product Manager Enduron HPGR, told IM.
The OEM had been provided with samples on several occasions to investigate different flowsheet possibilities.
"The benefits of HPGR in heap leaching recovery were known by the site's crew," he said.
Enduron technology was tested at the quaternary crushing stage before heap leaching, in the quaternary crushing stage before ball milling and at the tertiary crushing directly before heap leaching.
All the time, the mine operator, Tuprag, Eldorado Gold's subsidiary in Turkey, was evaluating the impact on gold recovery.
Although HPGR in closed circuit with screening was also tested, most of the test campaigns were focused on a configuration with so-called 'Partial Product Recycling' (PPR), according to Serhat Onol, Weir Minerals Senior Process Engineer.
"This system includes splitter plates underneath the rolls which 'cut' a proportion of the product discharge and reverts this back to the HPGR head feed," he explained. "This recycle stream can be adjusted online to adapt the product grind towards the downstream requirements."
PPR is not an option for every application but for Tuprag – due to the feed and desired product size – all specifications showed it was the best route.
"The hybrid solution with screening serves to increase the flexibility and to control the circulating load to the HPGR," Onol said.
With capacity rates of around 4,200 t/h at Kışladağ, the screening area requirement was reasonably high, he explained.
"The hybrid solution uses screening only for the recirculating stream: the centre product of the HPGR reports to downstream leaching, whereas the rest is recirculated," he said. This not only removes the fines re-entering the HPGR and, thus, reduces the circulating load, but also avoids the over-grinding of fines before leaching.
The PPR option, itself, is a very flexible operation, with the adjustable discharge splitter plates providing the best circuit flexibility in terms of throughput and product size, according to Onol.
Great expectations
With the main driver of the HPGR installation being an improved gold recovery scenario, leading to an increased heap leach life, the pressure has been on Weir Minerals to come up with the goods.
The final flowsheet, which includes a 2.4 m diameter by 2.2 m long Enduron HPGR with the capacity to process 4,200 t/h, is much simpler than the existing circuit, according to Dierx, with less equipment to maintain, control and monitor.
"A single Enduron HPGR will replace all of the five existing tertiary crushers of which liners would have an average lifetime of circa-one month with a crusher availability of 85%," he said. "The HPGR tyres have a wear life close to 18 months, with the HPGR achieving a high asset availability of more than 95%.
"Additionally, as a result of the HPGR combined with the hybrid PPR system, the existing four tertiary screens are also being decommissioned."
Not only has the HPGR alleviated the use of this equipment, it is also set to boost that bottom line gold recovery.
"During testing, it was determined that the circuit configuration and HPGR operating conditions, such as pressure, have a direct influence on the gold recovery," Dierx said. "The current expectation is that the average recovery increase after the commissioning of the Enduron solution will be approximately 4%."
This could bring gold recovery to approximately 56%, as was declared in a 2020 press release from Eldorado that highlighted a 15-year mine life at Kışladağ with an average annual production of 160,000 oz.
In action
One of the largest brownfield HPGRs Weir Minerals has ever installed has just processed its first material at Kışladağ, which is testament to the hurdles both the Weir Minerals and Tuprag teams overcame during the height of the COVID-19 pandemic.
"Despite the challenges we faced during the pandemic, we were able to fully install the machine, including pre-commissioning, in only 22 weeks," Dierx said.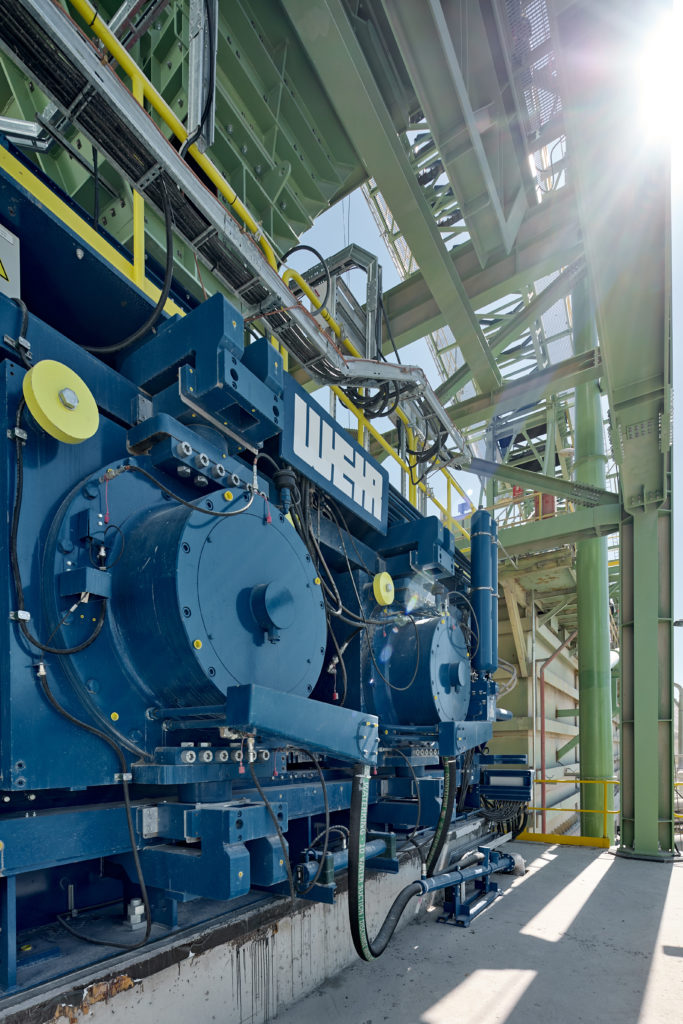 This was achieved by minimising the amount of work carried out on site via pre-site testing and modular HPGR assembly.
"As the available footprint in existing sites is limited, the unique Enduron design (length:diameter ratio) not only improves the grinding efficiency but also allows for easier implementation with less civil requirements," Dierx said.
The machine has the potential to be digitally connected to the Weir Synertrex® IoT platform where operators can benefit from direct access to maintenance specialists, who will be monitoring performance and provide necessary operating guidance.
And the Weir Minerals team is confident more Enduron HPGR installations will follow the one at Kışladağ.
"We are very proud of the product's recognition by our customers as the Enduron HPGR has been selected for all major greenfield HPGR projects in the hard-rock space," Dierx said. "Despite all the key Enduron differentiators, it is not only merely about the product but particularly the wider experience across Weir Minerals in both the upstream and downstream processes via our wide product portfolio.
"Particularly in these brownfield applications, the system is not operating in a vacuum and every process change influences how the overall circuit works. This requires tacit knowledge, which Weir Minerals holds across their global teams."
Eldorado's Burns concluded: "We are pleased to implement a solution that increases gold recovery and supports a 15-year mine life at Kışladağ, allowing Eldorado to continue to provide employment and economic opportunity in the region, as well as provide a solid foundation for future growth.
"Kışladağ has been the cornerstone asset of Eldorado for over a decade, producing over 3 Moz of gold and generating significant value for all stakeholders during that period. This project is a testament to our exceptional team and technology partners working together to execute in challenging circumstances during the pandemic."
The post Kışladağ and Weir Minerals on the HPGR-backed gold recovery trail appeared first on International Mining.
Tarku Closes $750,000 Private Placement Financing
MONTREAL, QC / ACCESSWIRE / December 6, 2021 / Tarku Resources Ltd (TSXV:TKU)( FRA:7TK)(OTCQB:TRKUF) (the "Company" or "Tarku") announces that it has closed…
MONTREAL, QC / ACCESSWIRE / December 6, 2021 / Tarku Resources Ltd (TSXV:TKU)( FRA:7TK)(OTCQB:TRKUF) (the "Company" or "Tarku") announces that it has closed on December 3rd, 2021, a non-brokered private placement (the "Private Placement") for aggregate gross proceeds of $750,000. This Private Placement is comprised of 7,500,000 Flow-Through Shares of the Company at a price of $0.10 per share.
In addition, the Company expects closing a second Private Placement before December 17, 2021, that will consist of a maximum 2,500,000 units at a price of $0.10 per unit, for a maximum of $250,000. Each unit will consist of one common share and one-half (1/2) common share purchase warrant (a "Warrant"). Each Warrant will entitle the holder to acquire one common share at a price of $0.15 per common share for a period of 24 months after the closing.
All securities issued pursuant to the Private Placement will be legended with a hold period of four (4) months and one day from the date of issuance. The securities offered have not been registered under the U.S. Securities Act of 1933, as amended, and may not be offered or sold in the United States absent registration or an applicable exemption from the registration requirements. This press release shall not constitute an offer to sell or the solicitation of an offer to buy nor shall there be any sale of the securities in any State in which such offer, solicitation or sale would be unlawful.
The Company paid finder's fees in a cash commission equal to 7% of aggregate proceeds from the sale of Units sourced by the finder totaling $38,500, as well as finder's warrants (the "Finder's Warrants") in an amount of 385,000 which is equal to 7% of the aggregate number of Units sourced by the finder pursuant to the Private Placement. Each Finder's Warrant is exercisable to purchase one Common Share at an exercise price of $0.15 until December 3rd, 2023.
The net proceeds of the Private Placement will be used to fund the Company's precious metals exploration projects in Quebec (Apollo, Atlas Apollo and Admiral). The Private Placement has been conditionally accepted by the TSX Venture Exchange.
Tarku is an exploration company focused on new discoveries in favourable mining jurisdictions such as Quebec and Arizona. In Quebec, Tarku owns 100% of the "Three A's" exploration projects, (Apollo, Admiral and Atlas Projects), in the Matagami Greenstone belt, which has been interpreted by management as the eastern extension of the Detour Belt, and which has seen recent exploration successes by Midland Exploration Inc., Wallbridge Mining Company Ltd., Probe Metals Inc. In Arizona, in the Tombstone district, Tarku owns the option to acquire 75% on 20km2 in the Silver Strike Project.
Tarku Contact Information:
Email: [email protected]
Website: www.tarkuresources.com
Please follow @TarkuResources on LinkedIn, Facebook, Twitter and Instagram.
Neither TSX Venture Exchange nor its Regulation Services Provider (as that term is defined in the policies of the TSX Venture Exchange) accepts responsibility for the adequacy or accuracy of this release.
This press release may contain forward-looking statements that are subject to known and unknown risks and uncertainties that could cause actual results and activities to vary materially from targeted results and planning. Such risks and uncertainties include those described in Tarku's periodic reports including the annual report or in the filings made by Tarku from time to time with securities regulatory authorities.
SOURCE: Tarku Resources ltd.
View source version on accesswire.com:
https://www.accesswire.com/675814/Tarku-Closes-750000-Private-Placement-Financing
private placement
financing
tsxv-tku
tarku-resources-ltd
press-release
West Oak Gold Corp. Discovers New Targets at Hedgehog; Samples Include 0.22% Copper in Soils, Claim Block Expanded
Vancouver, B.C. – TheNewswire – Dec 6, 2021 – Eastfield Resources Ltd. (TSXV:ETF) (OTC:ETFLF) ("Eastfield") and West Oak Gold Corp. (CSE:WO) ("West…
Vancouver, B.C. – TheNewswire – Dec 6, 2021 – Eastfield Resources Ltd. (TSXV:ETF) (OTC:ETFLF) ("Eastfield") and West Oak Gold Corp. (CSE:WO) ("West Oak") are pleased to provide an update on 2021 exploration completed at the Hedgehog project (located near Barkerville, BC).
Highlights of the current work include a multitude of sporadic single point anomalous occurrences of gold, copper, zinc and arsenic and a cohesive cluster of anomalous arsenic and lead values (250 m in length, width unknown) on the southeast edge of the 2021 grid that compelled Eastfield to stake additional ground to expand the claim group by staking 1,000 meters to the east.   Single point soil anomalies reach 819 ppb gold, 444 ppm arsenic and 2,210 ppm copper (0.22%). The company is particularly intrigued by soil sample L899E, 8775N with 2,210 ppm copper and 8.45% iron.  Interest in this sample is is inspired by previous float samples collected further south on the property including a massive sulfide boulder grading 24.3% copper and 19.6 g/t silver collected in 1999 and five chalcopyrite rich massive boulders with an average grade of 8.0% copper, 8.9 g/t silver collected by Hudson Bay Exploration and Development in 2000 (as reported in their report filed with the BC Ministry of Mines).
In 2013, Eastfield discovered the Golden Sky showing, a new area of mineralization in the northern region of the claims where quartz veins hosted in sheared rhyolite returned grab samples to 1.51 g/t gold, 1.37% zinc, 0.48% lead, 1,203 ppm arsenic and 1,313 ppm antimony. A small soil grid was established at Golden Sky in 2014 but no follow up or further work was completed until 2021 (the current program) when 596 soil and rock samples were collected.
The Hedgehog Project is located approximately 12 kilometers north of the community of Barkerville, BC. Exploration models at Hedgehog include lode gold and ("Cyprus Style") massive sulfides with most historic work having taken place for the latter.  No follow up of this year's anomaly has yet been attempted.  Other companies active in the area include Osisko Gold Royalties Ltd.) (TSX: OR) who are currently conducting a major exploration program for gold ten kilometers to the south in and around the former operating Barkerville  Mine (the Cariboo Gold Project).
West Oak Gold Corp. may earn a 60% interest in the Hedgehog property by completing $1,750,000 in exploration and making $377,500 in cash and or share payments by the fourth anniversary.
This news release has been reviewed by J.W. Morton P.Geo who is the Qualified Person within the context of NI43-101 and who takes responsibility for its content.    
J.W. Morton, P. Geo.
President and CEO
Contact:        (604) 681-7913 or Toll Free: 888-656-6611
About Eastfield Resources:
Eastfield Resources is a well-funded Canadian mineral exploration company focused on the discovery of precious metal and copper deposits. Eastfield also holds a strategic position in Consolidated Woodjam Copper consisting of approximately 10% of its outstanding shares.  A summary of active projects is as follows:
Zymo: copper-gold porphyry, located 70 km west of Smithers, BC and 100% owned. Results include drill holes ZY08-07 with 0.72% copper and 0.66 g/t gold over 72 meters and hole ZY11-20 with 0.28% copper and o.34 g/t gold over 126 m. Peripheral precious metal veins have returned up to 10.78 g/t gold. Work completed in 2021 included expansions to the induced polarization and soil grids at a cost of approximately $400,000. Zymo is fully permitted.
Iron Lake: copper-gold- palladium-platinum-cobalt, located 40 kilometers northeast of 100 Mile House, BC. The project is optioned to Tech-X Resources Inc. (a private company headed by Haig Farris). Targets include ultramafic copper-gold- palladium-platinum-cobalt and porphyry copper-gold. Tech-X may earn an 80% interest in Iron Lake by completing a total of $12,000,000 in work and paying a total of $1,000,000 in option payments by December 31, 2027. Work competed in 2021 included an airborne MobileMT survey flown by Expert Geophysics Limited In June and extensive geological reconnaissance and sampling later in the season. Drilling is planned for 2022.
Indata: copper-gold porphyry and precious vein, located 120 km north of Fort St. James, BC, optioned to Prophecy Potash Corp who may earn 60% by completing $2,000,000 in exploration and  paying $450,000 (cash and/or shares)over a five year term. A number of very prospective untested induced polarization targets exist and are fully permitted. Results from previous drilling include DDH88-11 with 47.26 g/t gold over 4 m and DDH98-4 with 0.20% copper over 148 m including 0.37% copper over 24 m at the bottom. In 2019 new mineralization was exposed by logging activities in the southern region of the claims with samples returning up to 3.64% copper and 5.95 g/t gold. The Kwanika and Stardust deposits, owned by Northwest Copper Corp., are located immediately north of Indata and share similar geology.
Neither the TSX Venture Exchange nor its Regulation Services Provider (as that term is defined in the policies of the TSX Venture Exchange) accepts responsibility for the adequacy or accuracy of this news release.
For more information, please visit the company's website at www.eastfieldresources.com.
Copyright (c) 2021 TheNewswire – All rights reserved.
Sigma Lithium Starts Construction Of Production Plant Foundation And Infrastructure And Orders Long Lead Items, On Schedule For Production In 2022
Sigma Lithium Starts Construction Of Production Plant Foundation And Infrastructure And Orders Long Lead Items, On Schedule For Production In 2022
PR Newswire
VANCOUVER, BC, Dec. 6, 2021
VANCOUVER, BC, Dec. 6, 2021 /PRNewswire/ —
…
Sigma Lithium Starts Construction Of Production Plant Foundation And Infrastructure And Orders Long Lead Items, On Schedule For Production In 2022
PR Newswire
VANCOUVER, BC, Dec. 6, 2021
VANCOUVER, BC, Dec. 6, 2021 /PRNewswire/ —
HIGHLIGHTS
Sigma starts construction activities on site for foundation, earth civil works and infrastructure installation of Production Plant, with equipment and 180 workers.
Company is on track to begin production in the fourth quarter of 2022. Please also refer to the Company's website at www.sigmalithium.ca for updated videos of the current activities at the site
The Company has the funds to meet the equity funding requirements under its proposed construction debt facility.
Sigma ordered an increased number of 38 key long lead items, placing deposits to secure them and maintain the current timeline for Production Plant commissioning.
Sigma Lithium Corporation (NASDAQ:SGML, TSXV:SGML) ("Sigma" or the "Company"), dedicated to powering the next generation of electric vehicle batteries with environmentally sustainable and high-purity lithium, is pleased to announce that it has commenced construction on site to build the foundation and infrastructure installation of its greentech dense media separation production plant (the "Production Plant"), at its wholly owned Grota do Cirilo Project (the "Project").
The Company is also announcing that it has secured 38 critical long lead items required for the Project and begun ordering them from respective suppliers, placing deposits to secure manufacturing timetables. Prices and FEL-3 quotes for these long lead items have been in line with the FEL-2 capex estimates in the feasibility study included in the Company's most recently filed technical report.
Completion of this stage of the construction civil works is expected within three months, when the Brazilian sub-construction firm of Promon Engenharia Ltda. ("Promon") is expected to complete earthworks and the concrete plant drainage channels. This stage follows the successful conclusion last month of mobilization to site of approximately 180 workers and construction equipment.
In order to fund construction, the Company has the funds to meet the equity funding requirements under its proposed construction bank debt facility. The Company signed term sheets for debt and project finance with BDMG, the development bank of the Minas Gerais State and a commercial bank. It The closing of these debt transactions is pending the completion of customary due diligence and definitive documentation.
Calvyn Gardner, Sigma co-CEO and lead engineer on the ground at construction site, commented: "This is a tremendous milestone for Sigma Lithium, now initiating the construction of the Production Plant, following the successful completion of mobilization and the front-end engineering and design. As a result, we have been able to quote FEL-3 Capex in line with our FEL-2 estimates in our feasibility study. Our team has worked tirelessly this year on several fronts on detailed engineering and pre-construction with the environmental focus that has been a hallmark of Sigma."
ADDITIONAL STAGES OF CONSTRUCTION
Phase 1 of the Production Plant has been designed to produce up to 220,000 tonnes per annum of high purity 6% battery grade lithium concentrate ("Battery Grade Green and Sustainable Lithium"), equivalent to approximately 33,000 tonnes per year of lithium carbonate equivalent ("LCE").
Ana Cabral-Gardner, co-CEO and lead commercial officer, explained: "By advancing the Phase 1 construction schedule as planned, Sigma Lithium is in a position to potentially deliver large quantities of battery-grade green and sustainable lithium at a critical supply juncture for the lithium market and the battery industry."
Ana continued: "Customer demand has been beyond the quantities that are planned to be produced by Phase 1, as indicated by the binding term-sheet with LG Energy Solution as well as by our agreement with Mitsui." 
She added: "Our recently approved final base shelf prospectus and related shelf registration will provide Sigma with financial flexibility to more efficiently do debt or equity offerings to fund our accelerated growth plans to meet the significant demand Sigma has been experiencing for its Battery Grade Green and Sustainable Lithium from global battery producers focused on sustainability in their supply chains."
The Company completed a preliminary economic assessment and is currently conducting a preliminary feasibility study for a prospective second production phase contemplating the addition of a processing line with similar capacity to Phase 1 with a further 220,000 tonnes per year of Battery Grade Green and Sustainable Lithium. If warranted and validated by the ongoing feasibility study, the Company could potentially double the Project total capacity of Battery Grade Green and Sustainable Lithium to 440,000 tonnes per year (66,000 tonnes per year of LCE). The preliminary feasibility study is expected to be completed in the first quarter of 2022.
Calvyn Gardner said: "By achieving the milestone of starting construction, we proved the capabilities of our highly experienced project and technical teams to significantly advance Sigma Lithium's operations from a demonstration plant towards a full-scale commercial plant."
Calvyn added: "With the the Phase 2 pre-feasibility study being conducted concurrently with the construction of Phase 1, Sigma is evaluating our ability to potentially double production in the near term, if the study warrants. The high-quality of our lithium products offer great commercial advantages due to their high-purity, low levels of iron and alkalines and coarse particle size."
LONG LEAD ITEMS AND ENGINEERING SERVICES CONTRACTS
The Company´s Board of Directors has approved a total of USD $9.4 million of construction disbursements, to be entirely funded from the Company´s construction savings account that had a December 1, 2021 balance of USD $23 million.  The approvals include:
USD

$4.7 million

to Promon and its Brazilian subcontractor to execute civil works of earth moving for foundations, land adaptation and protective drainage of the construction site of the Production Plant.
USD

$1.5 million

to Promon and Primero Group Ltd. ("Primero") for the continuity of certain construction-related engineering services throughout the first quarter of 2022.
USD

$3.5 million

of non-refundable deposits to order 38 long lead items, securing their respective manufacturing slots.

These long lead items include, amongst others: HV substation (including power transformers, plant switchrooms, transmission line; crushers (primary/secondary/tertiary); conveyors; reflux classifiers; dry stacking tailings environmental equipment (including tailings thickener, tailings belt filter, stackers, water treatment stations), cyclones, wet magnetic separators, control system hardware.
The procurement process for the long lead items has been managed by the Company´s project management team, together with Promon and Primero. Prices were received through request for proposals and have allowances to include freight, import duty and spare parts.
The Company is currently negotiating an agreement for the engineering, procurement, and construction management of the Production Plant and associated infrastructure with Promon and Primero. The Company is also in negotiations with two finalist mining contractors to build and operate the Company's first mine at the Project.
ABOUT SIGMA LITHIUM
Headquartered in Canada, Sigma Lithium (NASDAQ: SGML, TSXV: SGML) is dedicated to powering the next generation of electric vehicle batteries with environmentally sustainable and high-purity lithium, developing with an ESG-centric strategy, a leading integrated Lithium company in the Americas. Sigma is developing the largest hard rock lithium spodumene deposits in the Americas, located in its wholly owned Grota do Cirilo Project in Brazil. The Company has processed these spodumene into Battery Grade Green and Sustainable Lithium for three years having achieved certification status with the largest battery makers in the world. Sigma has unique and differentiated environmental and social sustainability practices: The Project will be powered by clean & renewable energy. The Processing Plant will use state-of-the art water recirculation circuits combined with dry stacking tailings management, to reuse 100% of the water and not to create tailing dams Sigma has sponsored a private agency to promote additional investments in the region and has been fostering initiatives to both create sustainable economic development while lifting the community from poverty. 
With a goal of net zero carbon emissions by 2024, the Company has adhered consistently to the highest standards of environmental, social and governance practices, established as part of its core purpose at inception in 2012. For more information about Sigma Lithium, visit www.sigmalithiumresources.com.
QUALIFIED PERSONS
Mr. Wes Roberts, P.Eng., a member of the technical committee of the Company, is the "qualified person" under NI 43-101 who reviewed and approved the technical information included in this news release.
SIGMA LITHIUM SOCIAL MEDIA:
LinkedIn: @SigmaLithium  
Instagram: @sigmalithium
Twitter: @SigmaLithium
FORWARD-LOOKING STATEMENTS 
This news release includes certain "forward-looking information" under applicable Canadian and U.S. securities legislation, including but not limited to statements relating to the ability of the Company to complete offerings of its securities under its shelf offering documents, the ability of the Company to complete construction and commence commercial production within the targeted timing and projected budget, the ultimate duration, impact and severity of the COVID-19 pandemic (including its impact on financial markets and national and multinational economies generally, and its impact on the growth of the electric vehicle market and other impacts on the demand for lithium products), the general business and operational outlook of the Company, and other forward-looking information. All statements that address future plans, activities, events, or developments that the Company believes, expects or anticipates will or may occur is forward-looking information, including statements regarding the potential development of mineral resources and mineral reserves which may or may not occur. Forward-looking information contained herein is based on certain assumptions regarding, among other things: general economic and political conditions; the stable and supportive legislative, regulatory and community environment in the jurisdictions where the Company operates; anticipated trends and effects in respect of the COVID-19 pandemic and post-pandemic; demand for lithium, including that such demand is supported by growth in the electric vehicle market; the Company's market position and future financial and operating performance; the Company's estimates of mineral resources and mineral reserves, including whether mineral resources will ever be developed into mineral reserves; and the Company's ability to develop and achieve production at its mineral projects. Although management believes that the assumptions and expectations reflected in the forward-looking information are reasonable, there can be no assurance that these assumptions and expectations will prove to be correct. Forward-looking information inherently involves and is subject to risks and uncertainties, including but not limited to that the Company may not develop its mineral projects into a commercial mining operation; the market prices for lithium may not remain at current levels; and the market for electric vehicles and other large format batteries currently has limited market share and no assurances can be given for the rate at which this market will develop, if at all, which could affect the success of the Company and its ability to develop lithium operations. There can be no assurance that such statements will prove to be accurate, as actual results and future events could differ materially from those anticipated in such statements. Accordingly, readers should not place undue reliance on forward-looking information. The Company disclaims any intention or obligation to update or revise any forward-looking information, whether because of new information, future events or otherwise, except as required by law. For more information on the risks, uncertainties and assumptions that could cause our actual results to differ from current expectations, please refer to the current annual information form of the Company and other public filings available under the Company's profile at www.sedar.com.
Neither the TSX Venture Exchange nor its Regulation Services Provider (as that term is defined in the policies of the TSX Venture Exchange) accepts responsibility for the adequacy or accuracy of this news release.
View original content to download multimedia:https://www.prnewswire.com/news-releases/sigma-lithium-starts-construction-of-production-plant-foundation-and-infrastructure-and-orders-long-lead-items-on-schedule-for-production-in-2022-301437942.html
SOURCE Sigma Lithium Corporation