Most Popular Penny Stocks to Buy Right Now? 3 For Your List
Can penny stocks continue to make headway in 2022?
The post Most Popular Penny Stocks to Buy Right Now? 3 For Your List appeared first on Penny Stocks…
3 Popular Penny Stocks to Watch in January 2022
As another trading day comes to an end for penny stocks and blue chips, we're witnessing extremely high volatility in the stock market. When trading began today, it looked as though the market was headed for a bullish day. 
However, at midday, stocks fell following a record jump in the price of wholesale goods as well as surprising jobs data. The data showed that more than 230,000 people applied for unemployment last week, and the December PPP grew by 9.7% YoY. While investors are bullish about the future of penny stocks, small roadblocks like this can cause sizable volatility and uncertainty in the stock market. 
[Read More] 3 Top Penny Stocks To Watch As Redditors Buy The Dip
"We're going to have the best growth we've ever had this year, I think since maybe sometime after the Great Depression. The consumer balance sheet has never been in better shape; they're spending 25% more today than pre-Covid. Their debt-service ratio is better than it's been since we've been keeping records for 50 years." 

The CEO and Chairman of JPMorgan Chase, Jamie Dimon
All of this is very positive news and shows that the stock market could be headed for steady growth in the future. Considering this, let's take a look at three penny stocks to watch right now. 
3 Penny Stocks That Are Popular Right Now 
CytoDyn Inc. (OTC: CYDY) 
Genius Brands International Inc. (NASDAQ: GNUS) 
CytoDyn Inc. (OTC: CYDY) 
One of the bigger gainers of the day so far is CytoDyn Inc. By EOD, shares had shot up by over 26% to north of $0.68 per share. While it's difficult to say why CYDY stock is up, we do know that the company was supposed to host a webcast and live Q/A today. However, by midday, the company announced the cancellation of this event. 
Right now, the main subject of CytoDyn is its CCR5 antagonist compound known as leronlimab. This drug has the potential to be used in several therapeutic indications and has received Fast Track Designation from the FDA. The Fast Track Designation concerns this drugs potential to treat HIV as well as metastic cancer. The company has already completed Phase 3 pivotal trials for this compound combined with antiretroviral therapies in those with HIV. 
Now, it is working to resubmit its BLA or Biologics License Application after receiving a Refusal to File back in July of 2020. Moving forward, we continue to see a sizable amount of bullish sentiment in the biotech industry. And while CYDY is not working on a Covid treatment or cure, it is still receiving a lot of attention right now. With that in mind, will it be on your list of penny stocks to watch?
With a 1.5% gain on January 13th, Yamana Gold has many investors watching it right now. This gain brings its five day uptick to almost 10%, which is quite substantial for a mining stock. The main reason for today's gain comes as the company announced its preliminary fourth quarter and full year 2021 operating results. 
In the results, the company was able to exceed production guidance as well as generate strong cash flow. The company stated that it ended the year with more than $305 million in cash and cash equivalents. This represents over $65 million more than it had at the end of the third quarter. All of this information puts AUY in a strong position to continue growing and building out its current mining operations. 
[Read More] Here Are 3 Penny Stocks You Need to Know About in January
If you're not familiar, Yamana is a pure-play producer of gold and silver based in Canada. The company has significant land positions in many countries throughout the world including Canada, Brazil, Chile and Argentina. With this positive update, it's no wonder that investors are paying attention to the company right now. Considering this, will it be on your penny stocks watchlist?
Genius Brands International Inc. (NASDAQ: GNUS) 
With a modest uptick in price during trading today, GNUS stock saw increased volume over its recent trading sessions. Today, the company announced that it had terminated two employees for cause, however, business will continue as usual under the current leadership. This news caused a small movement with GNUS price, however, nothing material was changed. 
Right now, there is a large market emphasis on entertainment penny stocks. And, as a leading player in the production, marketing and licensing of children's entertainment products, Genius Brands has seen heightened attention. Additionally, the company announced today that it has launched the Kartoon Channel! Kidaverse following the acquisition of Ameba TV. 
"The single strongest message we receive from parents is the concern about safety for children on screens, whether it is program content or roaming around the internet and various apps. The premise of the Kartoon Channel! Kidaverse is to provide children with fun, positive, engaging digital media AND to provide them with a safe and parent-controlled product." 

The CEO of Genius Brands, Andy Hayward
This is exciting news for the company and investors alike and should help it to maintain its placement in the entertainment industry. Whether this makes GNUS stock worth buying or not is up to you. 
Can Penny Stocks Make Gains This Month?
With around half of January done already, many investors are wondering whether penny stocks can show bullish sentiment as the year gets further underway. To understand this better, we have to consider both what is going on in the stock market and our own individual trading strategies.
On one hand, we are witnessing Covid and the Omicron variant wreak havoc on world markets. While case numbers have begun to show signs of letting up in certain areas, others are seeing rapid rises. 
[Read More] How to Buy Good Penny Stocks In 2022: Tips & Tricks For New Traders
Aside from this, we are also witnessing a major amount of volatility as a result of the U.S. economy. This includes factors such as labor statistics, inflation, and interest rate hikes in the near future.
So, as prudent investors, we need to take all of these into consideration when forming our strategy. With all of that in mind, do you think that penny stocks can bring in bullish sentiment throughout the rest of January?
---
If you enjoyed this article and you're interested in learning how to trade so you can have the best chance to profit consistently then you need to checkout this YouTube channel. CLICK HERE RIGHT NOW!
---
The post Most Popular Penny Stocks to Buy Right Now? 3 For Your List appeared first on Penny Stocks to Buy, Picks, News and Information | PennyStocks.com.
AUXICO ANNOUNCES DELAY IN FILING OF ANNUAL CONSOLIDATED FINANCIAL STATEMENTS
AUXICO ANNOUNCES DELAY IN FILING OF ANNUAL CONSOLIDATED FINANCIAL STATEMENTS
Canada NewsWire
MONTREAL, Jan. 28, 2022
MONTREAL, Jan. 28, 2022 /CNW Telbec/ – Auxico Resources Canada Inc. (CSE: AUAG) announces that its annual consolidated financial st…
AUXICO ANNOUNCES DELAY IN FILING OF ANNUAL CONSOLIDATED FINANCIAL STATEMENTS
Canada NewsWire
MONTREAL, Jan. 28, 2022
MONTREAL, Jan. 28, 2022 /CNW Telbec/ – Auxico Resources Canada Inc. (CSE: AUAG) announces that its annual consolidated financial statements for the year ended September 30, 2021, including the related management discussion and analysis, and CEO and CFO certifications (collectively, the "Annual Financial Filings") will not be filed by the required filing deadline of January 28, 2022 (the "Filing Deadline").
The Annual Financial Filings will not be filed on or before the Filing Deadline due to the fact that there have been delays in receiving certain confirmations of the Company's assets in Latin America. These delays are due primarily to the impacts of the COVID pandemic locally. The Company's auditors, Guimond Lavallée, will not be able to complete their audit until such confirmations are received and to their satisfaction.
The Company is working on the steps required to complete the Annual Financial Filings and expects to be able to file the Annual Financial Filings on of before February 28, 2022. The Company will provide updates as further information relating to the Annual Financial Filings becomes available.
The Company has applied to the applicable securities regulatory authorities and received a management cease trade order ("MCTO") imposed against the Chief Executive Officer, the Chief Financial Officer and the directors of the Company precluding them from trading securities of the Company. The MCTO will be in effect until the Annual Financial Filings are filed and requires that the Annual Financial Filings be filed on or before February 28, 2022.
Until the Annual Financial Filings are filed, the Company intends to issue bi-weekly default status reports in accordance with National Policy 12-203 – Management Cease Trade Orders.  The Company intends to satisfy the provisions of the Alternative Information Guidelines during the period it remains in default of the filing requirements. The Company confirms that there is no other material information relating to its affairs that has not been generally disclosed.
About Auxico Resources Canada Inc.
Auxico Resources Canada Inc. ("Auxico") is a Canadian company that was founded in 2014 and based in Montreal.  Auxico is engaged in the acquisition, exploration and development of mineral properties in Colombia, Brazil, Mexico, Bolivia and the Democratic Republic of the Congo.
Additional information on Auxico can be found on the Company's website (www.auxicoresources.com) or on SEDAR (www.sedar.com) under "Auxico Resources Canada Inc."
ON BEHALF OF THE BOARD OF DIRECTORS
The Canadian Securities Exchange (CSE) has not reviewed and does not accept responsibility for the adequacy or the accuracy of the contents of this release.
SOURCE Auxico Resources Canada Inc.

acquisition
cse-auag
auxico-resources-canada-inc
auxico resources canada inc
press-release
Alamos Gold: Haywood Lowers Target To $12.75 Following 2022 Guidance
Last week, Alamos Gold Inc. (TSX: AGI) reported its fourth quarter and full-year production results, as well as their 2022
The post Alamos Gold: Haywood…
Last week, Alamos Gold Inc. (TSX: AGI) reported its fourth quarter and full-year production results, as well as their 2022 to 2024 production estimates.
For the fourth quarter, Alamos Gold produced 112,500 ounces of gold, bringing the full year 2021 production to 457,200 ounces, which was the lower range of guidance. Costs have not yet been finalized but the company says that it is expected to be consistent with their guidance.
The company also provided 2022 guidance, which included expected gold production of 440,000 to 480,000 ounces. Cash costs are expected to be between $875 to $925 per ounce and all-in sustaining costs are to be between $1,190 to $1,240 per ounce. Total capital expenditures will be between $305 and $345 million, while exploration is expected to cost $27 million for 2022.
For the longer run, the company expects these numbers to grow to 460,000 to 500,000 ounces of gold in 2024, with cash costs of $650 to $750 per ounce and $950 to $1,050 of all-in sustaining costs per ounce.
Currently Alamos Gold currently has 13 analysts covering the stock with an average 12-month price target of C$12.46, or a 36% upside to the current stock price. Out of the 13 analysts, 1 has a strong buy rating, 6 have buy ratings, 5 have holds and 1 analyst has a sell rating. The street high sits at C$17.50 or a 91% upside to the current stock. While the lowest price target sits at C$9.98.
In Haywood Capital Markets' note, they reiterate their buy rating but lower their 12-month price target from C$15 to C$12.75, saying, "lower production and higher costs for 2022," and that inflation is finally starting to impact the production costs.
For the fourth quarter and full-year production numbers, they came in line with Haywood's estimates although they note that the full-year production numbers came in the lower half of guidance.
For the companies three-year guidance, Haywood expected 2022 production to be 485,000 ounces, below their high-end figure. While cash costs were expected to be $785 per ounce, lower than their guided number. This is the same for all-in sustaining costs as Haywood expected it to be $1,055 per ounce. Haywood says that this cost increase in 2022, "is due to industry-wide cost inflation as well as temporary higher costs at Mulatos."
Below you can see Haywood's estimates versus the company's guidance.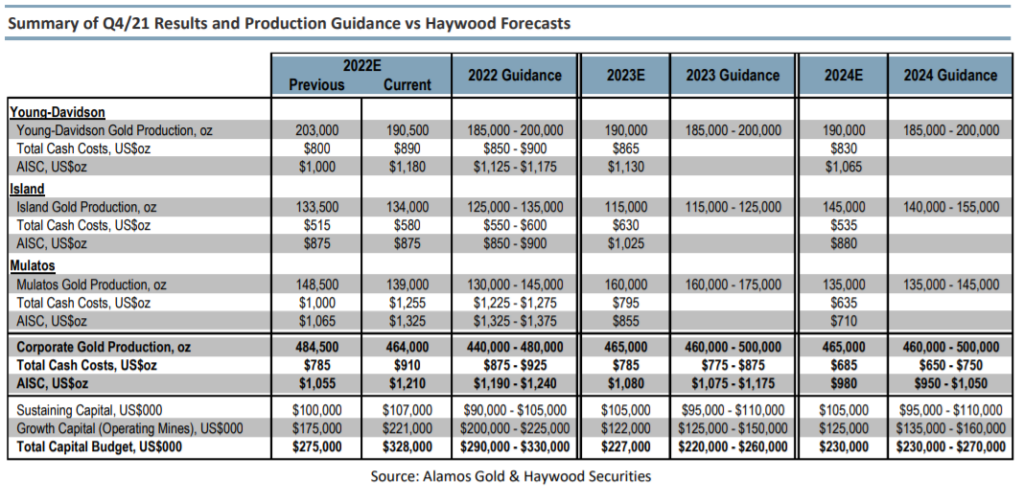 ---
Information for this briefing was found via Sedar and Refinitiv. The author has no securities or affiliations related to this organization. Not a recommendation to buy or sell. Always do additional research and consult a professional before purchasing a security. The author holds no licenses.
The post Alamos Gold: Haywood Lowers Target To $12.75 Following 2022 Guidance appeared first on the deep dive.
gold
inflation
markets
tsx
tsx-agi
alamos-gold-inc
alamos gold inc
Marathon Gold Announces Vertical Amalgamation With Its Wholly Owned Subsidiary
TORONTO, Jan. 28, 2022 (GLOBE NEWSWIRE) — Marathon Gold Corporation ("Marathon" or the "Company"; TSX: MOZ) is pleased to announce that it has…
TORONTO, Jan. 28, 2022 (GLOBE NEWSWIRE) — Marathon Gold Corporation ("Marathon" or the "Company"; TSX: MOZ) is pleased to announce that it has completed a vertical amalgamation with its wholly-owned subsidiary, Mountain Lake Resources Inc., effective January 28, 2022. The amalgamation will streamline the Company's mining exploration activities under a single corporate entity and will reduce corporate and operational expenses.
About Marathon
Marathon (TSX:MOZ) is a Toronto based gold company advancing its 100%-owned Valentine Gold Project located in the central region of Newfoundland and Labrador, one of the top mining jurisdictions in the world. The Project comprises a series of five mineralized deposits along a 20- kilometre system. An April 2021 Feasibility Study outlined an open pit mining and conventional milling operation over a thirteen-year mine life with a 31.5% after-tax rate of return. The Project has estimated Proven Mineral Reserves of 1.40 Moz (29.68 Mt at 1.46 g/t) and Probable Mineral Reserves of 0.65 Moz (17.38 Mt at 1.17 g/t). Total Measured Mineral Resources (inclusive of the Mineral Reserves) comprise 1.92 Moz (32.59 Mt at 1.83 g/t) with Indicated Mineral Resources (inclusive of the Mineral Reserves) of 1.22 Moz (24.07 Mt at 1.57 g/t). Additional Inferred Mineral Resources are 1.64 Moz (29.59 Mt at 1.72 g/t Au). Please see Marathon's Amended and Restated Annual Information Form for the year ended December 31, 2020 and other filings made with Canadian securities regulatory authorities and available at www.sedar.com for further details and assumptions relating to the Valentine Gold Project.
For more information, please contact:
To find out more information on Marathon Gold Corporation and the Valentine Gold Project, please visit www.marathon-gold.com.
Cautionary Statement Regarding Forward-Looking Information
Certain information contained in this news release, constitutes forward-looking information within the meaning of Canadian securities laws ("forward-looking statements"). All statements in this news release, other than statements of historical fact, which address events, results, outcomes or developments that Marathon expects to occur are forward-looking statements. Forward-looking statements include statements that are predictive in nature, depend upon or refer to future events or conditions, or include words such as "expects", "anticipates", "plans", "believes", "estimates", "considers", "intends", "targets", or negative versions thereof and other similar expressions, or future or conditional verbs such as "may", "will", "should", "would" and "could". We provide forward- looking statements for the purpose of conveying information about our current expectations and plans relating to the future, and readers are cautioned that such statements may not be appropriate for other purposes. More particularly and without restriction, this news release contains forward-looking information, including statements as to management's expectations with respect to, among other things, the matters and activities contemplated in this news release.
Forward-looking statements involve known and unknown risks, uncertainties and assumptions and accordingly, actual results and future events could differ materially from those expressed or implied in such statements. You are hence cautioned not to place undue reliance on forward- looking statements. In respect of the forward-looking statements concerning the interpretation of exploration results and the impact on the Project's mineral resource estimate, the Company has provided such statements in reliance on certain assumptions it believes are reasonable at this time, including assumptions as to the continuity of mineralization between drill holes. A mineral resource that is classified as "inferred" or "indicated" has a great amount of uncertainty as to its existence and economic and legal feasibility. It cannot be assumed that any or part of an "indicated mineral resource" or "inferred mineral resource" will ever be upgraded to a higher category of mineral resource. Investors are cautioned not to assume that all or any part of mineral deposits in these categories will ever be converted into proven and probable mineral reserves.
By its nature, this information is subject to inherent risks and uncertainties that may be general or specific and which give rise to the possibility that expectations, forecasts, predictions, projections or conclusions will not prove to be accurate, that assumptions may not be correct and that objectives, strategic goals and priorities will not be achieved. Factors that could cause future results or events to differ materially from current expectations expressed or implied by the forward-looking statements include risks and uncertainties relating to the interpretation of drill results, the geology, grade and continuity of mineral deposits and conclusions of economic evaluations; uncertainty as to estimation of mineral resources; inaccurate geological and metallurgical assumptions (including with respect to the size, grade and recoverability of mineral resources); the potential for delays or changes in plans in exploration or development projects or capital expenditures, or the completion of feasibility studies due to changes in logistical, technical or other factors; the possibility that future exploration, development, construction or mining results
will not be consistent with the Company's expectations; risks related to the ability of the current exploration program to identify and expand mineral resources; risks relating to possible variations in grade, planned mining dilution and ore loss, or recovery rates and changes in project parameters as plans continue to be refined; operational mining and development risks, including risks related to accidents, equipment breakdowns, labour disputes (including work stoppages and strikes) or other unanticipated difficulties with or interruptions in exploration and development; risks related to the inherent uncertainty of production and cost estimates and the potential for unexpected costs and expenses; risks related to commodity and power prices, foreign exchange rate fluctuations and changes in interest rates; the uncertainty of profitability based upon the cyclical nature of the mining industry; risks related to failure to obtain adequate financing on a timely basis and on acceptable terms or delays in obtaining governmental or other stakeholder approvals or in the completion of development or construction activities; risks related to environmental regulation and liability, government regulation and permitting; risks relating to the Company's ability to attract and retain skilled staff; risks relating to the timing of the receipt of regulatory and governmental approvals for continued operations and future development projects; political and regulatory risks associated with mining and exploration; risks relating to the potential impacts of the COVID-19 pandemic on the Company and the mining industry; changes in general economic conditions or conditions in the financial markets; and other risks described in Marathon's documents filed with Canadian securities regulatory authorities, including the Amended and Restated Annual Information Form for the year ended December 31, 2020.
You can find further information with respect to these and other risks in Marathon's Amended and Restated Annual Information Form for the year ended December 31, 2020 and other filings made with Canadian securities regulatory authorities available at www.sedar.com. Other than as specifically required by law, Marathon undertakes no obligation to update any forward-looking statement to reflect events or circumstances after the date on which such statement is made, or to reflect the occurrence of unanticipated events, whether as a result of new information, future events or results otherwise.
drill results
tsx-moz
marathon-gold-corporation
financing
press-release