3 Metal Stocks That Are Heating Up
Inflation took the world by storm this year. Supply bottlenecks, labor shortages and helicopter money from the government delivered the highest consumer…
Inflation took the world by storm this year. Supply bottlenecks, labor shortages and helicopter money from the government delivered the highest consumer price index (CPI) reading in nearly 40 years. November's red-hot 6.8% print for the CPI is officially the most significant year-over-year jump in prices since 1982. Thus far, Wall Street is taking the sharp rise in stride. While some areas (such as growth stocks) are suffering from the specter of higher interest rates, others, like metal stocks, are loving it.
Generally, the basic material and energy sectors outperform during periods of higher inflation. So if you think the recent muscle-flexing in these areas is a sign of things to come, then the following companies should perform well.
I scanned all the metal stocks in my watchlist, and these metal stocks were the three boasting the best trends.
Metal Stocks: Alcoa (AA)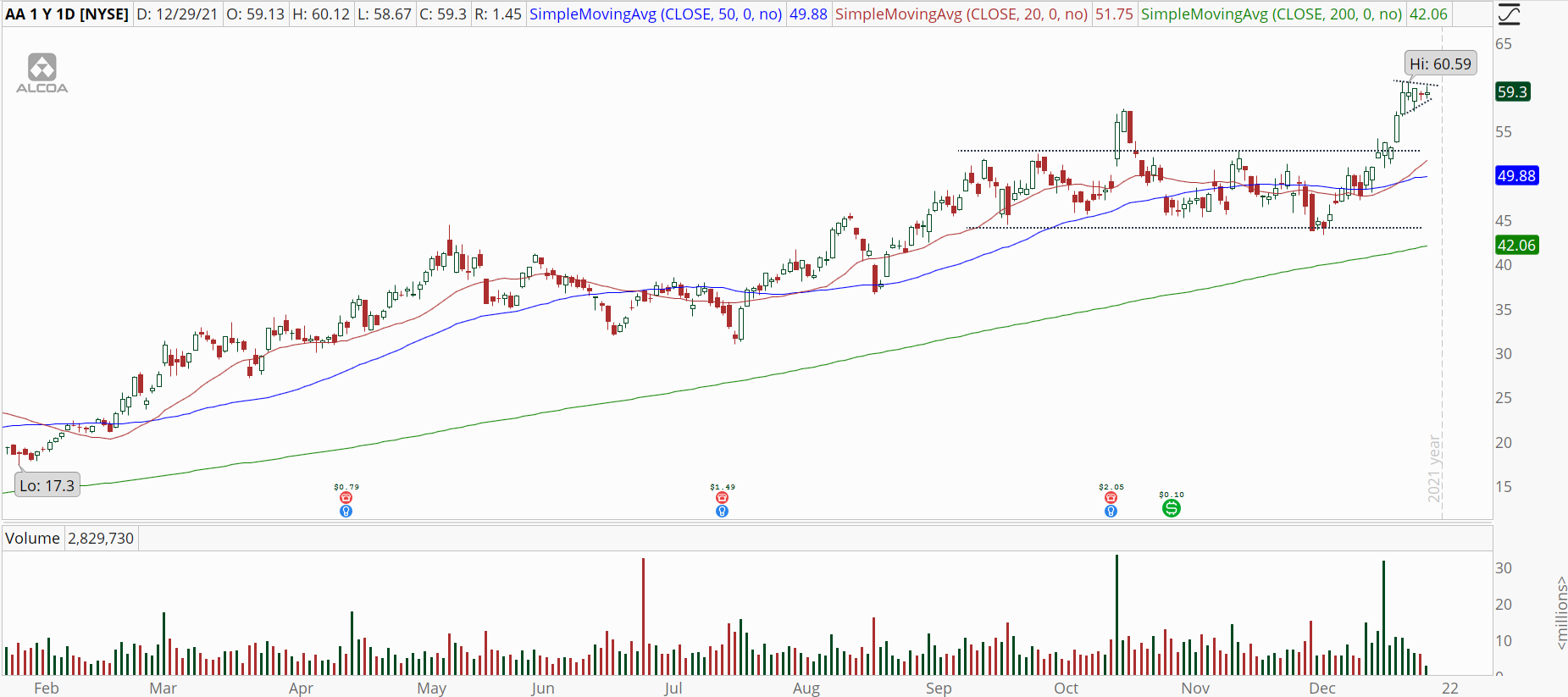 Source: The thinkorswim® platform from TD Ameritrade
After basing for three months, Alcoa shares finally took flight this month to continue their long-term uptrend. With the recent gains, AA stock is now up almost 160% on the year. Volume confirmed the recent breakout with a groundswell in accumulation days. In addition, the 20-day moving average is ramping nicely to confirm the increased momentum.
Whether it's renewed buying in response to the inflation uptick or merely a continuation of the market's post-pandemic lovefest for economically sensitive securities doesn't matter. Either way, Alcoa is in favor, and the chart points to higher prices.
I prefer high-probability spreads over direction due to the stock's choppy nature.
The Trade: Sell the Feb $47/$42 bull put spread for 56 cents or better.
Consider it a bet that AA will be above $47 at expiration.
Freeport McMoran (FCX)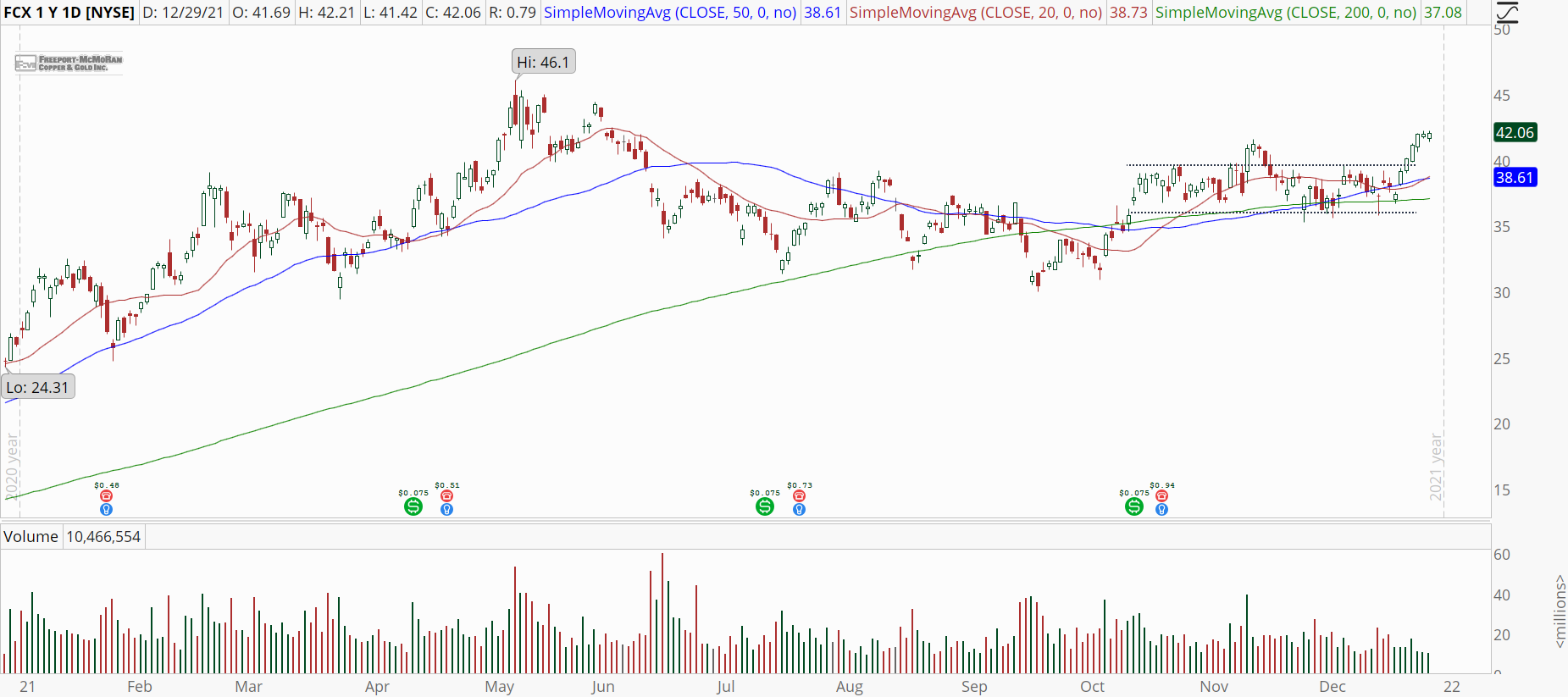 Source: The thinkorswim® platform from TD Ameritrade
Freeport-McMoran shares got caught up in the metal stocks bonanza. Like Alcoa, it was previously consolidating for multiple months. That makes the recent breakout all the more tempting.
Historically, FCX follows in the footsteps of copper prices. On Monday, copper futures broke above the 50-day moving average and could be starting a new advance. If so, it will bode well for Freeport.
Implied volatility for FCX options has sunk to the 5th percentile of its one-year range. This means call premiums are now cheap. As a result, I like bull call spreads.
The Trade: Buy the Feb $42/$45 bull call spread for $1.20 or better.
The max loss is $1.20, and the max gain is $1.80. To capture the entire reward requires FCX to sit above $45 by expiration.
Metal Stocks: Newmont Mining (NEM)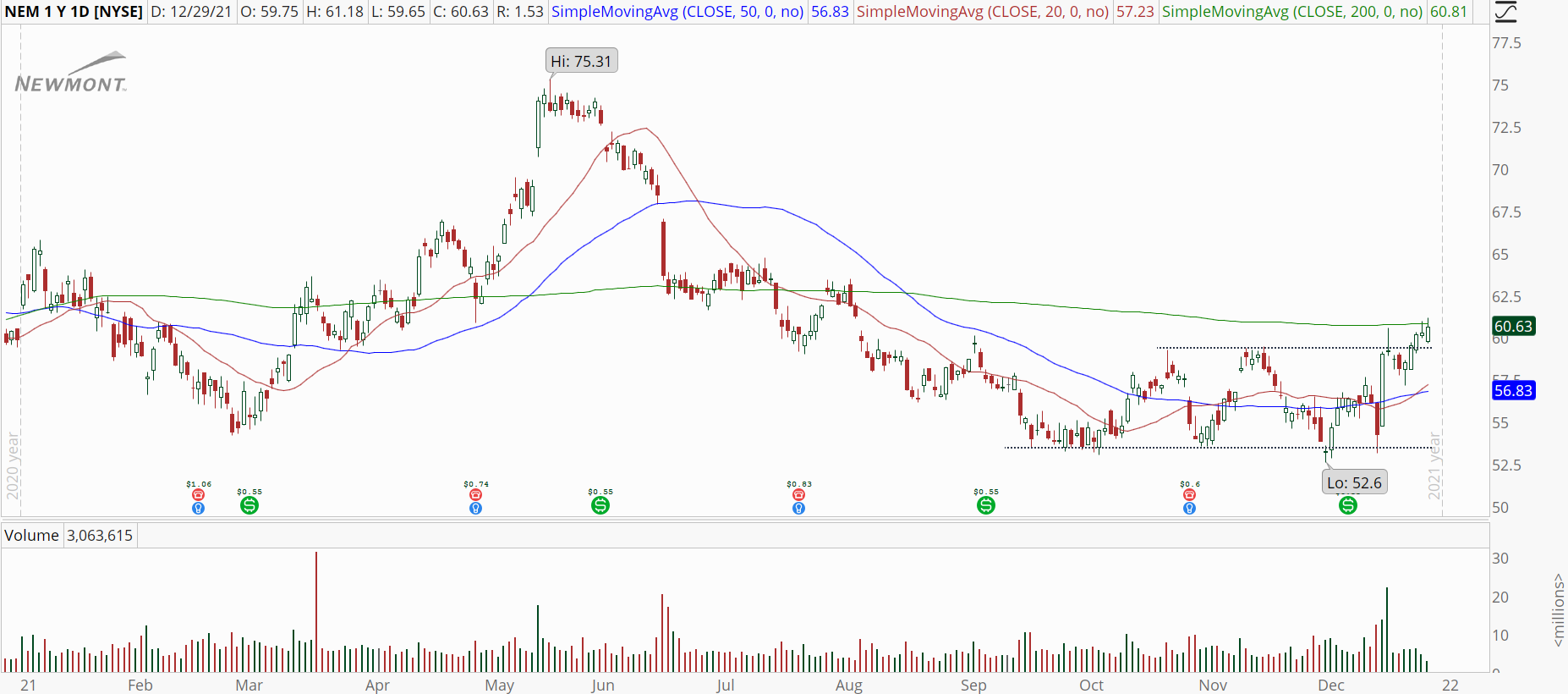 Source: The thinkorswim® platform from TD Ameritrade
Gold prices haven't been nearly as responsive to the high inflation readings as gold bugs would have liked. As a result, many gold mining companies have seen their share prices struggle this year. That said, Newmont Mining is the best looking of the bunch, so if you think equities linked to precious metals will experience a reversal of fortune, then NEM stock is the best way to play it.
The price trend just completed a bottoming pattern by breaking above resistance near $59. The 20-day and 50-day moving averages are curling higher to reflect the newfound strength. The low price tag and modest implied volatility make building a naked put trade easy.
The Trade: Sell the Feb $55 put for 70 cents or better.
By selling the put, you obligate yourself to buy 100 shares of stock at $55. But, if NEM stock stays above $55, then the option will expire worthless, and you'll pocket the premium.
On the date of publication, Tyler Craig did not have (either directly or indirectly) any positions in the securities mentioned in this article. The opinions expressed in this article are those of the writer, subject to the InvestorPlace.com Publishing Guidelines.
For a free trial to the best trading community on the planet and Tyler's current home, click here!
More From InvestorPlace
The post 3 Metal Stocks That Are Heating Up appeared first on InvestorPlace.
gold
inflation
metals
mining
interest rates
crash
nyse
ax
copper
Peter Schiff: The Fed Made This Bed And Now We Have To Lie In It
Peter Schiff: The Fed Made This Bed And Now We Have To Lie In It
Via SchiffGold.com,
Inflation is running hot. Economic data is running cold….
Peter Schiff: The Fed Made This Bed And Now We Have To Lie In It
Inflation is running hot. Economic data is running cold. Stocks and bonds are under pressure. The Fed is scrambling. In his podcast, Peter Schiff talked about the trajectory of the economy. He said we're on the cusp of the most obvious crisis that virtually nobody saw coming. The Federal Reserve made this bed. Now we have to lie in it.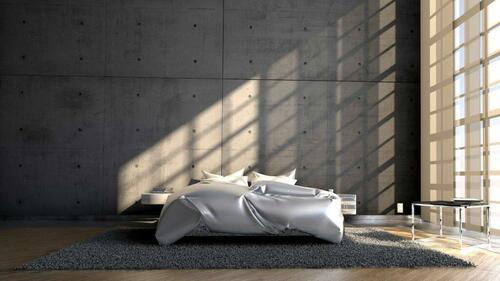 Stocks and bonds are off to a rough start in 2022 with the expectation of rate hikes on the horizon. In fact, many analysts now think that the Fed could raise interest rates five times in 2022. And some also think the first hike in March could be 50 basis points.
Hedge fund manager Bill Ackman called a .5% rate hike "shock and awe."
Peter called this "ridiculous."
It's not shock and awe. When you're talking about 7% inflation, a move from zero to 50 basis points is still recklessly low interest rates. And for a Fed that's actually serious about fighting inflation, raising interest rates to 50 basis points is not nearly enough for the task at hand."
Even so, a .5% rate hike could have a profound impact and pop the bubble economy.
Given the incredible amount of leverage that's in the system, a 50 basis point rate hike can still do a lot of damage. And I think Bill Ackman is underestimating the extent of the damage. But not just the damage from the initial hike, but from all the subsequent hike, which aren't going to do any good about slowing down this inflation freight train."
Peter noted the price of oil hit has continued its upward trajectory this week. The price of oil is at a seven-year high with plenty of room to keep running up. In 2021, a lot of producers ate their rising costs. But they may well begin passing on those costs in 2022, which would mean more big jumps in CPI.
There is going to be a lot more upward pressure on the CPI despite the Fed's rate hikes, even if we get them, even if we get more than the market expects. It still won't be enough to stop inflation from getting worse."
Peter said it seems clear the bond market is slowly starting to grasp this reality. And when they really start to get it, the dollar is going to tank.
Interestingly, silver had a strong day on Tuesday, up almost 50 cents. Peter said this shows the underlying strength in the commodity complex due to all the inflation baked into the cake.
Gold faced headwinds with rising bond yields and was down about $5.
But at some point, investors are going to realize that surging nominal yields mean nothing to the gold market because real yields are not rising. The Fed is so far behind the curve. And even if real yields were rising, meaning that negative yields were becoming less negative, any negative yield is a positive for gold because you don't want to lose money in bonds. Whether you're losing 3% a year, or 5% a year, or 7% a year — all of that is bad. You want to avoid losses. And one way to avoid losses is by owning gold. And more people are going to recognize that gold is a much better alternative than negative yielding bonds."
The Empire State Manufacturing Index came in at -0.7 versus an expectation of 25.7. This indicates contraction and is the kind of number you see during a recession. Peter said the Fed is starting its tightening campaign even as the economy is rolling over.
The economy is getting weaker and they haven't even begun to raise rates yet."
The economic numbers are getting weaker even as inflation continues to run hot.
It is stagflation. This is the perfect storm. The Fed has got itself in a box. There is no way out. And the fact that the Fed is in this no-win situation on inflation should not surprise anybody. This was the most obvious outcome that nobody wanted to acknowledge."
The Fed says it can deal with inflation. But if the central bank uses the tools at its disposal to address the inflationary problem, it will bring down the bubble economy. Peter has been warning about this since the Fed first launched quantitative easing in the wake of the financial crisis.
The Fed has been operating looking in the rearview mirror for over a decade. What they do is they print all this money, keep interest rates artificially low, do QE, and then they look back at the CPI, or the core CPI, or the personal consumption expenditure index, whatever measure they like. And as long as that number is below 2%, they think the road ahead is clear, and they keep on printing money. They keep on stimulating, looking back over their should seeing where the inflation numbers are. And then, all of a sudden, they look forward, and they see 7% CPI in 2021. Of course, there was evidence that inflation was going to be bad early in 2021. But of course, they ignored all that. They kept saying, 'Well, this can't be. This is transitory.'"
Meanwhile, they just ignored all the money they were printing out of thin air.
Well, now, because they printed so much money because they were looking in the rearview mirror instead of looking ahead like I was doing from the beginning, now, all of a sudden, they're in this situation. They've got 7% interest rates. They can't slam on the brakes. So, now they're trying to come up with some way to ease their foot off the gas. But that is impossible because that's not going to slow down the inflation. So, the Fed made this bed and we all have to lie in it because they were too loose for too long, and they've let loose the mother of all inflation genies. And everything they're talking about doing is inefficient to actually put a stop to it."
*  *  *
Learn more about real interest rates and what they mean for the gold and silver market here.
Tyler Durden
Thu, 01/20/2022 – 06:30
dollar
gold
silver
inflation
stagflation
commodity
reserve
interest rates
fed
central bank
bubble
inflationary
Consumer Spending Decline Makes A Recession More Likely
"How are you feeling?"  That's often the way we greet people these days.  As the Omicron variant becomes widespread, negatively impacting most…
"How are you feeling?"  That's often the way we greet people these days.  As the Omicron variant becomes widespread, negatively impacting most Americans' lives.  Add worries about inflation to the mix. Finally, some schools are going back to online learning, forcing parents to work from home with kids at home. Consumers are stressed, anxious, and uncertain about the future. If the drop in consumer sentiment continues, retail sales will fall. 
Consumer spending is 70% of GDP.  Thus, if consumer spending continues to decline, a recession becomes more likely.  The Federal Reserve plan to speed up monetary tapering and start interest rate increases will add momentum to a decline in economic activity. Rising costs of credit cards, mortgages, and personal loans will trigger a drop in consumers applying for new loans.  As credit tightens, consumers will pull back on spending. Let's look at trends in consumer sentiment, spending, and inflation to see why economic headwinds are building.
Consumer Sentiment Falls Along with Retail Sales
A significant drop in consumer sentiment reflects the consumer's plight.  The University of Michigan January consumer sentiment indicator printed 68.8%. The drop is the second-largest drop in ten years. The survey found the number one consumer issue was surging inflation.  A third of consumers felt they were financially worse off than a year ago, near the same level as April 2020.
Sources: University of Michigan, Bloomberg – 1/15/22
Consumers' unease with their financial condition was recently expressed in a substantial decline in retail sales for December of 1.9%.  Buyers before the Omicron variant started buying from pent-up demand for goods in particular.  That pent-up demand buying seems to be waning.
Sources: Commerce Department, New York Times – 1/15/22
Twenty-five percent of respondents said their reduction in spending was due to inflation.
Also, retail sales fell fast due to buyer concerns about leaving home.   Consumer mobility indicated by Google mobility indicators shows a drop off in outside of the home trips.  Plus, the Langer Buying Climate index declined as consumers continued to see the present buying environment worsen due to both Omicron infection risk and inflation. A double whammy for retail sales. While spring may bring a decline in Omicron virus infections, inflation is likely to persist.
The Langer Index posted its most significant one-week drop in 36 years!  The critical component causing the considerable drop was consumer concerns about this being a 'good time to buy things,' showing a 6.9% decline. The component drop was the largest since 1985. 
Will Inflation Persist Driving Consumer Sentiment Lower?
Yes. This is the short answer from a macro perspective. The Federal Reserve has increased the money supply significantly above the pre-pandemic trajectory as the following chart shows a surge in the M2 money supply.  The second chart shows a lag of 2 to 3 years in inflation after shifts in the money supply.  So, on a macro basis, inflation is likely to be a continuing issue.
Sources: St. Louis Federal Reserve, The Daily Shot – 1/12/22
Sources: Labor Department, Haver Analytics, The Daily Shot – 1/7/22
Several components are likely to keep inflation high even as waning demand in other sectors may decrease inflation.  A significant persistent inflation sector is housing.
Housing Costs Fuel Inflation
Housing is the most expensive cost for most families.  An increase in shelter costs hits family budgets hard. As millions of workers were forced to work from home during the pandemic, the demand for housing outside major core cities soared.  Owner equivalent rent (OER) is how the Bureau of Labor Statistics computes home costs to compare to rent.  Note the surge in OER and rent for 2021 and the Nomura forecast for 2022.
Source: Apartment List, Bureau of Labor Statistics, Nomura, The Daily Shot – 1/14/22
Along with housing inflation, price increases are becoming embedded in the broad-based economy.
Inflation Becoming Embedded into the Economy
The headline Consumer Price Index (CPI) posted a 7.0% increase for December 2021. A 20 year high.  Consumers feel the price pinch in the cost of gas, food, new and used vehicles, and furniture.  The following heat map shows how inflation is increasing across multiple sectors of the economy.
Sources: Bureau of Labor Statistics, The Daily Shot – 1/13/22
The components of most concern to consumers: housing, food, and energy, are excluded or minimized in key indicators that the Federal Reserve uses to measure inflation like the Core CPI or Trimmed CPI.  This lack of focus on what is essential to consumers and affecting their buying habits is a significant policy-making blind spot. As such the focus on lower inflation figures caused the Fed to underestimate inflation related to buying power. As a result, the Fed must slam on interest rate brakes to grab executive and consumer attention that they are serious about controlling inflation.
Consumer buying power is declining as well due to negative real wage growth.
Real Wage Growth is Negative
Consumers are rightly worried about their financial future.  Worker real wage growth is negative. Real wage growth accounting for inflation was – 1.5% for December. The following chart from BOC Research shows using Federal Reserve data that inflation is 'eating into' wages in the U.S.
Sources: BOC Research, Federal Reserve of Atlanta, The Daily Shot – 1/7/22
Consumers see high prices and look at their paychecks, concluding they are not keeping up with costs.  They are right.  Consumer perception of inflation limiting their buying power drives reluctance to spend. Buyer frustration with high prices is a critical factor in the December 24.6% drop in vehicle sales. Also, rent prices are beginning to decline in many major U.S. markets, as renters decide to stay in their present apartment. 
Will Inflation Go Back to Pre-Pandemic Levels?
Not likely.  A new trend is emerging globally, affecting inflation that may persist for many years – green inflation.  The ability of the energy sector to create new renewable sources of power while continuing to supply the needs of world energy users is tight.  Not enough investment in green technologies is happening, according to Isabel Schnabel, executive board member at the European Central Bank.  In a recent Bloomberg interview, she further stated that fossil fuel prices might stay elevated to make green investments possible.  Plus, higher fossil fuel prices will force corporations and consumers to shift to renewable sources quicker.
As fuel costs feed into the cost of transporting goods, inflation may stay elevated for some time.  Further, other transportation issues cause concern about inflation. Shipping unloading bottlenecks continue at West Coast ports, causing a container's cost to rise incredibly from $1,400 in February 2020 from Shanghai to Los Angeles to $10,200 in December. As demand falls, the number of containers to be unloaded will fall, but it takes a long time to solve the bottleneck problem as trucking companies can't hire enough drivers.
Fed Liquidity Tightening, Consumer Spending Decline Increases Chances of Recession
The latest Fed Funds futures report shows growing investor sentiment that rate increases could begin as soon as March of this year. The recent Federal Reserve FOMC meeting minutes spooked the markets when it became apparent that the Fed was turning more serious about persistent inflation.  Forecasters expect at least three rate increases this year, maybe four.  So, a liquidity crunch will start sooner and faster than investors had expected just two months ago.
The decline in consumer sentiment, we have noted in this post, will drive a drop in consumer spending.  The combination of liquidity tightening with a fall in consumer spending will create downward momentum in economic activity.  As a result, a decline in economic activity will result in a recession.
Mitigating the possibility of a recession is the surge in hiring and construction from the $1.8B infrastructure spending bill approved by Congress.  Another factor is the waning of Omicron in the spring, so mobility and retail sales move up. 
But the Fed is in a difficult position as the economy seems to be slowing due to inflation, the Omicron virus continuing to spread, and supply bottlenecks.   Mohamed El-Erian, Chief Economist at Allianz, offers this observation on the impact of inflation on consumers and their sense of financial insecurity in a January 12th tweet:
"Inflation isn't just a number to be managed by the Fed that few Americans know well. It also influences economic, social, and political outcomes.  When its high, as it is today, it fuels financial insecurity among the most vulnerable, both immediately and over time."
The post Consumer Spending Decline Makes A Recession More Likely appeared first on RIA.
inflation
monetary
markets
reserve
policy
money supply
fed
central bank
Comerica (NYSE:CMA) Hits New 52-Week High at $101.84
Comerica Incorporated (NYSE:CMA) hit a new 52-week high during trading on Tuesday . The company traded as high as $101.84 and last traded at $101.15, with…
Comerica Incorporated (NYSE:CMA) hit a new 52-week high during trading on Tuesday . The company traded as high as $101.84 and last traded at $101.15, with a volume of 9126 shares trading hands. The stock had previously closed at $101.24.
A number of research analysts recently commented on CMA shares. Wells Fargo & Company upped their target price on Comerica from $67.00 to $73.00 and gave the company an "underweight" rating in a research note on Monday, October 4th. Robert W. Baird lowered Comerica from a "neutral" rating to an "underperform" rating and set a $78.00 price objective for the company. in a research note on Friday, January 7th. Compass Point upgraded Comerica from a "sell" rating to a "neutral" rating and set a $87.00 price objective for the company in a research note on Tuesday, December 21st. The Goldman Sachs Group reiterated a "sell" rating and set a $86.00 price objective (up from $78.00) on shares of Comerica in a research note on Thursday, October 21st. Finally, Raymond James increased their price objective on Comerica from $94.00 to $96.00 and gave the stock an "outperform" rating in a research note on Thursday, October 21st. Four investment analysts have rated the stock with a sell rating, eight have issued a hold rating and nine have assigned a buy rating to the stock. Based on data from MarketBeat, the stock currently has an average rating of "Hold" and a consensus price target of $91.90.
The firm has a fifty day moving average of $88.86 and a 200-day moving average of $80.63. The firm has a market cap of $12.68 billion, a P/E ratio of 11.88, a PEG ratio of 0.56 and a beta of 1.48. The company has a quick ratio of 0.92, a current ratio of 0.92 and a debt-to-equity ratio of 0.38.
Comerica (NYSE:CMA) last posted its quarterly earnings results on Wednesday, January 19th. The financial services provider reported $1.66 earnings per share (EPS) for the quarter, beating the consensus estimate of $1.58 by $0.08. Comerica had a return on equity of 15.22% and a net margin of 38.31%. During the same period in the previous year, the business earned $1.49 EPS. Sell-side analysts anticipate that Comerica Incorporated will post 8.28 EPS for the current year.
The business also recently announced a quarterly dividend, which was paid on Saturday, January 1st. Shareholders of record on Wednesday, December 15th were paid a $0.68 dividend. This represents a $2.72 annualized dividend and a yield of 2.81%. Comerica's payout ratio is 33.42%.
In other Comerica news, EVP Melinda A. Chausse sold 3,429 shares of the stock in a transaction dated Wednesday, November 24th. The stock was sold at an average price of $90.98, for a total value of $311,970.42. The transaction was disclosed in a document filed with the SEC, which is available at this hyperlink. Also, CAO Mauricio A. Ortiz sold 567 shares of the stock in a transaction dated Friday, November 12th. The shares were sold at an average price of $88.48, for a total value of $50,168.16. The disclosure for this sale can be found here. Insiders sold 18,066 shares of company stock worth $1,588,810 in the last three months. Insiders own 0.67% of the company's stock.
Several hedge funds and other institutional investors have recently added to or reduced their stakes in CMA. Lazard Asset Management LLC raised its position in shares of Comerica by 51.9% during the second quarter. Lazard Asset Management LLC now owns 395 shares of the financial services provider's stock worth $28,000 after purchasing an additional 135 shares during the period. Kings Point Capital Management acquired a new stake in shares of Comerica during the third quarter worth about $32,000. Canton Hathaway LLC acquired a new stake in shares of Comerica during the third quarter worth about $36,000. AGF Investments LLC acquired a new stake in shares of Comerica during the third quarter worth about $40,000. Finally, Arlington Partners LLC acquired a new stake in shares of Comerica during the fourth quarter worth about $48,000. 79.32% of the stock is currently owned by institutional investors.
About Comerica (NYSE:CMA)
Comerica, Inc engages in the provision of financial services. It operates through the following segments: Commercial Bank, Retail Bank, Wealth Management, Finance, and Other. The Commercial Bank segment is involved in middle market businesses, multinational corporations, and governmental entities by offering various products and services such as commercial loans and lines of credit, deposits, cash management, capital market products, international trade finance, letters of credit, foreign exchange management services, and loan syndication services.
Featured Article: What factors cause inflation to rise?
The post Comerica (NYSE:CMA) Hits New 52-Week High at $101.84 appeared first on ETF Daily News.