7 Cryptos to Sell for October
Crypto markets have been on a bearish run of late due to the recent clampdown by Chinese authorities on cryptocurrencies in the country, though some have…
Crypto markets have been on a bearish run of late due to the recent clampdown by Chinese authorities on cryptocurrencies in the country, though some have begun to recover. Bitcoin (CCC:BTC-USD) was trading at $48,000 on Sept. 15 but lost 17% of its value before bouncing back above $50,000. Institutional investors took advantage of the market correction and bought the dip in incredible numbers. However, the dip also presented an opportunity for investors to analyze the market and determine which cryptos to sell due to offering nothing over the long term.
The Chinese crackdown hasn't deterred investors from the crypto market looking to scoop up various cryptocurrencies at repressed rates. Altcoins have also been tracking well, but the performing ones have offered real-world utility for their owners.
Hence, here's a list of seven cryptos to sell which you should discard from your portfolio:
Cryptos to Sell: Shiba Inu (SHIB-USD)
Source: Shutterstock
Pet-themed cryptocurrency Shiba Inu is one Dogecoin knockoff that has gained a lot of popularity among meme traders. So far, it has proven to be an even more gimmicky cryptocurrency than Dogecoin, offering virtually zero use cases for investors. Moreover, investors have little insight into the track records of its founders. Hence, SHIB is nothing more than a speculative trading option.
Furthermore, Shiba Inu has tried hard to associate itself with Ethereum (ETH) founder Vitalik Buterin who it gave 50% of its supply as a gift. However, Buterin has no intention of working with Shiba Inu and using his name to advance its interests. The success of the token depends purely on hype, which makes it a highly unattractive bet.
Monero (XMR-USD)
Source: Shutterstock
Monero is the oldest and most widely used privacy coin in the market. It enables users to keep their transactions completely anonymous. It utilizes a wholly decentralized open-source protocol called CryptoNote. Monero uses a variety of technologies to ensure that transaction details — including the amount, the sender and the receiver — are obfuscated. Unfortunately, XMR's status as "fungible money" has made it a favored tool in money laundering activities.
Considering the regulatory issues with cryptocurrencies, Monero will be at the crosshairs of most government agencies. The Internal Revenue Service has been seeking developers to make Monero-tracing tools to catch tax evasion. Hence, if a Monero-proof crypto tracker is in development, it renders the crypto worthless.
Cryptos to Sell: Dogecoin (DOGE-USD)
Source: Wollertz / Shutterstock
Dogecoin is easily one of the most popular altcoins in the market. The meme-inspired coin surged earlier this year due to social media support for the crypto along with tweets from "the Dogefather" Elon Musk. However, with an inflation rate of over roughly 4% and the lack of mainstream attention, the hype is most likely to wear away for DOGE.
One of the main reasons for the lack of adoption is that Dogecoin offers little or no value to its owners. It gained a foothold in the market for being fun and cool, and when Musk tweeted about it, the speculative boom started. Moreover, it lacks a solid infrastructure that the top cryptocurrencies such as Bitcoin possess. On top of that, with the end of the stimulus, most traders are likely to withdraw their investments from trading accounts, impacting altcoins and speculative stocks.
TRON (TRX-USD)
Source: mk1one / Shutterstock
TRON is one of the more hotly debated cryptocurrencies due to its founder Justin Sun. Recognized in Forbes Asia's 30 Under 30 series entrepreneurs list, he has been quite the overachiever. He even won a power lunch with the Oracle of Omaha, Warren Buffet. However, Sun has been embroiled in multiple controversies. This is perhaps why TRX is a risky long-term play.
Back in 2019, serious allegations were made against Sun in Chinese newspapers with regards to illegal fundraising. A few months later, in 2020, former employees of the Tron foundation sued Justin Sun, alleging workplace hostilities. Major Steem stakeholder Dan Hensley accused Sun of attempting to bribe him. It's not worth it for serious investors to bet on a controversy-ridden digital asset such as Tron.
Cryptos to Sell: Civic (CVC-USD)
Source: AlekseyIvanov / Shutterstock
Civic is an interesting cryptocurrency that offers a unique "blockchain-based identity management solution" for its users. It gives its investors the tools to control their personal identity information effectively. Moreover, investors can access a range of services without forking over personal information.
In the long run, Civic could prove to be an effective tool in the e-commerce realm and can have multiple applications in other online fields. However, CVC hasn't gained a lot of mainstream attention yet, which is why it is best to sell it into strength at this stage.
OMG Network (OMG-USD)
Source: Wit Olszewski / Shutterstock.com
OMG has been gaining traction in the digital payments space, working directly with banks to attract new customers and develop existing products. It is essentially a layer-2 scaling solution. What that means is that it facilitates the transfer of ERC20 tokens and ETH to a secondary blockchain that is faster and less expensive than the Ethereum (CCC:ETH-USD) network.
It is incredibly efficient because it utilizes a technology called "More Viable Plasma." The solution uses side chain architecture to group several transactions to verify them in a single go. Hence, the solution promises to reduce speeds and significantly reduce costs for its users.
However, investors need to separate OMG and the novelty of its technical architecture to assess its prospects. Several blockchain projects are offering similar use cases, which limits the long-term attractiveness of the token.
Cryptos to Sell: BitTorrent (BTT-USD)
Source: Shutterstock
BitTorrent is known to most people as a peer-to-peer file-sharing platform. However, blockchain media network Tron acquired the platform in 2018, adding crypto functionality. Users can exchange BTT tokens for quicker download speeds and also gain access to DLive. DLive is a censorship-free blockchain livestreaming platform. BTT tokens are used for staking on the platform, offering 5% on all transactions made.
However, DLive came under fire during the Jan. 6 unrest at the U.S. Capitol Building as far-right extremists could stream the attack through the platform. Consequently, DLive plans to introduce a set of guidelines for the content shared on the platform. Nevertheless, they effectively defeat the whole purpose of a censorship-free platform.
On the date of publication, Muslim Farooque did not have (either directly or indirectly) any positions in the securities mentioned in this article. The opinions expressed in this article are those of the writer, subject to the InvestorPlace.com Publishing Guidelines.
Muslim Farooque is a keen investor and an optimist at heart. A life-long gamer and tech enthusiast, he has a particular affinity for analyzing technology stocks. Muslim holds a bachelor's of science degree in applied accounting from Oxford Brookes University.
More From InvestorPlace
The post 7 Cryptos to Sell for October appeared first on InvestorPlace.
US markets scale fresh highs on upbeat earnings, housing data
S P 500 and Dow Jones closed at record highs for the second consecutive day on Tuesday October 26 while Nasdaq rallied as quarterly results kept the…
S&P 500 and Dow Jones closed at record highs for the second consecutive day on Tuesday, October 26, while Nasdaq rallied as quarterly results kept the markets in high spirits.
The S&P was up 0.18% to 4,574.79. The Dow Jones Industrial Average rose 0.04% to 35,756.88. The NASDAQ Composite Index gained 0.06% to 15,235.71, and the small-cap Russell 2000 was down 0.72% to 2,296.08.
Traders were further encouraged by the Commerce Department's positive economic data, which showed new home sales jumped 14% to 800,000 units in September, the highest level since March. However, higher home prices still remained a major worry.
Energy and utility stocks led gains on the S&P 500 index, while industrials and communication services stocks were the bottom movers. Nine of the 11 sectors of the index stayed in the positive territory.
General Electric Company (GE) stock rose 2.19% in intraday trading after reporting its third-quarter earnings. Its adjusted profits were 57 cents per share, above the analysts' estimates of 43 cents a share. However, its revenue fell by 1% YoY to US$18.4 billion in the quarter.
Shares of United Parcel Service, Inc. (UPS) were up 7.38% after reporting better-than-expected results. Its revenue increased by 9.2% YoY to US$23.2 billion in Q3, FY21.
Lockheed Martin Corporation (LMT) stock tumbled 12.48% after it trimmed its revenue forecast. Its net sales fell to US$16.02 billion in Q3 from US$16.49 billion in the year-ago quarter. In addition, it lowered its revenue forecast for FY2021 due to supply woes.
In the energy sector, Exxon Mobil Corporation (XOM) surged 2.30%, EOG Resources, Inc. (EOG) rose 1.39%, and Occidental Petroleum Corporation (OXY) gained 1.28%. Devon Energy Corporation (DVN) and Baker Hughes Company (BKR) rose 2.37% and 2.88%, respectively.
In utility stocks, NextEra Energy, Inc. (NEE) increased by 1.57%, Southern Company (SO) jumped 1.03%, and Exelon Corporation (EXC) rose 1.10%. DBA Sempra (SRE) and AES Corporation (AES) advanced 1.24% and 1.59%, respectively.
In the communication sector, Alphabet Inc. (GOOGL) rose 1.33%, Facebook, Inc. (FB) fell 4.52%, and Twitter Inc. (TWTR) declined 1.27%. Match Group, Inc. (MTCH) and News Corporation (NWS) plummeted 2.51% and1.17%, respectively.
Also Read: General Electric Co (GE) revises guidance upward after Q3 profits
Also Read: Raytheon (RTX) raises sales guidance, 3M (MMM) narrows EPS outlook
Also Read: Eli Lilly (LLY), Novartis (NVS) profits up on robust sales growth
Futures & Commodities
Gold futures were down 0.70% to US$1,794.10 per ounce. Silver decreased by 1.55% to US$24.212 per ounce, while copper fell 0.71% to US$4.4958.
Brent oil futures traded flat at US$85.44 per barrel and WTI crude was up 0.85% to US$84.47.
Bond Market
The 30-year Treasury bond yields were down 2.06% to 2.042, while the 10-year bond yields fell 1.55% to 1.610.
US Dollar Futures Index increased by 0.15% to US$93.953.
Failure To Bury "Transitory" Inflation Narrative Risks Sparking Biggest Fed Error In Decades: El-Erian Warns
Failure To Bury "Transitory" Inflation Narrative Risks Sparking Biggest Fed Error In Decades: El-Erian Warns
Authored by Tom Ozimek via The…
Failure To Bury "Transitory" Inflation Narrative Risks Sparking Biggest Fed Error In Decades: El-Erian Warns
Authored by Tom Ozimek via The Epoch Times,
Failure on the part of the Fed to toss its stubbornly-held "transitory" inflation narrative and act more decisively to rein in persistently high price pressures raises the likelihood the central bank will need to slam on the brakes of easy money policies much more forcefully down the road, risking avoidably severe disruption to domestic and global markets, according to Queen's College President and economist Mohamed El-Erian.
"In stark contrast with the mindset of corporate leaders who are dealing daily with the reality of higher and persistent inflationary pressures, the transitory concept has managed to retain an almost mystical hold on the thinking of many policy makers," El-Erian wrote in an Oct. 25 op-ed in Bloomberg.

"The longer this persists, the greater the risk of a historic policy error whose negative implications could last for years and extend well beyond the U.S.," he argued.
Consumer price inflation is running at around a 30-year high and well beyond the Fed's 2 percent target, to the consternation of central bank policymakers who face increasing pressure to roll back stimulus, even as they express concern that the labor market hasn't fully rebounded from pandemic lows.
The total number of unemployed persons in the United States now stands at 7.7 million, and while that's considerably lower than the pandemic-era high, it remains elevated compared to the 5.7 million just prior to the outbreak. The unemployment rate, at 4.8 percent, also remains above pre-pandemic levels.
At the same time, other labor market indicators, such as the near record-high number of job openings and an all-time-high quits rate—which reflects worker confidence in being able to find a better job—suggest the labor market is catching up fast. Businesses continue to report hiring difficulties and have been boosting wages to attract and retain workers. Over the past six months, wages have averaged a gain of 0.5 percent per month, around twice the pace prior to the pandemic, the most recent jobs report showed.
Besides measures of inflation running hot, consumer expectations for future levels of inflation have hit record highs, threatening a de-anchoring of expectations and raising the specter of the kind of wage-price spiral that bedeviled the economy in the 1970s. A recent Federal Reserve Bank of New York monthly Survey of Consumer Expectations showed that U.S. households anticipate inflation to be 5.3 percent next year and 4.2 percent in the next three years, the highest readings in the history of the series, which dates back to 2013.
El-Erian, in the op-ed, argued that the Fed has "fallen hostage" to the framing that the current bout of inflation is temporary and will abate once pandemic-related supply chain dislocations will abate.
"It is a framing that is pleasing to the ears, not only to those of policy makers but also those of the financial markets, but becoming harder to change," he wrote.

"Indeed, the almost dogmatic adherence to a strict transitory line has given way in some places to notions of 'extended transitory,' 'persistently transitory,' and 'rolling transitory'—compromise formulations that, unfortunately, lack analytical rigor given that the whole point of a transitory process is that it doesn't last long enough to change behaviors," he wrote.
El-Erian said he fears that Fed officials will double down on the transitory narrative rather than cast it aside, raising the probability of the central bank "having to slam on the monetary policy brakes down the road—the 'handbrake turn.'"
"A delayed and partial response initially, followed by big catch-up tightening—would constitute the biggest monetary policy mistake in more than 40 years," El-Erian argued, adding that it would "unnecessarily undermine America's economic and financial well-being" while also sending "avoidable waves of instability throughout the global economy."
His warning comes as the Federal Open Market Committee (FOMC)—the Fed's policy-setting body—will hold its next two-day meeting on November 2 and 3.
The FOMC has signaled it would raise interest rates sometime in 2023 and begin tapering the Fed's $120-billion-a-month pandemic-era stimulus and relief efforts as early as November.
Some Fed officials have said that, if inflation stays high, this supports the case for an earlier rate hike. Fed Governor Christopher Waller recently suggested that the central bank might need to introduce "a more aggressive policy response" than just tapering "if monthly prints of inflation continue to run high through the remainder of this year."
"If inflation were to continue at 5 [percent] into 2022, you'll start seeing everybody potentially – well, I can't speak for anybody else, just myself, but – you would see people pulling their 'dots' forward and having potentially more than one hike in 2022," he said in prepared remarks to Stanford Institute for Economic Policy Research.
The Fed's dot plot (pdf), which shows policymakers' rate-hike forecasts, indicates half of the FOMC's members anticipate a rate increase by the end of 2022 and the other half predict the beginning of rate increases by the end of 2023.
For now the market is pricing in a more hawkish Fed response in 2022
Tyler Durden
Tue, 10/26/2021 – 16:49
inflation
monetary
markets
reserve
policy
interest rates
fed
central bank
monetary policy
inflationary
Kimberly-Clark Forecasts Price Increases as Inflationary Pressures Accelerate, Supply Chain Disruptions Worsen
In yet another sign that inflation pressures are proving to be a lot more than just transitory, Kimberly-Clark (NYSE: KMB)
The post Kimberly-Clark Forecasts…
In yet another sign that inflation pressures are proving to be a lot more than just transitory, Kimberly-Clark (NYSE: KMB) — the maker of staple household goods such as Kleenex tissues, Huggies diapers, tampons, and toilet paper— has sounded the alarm over impacts of rapidly accelerating prices and supply chain headaches.
Shares of Kimberly-Clark tanked to a six-month low after the company cut its annual forecast due to rising inflation and supply chain disruptions. Third quarter net income stood at around $469 million, which equates to approximately $1.39 per share, against the $472 million— or $1.38 per share reported during the same period one year ago. The company reported an adjusted earnings per share of $1.62, which failed to meet consensus estimates calling for $1.65.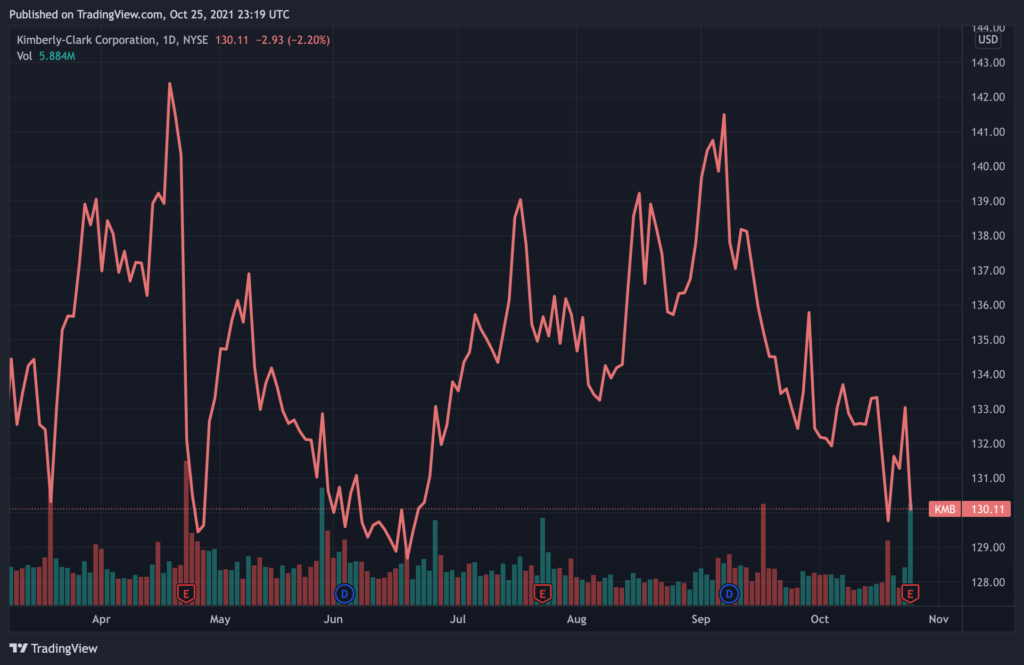 "Our earnings were negatively impacted by significant inflation and supply-chain disruptions that increased our costs beyond what we anticipated," said Kimberly-Clark CEO Mike Hsu. As a result, Hsu warned that the company will be implementing price increases across a variety of goods in an effort to offset implications of supply chain woes and subsequent acceleration in commodity costs. "We are taking further action, including additional pricing and enhanced cost management, to mitigate these headwinds as it is becoming clear they are not likely to be resolved quickly," he added.
However, Kimberly-Clark is far from being the only households goods company to sound the alarm over the effects of global supply chain disruptions and a persistent inflationary macroeconomic environment. Recall, General Mills, P&G, among others, have all issued warnings about impending cost-push inflation, as companies contend with margin compression that is further exasperated by ongoing labour shortages.
---
Information for this briefing was found via Kimberly-Clark. The author has no securities or affiliations related to this organization. Not a recommendation to buy or sell. Always do additional research and consult a professional before purchasing a security. The author holds no licenses.
The post Kimberly-Clark Forecasts Price Increases as Inflationary Pressures Accelerate, Supply Chain Disruptions Worsen appeared first on the deep dive.