7 Gig Economy Stocks to Buy Following Post-Degree Jobs Dearth
Dissimilar to any disruptive event in modern American history, the coronavirus pandemic is the first disaster that has affected everyone: across state…
Dissimilar to any disruptive event in modern American history, the coronavirus pandemic is the first disaster that has affected everyone: across state borders, class and income spectrums and demographic categories. Even if you weren't especially negatively impacted, you almost certainly noticed the disruption to your working environment. Many were able to operate remotely while others lost their jobs, thus drawing cynical attention toward gig economy stocks.
Although it's a distressing thought in many regards that so many lost their primary income source due to the global health crisis, from another angle, the relevant and burgeoning gig economy — or put simply, the rise of independent contractors — enjoyed massive growth. According to McKinsey & Company, the global food-delivery market tripled to $150 billion since 2017. In the U.S., this sector more than doubled during Covid-19, auguring well for gig economy stocks.
Still, the worrisome aspect is that the transition to gig work may be occurring too rapidly. For instance, a CNBC report cited data from the National Association of Colleges and Employers, which noted that "only 50.2% of the class of 2020 had full-time jobs with a traditional employer (meaning they are not working as a freelancer or entrepreneur) within six months of graduation." Logically, this may be a positive for gig economy stocks.
But are we going to be a nation of fast-food delivery drivers? Regarding employment within six months of graduation, the class of 2020 had the worst outcomes since data was tracked beginning with the class of 2014. What's worse, there may be decreasing incentives for companies to hire college grads. As the Wall Street Journal observed, U.S. companies are sitting on an $11 trillion debt pile. Thus, gig economy stocks could be startlingly relevant.
Indeed, with 10% of India's population able to speak English — and with that figure expected to quadruple in the next decade — corporate America will have a ready-made workforce competing for pennies on the dollar. Why bother hiring Americans full time at that point? So yes, like it or not, these gig economy stocks may have a bright future ahead.
As with any market category, caution is the order of the day. With the Federal Reserve signaling a hawkish monetary policy, even the best gig economy stocks risk the possibility of red ink. Ultimately, though, tough economic conditions combined with massive student loan debt could mean the independent route sees upside.
Gig Economy Stocks: Uber Technologies (UBER)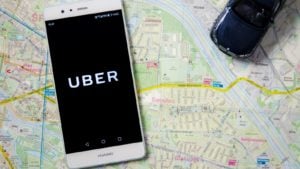 Source: Proxima Studio / Shutterstock.com
To be upfront, ride-sharing giant Uber Technologies isn't having the most auspicious start, whether compared to other gig economy stocks or in general. Down 7% on a year-to-date basis, UBER has shed 10.5% over the trailing six months since the close of the Jan. 12 session. Over the trailing year, it's down 27.5%. However, the red ink could spell a long-term opportunity for UBER stock.
With millions still operating remotely — or having joined the gig economy themselves — Uber's total addressable market widened. It's not just about personal mobility. The company's Uber Eats division is able to serve at-home professionals who value time over saving money on food-preparation costs. And when you're a gig worker, sometimes the total cost of cooking your own food isn't worth it.
Plus, the numbers speak for themselves. In the third quarter, Uber generated $4.8 billion in revenue, up over 72% from the year-ago level. Obviously, the increase from 2020 isn't a surprise. However, the Q3 2021 sales tally was the biggest haul in Uber's history as a public enterprise. Thus, it's something to consider if you're seeking gig economy stocks.
Lyft (LYFT)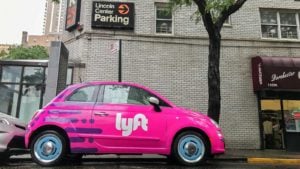 Source: Roman Tiraspolsky / Shutterstock.com
Similar to rival Uber, Lyft isn't getting off to the brightest of starts. On a YTD basis, it's even worse, shedding 8%. And on a trailing half-year basis, LYFT is staring at a near 26% loss. Nevertheless, one of the most recognizable brands among gig economy stocks could enjoy brighter sessions over the next few years.
First, the company is making a comeback after a rough year in 2020, which saw annual revenue decline almost 35% from 2019's tally. In Q3 of last year, Lyft rang up $864 million on the top line. While this figure wasn't the most in its history, it was still up an encouraging 73% against the year-ago quarter.
Second, though Lyft doesn't print the largest sales figures, it's adopting a more sustainability oriented business structure. Its net loss for Q3 2021 was $72 million, which contrasts sharply with Uber's net loss of $2.4 billion.
Finally, both Lyft and Uber benefit from resurgent demand, a fire that even higher prices hasn't extinguished. That may be part of the permanent carryover from the Covid years, which would make LYFT one of the intriguing gig economy stocks to buy.
Gig Economy Stocks: DoorDash (DASH)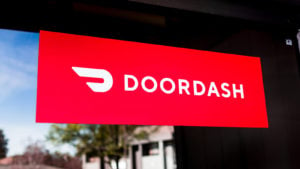 Source: Sundry Photography / Shutterstock.com
In my last (and I believe only) coverage of DoorDash, I was quite negative on the company, expressing fears that DASH stock could dip to $72. Obviously, that didn't happen although I'll tell you something — at one point in May 2021, it certainly appeared that the equity unit was about to incur serious pain.
That was when the bulls came in to save the day, springing DASH to record closing heights last November and making it one of the top-performing gig economy stocks. However, a catastrophic erosion of market value devastated the food-delivery service provider. At time of writing, shares are trading hands at a bit under $130.
Essentially, we've come full circle since the price of publication of my aforementioned article.
I still have some concerns about DASH. Nevertheless, the resilient ecosystem of independent contract work has forced me to reassess multiple gig economy stocks. Specific to DoorDash, the company has demonstrated encouraging growth in its subscription service and it's also expanding to other revenue streams such as its white-label logistics service DoorDash Drive.
Airbnb (ABNB)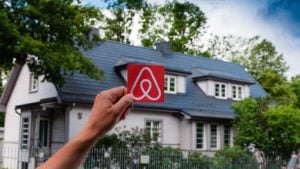 Source: AlesiaKan / Shutterstock.com
Although many if not most gig economy stocks benefitted from the high-impact event of the coronavirus pandemic, there was one company that stood out as being decisively negative, at least from an outside fundamental perspective. Airbnb, which was one of the more celebrated disruptive companies — basically an Uber for the lodgings industry — was on its way to becoming among the top gig economy stocks.
Then the pandemic hit and that thought process went out the window.
Still, as people acclimated to Covid-19, another dynamic became increasingly conspicuous: retail revenge or the concept that people are ready and willing to open their wallets in an effort to make up for lost time. Further, many folks are simply frustrated with pandemic-related restrictions, thus boding well for ABNB.
Interestingly, shares experienced a spike higher throughout much of November. But once the omicron variant started to shake up the market, ABNB slipped lower. Nevertheless, the gut feeling I get from regular passersby is that they're over this and any other variant. Therefore, ABNB at these deflated prices could be a discounted opportunity as travelers are eager to reclaim their normal lives.
Gig Economy Stocks: Upwork (UPWK)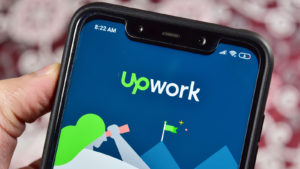 Source: Funstock / Shutterstock.com
On paper, Upwork ended the year down slightly at 1%, which implies that UPWK just trudged along sideways. Nothing could be further from the truth. Indeed, UPWK has seen some of the wildest trading among gig economy stocks or any other equity class. It's just that how the one-year return for 2021 was calculated, UPWK just happened to land twice in near-identical spots.
On the other hand, we shouldn't describe Upwork as having a positive time in recent sessions. For one thing, UPWK dropped 13% YTD. And in the trailing six months, it's staring at a near-52% hemorrhaging. Although the company beat out various quarterly revenue estimates due to the rotation toward telecommuting and gig work, UPWK unfortunately has been consistently unprofitable.
Further, even as revenue jumped significantly both in 2020 and on a trailing 12-month-basis (through Q3 2021), net losses have also widened. As stated earlier, the Federal Reserve signaled that it's concerned about soaring consumer prices. Therefore, an aggressive monetary policy is likely spooking stakeholders of high-growth, negative-income tech names.
Still, if the gig economy becomes the new norm, Upwork could eventually bounce back. And it's also starting to look more attractive against key valuation metrics.
Fiverr (FVRR)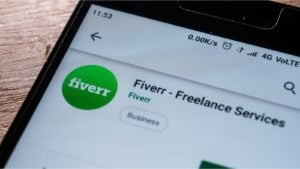 Source: Temitiman / Shutterstock.com
A freelance services marketplace for businesses looking to fill specific needs on a temporary basis, Fiverr seems like one of the perfect gig economy stocks for the new normal. And for quite some time, it certainly played the part. Back during the March 2020 doldrums, FVRR was trading hands at around the $20 level. By February 2021, the same stock commanded a price tag of well over $300 per each.
If you had the foresight to buy the dip and sell at the highs, congratulations! However, over the trailing year, the story has deflated considerably for what was once a Cinderella story among gig economy stocks, hemorrhaging an unbelievably disturbing 63.5%.
As a result of the damage, I'm not in a hurry to say that you need to consider this idea right now. On a YTD basis, FVRR dropped over 15%. Given the negative momentum, it could fall further. While you typically don't lose this much over one exclusive reason, many shareholders were undoubtedly concerned about widening net losses despite strong revenue growth.
Nevertheless, the immediate future of the labor market may belong to gig economy stocks. Thus, FVRR is worth keeping tabs on.
Gig Economy Stocks: Rover (ROVR)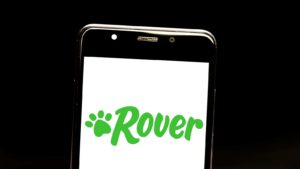 Source: rafapress / Shutterstock.com
Billed as the word's largest network of five-star pet sitters and dog walkers, Rover is an intriguing idea among gig economy stocks. As you know, the underlying sector isn't just about people writing blogs while they sip a martini at a beach resort. Instead, some of these gigs are fun or quirky.
While you might laugh at the idea of people paying others to walk their dogs, it's a viable business. From its website, Rover states that over two million "pet parents have booked a service on Rover with more than 500,000 pet care providers across North America and Europe." Should independent contract work become the norm in the labor market, then dog walking may become even more lucrative.
As mentioned earlier, when you're a gig worker, time truly is money.
Still, ROVR is something that you should only consider with money you can afford to lose. It came to the public arena via a reverse merger with a special-purpose acquisition company. Frankly, SPACs have been underperformers. Also, it has suffered the steepest decline on a YTD basis (down 24%), so extreme caution is the order of the day.
On the date of publication, Josh Enomoto did not have (either directly or indirectly) any positions in the securities mentioned in this article. The opinions expressed in this article are those of the writer, subject to the InvestorPlace.com Publishing Guidelines.
A former senior business analyst for Sony Electronics, Josh Enomoto has helped broker major contracts with Fortune Global 500 companies. Over the past several years, he has delivered unique, critical insights for the investment markets, as well as various other industries including legal, construction management, and healthcare.
More From InvestorPlace
The post 7 Gig Economy Stocks to Buy Following Post-Degree Jobs Dearth appeared first on InvestorPlace.
Here's What Triggered Yesterday's Selloff
Well, the stock market sure woke up on the wrong side of the bed this morning!
Source: ventdusud / Shutterstock.com
After a long holiday weekend, investors…
Well, the stock market sure woke up on the wrong side of the bed this morning!
Source: ventdusud / Shutterstock.com
After a long holiday weekend, investors were greeted with a more than 1% drop in the major indices. The NASDAQ was hit particularly hard, down as much as 2% earlier in the trading day. The fact of the matter is Wall Street was cranky because the 10-year Treasury surged to a two-year high today.
The 10-year Treasury yield now sits at about 1.85%. That's up from 1.51% on December 31, 2021. That's a fairly dramatic rise in the 10-year Treasury, and it's a big reason for why we saw a massive rotation out of the tech-heavy index today.
The financial media would have you believe higher rates will hurt tech stocks, but that's simply not true. Here's the reality: The global pandemic accelerated technological change, with many folks working and studying remotely. And this technological change boosted productivity in the U.S., with several industries leading the productivity miracle. So, tech stocks, especially semiconductor companies, will have some of the best quarterly results in mid-January through mid-February. And wave-after-wave of positive results will not only help these stocks firm up but also drive their shares higher. It's one reason why I'm betting big on 5G.
Tech stocks aside, this earnings season should also trigger rebounds in fundamentally superior stocks that were hit during today's selling. I expect Wall Street to become laser-focused on earnings over the next five weeks, and after all the reports are out, we'll see who's left standing. I anticipate the winners will be those with superior fundamentals, i.e., my Breakthrough Stocks. My Buy List companies have 57.2% average forecasted annual sales growth and 231% average forecasted annual earnings growth. They should also issue positive forward guidance.
Now, due to more difficult year-over-year comparisons, my Breakthrough Stocks are actually "decelerating" from the previous 78.2% average annual sales growth and 724.8% average annual earnings growth. However, my Buy List stocks are still set to achieve earnings and sales growth well above the average S&P 500 company. According to FactSet, the S&P 500 is anticipated to achieve 21.8% average earnings growth and 12.9% average revenue growth.
The Bellwether Steps Up to the Earnings Bat
We've heard from a few companies so far, including the Big Banks (I'll review their quarterly results later in the week, so stay tuned for that!), but I'm most excited to hear from Alcoa Corporation (NYSE:AA), which will report its fourth-quarter earnings results tomorrow afternoon. As you probably know, Alcoa is known for establishing the aluminum industry more than 130 years ago. The company primarily manufactures and sells bauxite, the primary source of aluminum, as well as alumina, aluminum, cast products, energy and rolled products. Alcoa actually is one of the largest bauxite producers in the world with seven active mines, as well as is the leading producer of alumina.
Alcoa is also considered a "bellwether" for earnings season, as it's a stock investors have turned to in the past as an indicator for how the coming earnings season will shake out. Currently, analysts expect Alcoa's earnings to surge 653.8% year-over-year to $1.96 per share, up from earnings of $0.26 per share a year ago. Revenue is estimated to climb 40.5% year-over-year to $3.36 billion.
I should note that analysts have lowered earnings estimates in the past three months, following the company's announcement that it will temporarily halt production at its Spain plant due to rising energy costs. Alcoa noted that the production halt would reduce earnings by $0.32 per share, which is why analysts have lowered earnings estimates initially. Interestingly, in the past week, analysts have increased estimates by nearly 11%.
Personally, I believe Alcoa will post impressive fourth-quarter results. The reality is that aluminum prices are trekking higher again. The World Bank revealed that aluminum prices jumped from $2,004 per tonne in January 2021 to more than $2,900 per tonne in January 2022. Prices are anticipated to rise 6% this year, thanks to ongoing demand from the auto industry, rising energy prices and supply shortages.
Suffice it to say, Alcoa is the stock to watch tomorrow.
But for today, don't be discouraged by today's wild market gyrations. The reality is that earnings work 70% of the time, so given that earnings momentum has tapped the brakes a bit due to tougher year-over-year comparisons, I think companies that achieve better-than-expected results will see their shares climb higher as investors celebrate their results.
It's why now is the time to make sure you've filled your portfolio with fundamentally superior stocks. If you're not sure where to look, you might want to review my Breakthrough Stocks Buy List. As I mentioned, my stocks should post much strong earnings than the average S&P 500 company. I should also note that I recently created a special model portfolio I call the 5G Hypergrowth Portfolio: Six Stocks to Incredible Wealth. Each company is directly in line to profit from 5G.
I will be recommending another 5G stock on Thursday, after the market close. So, if you join Breakthrough Stocks today, you'll have access to this new recommendation as soon as it's released.
Sincerely,
Louis Navellier
The Editor hereby discloses that as of the date of this email, the Editor, directly or indirectly, owns the following securities that are the subject of the commentary, analysis, opinions, advice, or recommendations in, or which are otherwise mentioned in, the essay set forth below:
Alcoa Corporation (AA)
Louis Navellier, who has been called "one of the most important money managers of our time," has broken the silence in this shocking "tell all" video… exposing one of the most shocking events in our country's history… and the one move every American needs to make today.
More From InvestorPlace
The post Here's What Triggered Today's Selloff appeared first on InvestorPlace.
Cleantech Boom 2.0: Does Mining Have a Place?
Investment in mining and its resources is an integral part of cleantech as green initiatives to make the energy transition possible.
The post Cleantech…
The climate crisis is back at the forefront of political discussions following COP26 and several initiatives aiming to reduce carbon emissions have been announced. Decarbonising our economy is a difficult but urgent task and continued technological innovation will help. Although new technologies will aid the reduction of carbon emissions, the sheer volume of raw materials required to innovate are significant. Is investment in decarbonisation a reasonable excuse to further dig up the planet?
Defining cleantech
'Cleantech' (often used interchangeably with 'climatetech') refers to innovative solutions to address the challenges of climate change. These solutions help to achieve the goals of environmental sustainability by storing or generating energy with limited carbon emissions, thus assisting decarbonisation efforts. Investors are recognising the importance and potential longevity of this industry and investment is pouring in.
Electric vehicles (EVs) are one of the leading technologies required to reduce the emissions of the transport industry, but the transition to renewables and EVs will require an abundance of materials and extraction rates are rising.
Investment floods in
While there was a boom in cleantech investment in 2005, it began to be seen as a risky choice and interest dwindled due to investment failures in areas such as biofuels and solar. The investment bubble then burst. However, the urgency to reach net-zero has reignited interest in cleantech and, as innovations in areas such as agriculture and batteries are announced, investors are scrambling for their share. This investment boom is spurring an increase in the number of start-ups, driving the much-needed innovation required to help solve the climate crisis.
Mining activity is on the rise
To deal with the growing number of clean technologies, mining extraction rates are also growing. Various metals and minerals are required in the transition to decarbonisation and minerals such as cobalt and lithium are the building blocks of cleantech. As the world attempts to reach net zero, demand for critical minerals will skyrocket.
According to a 2020 World Bank Report, a low-carbon future will be more mineral intensive as clean energy requires more materials than fossil-fuel-based technologies. The International Energy Agency estimates that EVs require six times the amount of minerals as a typical car and nine times more minerals are required for wind energy plants than gas-fired equivalents. However, ESG concerns around the traditional heavy industry are so far causing investors to look the other way.
ESG in mining
There are several ESG concerns tied to mining, notably, the environmental degradation caused by the erection and operation of mines to meet the growing demand for materials. Social and governance concerns are becoming increasingly apparent and stories of dangerous working conditions, artisanal miners and child labour are common. ESG funds often exclude mining as a result. To counteract this, the mining sector is beginning to show signs that it is taking ESG seriously. A leading example is Glencore, who GlobalData classifies as a climate leader. Glencore has pledged to reach net-zero carbon emissions by 2050. Its carbon reduction strategies include the electrification of mining fleets, which has been pioneered by companies such as Newmont and Boliden.
As investors are increasingly becoming more climate aware, mining companies are recognising the potential upsides of taking ESG seriously. This will drive companies to innovate to establish how they can decouple their growth from emissions.
Investors need to think about the future
A boom in green investment has begun again but shifting investment away from mining will undermine the green energy transition. Mining companies should further implement ESG principles and demonstrate that they are serious about ESG. Green funds should also include these mines in their portfolios instead of blacklisting them. Without the mining industry, the energy transition is not possible and investors should stop shying away from this heavy industry by focusing all their investment on renewable technologies. Currently, the production of these technologies cannot be achieved without mining and the resources it produces. Investors should instead use the power they possess to exert pressure on mining companies to consider ESG strategies. They would then need to prove that they are more sustainable and innovate their techniques to achieve this. Therefore, the boom in green investment can be used to tidy up the mining industry and keep the cleantech bubble afloat.
The post Cleantech boom 2.0: Does mining have a place? appeared first on Mining Technology.
Today's Mortgage Rates Cross Over 4% Mark | January 19, 2022
The average rate for a 30-year fixed-rate mortgage is up to 4.033% today. It's the first time this daily rate has averaged more than 4% since September…
The average rate for a 30-year fixed-rate mortgage is up to 4.033% today. It's the first time this daily rate has averaged more than 4% since September 2020. All other loan categories are also seeing higher rates, with the average for a 30-year refinance loan increasing to 4.148%. The rate for a 5/1 adjustable-rate mortgage is up to 2.475%.
While rates have been steadily climbing over the past few weeks, many borrowers with strong credit can still find attractive rates and monthly payments on a new mortgage or when refinancing.
The latest rate on a 30-year fixed-rate mortgage is 4.033%. ⇑
The latest rate on a 15-year fixed-rate mortgage is 3.067%. ⇑
The latest rate on a 5/1 ARM is 2.475%. ⇑
The latest rate on a 7/1 ARM is 3.824% ⇑
The latest rate on a 10/1 ARM is 4.067%. ⇑
Money's daily mortgage rates reflect what a borrower with a 20% down payment and a 700 credit score — roughly the national average score — might pay if he or she applied for a home loan right now. Each day's rates are based on the average rate 8,000 lenders offered to applicants the previous business day. Freddie Mac's weekly rates will generally be lower, since they measure rates offered to borrowers with higher credit scores.
Today's 30-year fixed-rate mortgage rates
The 30-year rate is 4.033%.
That's a one-day increase of 0.117 percentage points.
That's a one-month increase of 0.464 percentage points.
The 30-year mortgage is the most common home loan in America thanks to its long payback time, relatively low and steady monthly payments and predictable interest rate. The downside is that the interest rate will be higher compared to a shorter-term loan, so you pay more interest over the years.
Today's 15-year fixed-rate mortgage rates
The 15-year rate is 3.067%.
That's a one-day increase of 0.124 percentage points.
That's a one-month increase of 0.525 percentage points.
The 15-year fixed-rate mortgage has a lower interest rate compared to a longer-term loan, so you'll save over time with this type of loan. However, the shorter term also means the monthly payments will be higher than a similar 30-year loan.
The latest rates on adjustable-rate mortgages
The latest rate on a 5/1 ARM is 2.475%. ⇑
The latest rate on a 7/1 ARM is 3.824%. ⇑
The latest rate on a 10/1 ARM is 4.067%. ⇑
The interest rate on an adjustable-rate mortgage will be fixed for the first few years before it becomes variable. The rate on a 5/1 ARM, for example, is fixed for five years, then resets yearly. An ARM could be a good option if you don't plan on staying in the home long term, as the initial interest rate is usually very low. The downside is that there could be a big increase once the rate starts to reset .
The latest VA, FHA and jumbo loan rates
The average rates for FHA, VA and jumbo loans are:
The rate on a 30-year FHA mortgage is 3.9%. ⇑
The rate on a 30-year VA mortgage is 4.012%. ⇑
The rate on a 30-year jumbo mortgage is 3.726%. ⇑
The latest mortgage refinance rates
The average refinance rates for 30-year loans, 15-year loans and ARMs are:
The refinance rate on a 30-year fixed-rate refinance is 4.148%. ⇑
The refinance rate on a 15-year fixed-rate refinance is 3.185%. ⇑
The refinance rate on a 5/1 ARM is 2.77%. ⇑
The refinance rate on a 7/1 ARM is 3.967%. ⇑
The refinance rate on a 10/1 ARM is 4.212%. ⇑
Where are mortgage rates heading this year?
Mortgage rates sank through 2020. Millions of homeowners responded to low mortgage rates by refinancing existing loans and taking out new ones. Many people bought homes they may not have been able to afford if rates were higher. In January 2021, rates briefly dropped to the lowest levels on record, but trended slightly higher through the rest of the year.
Looking ahead, experts believe interest rates will rise more in 2022, but also modestly. Factors that could influence rates include continued economic improvement and more gains in the labor market. The Federal Reserve has also begun tapering its purchase of mortgage-backed securities and announced it anticipates raising the federal funds rate three times in 2022 to combat rising inflation.
While mortgage rates are likely to rise, experts say the increase won't happen overnight and it won't be a dramatic jump. Rates should stay near historically low levels through the first half of the year, rising slightly later in the year. Even with rising rates, it will still be a favorable time to finance a new home or refinance a mortgage.
Factors that influence mortgage rates include:
The Federal Reserve. The Fed took swift action when the pandemic hit the United States in March of 2020. The Fed announced plans to keep money moving through the economy by dropping the short-term Federal Fund interest rate to between 0% and 0.25%, which is as low as they go. The central bank also pledged to buy mortgage-backed securities and treasuries, propping up the housing finance market but began cutting back those purchases in November.
The 10-year Treasury note. Mortgage rates move in lockstep with the yields on the government's 10-year Treasury note. Yields dropped below 1% for the first time in March 2020 and have been rising since then. On average, there is typically a 1.8 point "spread" between Treasury yields and benchmark mortgage rates.
The broader economy. Unemployment rates and changes in gross domestic product are important indicators of the overall health of the economy. When employment and GDP growth are low, it means the economy is weak, which can push interest rates down. Thanks to the pandemic, unemployment levels reached all-time highs early last year and have not yet recovered. GDP also took a hit, and while it has bounced back somewhat, there is still a lot of room for improvement.
Tips for getting the lowest mortgage rate possible
There is no universal mortgage rate that all borrowers receive. Qualifying for the lowest mortgage rates takes a little bit of work and will depend on both personal financial factors and market conditions.
Check your credit score and credit report. Errors or other red flags may be dragging your credit score down. Borrowers with the highest credit scores are the ones who will get the best rates, so checking your credit report before you start the house-hunting process is key. Taking steps to fix errors will help you raise your score. If you have high credit card balances, paying them down can also provide a quick boost.
Save up money for a sizeable down payment. This will lower your loan-to-value ratio, which means how much of the home's price the lender has to finance. A lower LTV usually translates to a lower mortgage rate. Lenders also like to see money that has been saved in an account for at least 60 days. It tells the lender you have the money to finance the home purchase.
Shop around for the best rate. Don't settle for the first interest rate that a lender offers you. Check with at least three different lenders to see who offers the lowest interest. Also consider different types of lenders, such as credit unions and online lenders in addition to traditional banks.
Also. take time to find out about different loan types. While the 30-year fixed-rate mortgage is the most common type of mortgage, consider a shorter-term loan like a 15-year loan or an adjustable-rate mortgage. These types of loans often come with a lower rate than a conventional 30-year mortgage. Compare the costs of all to see which one best fits your needs and financial situation. Government loans — such as those backed by the Federal Housing Authority, the Department of Veterans Affairs and the Department of Agriculture — can be more affordable options for those who qualify.
Finally, lock in your rate. Locking your rate once you've found the right rate, loan product and lender will help guarantee your mortgage rate won't increase before you close on the loan.
Our mortgage rate methodology
Money's daily mortgage rates show the average rate offered by over 8,000 lenders across the United States the most recent business day rates are available for. Today, we are showing rates for Tuesday, January 18, 2022. Our rates reflect what a typical borrower with a 700 credit score might expect to pay for a home loan right now. These rates were offered to people putting 20% down and include discount points.
More from Money: