7 Stocks to Buy If the Government Shuts Down in February 2022
Since Wall Street's opening bell sounded on the day after Thanksgiving, clouds of uncertainty have hung over U.S. markets. Reports of what would soon…
Since Wall Street's opening bell sounded on the day after Thanksgiving, clouds of uncertainty have hung over U.S. markets. Reports of what would soon be dubbed the omicron variant were quick to send shock waves across certain sectors. And since then, more news has risen from Capitol Hill that has proved unsettling for investors. Bipartisan bickering has led to increasing discussion of a government shutdown.
Fortunately, Democratic lawmakers managed to avert the shutdown just before a key Dec. 3 deadline, securing funding through February 2022. This represents only a temporary solution to a larger problem, though, leaving investors with pressing questions. What could a government shutdown mean for markets?
If you're wondering what stocks to buy as the next funding, you're not alone.
While we don't know for sure what the immediate future will look like, if it does include a government shutdown, either partial or complete, it likely won't be all bad news for investors. On the contrary, there are some industries that stand to benefit. Let's take a look at some stocks to buy if a shutdown does occur.
Stocks to Buy for a Government Shut Down: Procter & Gamble (PG)
Source: Jonathan Weiss / Shutterstock.com
As you can probably tell from the names on this list, the consumer staples sector is likely to benefit the most from a shutdown. No company produces more household items than Procter & Gamble. Its holdings are truly vast, spanning healthcare, home care, and baby and feminine care, to name just a few. And in each area, P&G has secured a significant market share.
Government shutdowns tend to induce strong feelings of uncertainty, compelling consumers to stock up on the items they don't want to be without if things take a turn for the worst. During the shutdown of 2018, many government agency workers found themselves working without pay or with wages in furlough. They remember that feeling well and if a shutdown comes again, they don't want to be ill-prepared.
We also know that during periods of uncertainty, nervous Americans tend to over-prepare by over-shopping. The kind of products they need are distributed by large companies, and Procter & Gamble controls many of the country's most trusted brands.
PG stock has also been touted for its resistance to the inflationary trends that are also affecting consumer habits. If you're looking for stocks to buy in preparation for a shutdown, there's no better bet than this consumer staples giant.
Campbell Soup Company (CPB)
Source: HeinzTeh / Shutterstock.com
If Americans are going to be stocking up on essentials, they'll be employing the same practice when it comes to food. And when it comes to stockpiling non-perishable food items, there's no better bet than Campbell Soup.
The iconic brand is sold everywhere, from big-box markets to dollar stores, and it keeps for months upon months. Additionally, we're heading into the coldest season and as temperatures drop, the need for warm items such as hearty soups will only mount. InvestorPlace contributor Joel Baglole named CPB as  stock to buy the next time a national event gives Americans apocalyptic anxieties. As he stated, "When people think of stockpiling food supplies, they turn to soup. It's hearty, comforting, makes for a great lunch, and has a shelf life that can outdo most other canned goods."
Sales are likely to increase as the company heads into a winter marked by multiple events that could easily have Americans stocking up on food items. CPB stock should definitely be high on your list of stocks to buy for a shutdown, particularly as it's been struggling lately, creating what could become a lucrative opportunity to buy the dip if such trends continue.
Stocks to Buy for a Government Shutdown: Archer-Daniels-Midland (ADM)
Source: Katherine Welles / Shutterstock.com
The company commonly referred to by its initials is known as a staple of food production and distribution. With a reach that extends far beyond that, though, it's also a leader in the global field of agricultural processing. Throughout years of fairly steady growth, the company has worked to emphasize practices that center around health and sustainability. ADM doesn't own farms, but it partners with them by supplying innovative technologies to help spur the growth and distribution of agricultural products.
It doesn't stop with agricultural services, though. The company's work spans areas including oilseeds and carbohydrate solutions as well as animal nutrition ingredients. Moreover, if it involves food and will be in demand as America faces a daunting economic outlook, ADM will be helping provide it.
It's worth noting that while many consumers will absolutely be stocking up on items like Campbell soups, their more health-conscious peers will be more focused on the food items provided by companies like Archer-Daniels-Midland. ADM was recently named to a list of consumer staple stocks to buy for reasons even more pronounced today.
Coca-Cola Company (KO)
Source: Fotazdymak / Shutterstock.com
There's likely no brand more iconically American than Coca-Cola. Even non-soda drinkers have sampled some product owned by the massive soft drink conglomerate whose holdings are also quite vast, encompassing brands such as Dasani Waters, Honest Tea and Minute Maid Beverages.
If nervous Americans are stocking up on food, they'll also have to stock up on beverages and there is no beverage company better-known than Coca-Cola. Not all Americans drink the soda for which the company is named, but their beverage of choice is likely made by one of the company's subsidiaries. With this type of empire, KO is a safe investment as the country prepares for a period of uncertainty.
Even in the face of inflation, KO stock appears to be standing its ground. As it turns out, there is plenty of reason, as the stock is touted for its inflation-proof qualities. As InvestorPlace contributor Alex Sirois noted in a recent list on exactly that topic, "the general thesis is that consumer goods bear the brunt of inflation." KO stock should definitely should not be counted out of lists of stocks to buy in the face of a government shutdown.
Stocks to Buy for a Government Shutdown: Colgate-Palmolive (CL)
Source: Shutterstock
It isn't just food and beverages that Americans will be stocking up on if the shutdown proceeds, though. You probably associate the name with products such as toothpaste, but the multi-national corporation under which Colgate operates produces and distributes toothbrushes, mouthwashes, and rinses for both adults and children. It also produces products of general hygiene needs for both humans and animals. For anyone concerned with dental wellness or just general hygiene, Colgate's products are essential, and they will be of paramount importance in a time of economic uncertainty. If you keep it next to your bathroom sink, Colgate-Palmolive probably made it.
Earlier this year, InvestorPlace contributor Josh Enomoto named CL among recession-resistant stocks to buy for nervous investors. "A recession would have to be pretty darn awful for people to skimp out on the bare necessities," he noted.
While we're not facing a recession just yet, it seems a safe assumption that Colgate-Palmolive will be a company that only sees business increases as nervous Americans prepare for the worst. The last government shutdown we saw led to considerable economic instability and plenty of anxiety among consumers. This time around, Americans will want to be prepared and shopping helps the nervous feel better, particularly for the type of essentials that Colgate-Palmolive provides.
Altria Group (MO)
Source: Kristi Blokhin / Shutterstock.com
We've discussed the essentials quite a bit throughout this list, but we all know that nervous Americans won't just be buying what's good for them. They'll be stocking up on things that help them feel better, such as alcohol and cigarettes. Tobacco companies stand to benefit from an economic period where stress will be high. This giant of its sector owns several of the biggest names in big tobacco including PhilipMorrisUSA. It's also worth noting that Altria has been exploring expansions into the fast-growing cannabis market. In 2018, it made a strategic investment in Canadian cannabis producer Cronos Group (NASDAQ:CRON) and explored further investments more recently.
As InvestorPlace contributor Chris Lau noted, "Some investors view tobacco as an unattractive investment. But people who smoke still need to buy the company's products. Plus, Altria has a discount segment that is growing. It is careful not to gouge price-sensitive customers, especially its premium brands."
Anyone seeking to capitalize on the increase in cigarette sales that the country could see would be well served to consider MO among shutdown stocks to buy.
Stocks to Buy for a Government Shutdown: Newmont (NEM)
Source: Piotr Swat/Shutterstock
While this name may seem like an odd choice for a list that primarily includes consumer staples stocks, it's also worthwhile to consider a worst-case scenario play, examining the type of stock that stands to benefit if a shutdown is prolonged or leads to a worse economic landscape in which fears are amplified significantly.
If we start approaching that type of scenario, we're likely to see companies with heavy ties to gold mining start to benefit as Americans seek the safest ways to store their money and protect their assets. As the country's largest gold mining company, Newmont is worth a look if you're seeking stocks to buy. The company's mines can be found in the American west, but its mining reach has expanded to countries such as the Dominican Republic, Ghana and Australia.
We recently saw a rally in gold prices following the inflationary trends that came to define the late fall. While prices have fallen since then, fears are now rising for other reasons and if they continue to worsen, gold mining companies will be standing at the ready.
For anyone interested in stocks to buy for a time marked by panic and uncertainty, this could be a good time for a bullish play on gold mining.
On the date of publication, Samuel O'Brient did not have (either directly or indirectly) any positions in the securities mentioned in this article. The opinions expressed in this article are those of the writer, subject to the InvestorPlace.com Publishing Guidelines.
More From InvestorPlace
The post 7 Stocks to Buy If the Government Shuts Down in February 2022 appeared first on InvestorPlace.
dollar
gold
inflation
markets
mining
inflationary
nyse
nasdaq
Week Ahead – Fed and Earnings in Focus
Investors in need of a lift Earnings season is off to a rocky start and not only are investors not comforted by what they're seeing, but it's also…
Investors in need of a lift
Earnings season is off to a rocky start and not only are investors not comforted by what they're seeing, but it's also contributing to the unease in the markets. The next week will be huge after an awful start to the year that's brought inflation and interest rate anxiety, earnings disappointment, and increased geopolitical risk.
The Federal Reserve will have an opportunity to ease the growing concerns in the markets that four rate hikes and balance sheet reduction won't be enough to get inflation under control. The last week has seen plenty of speculation around the possibility of the first 50 basis point increase in more than 20 years and up to seven hikes next year which isn't helping to calm the nerves.
The Nasdaq has been hit hard by the combination of higher yields and risk aversion which will make the big tech earnings next week all the more important. Netflix got things off to a disappointing start and paid the price. Can the other big tech names turn things around?
Will the Fed ease investor fears?
Pressure growing on Boris Johnson
SARB expected to raise rates again
US
This is building up to be a huge week on Wall Street after investors have been rattled by a rough start to earnings season and now face a critical FOMC meeting that should pave the way for a March liftoff.  The main event is the Fed policy meeting and press conference, but a close second will be the next round of earnings.  The Fed is worried about inflation and will be delivering a series of interest rate hikes in the first half of the year.  This week's meeting is all about preparing markets for how they will normalize policy this year with rate hikes and balance sheet reduction. 
With the Nasdaq falling into correction territory, stock traders will look to see if Microsoft, Intel, and Apple earnings can help form a bottom.  Investors are growing cautious over the outlook as margin pressures continue to get hit over surging wage and transportation costs.    
Geopolitics is also becoming a key focal point for investors, with US and Russian talks over Ukraine potentially having a huge impact on energy prices. US policy over North Korea may become more aggressive as the country seems poised to resume nuclear missile tests.  
EU 
Plenty of economic data to come from the euro area next week which will no doubt draw a lot of attention, starting with the flash PMIs on Monday.
With markets once again getting ahead of the curve and pricing in a small rate hike in October, despite President Christine Lagarde pushing back against it, there will be a lot of focus on the releases and what they tell us about inflation.
Italian lawmakers will start voting next week for the country's next President, with Prime Minister Mario Draghi the favorite.
UK
A relatively quiet week as far as the UK is concerned. From a data standpoint, the week basically starts and finishes on Monday with the flash PMIs. With four rate hikes priced in this year, the focus remains on the inflation outlook and whether more may be needed.
Of course, the political arena is far more in the headlines right now. Boris Johnson is hanging on by a thread as we await the outcome from Sue Gray's investigation into Downing Street parties during lockdown. Pressure has become almost unbearable on the Prime Minister but he came out fighting during PMQ's and if Gray returns a favorable report, he could well live to see another day. 
Russia
A quiet week on the economic side, with industrial output on Tuesday and PPI on Wednesday the only notable releases.

As far as Russia is concerned, the focus is on the geopolitics and whether the country is, as the US warns, about to invade Ukraine. The market impact could be very negative in that case and the currency is already coming under some pressure, despite higher oil prices, as the odds increase.
South Africa
Inflation rose faster than expected last month, reaching 5.9%, up from 5.5% in November, which is right at the upper end of the central bank target range of 3-6%. The jump has made a second consecutive 25 basis point hike very likely which will take the repo rate to 4%.
Turkey
A rare moment of refrain from the CBRT this week saw the repo rate remain at 14%. That brought an end to a run of four consecutive rate cuts that saw the repo rate slashed by 5% and inflation soar to 36%.
The move left the lira quite stable for another week after an extraordinarily volatile couple of months. Governor Sahap Kavcioglu's briefing on the quarterly inflation report on Thursday will be all the more interesting after the decision to hold rates. 
The CBRT said this week that a comprehensive review of the policy framework is being conducted and the lira will be prioritized. Perhaps we'll learn more about what that means next week and whether more volatility is coming.
China
China Industrial Profits for December, which will be released on Thursday, is a key gauge of the strength of the business sector. The consensus stands at 10%, up from the November gain of 9.0%.
China has responded to recent Covid-19 outbreaks by enacting a zero-tolerance policy. There are more than 20 million people are in lockdown, but the economy has held up.
India
The Indian state of Maharashtra announced that it will reopen schools this week. Although the state had the highest number of Omicron cases in the country, new cases have fallen sharply. This raises hopes that Omicron has peaked and the economy can reopen. India has been devastated by Covid, recording almost 500,000 deaths from the pandemic.
No major data next week but traders continue to look for clues around a possible rate hike in February in response to rising global yields and higher oil prices.
Bank Holiday on Wednesday.
Australia 
Australia releases CPI for Q4 on Tuesday. The consensus stands at 0.8% QoQ, unchanged from the third quarter. Price rises have been driven by an increase in energy, food, and new home construction costs. The energy component may ease in the coming months and wage growth remains weak, which means that inflationary pressures should be contained.
PMIs will be released early in the week which could dictate early trading.
Australia Day bank holiday on Wednesday.
New Zealand
New Zealand will publish CPI for Q4 on Thursday. Higher energy continues to fuel an upswing in inflation, with the headline reading expected to rise above 5.0% YoY. On a quarterly basis, CPI is expected to have climbed 0.8%, after a sharp rise of 2.2% in Q3. Gasoline and food costs are the primary drivers of inflation. 
Japan
After decades of deflation, Japan is seeing a rise in inflationary pressures.  On Tuesday, we'll get a look at BoJ Core CPI, the central bank's preferred inflation indicator. This will be followed on Thursday by Tokyo Core CPI for January. The consensus is a 0.2% gain, down from 0.5% prior. 
Inflation has been boosted by rising energy and food costs, which will likely continue to boost inflation. At the same time, the Omicron wave is a downside risk.
---
Economic Calendar
Monday, Jan. 24
Evergrande next dollar bond interest payments are due
German Chancellor Scholz discusses Covid pandemic strategy
Lawmaker ballot starts for Italy's presidency
COP27 climate summit
European Union foreign ministers meet in Brussels
European Commission VP Sefcovic and UK Foreign Secretary Truss meet for Brexit talks
Economic Data/Events
Australia CPI
Singapore CPI
Eurozone PMI
Germany PMI
UK PMI
Australia PMI
Japan Bank PMI
Taiwan industrial production, money supply
South Korea retail sales, department store sales
Switzerland sight deposits
Tuesday, Jan. 25
US FOMC begins a two-day meeting
IMF launches the World Economic Outlook update
Economic Data/Events
Germany IFO business climate
Mexico international reserves
New Zealand performance services index
Australia consumer confidence, CPI
Hungary Rate decision
US Conference Board consumer confidence
UK public finances, public sector net borrowing
Japan department store sales
Vietnam industrial production, retail sales, trade, CPI
Turkey real sector confidence
Spain PPI
Wednesday, Jan. 26
Economic Data/Events
FOMC Rate Decision: The Fed may stop bond purchases and set up a March liftoff
US new home sales, wholesale inventories
BOC Rate decisions: May raise rates 25 bps to 0.50%
Poland GDP
China industrial profits
New Zealand trade, credit card spending
Philippines agricultural output
Japan PPI services, leading index
Thailand capacity utilization, manufacturing production index
Singapore industrial production
Poland unemployment
Russia CPI, PPI
Switzerland Credit Suisse survey expectations
Spain mortgages
EIA Crude Oil Inventory Report
Thursday, Jan. 27
Economic Data/Events
US Q4 Advance GDP Annualized Q/Q: 5.8%e v 2.3% prior
US initial jobless claims, durable goods
European Central Bank's Edward Scicluna speaks at a European Savings and Retail Banking Group event
Norway's sovereign wealth fund releases key figures for 2021
Turkish central bank releases its quarterly inflation report
Hungary Rate Decision: Expected to raise interest rates by 30 basis points to 2.70%
Hong Kong Trade
Mexico Trade
Switzerland Trade
New Zealand CPI
Spain Unemployment
Singapore Unemployment
South Africa rate decision: Expected to raise rates by 25 basis points to 4.00%
South Africa PPI
China industrial profits
Japan machine tool orders
Australia Westpac leading index, Bloomberg economic survey, import-export price index
Russia gold and foreign reserves
Germany consumer confidence
Friday, Jan. 28
Economic Data/Events
US consumer income, University of Michigan consumer sentiment
German GDP
France GDP
Sweden GDP
Eurozone economic confidence, consumer confidence
Singapore Unemployment
Sweden Unemployment
Norway Unemployment
France PPI
Australia PPI
New Zealand consumer confidence
Japan CPI: Japan (Tokyo)
Thailand forward contracts, foreign reserves
Turkey economic confidence
South Africa monthly budget balance
Italy economic, manufacturing, and consumer confidence
Sovereign Rating Updates
Hungary (Fitch) 

Ireland (Fitch)

Finland (Moody's)

Austria (DBRS)
dollar
gold
inflation
deflation
markets
reserve
policy
money supply
interest rates
fed
central bank
inflationary
Stocks Roughed up to End Week
It was an ugly end to an ugly week for equities on both sides of the border in North America, as energy stocks took a hit and investors foresaw higher…
It was an ugly end to an ugly week for equities on both sides of the border in North America, as energy stocks took a hit and investors foresaw higher interest rates starting next week.
The S&P/TSX Composite fell sharply by Friday's closing bell, 436.79 points, or 2.1%, to 20,621.39, for a loss on the week of 736 points, or 3.45%.
The Canadian dollar slumped 0.49 cents at 79.50 cents U.S.
Energy stocks wore the largest collars, with Birchcliff Energy sliding 41 cents, or 6.7%, to $5.68, while Vermilion Energy weakened a dollar, or 5.3%, to $18.02.
Tech issues took a wallop, too, as Shopify was bruised $169.58, or 13.2%, to $1,112.61, HUT 8 Mining was stricken 96 cents, or 12.3%, to $6.82.
In resource stocks, Turquoise Hill retreated $1.80, or 8.5%, to $19.49, while MAG Silver doffed $1.43, or 7%, to $19.07.
On the economic calendar, Statistics Canada reported retail sales gained 0.7% to $58.1 billion in November. The increase was led by higher sales at gasoline stations, building material and garden equipment and supplies dealers and food and beverage stores.
The agency's new housing price index grew 0.2% its slowest pace since June 2020. Nationally, new home prices rose 11.6% year over year in December.
Elsewhere, Alberta Premier Jason Kenney on Thursday called on the federal government to pause a COVID-19 vaccine mandate for cross-border truckers that companies say will disrupt the supply chain and fuel inflation.
ON BAYSTREET
The TSX Venture Exchange cratered 33.73 points, or 3.8%, Friday to 872.18, for a weekly bleeding of 46 points, or 5.12%.
All 12 TSX subgroups were lower, with energy plummeting 3.8%, information technology descending 3.4%, and materials down 2.6%.
ON WALLSTREET
The NASDAQ Composite dropped on Friday, notching its worst week since 2020, as sharp losses in streaming giant Netflix dragged the technology-focused index deeper into correction territory.
The Dow Jones Industrials swooned 450.02 points, or 1.3%, to 34,245.37, a loss on a holiday-shortened week of 1,646 points, or 4.86%. Markets were closed Monday for Martin Luther King Day.
The S&P 500 sank 84.79 points, or 1.9%, to 4,397.94, for a weekly loss of 265 points, or 5.68%. Both the Dow and S&P 500 are on track for a third straight week of losses, their worst weeks since 2020.
The NASDAQ crumpled 389.10 points, or 2.7% Friday to 14,039.86, for a weekly loss of 1,125 points, or 7.55%.
The NASDAQ is off to its worst start to the year, through the first 14 trading days, since 2008.
Both the Dow and S&P 500 are on track for a third straight week of losses.
Netflix's disappointing quarterly report is the latest setback for technology investors. Shares of the streaming giant tumbled 21.8% on Friday after the company's fourth-quarter earnings report showed a slowdown in subscriber growth. Its competitors' shares also declined, with Dow component Disney, which operates the Disney+ streaming service, off 6.9%.
Netflix is the first major tech stock to report earnings this season, with Apple and Tesla slated to post earnings next week. Tesla lost 5.3% on Friday. Other tech names like Amazon dropped 6%, and Meta Platforms fell 4.2%.
Meanwhile, Peloton shares rebounded 11.7% on Friday. The maker of interactive fitness bicycles and treadmills plunged 23.9% during regular trading on Thursday after reports that the company is temporarily halting production of its fitness products.
Prices for 10-year Treasurys leaped, lowering yields to 1.76% from Thursday's 1.82%. Treasury prices and yields move in opposite directions.
Oil prices ditched 67 cents to $84.88 U.S. a barrel.
Gold prices retreated $9.20 to $1,833.40 U.S. an ounce.
Gold Stable as Bitcoin Tumbles Below $35K While Investors Offload Risky Assets
Cryptocurrencies have not been performing too well since the beginning of the year, and this week continued their downward slide…
Cryptocurrencies have not been performing too well since the beginning of the year, and this week continued their downward slide as major economies prepare to scale back generous monetary policies in face of rising inflation.
The price of bitcoin has fallen to around $36,800 at the time of writing, marking a decline of nearly 6% from Thursday. Since the start of 2022, the cryptocurrency's price is down over 15%, which is a substantial drop from its record-high price of $98,990 back in November. Likewise, its counterpart, ethereum, isn't faring too well either, falling by nearly 20% since the beginning of the year.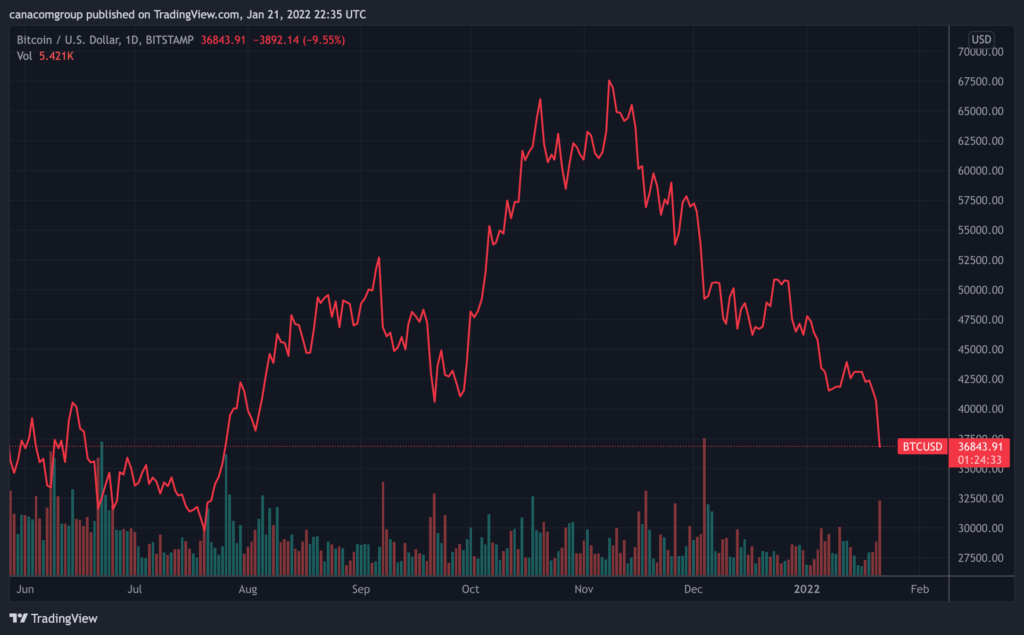 It appears that investors are becoming worrisome about major central banks pulling back their monetary stimulus policies a lot sooner than expected in an effort to rein in surging inflation. The Bank of Canada is expected to hike its key rate as early as next week, while the Federal Reserve recently signalled that it too, will begin winding down its support ahead of the timeline.
In the meantime, a number of major governments are attempting to curb the growing popularity of cryptocurrencies. This week, Russia's central bank has proposed a complete ban on the mining and use of cryptocurrencies in the country, as digital tokens could pose a threat to the financial stability of traditional currency. Russia's crackdown comes merely a month after China outright banned crypto mining and trading.
But, not everyone has a bearish view on crypto prices. Goldman Sachs forecasts that bitcoin will hit $100,000 within the next five years, as the cryptocurrency could increasingly erode at gold's market share.
Information for this briefing was found via Reuters. The author has no securities or affiliations related to this organization. Not a recommendation to buy or sell. Always do additional research and consult a professional before purchasing a security. The author holds no licenses.
The post Bitcoin Tumbles Below $37K as Investors Offload Risky Assets appeared first on the deep dive.