7 Stocks to Sell If You Believe Morgan Stanley's 20% Pullback Forecast
The S&P 500 is on fire at the moment on the heels of an excellent earnings season. It seems that nothing can stop the current bull run as the markets…
The S&P 500 is on fire at the moment on the heels of an excellent earnings season. It seems that nothing can stop the current bull run as the markets have proved very resilient. But some are still sounding the alarm that a steep market correction is near, which means it is the right time to discuss overvalued stocks you should sell.
Before you roll your eyes at this latest prediction, it is worth noting that the latest forecast comes from an investment banking giant.
In September, Morgan Stanley (NYSE:MS) strategists led by Michael Wilson said that while it's still the worst-case scenario, evidence points to weaker growth and falling consumer confidence that may result in a drop of more than 20% in U.S. stocks.
Recent results did not confirm the thesis. However, the company has come out with a fresh note that reaffirmed the bearish narrative. Potential interest rate hikes and inflation fears mean you still cannot ignore these calls.
Morgan Stanley Wealth Management Chief Investment Officer Lisa Shalett believes retail investors are maintaining the momentum. These newbie traders are committed to "buying the dip," no matter the circumstances.
Nevertheless, softening market liquidity and tightening financial conditions mean investors need to double-check their portfolios and ensure they are not carrying any overvalued stocks.
Here are seven growth-oriented stocks that could suffer in case of a steep market correction:
Stocks to Sell: Netflix (NFLX)
Source: Riccosta / Shutterstock.com
Netflix was first established as a service for renting DVDs by mail. They quickly adapted to the changing landscape of video entertainment, morphing into one of America's largest online streaming platforms and likely even the world's most popular subscription video on demand, or SVOD, provider today.
While it is dominating the competition and enjoying the top spot, there are concerns regarding rising oversaturation. It is already the largest SVOD in America. But now, most of its subscribers are based outside of the U.S., which means they have to tweak their strategy a bit.
Meanwhile, Disney+, WarnerMedia, and other large firms have launched their SVOD platforms to compete against Netflix. As the competition ramps up and they have to spend more money to secure their numero uno status, profits will suffer.
The content creation business also requires you to keep spending money and resources to attract eyeballs. Although it has worked for Netflix in the past, with so many options now, it seems they will have to fight tooth and nail for market share from hereon in.
Lululemon Athletica (LULU)
Source: Sorbis / Shutterstock.com
Workout apparel retailer Lululemon is on a tear. The shares have a five-year return of 659.3%, and the company has surpassed earnings estimates in the last 10 out of 12 quarters, according to CNBC data.
Although several companies suffered because of the pandemic last year, Lululemon had a decent showing. Things picked up in the fourth quarter, but the recent quarterly results reveal exemplary growth meaning the rebound is well and truly in full flow.
The most important thing, though, was the acquisition of Mirror, which is a revolutionary new fitness device that claims it could change the way people work out. The streaming system offers classes from top instructors on an easy-to-use interface. Lululemon paid $500 million for the purchase, showing how much value it places on the brand.
"Mirror is uniquely positioned as your at-studio, at-home device," said CEO Clavin McDonald during Yahoo Finance's All Markets Summit. "I'm confident that the hybrid fitness strategy will work. We're well positioned with the product."
More recently, Lululemon reported net revenue of $1.5 billion, a year-on-year jump of 61%. Income from operations rose 134% to $291.0 million.
Adjusted income from operations was $299.2 million, an increase of 120% from the year-ago period. Adjusted diluted EPS finished at $1.65 compared to $0.74 a year ago.
Stocks to Sell: Square (SQ)
Source: IgorGolovniov / Shutterstock.com
Square did very well last year. Shares of the digital payments company have a one-year return of 56.4%.
It is understandable why the company did so well. The surge in digital payments and e-commerce was unprecedented last year.
It naturally had a knock-on effect on the company. However, one of the main reasons for the positive price momentum is its Bitcoin (CCC:BTC-USD) trading operation.
Square's core payments business grew by just a single digit in 2020. Again, this is unsurprising because Square focuses on servicing small businesses. They did not do very well last year due to the pandemic. Hence, the crypto business became Square's saving grace.
With its core business struggling, and the company getting little in the way of profits for its bitcoin business, Square becomes one of the foremost stocks to sell before a price correction.
Align Technology (ALGN)
Source: rafapress / Shutterstock.com
At one point, Align Technology had a practical monopoly on clear aligners due to their patent protection. However, since 2017 many competitors have come onto the market and put pressure on prices and the availability of products.
A company known for its teeth-straightening system has faced intense competition from other companies that provide similar services at lower costs or without any associated patents.
This situation may lead some consumers interested in this product type towards going with another alternative instead, which could result in fewer sales overall if not properly managed.
Align is still up an impressive 43.8% over the last year despite the recent dip in sales.
The dental company's success can be attributed largely to its marketing efforts which have helped them find new customers and bring back old ones after the pandemic shut down many practices for months, but we are several months into reopenings.
Therefore, the increase in profits will start to level off in the forthcoming quarters.
Stocks to Sell: Sherwin-Williams (SHW)
Source: Ken Wolter / Shutterstock.com
Sherwin-Williams is one of America's most well-known paint brands, with an extensive retail network.
As DIY projects became more popular last year, many people turned towards Sherwing because of the unique nature of the pandemic.
However, two things are working against the stock. For one, the stock is now trading at dizzying price multiples, 49.7 times forward price to earnings. Paying that high of a premium for a paint and coating manufacturing company is outrageous, especially considering the kind of market that we are in.
The other major issue the company is facing is supply chain disruptions. Sherwin-Williams entered its fiscal third-quarter optimistic that supply chain issues and soaring raw material costs would ease.
Instead, these problems have gotten worse, resulting in a lower outlook for full-year earnings. To add insult to injury, Sherwin's raw material costs are sky-high and will continue to rise moving forward. Sherwin expects this year, their prices for materials will increase by a high teens percentage, which will weigh down its margins.
On the bright side, Sherwin-Williams is purchasing Specialty Polymers. The company manufactures water-based polymers, and it's been their long-time supplier with $112 million in sales last year.
Considering the company is suffering because of supply chain issues, vertical integration might be the penicillin needed.
Wipro (WIT)
Source: Gorodenkoff/Shutterstock.com
Wipro is an Indian IT consulting and system integration services company that has done very well due to the business environment over the last few decades.
IT outsourcing became a popular business tool from the 1980s onwards to reduce time, energy, and resources on tedious repetitive tasks. Offices can outsource their needs for project management or even just data entry without sacrificing quality control by partnering directly in this area.
However, things are changing.
It is difficult to know the effects of outsourcing on unemployment rates. While some researchers believe it can lead to more jobs, others are concerned about lost opportunities at home, but it erodes customer loyalty.
When customers are outsourcing their customer support or technical issues, it can hurt the company's image. When people hear a foreign accent answer calls to American companies, they may lose trust in that business and blame them for creating more jobs outside of America instead of keeping these positions at home.
There is also the small matter of automation, which will eliminate many of the jobs that Wipro performs for overseas clients. It will not happen overnight. However, this is a secular trend working against the Indian tech giant.
Wipro's long track record of underperformance suggests that even with a sound strategy, execution may still be an issue for them. That's why it becomes one of the top stocks to sell.
Stocks to Sell: Telsa (TSLA)
Source: Grisha Bruev / Shutterstock.com
Does anyone know what Tesla's worth?
Tesla is an electric vehicle company founded in 2003 by Elon Musk to change transportation as we know it.
As one can imagine, they've had their fair share of controversy over the divorce between valuation and fundamentals.
Tesla's autonomous driving features and the company's small stationary power storage business should be commended. The electric vehicle manufacturer also continues to set records with every quarter consolidating its position at the top of the food chain.
However, things need to be put into context. General Motors sold about 6.8 million vehicles. Tesla did half a million. Yet, the market caps of the two enterprises are poles apart.
Analysts are struggling to value Tesla because its growth rate is so much faster than traditional car companies have seen in generations. Plus, the technology Telsa is working on is revolutionary. Again, it is tough to put a price tag on it.
However, no one can definitively say the stock is trading at fair value despite all these factors. If a market correction takes place, TSLA and other growth-oriented stocks of the ilk can suffer. It's not often Tesla makes it onto a list of stocks to sell, but it's wise to take profits with this one and look for better investments at this time.
On the publication date, Faizan Farooque did not have (either directly or indirectly) any positions in the securities mentioned in this article. The opinions expressed in this article are those of the writer, subject to the InvestorPlace.com Publishing Guidelines.
Faizan Farooque is a contributing author for InvestorPlace.com and numerous other financial sites. Faizan has several years of experience analyzing the stock market and was a former data journalist at S&P Global Market Intelligence.
More From InvestorPlace
The post 7 Stocks to Sell If You Believe Morgan Stanley's 20% Pullback Forecast appeared first on InvestorPlace.
Stockman: A (Bad) Tale Of Two Inflations
Stockman: A (Bad) Tale Of Two Inflations
Authored by David Stockman via Contra Corner blog,
Our paint by the numbers central bankers have…
Stockman: A (Bad) Tale Of Two Inflations
Authored by David Stockman via Contra Corner blog,
Our paint by the numbers central bankers have given the notion of being literalistic a bad name. For years they pumped money like mad all the while insisting that the bogus "lowflation" numbers were making them do it. Now with the lagging measures of inflation north of 5% and the leading edge above 10%, they have insisted loudly that it's all "transitory".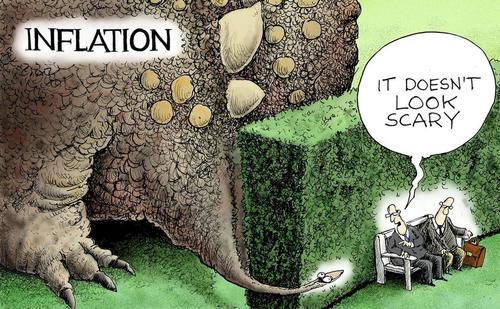 Well, until today when Powell pulled a U-turn that would have made even Tricky Dick envious. That is, he simply declared "transitory" to be "inoperative".
Or in the context of the Watergate scandal of the time,
"This is the operative statement. The others are inoperative." This 1973 announcement by Richard Nixon's press secretary, Ron Ziegler, effectively admitted to the mendacity of all previous statements issued by the White House on the Watergate scandal.
Still, we won't believe the Fed heads have given up their lying ways until we see the whites of their eyes. What Powell actually said is they might move forward their taper end from June by a few month, implying that interest rates might then be let up off the mat thereafter.
But in the meanwhile, there is at least six month for the Fed to come up with excuses to keep on pumping money at insane rates still longer, while defaulting to one of the stupidest rationalizations for inflation to ever come down the Keynesian pike: Namely, that since the American economy was purportedly harmed badly, and presumably consumers too, with the lowflation between 2012 and 2019, current elevated readings are perforce a "catch-up" boon. That is, more inflation is good for one and all out there on the highways and byways of main street America!
You literally can't make up such rank humbug. Even then, what the hell are they talking about?
The shortest inflation measuring stick in town is the Fed's (naturally) preferred PCE deflator, but here it is since the year 2000. The 21 years gain is 1.93% per annum; and the 9-year gain since inflation targeting became official in January 2012 is 1.73%. Given that the PCE deflator is not a true fixed basket inflation index and that these reading are close enough to target for government work anyway, even the "catch-up" canard fails. That's especially true because given the virtual certainty of another year or two of 4-6% CPI inflation, even the cumulative measures of inflation will register well above the Fed's sacrosanct 2.00% target.
Moreover, importantly, pray tell what did this really accomplish for the main street economy?
On the one hand, savers and fixed income retirees have seen their purchasing power drop by 39% since 2000 and 18% since 2012. At the same time, wage workers in the tradable goods and services sectors got modest wage gains with uniformly bad spill-over effects. To wit, millions lost their jobs to China, India and Mexico etc. because their nominal wages were no longer competitive in the global supply base, while those that hung on to their domestic jobs often lost purchasing ground to domestic inflation.
Consequently, the chart below is an unequivocal bad. It is the smoking gun that proves the Fed's pro-inflation policies and idiotic 2.00% target is wreaking havoc on the main street economy and middle class living standards.
Loss of Consumer Purchasing Power, 2000-2021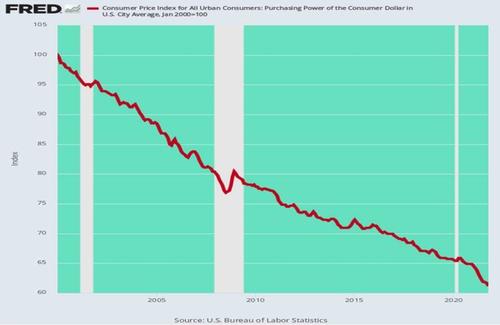 In short. the group-think intoxicated Fed heads, and their Wall Street and Washington acolytes, are hair-splitting inherently unreliable and misleading numbers as if the BLS inflation data was handed down on stone tablets from financial heaven itself. At the same time, the rampant speculative manias in the financial markets that their oceans of liquidity have actually generated is assiduously ignored or denied.
We call this a tale of two inflations because the disaster of today's rampant financial asset bubbles is rooted in pro-inflation monetary policies which are belied by both theoretical and empirical realities, which we address below.
First, however, consider still another aspect of the inflationary asset bubble which is utterly ignored by the Fed. In this case, the group think scribes of the Wall Street Journal inadvertently hit the nail on the head, albeit without the slightest recognition of the financial metastasis they have exposed.
We are referring to a recent piece heralding that private-equity firms have announced a record $944.4 billion worth of buyouts in the U.S. so far this year. That 250% of last year's volume and more than double that of the previous peak in 2007, according to Dealogic.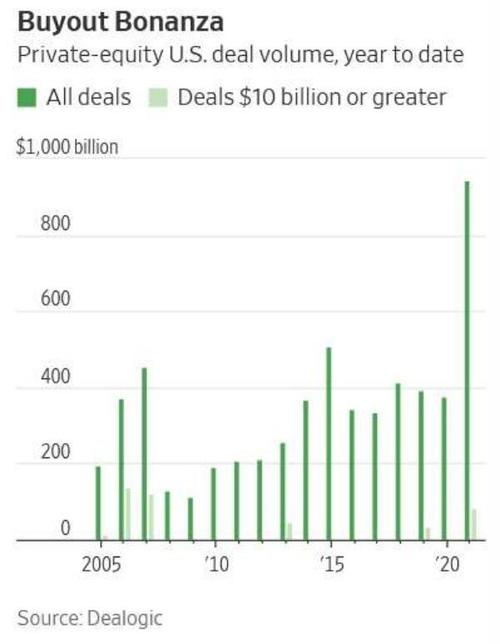 As the WSJ further observed,
Driving the urge to go big are the billions of dollars flowing into private-equity coffers as institutions such as pension funds seek higher returns in an era of low interest rates. Buyout firms have raised $314.8 billion in capital to invest in North America so far in 2021, pushing available cash earmarked for the region to a record $755.6 billion, according to data from Preqin.

As the end of the year approaches, big buyouts are coming fast and furious. A week ago , private-equity firms Bain Capital and Hellman & Friedman LLC agreed to buy healthcare-technology company Athenahealth Inc. for $17 billion including debt. A week earlier, KKR and Global Infrastructure Partners LLC said they would buy data-center operator CyrusOne Inc. for nearly $12 billion. And the week before that, Advent International Corp. and Permira signed an $11.8 billion deal for cybersecurity-software firm McAfee Corp.

The recent string of big LBOs followed the $30 billion-plus deal for medicalsupply company Medline Industries Inc. that H&F, Blackstone Inc. and Carlyle struck in June in the largest buyout since the 2007-08 financial crisis.
Needless to say, these LBOs were not done on the cheap, as was the case, oh, 40 years ago. In the case of AthenaHealth, in fact, you have a typical instance of over-the-top "sloppy seconds". That is, it was taken private by Veritas Capital and Elliott Management three years ago at a fulsome price of $5.7 billion, which is now being topped way up by Bain Capital and Hellman & Friedman LLC in the form of an LBO of an LBO.
According to Fitch, AthenaHealth had EBITDA of about $800 million in 2020, which was offset by about $200 million of CapEx or more.That means that at the $17 billion deal value (total enterprise value or TEV), the transaction was being priced at 28X free cash flow to TEV.
That's insane under any circumstances, but when more than half of the purchase price consists of junk debt ($10 billion out of $17 billion), it's flat out absurd. The reason it is happening is the Fed's massive financial market distortion: Bain Capital and Hellman & Friedman are so flush with capital that it is burning a hole in their pocket, while the junk debt is notionally so "cheap" that it makes a Hail Mary plausible.
But here's the thing.
This is a generic case: the Fed's radical low interest rate policy is systematically driving the allocation of capital to less and less productive uses. And clearly private equity sponsored LBOs are the poster boy, owing to the inherent double whammy of misallocation described by the WSJ above.
On the one hand, capital that should be going to corporate blue chip bonds is ending up on the margin in private equity pools as pension funds, insurance companies and other asset managers struggle to boost returns toward exaggerated benchmarks inherent in their liabilities.
At the same time, private equity operators are engaged primarily in the systematic swap of equity for debt in LBO capital structures, such debt taking the form of soaring amounts of junk bonds and loans.
The higher coupons on junk debt, in turn, attract more misallocation of capital in the debt markets, while at the same time grinding down the productivity and efficiency of the LBO issuers. That because the hidden truth of LBOs is that on the margin they are nothing more than a financial engineering device that strip-mines cash flows that would ordinarily go into CapEx, R&D, work-force training, marketing, customer development and operational efficiency investments and reallocates these flows to interest payments on onerous levels of the junk debt, instead.
That's the essence of private equity. The underlying false proposition is that 29-year old spread-sheet jockeys at private equity shops tweaking budgets downward for all of these "reinvestment" items—whether on the CapEx or OpEx side of the ledger—know more about these matters than the industry lifetime veterans who typically man either public companies, divested divisions or pre-buyout private companies—before they are treated to the alleged magic of being "LBO'd."
In fact, there is no magic to it, notwithstanding that some LBO's generate fulsome returns to their private equity owners. But more often than not that's a function of:
Short-term EBITDA gains that are hiding severe underling competitive erosion owing to systematic under-investment;

The steady rise of market PE multiples fueled by Fed policies, which policies have drastically inflated LBO "exit" values in the SPAC and IPO markets.
So at the end of the day, the Fed's egregious money-pumping is fueling a massively bloated LBO/junk bond complex that is systematically curtailing productive main street investment and therefore longer-term productivity and economic growth.
And, of course, the proceeds of buyouts and junk bonds end up inflating the risk assets, which are mostly held at the tippy top of the economic ladder. And that's a condition which has gotten far worse since the on-set of Greenspanian "wealth effects" policy in the late 1980s. As shown below, between Q4 1989 and Q2 2021:
Top 1%: Share of financial assets rose from 21.0% to 29.2%;

Bottom 50%: Share of financial assets fell from 7.2% to 5.6%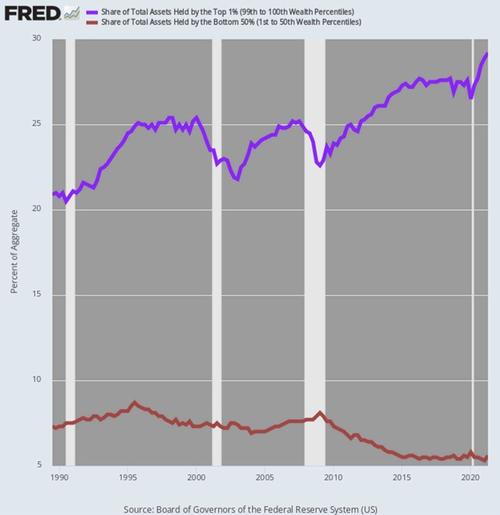 Meanwhile, the good folks are WSJ saw fit to provide a parallel analysis that further knocks the Fed's lowflation thesis into a cocked hat. In this case, the authors looked at the average domestic airline ticket price and found that it is about the same today as 25 years ago, $260 today versus $284 in 1996.
And that's before adjusting for cost inflation. So the question recurs: How is it possible that the airline industry hasn't increased ticket prices in over two decades while its fuel and labor costs, among others, have been marching steadily higher?
As the WSJ noted,
It isn't possible really. Most of us are paying a lot more to fly today, thanks to a combination of three covert price increases.

First, airlines have unbundled services so that fliers pay extra for checking luggage, boarding early, selecting a seat, having a meal and so on. The charges for these services don't show up on the ticket price, but they are substantial.

Second, the airplane seat's quality, as measured by its pitch, width, seat material and heft, has declined considerably, meaning customers are getting far less value for the ticket price.

And third, many airlines have steadily eroded the value of frequentflier miles, increasing costs for today's heavy fliers relative to those in 1996.
Now, did the hedonics mavens at the BLS capture all these negative quality adjustment in airline ticket prices?
They most decidedly did not. As shown below, the BLS says ticket prices have only risen by 5.6% during the same 24 year period or 0.23% per annum. But you wonder with jet fuel costs up by 294% during that period and airline wages higher by 75%—why aren't they all bankrupt and liquidated?
The answer, of course, is that the BLS numbers are a bunch of tommy rot. Adjusted for all the qualitative factors listed above, airline tickets are up by a hell of a lot more than 0.23% per year. Yet the fools in the Eccles Building keep pumping pro-inflation money— so that the private equity game of scalping main street cash flows thrives and middle class living standards continue to fall.
CPI for Airline Fares, 1996-2021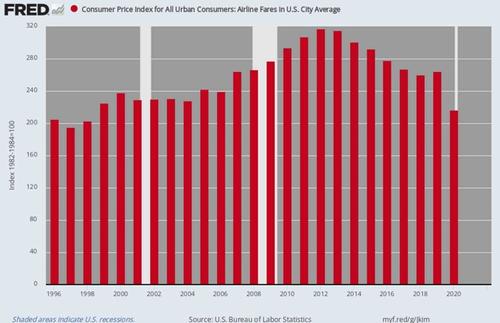 Moreover, the backdoor prices increase embedded in airline fares are not unique. These practices are also common in other industries, whether it's resort fees in hotels, cheaper raw materials in garments and appliances, or more-stringent restaurant and credit-card rewards programs. As the WSJ further queried,
Consider the following comparison: Which one is cheaper, a 64-ounce container of mayonnaise at a warehouse club that costs $7.99, or a 48-ounce bottle of the same brand at a supermarket for $5.94?

Most people will guess the warehouse club because of its low-price image. If you do the math, the price per ounce is roughly the same. But if you consider that the warehouse club requires a separate mandatory membership fee, the customer is actually paying more per ounce at the warehouse club.

Known as two-part pricing, the membership fee camouflages the actual price paid by customers—and is behind the success of Costco,Amazon and likely your neighborhood gym. (A gym's initiation fee, a landlord's application or administrative fee, and an online ticket seller's per-transaction processing fee all serve the same purpose.)
Yet this is just a tiny sampling of the complexity of providing apples-to-apples pricing trends at the item level over time—to saying nothing of proper weighting of all the items that go into the index market basket.
The implication is crystal clear. As per Powell's belated recant on the "transitory" matter, the Fed doesn't know where true inflation has been or have the slightest idea of where it is going.
So the idea of inflation targeting against an arbitrary basket of goods and services embodied in the PCE deflator, much of which consists of "imputations" and wildly arbitrary hedonic adjustments, is just plan nuts.
They only "inflation" measure that is in the proper remit of the Fed is monetary inflation—-something at least crudely measured by its own balance sheet.
On that score the Fed is a infernal inflation machine like no other.
And for want of doubt that the resulting massive asset inflation and rampant financial engineering on Wall Street that flows from Fed policies is wreaking havoc on the main street economy, note this insight from the always perceptive Bill Cohan:
AT&T bought TimeWarner for a total of $108 billion, including debt assumed, and three years later agreed to spin it off it to Discovery for—what?— $43 billion in stock, cash and assumed debt. By my calculation, that's a $65 billion destruction of value in three years. That's not easy to do.
He got that right. At the end of the day these massive accounting write-offs are just a proxy for the underlying economic destruction.
As we said, a tale of two inflations. And neither of them imply anything good.
Tyler Durden
Fri, 12/03/2021 – 14:00
inflation
monetary
markets
policy
interest rates
fed
bubble
pumping money
inflationary
Fisker Is One to Buy, But Not Quite Yet
It's stalled, but can it motor higher? The stock in question is Fisker (NYSE:FSR) and its in-tow FSR stock.
Source: T. Schneider / Shutterstock.com
And…
It's stalled, but can it motor higher? The stock in question is Fisker (NYSE:FSR) and its in-tow FSR stock.
Source: T. Schneider / Shutterstock.com
And based on what's happening off and on the FSR price chart, the best course of action is to use those optionable safety features sometimes forgotten to avoid being a crash test dummy. Let me explain.
Sell the news? It could be that simple in shares of FSR. But you never know either, well until it's too late.
Three weeks ago Fisker investors got a first glimpse of the company's luxury Fisker Ocean electric vehicle (EV). And sell they did, with only gratuitous hindsight making it appear that selling the news was the singular course of action to take.
The fact today is FSR stock has managed to shed nearly 20% since unveiling its inaugural EV at the LA Auto show, despite receiving accolades for the vehicle.
Fisker's Awarded With Profit Taking
The EV "asset-light" auto designer took home a prized ZEVAS Award for zero-emission vehicles in the category of "best crossover vehicle" priced under $50,000. Nice, right? I like to think so.
Still, in walking the aisle alongside FSR's hefty bearish population of nearly 28% and investors caught taking profits, shares were up a near picture perfect 80% in just two months leading into the auto event.
So there's that, right? I suppose.
As well and for FSR investors yearning for additional reasons driving the stock's price contraction, fingers can be pointed at inflation fears, Fed-speak and most recently, the covid-19 Omicron varient in recent days.
It's fair enough to say and see that many other EV plays such as QuantumScape (NYSE:QS) or Lucid Motors (NASDAQ:LCID), as well as other higher multiple growth plays have been hit by those macro irritants, putting them in the same miserable boat as FSR stock investors.
But it's likely just a bump in the road when it comes to Fisker.
The thing is if you're going to make a play on the next Tesla (NASDAQ:TSLA), investors would be hard-pressed to do much better than FSR stock, within the framework of an EV startup that's yet to put the rubber to the road.
And I'm not alone in thinking that about Fisker shares.
InvestorPlace contributor Will Ashworth notes Fisker's Ocean series has what I'll just call the goods under the hood once production commences next November.
And with sales pegged at $2.2 billion for 2023, FSR's forward price-to-sales ratio near 3x appears to an attractive value proposition for a growth stock of Fisker's caliber.
FSR Stock Weekly Price Chart

Click to EnlargeSource: Charts by TradingView
When it comes to owning FSR, I see a couple different ways to position for vastly-reduced risk and an eye on holding for a few years.
First, if shares can continue to retreat towards $15 – $16.75, purchasing FSR stock on weakness makes sense. This area has channel and Fibonacci support to back up the buy decision.
As well, a currently bearishly-crossed and overbought stochastics should, at a minimum, be in neutral territory. It could also be more opportunistically flattening or even generating a bullish buy signal, if shares were to decline into the support zone.
Like Will, I don't anticipate FSR will see $10 again given its valuation and sales forecast. And if it did, it could mean some serious missteps by the company and more of a trap for buyers than of actual value.
That being said, I'd attach any potential purchases with a stop loss. Based on today's channel, but also appreciating trader missteps have happened in the past like last October's, $12.50 – $13 looks about right.
Alternatively, a fully-hedged bullish vertical or collar strategy rather than exiting on a technical failure might be considered.
Lastly, and given the reality that charts can sometimes turn on a dime, I'd simply watch for a stochastics crossover. A momentum move higher is always possible in a name like FSR.
Should that occur, placing an intermediate-term collar whose strike structure mimics an out-of-the-money bull call spread and adjusting the position over time is one way to avoid becoming a crash test dummy and hopefully enjoy some future vroom, vroom in FSR stock.
On the date of publication, Chris Tyler did not have (either directly or indirectly) any positions in the securities mentioned in this article. The opinions expressed in this article are those of the writer, subject to the InvestorPlace.com Publishing Guidelines.
Chris Tyler is a former floor-based, derivatives market maker on the American and Pacific exchanges. For additional market insights and related musings, follow Chris on Twitter @Options_CAT and StockTwits.
More From InvestorPlace
The post Fisker Is One to Buy, But Not Quite Yet appeared first on InvestorPlace.
Unemployment Falls to 4.2 Percent in November as Economy Adds 210,000 Jobs
The rise in the index of aggregate hours would be equivalent to more than 630,000 jobs with no changes in workweeks.
The post Unemployment Falls to 4.2…
The rise in the index of aggregate hours would be equivalent to more than 630,000 jobs with no changes in workweeks.
The unemployment rate fell 0.4 percentage points in November, even though the economy added just 210,000 jobs. The drop in the unemployment rate went along with an increase in the employment-to-population ratio (EPOP) of 0.4 percentage points, corresponding to a rise in employment of more than 1.1 million in the household survey. The unemployment rate had not fallen this low following the Great Recession until September 2017.
The 210,000 job growth in the establishment survey is slower than generally expected, but it is important to note that it went along with an increase in the average workweek. The index of aggregate hours in the private sector increased by 0.5 percent in November. This would be the equivalent of more than 630,000 new jobs, with no change in the workweek.
This fits a story where employers are increasing hours since they are unable to hire new workers. We are seeing a reshuffling of the labor market where workers are looking for better jobs and employers are competing to attract workers, especially in lower paying sectors.
Declines in Unemployment Largest for Disadvantaged Groups
Nearly every demographic group saw a drop in unemployment in November, but the falls were largest for the groups that face labor market discrimination. The unemployment rate for Blacks fell by 1.2 percentage points to 6.7 percent, a level not reached following the Great Recession until March 2018 and never prior to that time. For Hispanics, the decline was 0.7 percentage points to 5.2 percent.
The unemployment rate for workers without a high school degree fell by 1.7 percentage points to 5.7 percent. By contrast, the unemployment rate for college grads fell by just 0.1 percentage points to 2.3 percent, 0.4 percentage points above its pre-pandemic low. The 5.7 percent rate for workers without a high school degree is 0.7 percentage points above the pre-pandemic low, although the monthly data are highly erratic.
The unemployment rate for people with a disability fell by 1.4 percentage points to 7.7 percent, while the EPOP rose by 1.1 percentage points to 21.5 percent. The latter figure is almost 2.0 percentage points above pre-pandemic peaks, indicating that the pandemic may have created new opportunities for people with a disability.
Share of Long-Term Unemployment Edges Up
The share of workers reporting they have been unemployed more than 26 weeks edged up slightly to 32.1 percent. It had been falling rapidly from a peak of 43.4 percent in March. It was under 20.0 percent before the pandemic hit. On the plus side, the share of unemployment due to voluntary quits increased by 1.0 percentage points to 12.5 percent. This share is still low for a 4.2 percent unemployment rate, but the high share of long-term unemployed depresses the share attributable to quits.
Wage Growth Still Strong for Lower Paid Workers
The average hourly pay of production workers is up 5.9 percent year-over-year. It has risen at a 6.6 percent annual rate comparing the last three months (September to November) with the prior three months (June to August). For restaurant workers the gains have been even larger, with the average hourly wage for production workers up 13.4 percent year-over-year, although the annual rate of growth slowed to 5.7 percent comparing the last three months with prior three months. Wages for the lowest paid workers are far outpacing inflation.
Manufacturing and Construction Both Add 31,000 Jobs in November
This continues a pattern of strong job growth in these sectors. Employment in construction is now down 1.5 percent from pre-pandemic levels, while manufacturing employment is down 2.0 percent.
Employment Lagging in Hard Hit Sectors
By contrast, employment is still lagging in the hardest hit sectors. The motion picture industry shed 3,400 jobs in November. It is now down 21.9 percent from pre-pandemic level.
Low-wage sectors are clearly having trouble attracting workers. Nursing and residential care facilities shed 11,000 jobs in November. Employment is now down 423,700 jobs (12.5 percent) from pre-recession level, accounting for most of the drop in health care employment. Childcare lost 2,100 in November, while home health care lost 300 jobs.
Retail lost 20,400 jobs in November. Employment in the sector is now down 1.1 percent from pre-pandemic levels; although the index of aggregate hours is up 1.1 percent.
Restaurants added just 11,000 workers, while hotels added 6,600. However, the index of aggregate hours for the leisure and hospitality sector (which comprises the two industries) rose 0.6 percent. This corresponds to a gain of almost 800,000 jobs with no change in the length of the workweek.
State and Local Governments Shed Another 27,000 Jobs
State and local government employment is now down 951,000, or 4.8 percent from pre-pandemic levels. This is almost certainly a supply side story, where these governments cannot easily raise pay to compete with the private sector in attracting workers.
Overwhelmingly Positive Report
This is another overwhelmingly positive report. The unemployment rate is more than a full percentage point lower than what CBO had projected before the passage of the American Recovery Plan. The most disadvantaged workers are seeing the greatest benefits in pay and employment opportunities. The economy looks to be very strong as long as another surge in the pandemic doesn't derail it.
CEPR produces same-day analyses of government data on employment, inflation, GDP and other topics.
Follow @DeanBaker13 on Twitter to get his quick-take analysis of government data immediately upon release.
If you want to get Dean Baker's same-day analysis of economic indicators by email, sign up here for CEPR's Data Bytes.
The post Unemployment Falls to 4.2 Percent in November as Economy Adds 210,000 Jobs appeared first on Center for Economic and Policy Research.